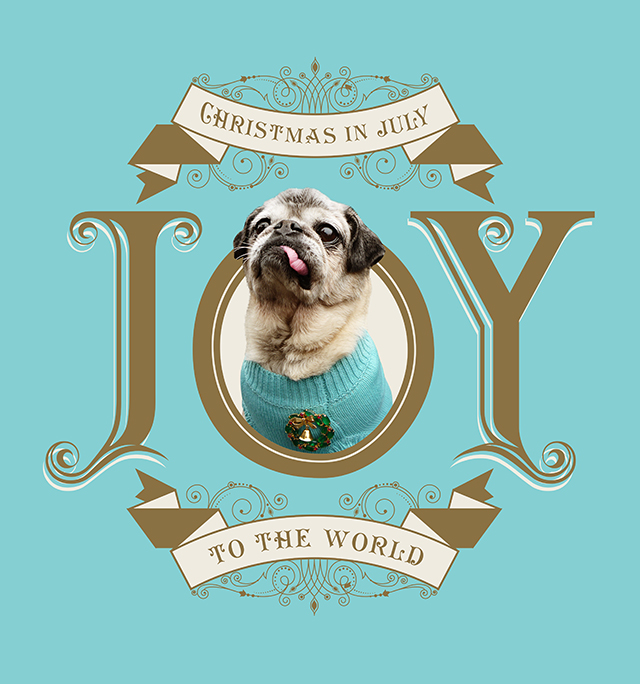 The 25th of July has finally arrived y'all and Mamma Biscuit wants to wish each and every one of you a very merry Christmas . . . in July! In exactly six months from today, Santa Claus will attempt to stuff his wide ass down your chimney (or break into your home via the fire escape) to drop off a pile of over-priced gifts under your Christmas tree so that you can celebrate the birth of a King—and when I say King here, I'm not talkin' about George Alexander Louis. The British monarchy and their royal wealth could never compete with the best holiday in the whole wide world, so don't even think of bringing that baby up on this special day! Today is the day where QVC explodes with their non-stop Christmas segments that are chock-full of awful holiday products that will surely inspire you to get into the Christmas spirit—or at least vomit, in which case you'll be bikini-ready for the beach as the weekend rapidly approaches! Now Mamma Biscuit and I are planning a marathon-style day of watching all of this crap unfold and I've entrusted Tommy to hold onto my wallet with all my credit cards and my cell phone until the end of the day—just in case! Christmas in July is not only about QVC, it's about breaking out the floor plan for the apartment and figuring out where things will go and which halls will be decked and which displays will be put up. I'm seriously considering upgrading to a bigger, taller Christmas tree this year because my prelit, 6 1/2 foot Martha Stewart tree in white is just not big enough for the sheer amount of ornaments Mamma has accumulated within the last two years. In fact, we've got a whole new set of vintage decor that we would like to share with you to make this day extra special. So put your DVR on pause and come take a quick stroll with Mamma through her digital wonderland of holidays goods, you'll be glad you did!
AHHH, Kurt Adler, that name is like music to my ears. You should have seen how excited I was when I stumbled upon these glittered, plastic orbs put out by the Kurt Adler company during one of my monthly visits to Authentiques, a vintage boutique down in the Chelsea neighborhood here in NYC.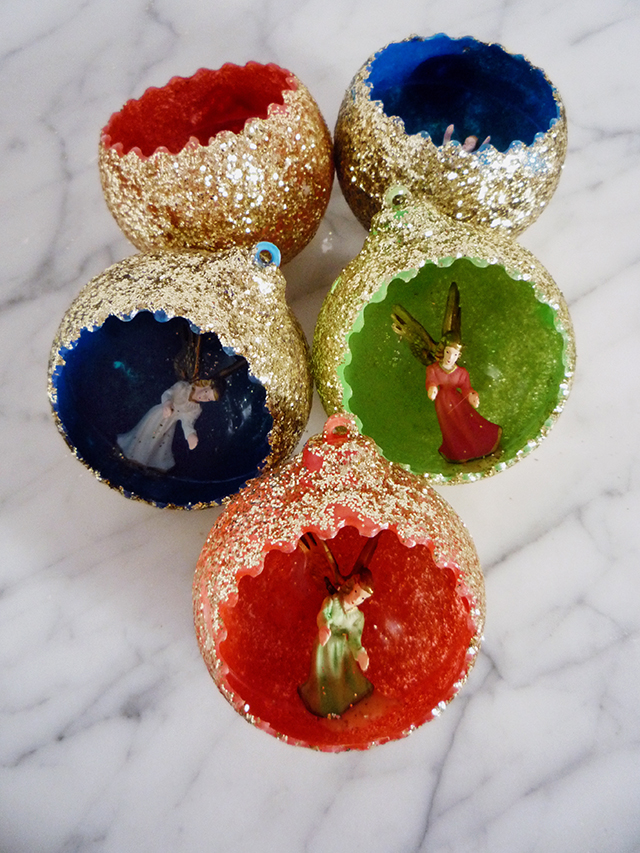 I've never been one to shy away from newly produced ornaments and I wasn't about to start with these. They call them retro ornaments and they are made to look like the original plastic ornaments produced in the 1950's and I simply could not resist from buying every last one of them off the shelf. Each ornament has the same styled angel placed within but in various different colors. Aren't they gorgeous? Now do you see why I need a new damn tree come December?!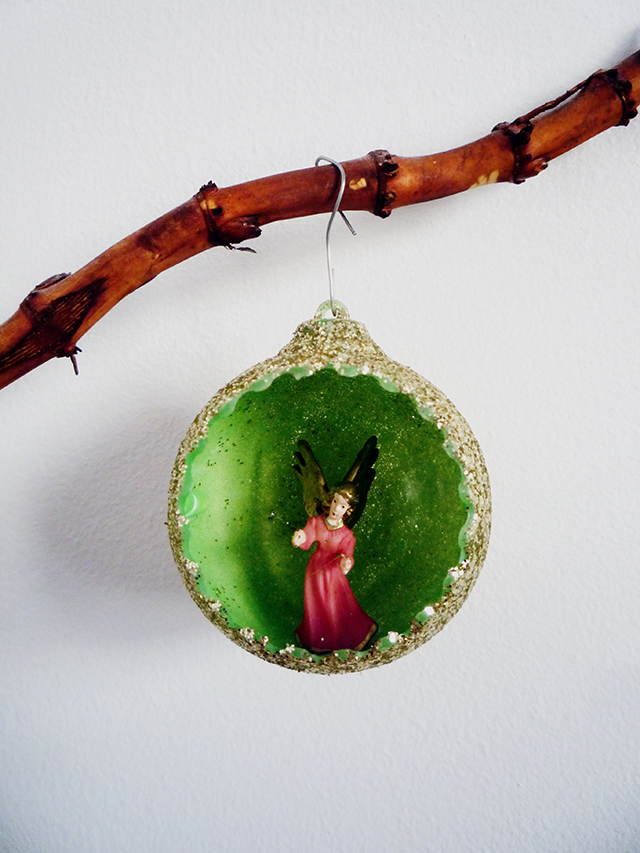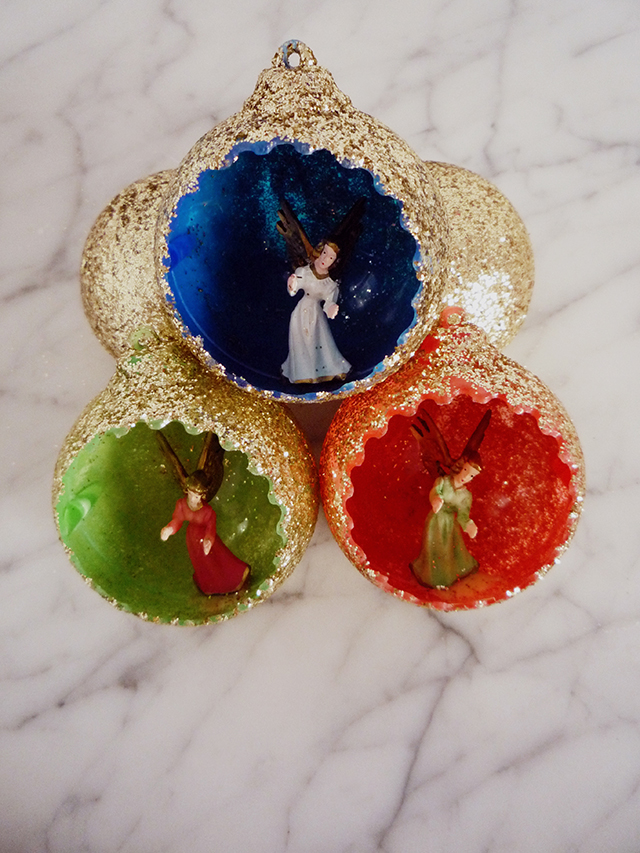 From Chelsea, NYC, we head down south to Savannah, Georgia where we found a whole slew of Christmas goods on the commute down, while we were there, and on the way home. No matter where we are in the world, you can always find us knee-deep in junk looking for Christmas decor—and Savannah had their share of great stuff. In downtown Savannah, we stumbled upon a small antique shop called Antiquities where we came across these vintage pine cone glass ornaments that were handmade in Poland.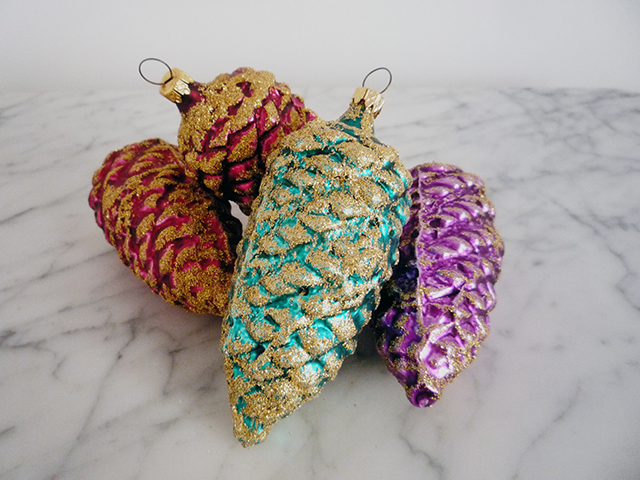 Dusted with gold glitter, this set of four ornaments are just perfect for adding sparkle to one of our entry way garland displays at the Pug Palace. Mamma Biscuit actually found these ornaments in the store that day. I walked her into the shop and she went right to the low shelf where they were sitting and started to sniff them. Some dogs are bomb-sniffing dogs, ours is highly trained to sniff out Christmas no matter where she is!
From Antiquities, we didn't have to walk far (two store fronts down) before stumbling upon the Wright Square Antique Mall. This place was much bigger and had a whole array of vintage goods ranging from clothing, jewelry and records to obscure one-of-kind glassware. In between all of that goodness, I came across this Santa Clause made in
Japan in the 1950s.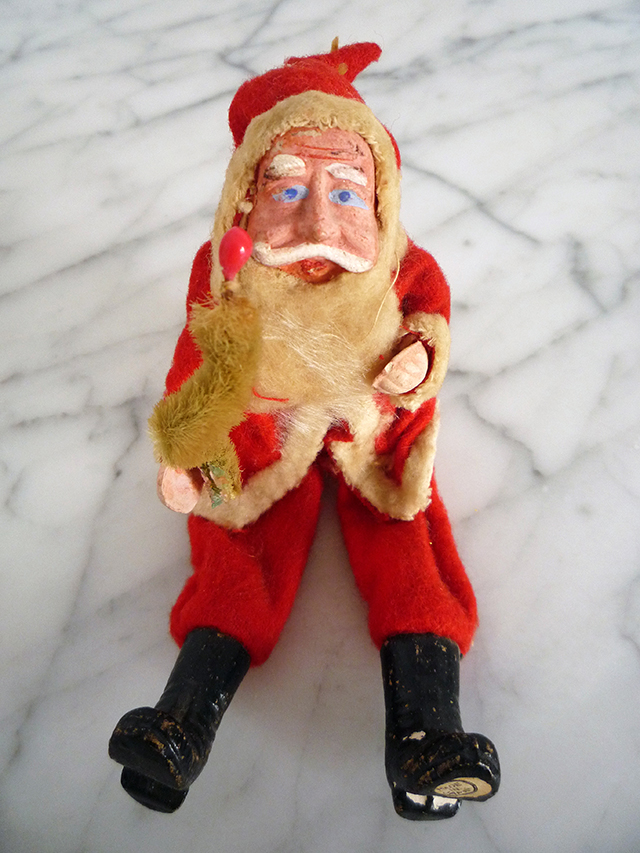 I just couldn't put this one down. He's bendable so you can either display him seated or standing up but I intend on putting him on our Christmas tree as an ornament.
While we were on River Street, we stumbled upon a tiny hole-in-the-wall place (I can't recall the name of the shop) where we picked up these old Christmas light bulbs. Can you believe that we've gone from beautifully crafted light bulbs like these to the LED lights we see today? What a tragedy that is!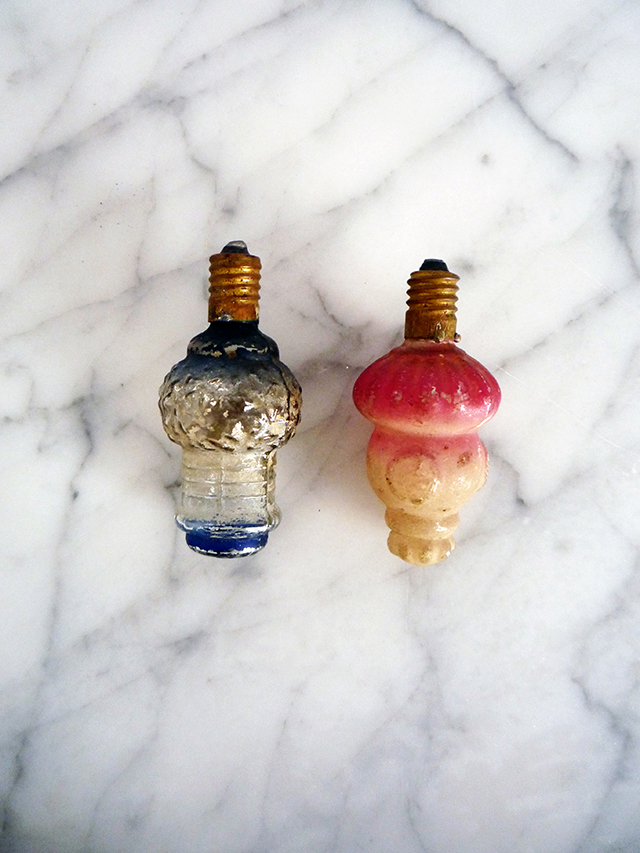 In 2008, I picked up several sets of Christmas lights at Anthropologie that had art deco designed light bulb shells that reminded me of these vintage bulbs from the 1940s. I may put these two light bulbs in a cloche with other Christmas gems come December. I just could not leave the store without them!
And finally, on our way home from Savannah, we stumbled upon an Antique Market in North Carolina right off I-95 where we cleaned house on some very beautiful Christmas decor. The market dealer was very helpful and she loved the fact that we were toting Mamma Biscuit around while scouring for goods.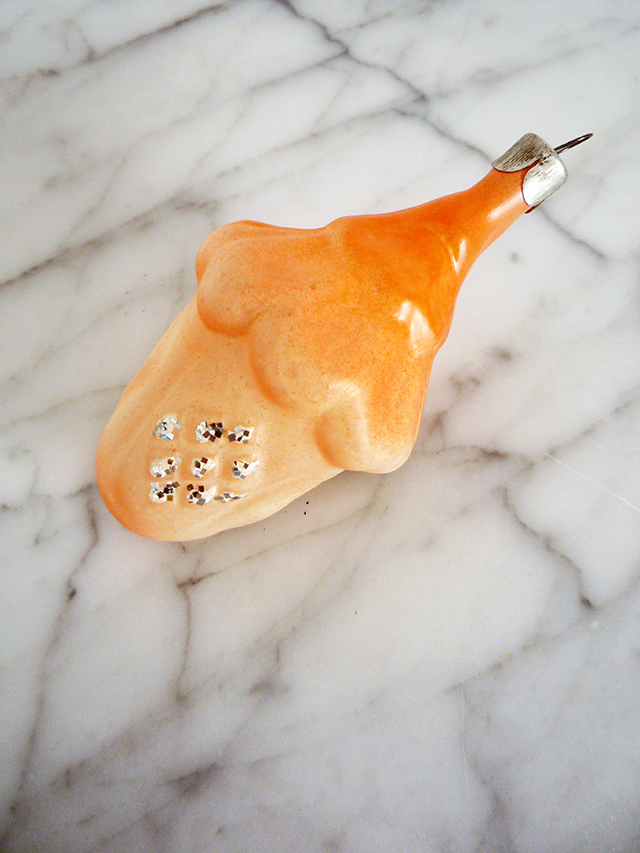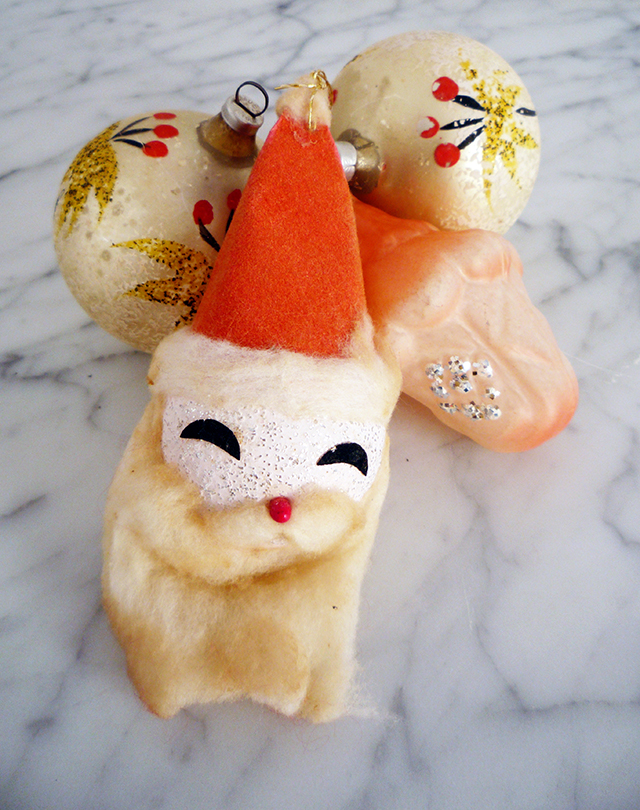 From hand painted glass balls to hand crafted styrofoam and felt ornaments, they had it all and we picked out the very best for our tree!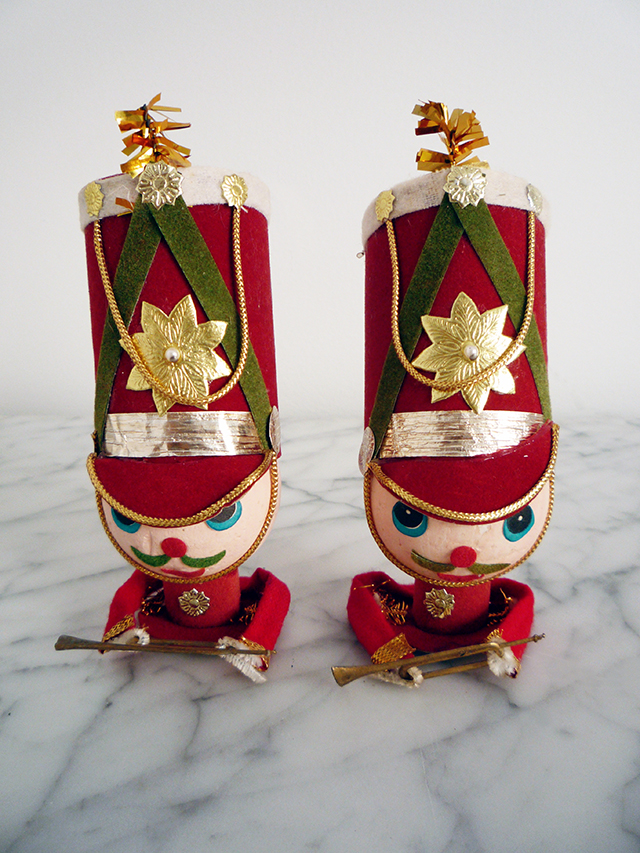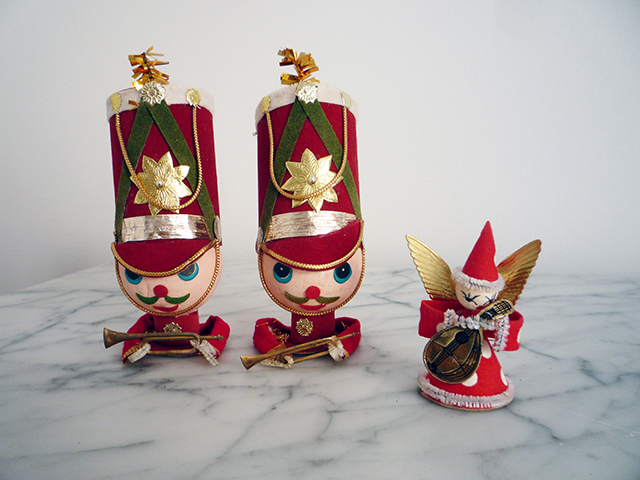 So that's all folks! I hope you all enjoyed our Christmas in July decor and that they have inspired you all to think about trimming a tree during the thick of a hot and humid Summer. Now remember, the countdown officially starts today—only 152 days away!
Enjoy