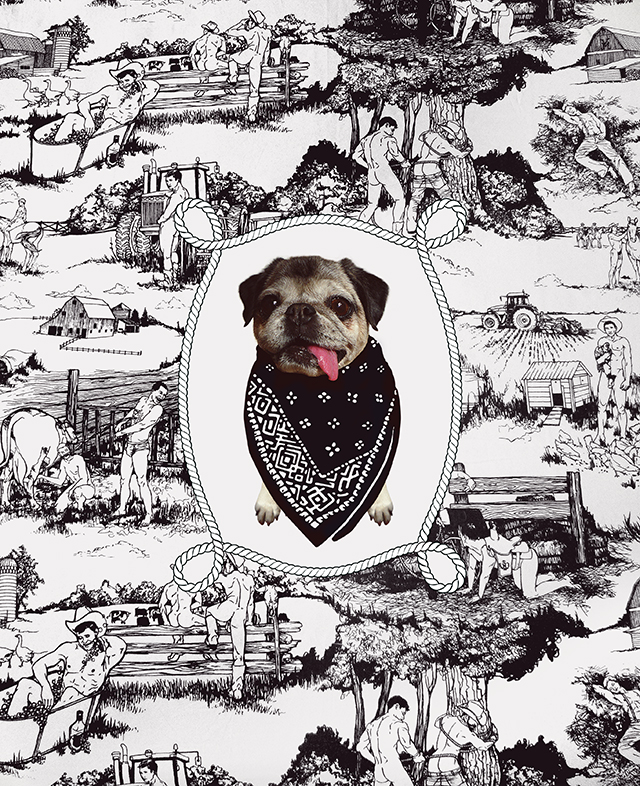 It's gotten really dirty up in Mamma Biscuit's Pug Palace and it ain't because she soiled the living room rug. It all began several weeks ago when I stumbled out of The Eagle at 3am (don't judge me) and by chance, I grabbed one of the many free gay magazines piled up at the door. As I embarked on the long subway ride home from Penn Station, I began to flip through the magazine looking for any stimulation to keep me awake for the duration of the ride. Suddenly, I came across a product feature of an incredible duvet cover that literally made my eyes pop out of my head. They call this duvet set "Cowpokes" and it's the best bedding I've seen since Groovy Q put out their Tom of Finland/toile bed sheets and lounge pants years ago! Unfortunately, those dirty linens are no longer in production but thank goodness I got myself a pair of those lounge pants when I had the chance. Anyway, when I got home, Tommy was icing cupcakes for his early morning delivery on Friday and I immediately shared the feature with him as soon as I stepped through the door. I believe his exact words were, "OMG, this duvet cover is SO YOU" and that sealed the deal for me. Mamma Biscuit was fast asleep in her own toile donut bed at that hour so I gently tip-toed passed her towards the office to log on to Vice Merchants to make my purchase!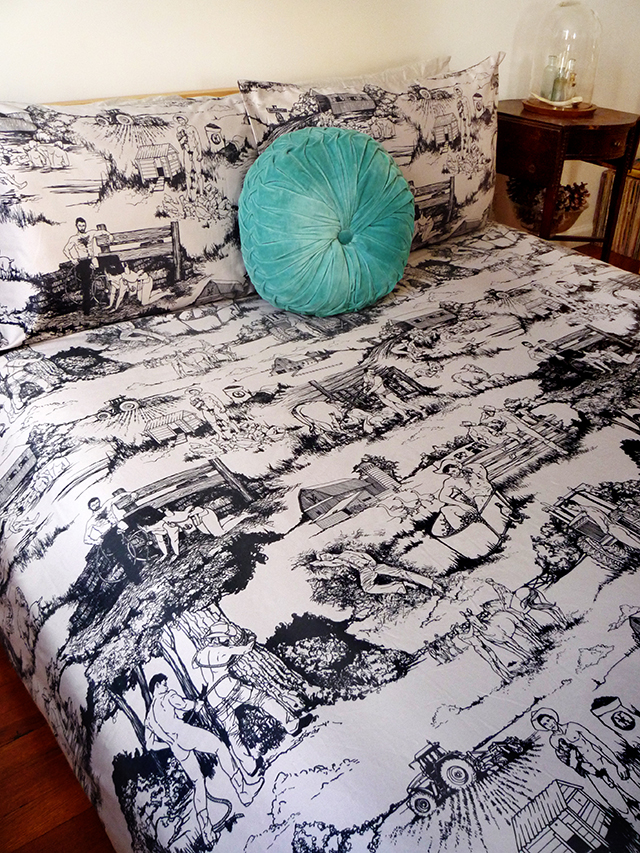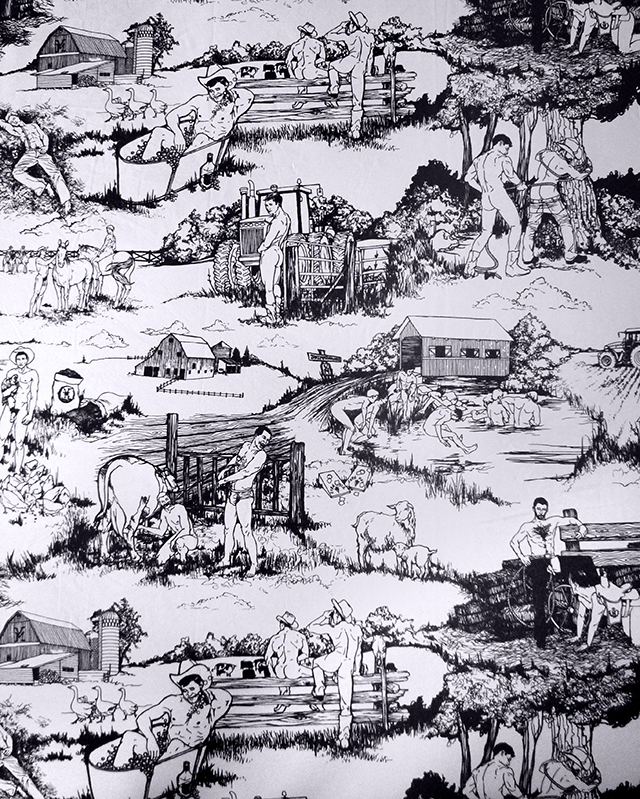 I really appreciate a good product description and the copy for "Cowpokes" in slate gray did not disappoint:
"When a hard day's work is done, kick off your boots and retire to open rolling pastures. Let our hard body cowboys work the farm, while you nap in fields made of 400 Thread Count 100% Egyptian cotton."
YES, the wild, gay west in my head involves 400 Thread Count 100% Egyptian cotton! I love it, although the last thing I would want to do is take a nap in these pastures—not with all of these muscular cowboy studs working and playing around me.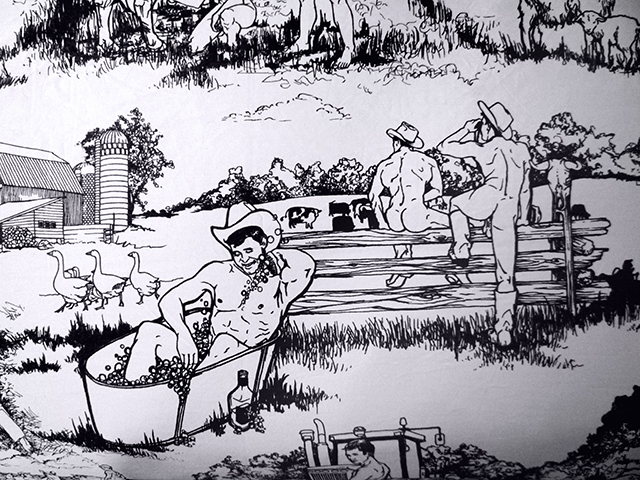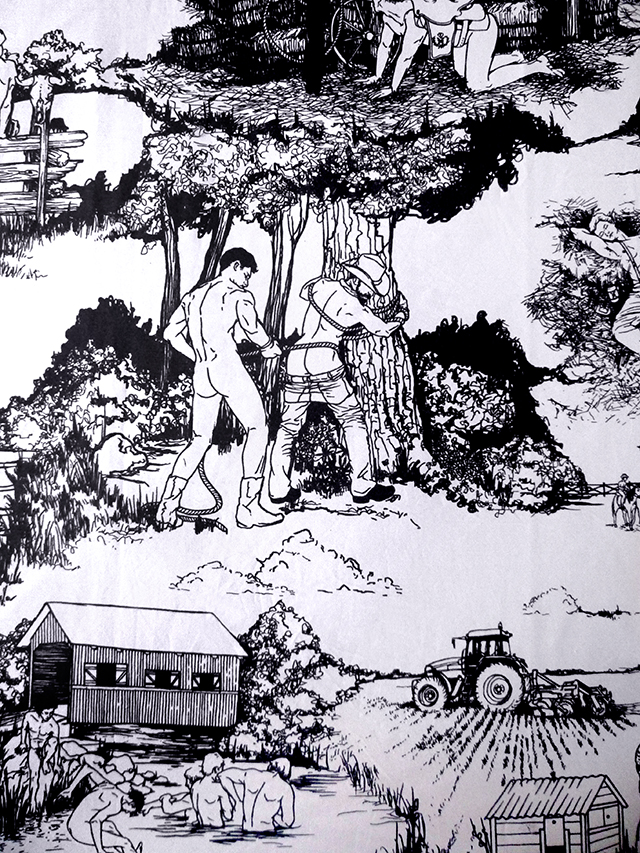 The illustrations are just perfect—everything from the cowboy taking a bubble bath in a metal tub to the cowboy on all fours with a saddle on his back waiting to be mounted to the naked Wrangler tying up his cowboy friend to a tree trunk whose jeans have been pulled down below his butt! So there you have it, all my private, cowboy fantasies thrown onto a duvet cover—YEEHA!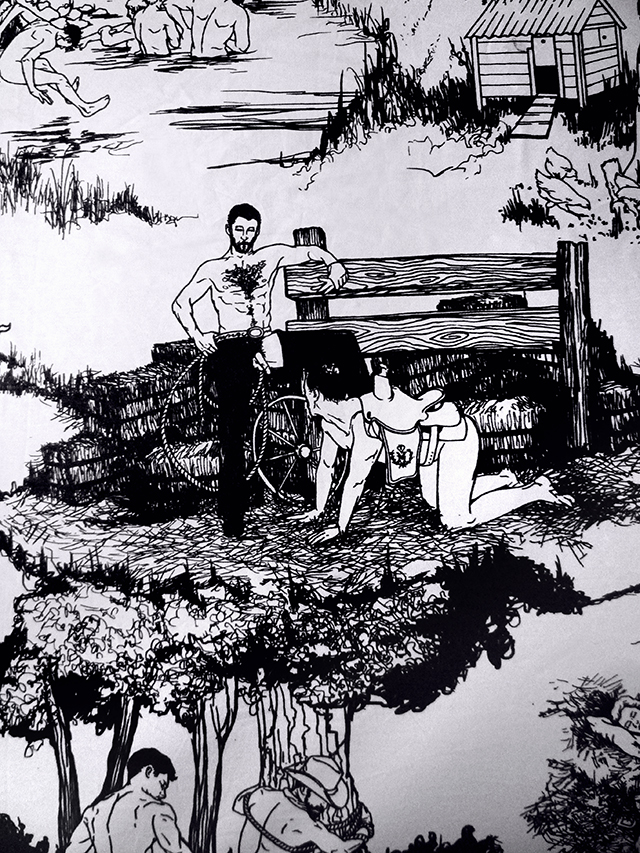 This duvet cover will surely make all of our straight guests uncomfortable and all of our gay guests green with envy—a perk on both counts!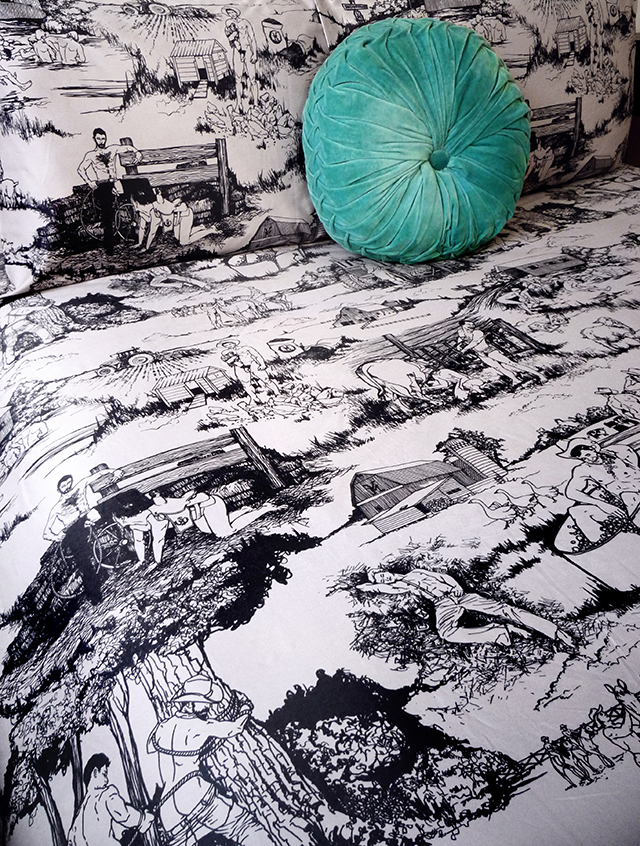 Mamma Biscuit is so accustomed to having hot studs surrounding her almost every single day and this graphic bedding will just blend right into her life at home seamlessly. I just can't wait for my mother to visit. I can just see her now, holding Mamma Biscuit in her arms as she roams into our bedroom—SURPRISE!
Enjoy & Happy Thursday!