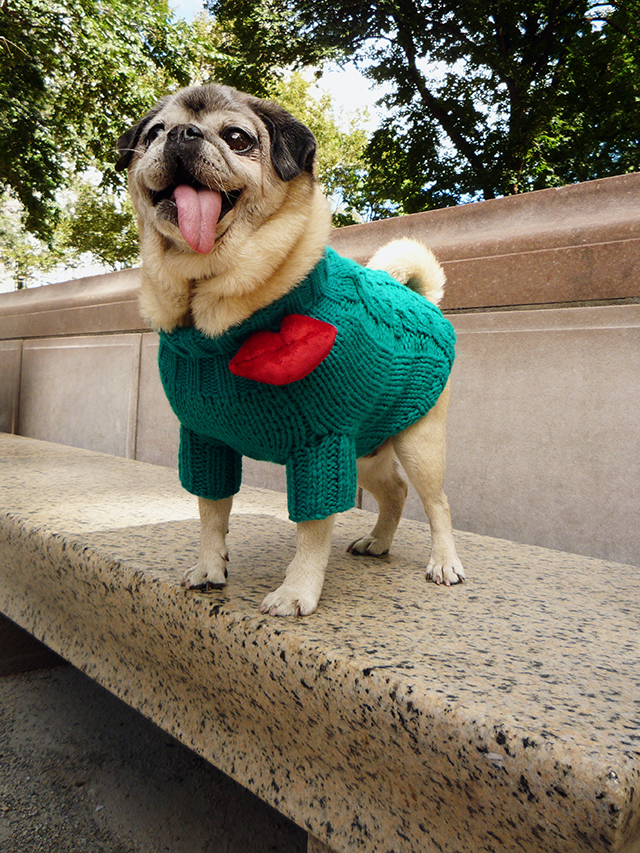 Do you know what I love most about Fall fashion trends? It's that all the old rules have been thrown out the window! Actually, that's what I love about NYC fashion in general—anything and EVERYTHING goes no matter what time of year it may be—except for Uggs, I just can't get on board with that footwear. I'm almost positive that the word Ugg is short for ugly! There's nothing worse than a woman (any age) walking around wearing a pair of Victoria Secret sweatpants with the word PINK displayed across her ass tucked into a pair of Uggs! I'm sorry to digress but I just find that look offensive on so many levels. Anyway, how can anyone take the old rule of not wearing white after Labor Day seriously when there's such a thing as Winter white? In my opinion, it's not about the actual color but rather the material of the garment that should delineate seasons. Linen is white but a cable knit sweater or a wool coat can be white too, which do you think would work best during Autumn or Winter? I've been around enough fashion in my lifetime to know that when Autumn comes rolling around, fashion designers worldwide like to pay homage to warm, natural colors that mimic the foliage outdoors, but lately, designers have dropped the literal color scheme that has been conventionally assigned to each season and instead, have implored us all to wear bright and rich colors all year long—and Mamma Biscuit is fiercely excited about that!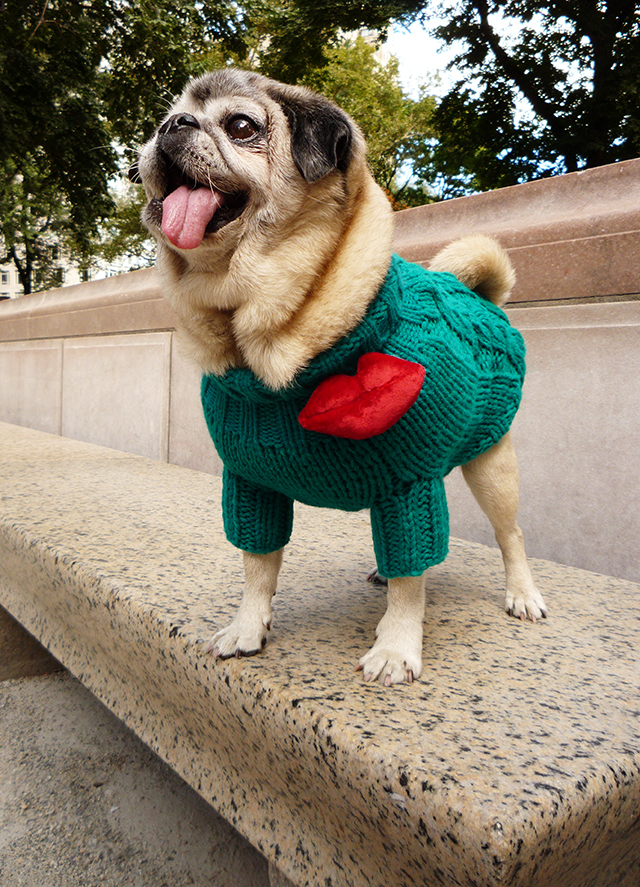 Color in our wardrobe can sometimes invigorate us and give us a much needed jolt of inspiration! Color blocking is so much fun because you can take the concept of "working with a blank canvas" to a whole new level. Your canvas becomes one bright or rich solid color that can be paired with another bright or rich solid color. A solid color can also act as the accessory alone to an entire ensemble or be accompanied by another color blocked accessory for a surrealistic effect. Mamma Biscuit showcased just how spirited she can be (and totally on trend) this past weekend while running errands throughout NYC in her color-blocked Autumn outfit. Doesn't her personality practically pop out at you in
this gorgeous teal color?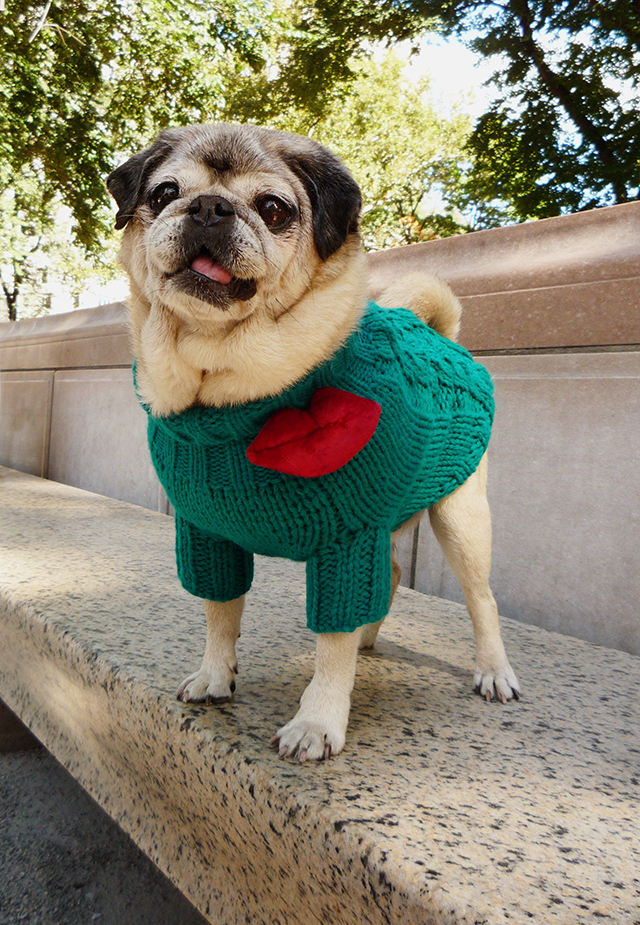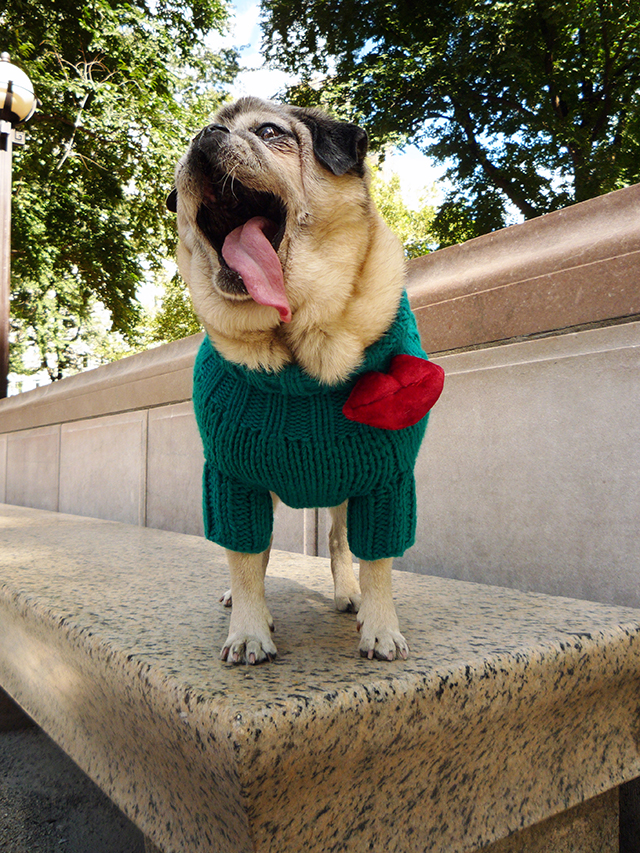 Our fashionable little gremlin sported a rich teal cable knit sweater paired with a fun and surrealistic pillow brooch in the shape of red lips. The brooch added just the right amount of art-pop to the overall look although using the phrase art-pop leaves a really bad taste in my mouth. The last thing I want to do is have you all think that I'm referencing Lady Gaga's upcoming album entitled ARTPOP in any way—or as my friends like to call it, ARTFLOP, ARTSTOP (I came up with that one) and my favorite being ARTMOP: because someone is gonna have to clean up her pretentious visual and audio mess! In other words, there's no Applause for Lady Gaga coming from Mamma Biscuit and family! The lyrics: "One second I'm a Koons, then suddenly the Koons is me" should be applied to Mamma Biscuit, not Lady Xerox—after all, Mamma Biscuit is practically a Salvador Dalí in these photographs and nothing says surrealism quite like the length of her epic tongue. On a side note (and since I'm hashing out my hatred of current pop stars) Mamma Biscuit has hired a lawyer to sue Miley Cyrus for stealing her look (see Miley's extended tongue) during her performance on the MTV Video Music Awards. Simply put, Miley is a talentless and directionless thief whose performance was neither provocative nor shocking. It was actually quite the opposite, predictable and stupid . . . an everything-AND-the-kitchen-sink assault on our eyes and ears. She's just what the music industry needs, another young, stupid girl they can interior decorate to shove down our throats! How dare she steal Mamma's extended tongue look!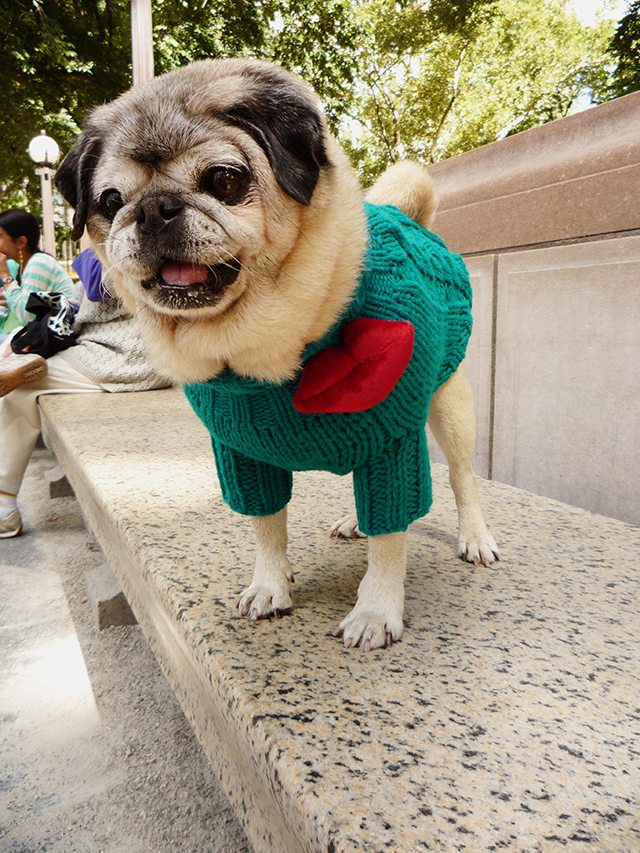 But back to our weekend, we got off the subway at Columbus Circle on Saturday and stopped to snap a few Fall portraits along Central Park South before running our errands. Mamma Biscuit can always draw a crowd of locals and tourists with her impeccable sense of style and unbearable cuteness! There was a woman sitting at the end of this bench trying to have a serious conversation on her cell phone but she kept looking over at Mamma Biscuit and smiling, especially when Mamma started to bark, demanding us from behind the lens to give her another damn peanut butter treat! I know, I'm raising a super model here so I just put up with it really!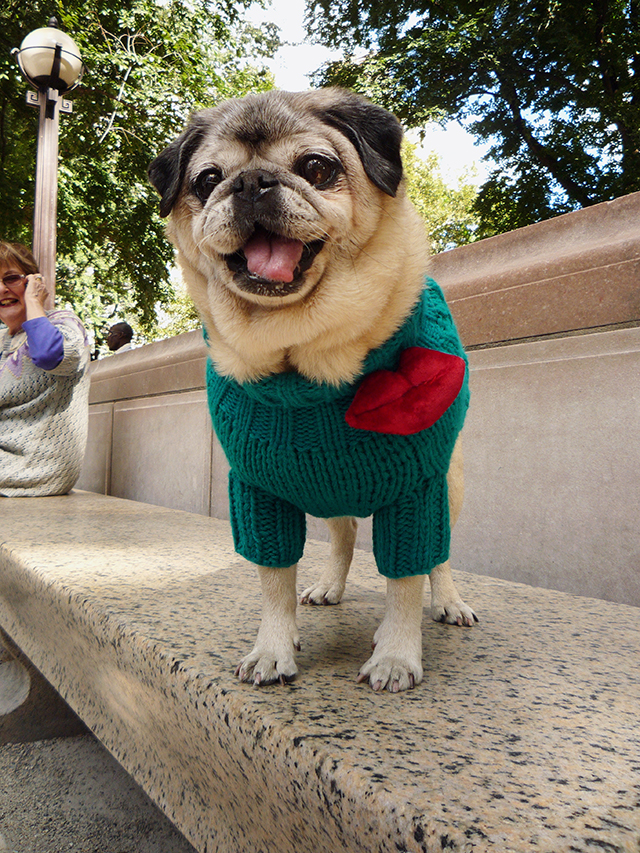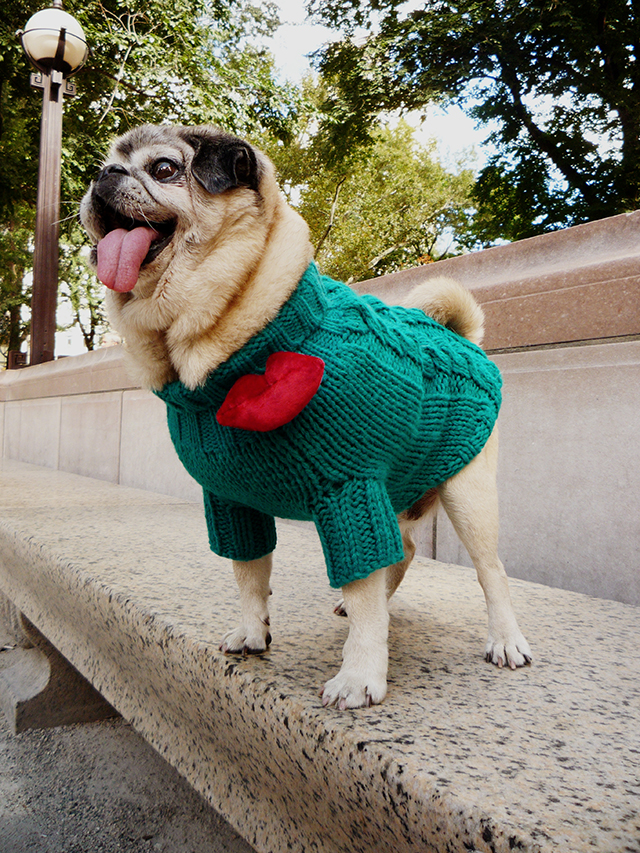 So remember folks, during these Autumn months you should banish the brown, burn the beige and drop the burnt sienna (yes, that is an actual color that Bob Ross loved to use with his fan brush to make fluffy Autumn leaves in many of his iconic landscape paintings) and pick yourself out something colorful from your closet before heading out—you'll be happy all day long!
Enjoy