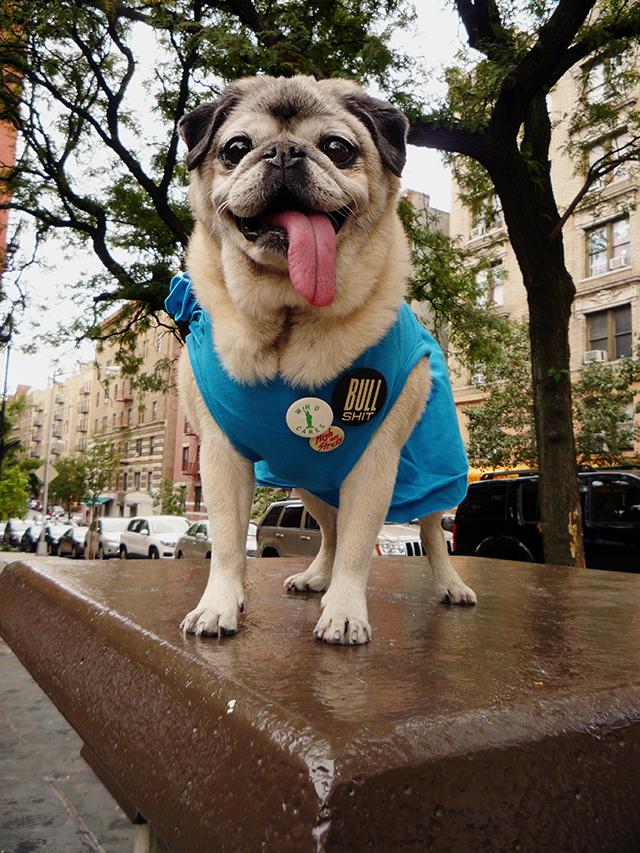 It's been a San Francisco type of Autumn here in New York City. You know what that's like, right? Four seasons in one day that has you piling on layers while walking in the shade and peeling them off once you've crossed over onto the sunny side of the street. We just came back from our dear friends' gay wedding out on Fire Island and the days were warm and breezy and the nights were so cold you needed a blanket and a hot cup of tea to survive . . . well, at least I did, the rest were drunk enough to keep warm. Despite all of that, I still managed one last dip in a pool that felt like throwing myself onto a piece of cold glass. Luckily, a hot tub bubbling with bacteria was waiting for me to thaw out in—oh and in case you were wondering, I get my STD results back in a week, keep your fingers crossed! Hot tubs scare the living daylights out of me and I'll just leave it at that! I guess it could be worse though, we could have an Indian Summer that would require plugging in the air conditioning unit again but who would want to deal with that? I couldn't imagine running the AC in our Pug Palace after putting up all of Mamma Biscuit's Halloween decorations—that would just seem so anti-Autumn, don't you think? So I guess I'll take the flip-flop temperatures with a dose of lukewarm enthusiasm and keep it moving. Luckily, our little gremlin has such a diverse Fall wardrobe that she can go from a cozy cable knit sweater to an easy breezy jersey dress without skipping a bark. Sometimes a girl needs a light-weight dress for Autumn to run around town in—any old' pup knows that.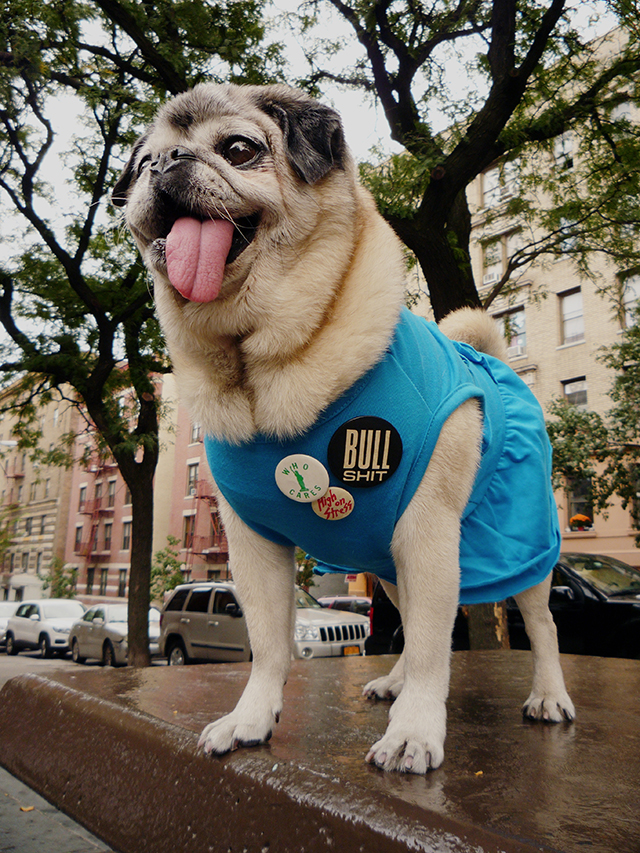 So here's Mamma Biscuit posing for a few portraits during an errand-run with us around the neighborhood before we headed out to Fire Island last week. Mamma was sporting one of her many light jersey dresses in a stunning blue color. As we shared in our last post, it's all about embracing color throughout the Autumn season and Mamma is sticking to that fashion philosophy!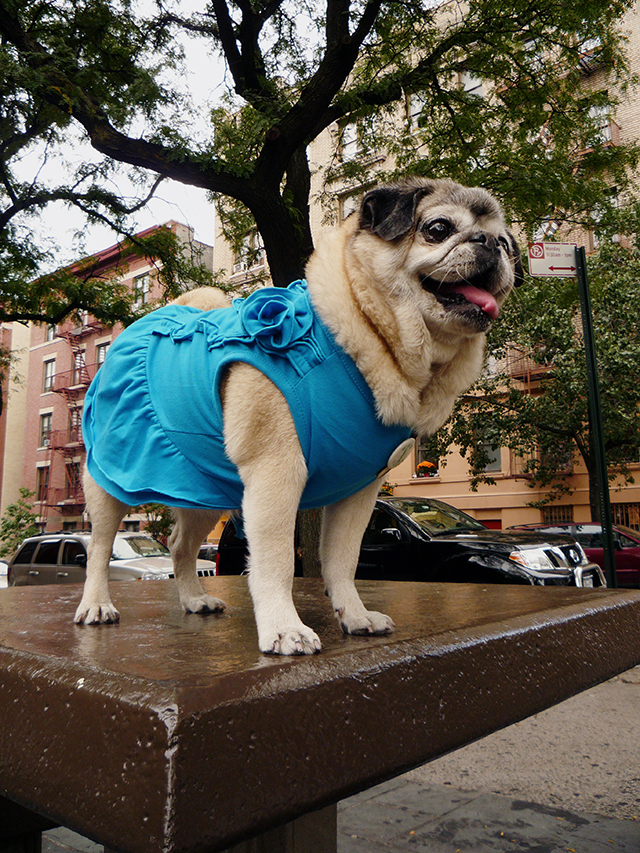 This sweet little jersey dress has gorgeous ruffled detailing on the back that tapers to a lovely rosette on one shoulder—and the best part of this look was peppering in an East Village flare with some vintage buttons on her upper bodice. As I was rummaging through my accessory closet (desperately looking for jewelry to bring with me to Fire Island) I came across our old buttons from back in the day—a whole box full to be exact.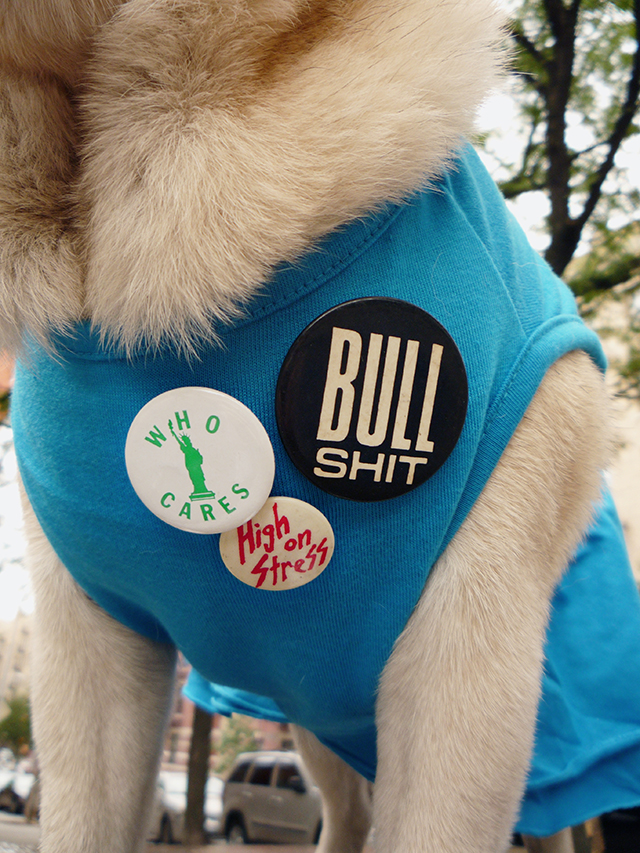 These buttons haven't seen the light of day since 1986 where most likely, they lived on the lapel of an acid wash denim jacket—without irony! I picked my three favorite out of the bunch that perfectly describes the mentality of a New Yorker! It didn't matter if the backs of these buttons had more rust on them than an old tin can, I just had to have Mamma walk around town wearing them!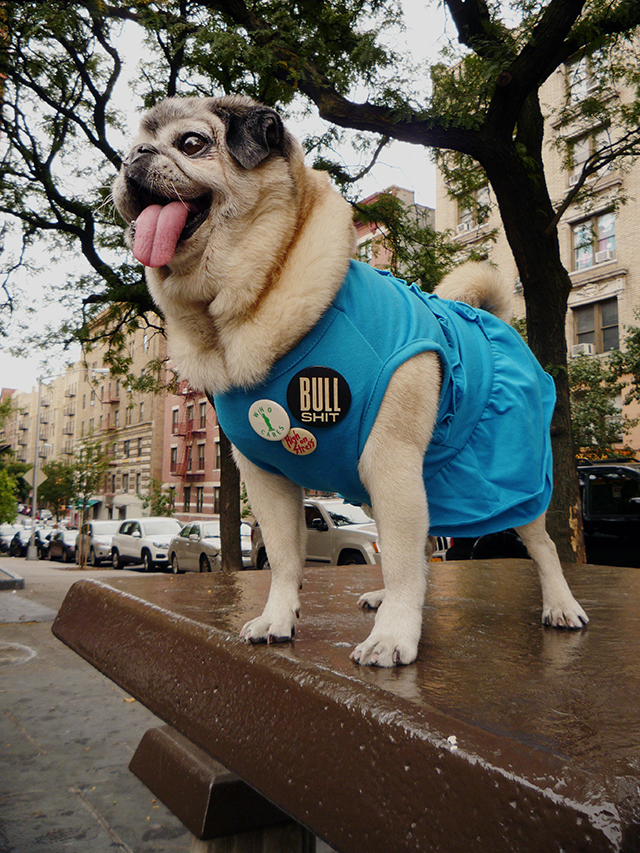 OK, so the last thing anyone would think is that Mamma Biscuit is high on stress. It's more like she's high on soft-chew peanut butter treats or food in general however, she's totally mastered a who cares, almost totally indifferent attitude, that's for sure! Also, Mamma's general skepticism of anyone who pretends to have some food in their possession to lure a pug hug and kiss from her would fall squarely into the bullshit category so I would say we did good nailing two out of three phrase pins to describe her personality! I know I have an old Desperately Seeking Susan Madonna pin somewhere but unfortunately, I just couldn't find it.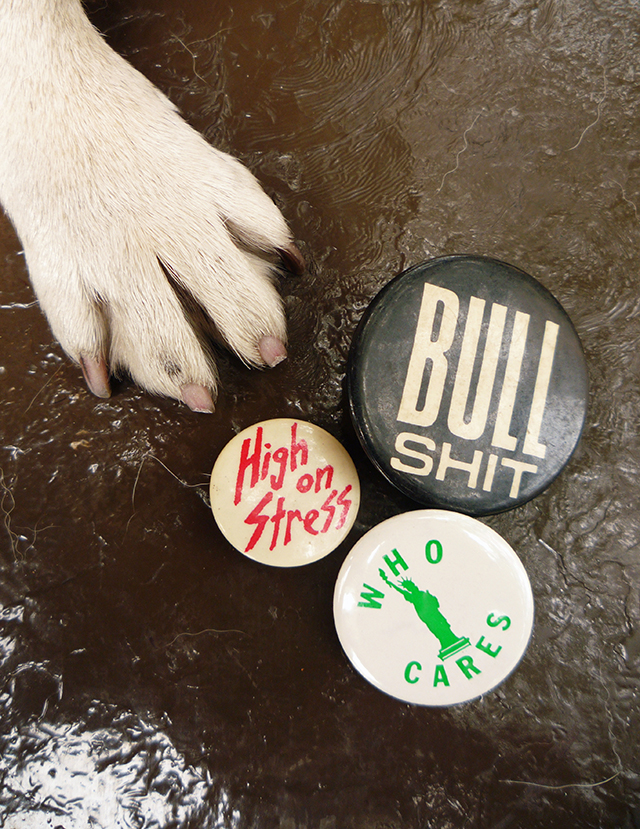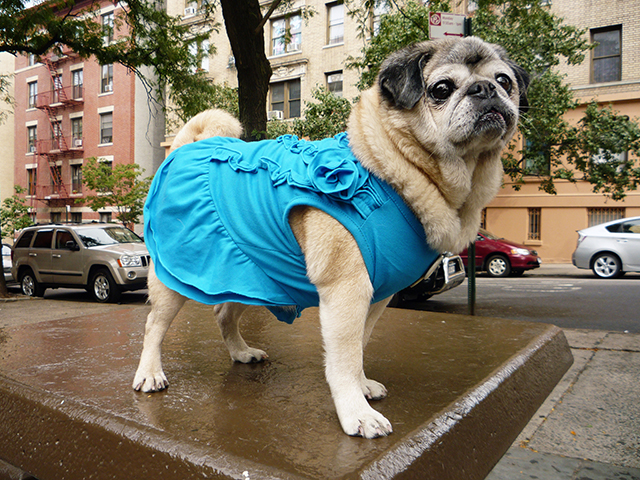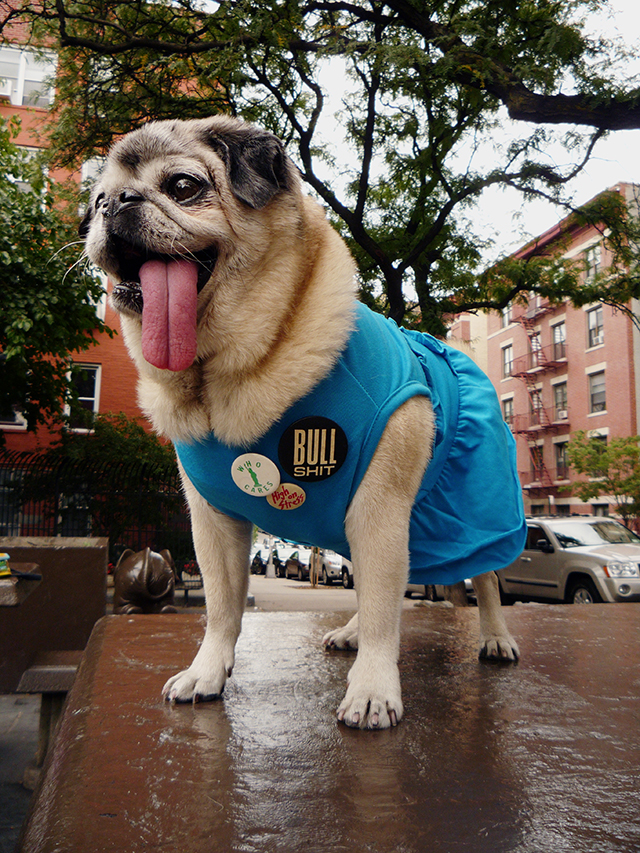 They'll be more outfits in need of a vintage pin or two, so sit tight people and enjoy yet another installment of Mamma's Fall wardrobe!
Happy Friday y'all!