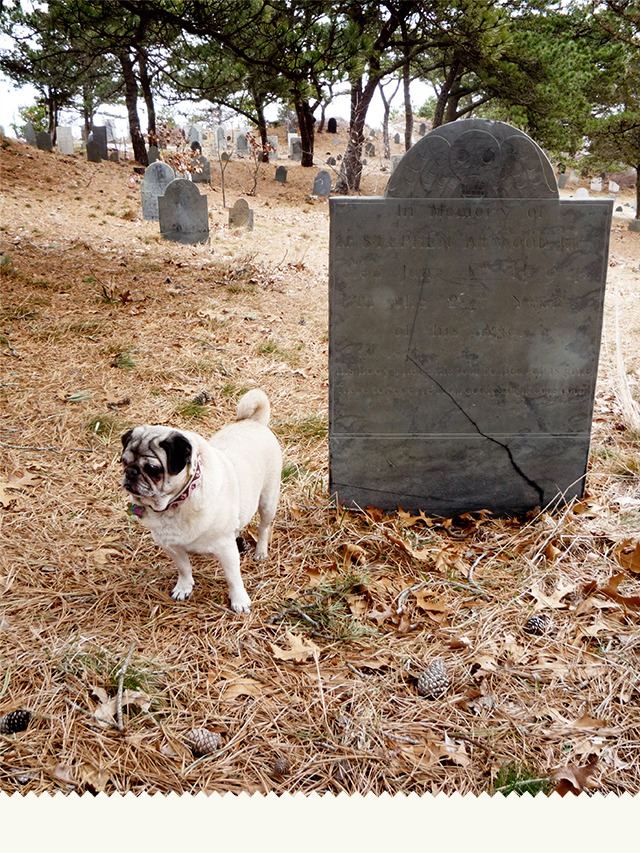 October has finally arrived and boy do we have a super busy month ahead of us filled with fabulous Autumnal outings and Halloween festivities to share with you all. It's been about a week since we decorated the apartment with everything Halloween and vintage and I can't wait to unveil our spooky Pug Palace to you folks out there—you're gonna love it! In my spare time (and let me tell you, my spare time comes in 4-minute intervals these days) I've been toiling away (and going blind in the process) with Mamma's Halloween costume—and let's just say, it's gonna be EPIC! While I'm working on Mamma's costume, Tommy and our friend Vadim are prepping for the New York City Walk for Farm Animals on October 19th in Central Park. The both of them are fundraising for Farm Sanctuary, a safe haven for rescued and escaped factory farm animals. If you want to live in a more compassionate world for animals, click here, read all about their walk and donate—every little bit helps! In between all of these Halloween preparations and general excitement for anything spooky, Tommy, Mamma and I had some down time over the weekend so we decided to keep our annual tradition alive by watching one of two classic movies that usher in the spirit of Halloween for us: Teen Witch. The other movie we watch is The Worst Witch but we're saving that for mid October when Halloween mania is in full swing! But back to the cult classic Teen Witch, there really is no other movie out there that encapsulates the zeitgeist of 1989 like this movie. It has everything you want in a late 80s teen flick: high hair, a witch with magical powers, a hunky football player, Zelda Rubinstein (enough said), the most embarrassing rap scene ever in the history of Hip-Hop (no one can top that, pun intended), a movie wardrobe that strangely looks like anything you can currently buy at American Apparel and a sound track so awful it's beyond brilliant! Of course Mamma Biscuit snored throughout the entire viewing but her nap did not dissuade me from singing along from the top of my lungs to the most popular girl scene—and yes, I know, I'm a total loser so just deal with it! But enough about Mamma's October plans and back to our Throwback Thursday because in the spirit of the impending holiday, we bring to you this week, Mamma Biscuit in a graveyard!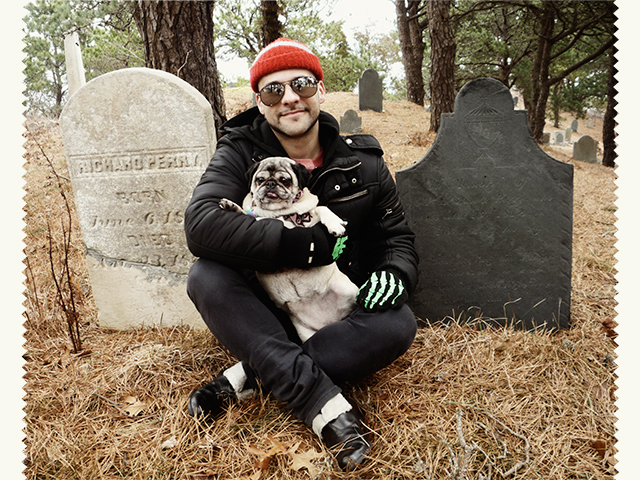 Mamma Biscuit has definitely had her share of graveyard experiences. Don't get me wrong, our Biscuit isn't necessarily draped across a tombstone dressed like Stevie Nicks on a Friday night (although knowing me, I could make that happen) and she's not lighting candles and hanging out with the Goth kids and listening to The Cure either! She does however enjoy the serenity and silence that can only be found in a crumbling graveyard. So I thought it would be fun to relive our adventure through one very large graveyard out in Provincetown many years ago.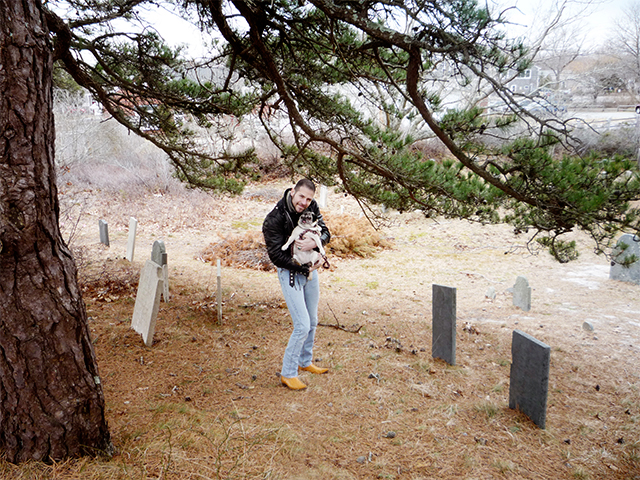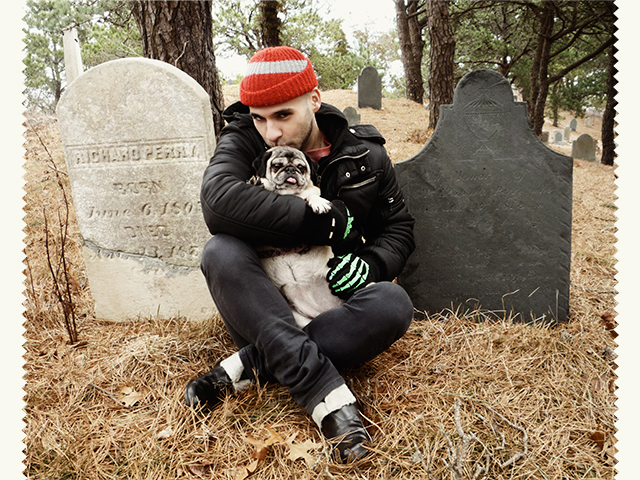 I have no recollection of the exact name of this cemetery (even after doing some light research online) but I can assure you that it is not the main graveyard in town a few blocks away from Commercial Street—we've been to that one too. If memory serves me well, this crumbling piece of history sits upon a hill at the beginning of Bradford Street and affords some spectacular views of the Pilgrim Monument! Mamma Biscuit considers Provincetown to be her second home and the locals love every bit of her as much as she loves them, their town and their graveyards!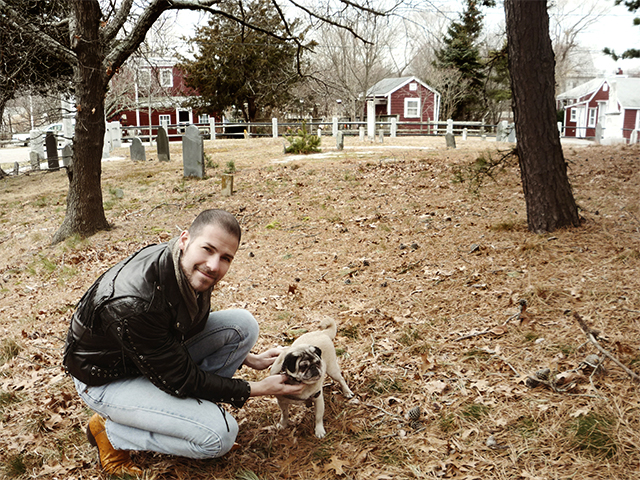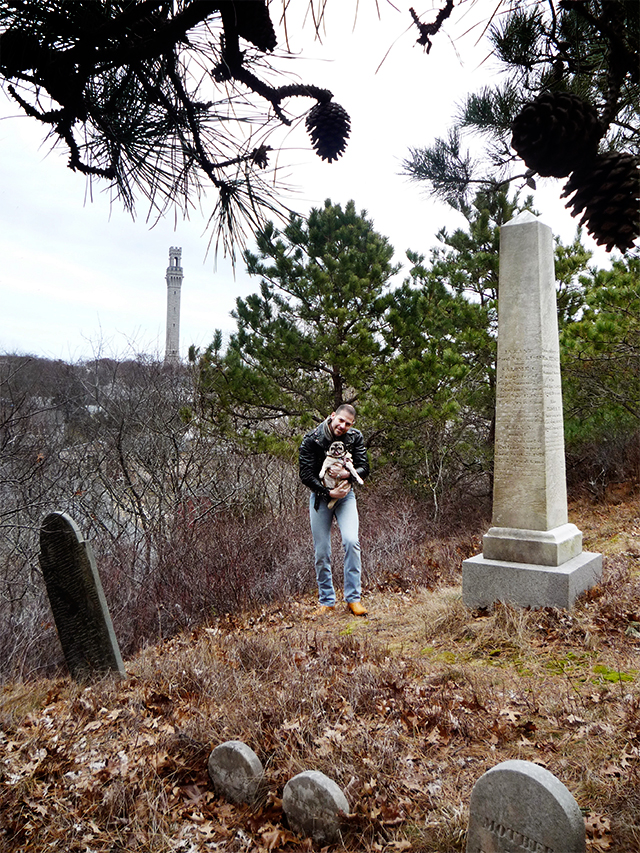 It was so funny to watch our little gremlin weave in and out around the crumbling tombstones with faded epitaphs and hearing the jingle of her collar tags and the crunching sound of her paws on the dead grass below her feet. It was like she was being chased by the Headless Horseman and the only time she would stop running is when she felt the need to pay her respects to the deceased by urinating all over their resting place! Actually, she also stopped dead in her tracks when she heard me rattle out her bag of soft chew peanut butter treats too!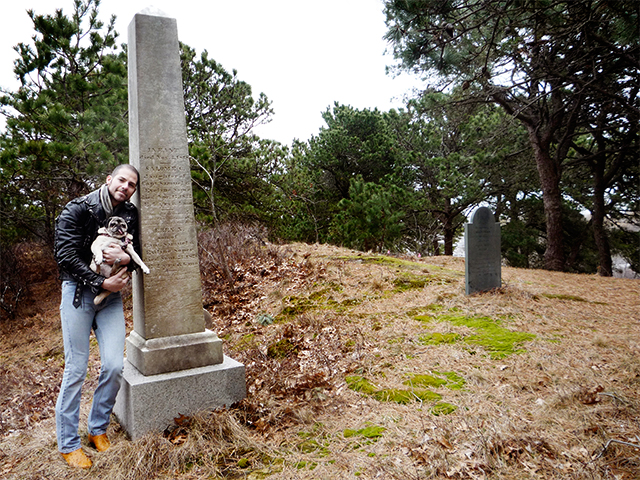 At any rate, here's our Throwback Thursday for you, Halloween style . . . because if a pug in a graveyard won't get you inspired for October 31st, nothing will!
Enjoy