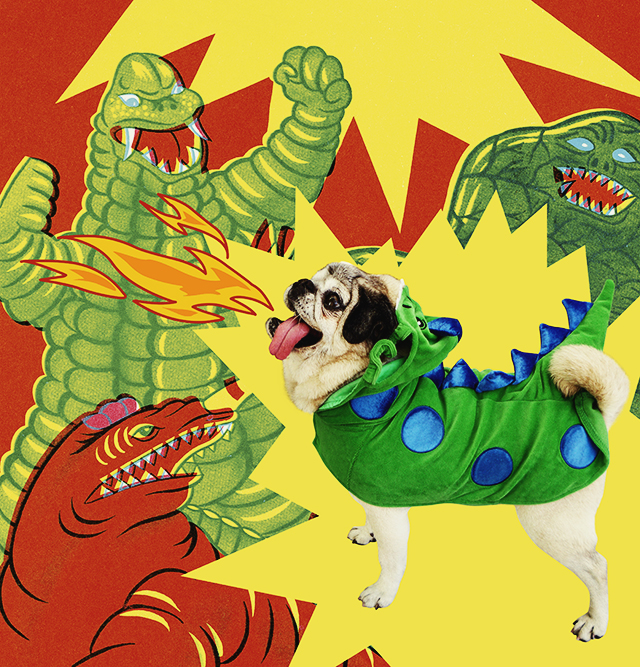 It's open season on slaying monsters and dragons and Mamma Biscuit is out in full force sporting through Tokyo in search for some soft-chew peanut butter treats! Normally, I would consider Mamma to be a gentle beast however, if you let on just the slightest that your hiding any treats within her vicinity, she'll turn into a dragon who will stop at nothing to use her one last tooth to intimidate you into revealing your secret stash! Yes, she can be a vicious dragon, especially when she wakes up at 4am every morning and runs circles around my head relentlessly until I wake up to walk and feed her! Despite all of that, I never thought in a million years that this inexpensive dragon costume furnished by Michael's Craft Store (30% off the regular price thank-you-very-much) would get the Biscuit Lady to perform such mythical feats like barking out swaths of fire from her mouth! I guess when it comes to the consumption of food, Mamma will reveal and utilize the many tricks she has up her sleeve—and who knows if there are more. For starters, how in the hell does she keep her tongue from bursting into flames? Moreover, why would she even bother with fire when she can use that tongue of hers the same way a frog would to fight and catch her prey! Oh the Halloween magic of it all has gotten everyone so shaken up here at the Pug Palace! In fact, the whole damn place shakes when she walks while wearing her dragon attire and it doesn't bode well for our neighbors who live below us. It feels and sounds like King Kong if he were walking towards your home from a distance—yeah, that fucking scary!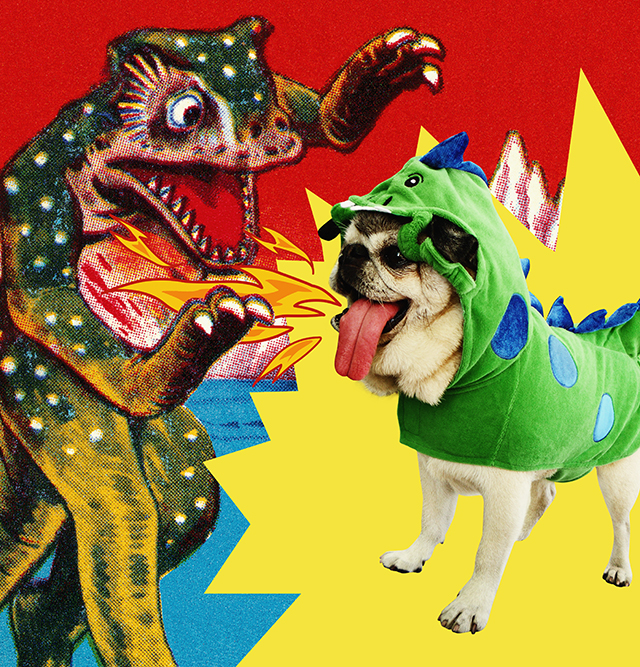 Now before our Pugzilla embarked on her journey to that magical island of Japan, I advised her of two things she should do once she got there: 1) leave the Harajuki neighborhood alone, those girls and boys are single-handedly keeping Vivienne Westwood alive and I want to keep it that way and 2) find out what the hell happened to Gwen Stefani's career! She gave me a blank stare, blinked her marble pug eyes twice and pranced off with her dragon tail flip-flopping against her curly tail like a dead fish! Fingers crossed, I'm really rooting for a Gwen/L.A.M.B. come back! Since Mamma Biscuit has left the premises, I think it would be a good time to take you all on a tour of our Halloween display here at the Pug Palace.
First stop on our tour through our ghoulish Halloween maze is Mamma Biscuit's annual Halloween tree that we constructed with some of the finest branches we could find scouring through the wooded areas of Fort Tryon Park.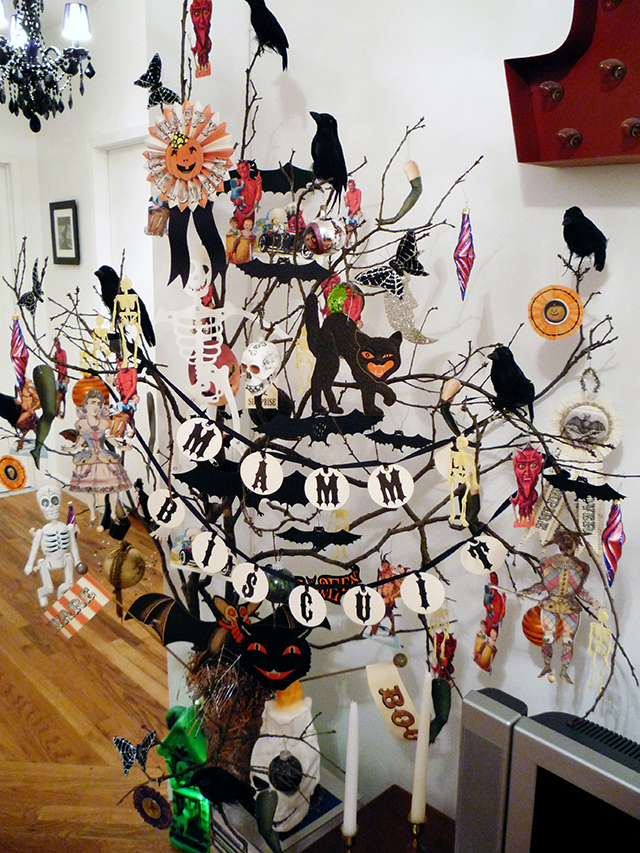 Now before we go any further, I want you all to know that this display fell twice. YES, you read that right, TWICE! The first time it came crashing down was while I was putting it up. I had three ornaments on the tree when my superintendent walked through my living room after fixing my bathroom window and brushed up against a branch. The entire thing came crashing down on me and luckily, the three ornaments survived. He kept apologizing while he stood over me as I repositioned it back up and all I could say was, "JUST LEAVE." YES, I'm a bitch but I was in no mood and besides, no matter what I say to my superintendent, whenever he comes barreling into my apartment, he scuffs the walls, he brushes up against things, I just don't understand why he can't walk like a normal person! The second time was much more frightful (perfect word for Halloween) because it happened 10 minutes after the entire tree was up. YES, the whole thing fell down but this time I had no superintendent to blame but myself for not anchoring it properly to the floor. Unfortunately, I lost two ornaments (one very expensive one) and I felt totally defeated. Mamma Biscuit was cozy in her bed while this happened thankfully so she didn't witness it all unfold (it could have fell on her) so I picked myself up and recreated her tree seamlessly before she woke up—and I anchored it so well that if we had a 9.0 earthquake, it would still be standing up! But enough about the behind-the-scenes fiasco of Mamma's tree, let's get to the fun stuff, like the decorations!
Mamma Biscuit's name is the focal point of our tree with a fabulous garland that I put together that spells out her name set in a Gothic font on paper circles—after all, it is her tree. We've got a menagerie of Victorian string puppets, glass balls, spiral twists, skulls, skeletons, paper bats, body parts and Krampus, the Austrian and Bavarian Christmas icon swirling around this creepy tree.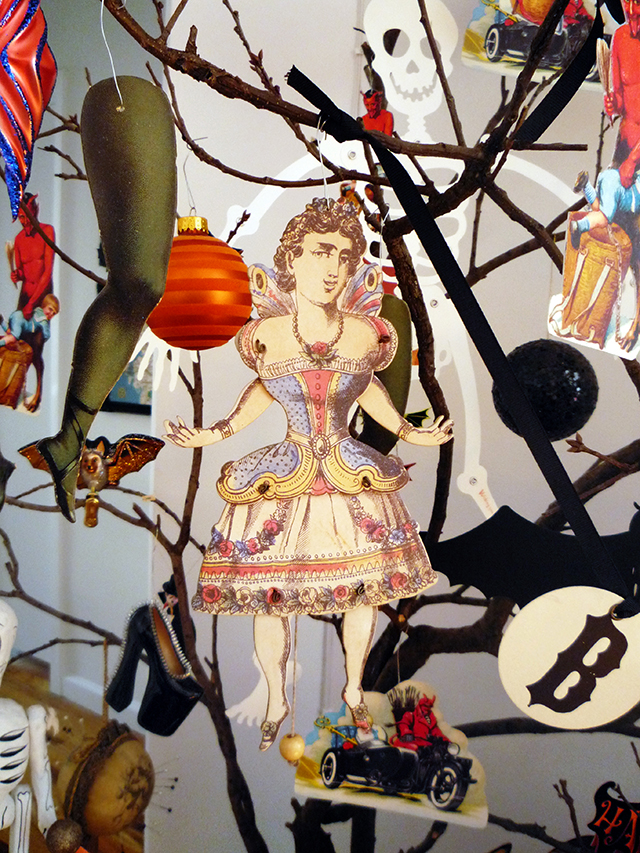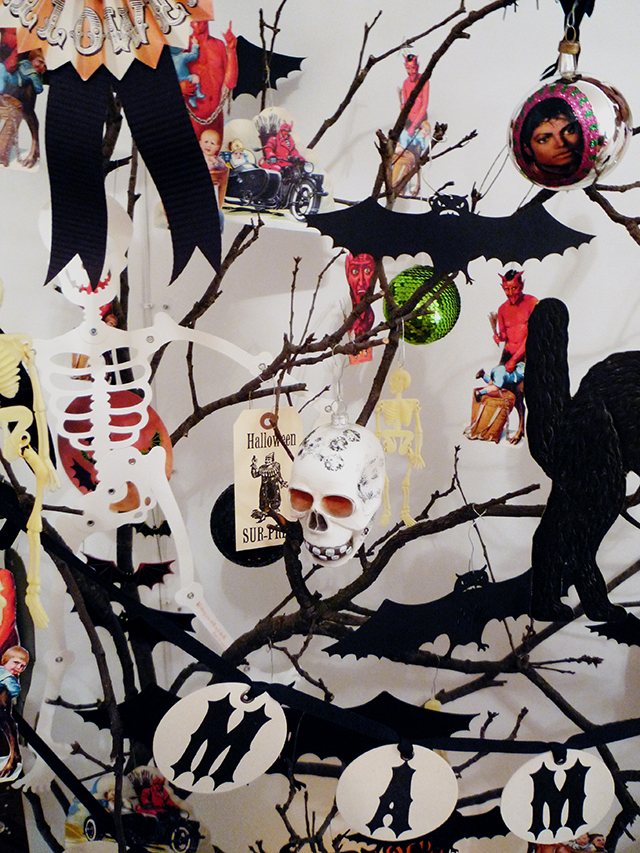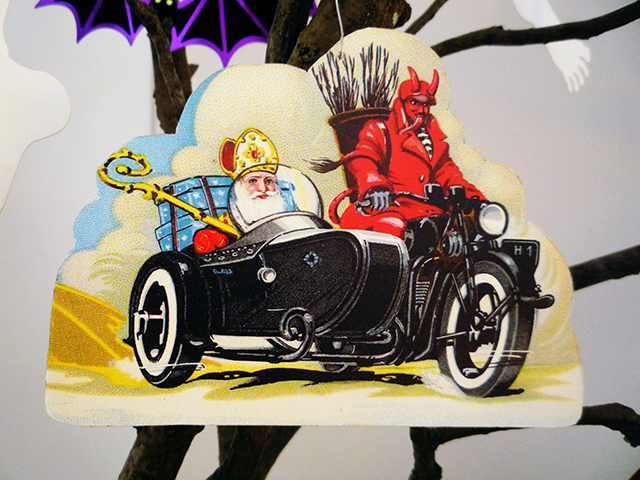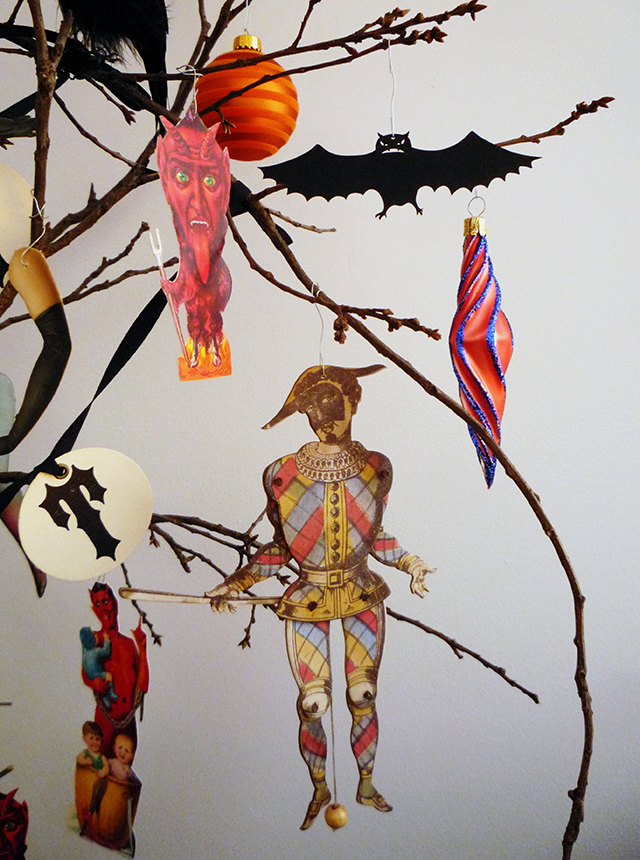 You all remember the story of Krampus, don't you? According to legend, Krampus (represented by demon-like devils and half-horses with horns and long, forked tongues) accompanies St. Nicholas during the Christmas season to warn and punish bad children by kidnapping them, spanking them (how strangely erotic) and generally threatening them of some dark demise if they don't follow orders. Sounds kinky if you ask me! I hand-made those ornaments, cutting out the silhouettes with an xacto knife and temporarily going blind! Sadly, there isn't a market for Krampus ornaments for any holiday and they can't be bought anywhere so I labored through to make them myself.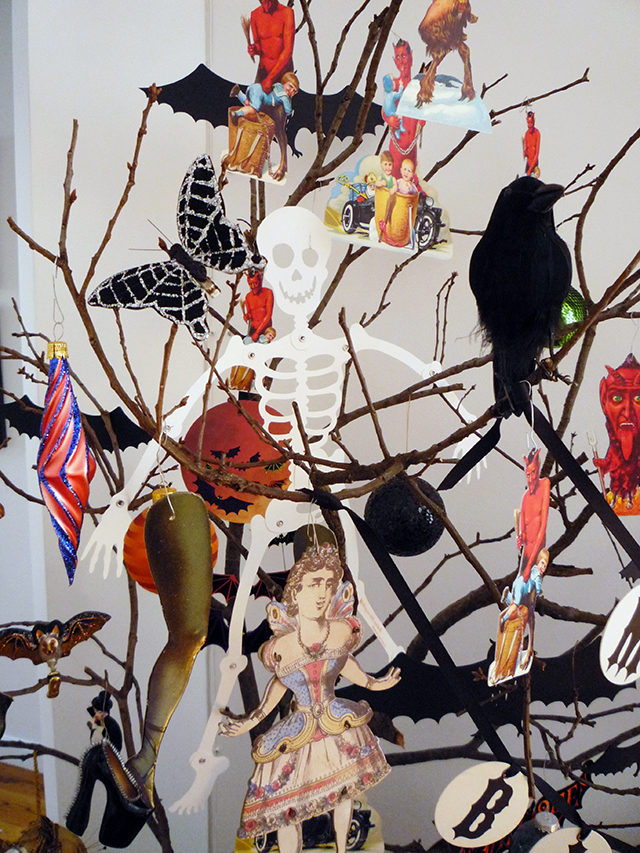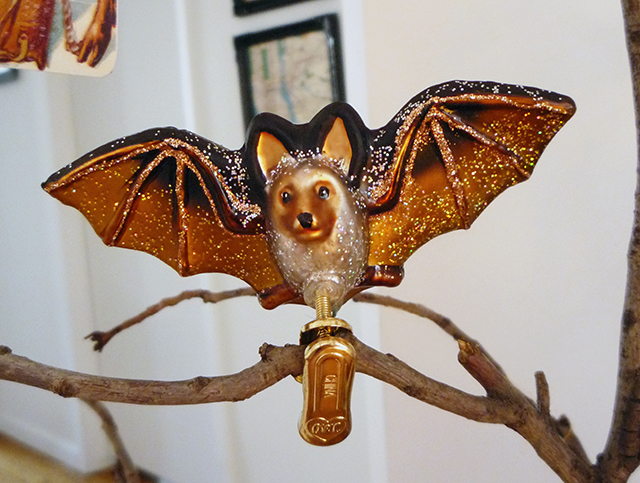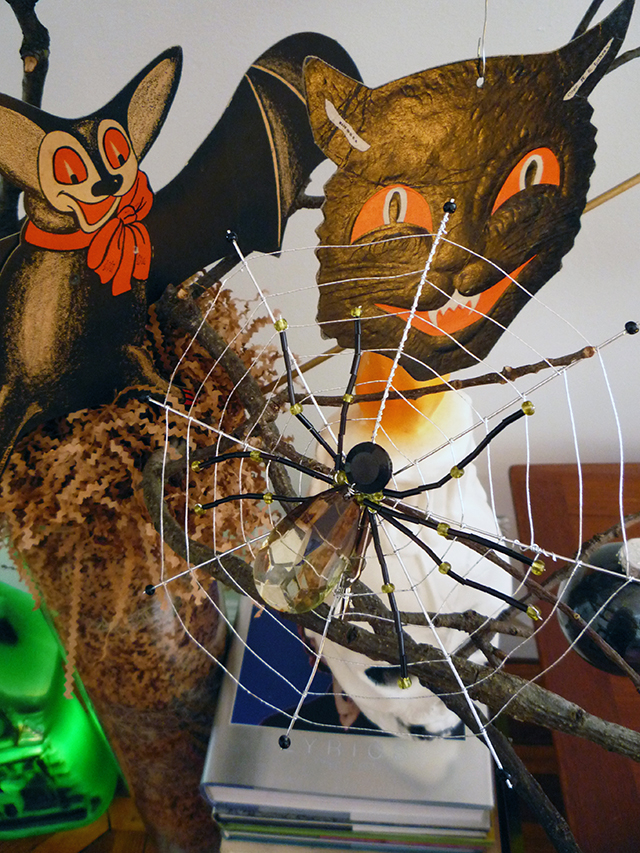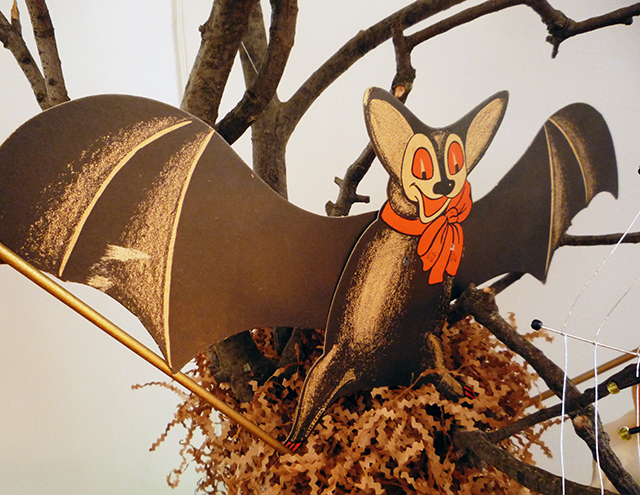 We also have this fantastic ornament of the famous Vivienne Westwood punk/platform shoe that Naomi Campbell wore when she fell on her ass walking down the runway many years ago. OK, so it's not the same exact shoe as she wore but it's from the same collection. Earlier this year, we went to the MET to see Punk: Chaos to Couture, an exhibition on all things punk in fashion and the gift store was selling this ornament as a souvenir to the show—so naturally, we had to have it!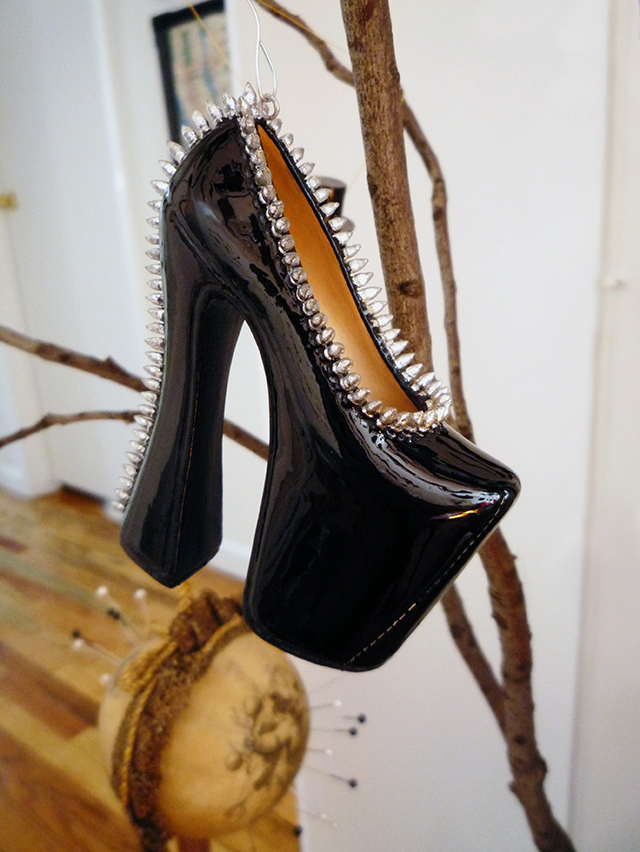 Our beloved Michael Jackson Thriller glass ball ornament hangs proudly every year. In our opinion, the Thriller music video encapsulates Halloween and the dead better than anything ever has in popular culture—and Mamma Biscuit is a huge fan!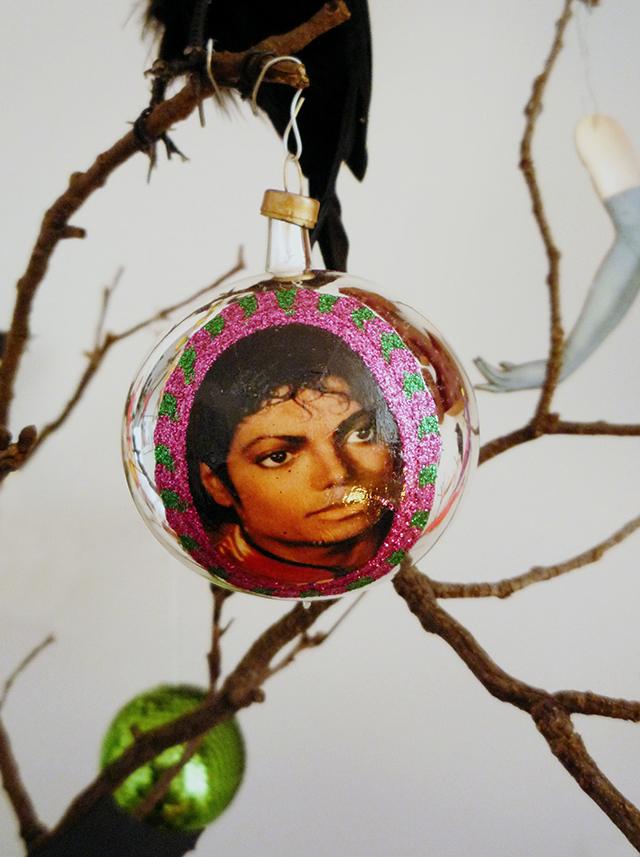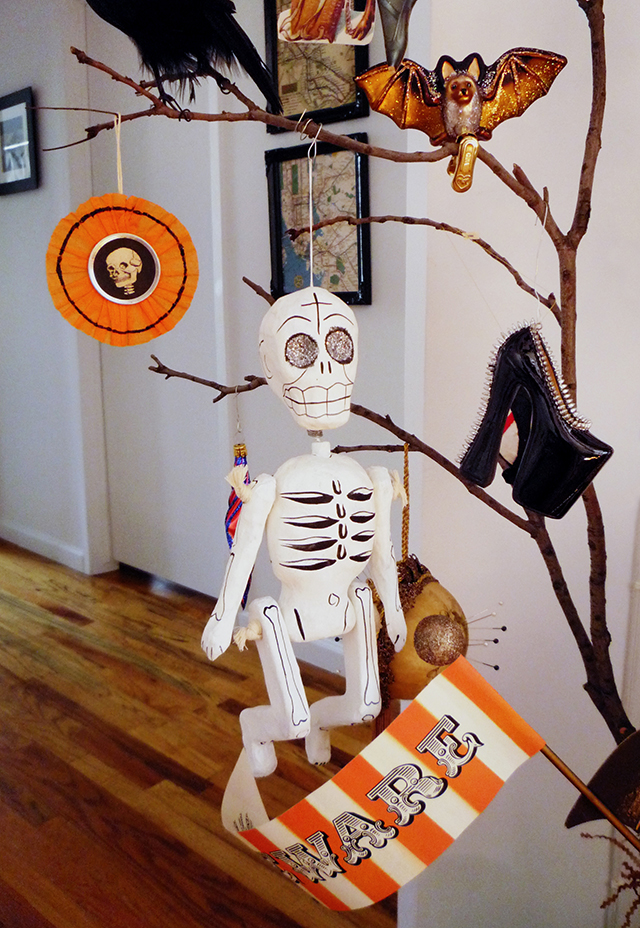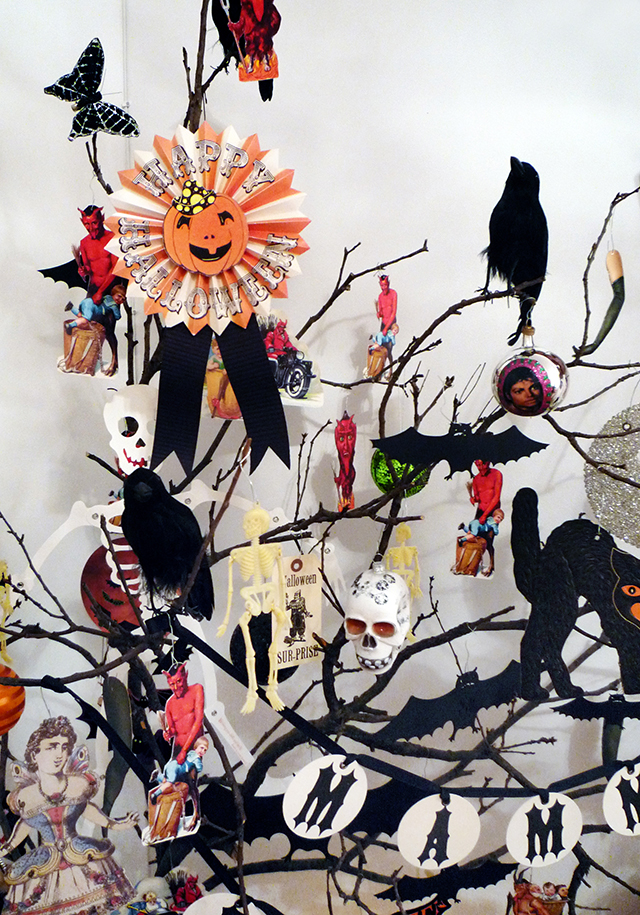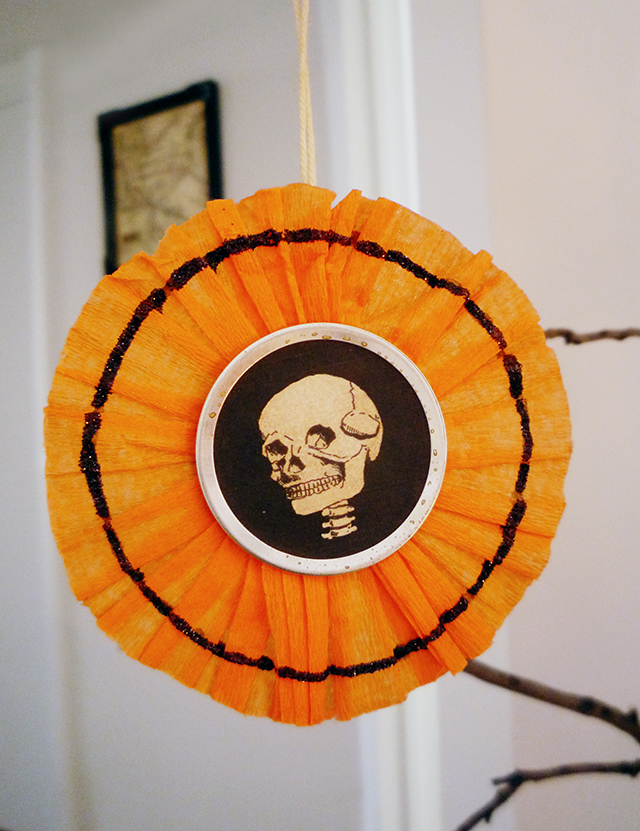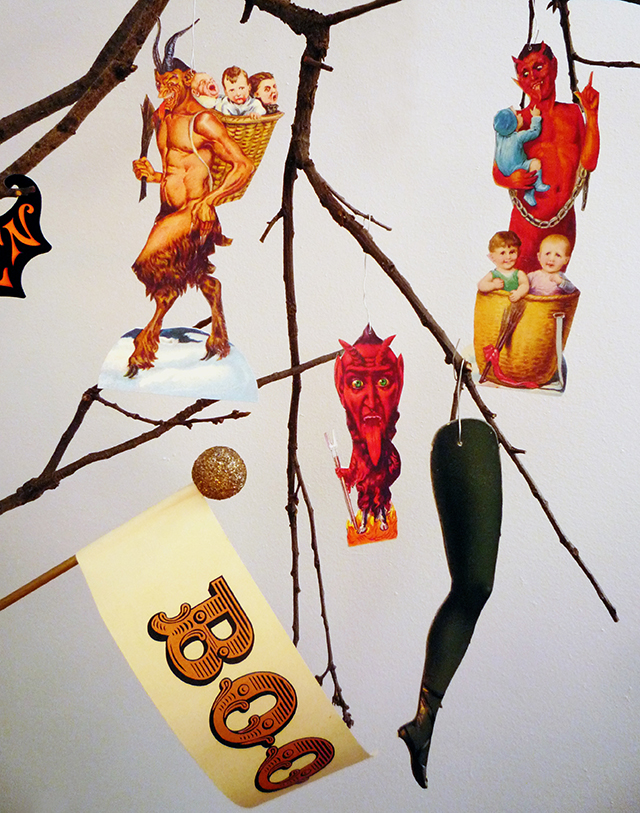 The perfect finishing touch to this massive tree display is the eerie glow emanating from the spooky, vintage blow-mold of a haunted house sitting at the base of the tree. Tommy has acquired quite a collection of vintage blow mold and when the lights go down at the Pug Palace, there's a soft glow of green, orange and purple throughout the home that makes everything seem warm and cozy! Our newest blow-mold piece is the white skull with candle sitting upon the pile of books at the base of the tree—a rare find when it comes to blow-mold!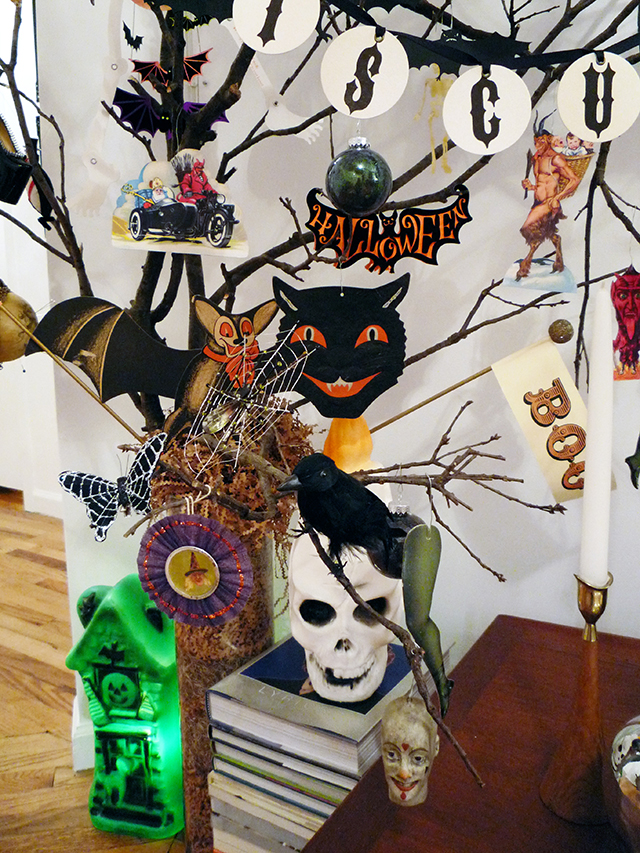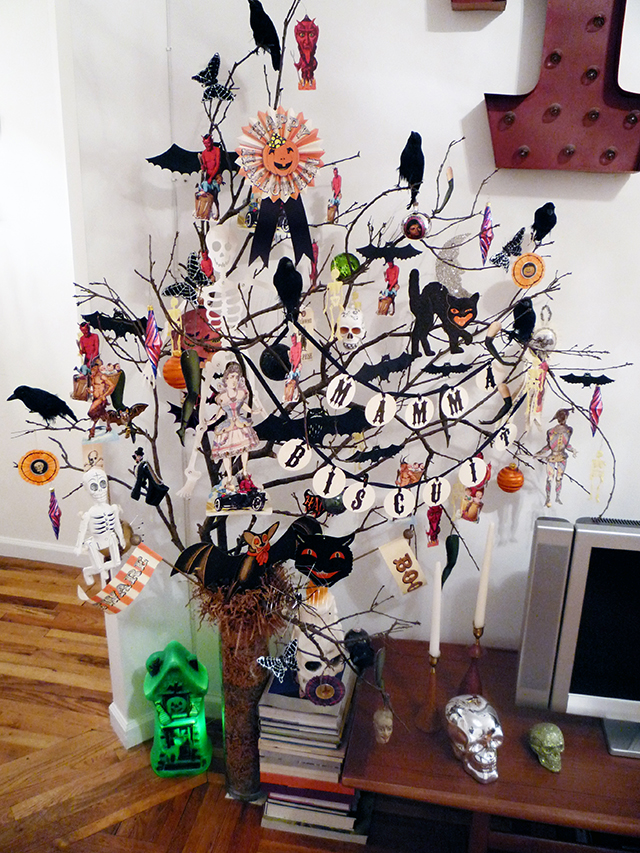 So before we move on, let's see how Mamma Biscuit is doing with her dragon frenemies on the other side of the planet!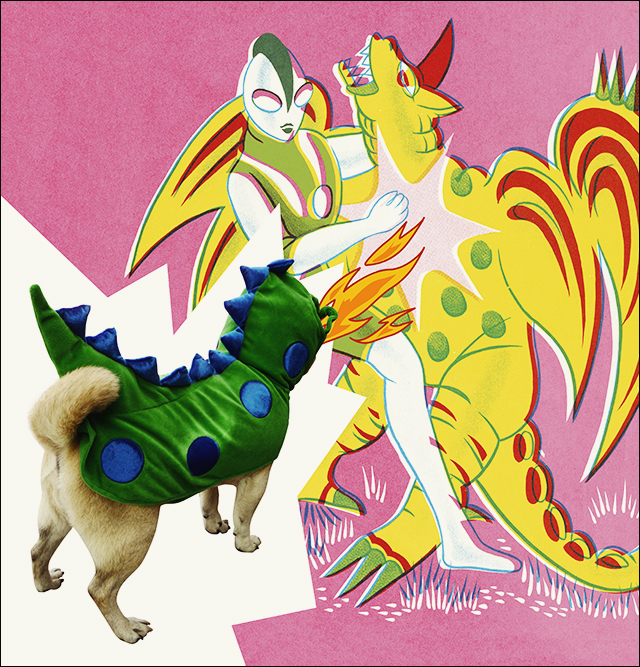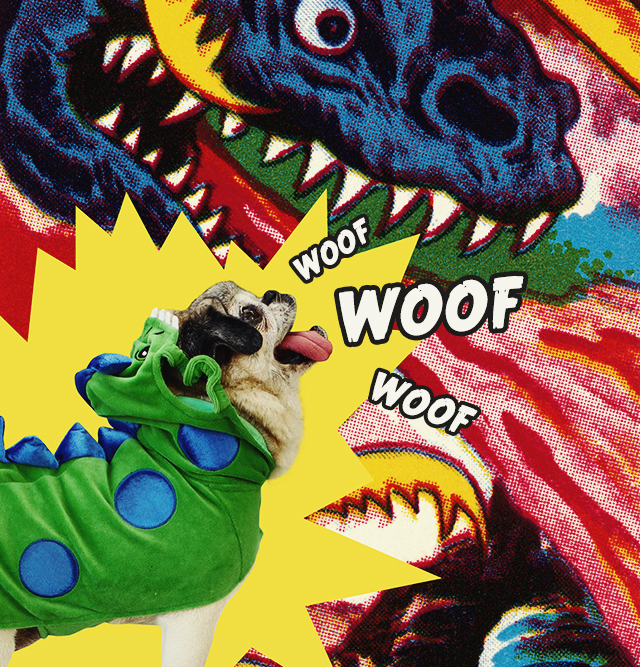 WOW, looks like she's still in the thick of battle—let's hurry our tour before she comes back . . . hungry!
Now onto Mamma Biscuit's Halloween friends. Here to greet you all is this set of five Day-of-the-Dead skeletons playing their guitars and dancing to the sweet music of Halloween.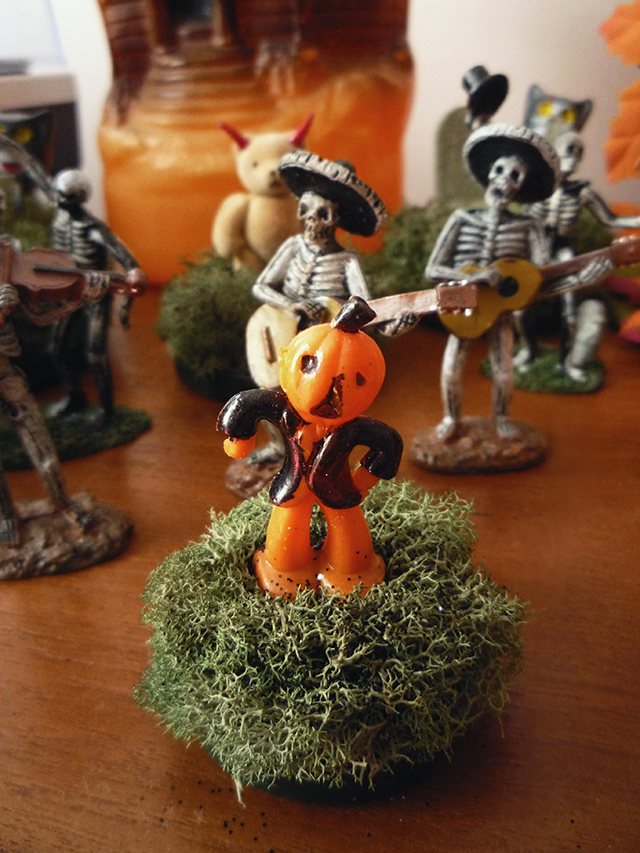 I've created a mock cemetery of sorts using vintage Halloween odds and ends, some grassy moss, old lids from glass jars and black glitter to surround these musical skeletons. I placed a fabulous orange haunted house blow-mold from the 60s behind it to complete the vignette.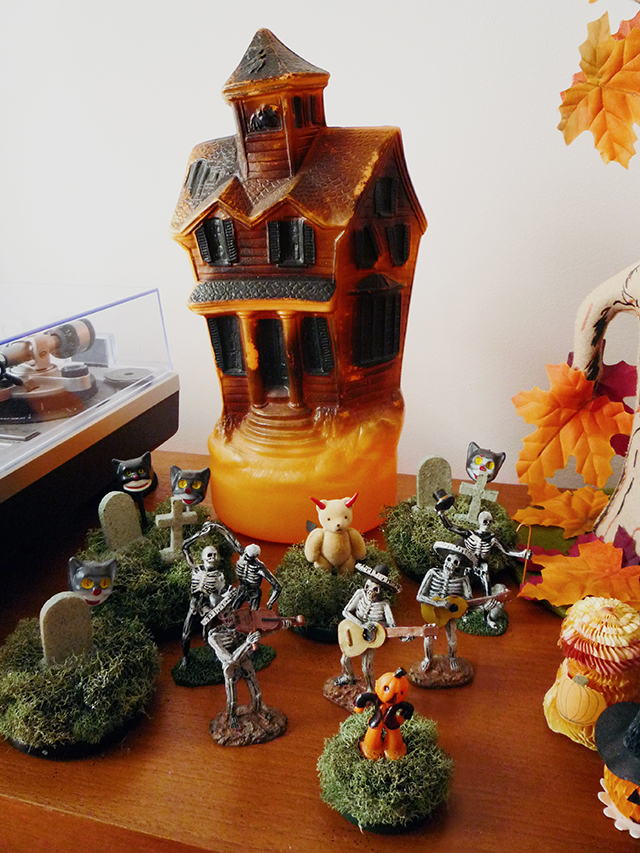 Alongside our skeleton friends we have a whole host of vintage Annalee figurines from the late 60s to the late 90s–a witch, a devil, a scare crow, ghosts and various other Halloween characters that keep the Pug Palace creative and festive.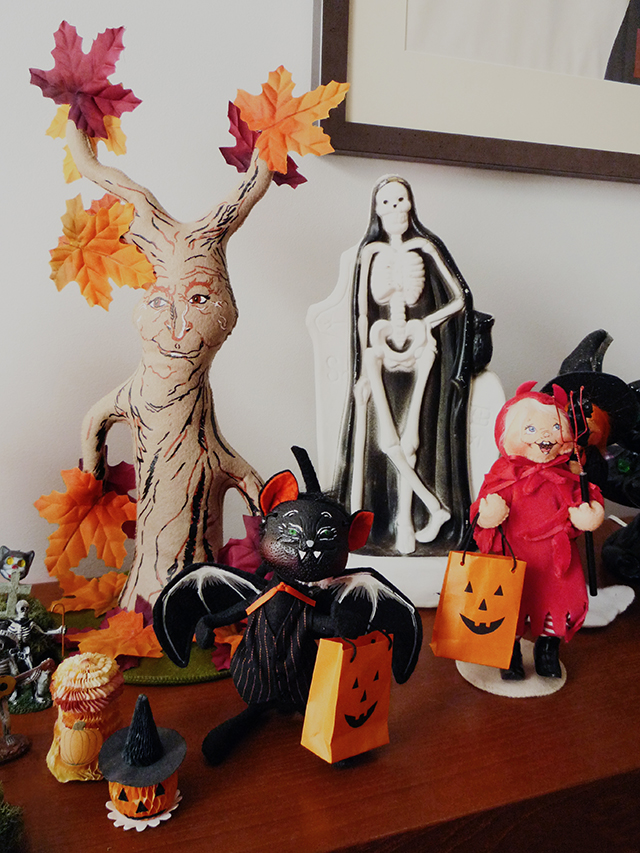 Our giant ceramic tree in black with green, orange and purple peg lights is the center attraction to this display adding just the right amount of spooky glow to the room and upon all of Mamma's monster friends surrounding it!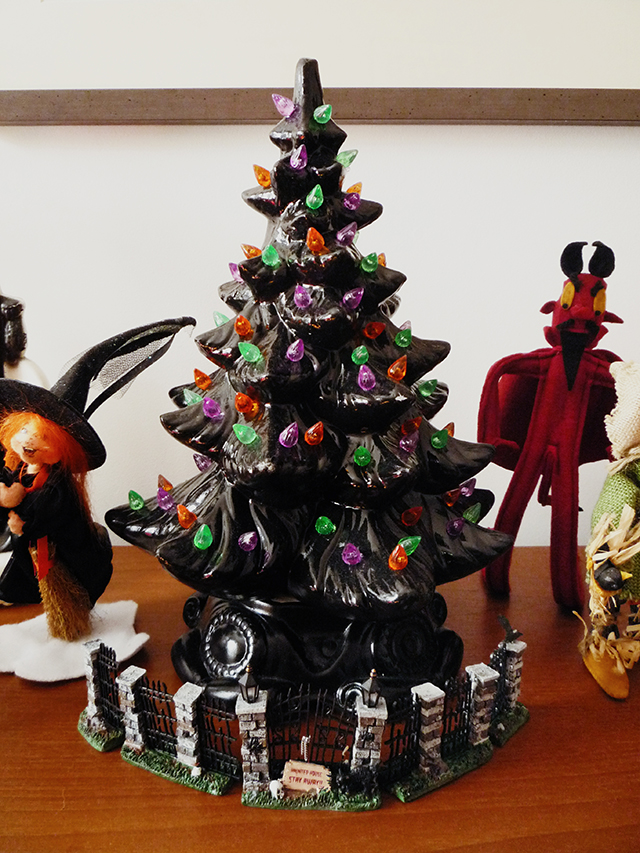 We have several new pieces in our Halloween display. The "Beware" skeleton hand and the "Mr. Bones" skeleton friend comes from our talented friends at Tinsel Trading Company, the scare crow blow-mold is yet another new addition to our collection (Tommy is certifiably obsessed with blow-mold and has a permanent search going on all year long on Ebay) and the devil/gumby character is an odd little character I found in an antique market a few months ago here in NYC.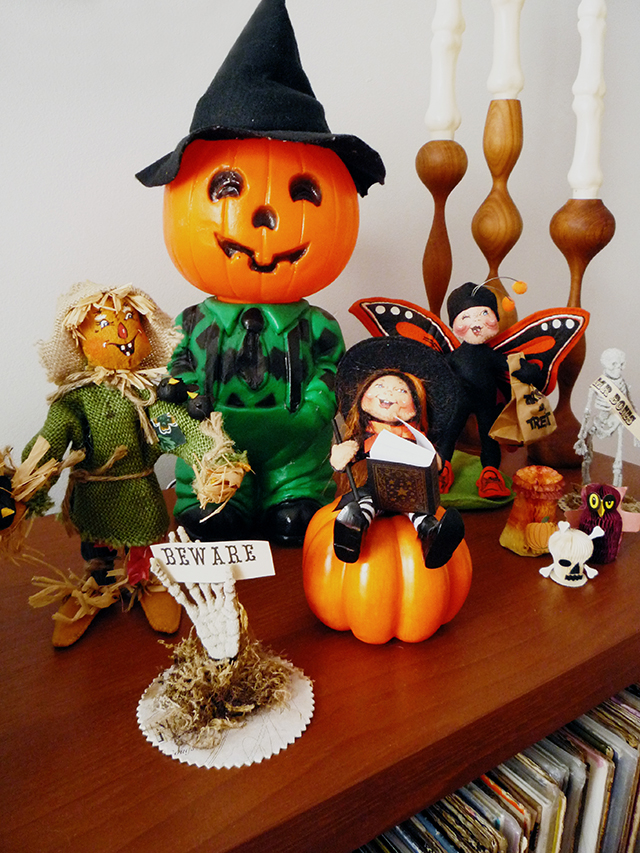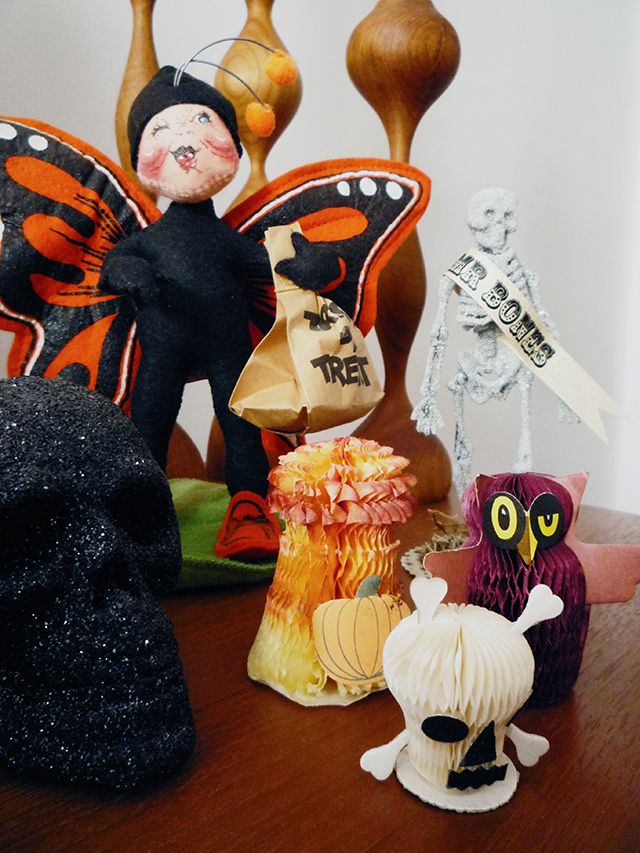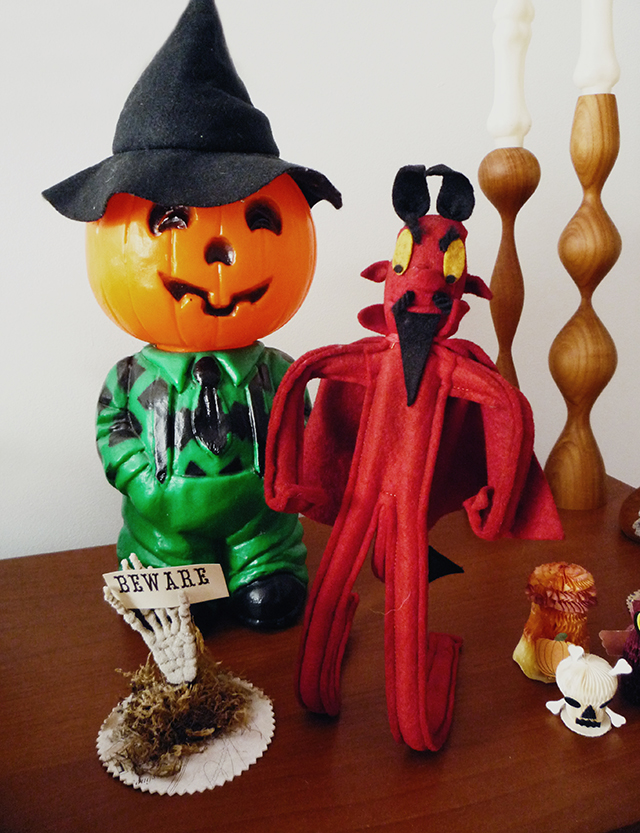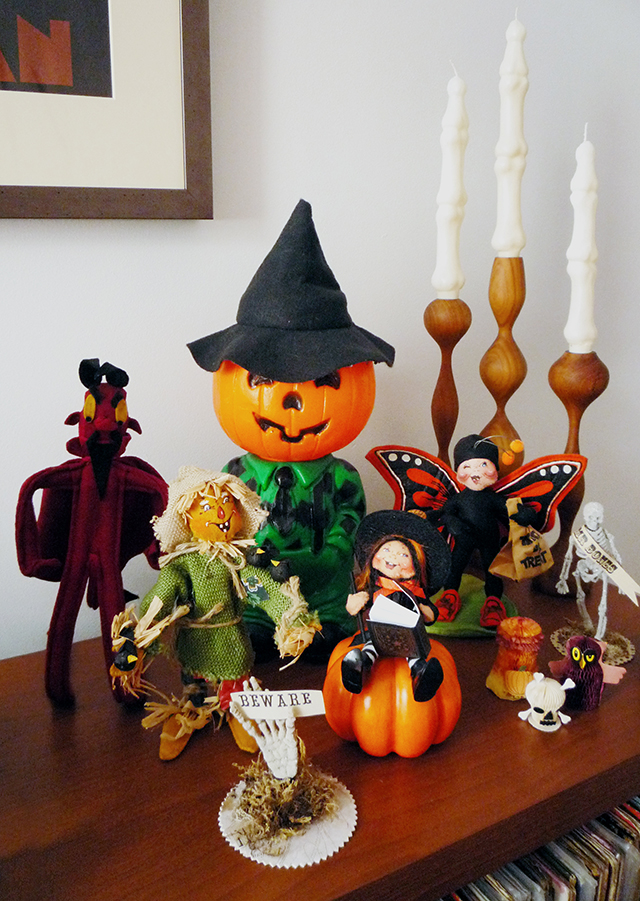 UH OH, do you feel the rattling of the floor beneath you? The tree is shaking and the lights are flickering, that could only mean one thing, Mamma Biscuit is prancing back to the Pug Palace and she may have invited a few of her dragon friends with her.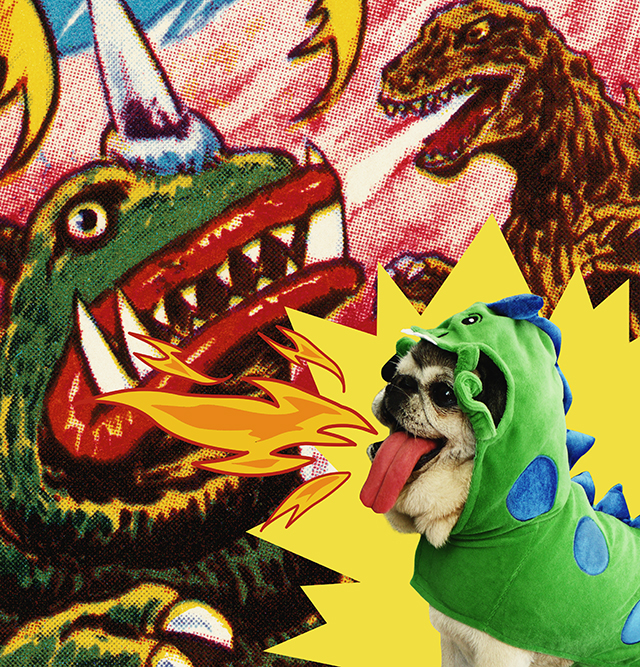 Looks like our tree might fall a third time if she brings home an unruly crowd—run people, RUN!
Enjoy and remember, Halloween is only 21 days away, are you ready?! Oh, and in case you were wondering, I'm 98% done with Mamma's Halloween costume. Only a couple of more weeks until we unviel it to you all and we can't wait!