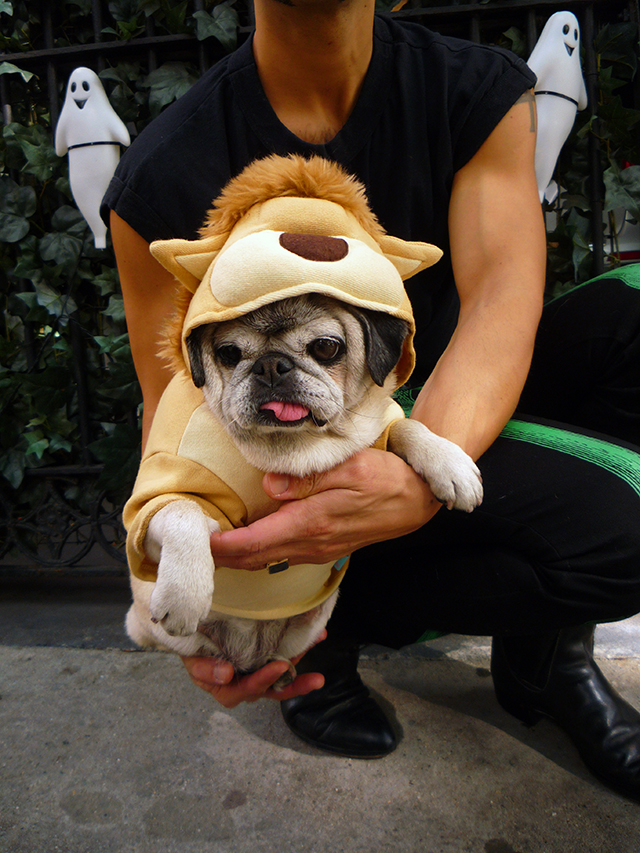 If someone told me a couple of years ago that the Upper East Side (where 90% of the 1% reside on the island of Manhattan) was a hotbed for gruesome, spooky Halloween displays, I would have thought they were a misinformed tourist! But alas, I'm left to feel like the damn tourist here (along with everyone else) because it's true, the Upper East Side is chock-full of homes bursting with Halloween displays that are so disturbing you would think they would call the authorities on each other every day until October 31st! The residents of these neighborhoods are notorious for protesting anything tame and non threatening, like craft fairs and noisy birds flying from one ivy covered brick wall to the next. They normally obsess over their Swiss bank accounts, their next Botox injection, their mistresses and general neighborhood beautification not Halloween decor. So how is it possible that the same, uptight residents have the nerve to put up such gory Halloween displays on their front door? It must be left over competitiveness that these CEOs bring home from their professional lives that drive such displays because I can't think of any other explanation for it. I mean, we're talking about bloody, severed heads staked through every spike on every Gothic, wrought iron gate alongside a plethora of screaming ghouls, skeletons, monsters and cobwebs stretched from every damn tree branch from 91st Street all the way down to 67th Street. Giant spiders dangling from trees and deformed zombies crawling down front door stairs are normally what would describe a horror film not some of the most expensive houses in New York City but whatever their reasons are for getting into the Halloween spirit, we're just happy that they get into it! Now I'm guessing that most of these Tim Burtonesque displays are the product of professional designers and hundreds of dollars but you all know how much Mamma Biscuit and I love a good ol' plastic mess no matter who put it up! It doesn't matter what holiday it may be, if someone is obsessed enough to litter their property with tons of decorations, they've got me as an audience! So Tommy, Mamma Biscuit and I decided to take a stroll through these neighborhoods on Saturday to see, first hand, our city's strange hedge-fund Halloween displays.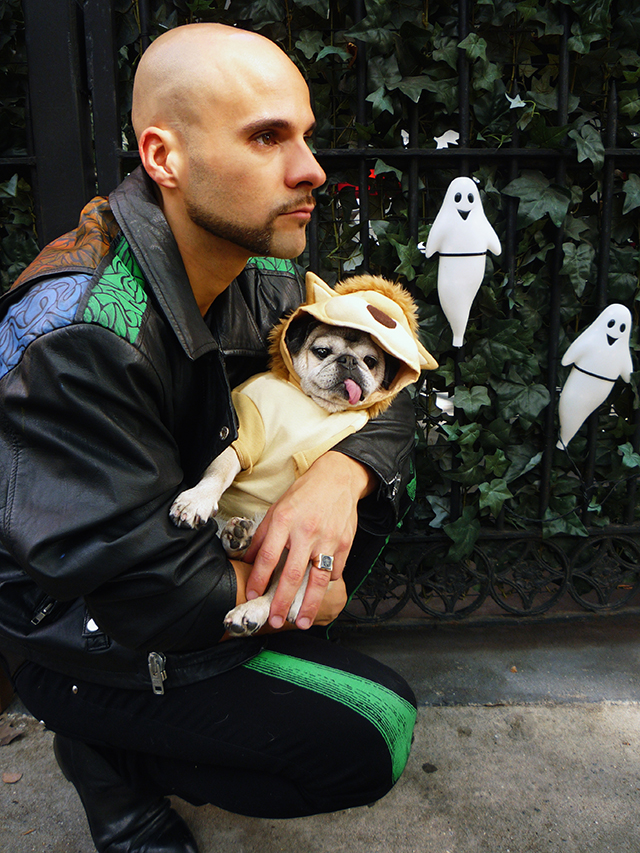 We started our tour at a town house on 91st Street between Park and Lexington that featured a giant, eight-foot-tall, inflatable witch guarding their front door. The seven white pumpkins with black detailing and Halloween greetings lining the steps of the staircase leading up to the giant witch seemed tame in comparison to what followed that day but that didn't stop us from taking a few portraits of Mamma Biscuit in front looking ever so adorable in her lioness costume.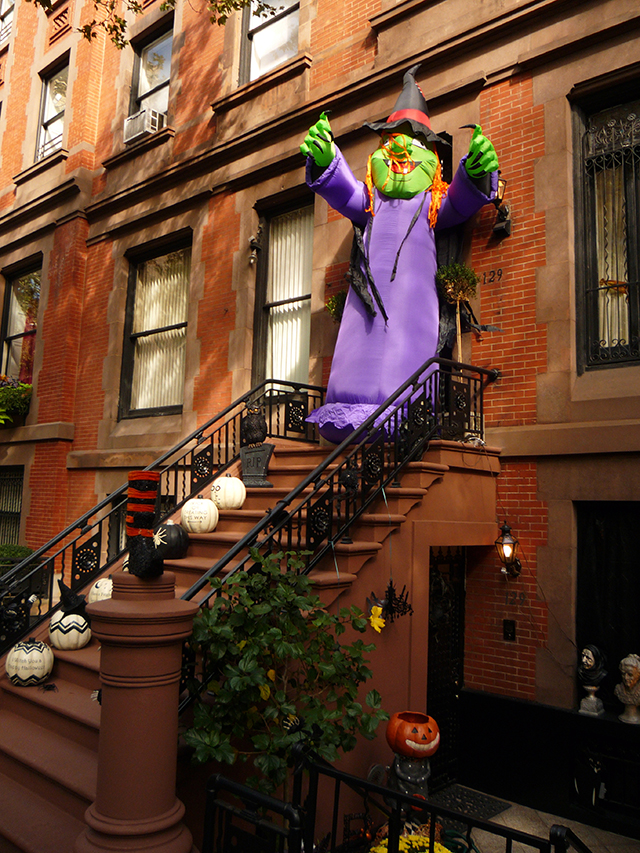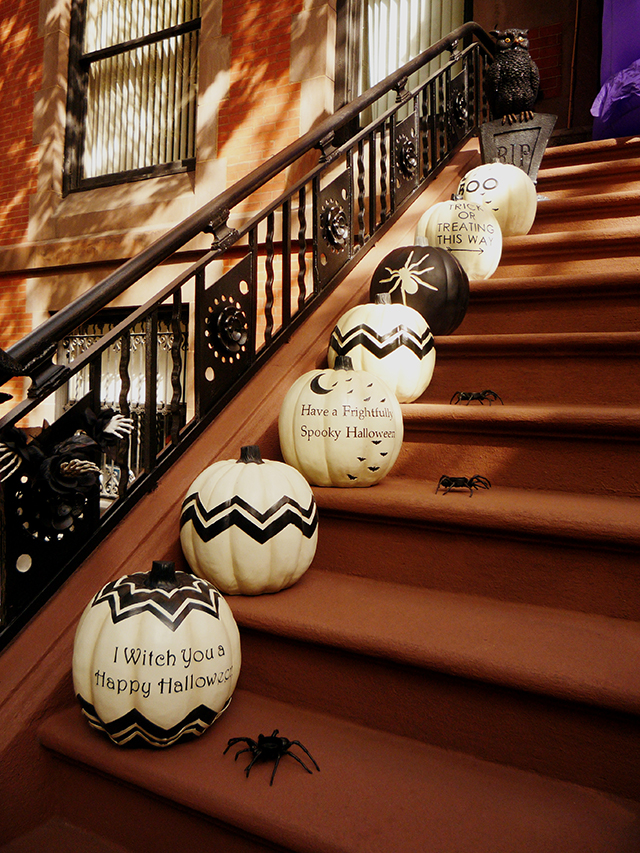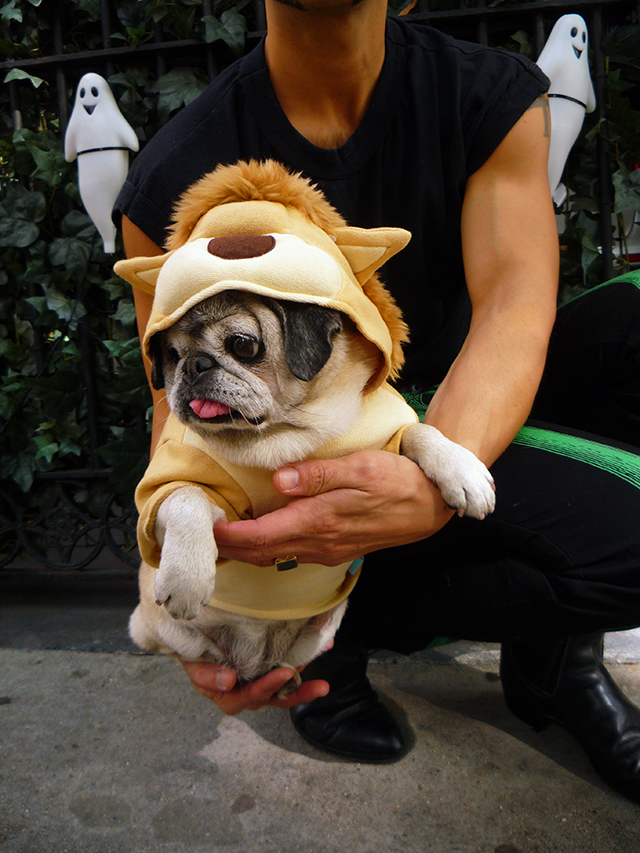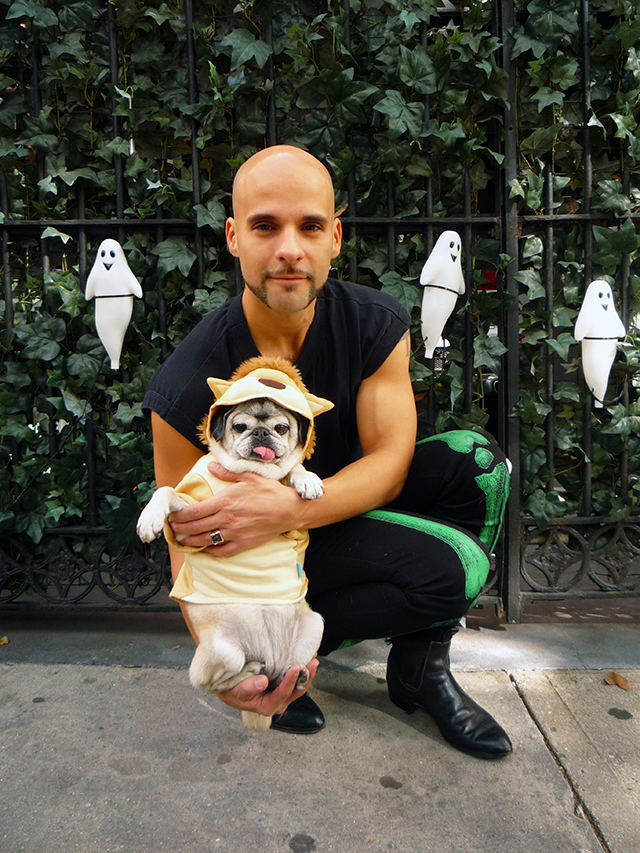 The moment I put this costume on our gremlin, I literally wanted to sing the chorus to Katy Perry's new song Roar—that's how perfect she looks wearing it! She's got the eye of the tiger, a fighter, dancing through the fire, 'cause she's a champion and you're gonna hear her roar, louder, louder than a lion 'cause she's a champion and you're gonna hear her roar!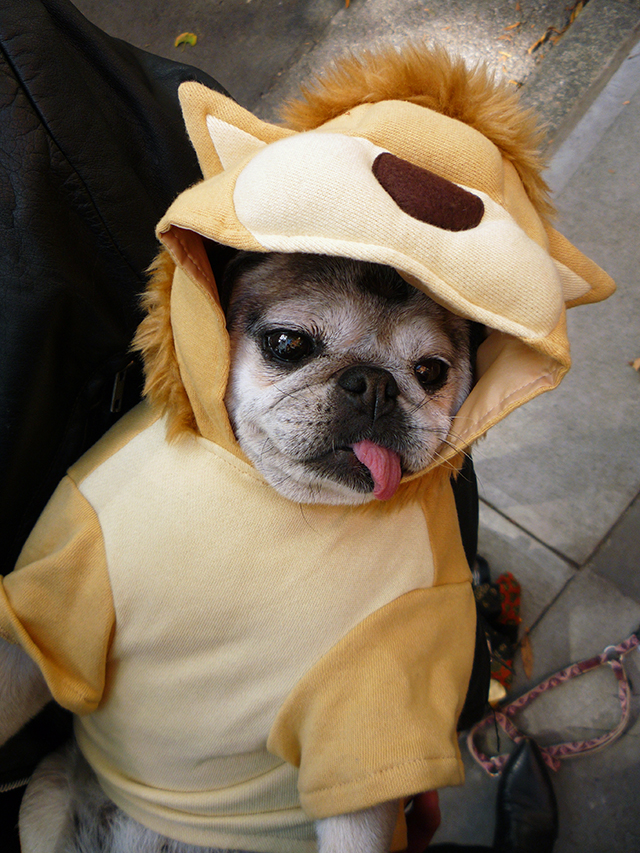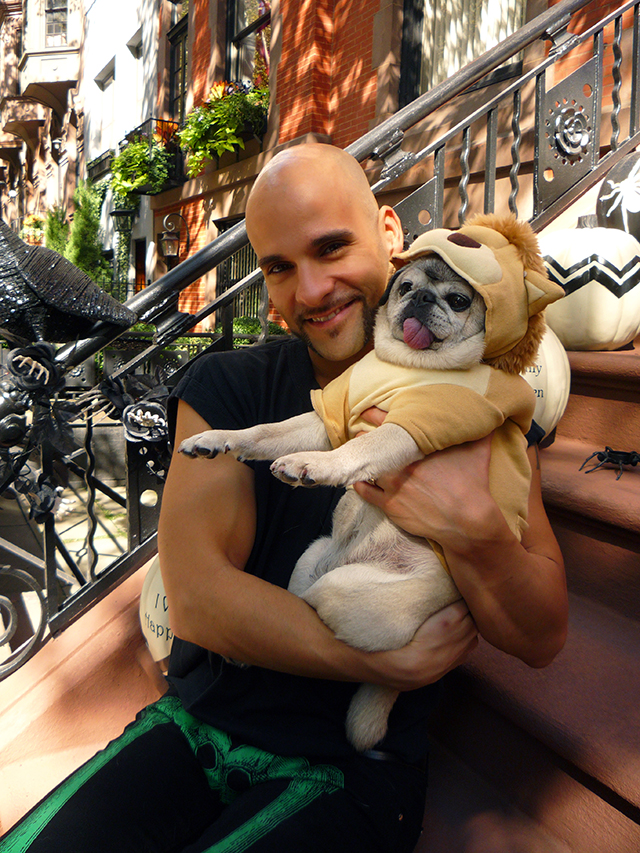 Our next stop on our stroll is the famous town house at 74th street owned by Marc Lasry, the co-founder of Avenue Capital. Marc and his entire family have decorated their mansion with bloodied bodies hanging from the balcony and along the scaffolding on the west side of the house, skeleton heads staked through the spikes of the cast iron fence surrounding the property, swinging bats and a life-size, clothed skeleton affixed to a tree on the sidewalk. The moment I heard about this Halloween mess I just knew I had to get our butts over there to see it in person!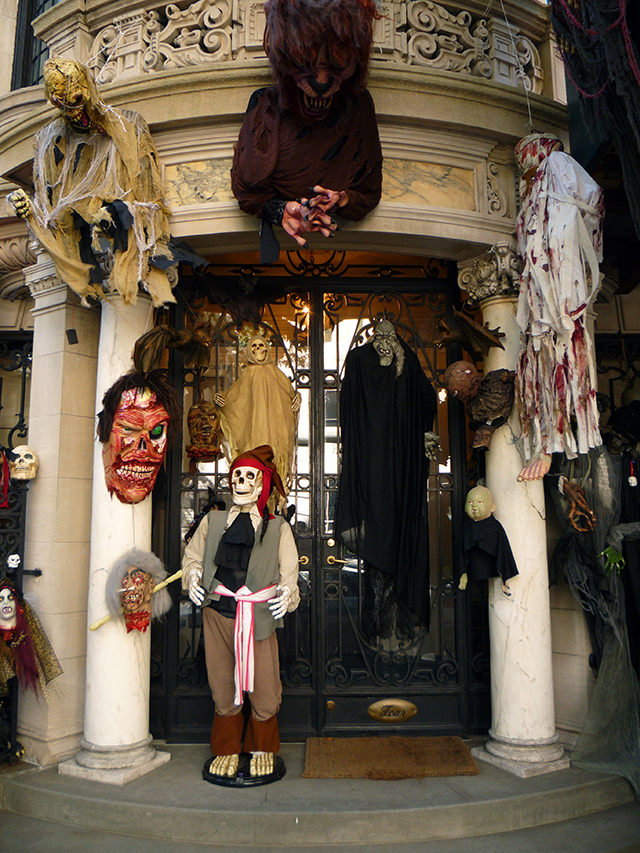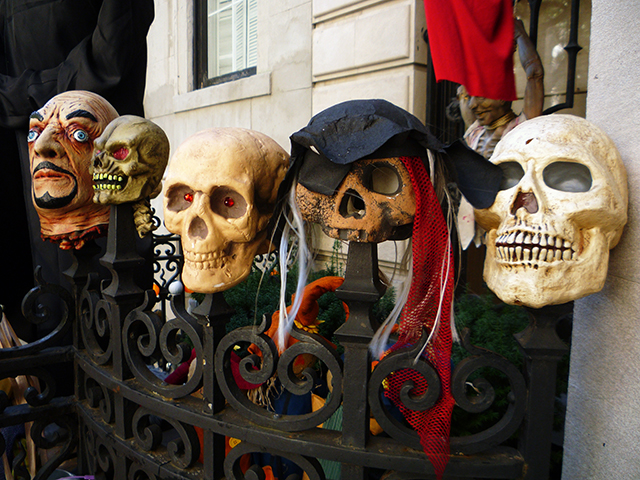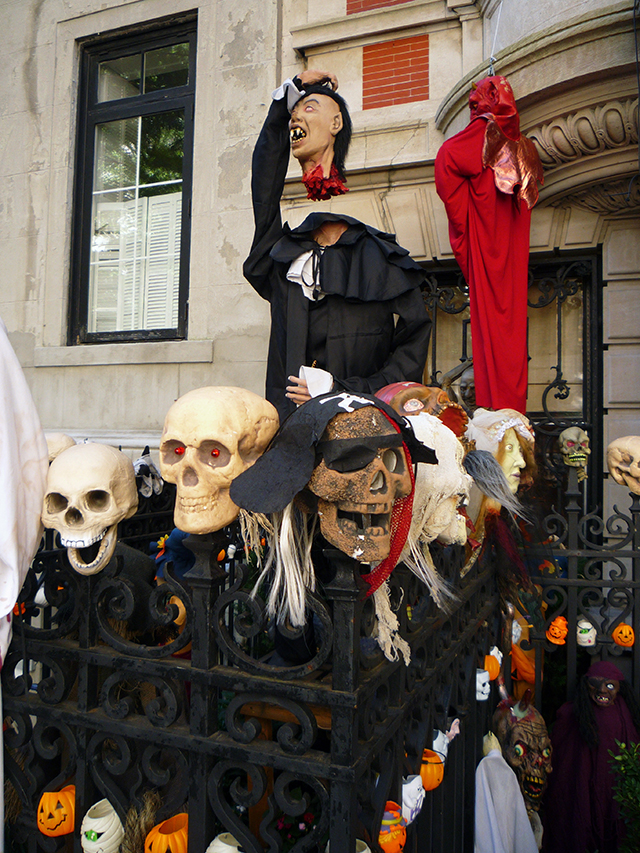 We started our tour of the house by posing with Mamma Biscuit next to a 4-foot pirate skeleton positioned at the front door that shook while the audio for Super Freak played in the background. Mamma Biscuit literally shook in my arms from fright when the motion-activated device went off and the few tourists who actually showed up to see this house looked on with such amusement—some were actually taking photos of Mamma Biscuit rather than the Halloween display itself!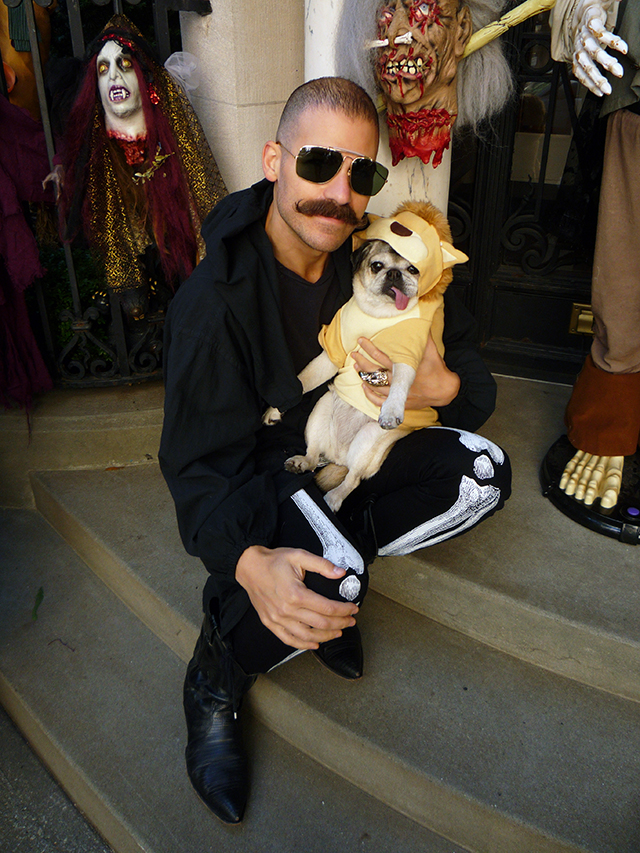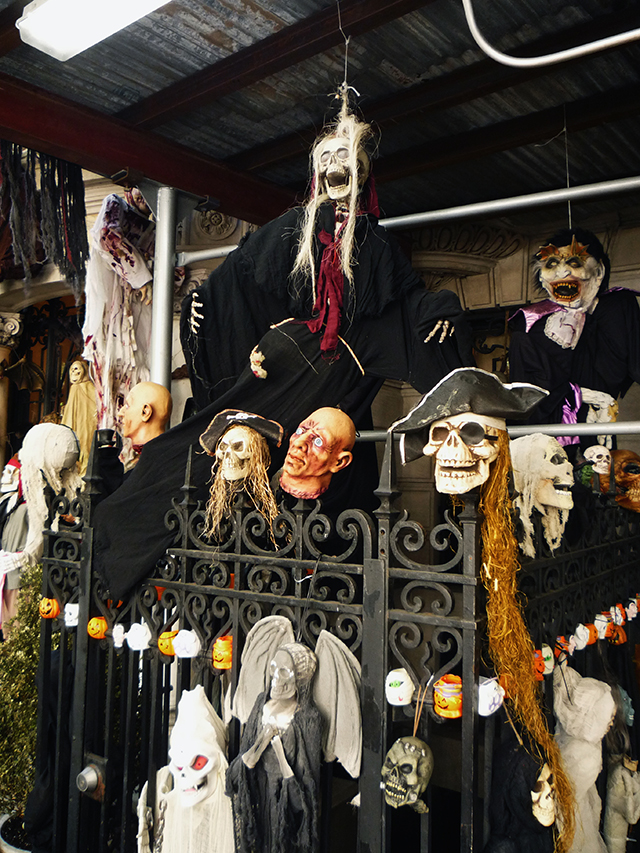 This over-the-top Halloween display has become a tradition for the Lasry family. Sophie Lasry, 18, one of the couple's five children says, "It's more of a family thing we do to stay together" regarding the seven-year family ritual of decking their house out for the season. Decorations go up every year on October 1rst and don't come down until the day after Halloween! I hear that Trick or Treaters actually start ringing the doorbell on the morning of October 31rst!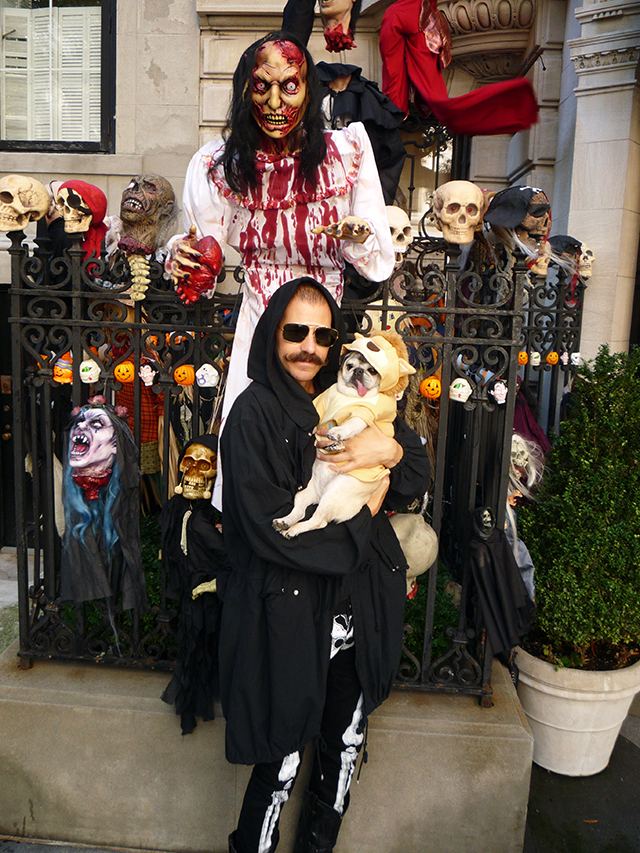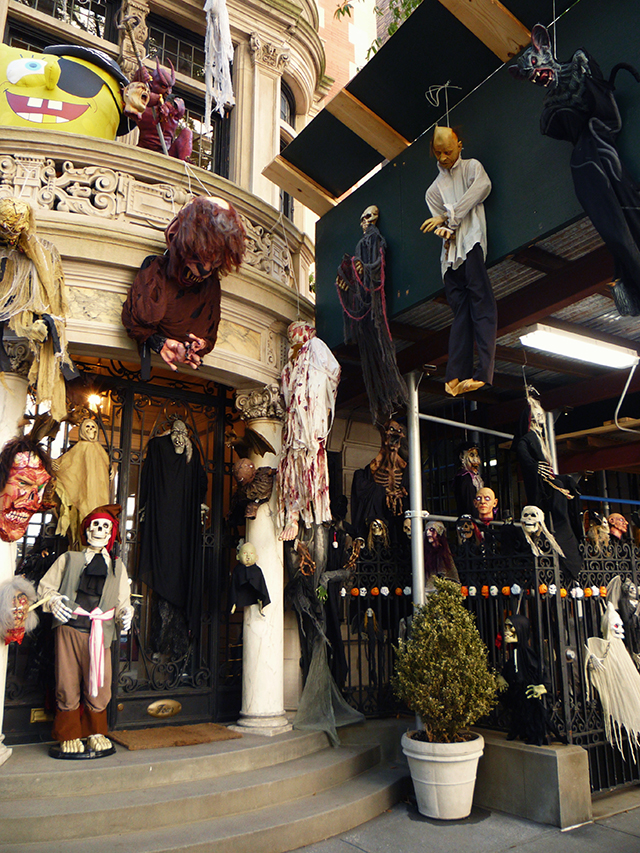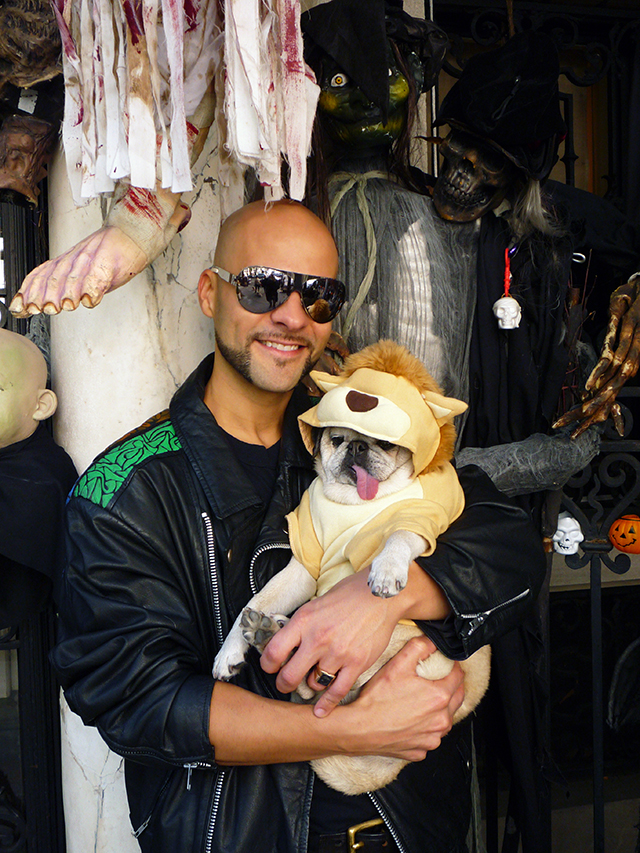 Over the years, the only complaint they have received about the display has been to turn down the family's favorite singing skeleton pirate that stands guard by the front door. They unplug him at night to respect their neighbors whom I suspect are incredibly uptight and extremely Republican!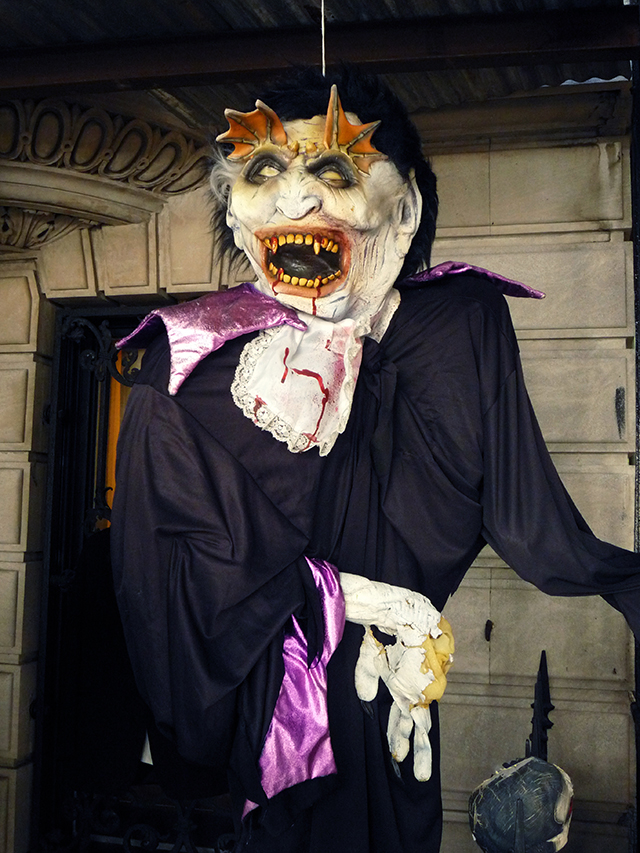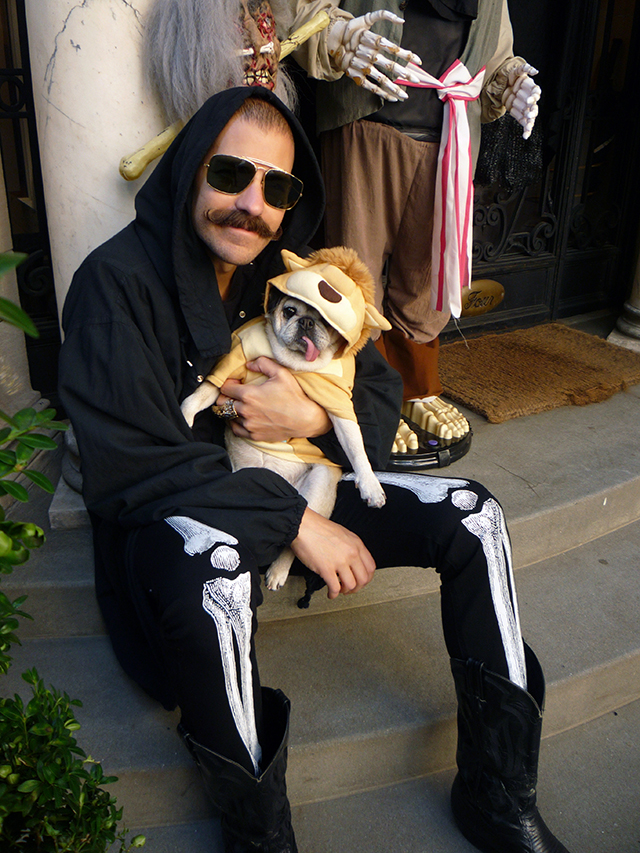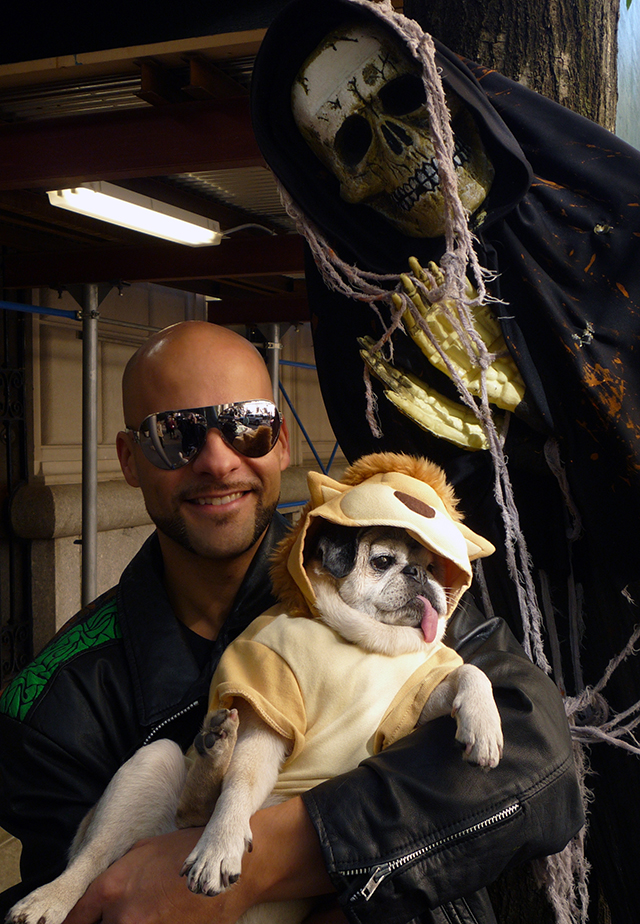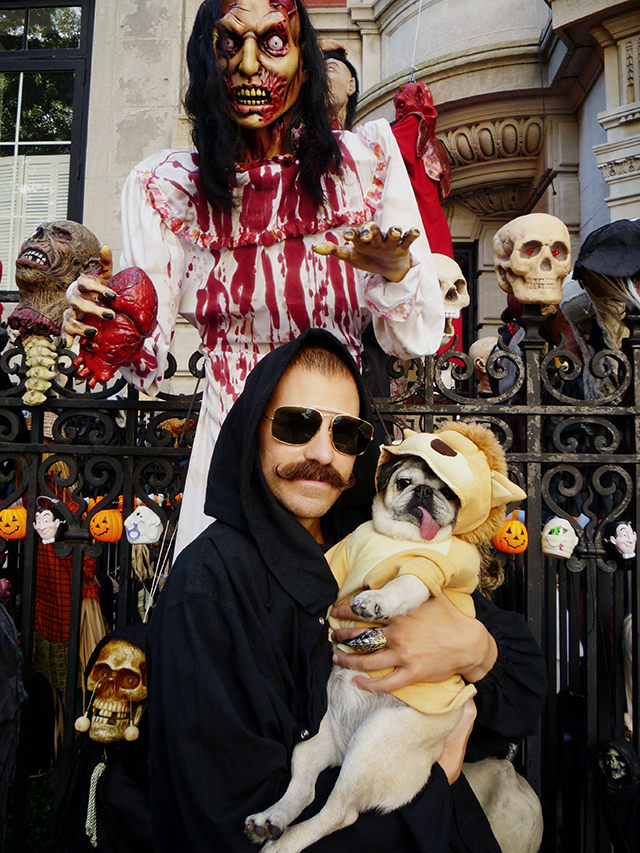 We continued on with our frightful tour by walking further down Madison Avenue and passing designer boutiques showcasing beautiful clothing, shoes and jewelry and stumbled upon a few homes along the way with equally frightful displays on their front door steps. Some were of the pumpkin/cornucopia variety and some were all about cobwebs covering the entire facade of their homes—and that's a whole lot of stretched cotton if you ask me!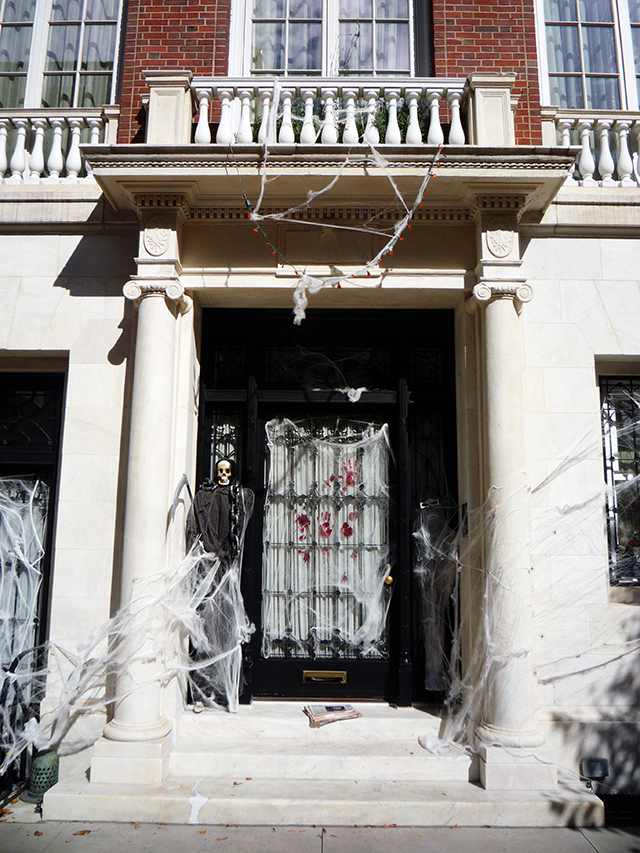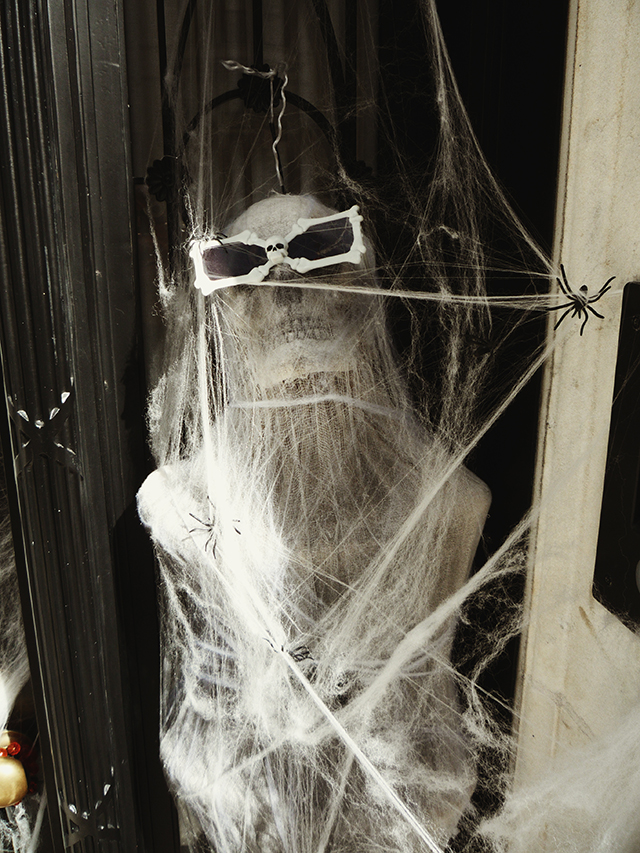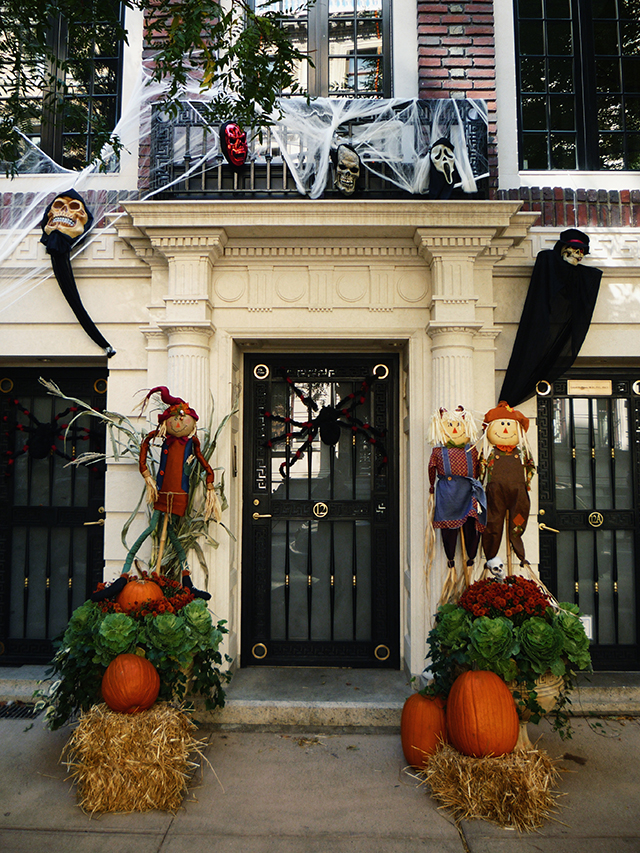 We came across a home on 67th street that had a strange vignette of the Grim Reaper beside a witch overlooking two Goth children having a creepy private moment with one another. I loved how they stuffed black crows and black roses inside the bushes flanked on either side of the front steps to their home, giving their display a very Gothic/romantic twist!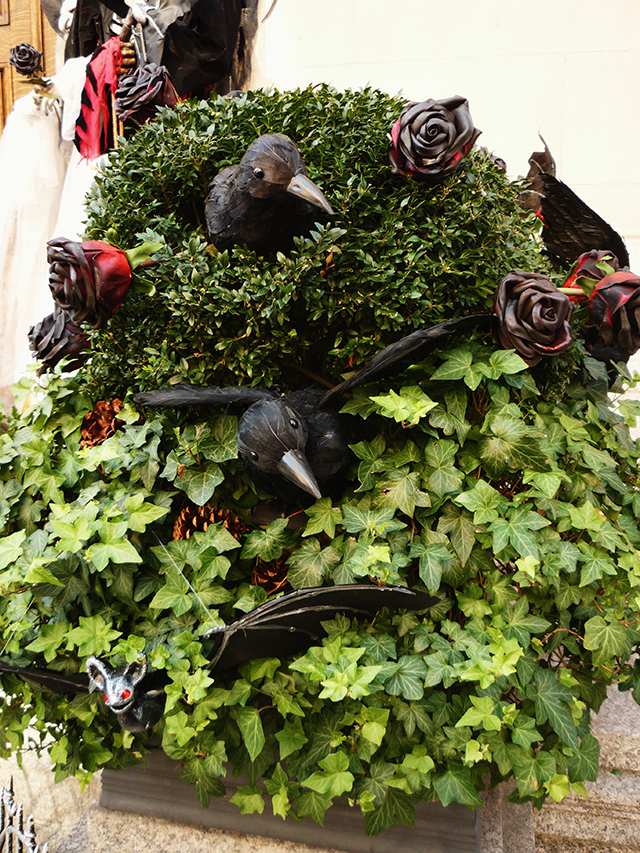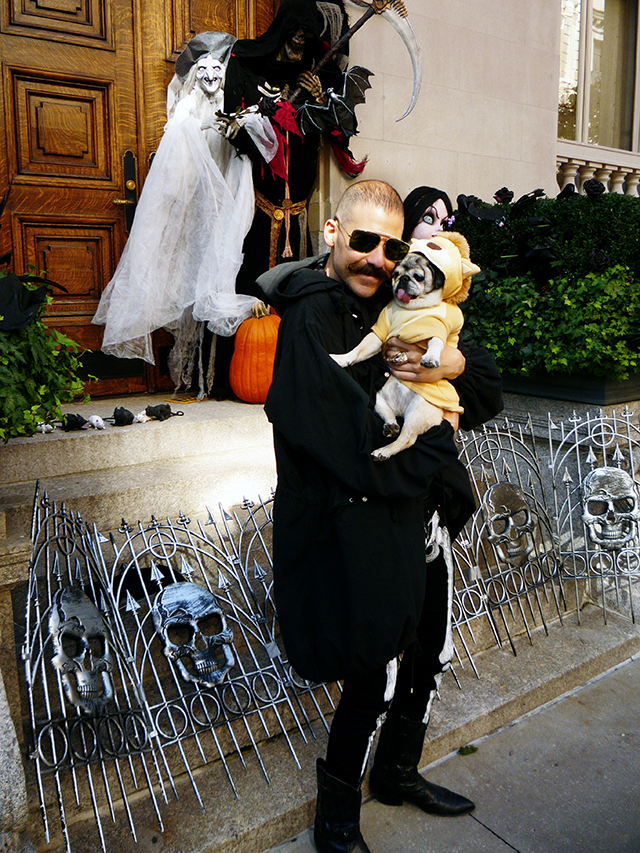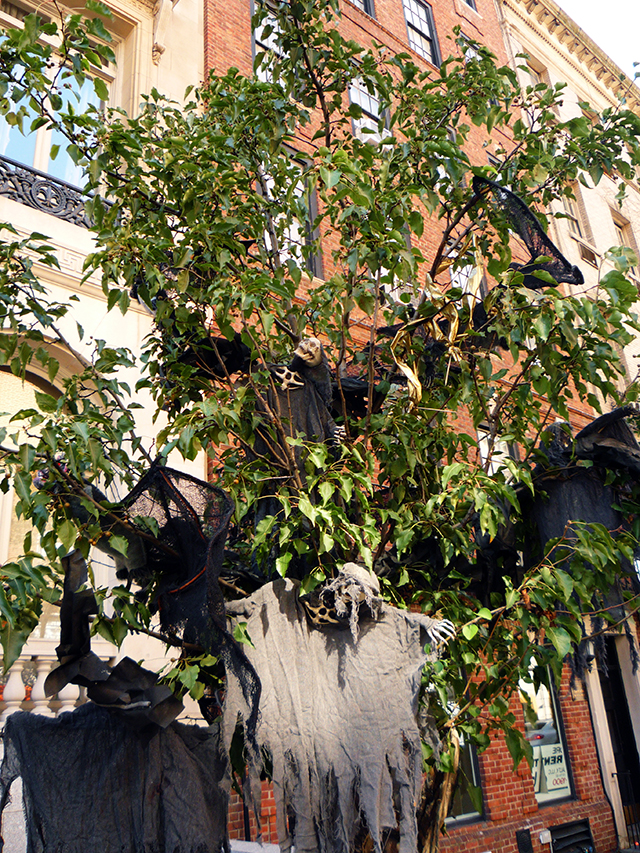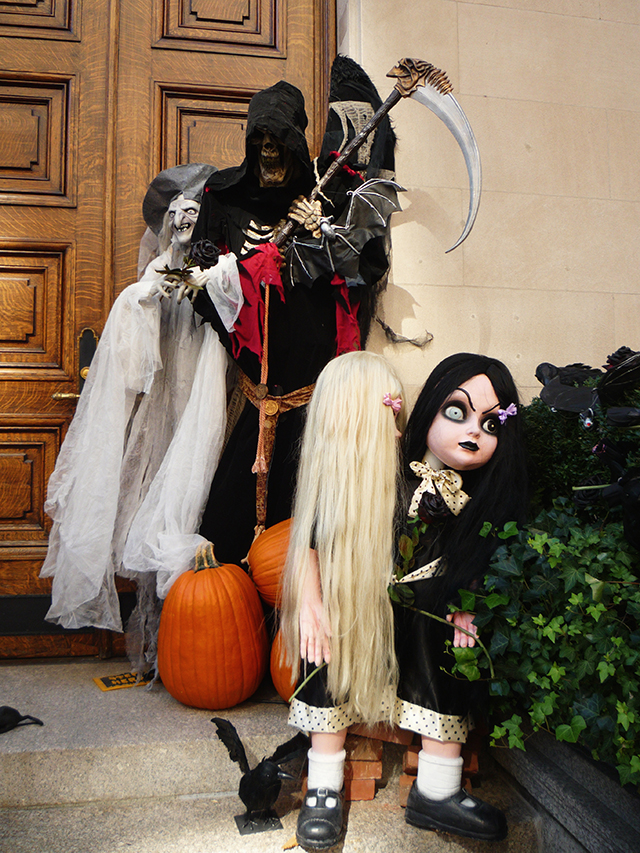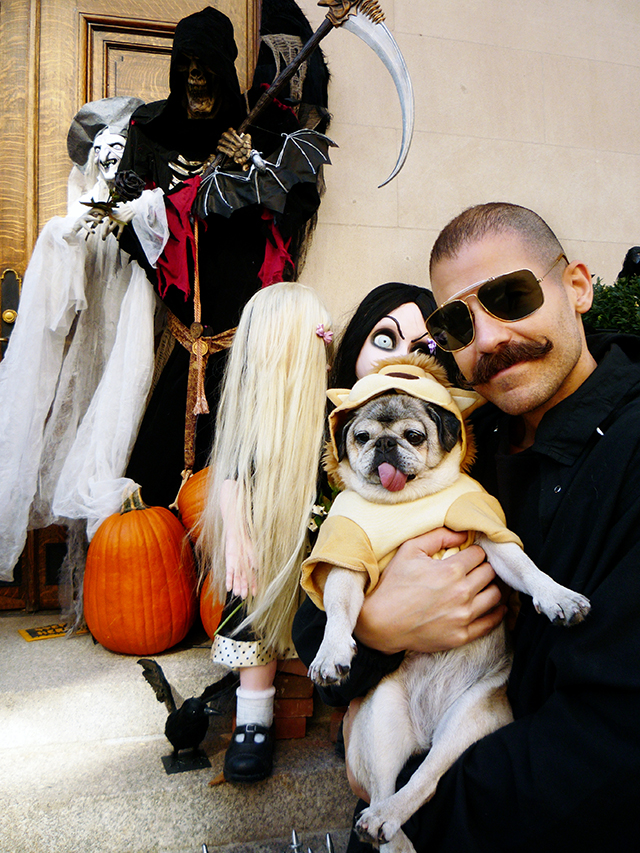 The only thing that makes Tommy really happy during the Halloween season is a good bat display and a home on 67th street did not disappoint. There were so many bats and monsters lodged between branches on every tree in front of their home that if I were a resident and the forecast called for high-winds, I would worry!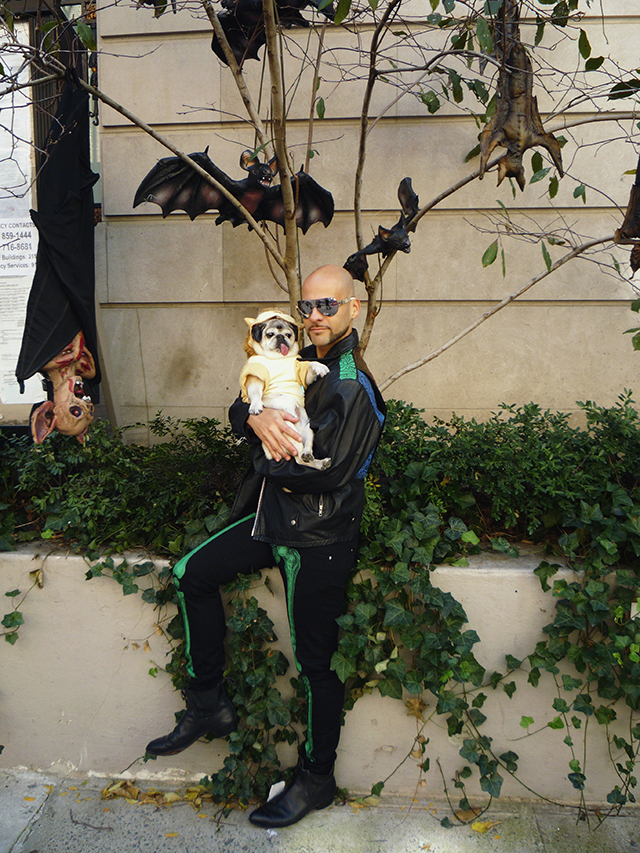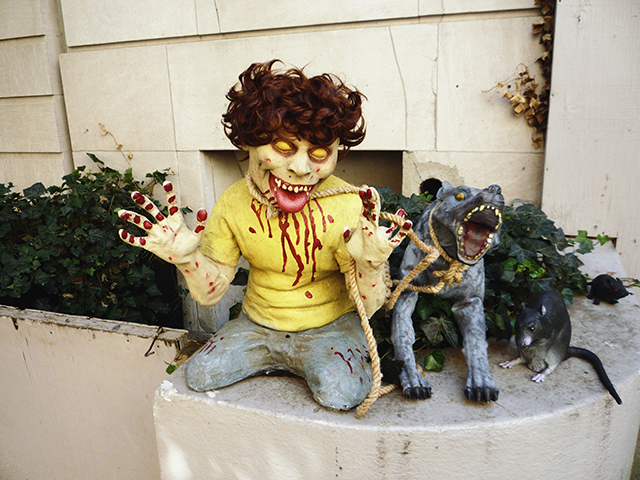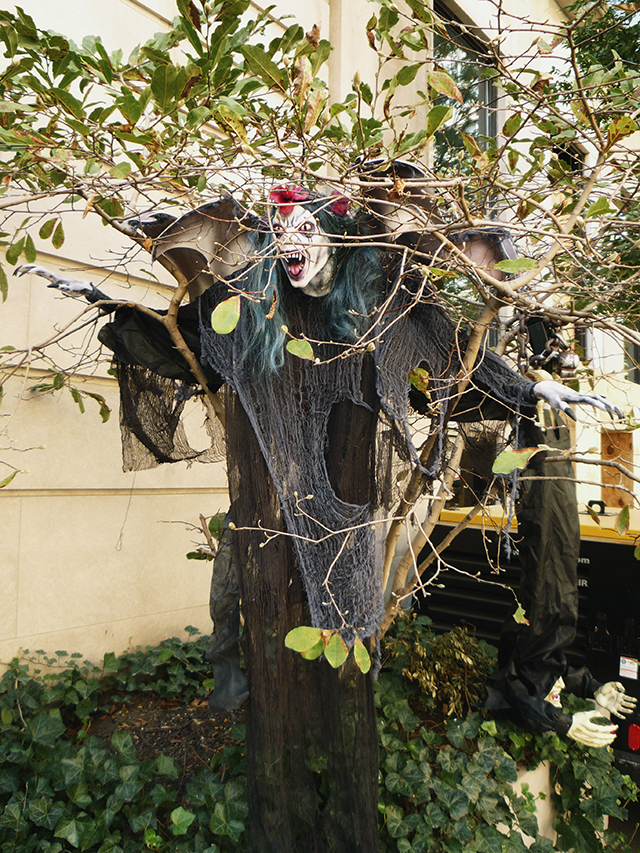 So this concludes our tour of the hedge fund Halloween displays on the Upper East Side. These scary, bloody, horrifying displays are not only there to frighten you to get into the spirit of Halloween, they are there to warn you of the perils of wealth and capitalism! I had to keep reminding Mamma Biscuit not to get too cozy walking on such clean streets. Why you ask? Because we'll never be royals!
Enjoy and Happy Haunted Hump Day!