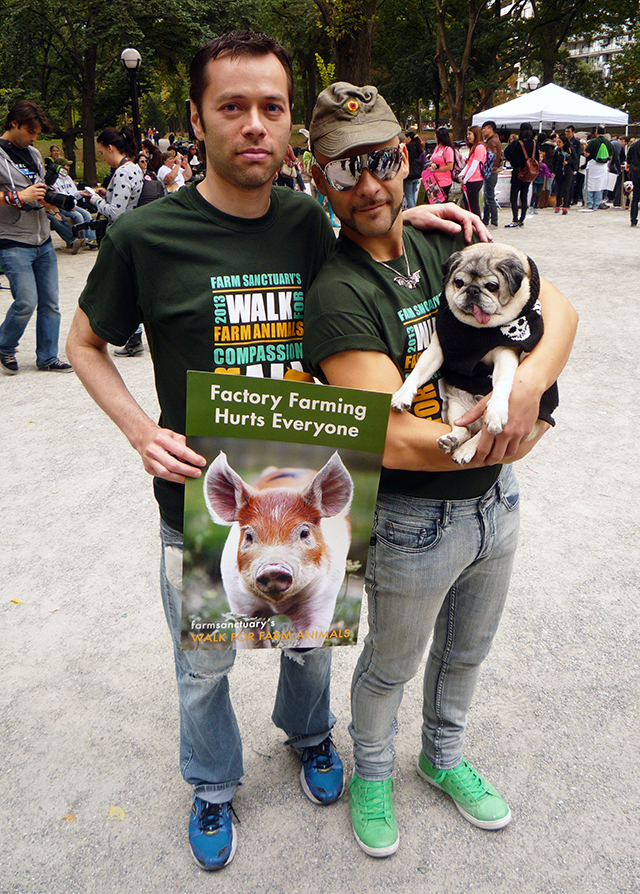 The one major life lesson we have learned from adopting Mamma Biscuit from her horrible puppy mill life is to have compassion for all animals. This past Saturday, Tommy, our good friend Vadim, Mamma Biscuit and I attended the Farm Sanctuary Walk in Central Park to show the world just how much compassion we all have for animal welfare—and here you thought October was only about Halloween for the Biscuit household. To say that I'm proud of my better-half, Tommy, and our friend Vadim is an understatement! These two men have spent the entire month of October fund-raising for this event and their efforts produced a total sum of $2,246.00! All of this money will go to Farm Sanctuary, an American animal protection organization, founded in 1986 by Gene Baur and Lorri Houston as an advocate for farm animals. It promotes laws and policies that support animal welfare, animal protection and vegetarianism/veganism through rescue, education and advocacy. Farm Sanctuary houses over 800 cows, chickens, ducks, geese, turkeys, pigs, sheep, rabbits, and goats at a 175-acre animal sanctuary in Watkins Glen, New York. They also house over 400 farm animals at a 300-acre sanctuary in Orland, California. Incredible, right? If there is one man that radiates compassion for animals, it's Gene Baur. Here's our animal welfare ambassador, Mamma Biscuit posing with Gene, Tommy, Vadim and our good friend Maren and Julie before the walk began!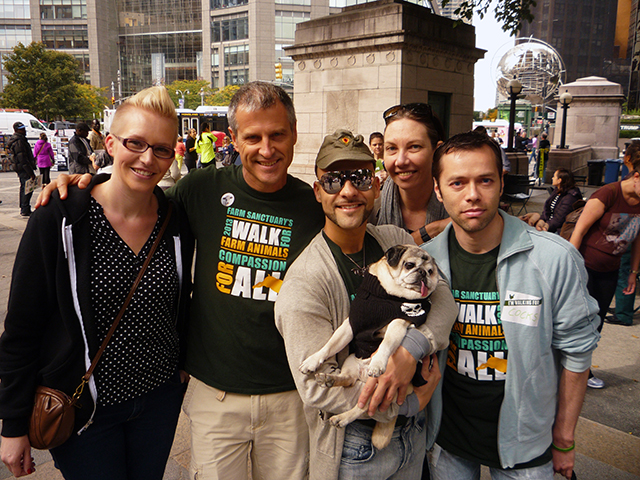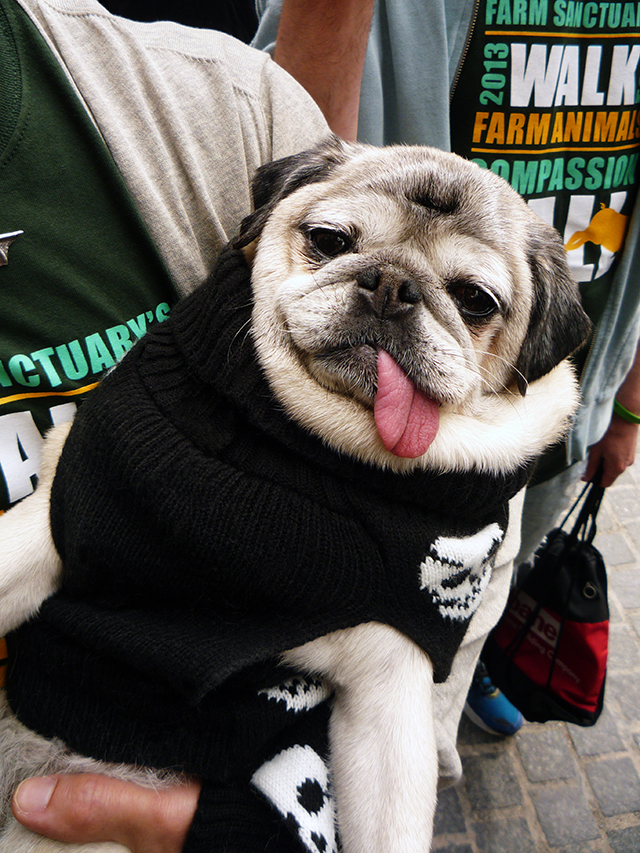 Every year Farm Sanctuary's shelters open their doors to many suffering farm animals. Some of these animals are found during their investigations of stockyards, factory farms and slaughterhouses—animals who are abandoned at auctions when they could no longer walk, or thrown into dumpsters because they were no longer "productive." Other animals come to Farm Sanctuary from SPCA's and humane societies that need their assistance when farm animals are left to starve to death. And amazingly, some of the animals who reside at Farm Sanctuary took matters into their own hooves and escaped from the slaughterhouse! All of these animals have one thing in common—they needed refuge from the cruelties of "food animal" production and Farm Sanctuary was there to provide the safe haven they desperately needed. You can learn more about how Farm Sanctuary came to be and the tireless work of Gene Baur for animal welfare, animal protection and vegetarianism/veganism by reading his book entitled Farm Sanctuary: Changing Hearts and Minds About Animals and Food. Baur provides a thought provoking investigation of the ethical questions involved in the production of beef, poultry, pork, milk,and eggs—and what each of us can do to stop the mistreatment of farm animals and promote compassion.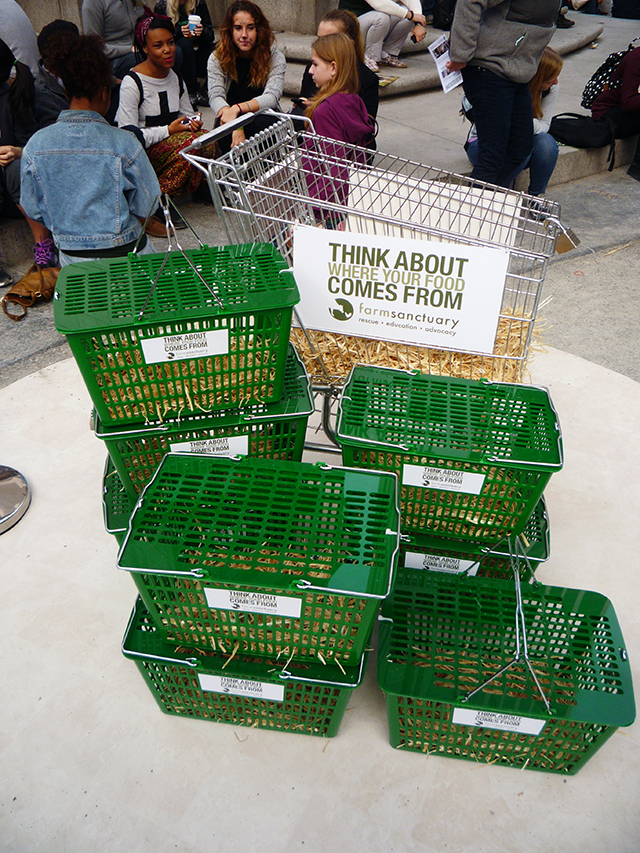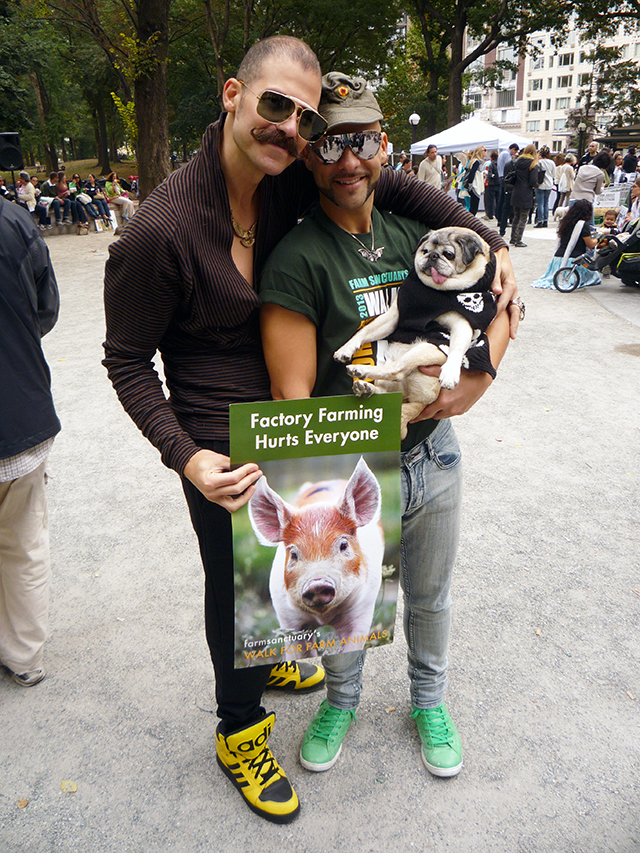 If there is anyone who knows a thing or two about seeking refuge from cruelty, it's Mamma Biscuit. She had to endure the first 8 years of her life in a puppy mill producing puppy litter after another to stock pet stores all throughout this country without ever stepping foot outdoors! The parallel we can draw from Mamma's miserable past to other animals we consider "food" is undeniable and that's why the Biscuits wholeheartedly support Gene and Farm Sanctuary!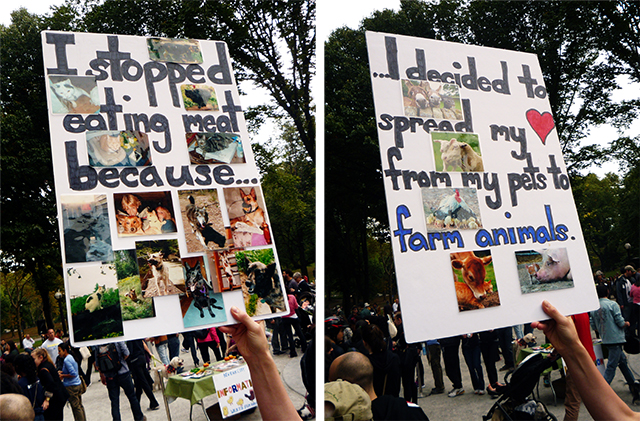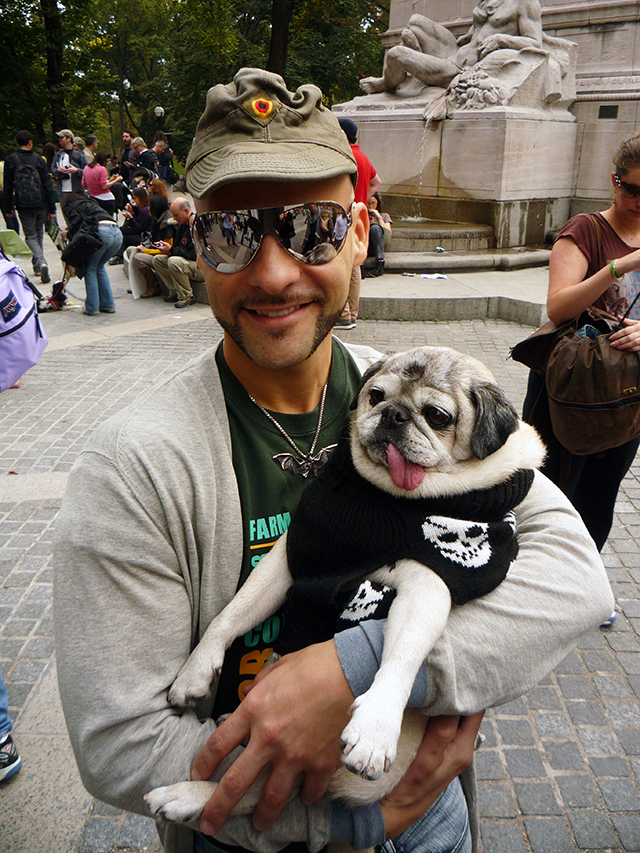 We spent the entire day walking through Central park spreading the word about animal cruelty in the food industry and Farm Sanctuary's important role as a refuge for such misery. Mamma Biscuit was quite popular throughout the entire event and I think it had something to do with the fact that I carried her like a baby throughout most of the walk–hey our princess prefers to be carried like Cleopatra entering Rome than walking like the average dog. We met so many amazing people within the community that work tirelessly for animal welfare. People like Linda B. Rosenthal (Member of Assembly, 67th District) who has been working to get a bill signed with Governor Cuomo that would make pet stores illegal—a cause that is very near and dear to Mamma Biscuit's heart.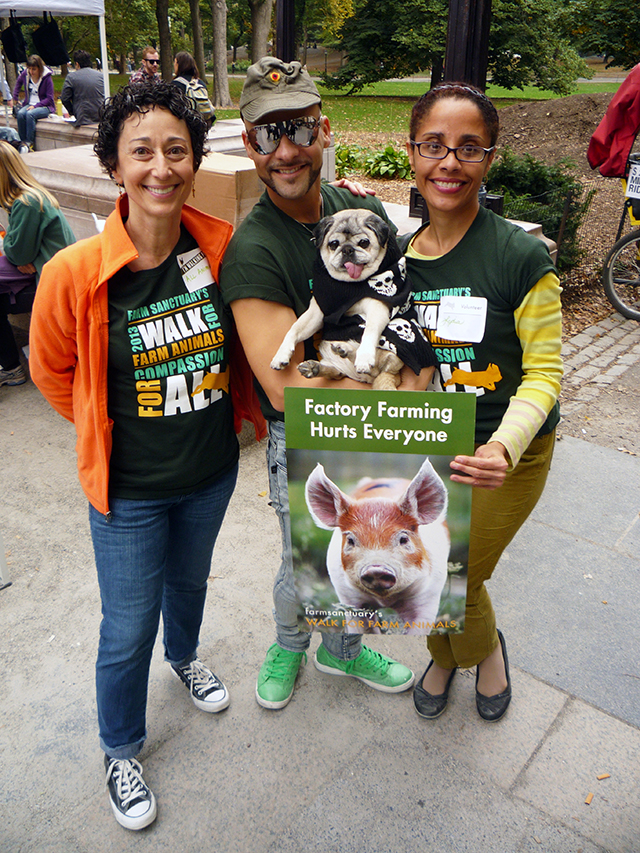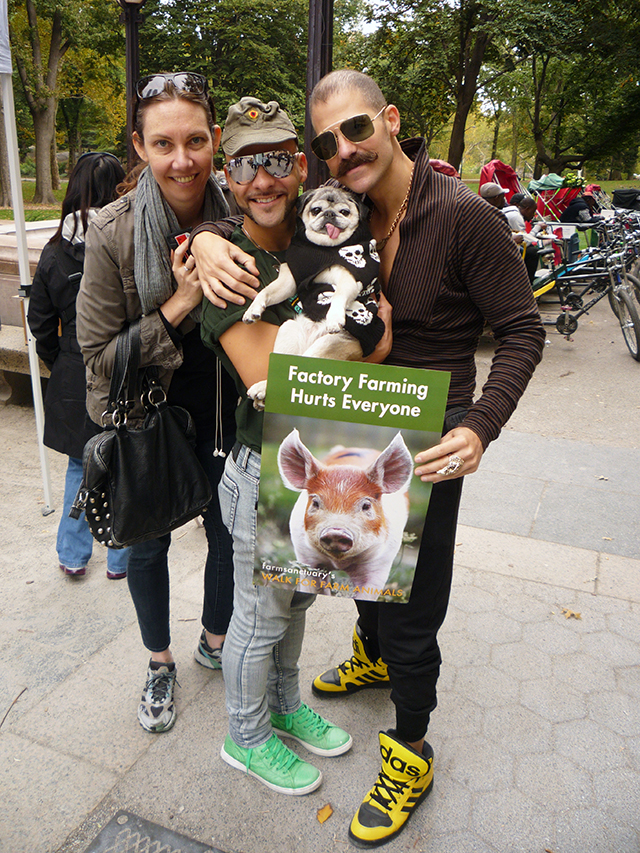 We met up with girls at the Blossom Du Jour booth after the walk. If you haven't had Blossom's vegan fast food, you're truly missing out!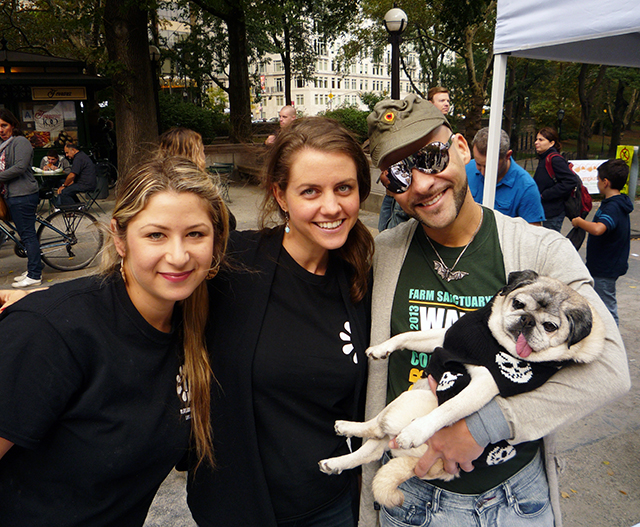 We also had the great pleasure of meeting Miss. New York City, Acacia Courtney from the Bronx who is running her pageant platform on Veganism, Meatless Monday and Move It Monday: I've Got the Power—and she's taking herself to the Miss USA level. Acacia has been successful at getting the public school systems to adopt a meatless Monday and we think she's just fantastic for it!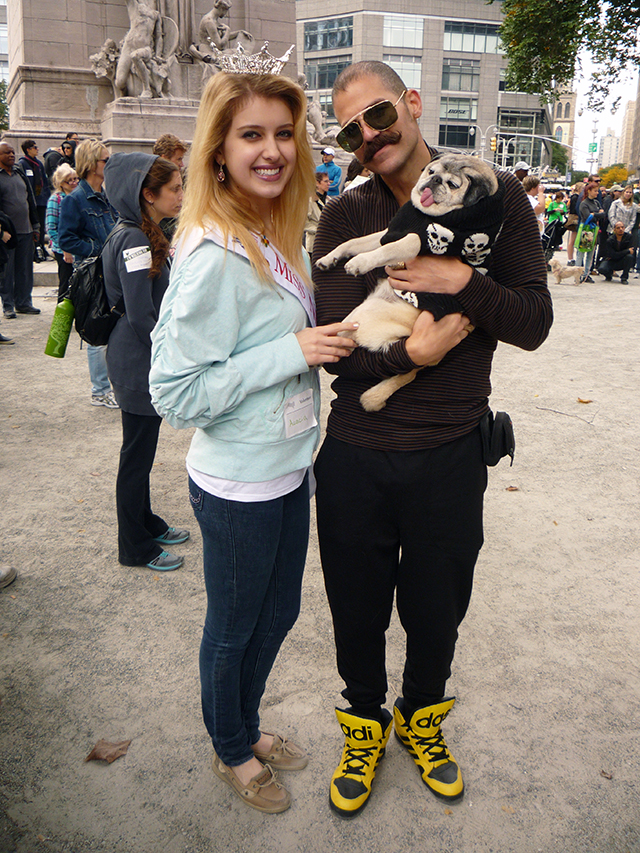 TEAM BRANDI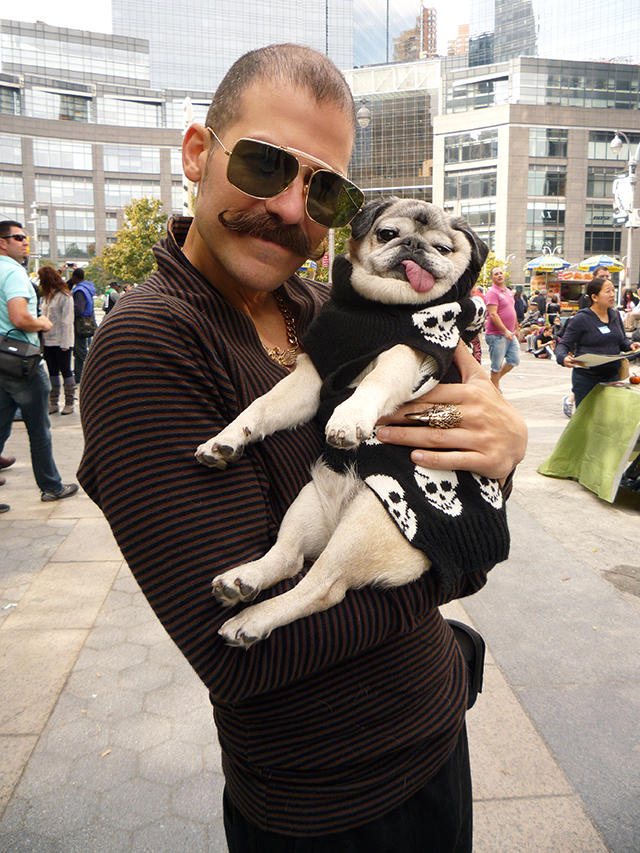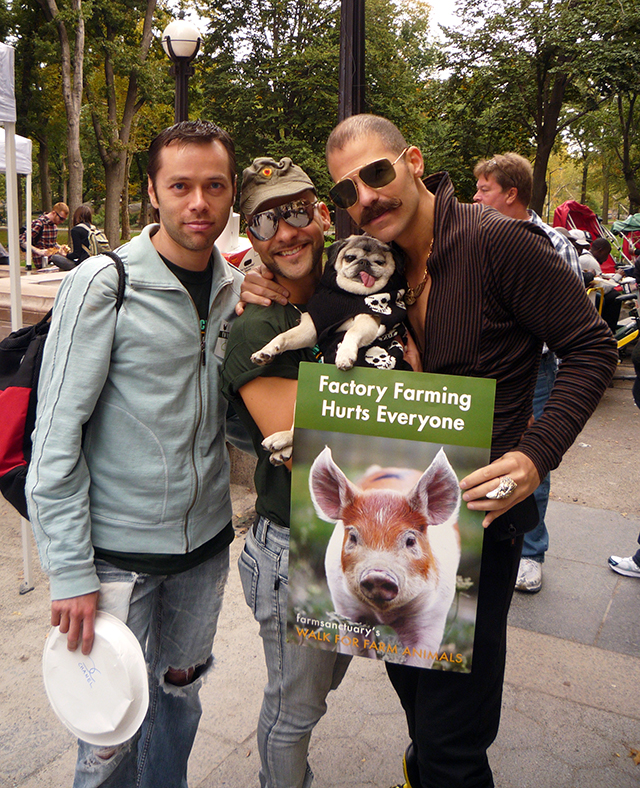 Farm Sanctuary's walk for farm animals was a huge success and it was so great for Mamma Biscuit to be a part of it all. The walk may be over but Tommy and Vadim are still accepting donations. If you want to see Farm Sanctuary continue to do the work that they do, please contribute what you can. To donate under Tommy's name, click here or to donate under Vadim's name, click here. Either way, they both fund raised as a team. Mamma Biscuit along with every other animal that has endured great misery thanks you for it!
Enjoy and remember, Halloween is only nine days away and Mamma's official costume will be revealed!