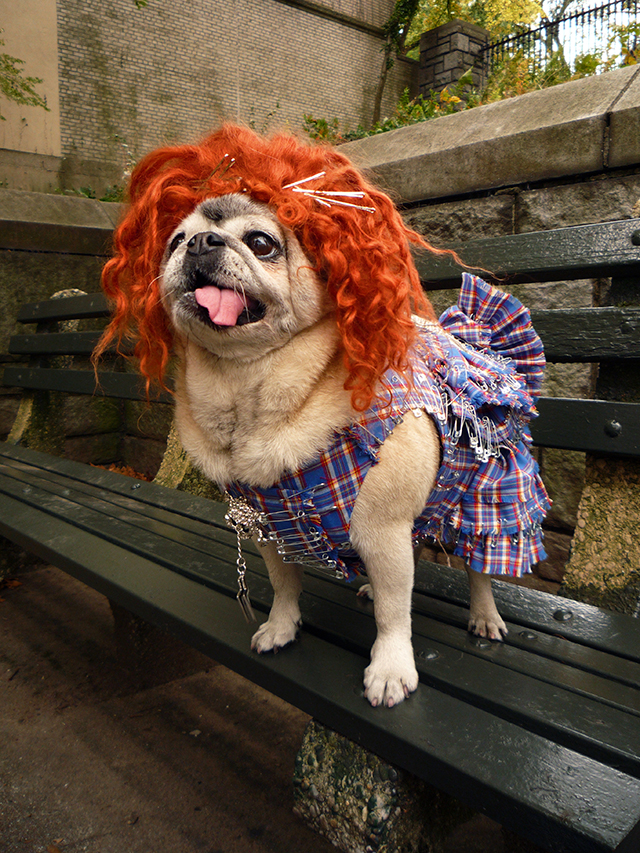 "Craft must have clothes but Truth loves to go naked" —Thomas Fuller
While it is true that there is so much craft involved in putting together many of Mamma Biscuit's fabulous outfits, the truth is, she's naked most of the time. The bigger truth is that she finds freedom and happiness in both being nude as well as expressing herself through fashion and clothes! So if anyone out there thinks that dressing up a dog in clothing is somehow cruel, in true Vivienne Westwood fashion, you can simply FUCK OFF! Yeah that's right, Mamma's pulling out her inner punk attitude to start a revolution and to channel her best Vivienne Westwood persona for Halloween this year and you're all invited to shake things up and cause a commotion (leave it up to me to throw a Madonna reference in this post) right beside her. You see, clothing is just as powerful as the nude body and through both mediums, we can change the world. At least that's what Malcolm McLaren and Vivienne Westwood thought when they hand wrote this Thomas Fuller quote on the signboard of their most famous Chelsea fashion boutique on Kings Road entitled SEX. The SEX boutique specialized in fetish wear and BDSM clothing. Safety pins, razor blades, bicycle or lavatory chains on clothing and spiked dog collars as jewelry, as well as outrageous make-up and hair were all in her bag of tricks. The adoption of traditional elements of Scottish design such as tartan fabric amongst the historical 17th and 18th century cloth cutting principles and reinterpreting radical cutting lines made the overall effect of her designs shocking and essentially PUNK. Turns out, Viv and Malcolm were right all along! Their ability to synthesise clothing and music shaped the 70s UK punk scene, dominated by McLaren's band, the Sex Pistols and continues to shape every single contemporary designer out there since! Alexander McQueen, Hussein Chalayan, Ann Demeulemeester, John Galliano, Helmut Lang, Karl Lagerfeld, Viktor & Rolf and many more owe the Godmother of Punk, Vivienne Westwood, a whole lot of gratitude for the template she put forth in modern fashion—and Mamma Biscuit is flexing her Anglomania this Halloween in her homage to the best fashion designer the world has ever known!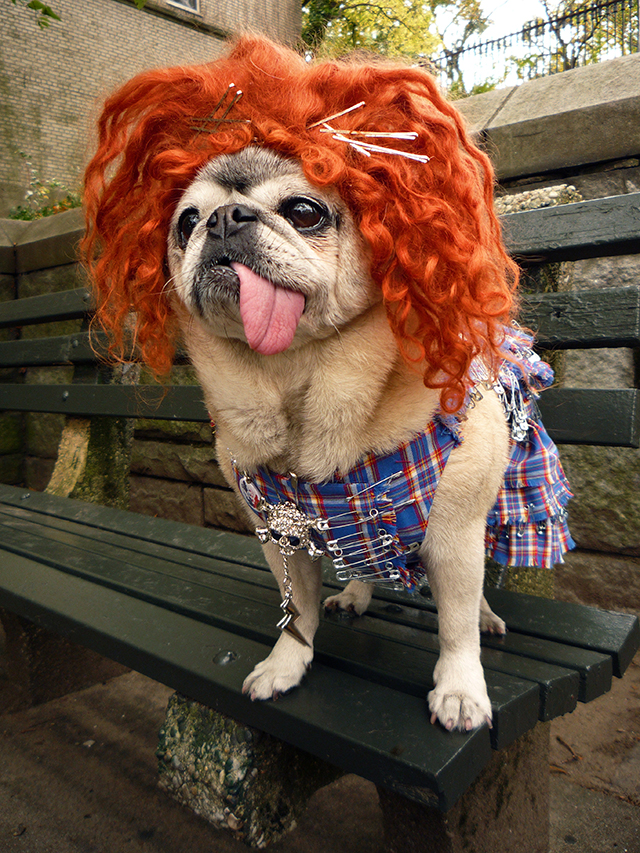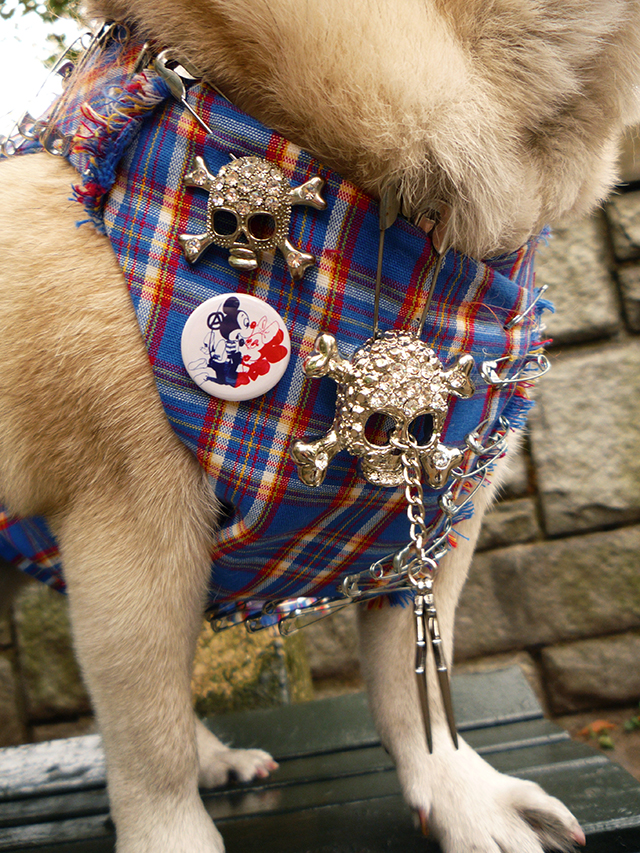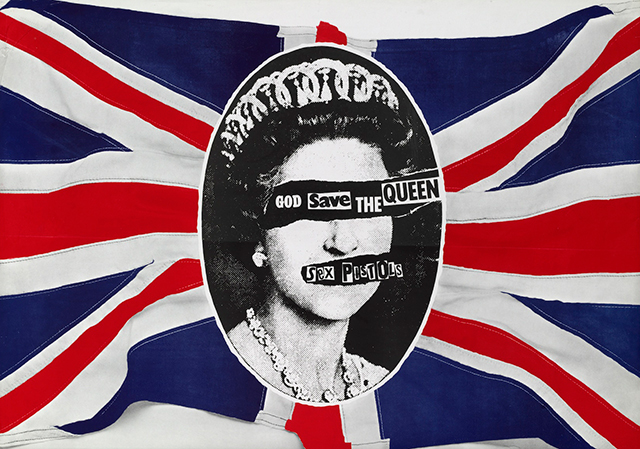 I'm not sure exactly how long Tommy and I have been a fan of Dame Vivienne Westwood nor can I tell you how many garments we own from her collectively but one thing is for sure—our obsession seems to strengthen as the years go by. The sexiest thing Tommy has ever uttered to me during our initial days of courtship was, "Anna Wintour doesn't cover Vivienne Westwood in Vogue magazine because she's intimidated by her." YES ! ! ! Now you can see why I hitched my star to his wagon! Our love affair of Westwood has stretched far and wide and over a time period of 15 years or more.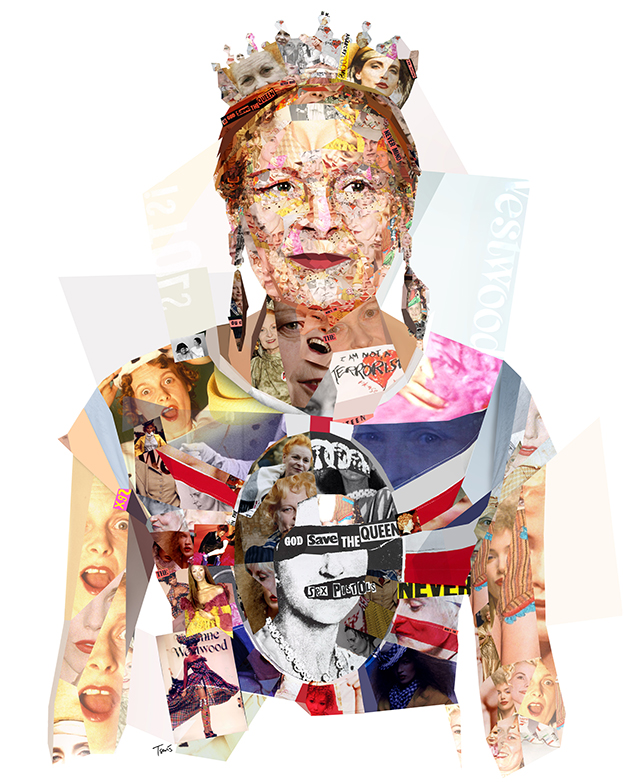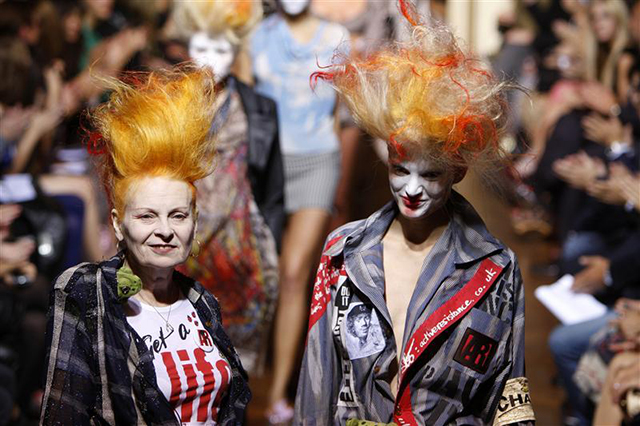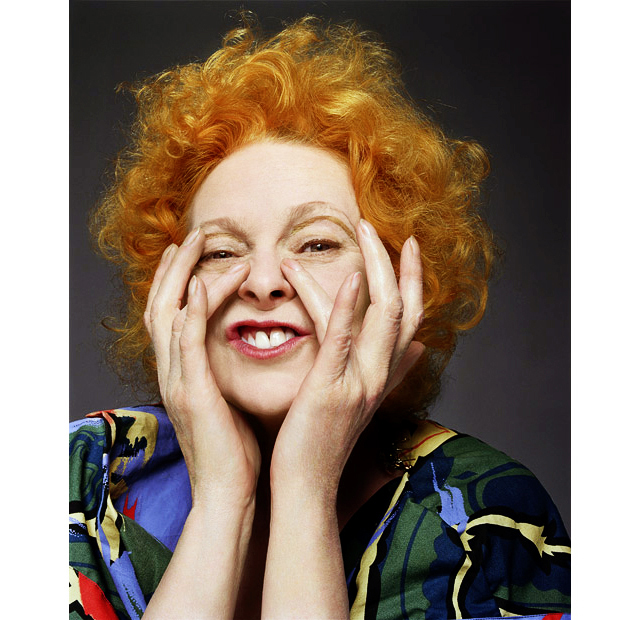 Our obsession led us from the amazing off-finds at Century 21 out in Long Island to the glamorous sample sale parties thrown at her store down on Greene Street (which closed after 9/11) to the shopping sprees at World's End in London to rummaging through the sales rack at the Westwood boutique in Milan (all while my mother fell asleep watching us try on clothes in a gold gilded arm chair) to walking until the side walk literally ended to visit her boutique in Moscow to meeting her at Macy's in New York City in 2006 while promoting her collaboration with Nine West—so to say we're obsessed is an understatement! What's not to love about her? She brazenly mixed Scottish tartans with spiked dog-collar chokers, adorned humble clothes with safety pins, turned bondage gear into high fashion, and received the esteemed Order of the British Empire from Queen Elizabeth for her sartorial achievements while wearing no underwear. (She gave an infamous twirl that was well documented by the paparazzi.) Vivienne Westwood is punk rock's grande dame. She's more than that, she's Mamma Biscuit's hero! Shit, if Mamma Biscuit wore knickers (or in her case, doggy diapers) I would have her wear them out in public just to make everyone else feel uncomfortable—and of course, I'd fasten those diapers with a few hundred safety pins to boot!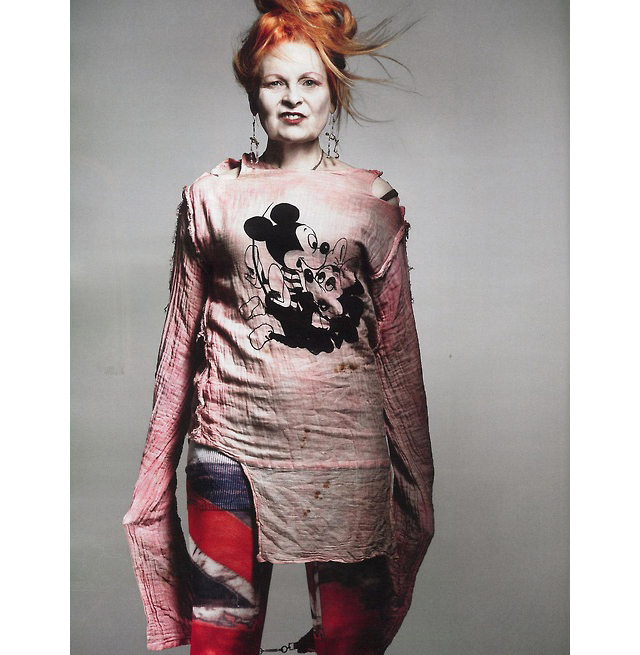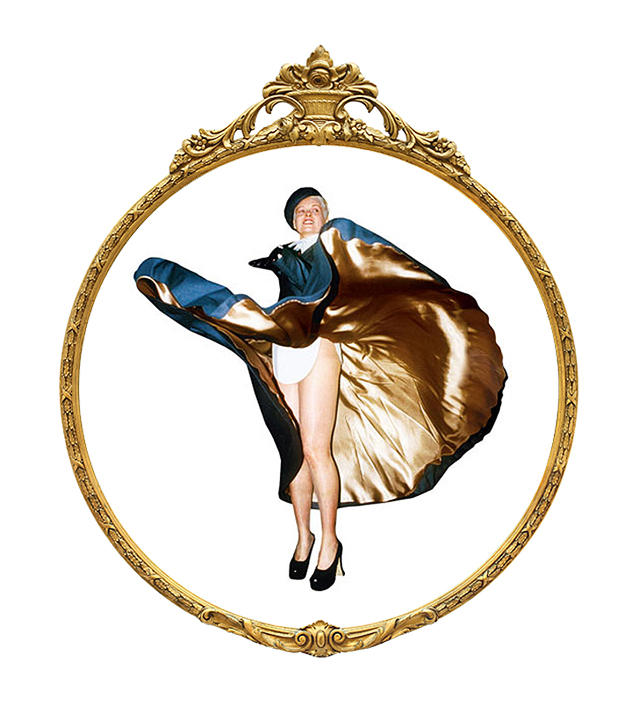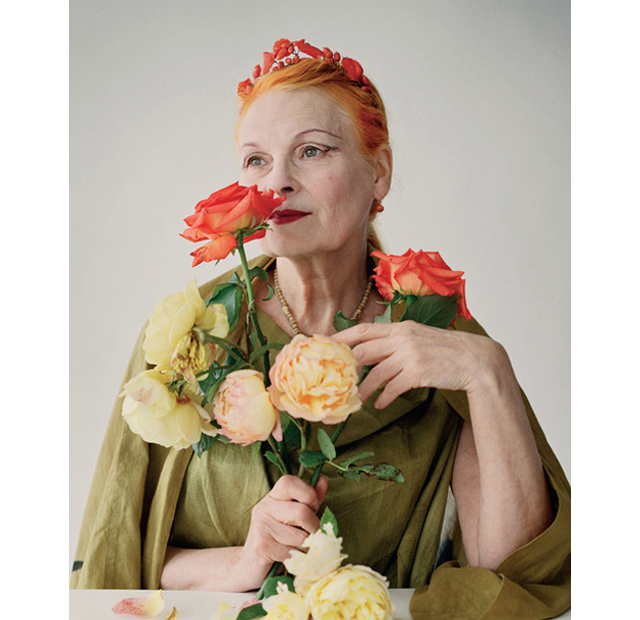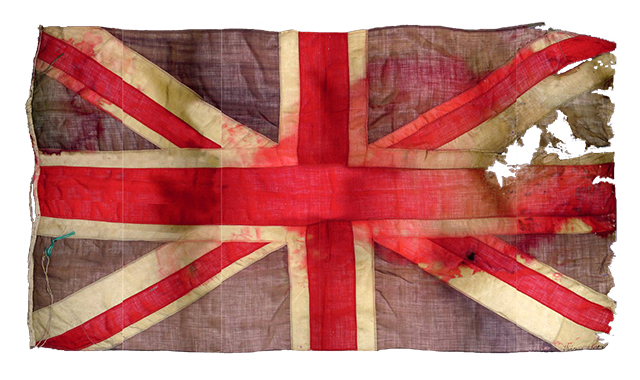 In a Harper's Bazaar article entitled The Only Punk Left: Vivienne Westwood (February, 2013), she goes on to say, "I was about 36 when punk happened and I was upset about what was going on in the world. It was the hippies who taught my generation about politics, and that's what I cared about—the world being so corrupt and mismanaged, people suffering, wars, all these terrible things—while Malcolm [McLaren] hated the older generation as a result of his background; he hated any authority. Malcolm was a great talent, but he was not true to himself or to his talent because he was not really interested in trying to understand the world. Therefore he didn't learn, and I lost interest in his ideas. And I blamed the older generation for what was going on too, so we wouldn't even accept their taboos. That's how the swastika symbols came to be used in punk, for example."
Westwood is neither falsely modest nor remotely egomaniacal; she simply knows where she stands on any subject she is knowledgeable and passionate about. For example: "Art should never be sociological; it has got to be timeless. It's got to be your vision and how you can represent the world you see." Then how does she square her passion for a climate revolution with being someone who fundamentally makes yet more stuff for people to buy? "I do think if you aim for quality, it's not so much about consumerism. The idea is 'Buy less, choose well, make it last,'" she explains. "Personally, I try not to get new things from the collection unless I feel I have to."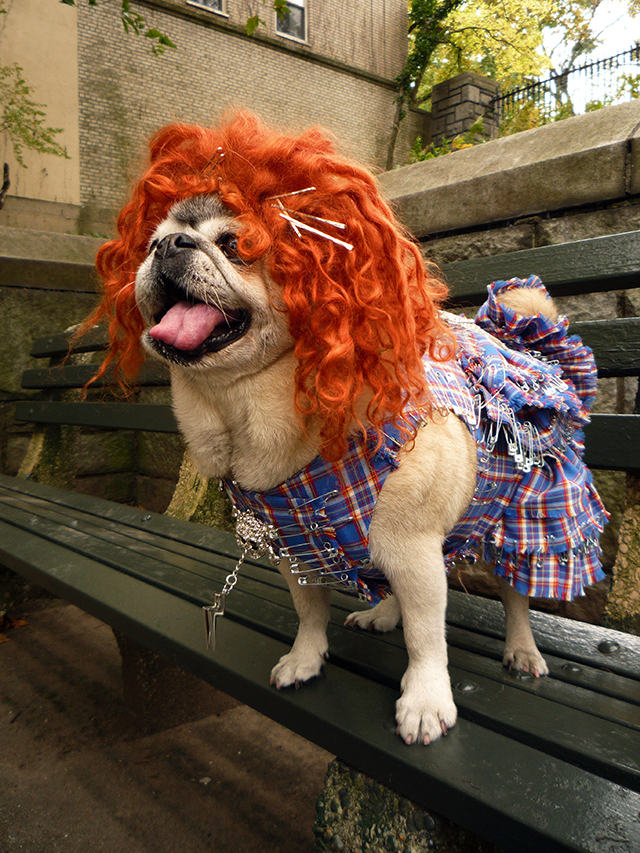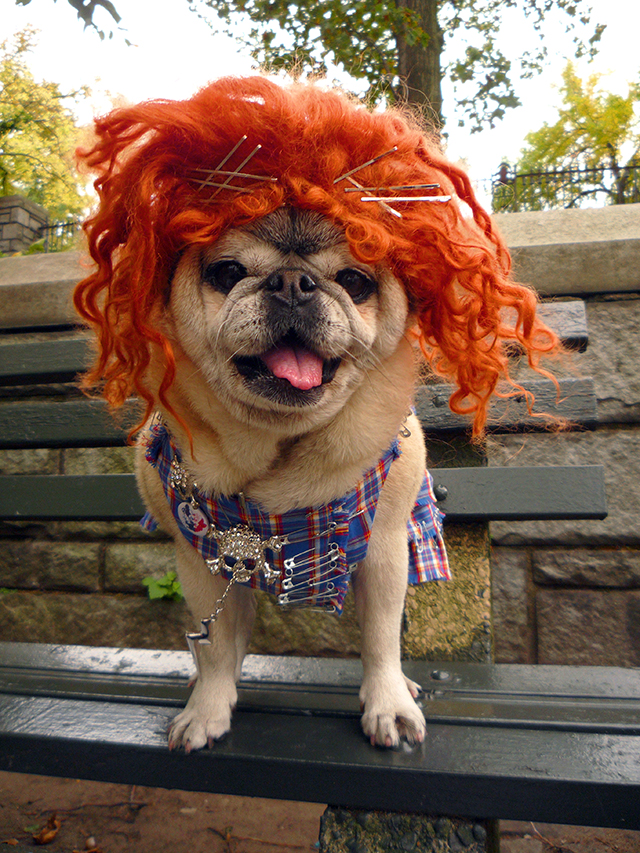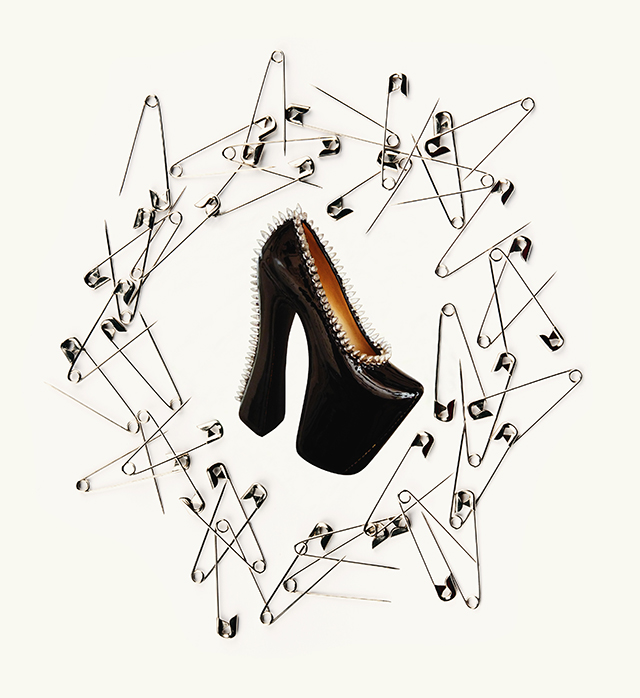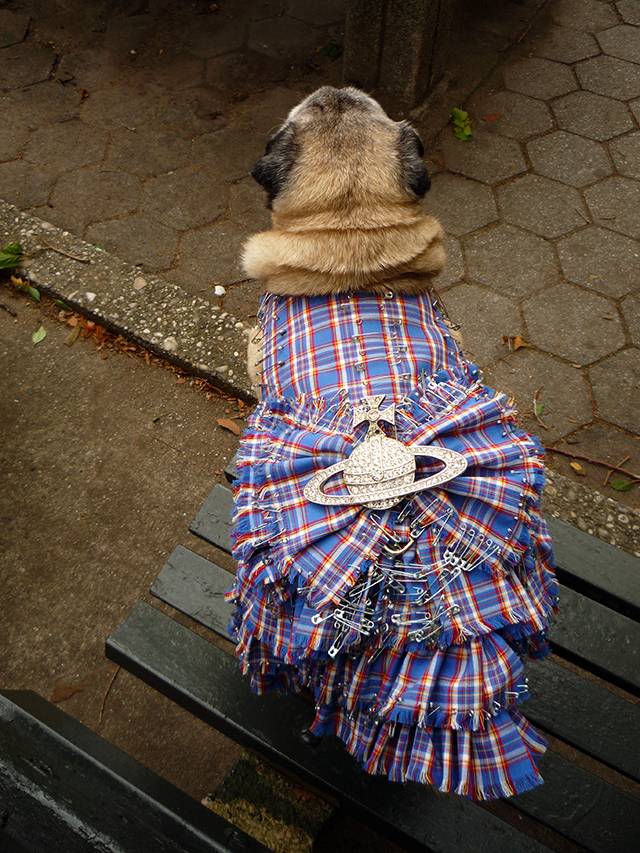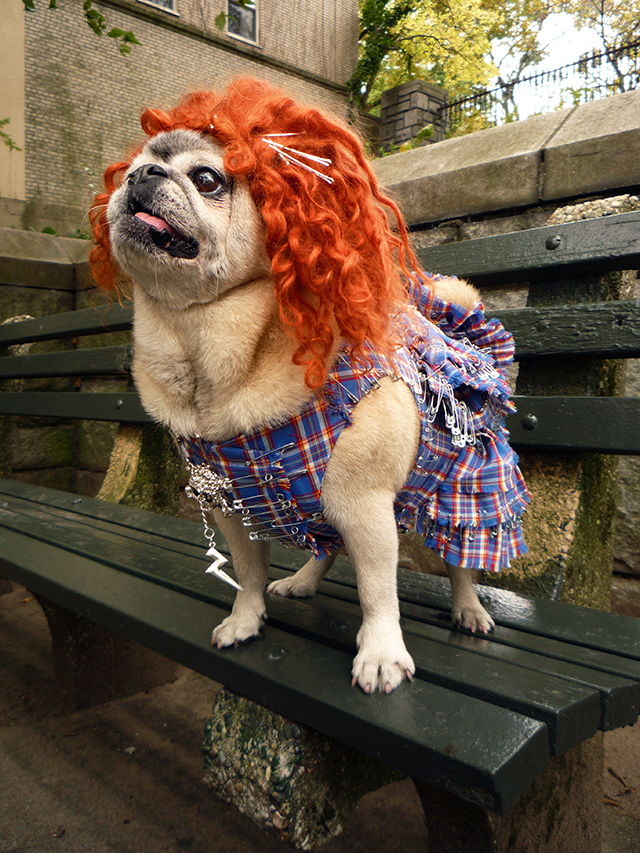 At any rate. Vivienne Westwood is a true hero and icon to Mamma Biscuit and family and it was a pleasure to reinterpret our favorite, fiery red-headed English designer for the 23rd Annual Tompkins Square Park Halloween Dog Parade. The event took place over the weekend on Saturday, October 26th in Tompkins Square Park in the East Village and Mamma Biscuit was a huge success. Our annoying friend Vadim shared his concerns several weeks before the event that people just wouldn't get who she was (not that it matters to me because I'm not seeking outside approval but rather doing what I want and enjoying the reaction, if any, to the final costume from the public) but I was so happy to hear people scream out God save the Queen when they spotted Mamma in my arms. Almost everyone knew who she was, especially from behind where I adhered my giant Vivienne Westwood diamanté orb belt buckle to the center of the fabric bow on the back of her dress!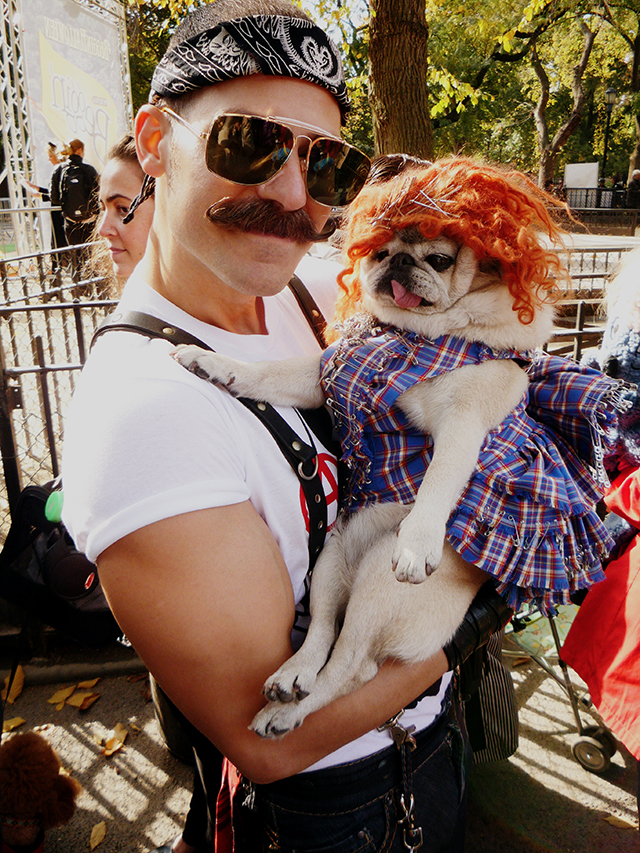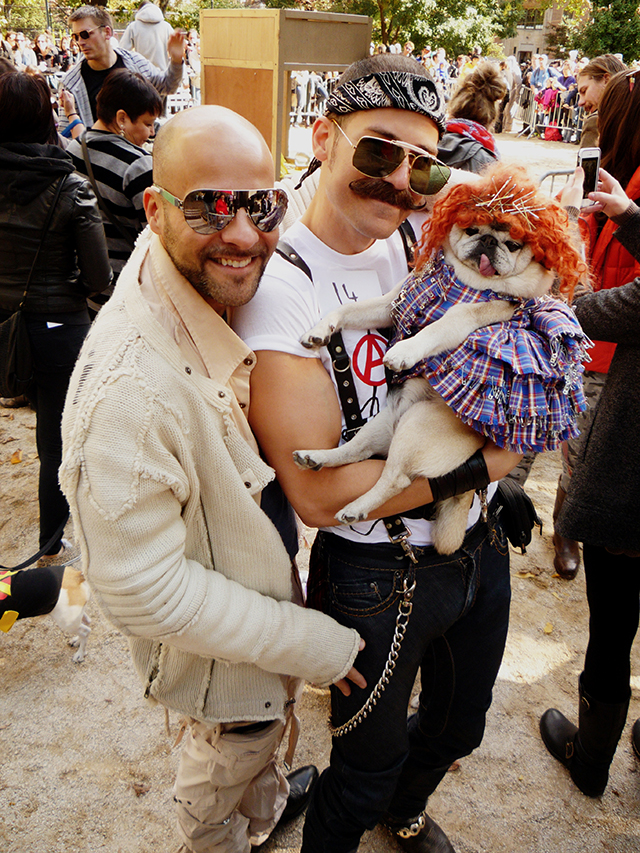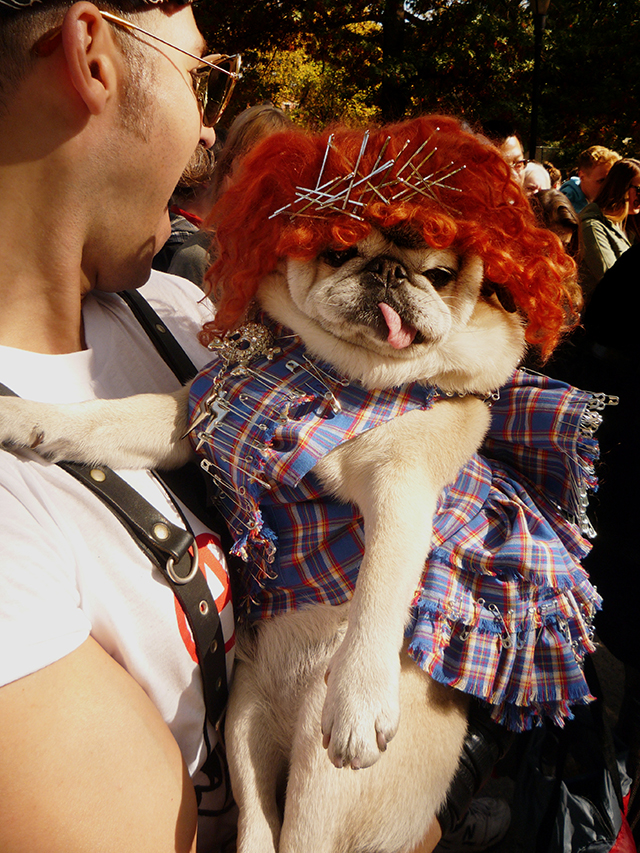 Speaking of Mamma's dress, it's a beauty, isn't it? I collaborated with a very talented canine dress maker named Georgina out in Oregon to make the garment and we started the project in early July. I was very specific about how I wanted this dress to look and it took months to find the right fabric because I was looking for something other than red tartan. In the end, the blue plaid just seemed perfect for the fawn coloring of Mamma Biscuit, so we went with that swatch. All of the edges to the garment were torn and frayed to give it a vintage punk look. I literally cleaned out every box of safety pins Michaels Craft Store had to sell on the Upper West Side and adorned the entire garment with two sizes of safety pins. I also added a Mickey and Minnie Mouse anarchy Seditionary pin and diamond skulls with lightening bolt charms to the bodice. The fiery red wig was a find on Ebay and I simply added the silver bobby pins to the crown of the piece as a finishing touch! When it was all done, I had one incredible and substantial garment that looked like it belonged in a museum rather than on the back of a pug—but Mamma Biscuit is no ordinary pug!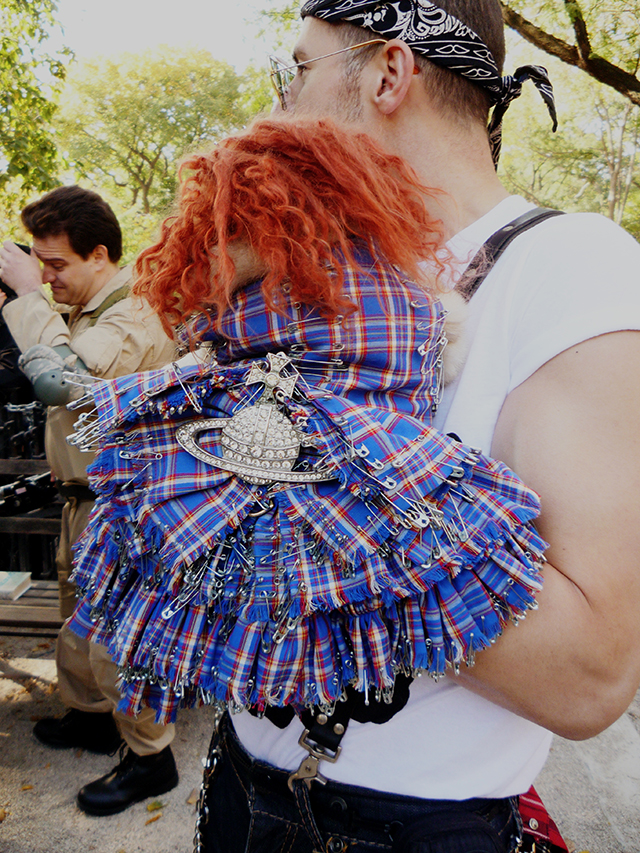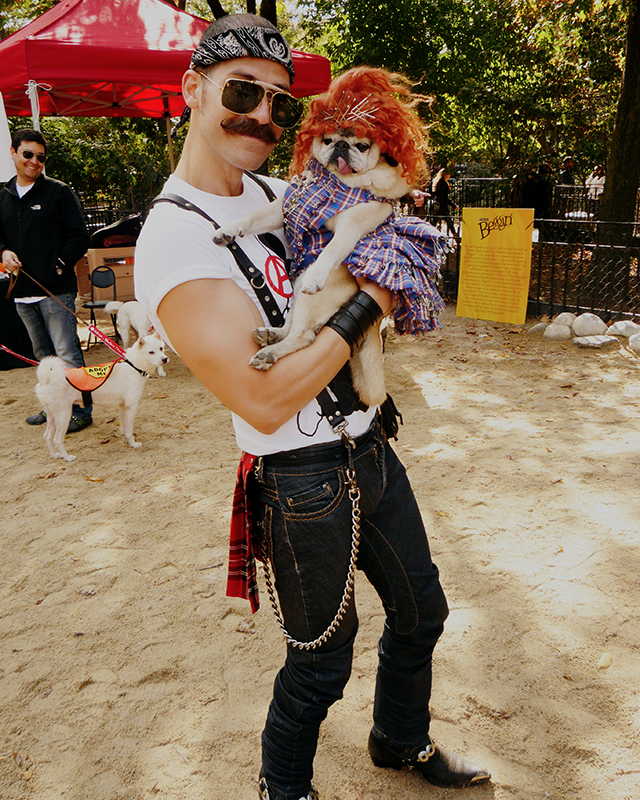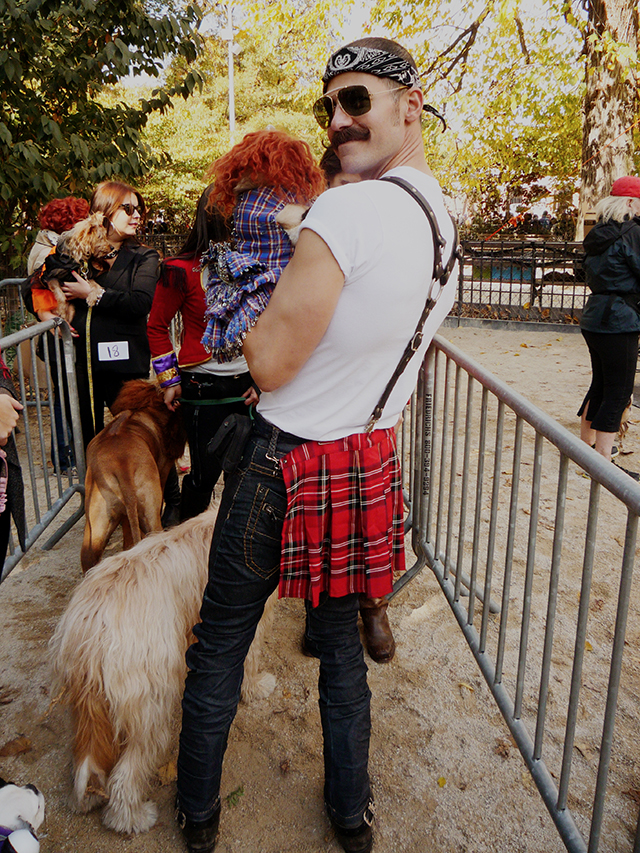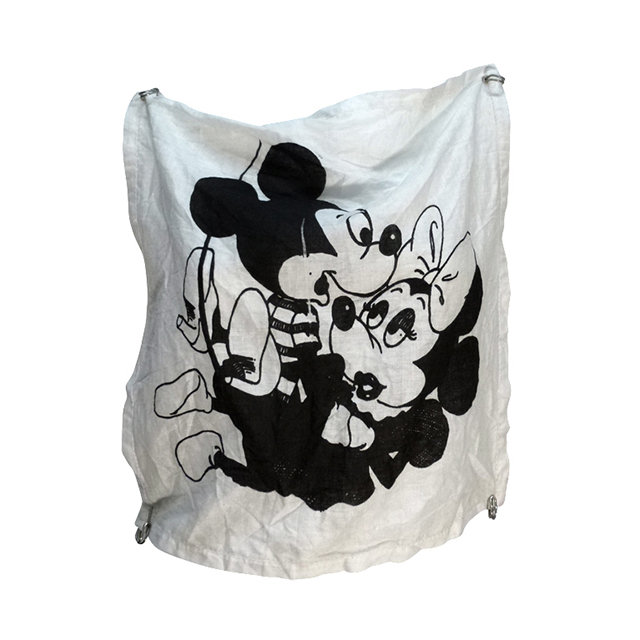 The media was out in full force for the parade and there were so many cameras pointing at Mamma Biscuit that it felt like I was standing in front of a strobe light while holding her on display. We were interviewed by Vanity Fair, The Huffington Post, Elle Magazine and a plethora of bloggers all while the crowd snapped their cameras in our direction. Mamma Biscuit was the star of the show and in the end, she placed 4th out of the first 250 dogs shown. We were so busy mingling with the spectators that we didn't realize when they made the call for the winners to come back up on stage to retrieve our prizes. In the end, we were given the 7th position prize by mistake even though she made 4th place. I for one thought it was hysterical. I love me a good scandal and an opportunity to scream out, "she was robbed" to anyone who would listen. It turned out that the 7th position prize was so much better than the 4th prize anyway so we didn't fight it. We won a $50 Visa gift card and my mind raced at the thought of purchasing a new frock for our little gremlin with the prize money!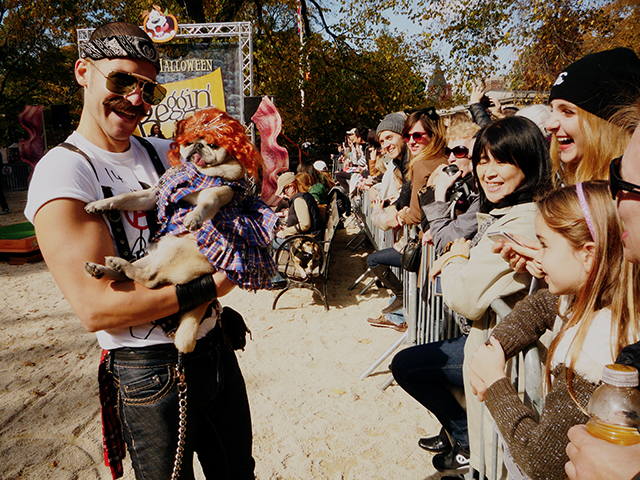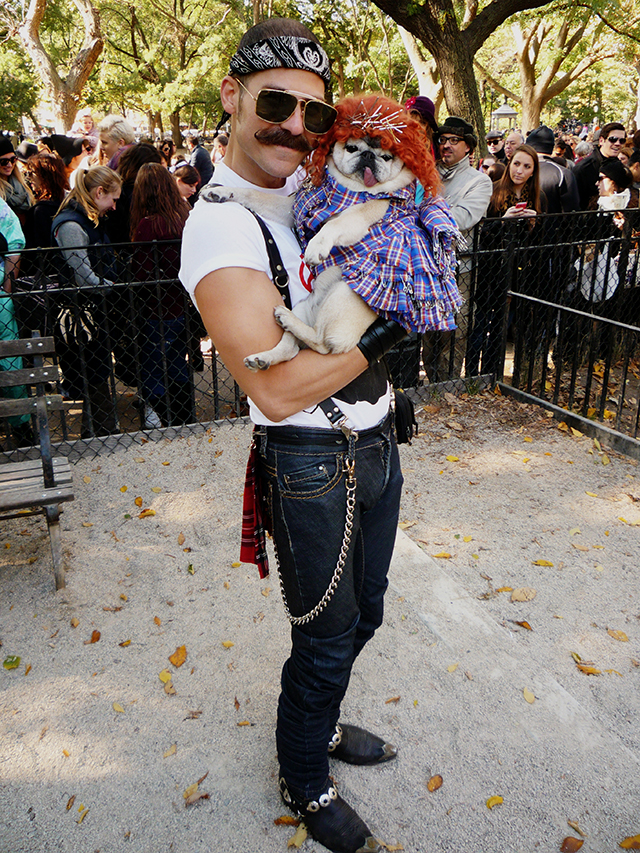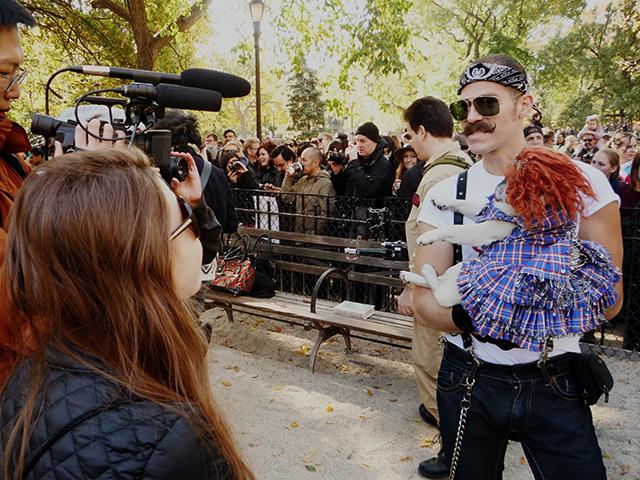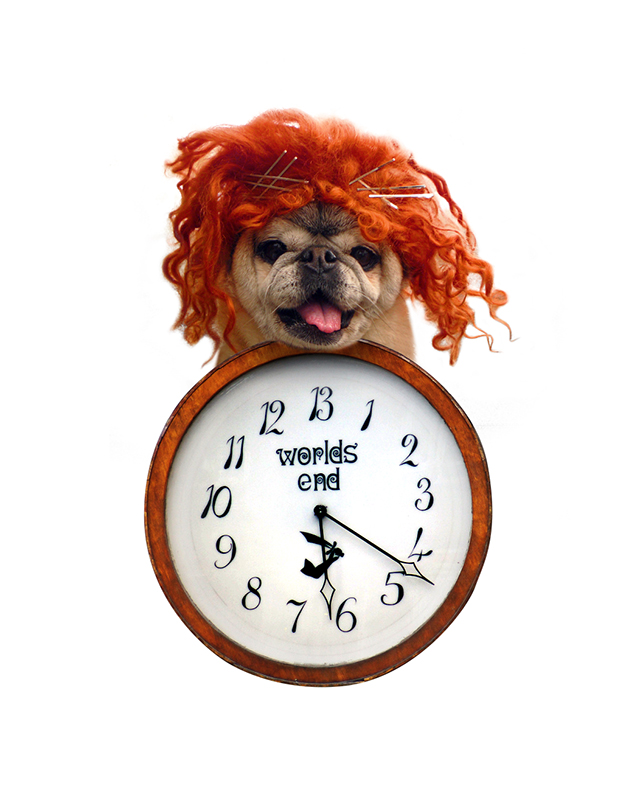 This year's first time host was actor/comedian Stephen Kramer Glickman of Nickelodeon television series-Big Time Rush and he just could not contain himself around Mamma Biscuit! He literally ran after me after retrieving our prize right before starting the second batch of dogs to see Mamma Biscuit up-close and squeeze her just one more time!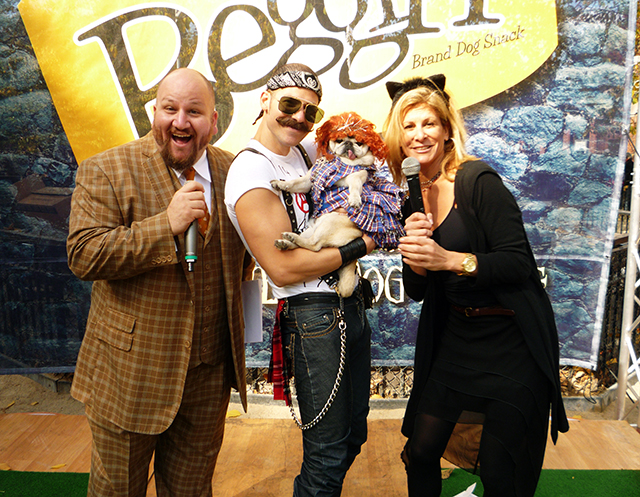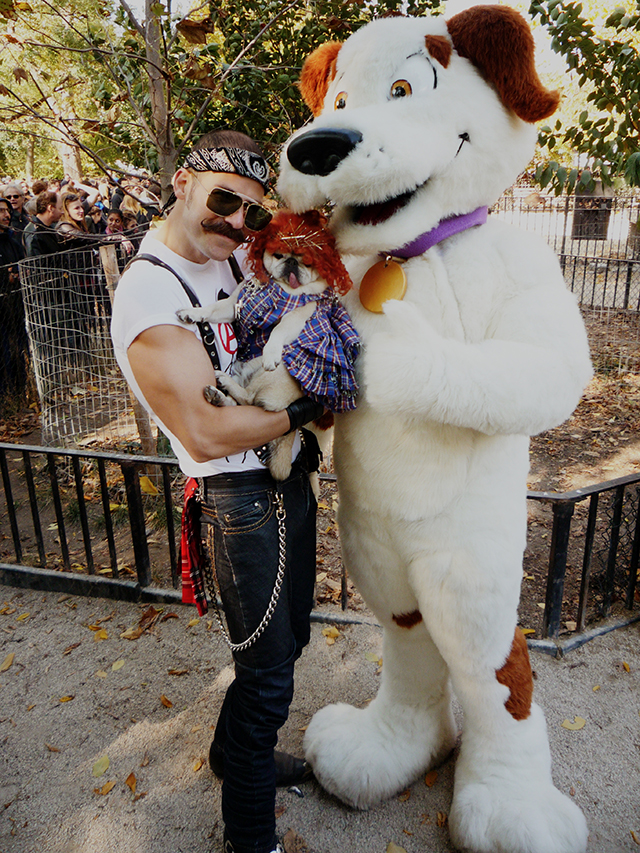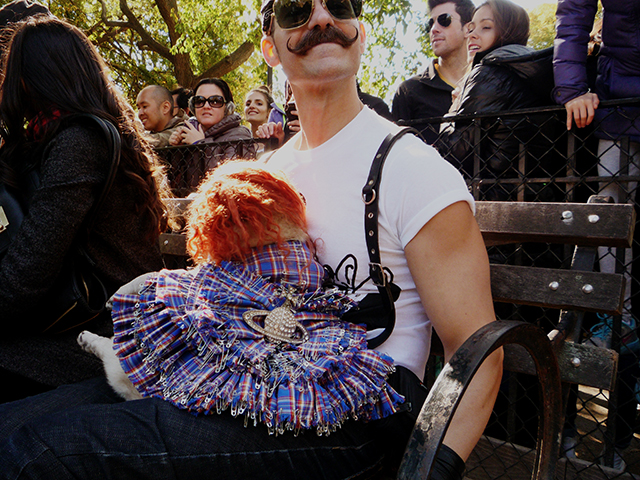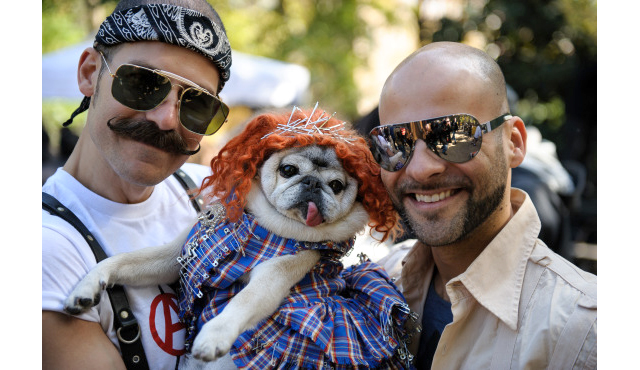 The media coverage has been phenomenal starting with a Huffington Post feature of Mamma Biscuit in the Style section entitled, Vivienne Westwood Pug Wins Halloween Dog Parade In Our Eyes. To read the article, click here! I think the last sentence says it all, "We may as well just cancel Halloween this year, because no costume will top this dog's." We were also featured as part of a gallery article of the event in Time Out New York, Gothamist, Vanity Fair, Cuteoverload and Mashable. The reviews and emails keep coming in day by day and we're all excited up in the Pug Palace—meanwhile, Mamma Biscuit is just passed out on the sofa without a clue of the media frenzy she caused during the parade!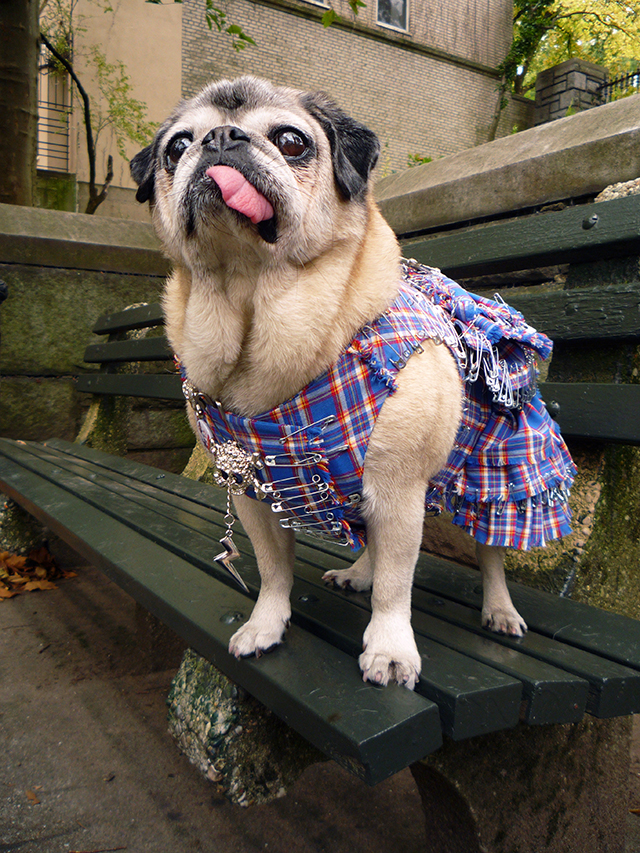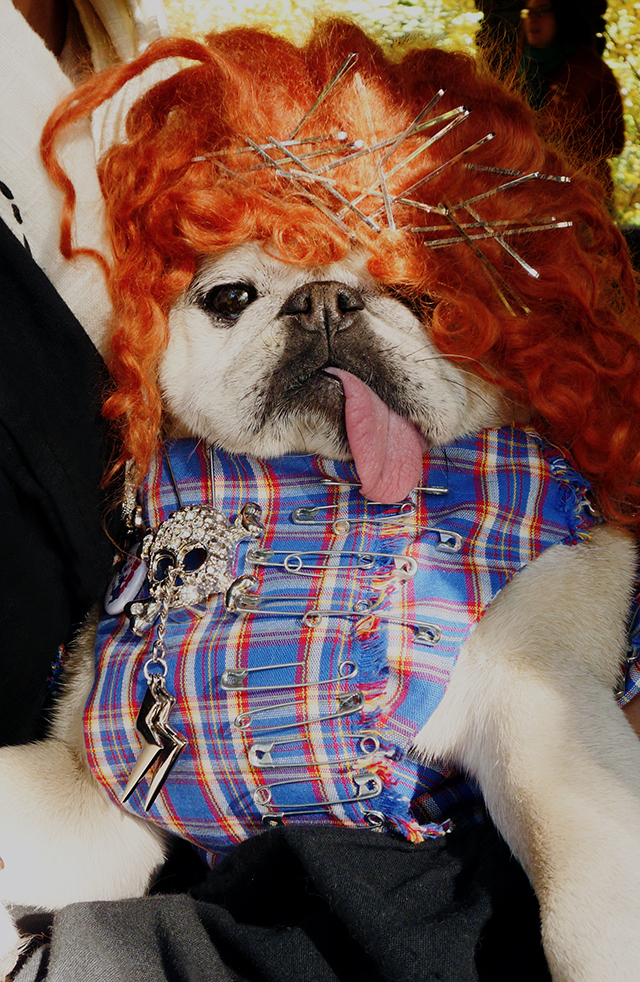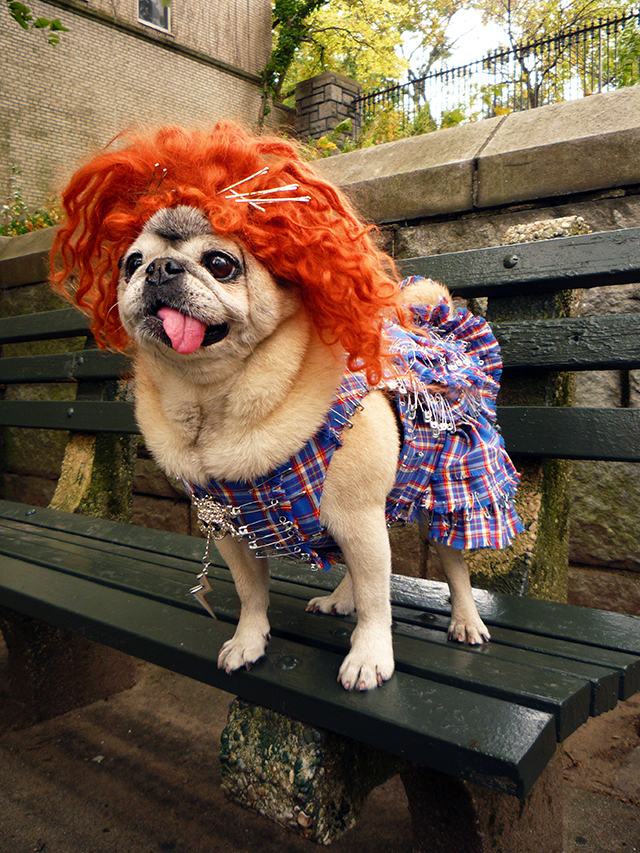 So there you have it folks, Mamma Biscuit's official Halloween costume for 2013 is Vivienne Westwood: Godmother of Punk. Long live the Queen of Punk!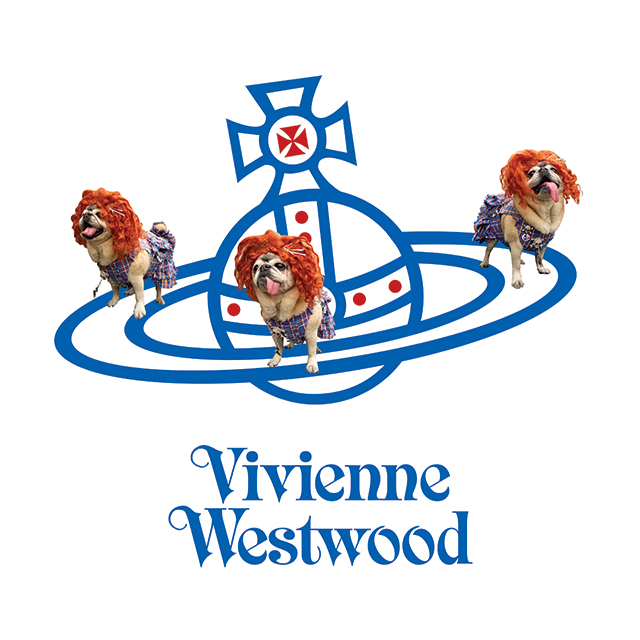 Enjoy and Happy Halloween!