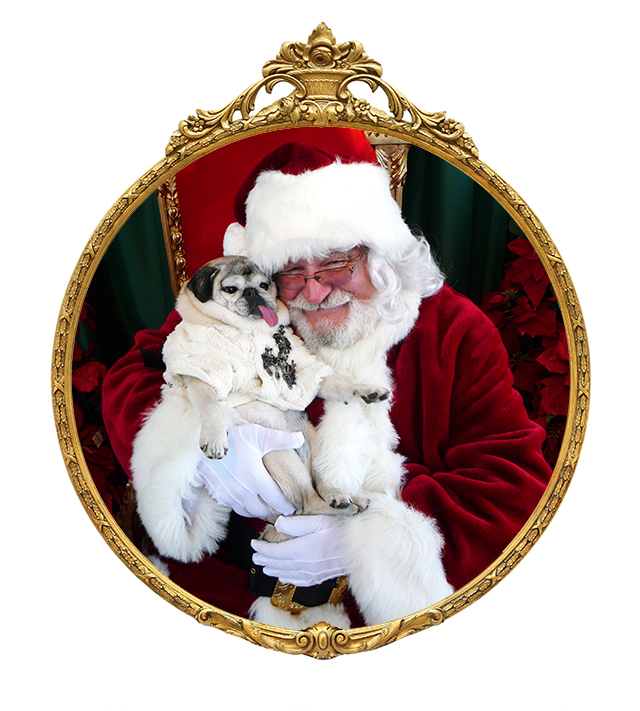 The most wonderful time of the year has officially arrived and Mamma Biscuit has made her annual visit up to the North Pole to add her personal touches to Santa's list before he checks it twice to see who's naughty or nice! Actually, it really wasn't the North Pole Mamma visited but rather Dees' Nursery out on Long Island but it's all the same to her. Mamma was sure to give Santa many pug kisses while looking extra cute to make up for her Diva behavior lately—all in hopes of getting her name on Santa's VIP list! She's got her eye on a yacht, and really, that's not a lot. Problem is, she's been barking on the spot for peanut butter treats when the mood strikes her and of course, I cave into her every wish when she twinkles her marble eyes in my direction between pug growls and gremlin barks. Sometimes she stares at me so flirtatiously that I almost feel compelled to buy her a drink! I keep threatening her that if she continues to bark, she'll recieve a bag of coal for Christmas but that doesn't make her demanding ways subside! What can I say, our gremlin runs our lives and yet secretly, we love every minute of it! Now the moment we stepped foot in Dees' the place literally shut down. It was like Mamma Biscuit mania in there. I haven't seen that many screaming people since The Beatles landed in our country during the British Pop invasion! Everyone from all departments migrated to Santa's workshop in the rear of the store for some personal time with our infamous pug! They must have turned the sign around to read, "Sorry, we're temporary closed, MAMMA BISCUIT IS IN THE HOUSE" on the front door because business seriously came to a screeching halt!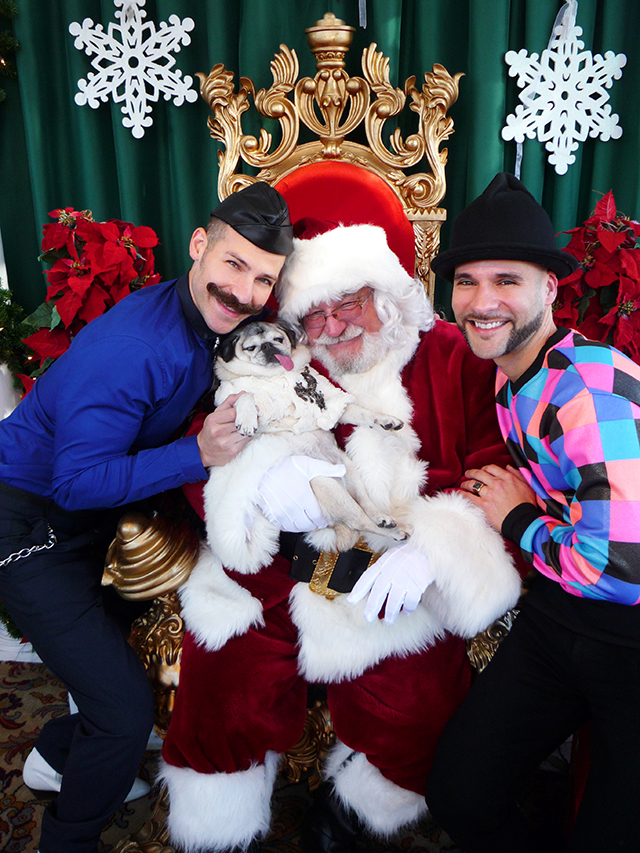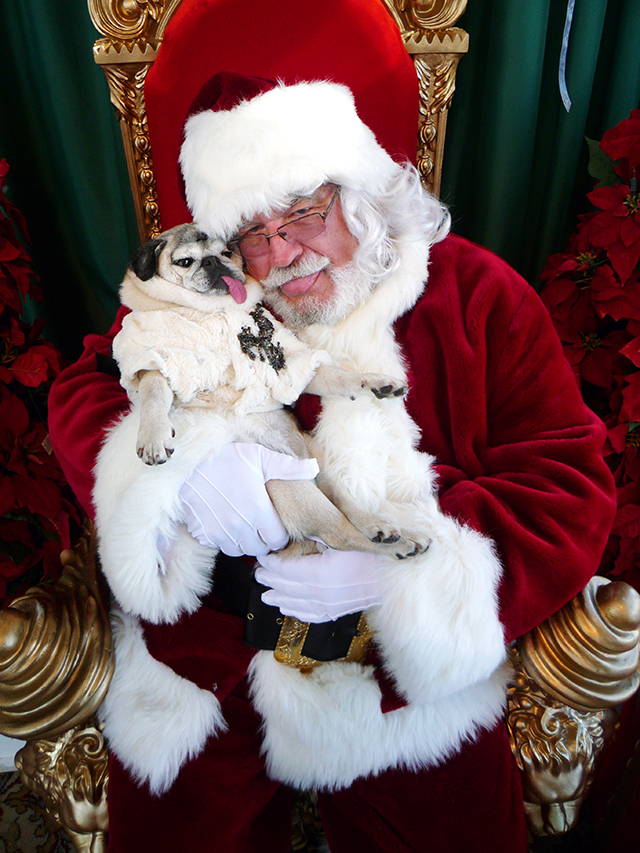 So there she was, in Santa's loving embrace dressed in a luxurious, ivory, faux fur coat paired with a black crystal chandelier brooch as she barked her list of wants in his ear in between a few tongue rolls, some wet kisses and a couple of pug snorts! Mamma Biscuit is such a pro when it comes to luring Santa into giving her the green light on a huge list and this year, her list is beyond ridiculous! It started with an all-expense paid trip to Paris, France, a meet-and-greet with the Crypt Keeper of Pop, Madonna, the deed to a platinum mine and ended with a stocking full of diamonds and a Black American Express card with an unlimited credit line! In other words, our little bitch has turned into a very big bitch!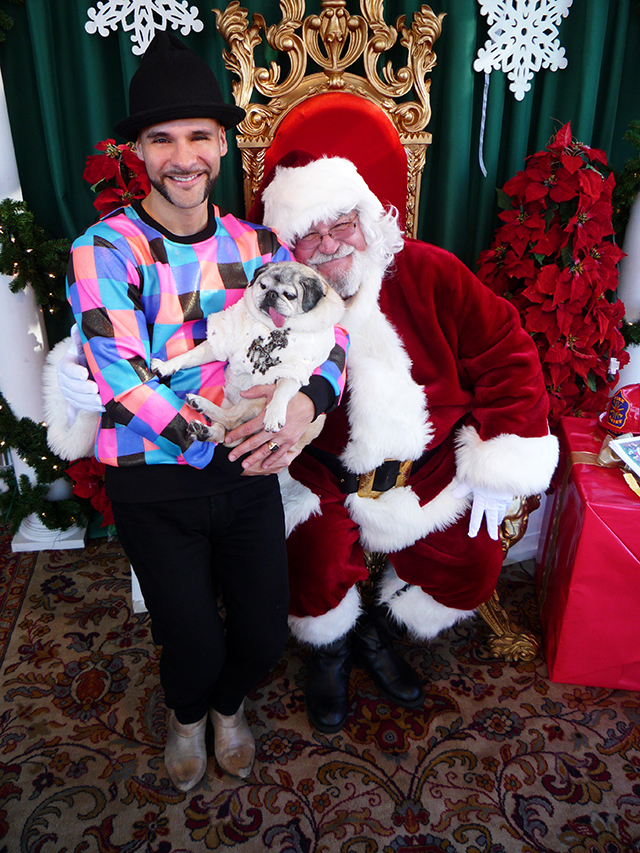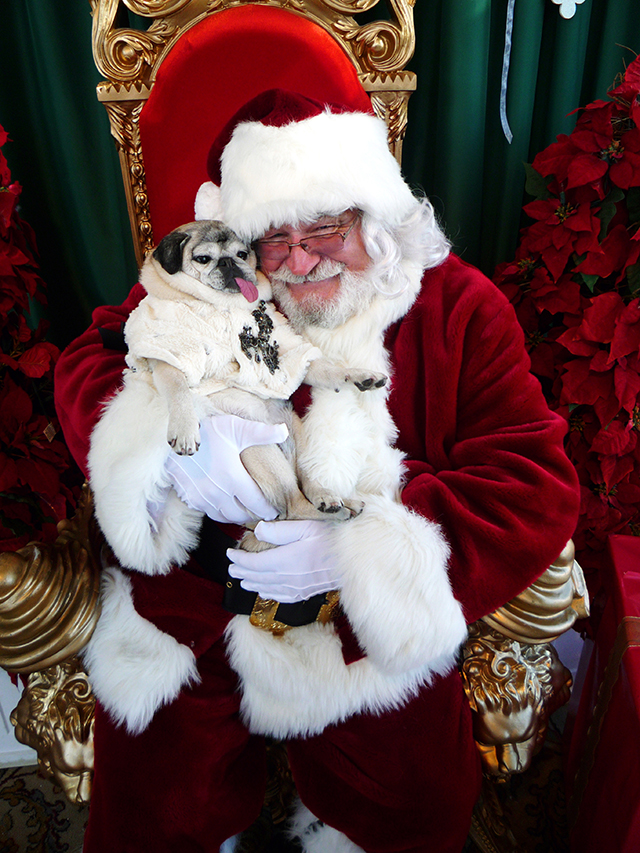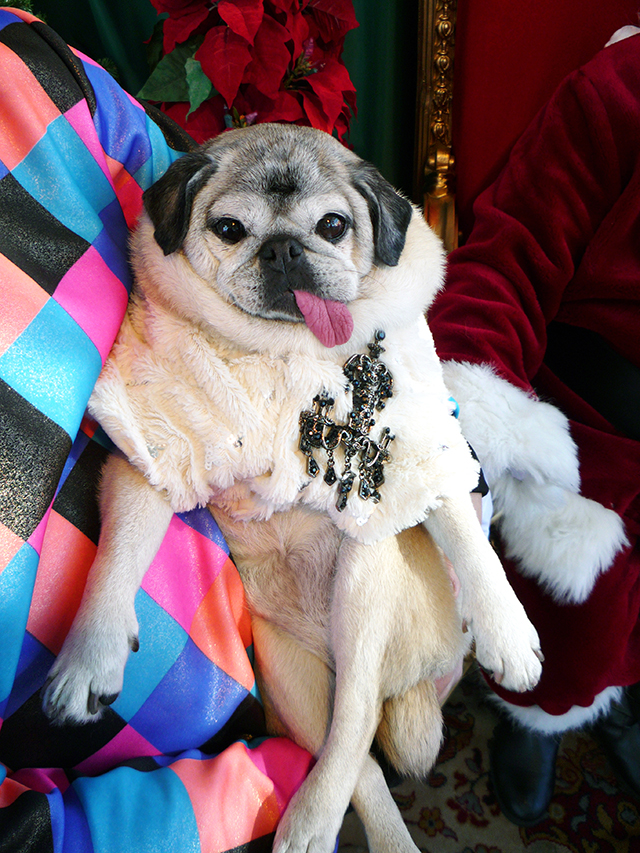 Oh what the hell, she's had a horrible past in the puppy mill, she deserves it all. So when Mamma wasn't looking, I quickly stuffed a hundred dollar bill in Santa's pocket to seal the deal—hey, I'm Italian, I couldn't help myself! When the lady of my house wants something, I make sure she gets it!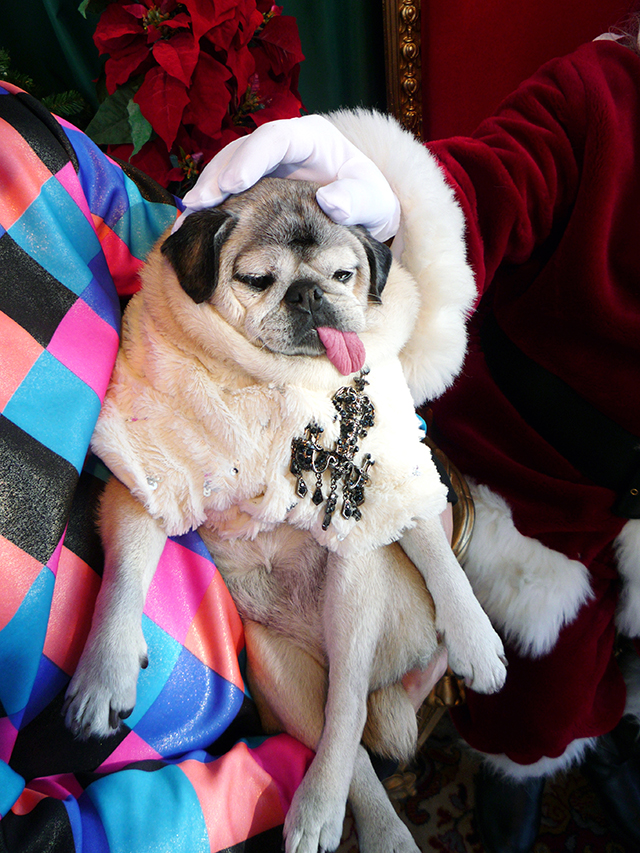 It was only fitting that the next in line to see Santa was a parrot and his owner. Santa was not amused when the parrot simply repeated Mamma Biscuit's list back to him—verbatim!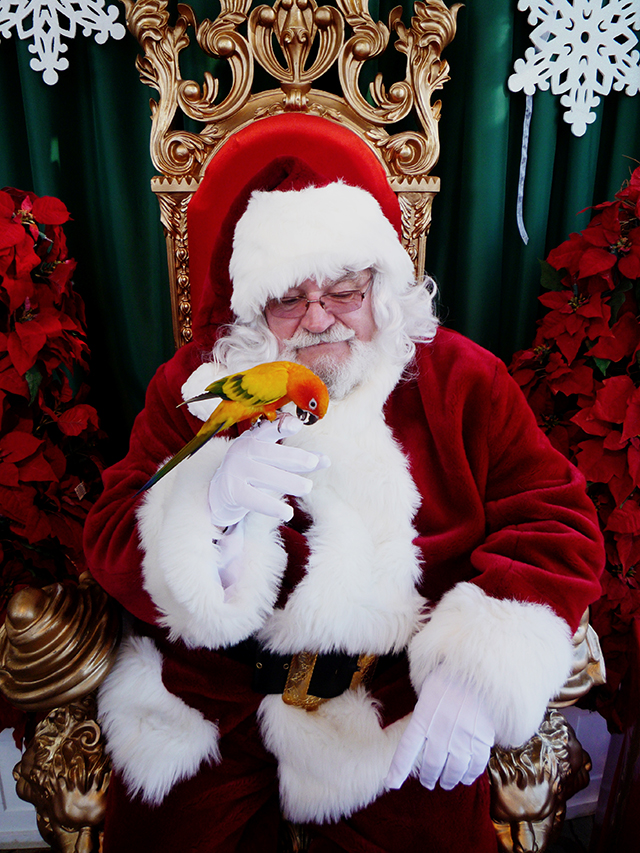 If there is one thing we love to do during the holiday season (besides scouring the streets looking for badly decorated homes) it's hitting the local nurseries to check out their holiday wares—and boy were they a-plenty here at Dees'. So after our photoshoot with Santa and catching up with the store owners and workers, business resumed as usual as Tommy and I roamed around with Mamma Biscuit in our arms—taking in the Christmas scenery!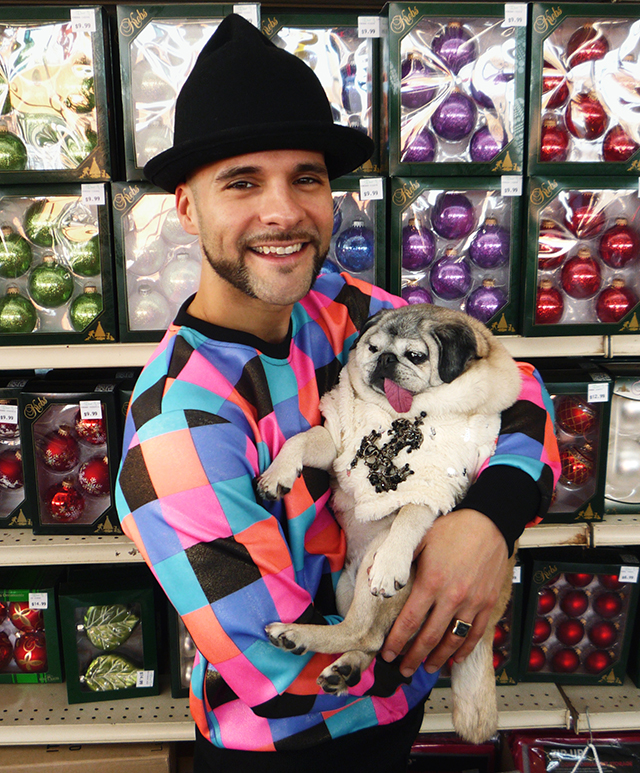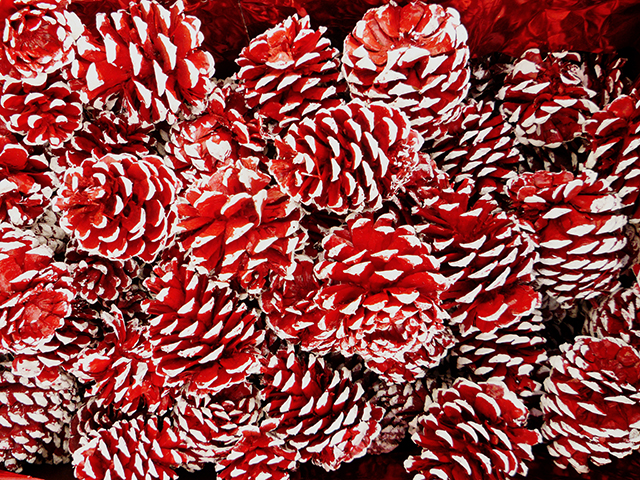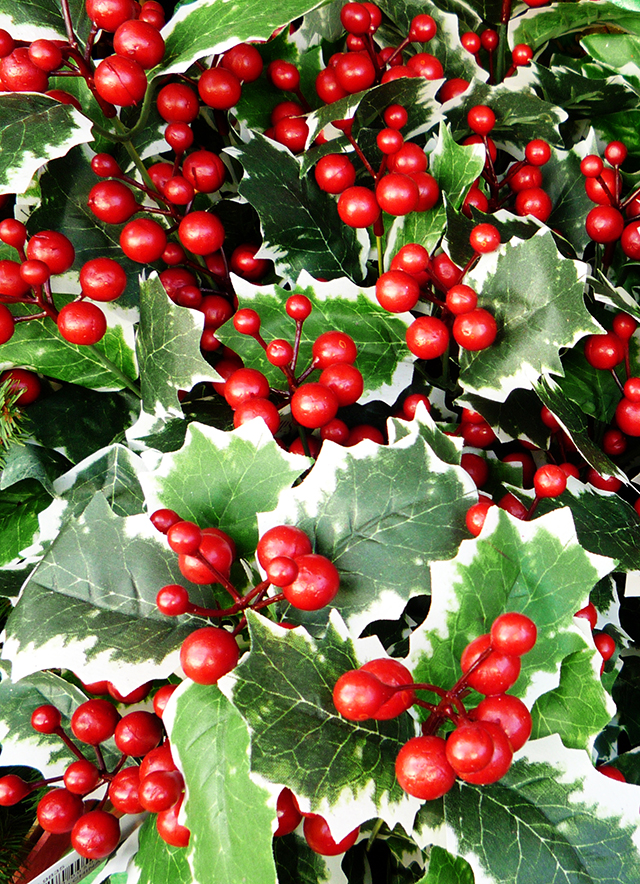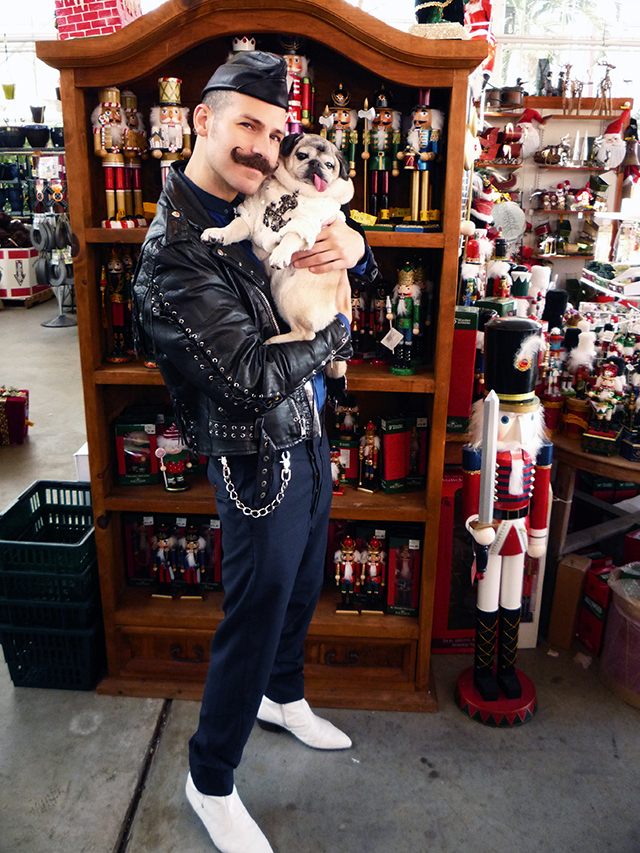 Everything was going smoothly until we ran into this Jerseyliscious inspired Christmas tree. Nothing nauseates me more than leopard/zebra print on anything (clothing or housewares) so to appropriate that aesthetic on Christmas decor is just blasphemous in my opinion!
In case you're wondering, that giant, stuffed leg protruding from the tree is an actual ornament. At first glance I thought it had something to do with the Leg Lamp from a Christmas Story but it doesn't. I guess this is what the Seasonal Industry would call a "fashion tree" . . . and obviously, Mamma Biscuit hated it!
We then passed by a giant display of The Elf on a Shelf—a product that I had never heard of until the day before, on Thanksgiving, when Tommy's cousins were talking about it. Apparently, parents having been using this toy as a tactic to keep their kids well behaved before Christmas for several years now because I had no idea this Elf even existed.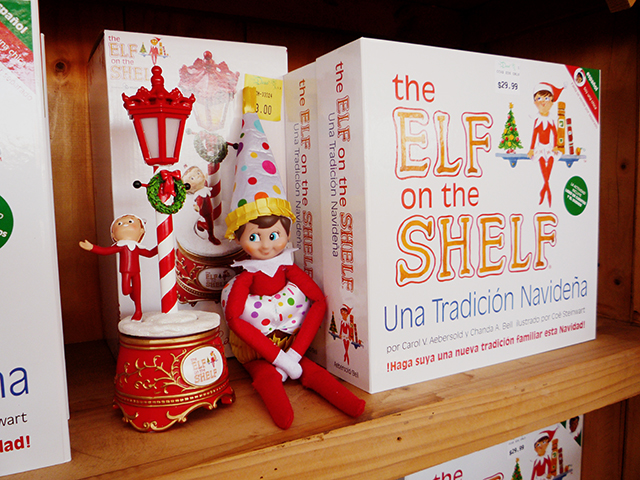 Here's how it works, the children cannot touch the Elf, they can only name it. The Elf is placed on a shelf and watches over the children every day. At night, he returns to the North Pole to report on all of the shenanigan's the children have gotten themselves into during the day and then reappears the next morning positioned somewhere else in the house. Some children get into it and spring out of bed every morning, running around the house to see where the Elf is stationed for the day and other children are so deathly afraid of the Elf that they set the whole house on fire, ensuring a scorching death for the Elf. In my opinion, I'm with Anna at Doorsixteen regarding this matter, we would rather position a Chucky doll on a shelf as a form of intimidation—just because!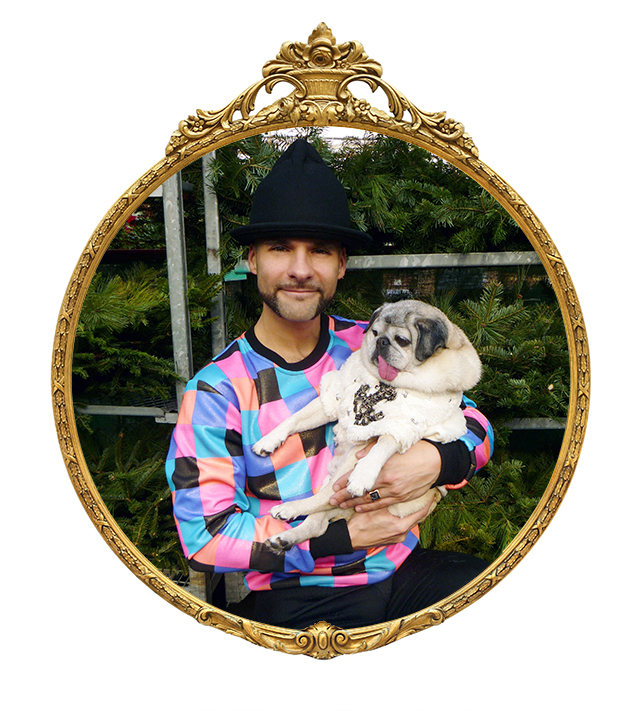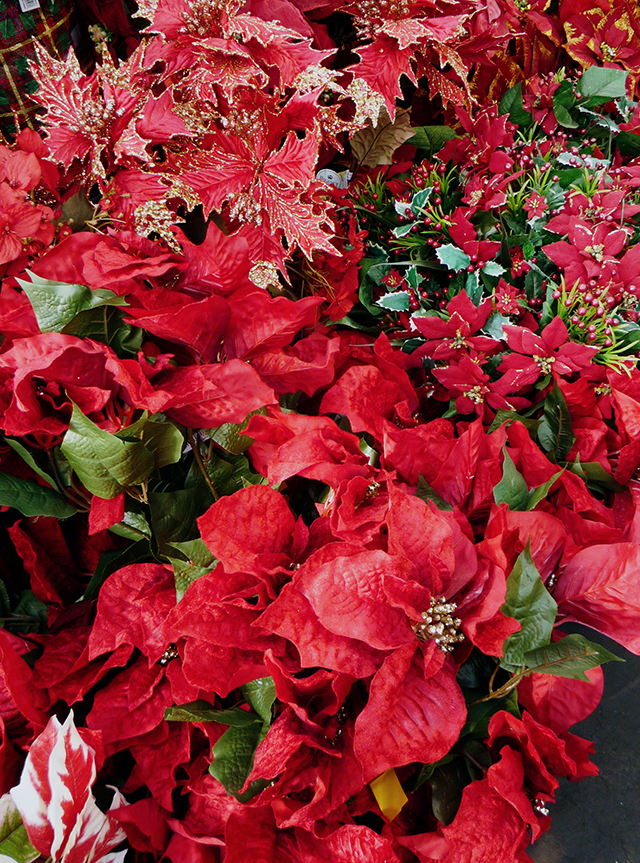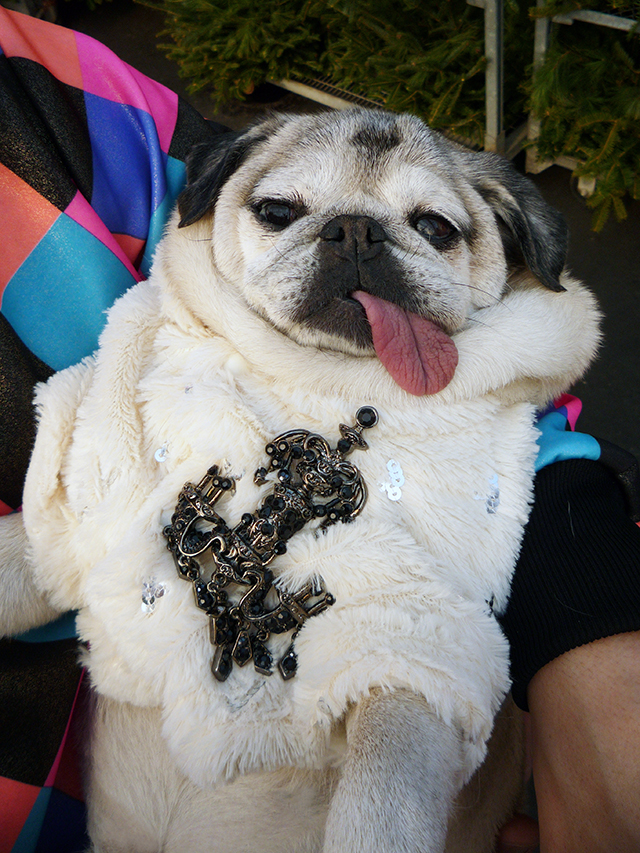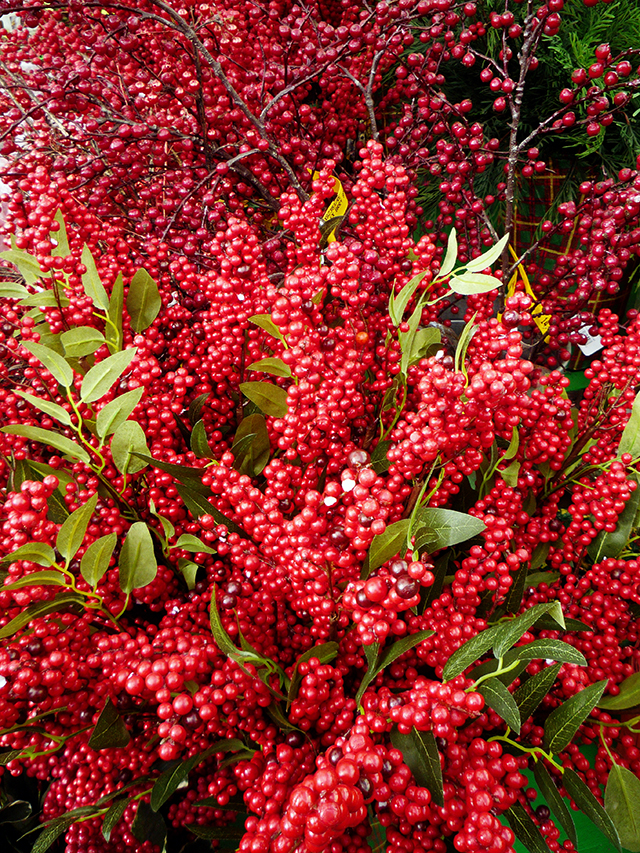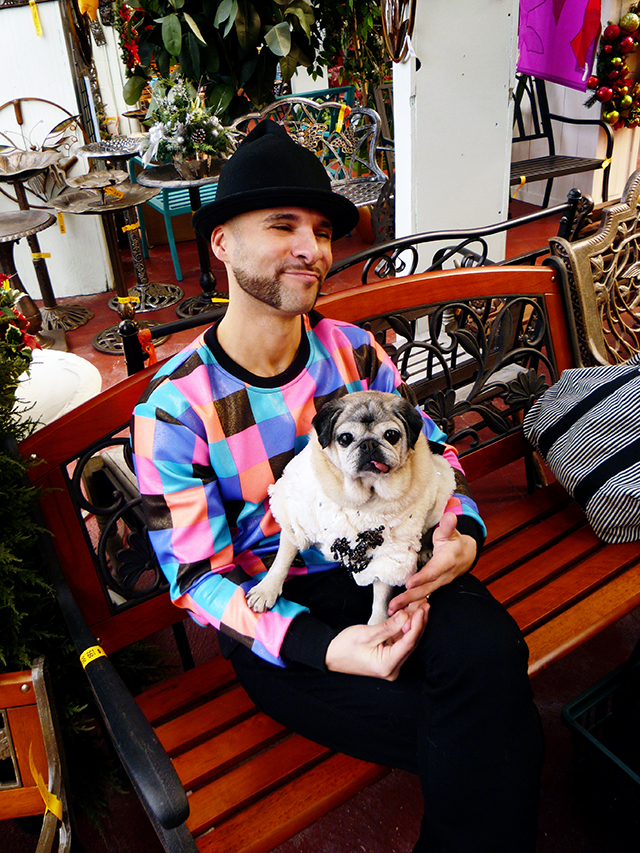 After we selected a few ornaments for our tree and some replacement C7 light bulbs, we said our farewell to Santa and told him that Mamma would leave a tray of Tommy's Sweet Semosh cookies and a glass of almond milk waiting for him on Christmas Eve—the night he's due to break into the Pug Palace via the window off our fire escape to deliver Mamma's gifts. We then made our way back to NYC and spent the rest of the weekend putting the finishing touches on our very own Christmas Land in Mamma's crib. So that's it folks, Mamma and family have officially cut the ribbon on the Christmas season and with six fewer days of shopping and preparing, you better move fast—real fast!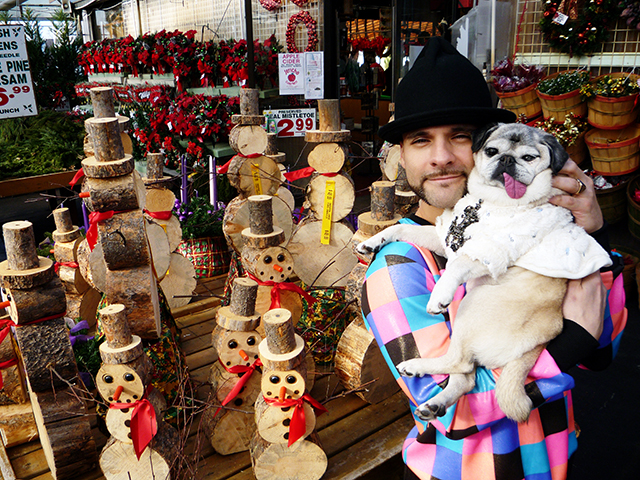 Only 19 days left, get crackin' people!
Enjoy