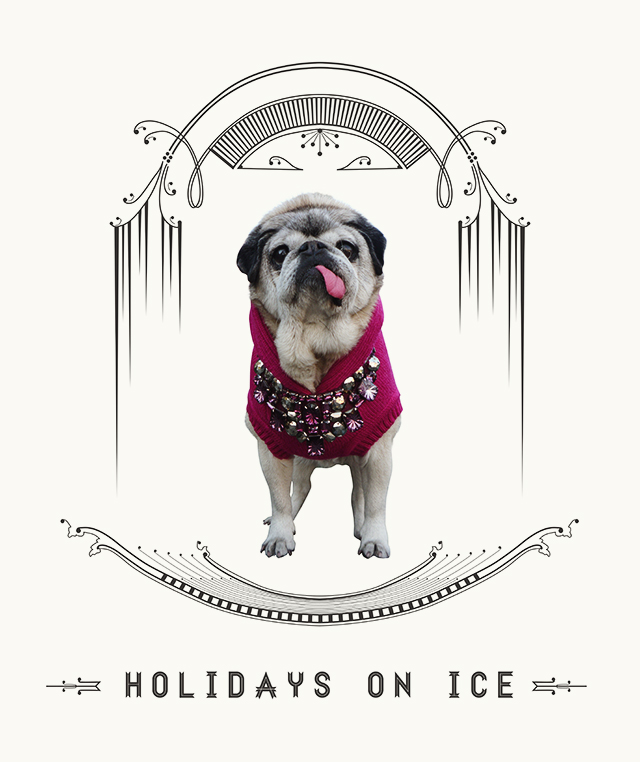 If we took a holiday
Took some time to celebrate
Just one day out of life
It would be, it would be so nice
Everybody spread the word
We're gonna have a celebration
All across the world
In every nation
It's time for the good times
Forget about the bad times, oh yeah
One day to come together
To release the pressure
We need a holiday
Madonna's song Holiday immediately came to mind when Tommy and I visited the spectacular holiday windows at Bergdorf Goodman last weekend. Why you ask? Because they gloriously depict a celebration of all celebrations! Now if you're looking for high fantasy, dramatic surprises, extraordinary fashion, and captivating storytelling then make it an annual tradition to see these holiday window displays—they are the best New York City has to offer! I'm serious people, don't even bother with Saks 5th Avenue, Lord & Taylor or Macy's, those windows are not even at the same level as what Bergdorf Goodman puts together. Like last year, we made it a point to visit this true New York spectacle during late night/morning hours so that I wouldn't have to deal with the unruly crowds and really bad daylight reflections that can ruin my photographs. Unfortunately, Mamma Biscuit did not come along with us for the visit (she was tucked in her bed so snuggly and tight) but she was definitely with us in spirit! The 2013 windows, entitled Holidays on Ice is an imaginative collection of time-honored holidays cast in frozen landscapes of ice and icicles. David Hoey, Senior Director of Visual Presentation and his team devote an entire year to the production of these annual holiday windows and this year, he explains that his windows, "give(s) equal billing to a year's worth of holidays—not only the wintry ones. All of them will be icebound. Even the Fourth of July." This isn't the first time Hoey has celebrated classic American holidays; once their 58th street windows dedicated themselves to June's Flag Day while in years past he's turned Fifth Avenue into a Halloween extravaganza with his wonderfully spooky, high-fashion windows. Holidays on Ice showcases five large windows celebrating Arbor Day, the Fourth of July, April Fool's Day, Valentine's Day and Halloween, while the smaller windows continue in theme with Thanksgiving, Mardi Gras, New Year's Eve and Groundhog Day. So come along on our digital tour here on Mamma's little corner on the web—it just isn't a proper Christmas unless you've seen these windows and Mamma strives to bring you all the very best her city has to offer!
The first window on our tour is the Arbor Day window!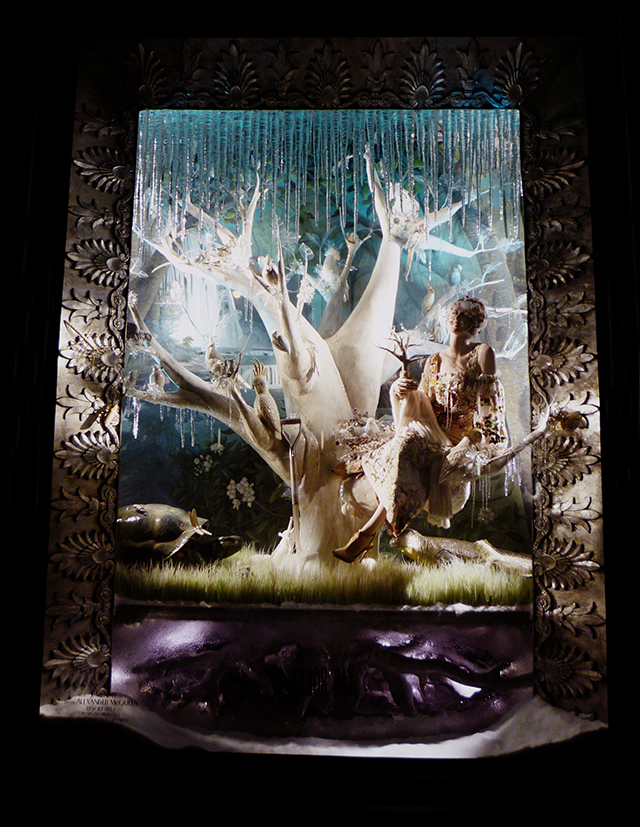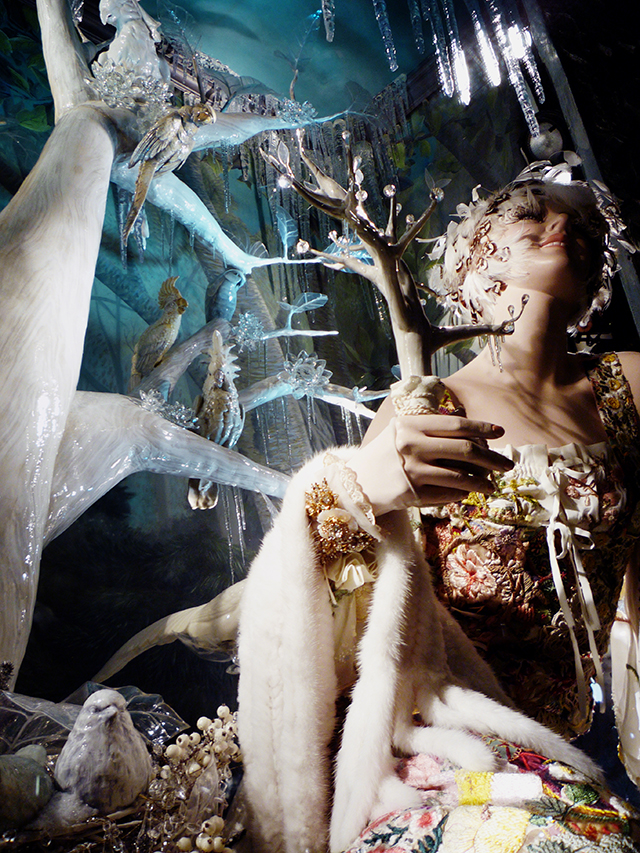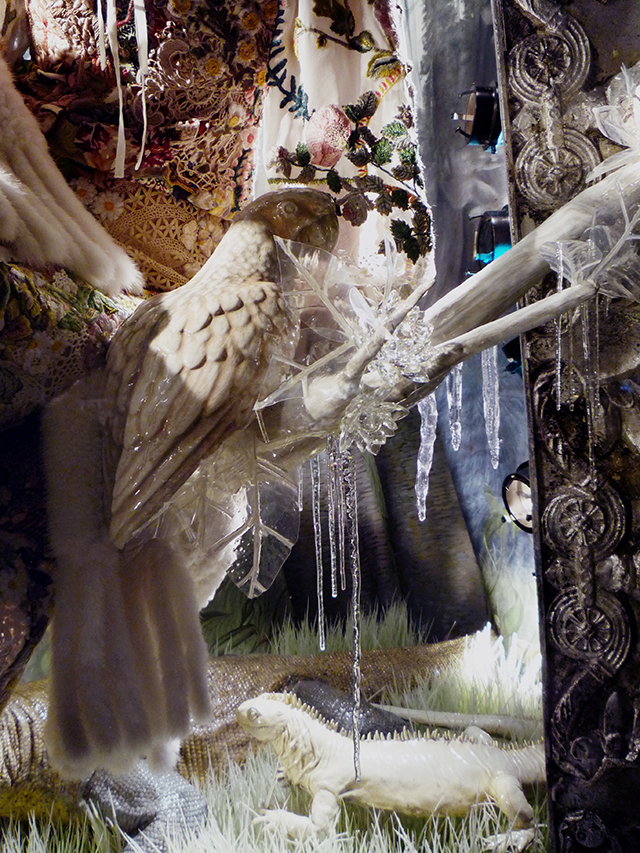 In the spirit of planting and caring for trees, David Hoey and his team have envisioned a giant tortoise beside an Alexander McQueen-clad mannequin sitting on a really large, ceramic tree that could quit possibly be the largest piece of Lenox Chinaware I have ever seen in my entire life. Perched upon the icy branches are equally glazed ceramic birds of every variety in between icy, transparent leaves.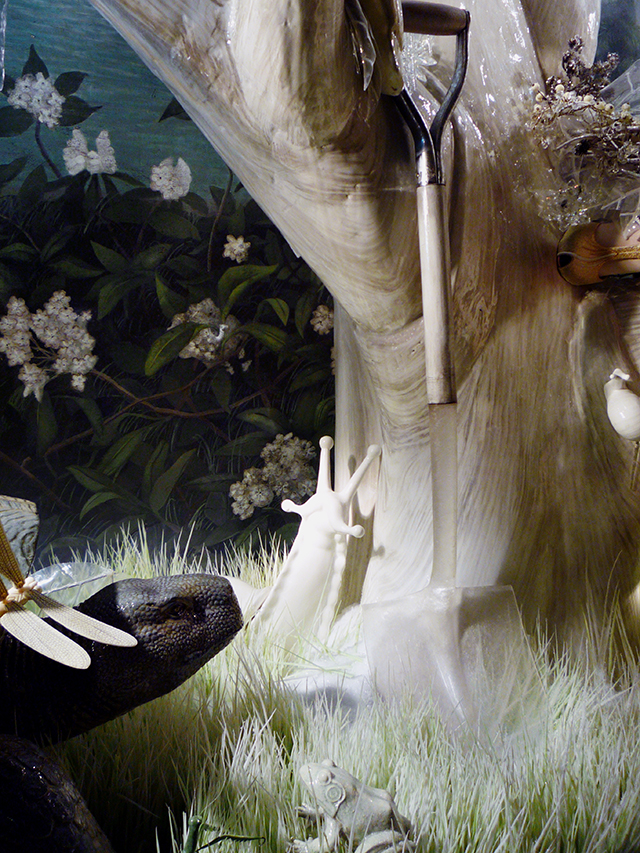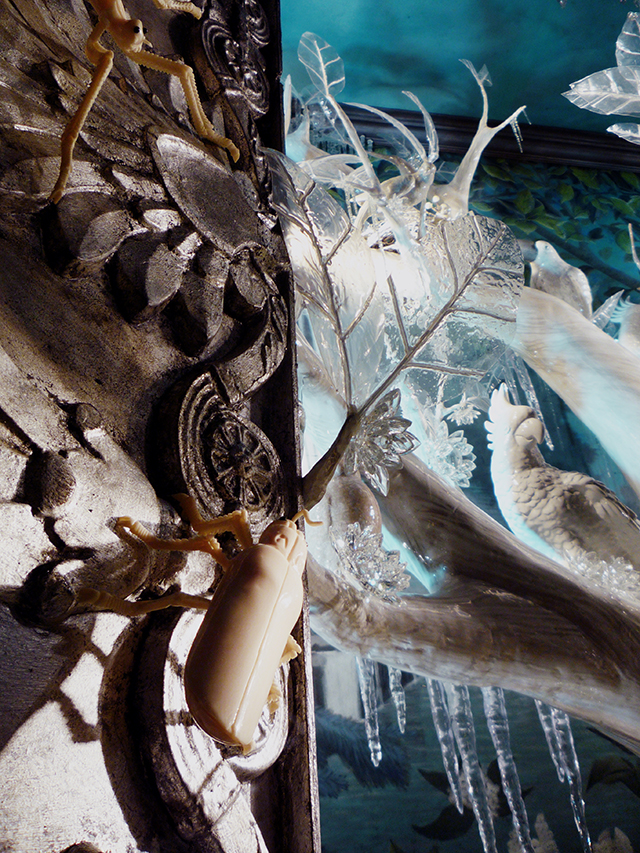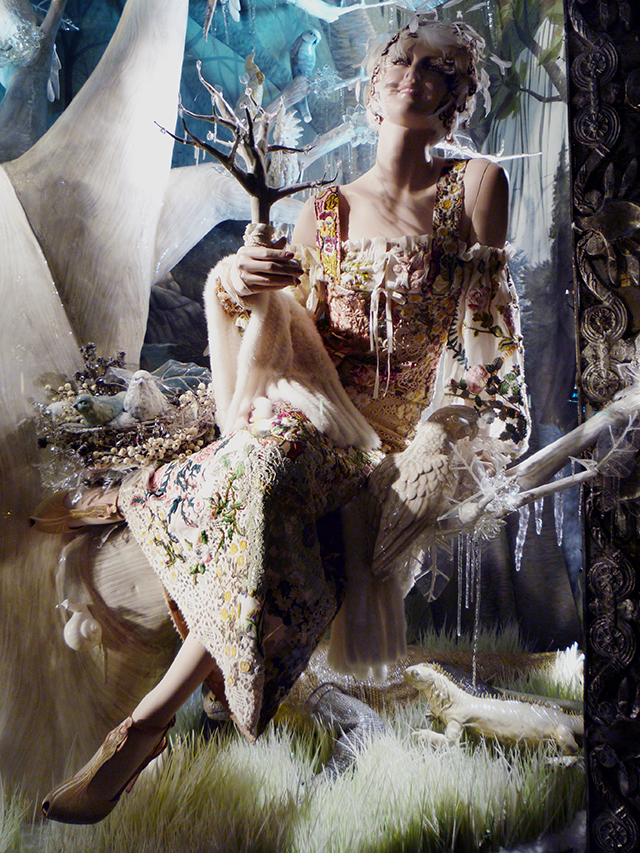 Our couture Arbor Day woman is holding a miniature version of the tree she is sitting on, ready to be planted in the icy ground with the aid of a ceramic garden shovel! The detailing of the icy roots of the giant tree glowing underground just adds another layer of wintry coldness to this Spring-time holiday!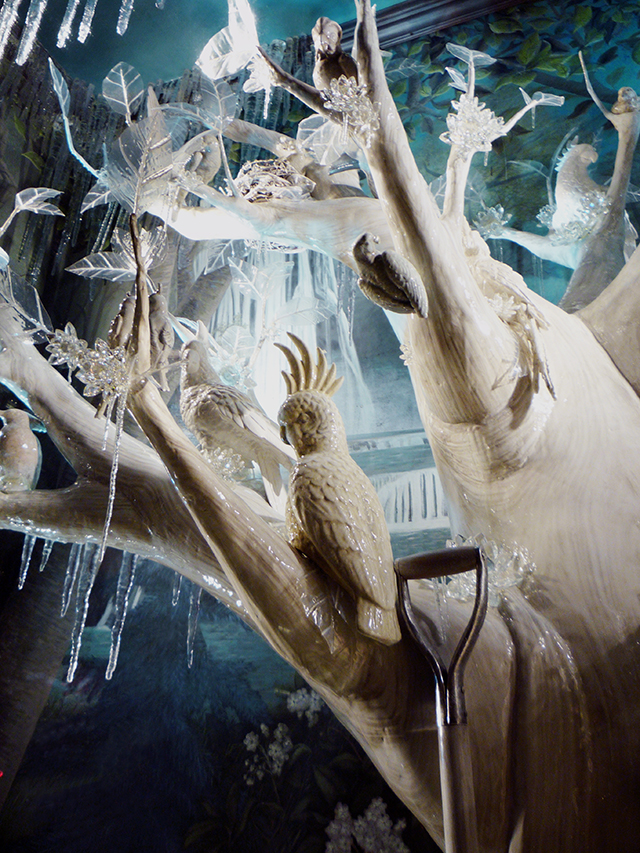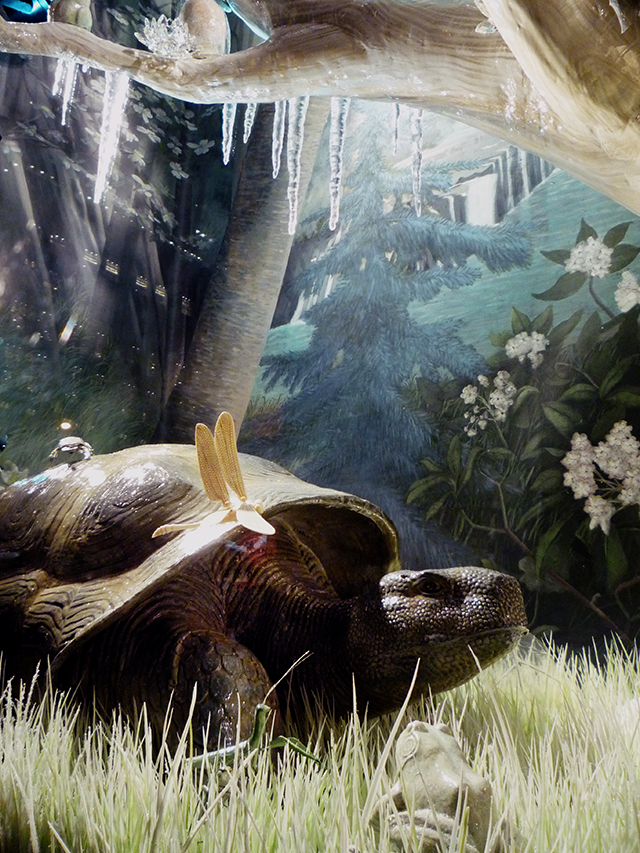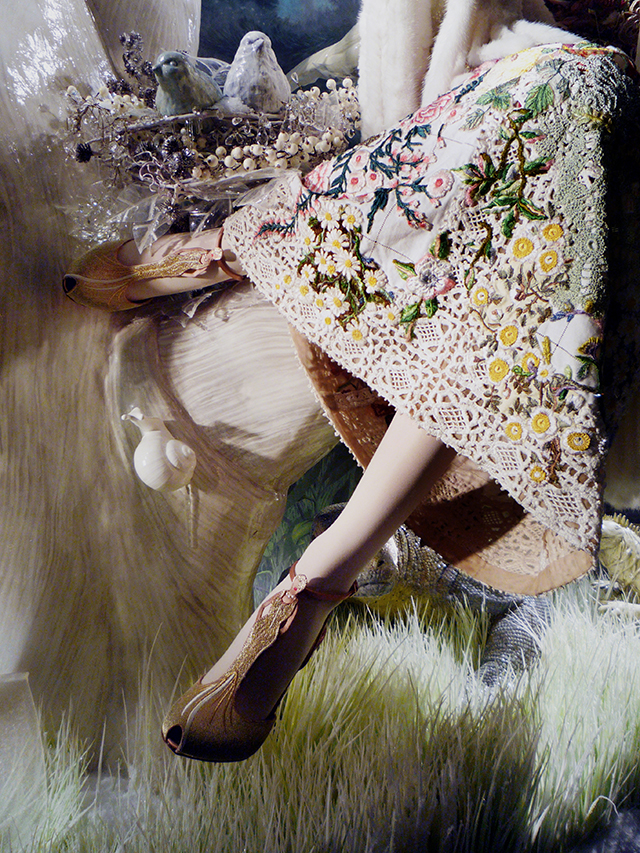 From Arbor Day, we move into the dead of Summer with an icy interpretation of The Fourth of July.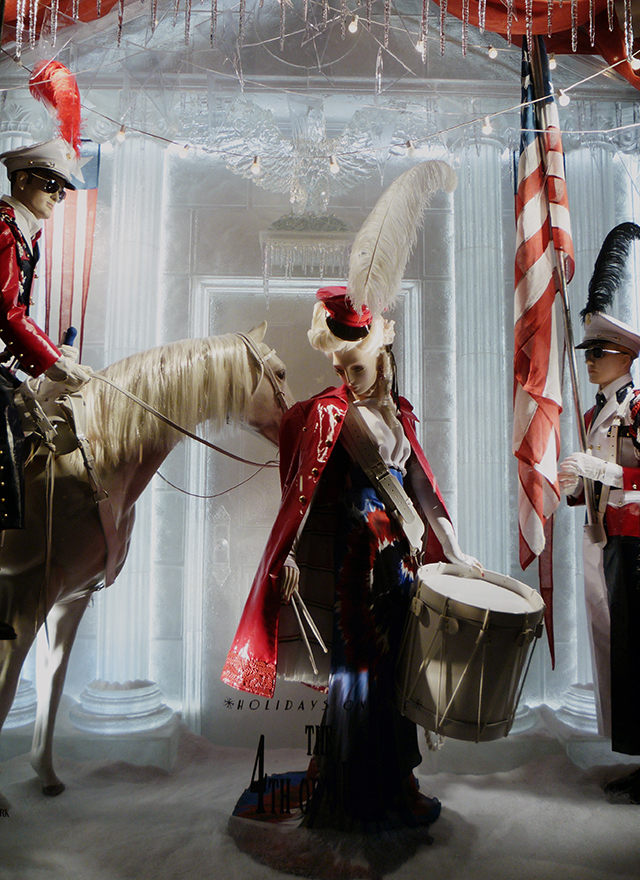 Featuring a 13 by 12 foot authentic federalist building facade in ice, our patriotic heroine in front is clad in red, white and blue Rodarte and carrying her snare drum–ready for the parade. The two male soldiers flanked on either side of her are decked out in Thom Browne Men's Collection.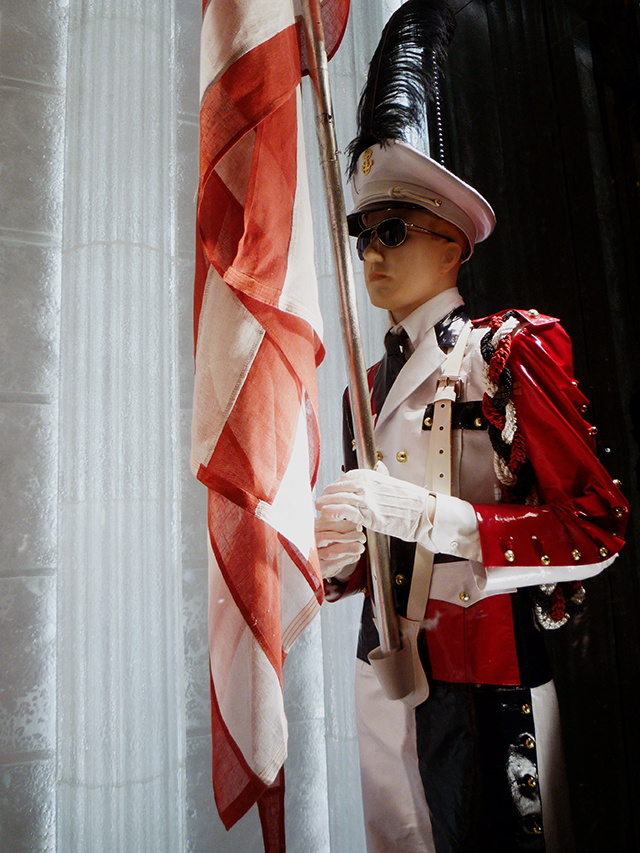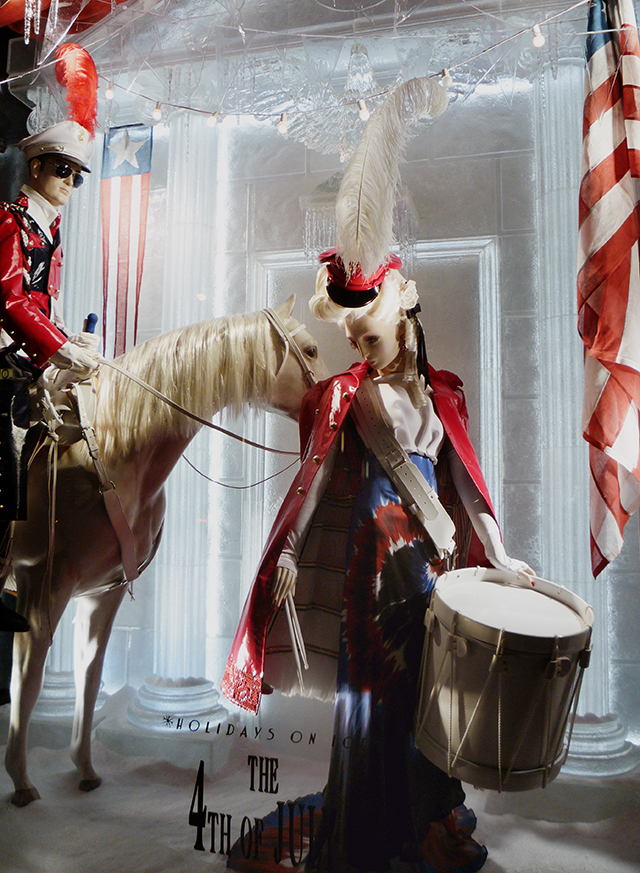 The icy eagle perched upon a small ledge in the center of the building is quite impressive in size and is the perfect symbol for American patriotism! David and his team really did a great job of making such a Summer celebration icy, wintry and cold!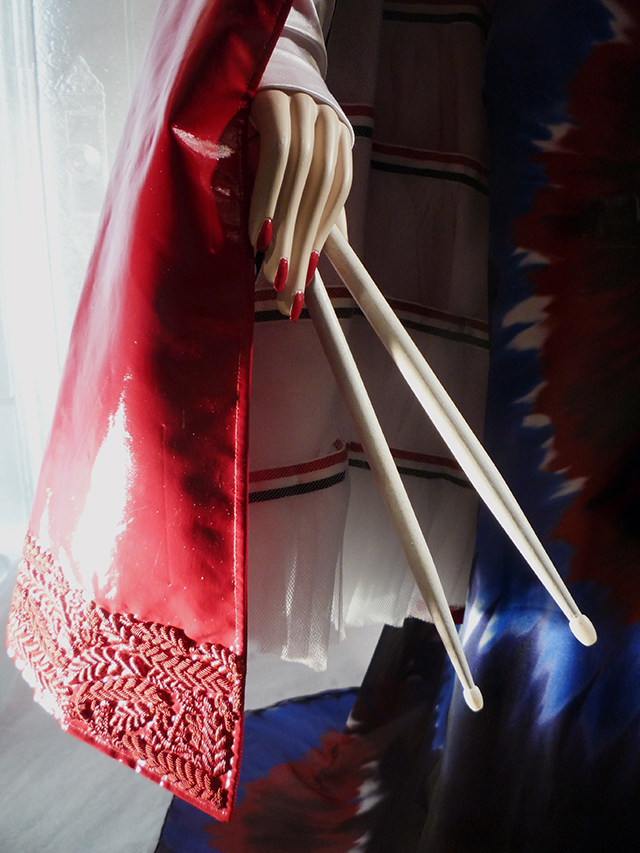 From patriotism we move straight into a holiday that encourages us all to play tricks on one another; April Fool's Day.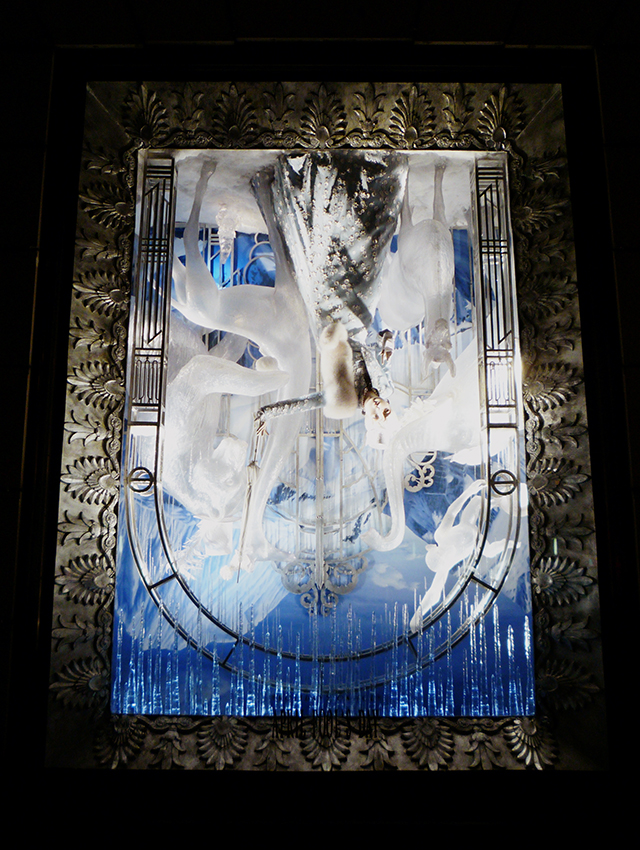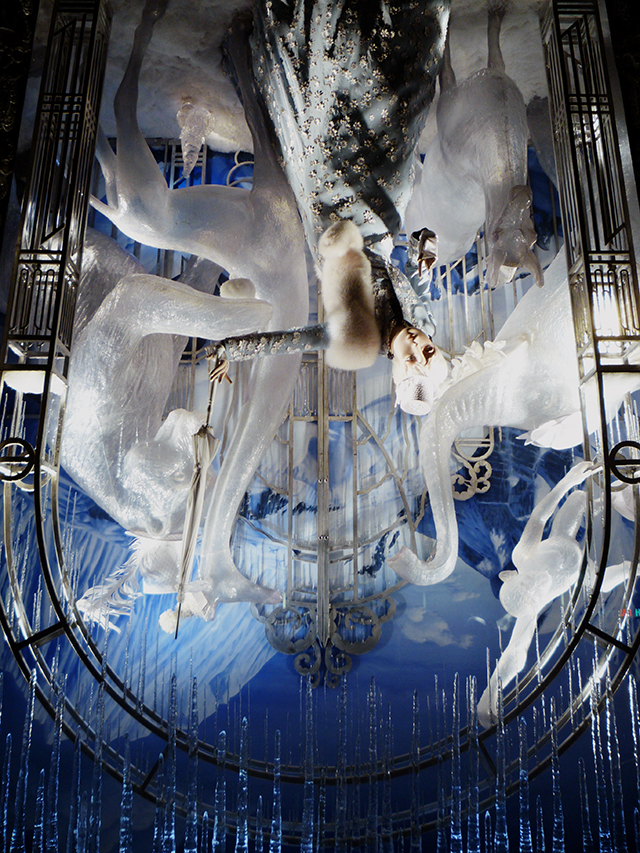 The April Fool's Day window is Bergdorf Goodman's first upside-down window display. It stands in the center of the store's five Fifth Avenue windows and features an ice-blue Oscar de la Renta gown that took an entire day alone to be pinned properly when inverted, plus another full day of fine-tuning. This window was by far one of my most favorites from Holidays on Ice and was highly reminiscent of last year's ACT I: "Tuning Up" window from BG Follies of 2012. Tuning Up was inspired by the all-girl orchestra craze of the 1920s and was executed in a jaw-dropping aerial perspective of a stylish orchestra set upon an elaborate black and white checkered ballroom floor.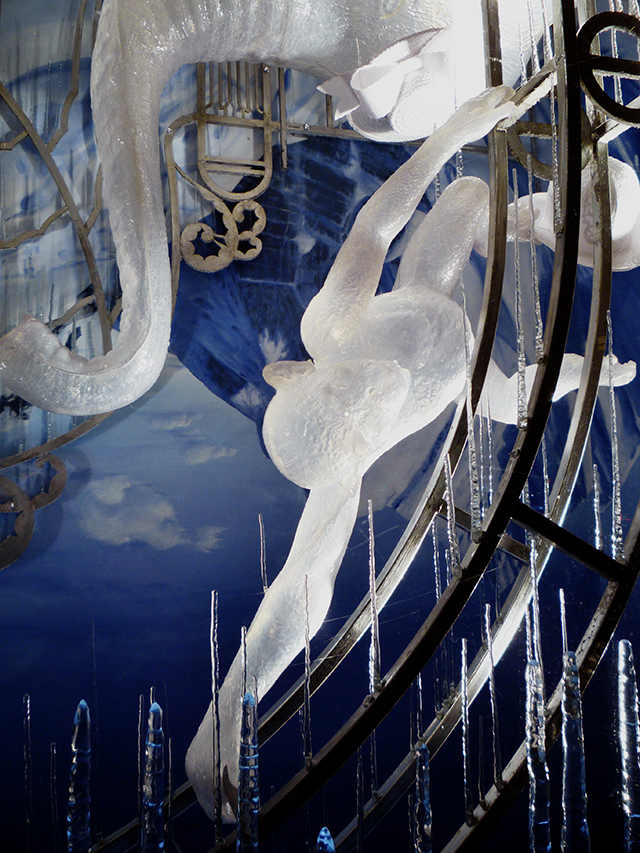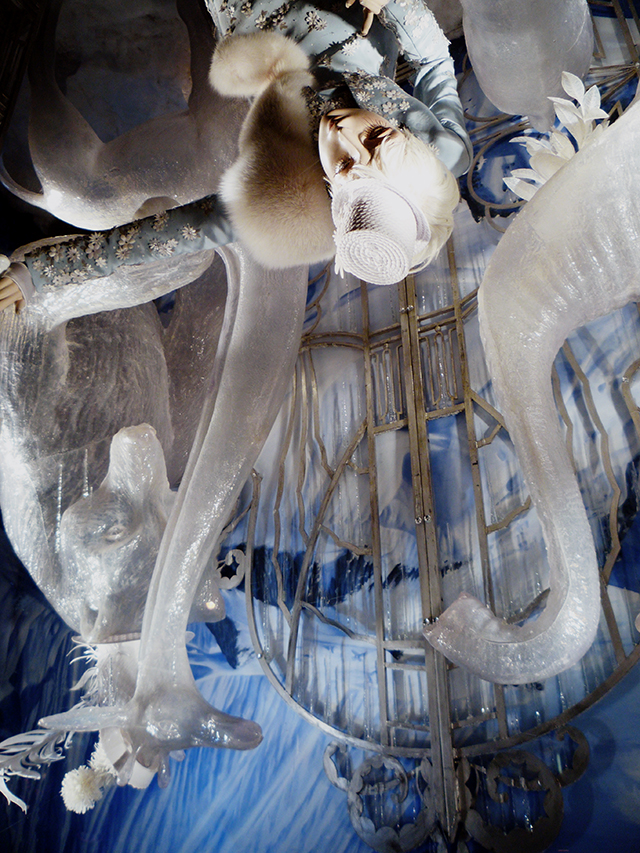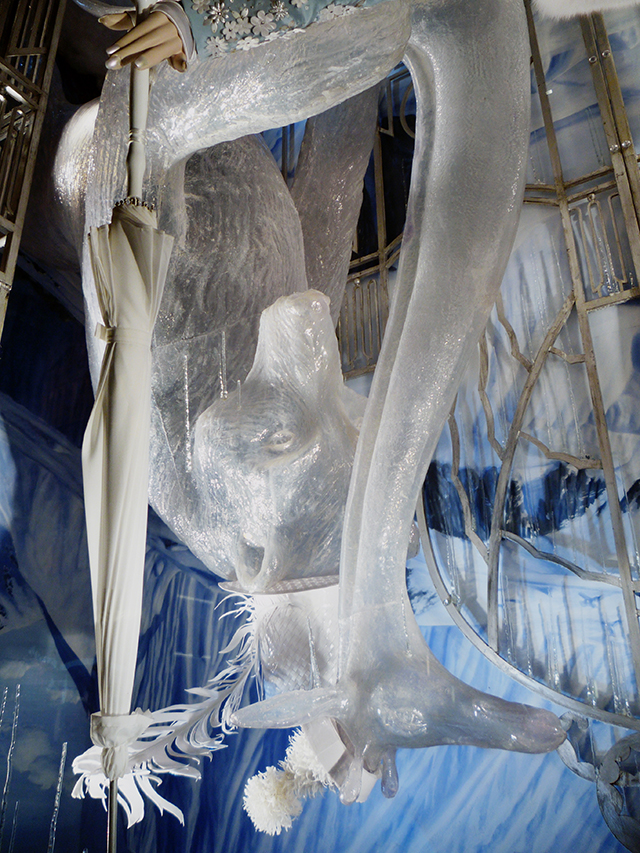 David and his team took April Fool's Day to the next level by turning it completely upside down. The cloth of our April Fool's Day gown along with every piece of jewelry drapes perfectly as if the scene were positioned right side up. What I love most is how the icicles that normally dangle from the top of each window suddenly become spike-like and quite dangerous looking when turned upside down.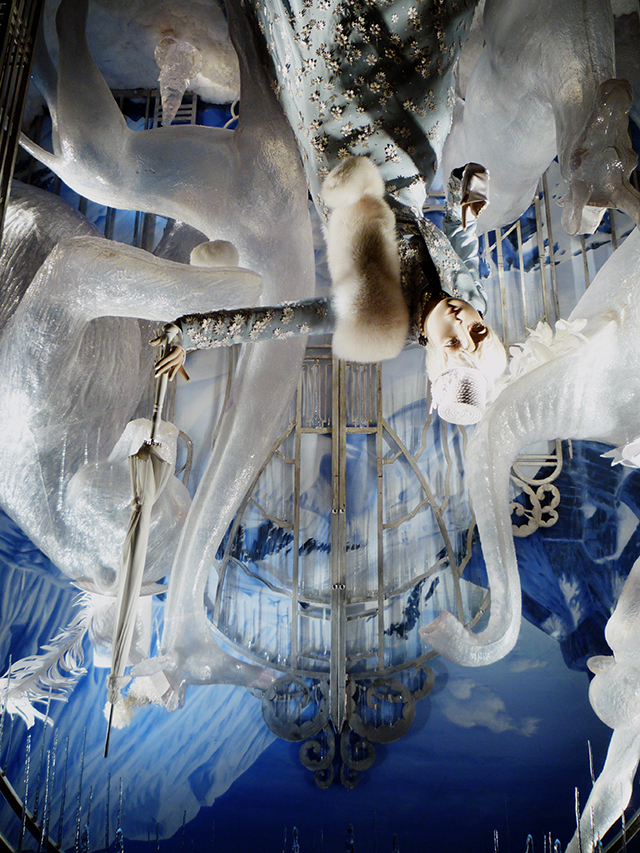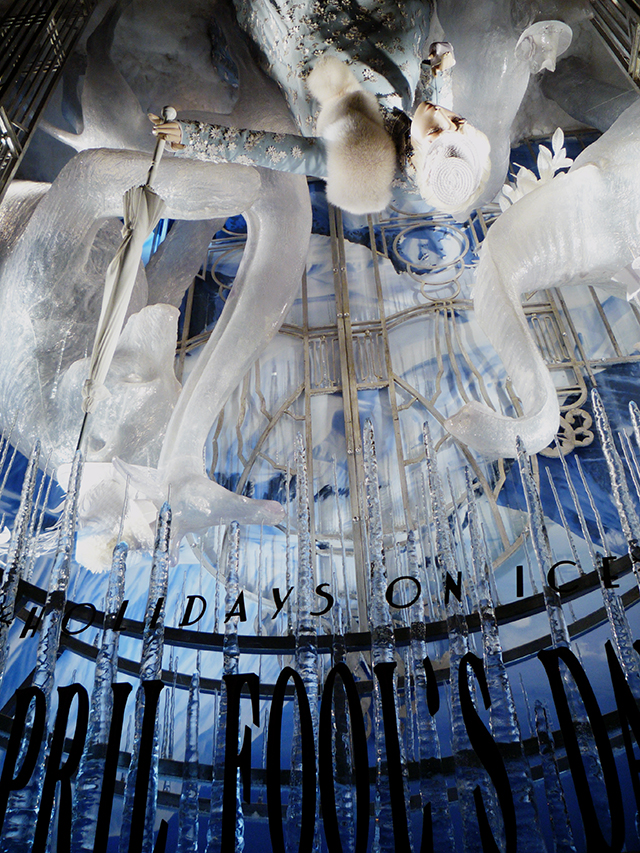 An icebound Art Deco iron gate opens onto a formal garden party of frosty, giant animals that really give this scene so much drama and makes this particular window the most ambitious I have ever seen!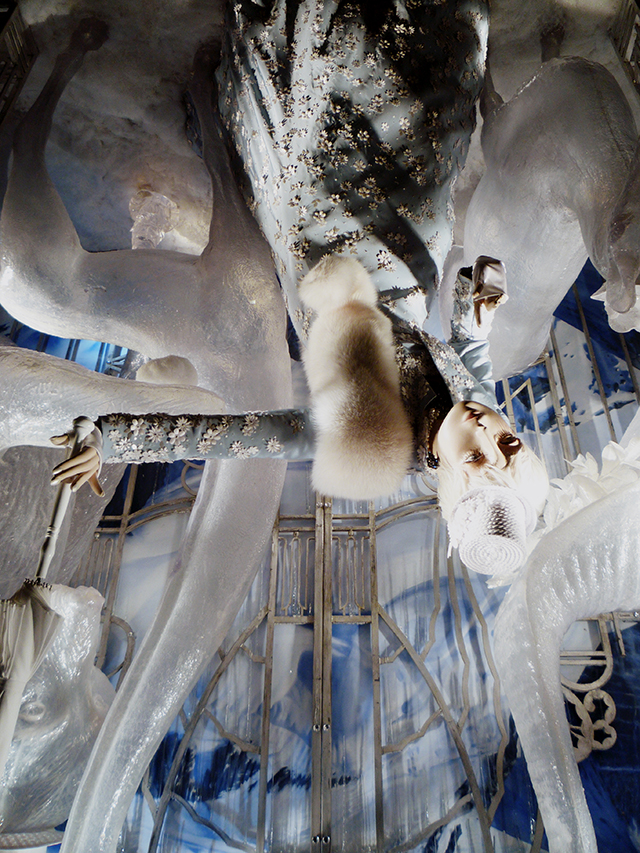 The last three windows seemed fairly minimalistic compared to all five major windows from last year's BG Follies of 2012 so when I came across the next window highlighting Valentine's Day, I almost screamed with pure delight.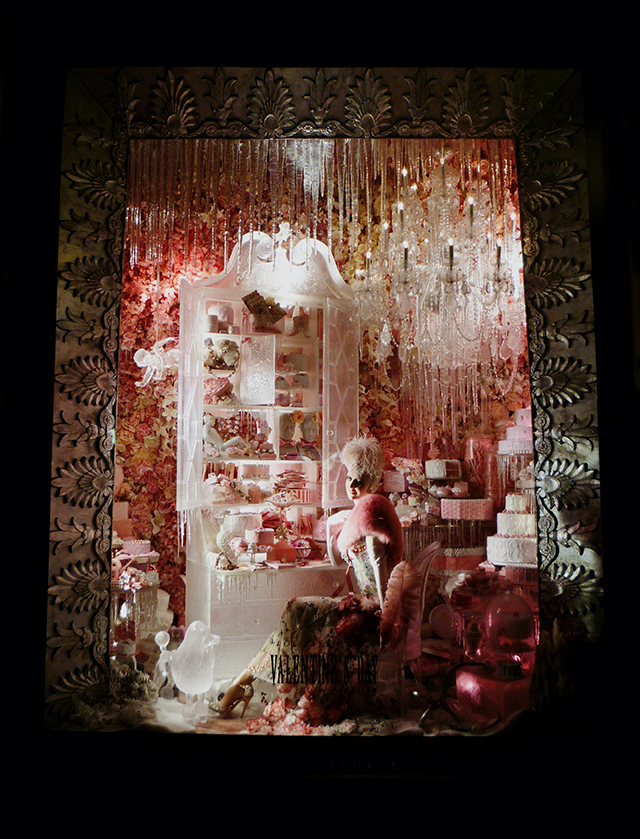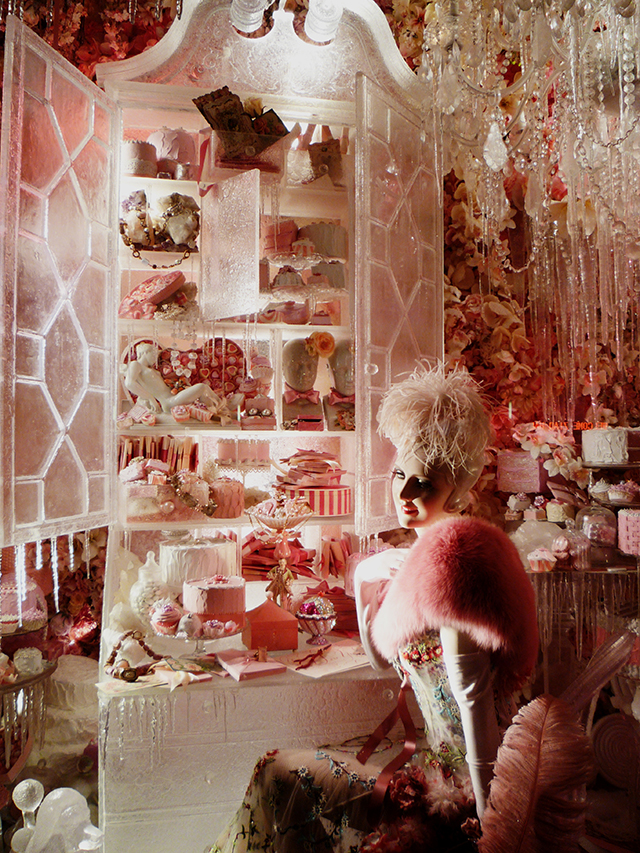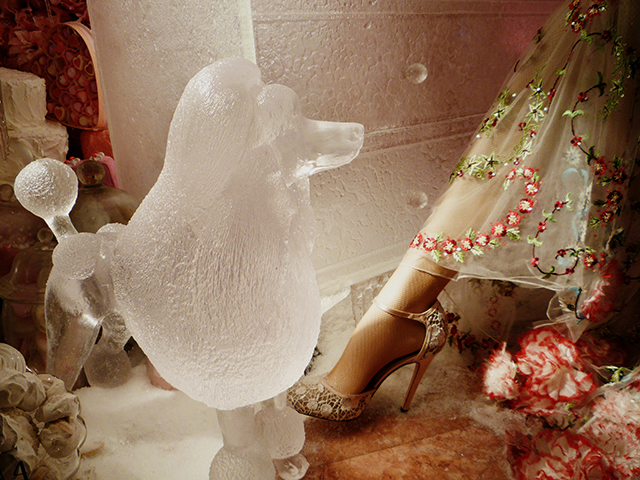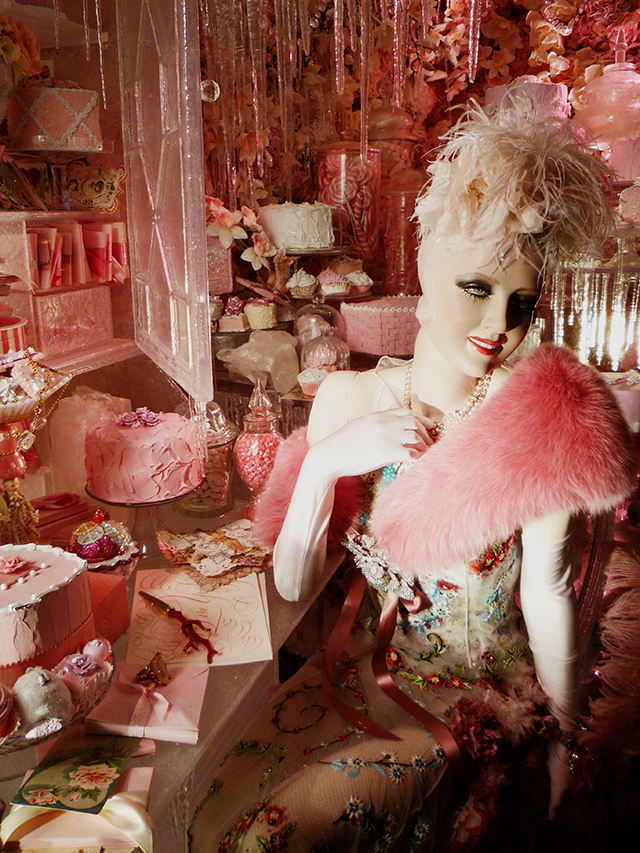 I'm all about maximilism and David's icy interpretation of Valentine's Day did not disappoint. 200 cakes, 300 cookies and approximately 500 pieces of candy along with a backdrop of about a million pink flowers and furniture made of ice set the scene for this couture-cavernous boudoir!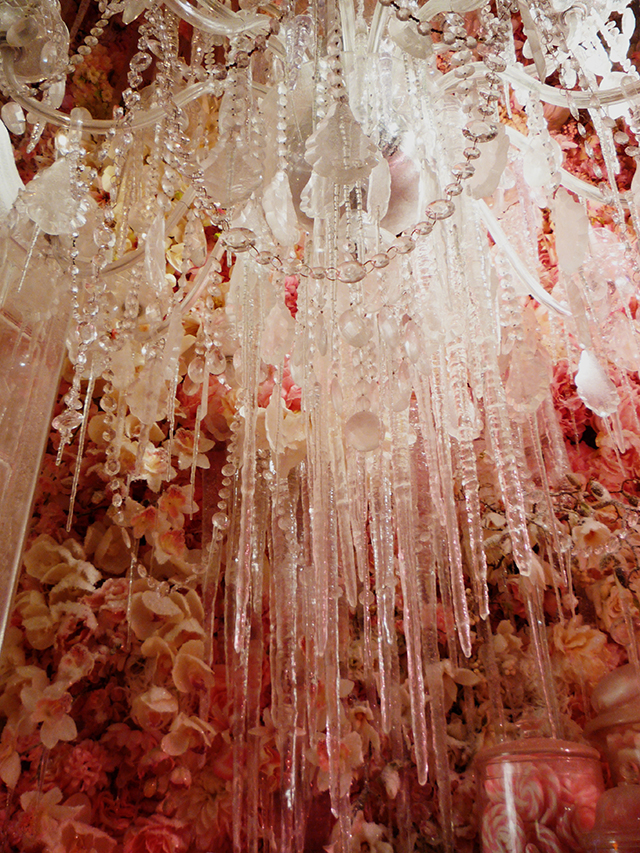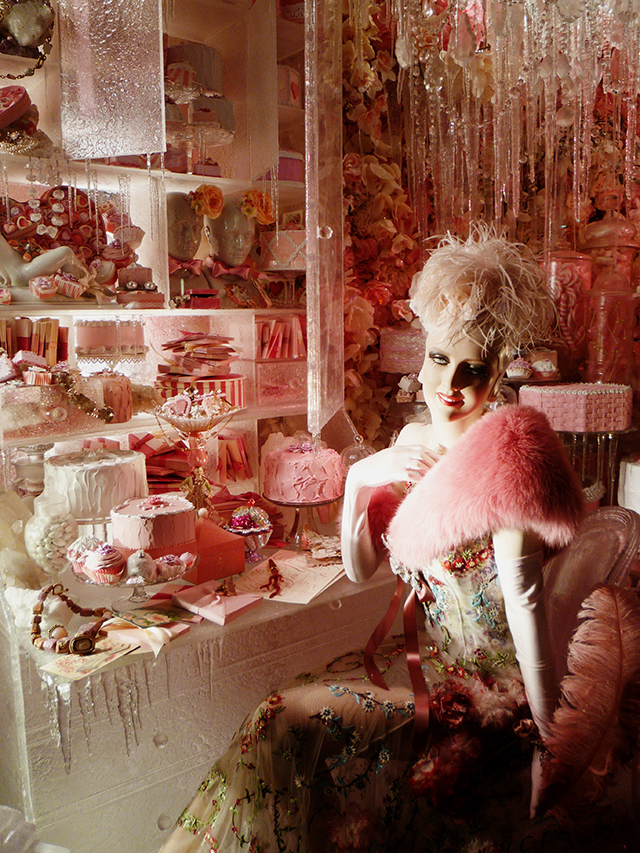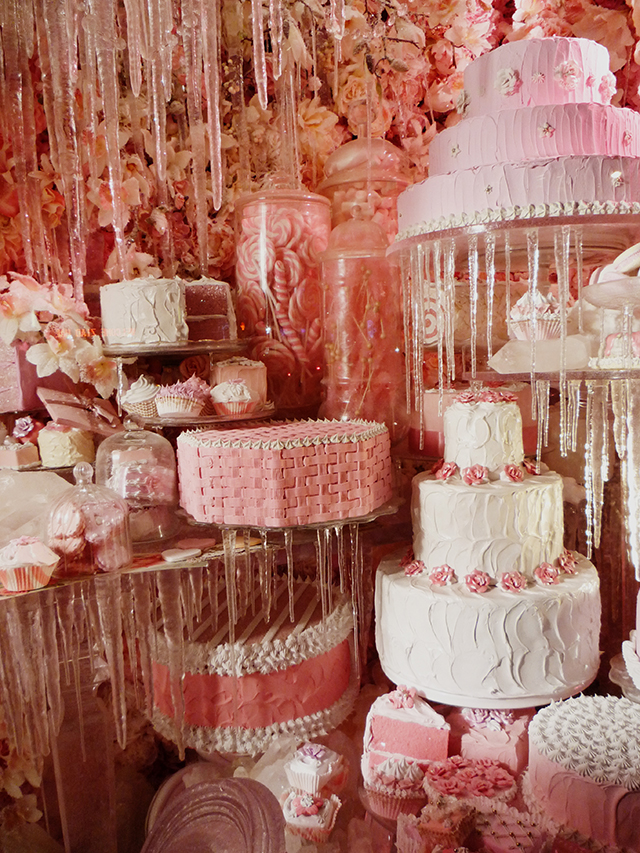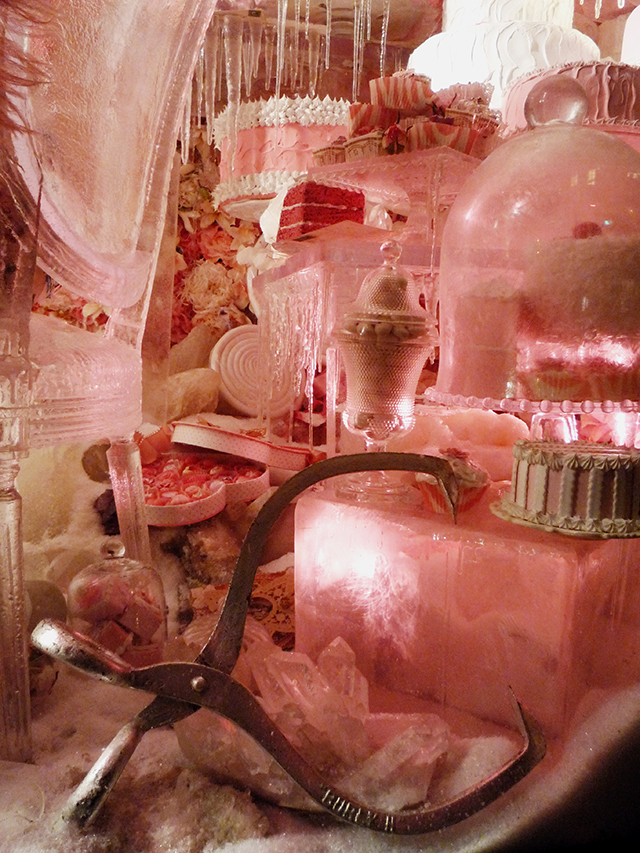 An incredibly beautiful icicle-laden crystal chandelier hangs over a lavish, pink confectionery buffet beside a mannequin dressed in Giambattista Valli sitting with her feather quill at a writing desk made from ornately carved slabs of ice is the focal point of this scene.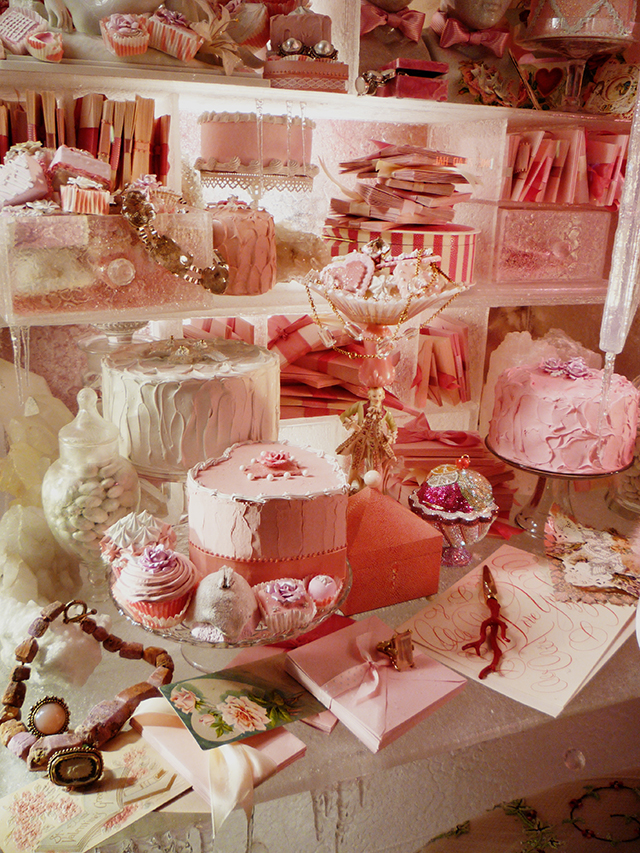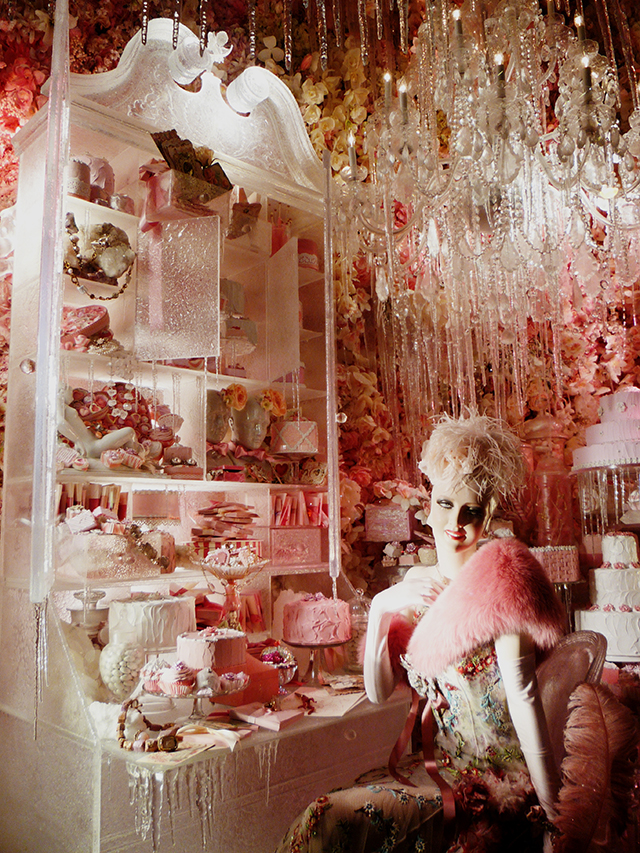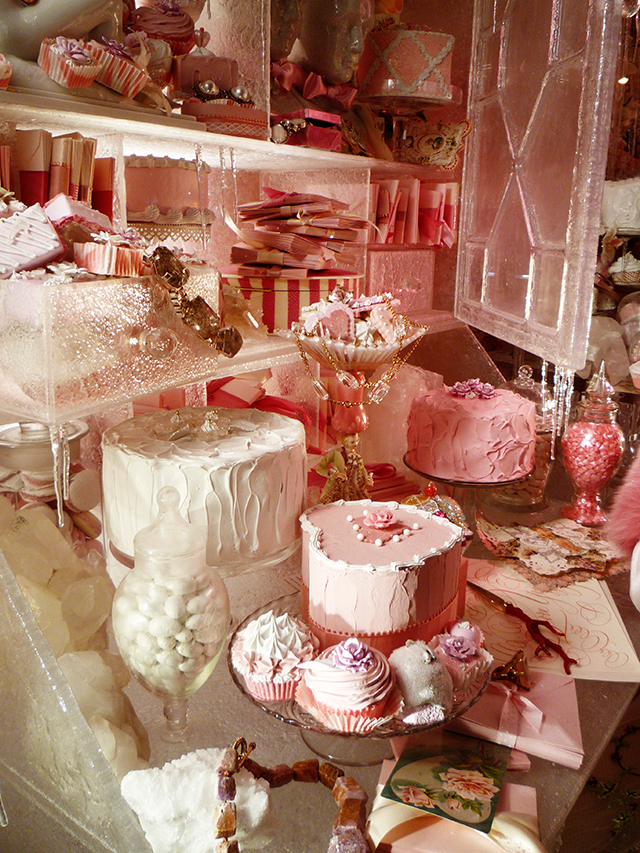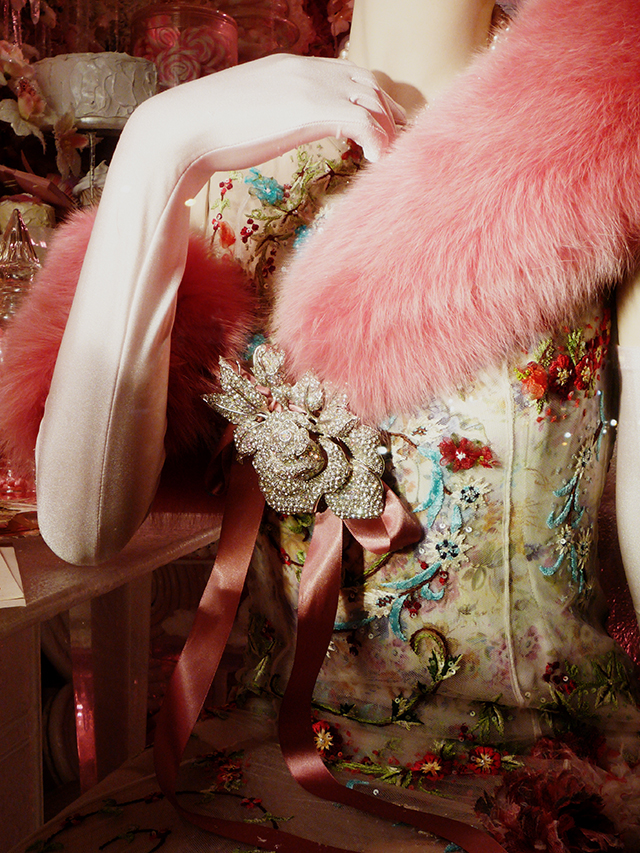 She could be writing a love letter or feasting on all the candy and chocolate her gentlemen callers have sent her, but one thing is for sure, she looks pretty damn flawless! The execution of this window is pretty amazing considering the soft pink glow gives off the romantic glow of Valentine's day while retaining that icy-cold feel of the rest of the windows!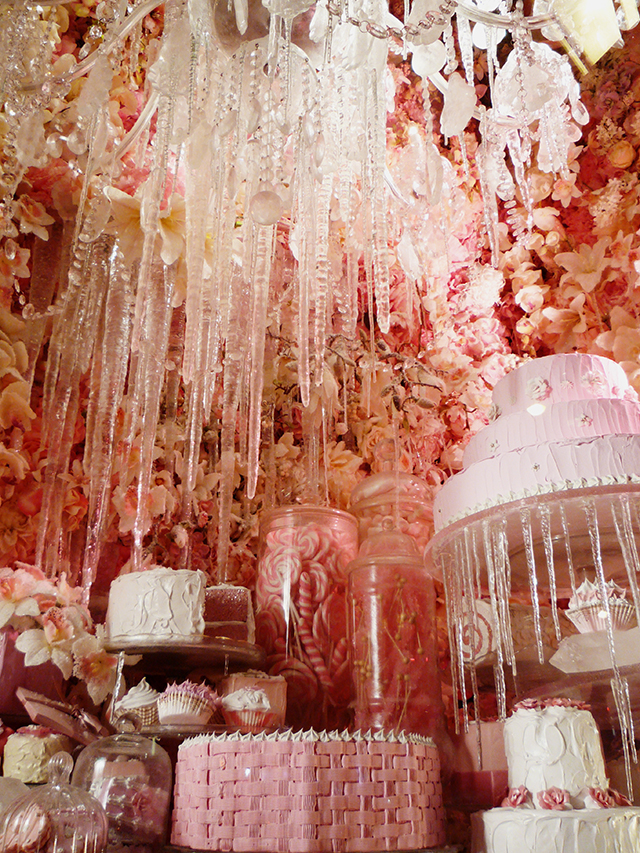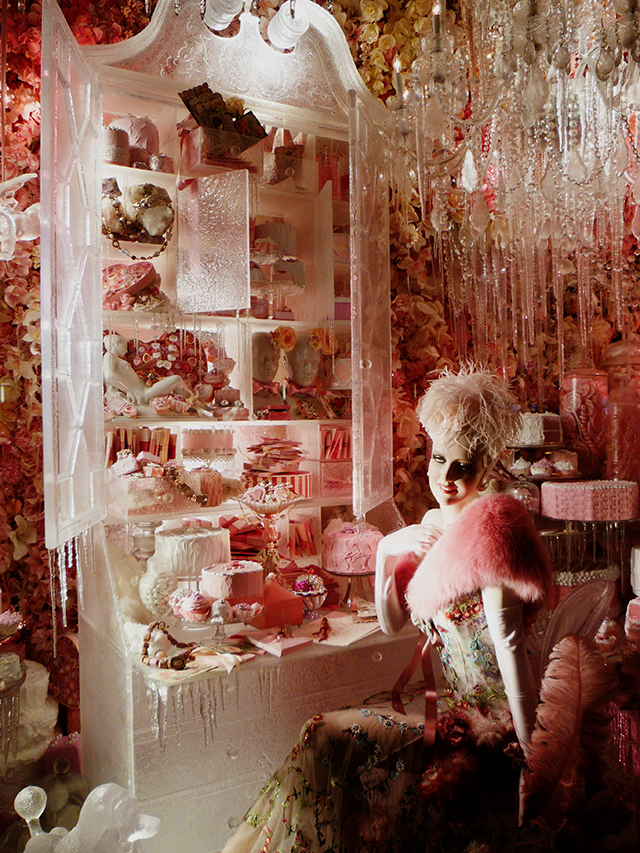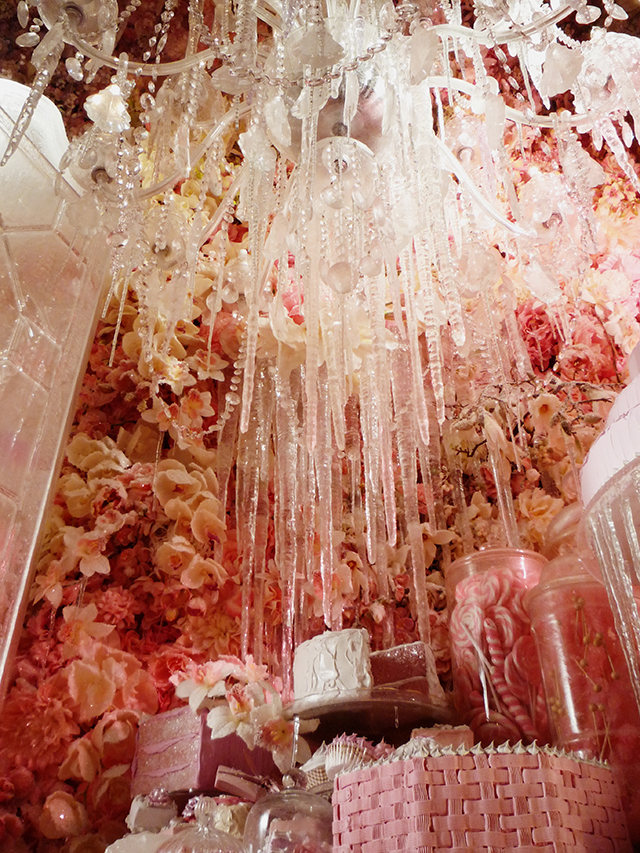 Our next and final window pays homage to Mamma Biscuit's second favorite holiday of the year: Halloween. It's a dark midnight scene and a masquerade party in high Gothic style is the main event. A spider web studded with Swarovski crystals are on one side of the window and a towering 9-foot haunted mansion meticulously crafted to look like the Vanderbilt house (which once stood on the site of Bergdorf Goodman) takes center stage.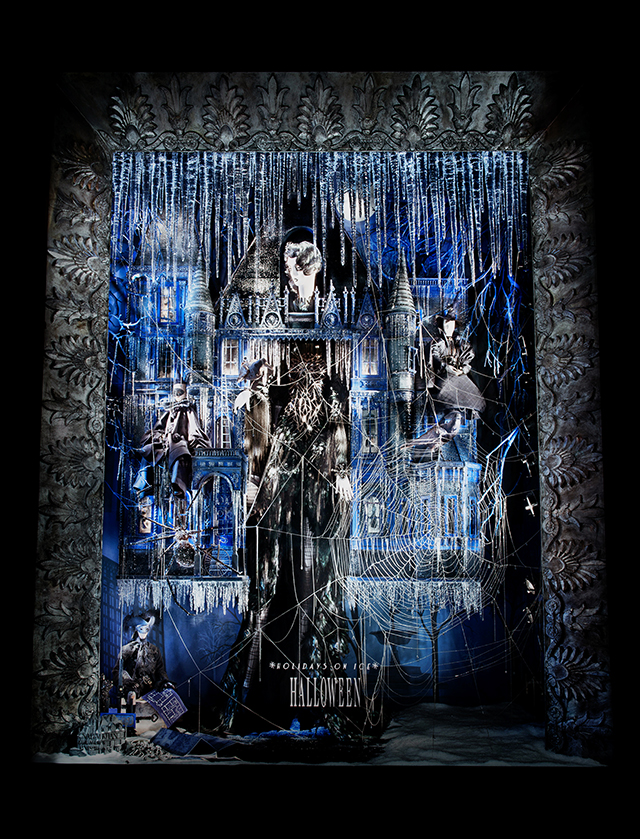 Within that mansion stands a Gothic mannequin wearing a black Naeem Khan dress. With a black manicure, she holds a black crow in one hand and shows off a black crystal spider bracelet on the wrist of her opposite hand. I have to be honest, I found this window to be fairly disappointing!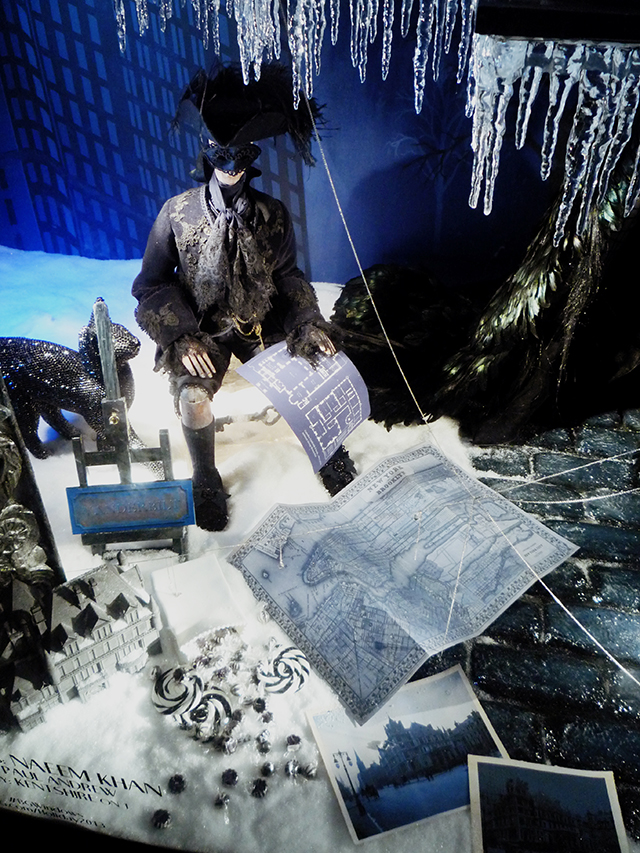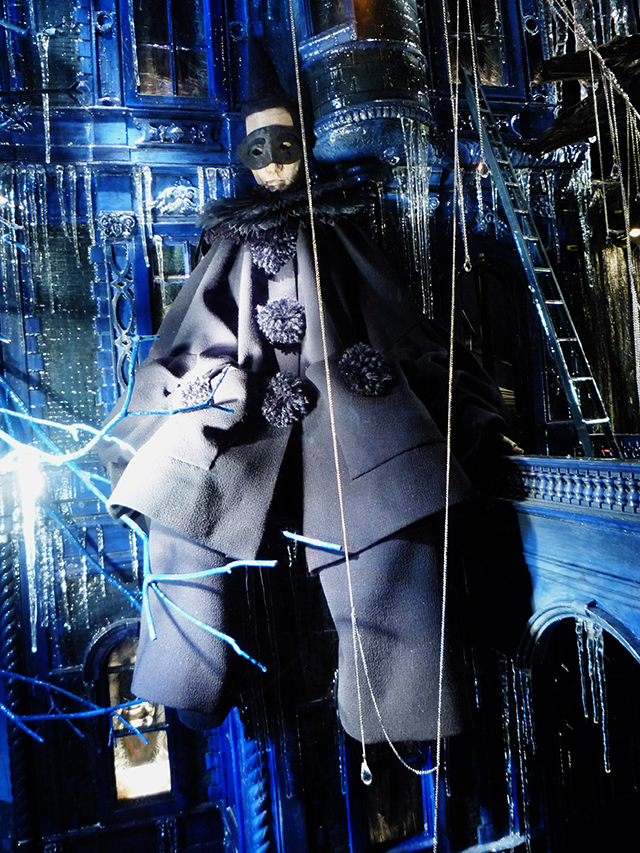 I get that they wanted to use dark blues and purples to convey the icy theme of the windows but how amazing would this window have been had they put a frozen pumpkin patch on the cobble stone street in front of the mansion? The color orange was sorely missing from Halloween and normally, I'm not hung up on being so literal but in this case, the window would have benefited from some orange the way Valentine's Day benefited from the warm rose colors, pinks and reds. My other complaint is that this window was so damn difficult to photograph.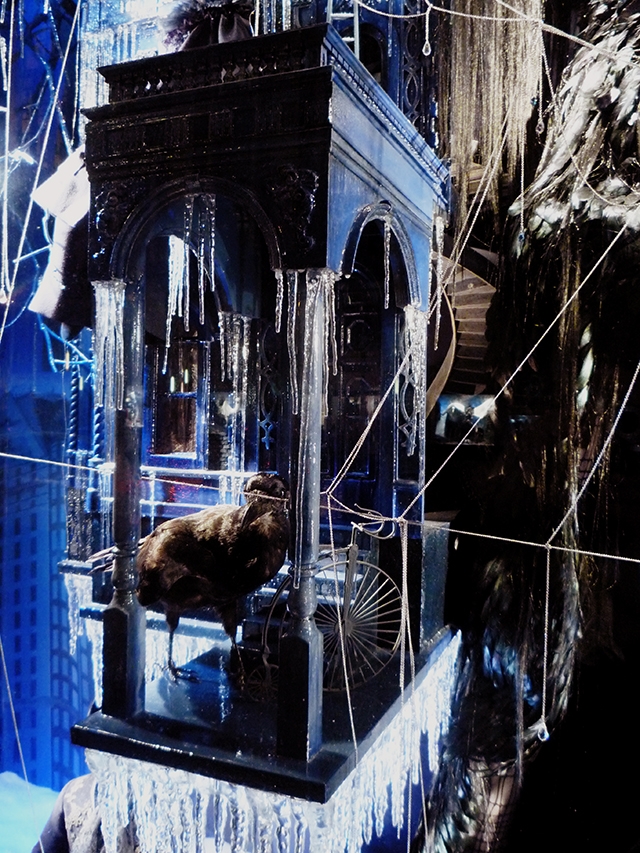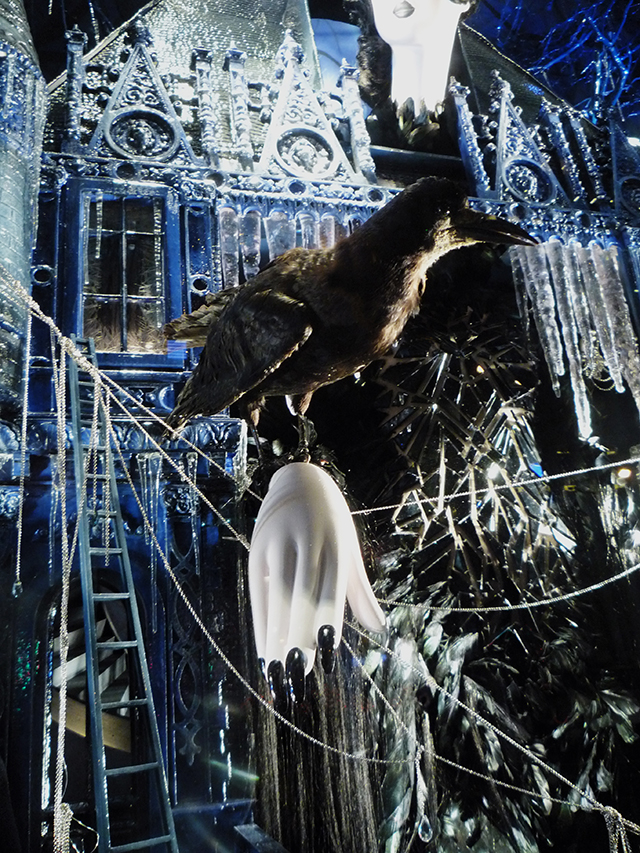 Close-ups were nearly impossible because of the severe lighting so I was only able to capture a decent full view and a few close-ups that don't have so much glare.
The Fifth Avenue display is peppered with smaller shadowbox windows depicting several more holidays on a more intimate, but no less lavish, scale.
First we have Thanksgiving. Nothing screams Thanksgiving quite like a pair of diamond encrusted Valentino heels!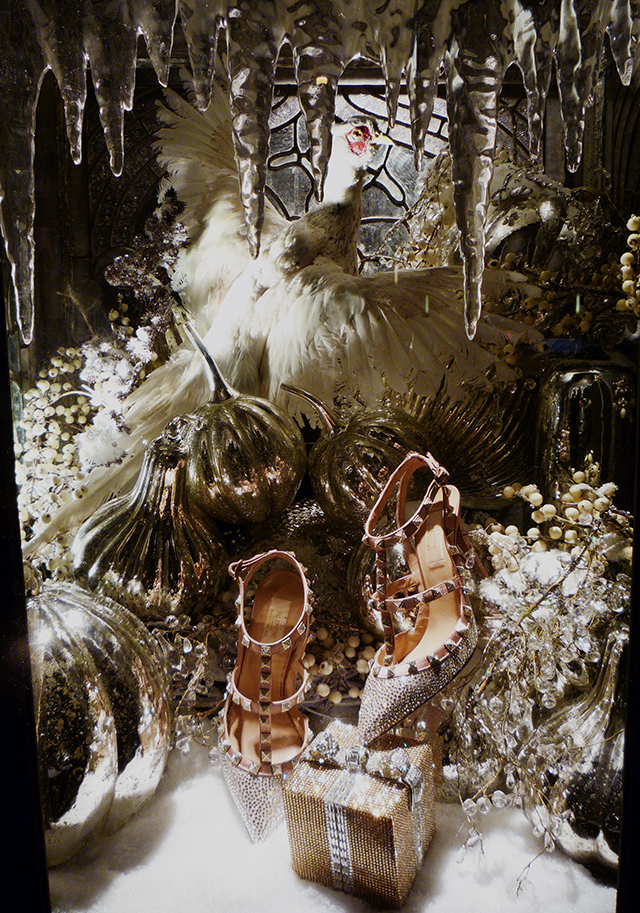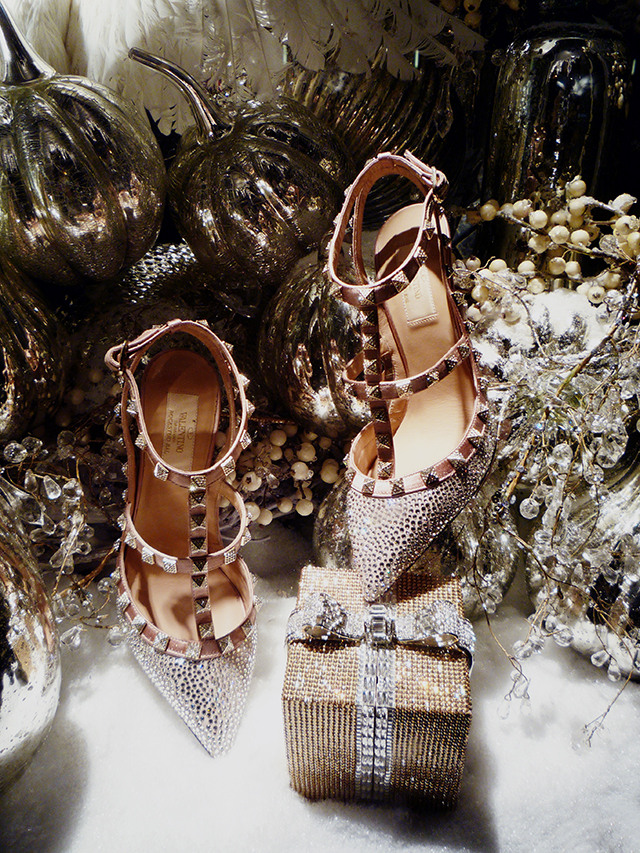 Second we have New Years Eve!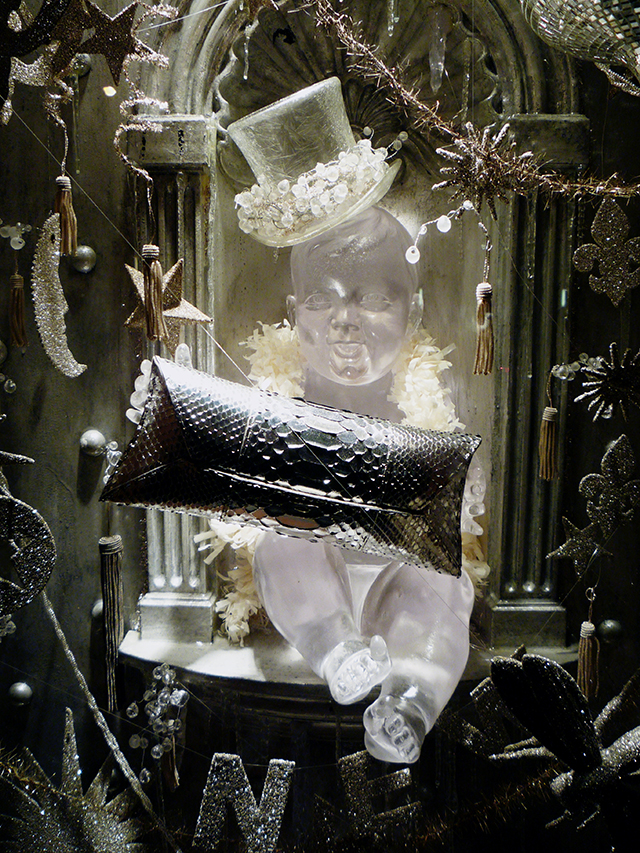 Third we have Ground Hog Day!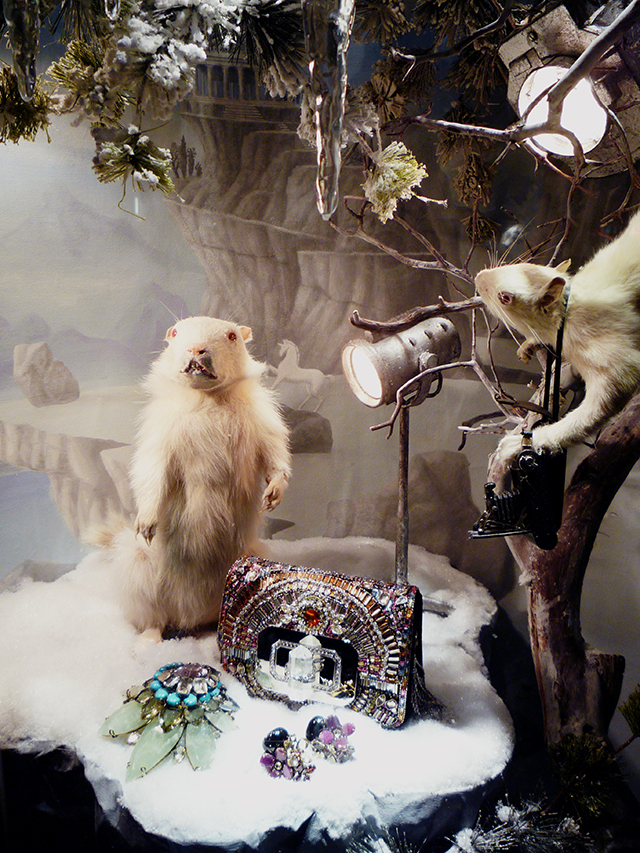 And fourth we have an icy interpretation of Mardi Gras!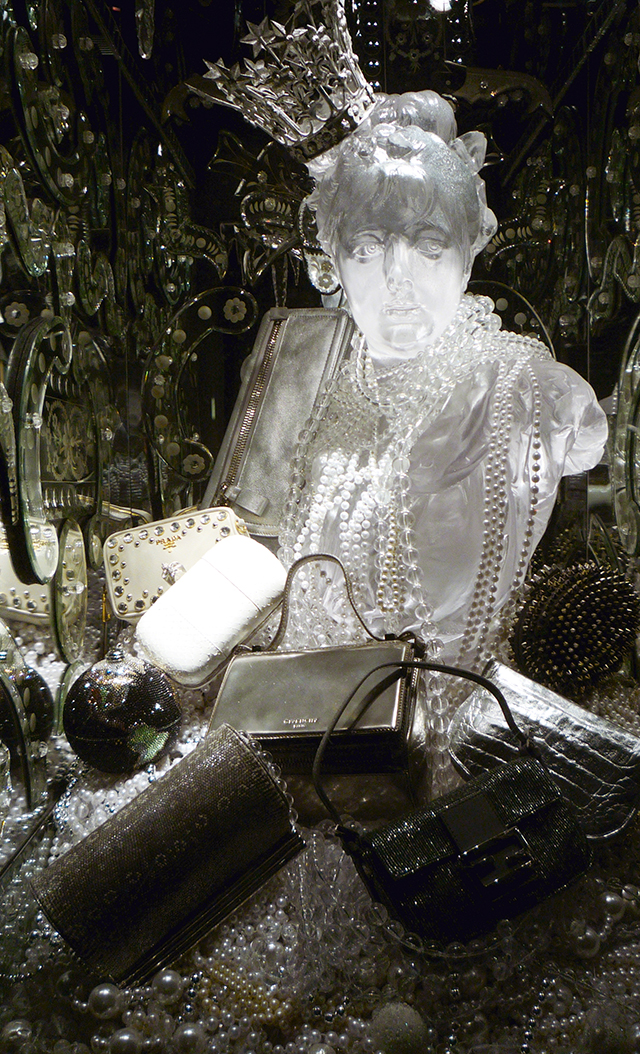 The windows continue along 57th Street, 58th Street and across Fifth Avenue at Goodman's Men's Store. All windows will be on display until Monday, January 6, 2014.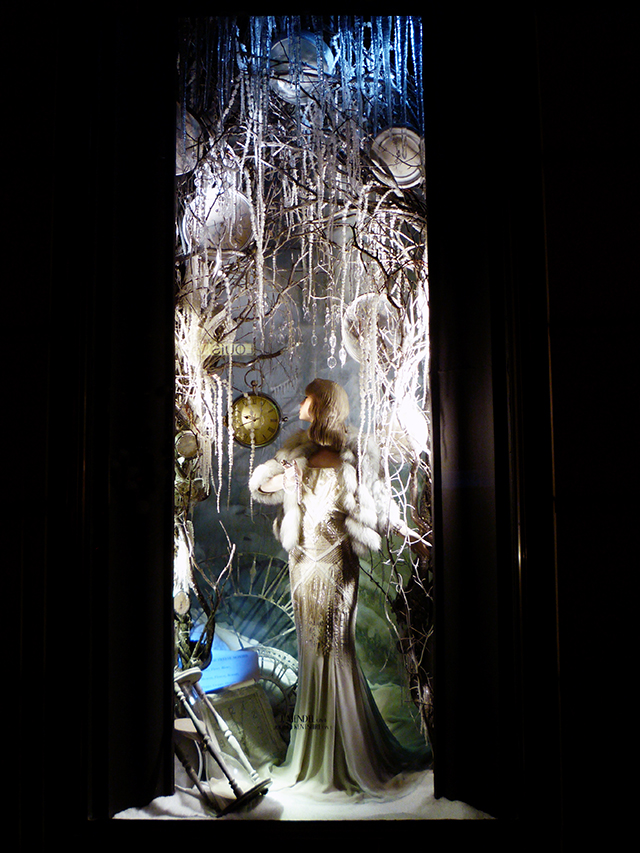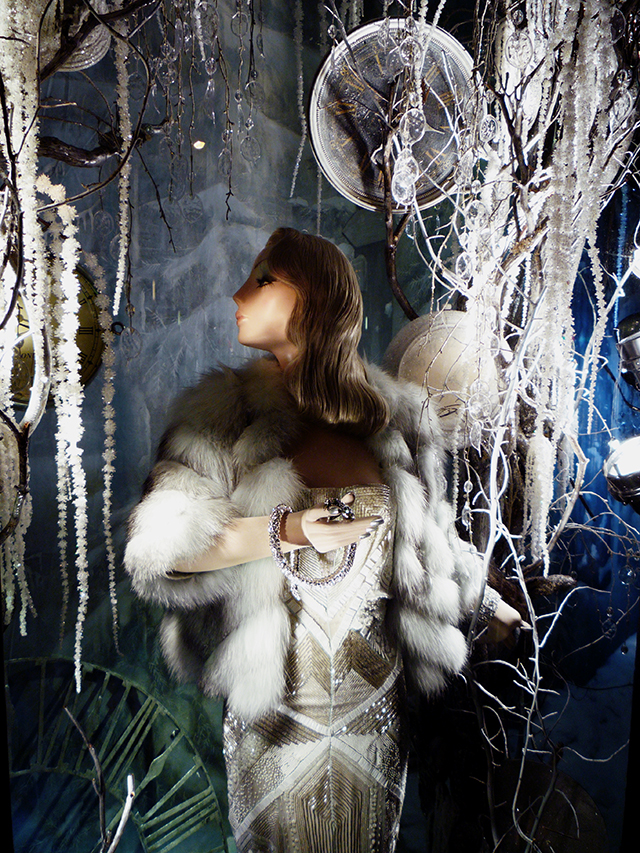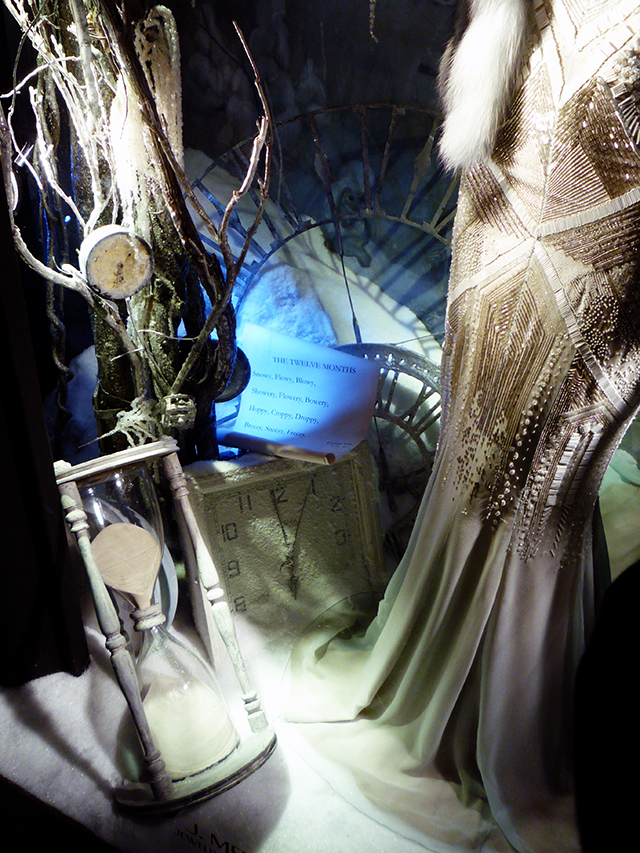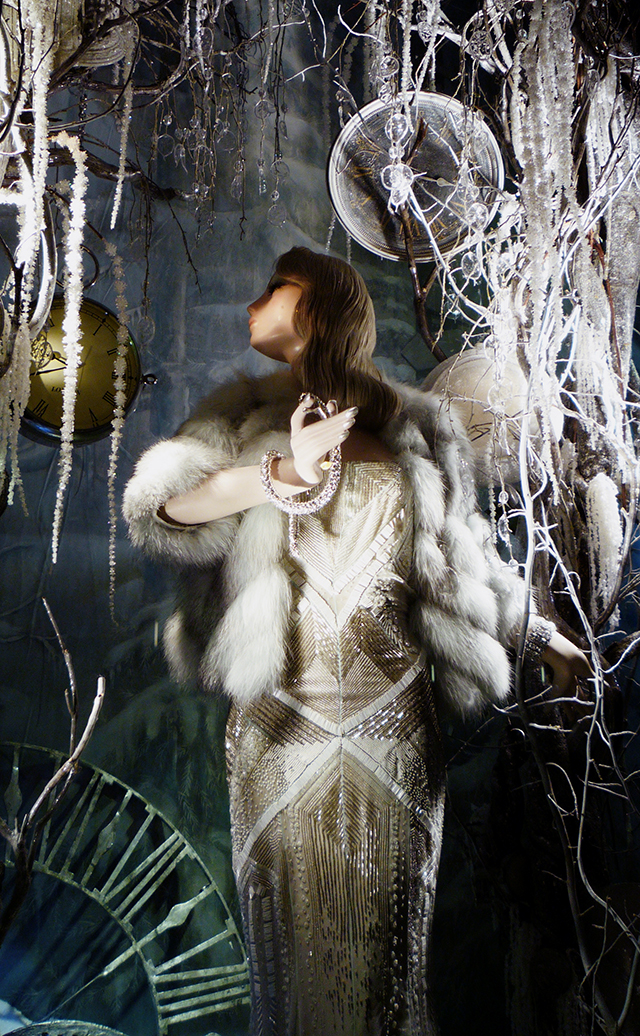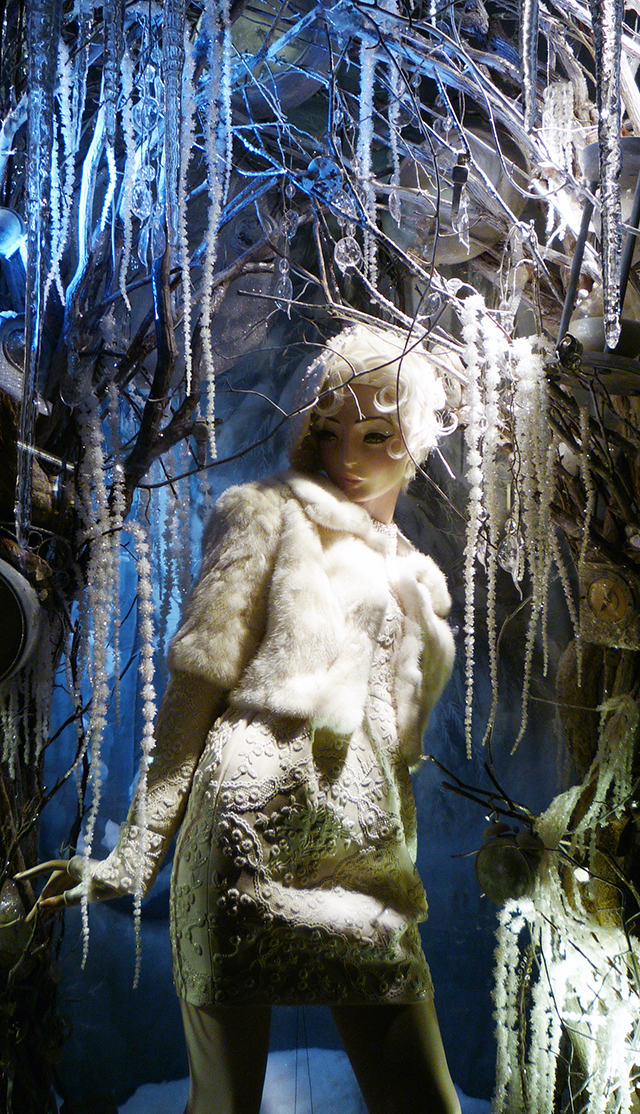 Holidays on Ice 2013 may not have been overwhelmingly over the top like last years' windows, BG Follies of 2012 but the level of sophistication, overall style and unique storytelling that David Hoey and his entire team at Bergdorf come up with year after year is always stellar in my book. These windows are the best of the best that any department store has to offer worldwide—and they are one of the many reasons why Mamma Biscuit and the Biscuit family are proud to be New Yorkers!
The season has just begun bitches—more to come from M.B.
Enjoy