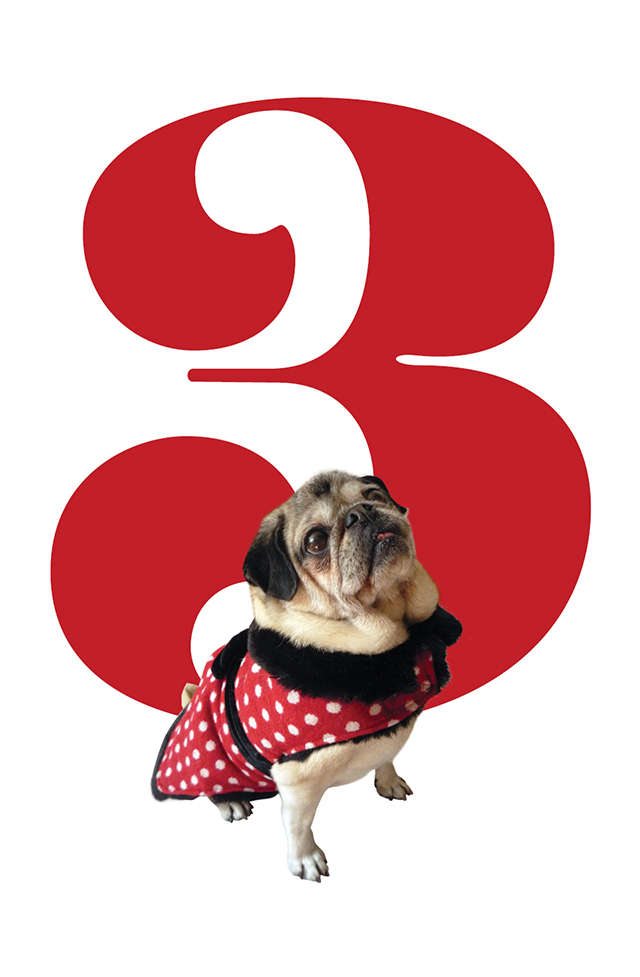 Time flies when you're having fun and Mamma Biscuit sure knows how to have fun! It seems like just yesterday our little puggie burst onto the blogosphere with her little-engine-that-could blog and since then, she has grown a legion of die-hard fans from all around the globe that check in weekly to see what our gremlin is up to! It's been three glorious years of entertaining you all with Mamma's glamorous life with her two Daddies here in NYC and I feel like we've just begun. Mamma has had many epic fashionable moments strolling through the bustling streets of NYC as well as the more casual nap-time moments lounging around the Pug Palace—and we loved sharing them both equally! So here we are, three years into documenting Mamma's life for the whole world to see and I'm still amazed that I've been able to keep up with the task. When we started this blog, I thought I would just post a couple of photos of Mamma and never log back on thinking it would conflict with my extensive reality-TV-watching-schedule! Don't give me the side-eye people, I blame Andy Cohen for the line-up on Bravo along with the Logo Channel for creating RuPaul's Drag Race—my entire life revolves around such programming and I'm comfortable in my own skin to admit it! Anyway, the real reason why we press on here is because Mamma Biscuit has made our lives so fulfilling, and that sharing her with you all has just been a natural extension of our experience having her as a pet. It also helps to receive such amazing feedback and encouragement from you all—our beloved readers. You guys make the experience of caring for Mamma Biscuit and sharing her story all the more pleasurable! It's good to know that there are crazy people out there that encourage our shenanigans—after all, Mamma's a showgirl and a showgirl needs her fans! Oh god, I think Madonna might have said that very same line during her speech when she won the Top Touring Artist Award at the 2013 Billboard Music Awards. I know, it always goes back to the crypt keeper of pop no matter what I may be talking about!
Now on our very first anniversary, we paid homage (with much humor) to the words people typed into their search engines that mistakenly brought them to this blog. To this day, it still amazes me to see how people stumble onto our blog from a simple key word or phrase that has nothing to do with pugs or pets. Although we've grown a huge following of people, we continue to grow unique visitors that simply stumble onto our blog while searching for porn—such is life on the internet! Our second year anniversary was all about paying homage to social media sites like Pinterest and all of their members who have fallen in love with our gremlin and have spread the word far and wide about her story and this blog. We can't thank you enough! It just tickles me silly to type Mamma Biscuit's name in the search engine on Pinterest and have a complete wallpaper of our images come up from members from around the world. It's a visual masterpiece to say the least! Now to celebrate our third anniversary of Mamma's blog, I thought it would be great to highlight fifteen of her most memorable moments in 2013. You all love a good stroll down memory lane, don't you? GREAT, so come along as we revisit some pretty fucking fantastic moments in the life of Mamma Biscuit in 2013!
For a lip-smacking good time, call on Mamma Biscuit to prance on over to Central Park in September—she'll show up in a bold-colored knit with a pop art brooch in the shape of lips! Mamma's artpop can mean anything . . . and quite frankly, any ensemble our pooch puts together is far better than anything Lady Gaga can steal and appropriate as her own!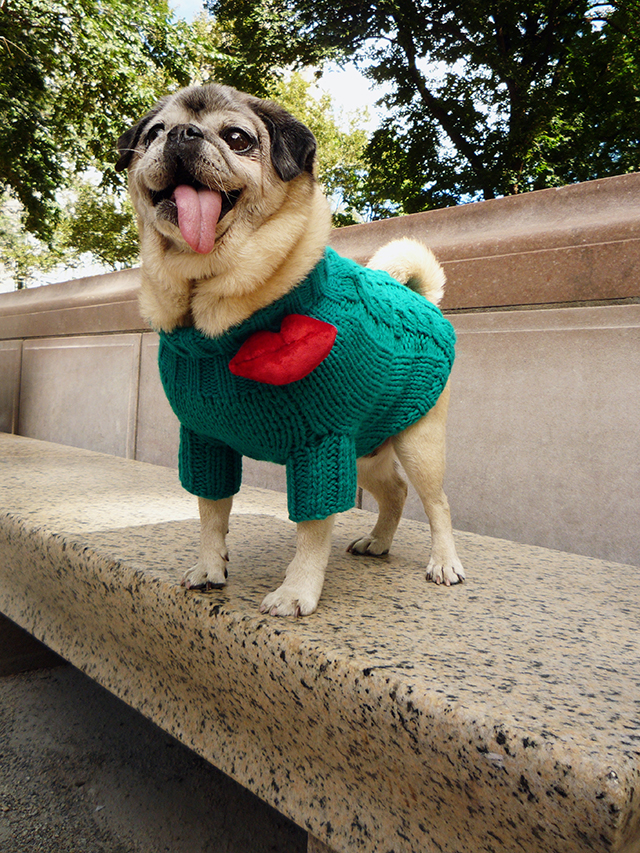 Who said publishing is a dying industry? Not in Mamma's world! Intellectual, fashionable and adorable . . . now where can you find an outfitted pug like that?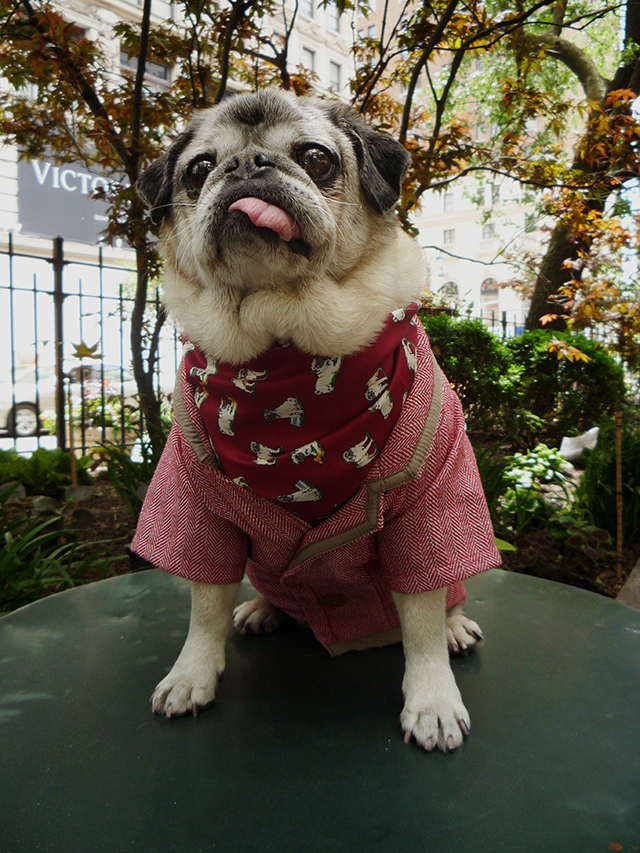 A safari on the Cape! Mamma sure knows how to turn heads on Commercial Street in Provincetown with this chocolate brown giraffe print frock with blue trim detailing. All in a Summer's day!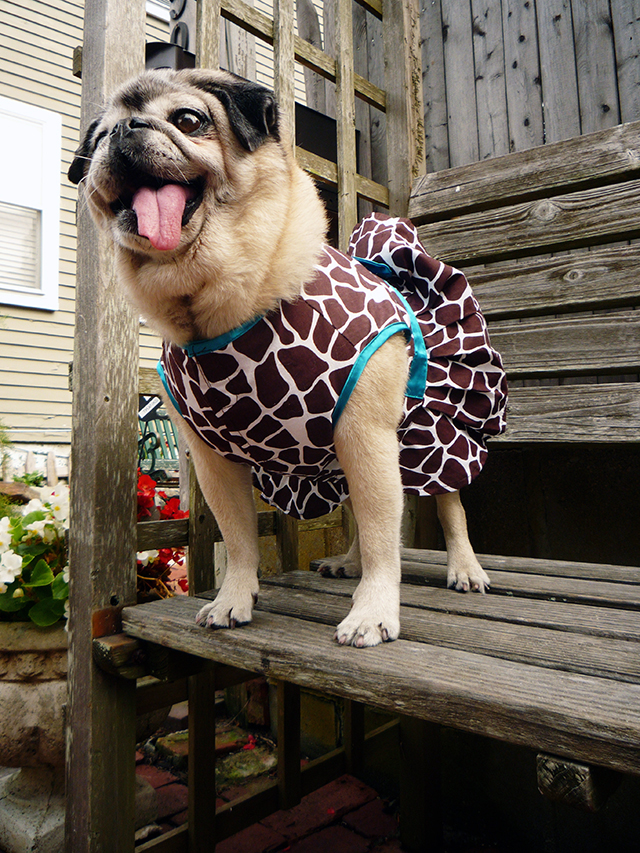 The Plaza Hotel never looked this glamorous! Mamma Biscuit should never have to wait for a bell hop to bring in her Louis Vuitton luggage—especially in this faux-fur coat paired with a diamond brooch straight out of Nan Kempner's archives!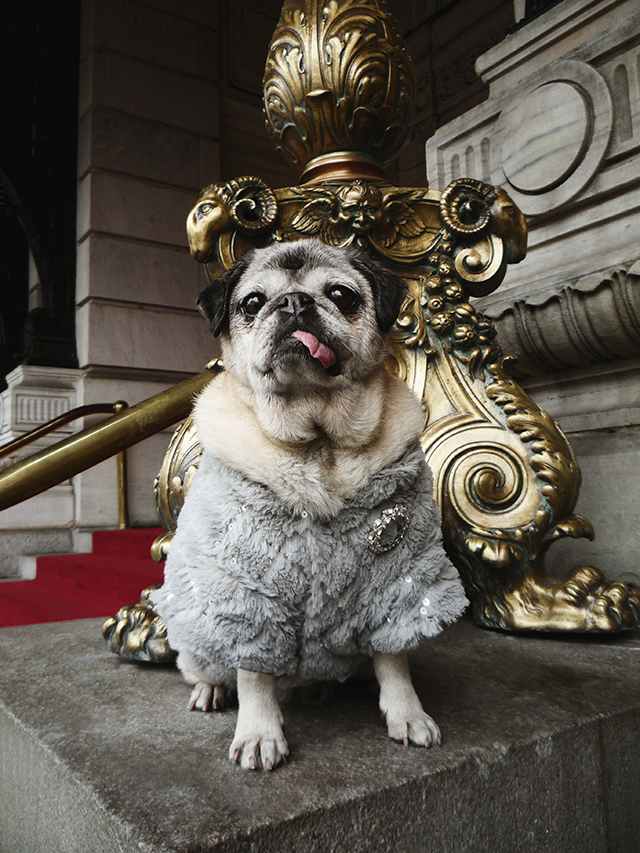 She was the bitch of the breed at the puppy mill, but now, she's just the bitch of our hood! Don't cross her unless your lookin' to get your weave snatched right off your head!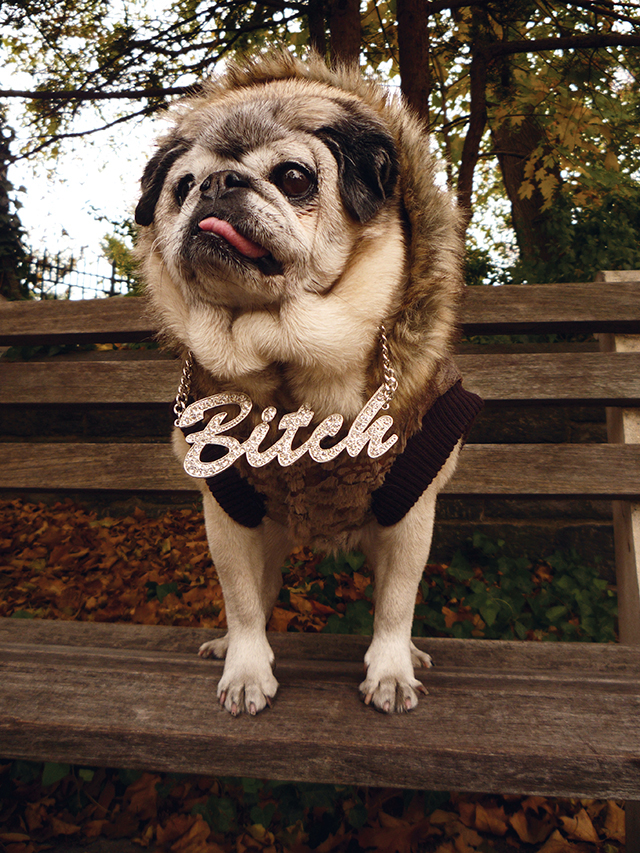 Jimmy Webb at Trash & Vaudeville holding Mamma Biscuit in a punk dress on St. Mark's Place is as "Old New York" as it will ever get!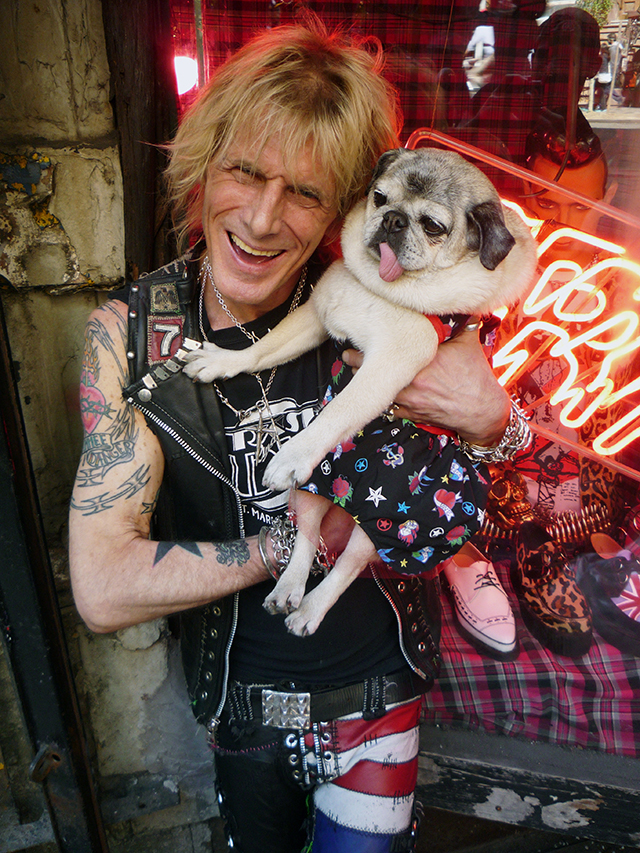 Put some south in your mouth! Mamma Biscuit holding court at Forsyth Park in Savannah, Georgia! How can any gentleman caller resist this Southern peach?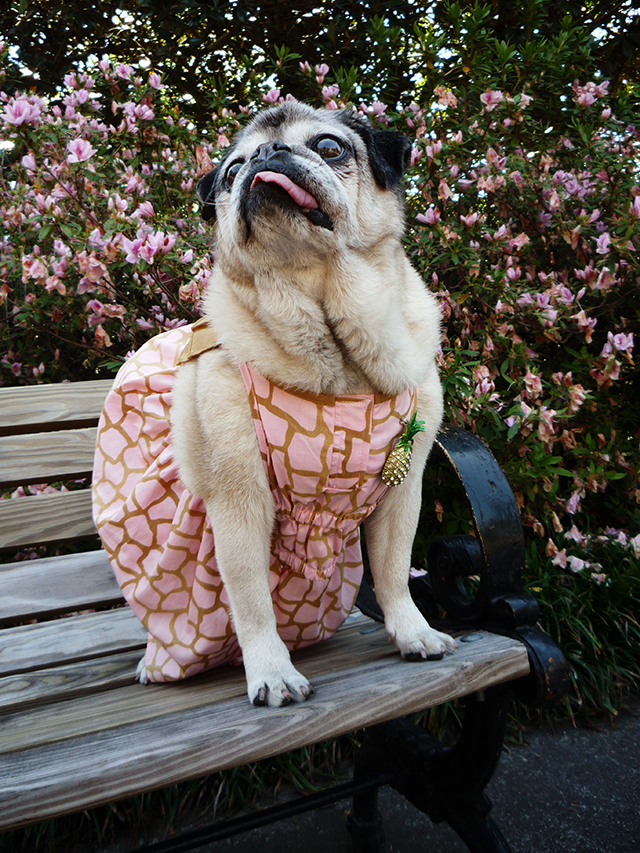 Meet Mamma Biscuit at Bethesda Fountain in Central Park and she'll show up in Gothic glamour that will leave you gagging!
Accessories, accessories, accessories! A good vintage brooch is hard to find!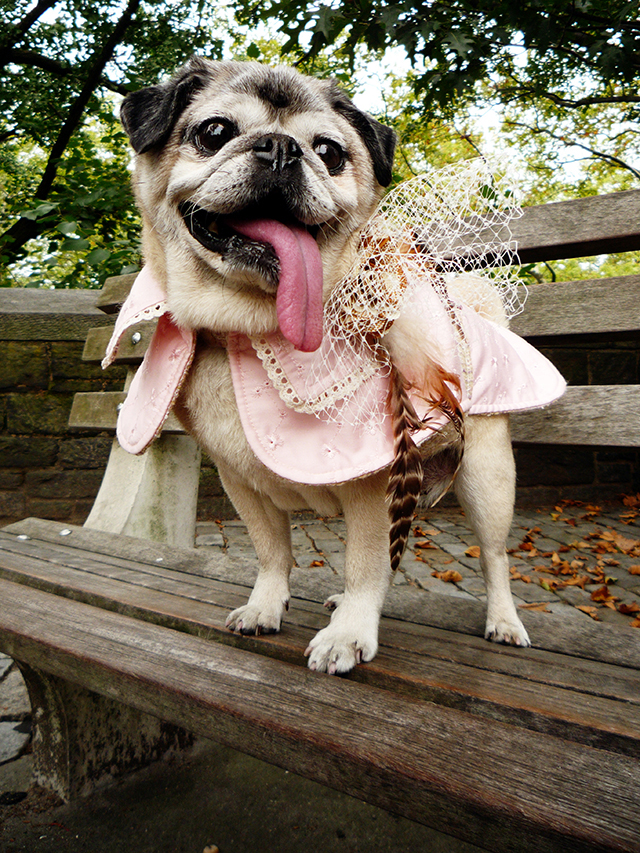 Mamma Biscuit as Vivienne Westwood is pure pug-punk-perfection!
Vintage pearls draped on a vintage pug is pure old Hollywood glamour!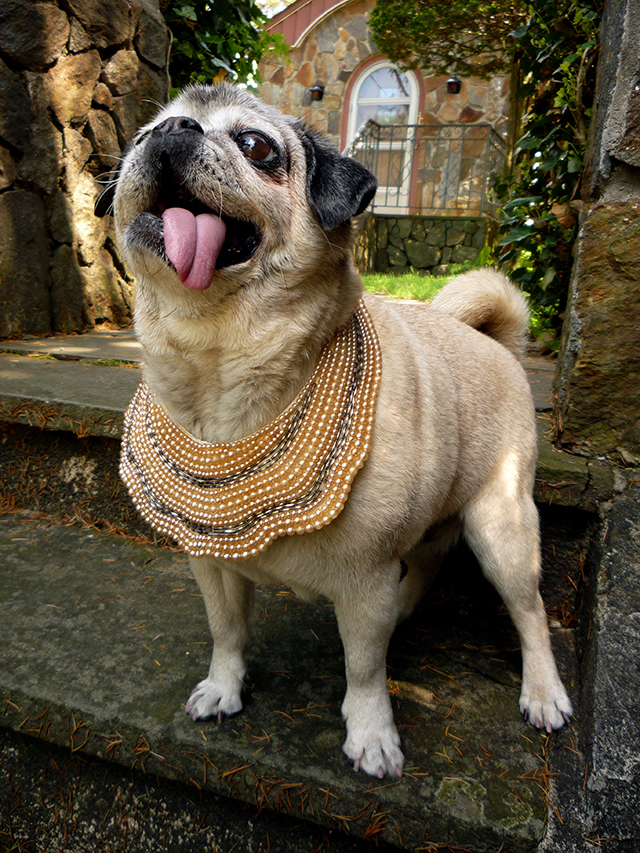 There's no famine of high fashion with Mamma Biscuit in this hot pink trench coat!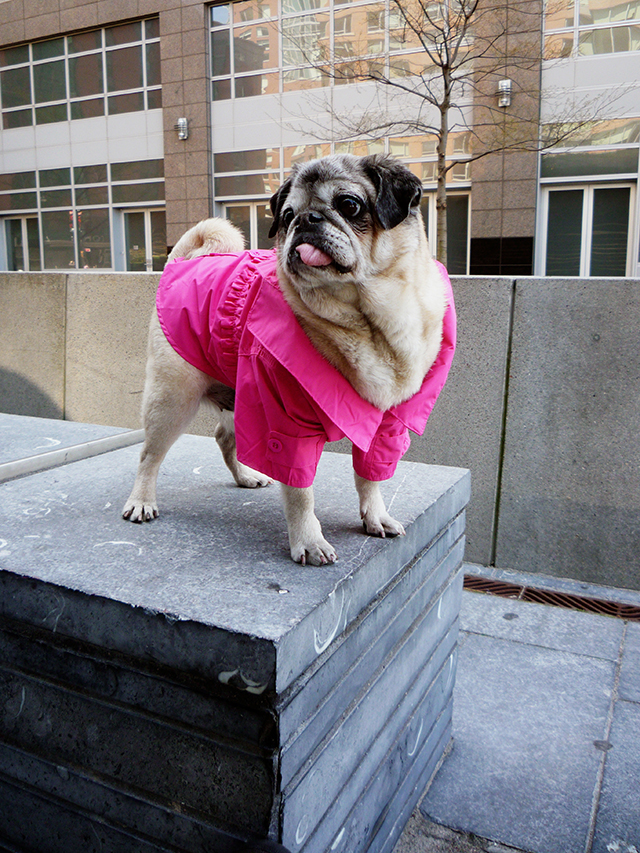 Our funny Valentine is so chic in bouclé and pearls!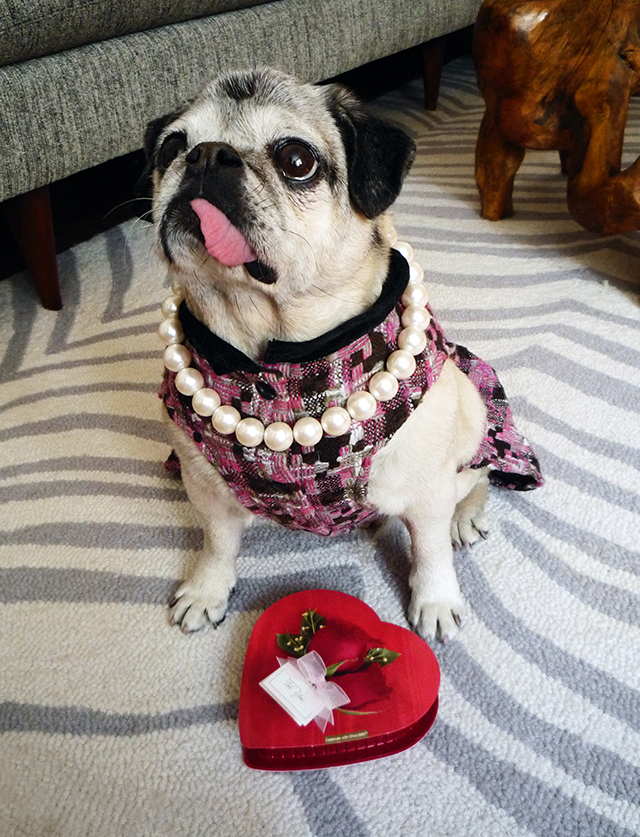 Lana Del Rey may have Summertime Sadness but Mamma Biscuit is always happy as a clam in her Summertime florals!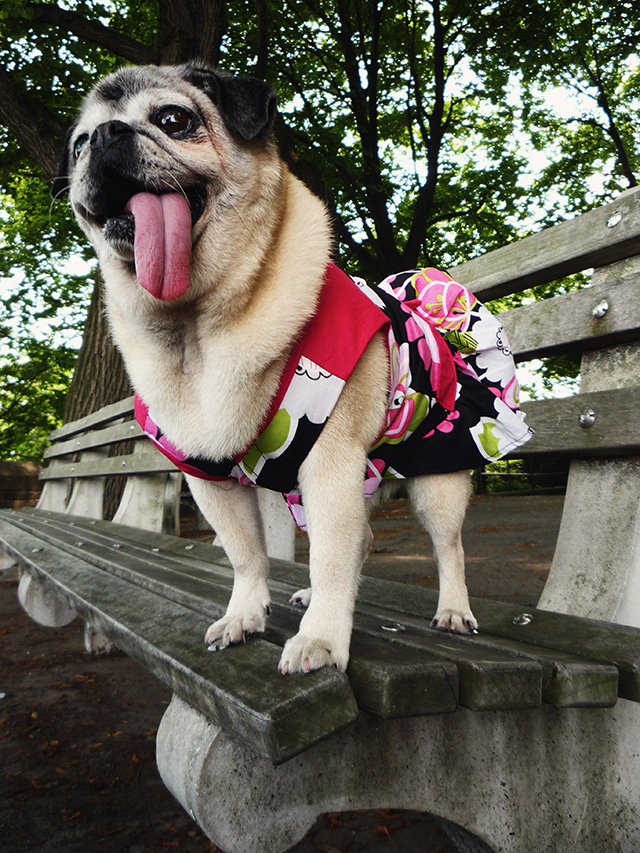 And last but not least, Mamma Biscuit serving up early 80's-East-Village-realness in a Blondie-inspired jersey dress with vintage buttons!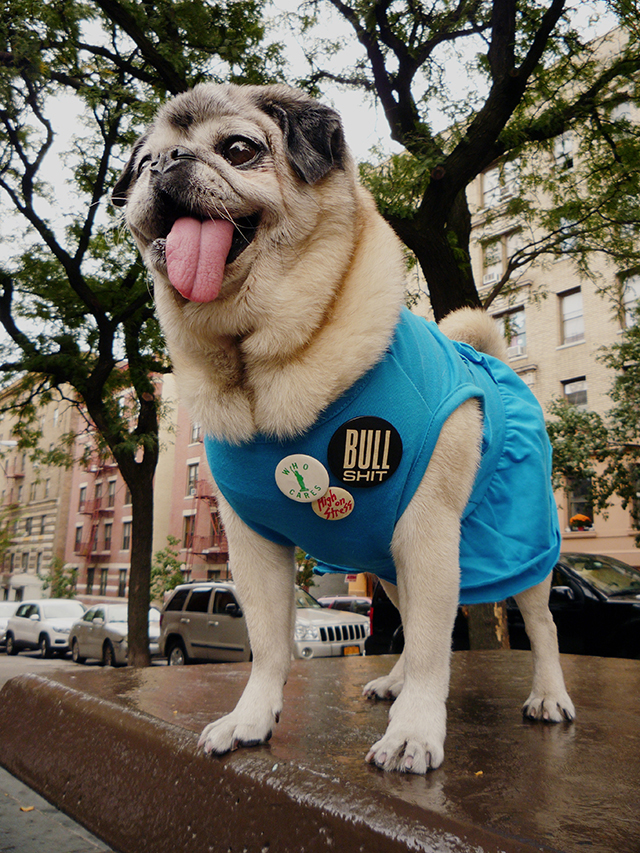 We would like to take this opportunity to thank all of our fans out there for your fanatical love and adoration of Mamma Biscuit for the past 3 years! We intend on making this upcoming year our very best!
Happy 3rd Year Blog Anniversary to our favorite toothless pug on the internet!
Enjoy