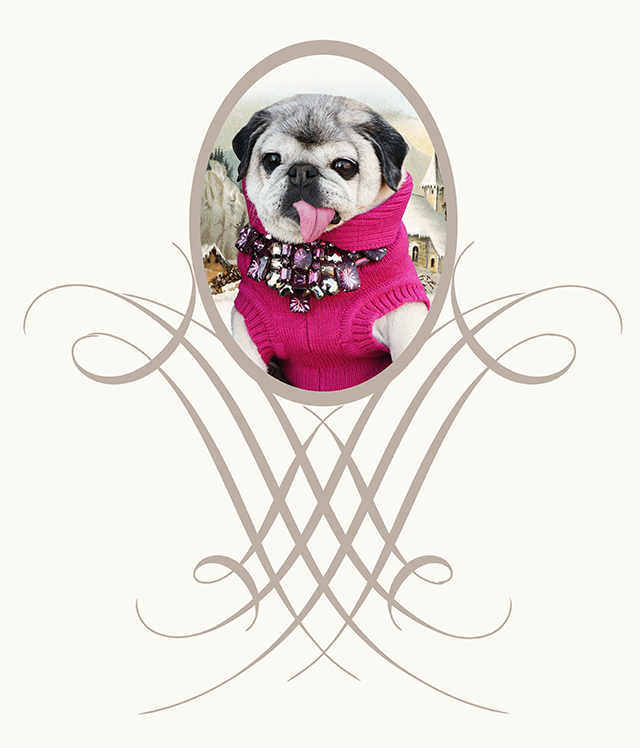 Time seems to be something I'm lacking these days. I just turned 37 last week (in gay years, I'm considered a walking corpse) and the one thing I can reflect on in my life (besides how rich and wonderful Mamma Biscuit and Tommy make it) is just how little time I seem to have with each passing year! Responsibilities grow, social calendars fill-up, professional lives change, the aging process begins (ugh) but through it all, two things remain: Mamma Biscuit's boundless love and the thrill of acquiring new, fabulous holiday ornaments. OK, I didn't actually acquire the ornaments I'm about to share myself but rather they were birthday gifts from my better-half Tommy and Mamma Biscuit. If receiving a fierce new Vivienne Westwood jacket wasn't enough (and believe me, it was totally enough) Tommy went ahead and gifted me these treasures I'm about to show you during my birthday dinner at Narcissa Restaurant at the Standard Hotel in the East Village last week that rendered me speechless. Actually, it rendered the people dining next to us speechless too although they almost set me on fire when they sat down at their table simply by knocking over the taper candle sitting on our table. Luckily, it was just a splash of wax on the table cloth but frightening none-of-the-less. So come take a look at how good I have been all year long!
Krampus, the beast-like creature from the folklore of Alpine countries thought to punish children during the Christmas season who had misbehaved is no stranger to Mamma Biscuit. We've covered all facets of this folklore before considering we've trimmed our spooky Halloween tree from year to year with a variety of devil-horned paper ornaments from this anti-Santa sector but this hand-blown glass Krampus just might be our very best yet.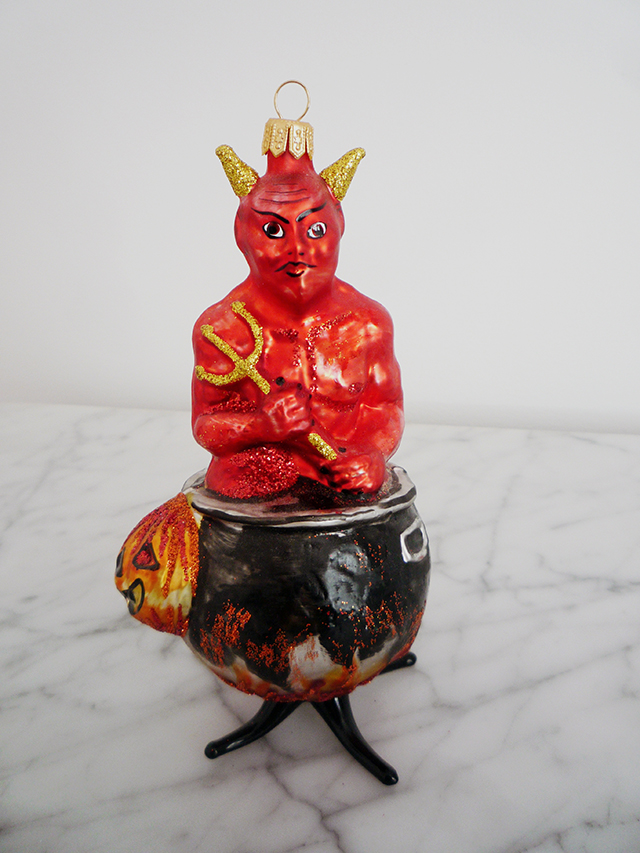 A red devil with gold glitter accents sits in a hot cauldron, simmering like a poisonous soup. When you turn this free-standing ornament around, you get a glimpse of his devil tail curling around the outside of the cast iron pot.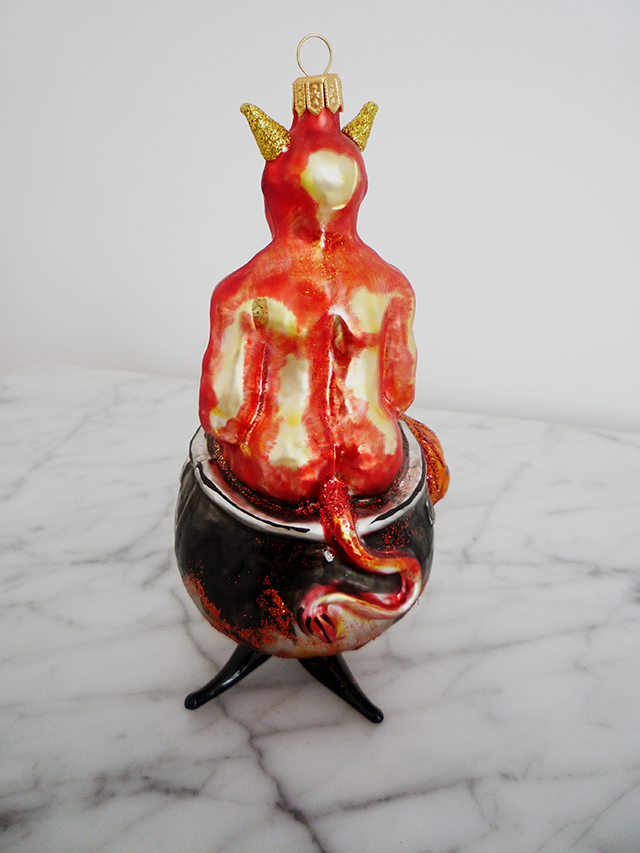 The best detail of all would be the jack-o'-lantern popping out from the side of the cauldron giving this piece a nice Halloween touch. We can't wait to hang this baby up on our Halloween tree for 2014.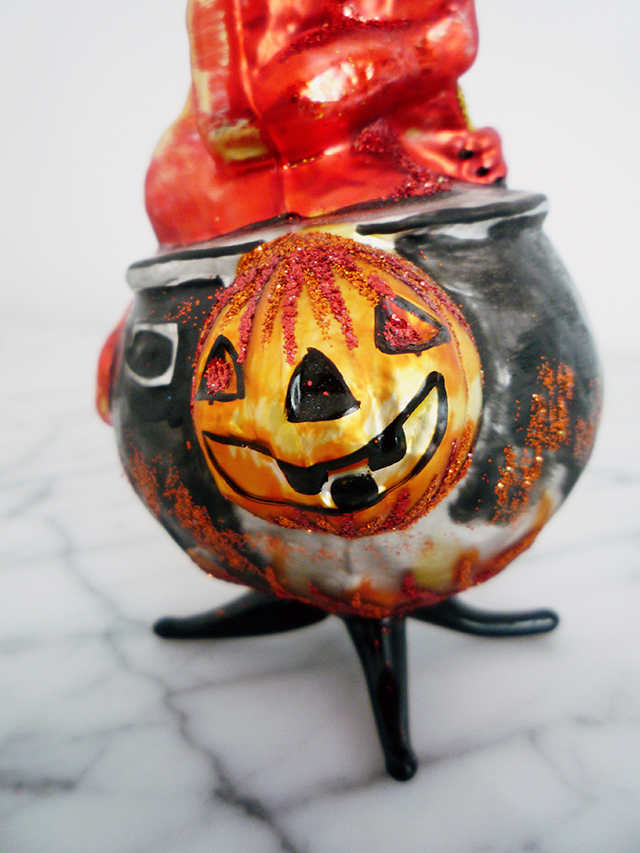 Next on our ornament tour is this hand-blown, curled ssssnake with gold glitter and blue and lavender scale details. This is one snake I wouldn't want to come across on any given apple tree. Again, the perfect trim for our Halloween tree, that's for sure. You should have seen how frightened our waitress was when she saw this ornament on our table as I was opening my gifts—priceless!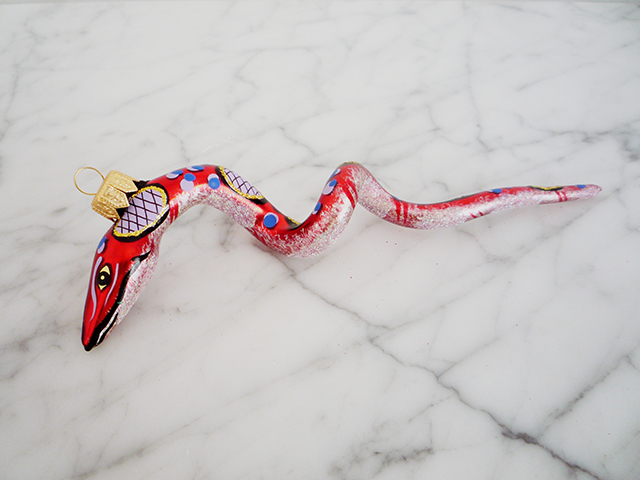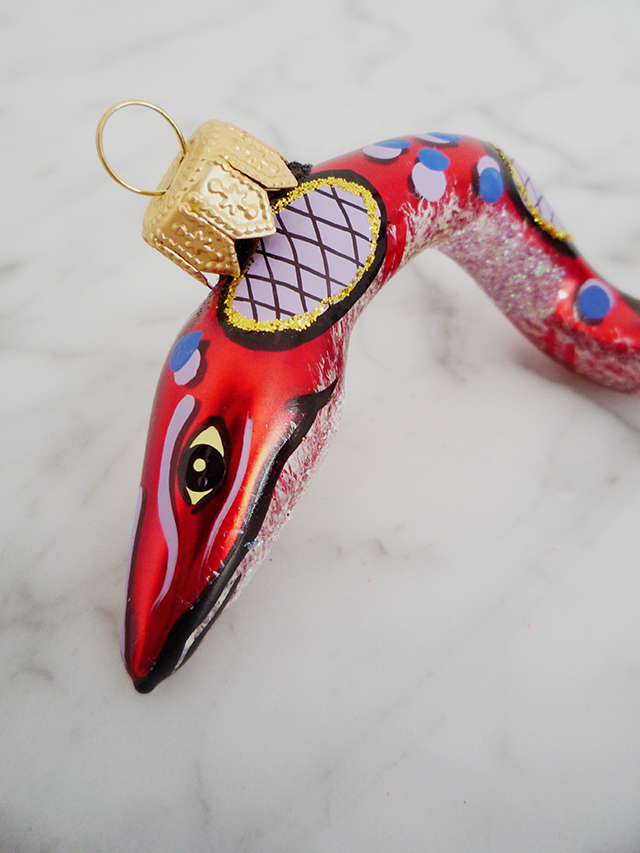 When the Evil Queen in Snow White asks the Magic Mirror who now is the fairest one of all? The answer is Mamma Biscuit, obviously! Snow White may be a beautiful woman who has seven doting dwarfs to boot but Mamma Biscuit has her epic tongue and a wardrobe that any woman in her right mind would mortgage a house for. You should have seen how happy I was when I opened this Christopher Radko ornament of Mirror, Mirror.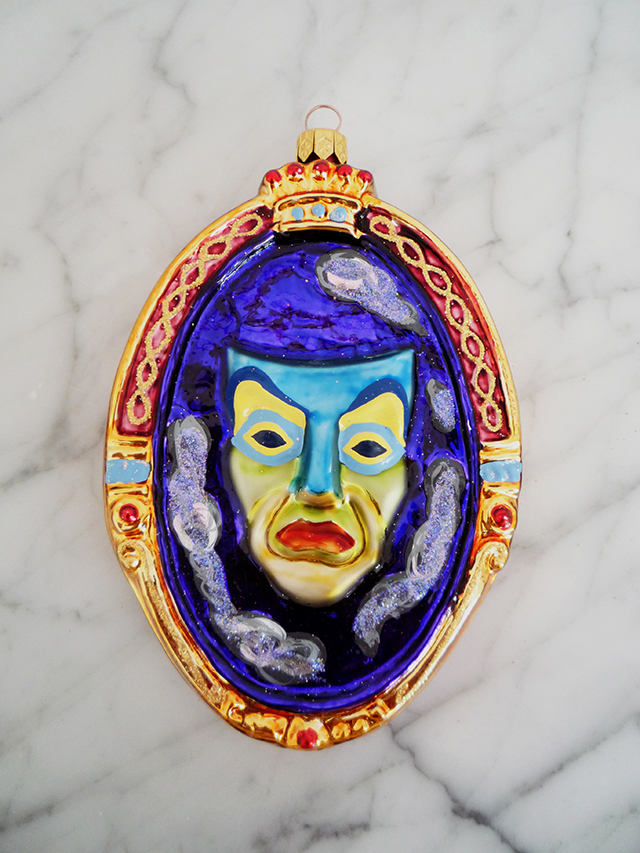 Contrary to popular belief, this is actually my first Radko piece and somehow, I feel like Cinderella finally getting her glass slipper. We're in the process of putting this baby under insurance although I can only envision Mamma Biscuit knocking it off of our tree in one easy sweep. Come to think of it though, I may just put this on our Halloween tree because the concept of it all is just so evil, what do you think?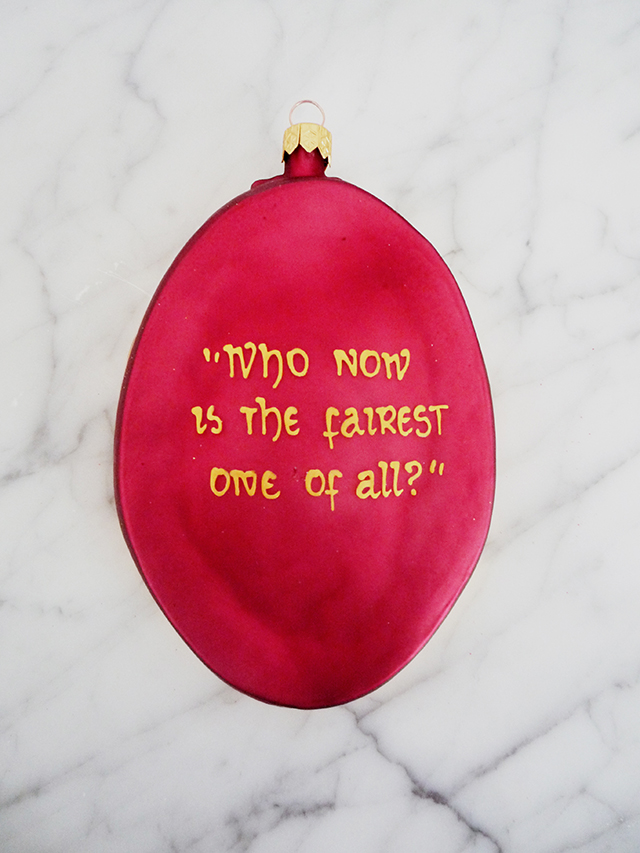 Nothing makes any holiday trim complete with at least one Our Lady of Guadalupe ornament in the mix. We may not be catholic but we sure like to appropriate religious iconography as trim for any holiday and somehow, this one has Halloween written all over it! Hand-blown in Poland and beautifully detailed, this gem fits right in with the rest of our collection.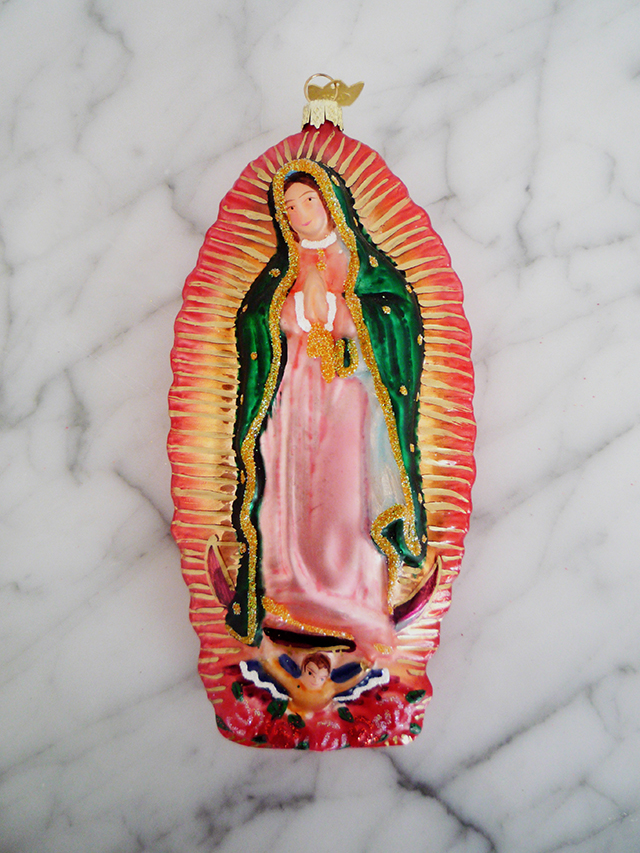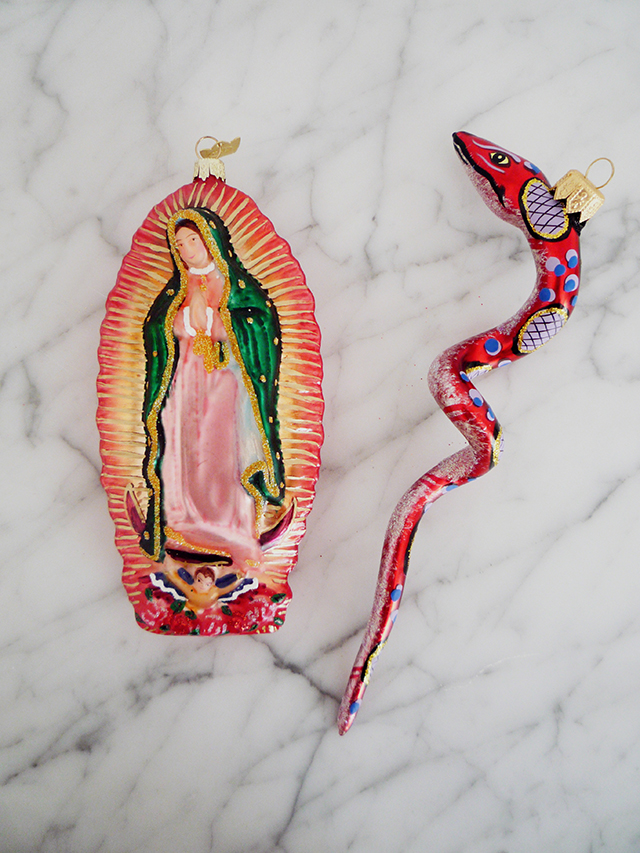 And last but not least (I know, as if I deserved any of these gifts) we have a mid-century styrofoam and pipe cleaner figurine of a holiday caroler that can be used either as an ornament or a free standing figurine. I love that Tommy thought this little guy was blowing his nose with a red tissue paper. Meanwhile, I had to point out that what the figurine is holding in his hands is not a tissue paper but rather a creased Holiday song book.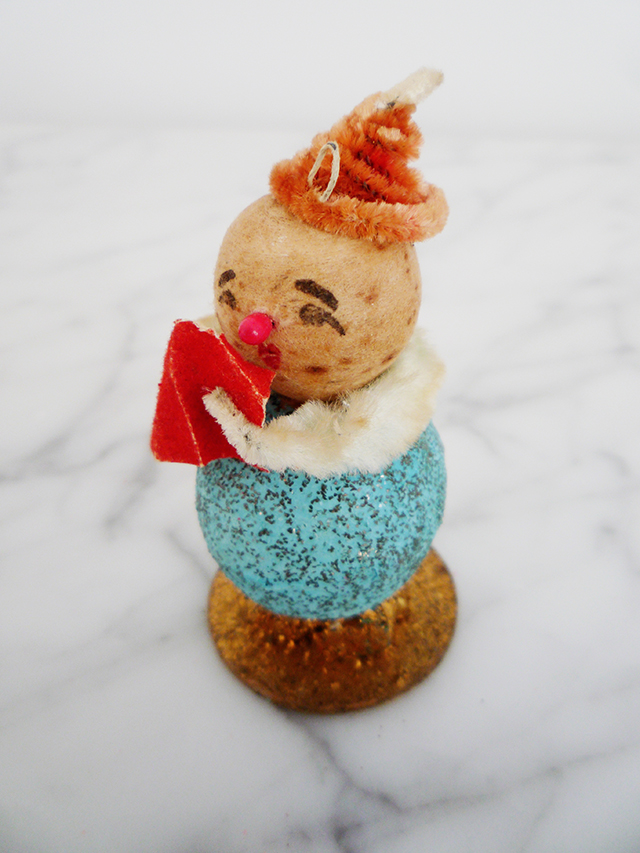 So that's it folks. I thought I would share some of these wonderful ornaments with you all while Mamma Biscuit recovers from a mild case of puppy Bronchitis. No need to be alarmed, our Biscuit is on antibiotics and should be fully recovered within a week. The poor girl sounds like an old lady who's been smoking cigarettes for the past 40 years whenever she barks. Spring can't get here soon enough! OMG, today is actually the first day of Spring—would have been nice if the temperatures actually reflected that!
Enjoy