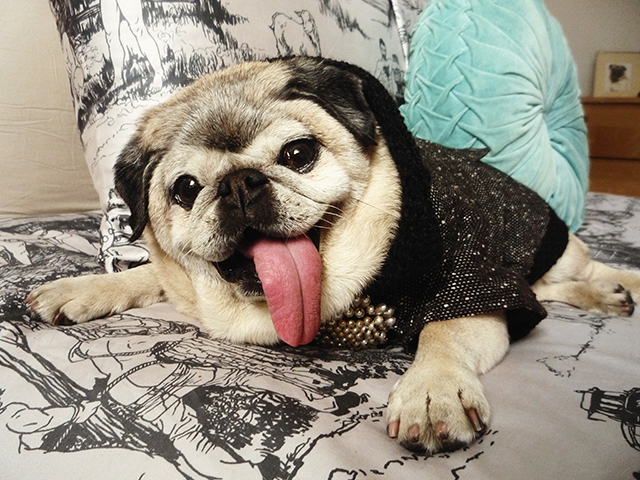 Hey there peeps, it's me, Mamma Biscuit . . . remember me? I know, it's been way too long since we last updated our little cozy corner here on the web but I promise we have a legitimate reason for it. Mamma has been recovering from a really bad case of puppy bronchitis for the last several weeks—damn this never-ending Winter and her obsession with sticking her nose in the dirtiest corners of the street. Don't be alarmed though because after a healthy dose of antibiotics, she's doing phenomenally well. With that said, her days and nights have been spent mostly indoors and quite frankly, she's feeling a little blue. To make matters worse, the entire month of March has turned out to be January's wicked step-sister—which only made us stay indoors more. Mamma Biscuit is usually out prancing the fabulous streets of NYC once Spring has sprung but between her puppy bronchitis and the unseasonably cold weather, she's been a home-body with a major case of cabin fever. So to brighten up our Biscuit Lady and make her feel good again, I decided to pull out something fashionable for her to wear. She wasn't going anywhere but who doesn't like to play dress-up once in a while to pick-up one's spirits? A cute ensemble with a fierce brooch can make any lady feel like a million bucks.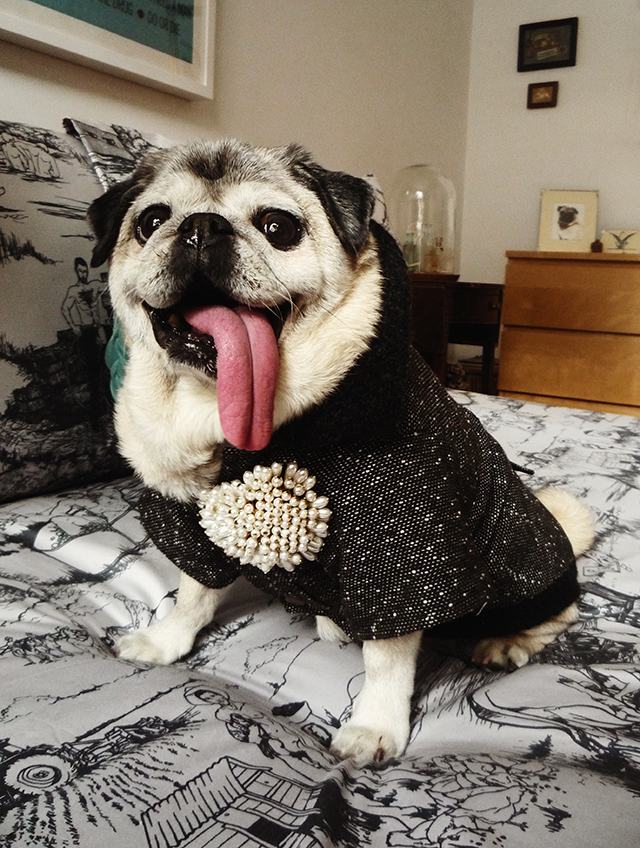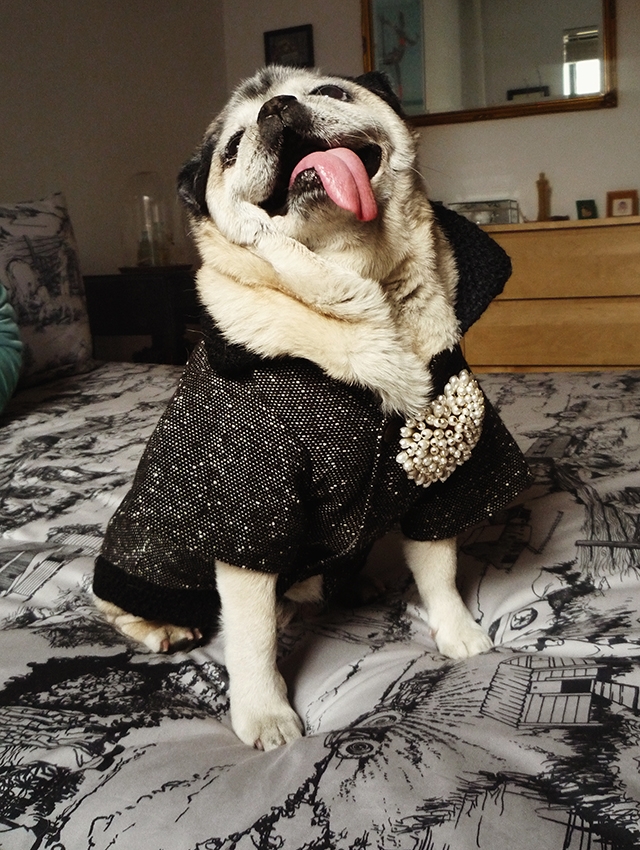 So here she is, our reclining beauty, dressed in a fabulous bouclé jacket with knitted collar paired with a vintage pearl-pin brooch in the shape of a heart. The moment I pulled out the jacket from her closet, her face lit up. OK, maybe I'm exaggerating a bit but she did sport an ear-to-ear smile once I pulled out the peanut butter treats! I picked up two of these hand-made bouclé jackets from the local doggy boutique in our neighborhood several weeks ago—doesn't she look so chic?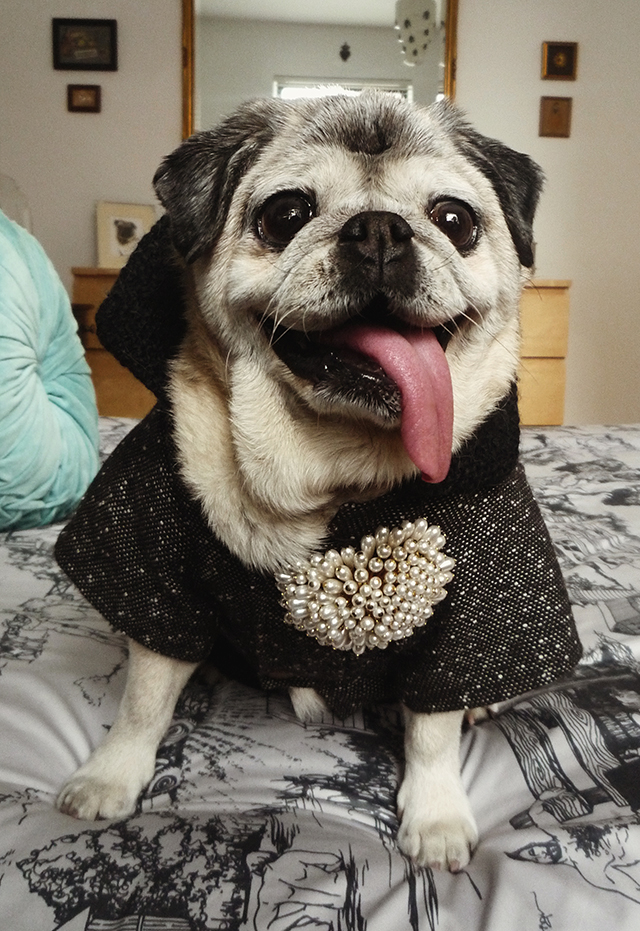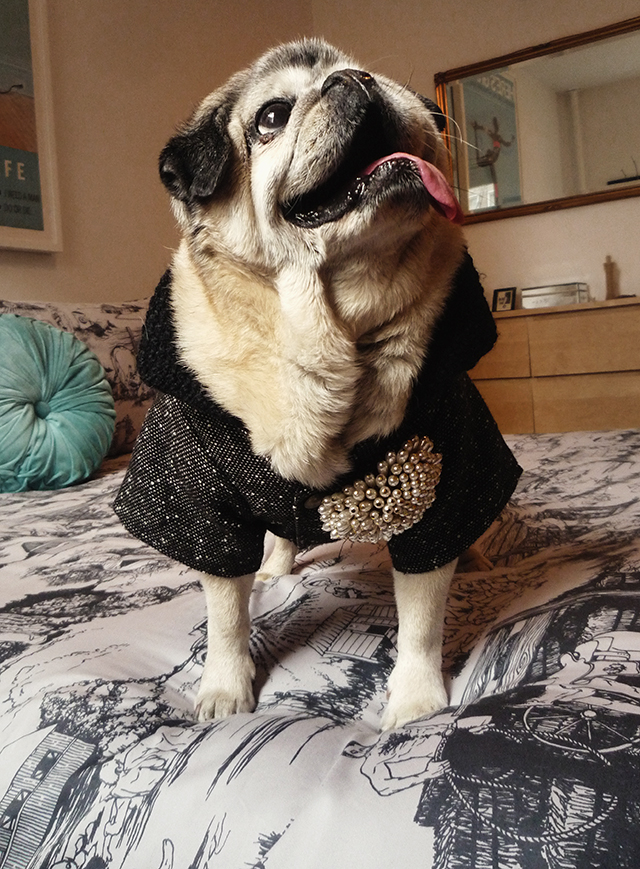 Do you know what else we did to brighten up her day as she napped on our bed? We installed an amazing light fixture overhead, that's what we did. OK, maybe it didn't brighten up her day as much as it simply brightened the room when we flipped the switch on but it sure made Tommy and I very happy, that's for sure! We have been scouring everywhere for an Art Deco light fixture for the bedroom for several years now and when we came across this beauty, our jaws dropped.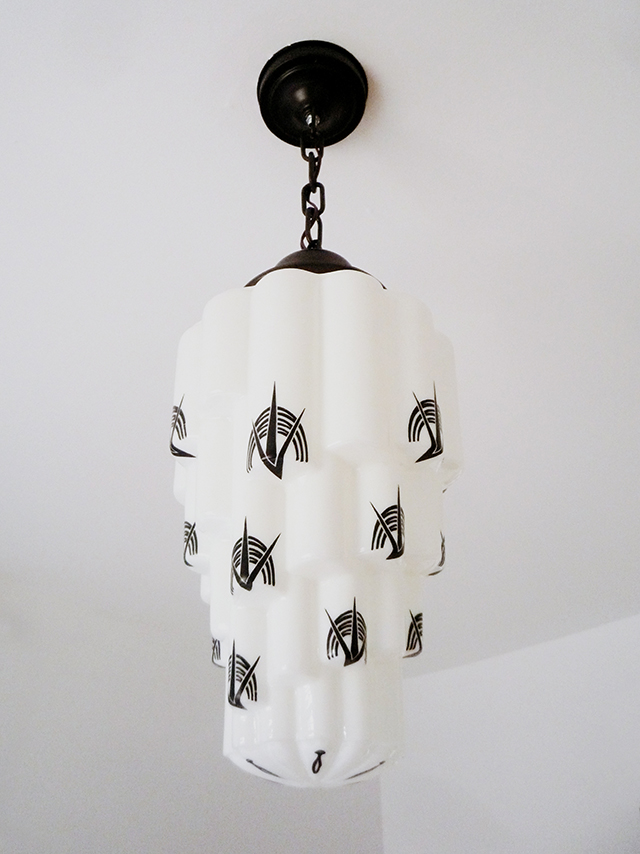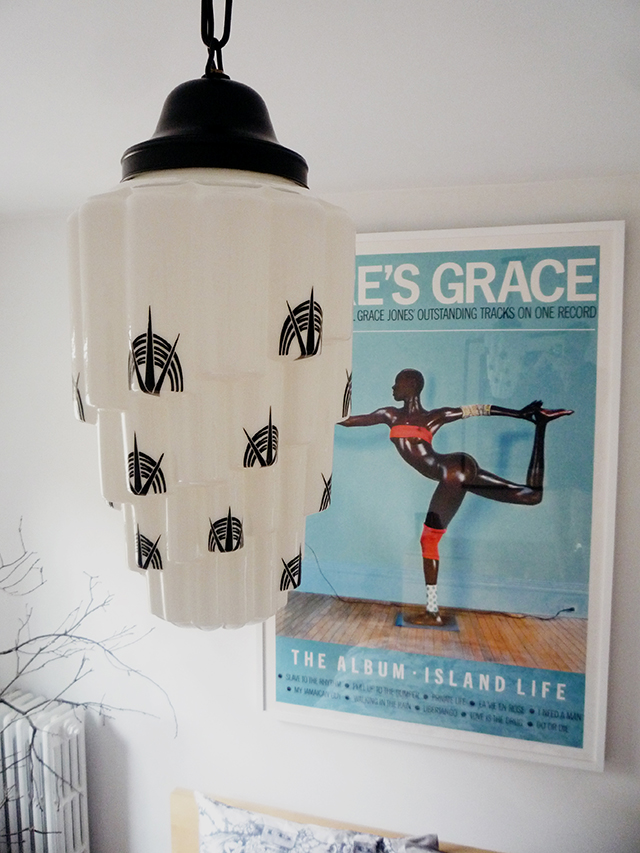 This beautiful Art Deco light fixture circa 1935 is made of milk-white ceramic with black deco motifs accenting the entire globe. It's called a skyscraper fixture because it looks like an upside down Chrysler Building in my opinion. It's stunning to look at and quite frankly, Mamma Biscuit sleeping on the bed below dressed in her chic outfit is simply picture-perfect!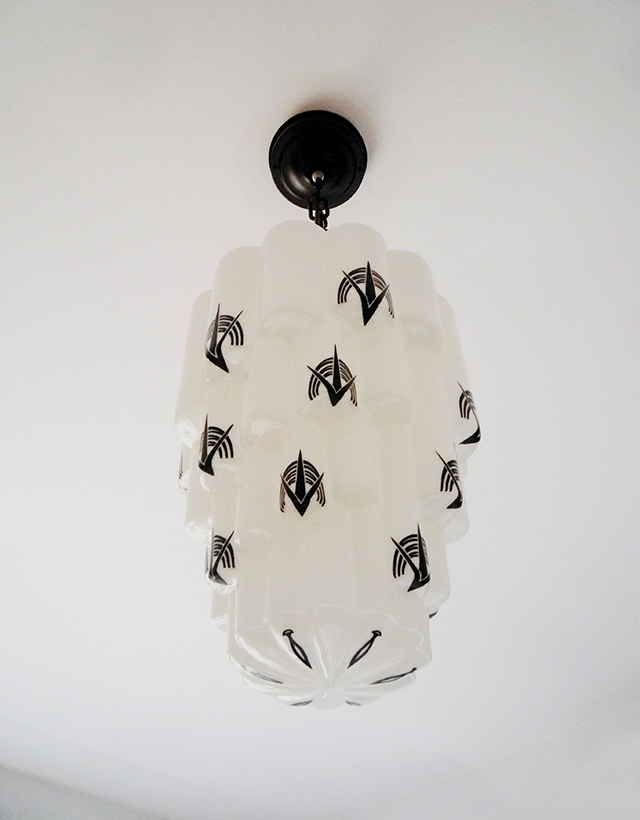 I find myself popping into our bedroom every 20-minutes just to gaze at it while listening to Lana Del Rey's Young and Beautiful playing on the Victrola—and Mamma Biscuit passed out like a dead horse across my bedspread!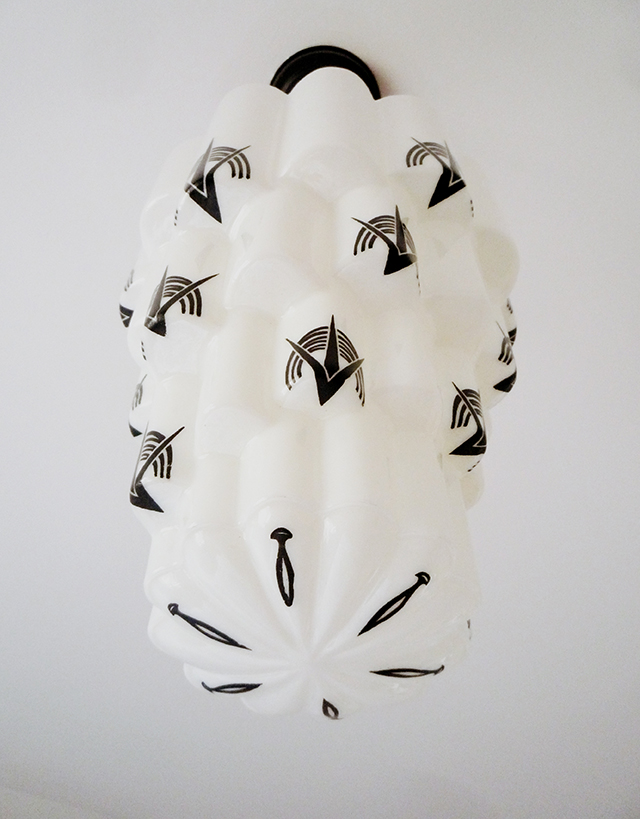 Hopefully, as the weather gets warmer, Mamma Biscuit will be able to venture outdoors again so we can bring you some fabulous New York City moments!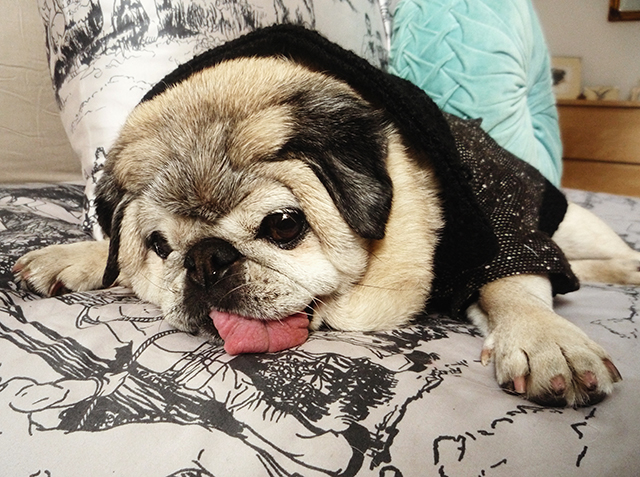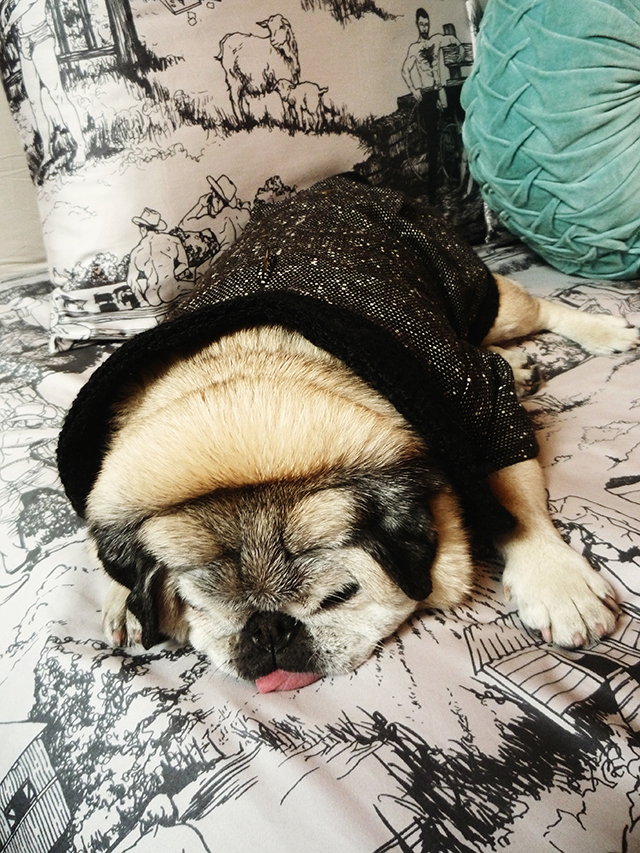 In the meantime, she'll continue napping indoors!
Enjoy