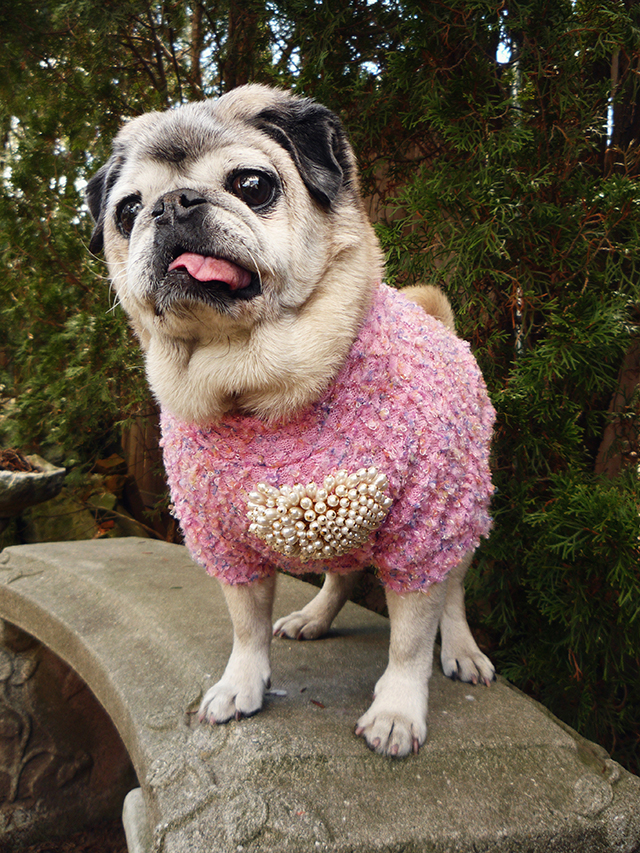 In my secret garden, I'm looking for the perfect flower
Waiting for my finest hour
In my secret garden, I still believe after all
I still believe and I fall
You plant the seed and I'll watch it grow
I wonder when I'll start to show
I wonder if I'll ever know
Where my place is
Where my face is
I know it's in here somewhere
I just wish I knew the color of my hair
I know the answer's hiding somewhere
In my secret garden, there's
A petal that isn't torn
A heart that will not harden
A place that I can be born
In my secret garden
A rose without a thorn
A lover without scorn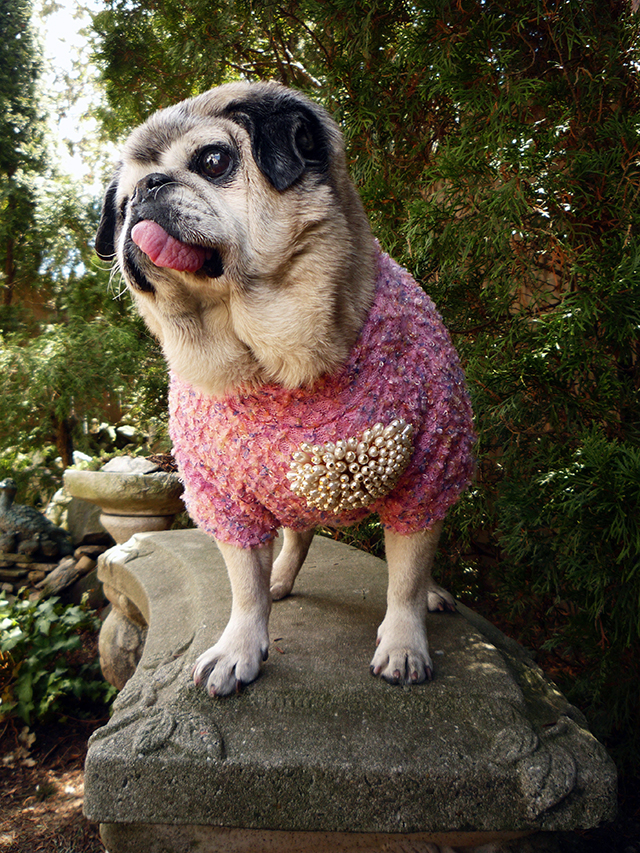 OK, enough of my Madonna/Erotica flashback and onto this post of Mamma Biscuit acting all cute and fury in her secret garden—which is basically my mother's backyard! My mom had us over for an after-Easter-dinner at her house on Sunday and while she was busy preparing her famous fettuccine in artichoke sauce, Tommy and I went outside to snap a few photos of our little gremlin on one of the many stone benches littering their garden. See, that's what happens when you grow up in an Italian family, your yard looks like a villa filled with religious statues, makeshift fountains, mini lakes and bushes that look like they have been sculpted by Edward Scissorhands himself! I have vivid memories of my father doing yard work and generally gardening in a three-piece suit—and believe me, that was a sight in our neighborhood that was and still is predominantly Jewish with the occasional Japanese family brought over by their respective companies to live and work for a year or two!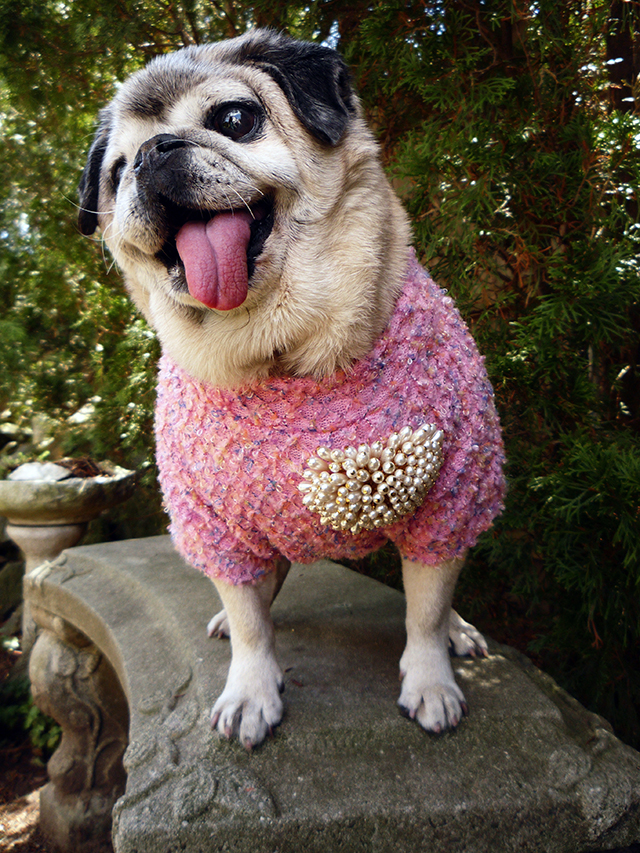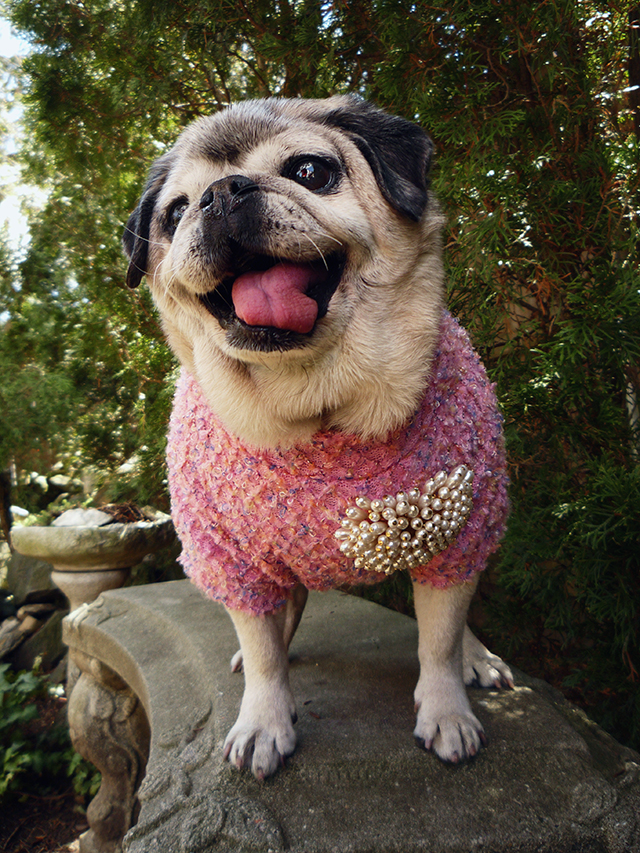 At any rate, I'm concerned about Mamma Biscuit's weight. I remember when this pink sweater was loose on her and now, it's as snug as a glove. I'm also concerned that we'll never see Spring or Summer judging by how cold it has been. Even with the sun out on Sunday, the wind made our outdoor photoshoot a brisk one to say the least. But back to Mamma, doesn't she look absolutely adorable here? The pink sweater, the pearl-pin heart pendant, her pink tongue and moist snout are all enough reasons alone for the weight gain. I seriously need to scale back on the amount of peanut butter treats I giver but how can I when she looks up at me with those watery marble eyes and jaunty head tilt. I swear, sometimes this dog seduces me with her eyes. There are moments when she looks at me in such a way that I almost feel compelled to buy her drink and ask her out on a date!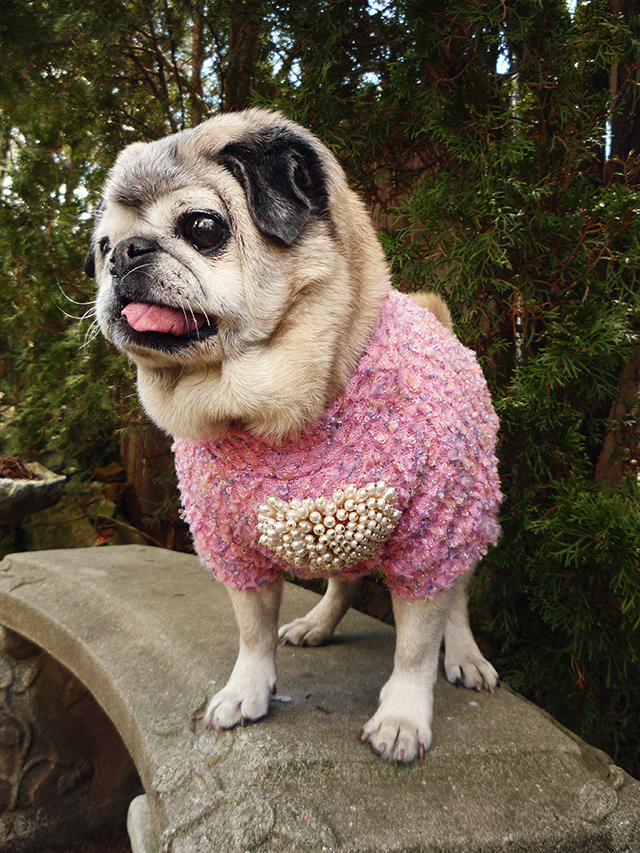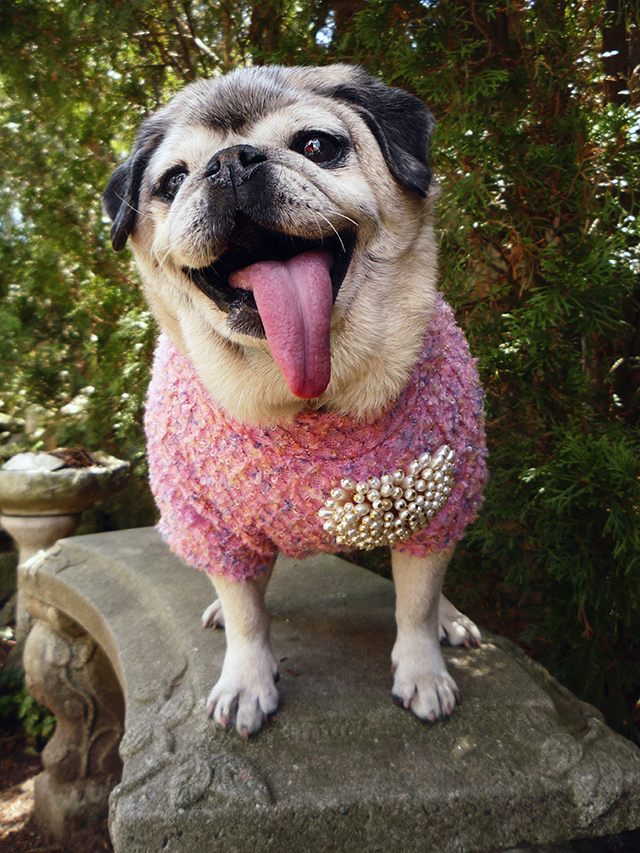 Anyway, we hope you enjoy this little Mamma Biscuit vignette from our weekend out in the suburbs. Mamma sure loves visiting Nana's house because like me, my mother caves in and will give her a treat anytime she's looking for one. Maybe my mother is to blame for the sudden weight gain . . . sigh, all mothers are to blame for their children's weight gain, especially the Italian kind who really know how to cook!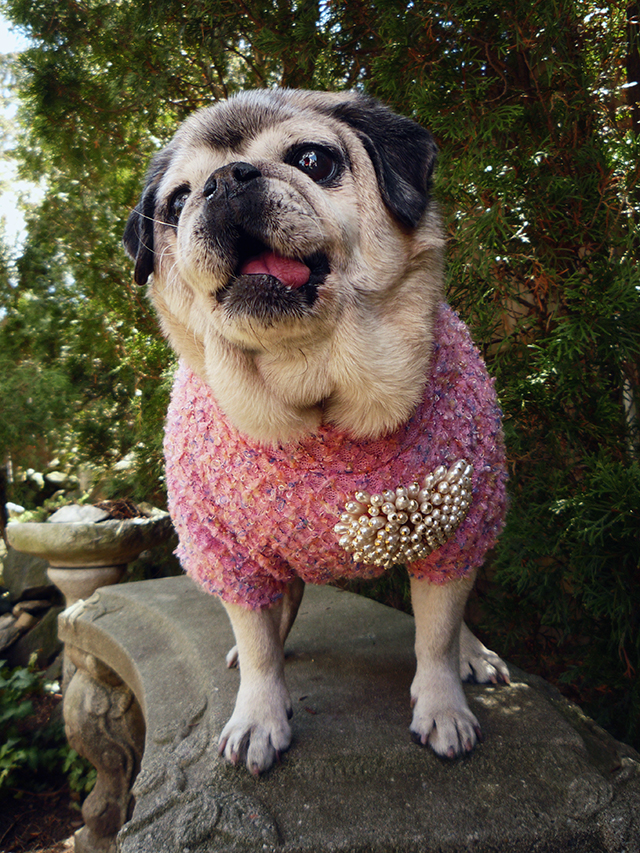 Enjoy