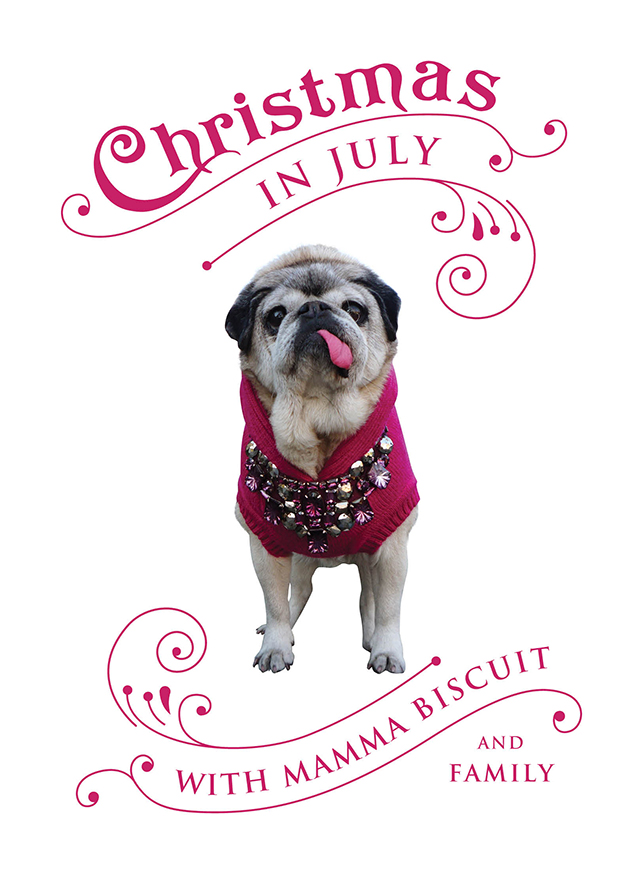 Oh the weather outside is frightful
And the air conditioner is so delightful
And since we've got no place to go
QVC, QVC, QVC!
Oh it doesn't show signs of stopping
The holiday segments make us all go shopping
For holiday shit we don't really need
QVC, QVC, QVC!
That's right y'all, today is July 25th, that very special day for Christmas enthusiasts from around the world and (more importantly) for all of the home shopping networks here in the U.S.A. In exactly five months from today, it will be Christmas morning when everyone around the world will run from their respective bedrooms down to their Christmas trees to unwrap gifts they intend on returning or regifting the following day! After all, this is America and any typical, under-achieving, hot-blooded American would think you were a Communist if you weren't ungrateful for the things that you have and the things that are gifted to you on this very special holiday! Now Mamma Biscuit and I love lounging on the sofa with a tower fan blowing in our direction and the air conditioner cranked up to near arctic levels on any given Summer evening, but tonight, we're pulling an all-nighter with QVC! We need to keep abreast with what young Chinese children have been putting together for the American consumer all year long. They may have all gone blind, lost a finger or three or developed a rare cancer in the process, but this cheap exported labor is what makes us Americans max out our credit cards and keeps us in the spirit—and besides, if you can't hoard cheap holiday goods for Jesus Christ, who the hell can you hoard for? More importantly, why bother hoarding to begin with! Jesus hoarded disciples in his day, so go on and hoard another box of flameless flicker candles for every damn window of your house, you deserve it!
Now QVC clearly takes advantage of this time period where yuletide idiots like ourselves begin to yearn for Christmas as a retail marketing strategy—not that we ever need any push to purchase anything Christmas related throughout the entire year. It makes sense though, June is a great month to purchase gifts for weddings, graduations, Father's Day, and buying summer clothes and outdoor entertaining items. July is still too early for back to school shopping and practically dead in the retail world (although I've seen a few commercials for school supplies) HOWEVER, it is the perfect opportunity for the home shopping networks to grab middle America (and a select few of us in the Northeast) by the balls and shove some consumeristic holiday fear of not being able to get all of your shit done in enough time before the 25th of December. In comes the QVC army with their fiber optic wreaths and trees, dizzying array of lights, permanently swagged garland, pre lit trees that practically build and decorate themselves, talking snowmen and their respective sex partners and a plethora of hideous holiday sweaters to solidify this fear and the overall bad taste afflicting our nation. I mean, our economy survives on this formula so if you're not watching or buying, then you're an unpatriotic terrorist threatening Mamma Biscuit's freedoms as an American pug! Now that I've gone and made myself sound like an ignorant, angry FOX news anchor, why don't I switch gears here and share with you all a few amazing holiday decorations we have acquired in the past two weeks. What you are about to see is just a taste of what's to come in the next two weeks. Tommy and I will be heading on an excursion that will most likely yield some pretty amazing Christmas wares—more to come on that!
First on the agenda is this amazing flocked figurine that I just acquired from an antique store out in Havre de Grace, Maryland.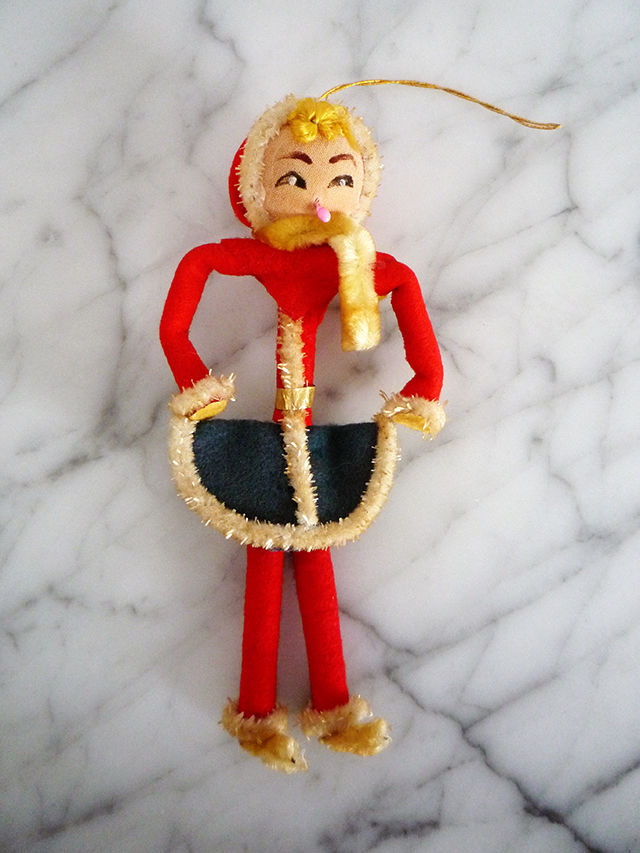 Those of you who have been following Mamma Biscuit for several years now will know that I have a huge collection of flocked ornaments all made in occupied Japan circa 1945. I've been collecting for so many years now and I have to say, it's getting harder and harder to find these charming ornaments with pipe cleaner details. This one is especially unique due to the size. It measures close to 4.5" tall and her hand-painted face is nearly flawless. The figurine still has good flexibility and can be positioned any way I like. I'll find a spot on one of our many garland displays come this Christmas and she'll blend in seamlessly!
Next up we have an extremely delicate glass ornament from the late 40s with pale green crater details and hand painted abstract lines in red.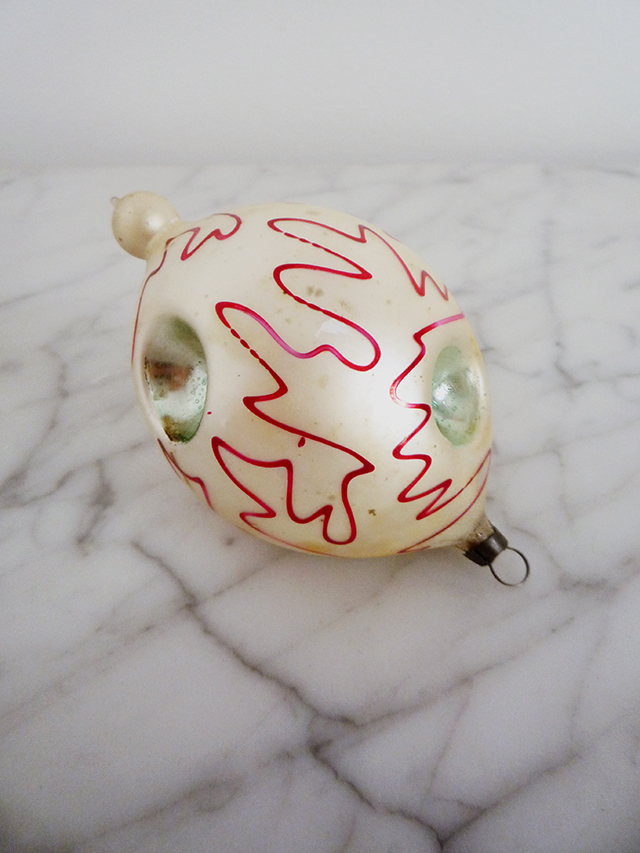 The earmark to a good vintage glass ornament is the sturdy crown and hanger at the top. Mamma Biscuit and I have such a huge collection of these ornaments that we can actually decorate a full 6-foot tree using just them alone—it's like I'm the Imelda Marcos of Christmas ornaments. At any rate, I was drawn to this Keith-Haring-on-crack aesthetic and just had to add this baby to our ever growing collection!
Last on our list of ornaments (I told you this was gonna be short) are these fabulous set of four pipe cleaner wreath ornaments from the mid-60s.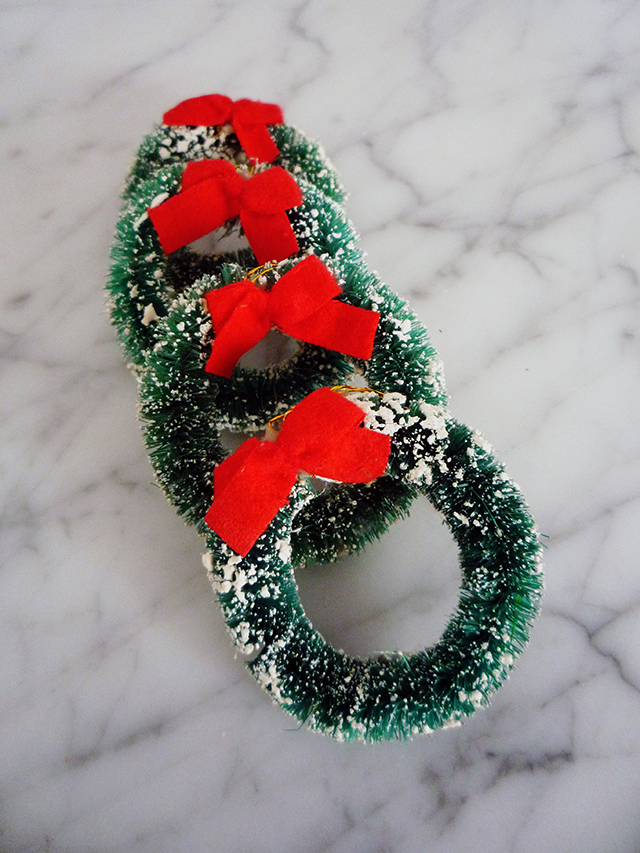 I scooped these babies up several weeks ago at the garage flea market here in Chelsea before they closed their doors for good to make way for yet another luxury high rise—because that's what New York City needs, another fucking luxury high-rise that will remain 75% empty!
Before we sign off here to go sit in front of the TV to watch a 10-hour stretch of Christmas in July on QVC segments (while foaming at the mouth from disgust) I have to share with you all a new Christmas product that was teased on QVC as an upcoming highlight to Christmas in July several weeks prior that rocked my Christmas world. The product is called Blisslights Spright and boy will you be amazed. Blisslights is an artistic lighting company founded in 2006 that invented, engineered, and put a patent on a unique multiphase diffractive holographic optics and light projection technology. This unique lighting experience projects thousands of static pin-points of light that is perfect for a "fire fly" effect in your garden or creating a truly unique holiday display that will amaze you and your neighbors. You really do have to see it to believe it, so check out this video below.
Unfortunately, these lights only come in blue, green and red and have a very cold, laser/LED tone to them but the day they make clear lights is the day I'm on board. Can you imagine? No more tangled lights, no more freezing outdoors in the winter hanging lights from tree branches and gutters? This product can make even the most mundane trailer park look like a Christmas wonderland. My only concern is what happens when a blizzard comes through and covers the lights completely under 12 inches of snow? At any rate, you heard it first from Mamma Biscuit and family—because we eat, breathe and live Christmas!
Enjoy