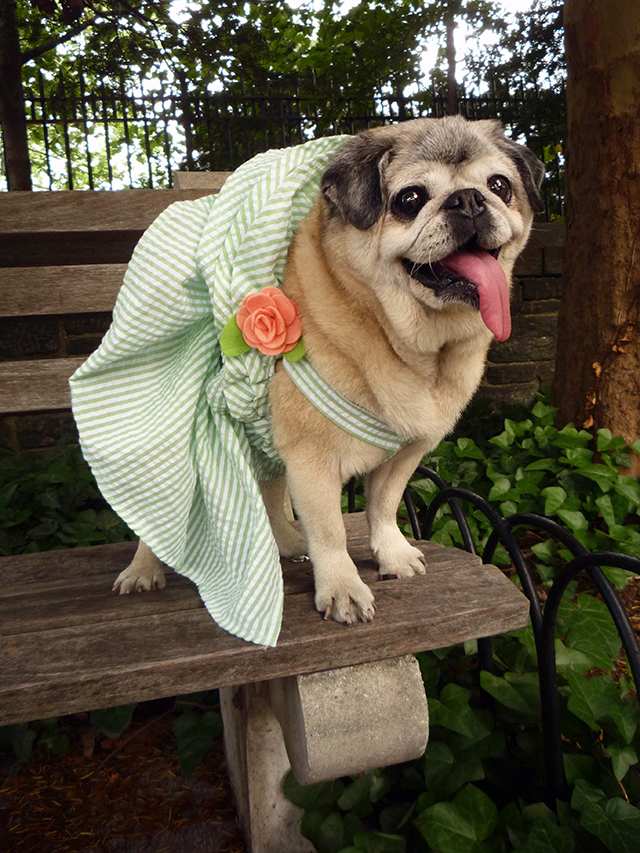 It's been such long time since we've given you all an update on Mamma's life but we are back(ish) to say the least. I have no doubt that you all thought that Mamma's little corner on the web here was tapering off, or worse, that she fell seriously ill but fortunately, neither of those two thoughts are true. You see, on New Years Eve, I made a resolution of giving myself a much needed blog hiatus. We have been trucking along, nonstop, since 2011 and I just needed some time off to relax, regroup and find some new inspiration. It's also been a very busy four months for me professionally (working on Grace Jones' memoir has been taxing to say the least) as well as socially, and blogging is like having a second job. So I hope you all can forgive us although after viewing this post, I have a feeling you won't even remember our absence. A few things have changed since our last encounter with the Easter bunny. For starters, I shaved my giant beard off. I woke up one morning and simply decided to buzz it off. When I was finished, there was hair everywhere in my bathroom and Mamma Biscuit was standing by the doorway with glassy eyes as if she had been sobbing under the noise of my buzzer. That little gremlin of ours really enjoyed warming up her snout within the folds of my facial hair all Winter long so my bare face traumatized her. To console her, I had to remind her that I'm Italian and within a week or so, half of what I had shaved off would be right back on my face. And so here I am now, writing about a shaved beard that is practically back on my face, and Mamma is happy as a clam about it although with this Summer heat, she just admires my facial hair from a distance.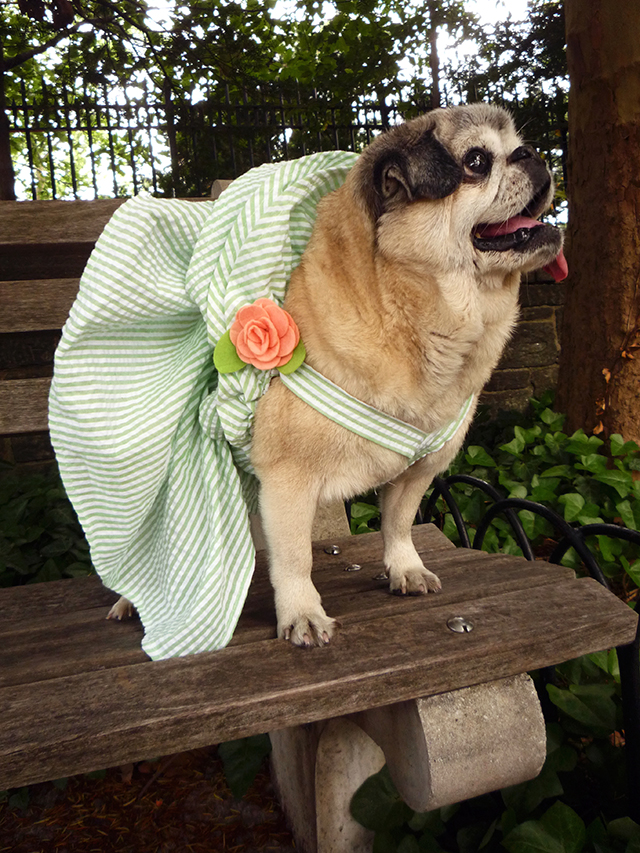 But enough about me. After visiting the Easter Bunny in late March, all Mamma Biscuit could do for the next four months was bark on and on about wanting an extravagant Quinceañera for her birthday this year. Seriously, the arguments at the Pug Palace have resembled several from a few episodes of MTV's Sweet Sixteen. You see, this is exactly what happens when you live in the little Dominican Republic of New York City, and for me, the thought of spending all of that money on a Quinceañera makes me want to vomit. The money is an obvious issue but then all of these horrible vignettes of aggressive brides alla "My Big Fat Gypsy Wedding" flood my head when I think of such an event leaving me just as frustrated as Mamma Biscuit was when I flat out denied the request. Somehow though, Mamma got it in her head that she wanted one. I bet it had something to do with that pack of female chihuahuas she hung out with at the dog run several months ago. They were yapping in her ear, setting off all sorts of expensive ideas about how we should celebrate Mamma's 15th birthday. At one point, I had to sit her down and give her a talk about how it's not a good idea to have people tack money to her dress at her birthday party—money that I would inevitably use to pay for the party because we do not belong to the 1% of the Latino community. On the bright side though, the only thing I would sincerely approve of is having a piñata in the shape of Donald Trump at her party so that we can honor the Latino culture the right way (by violently bashing the head of that comb-over bigot) instead of appropriating it the wrong way. Thankfully, the moment I put Mamma Biscuit into one of those frilly, cake-like gowns, she frowned in disapproval. Thank goodness she has impeccable taste in clothing because I entertained the thought long enough for her to see that it was a bad idea and a typical Quinceañera dress really put everything in perspective for our little Biscuit Lady.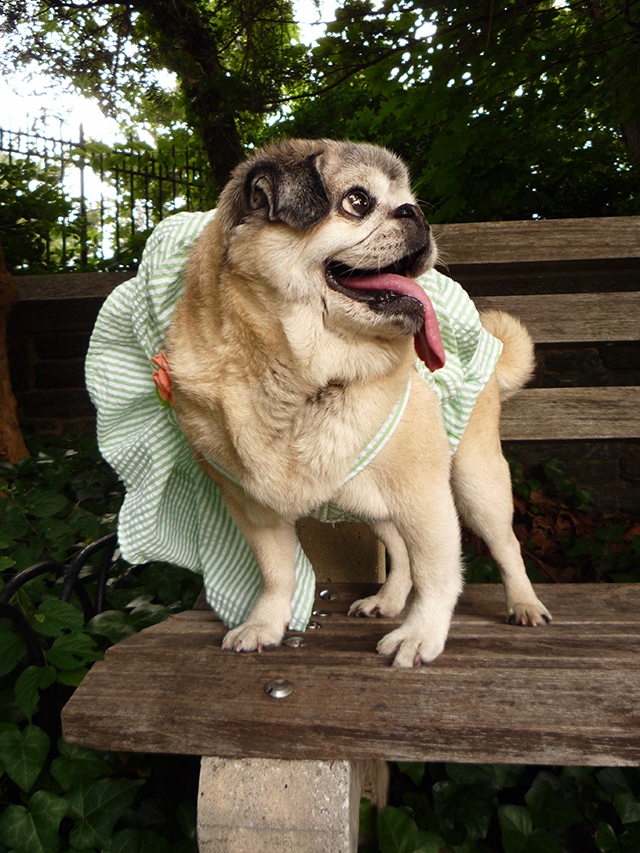 So after much debate, we all settled with the idea of having a small and intimate celebration for Mamma Biscuit instead of a crazy Quinceañera and I found this amazing mint green seer sucker dress with peach flower accent and dramatic balloon neckline (a Martha Stewart original) to mark the special occasion—all without compromising her Halloween costume budget. I know, I'm good like that! Now this dress is part Vivienne Westwood and part wealthy-woman-at-the-vineyard-in-the-Hampton's. Mamma Biscuit is ready to ring in her 15th birthday with tons of style and panache wearing this number, don't you think?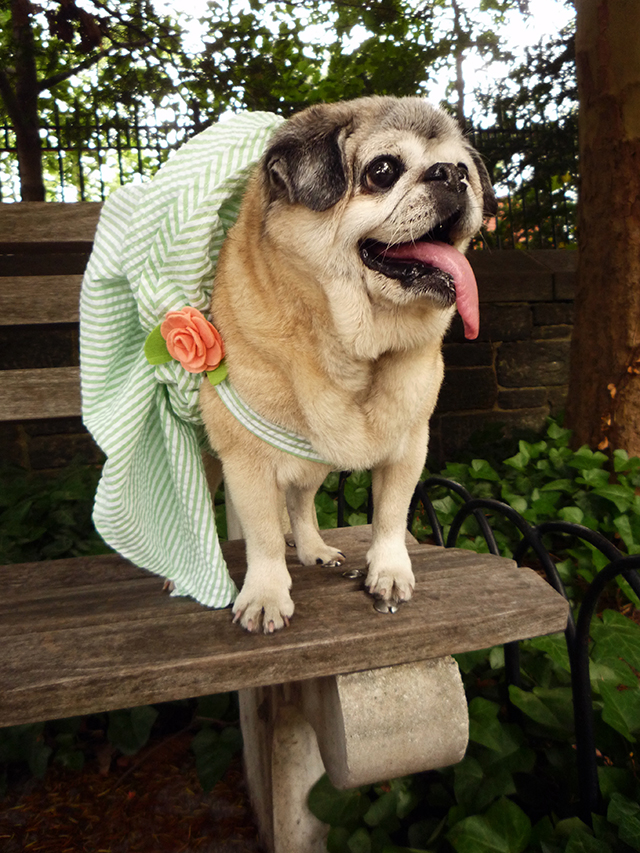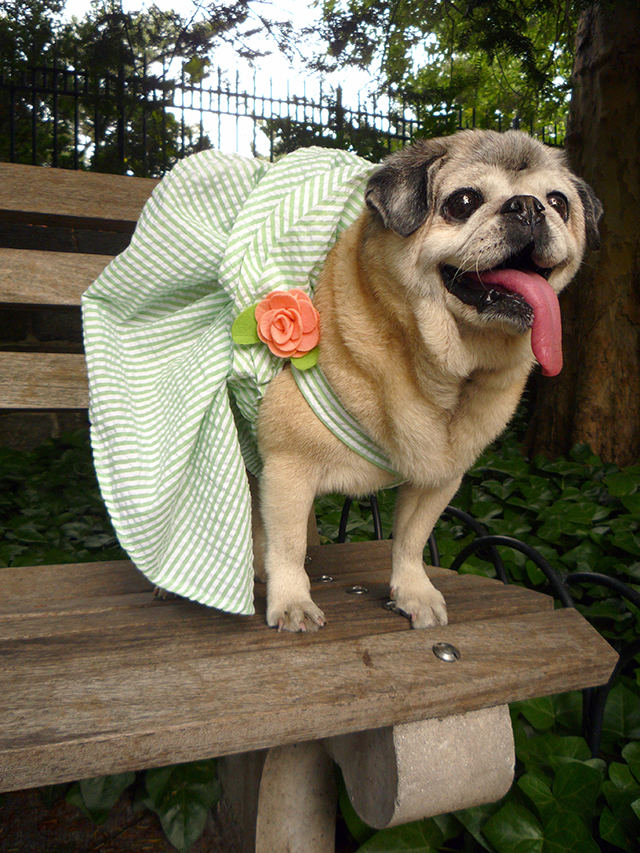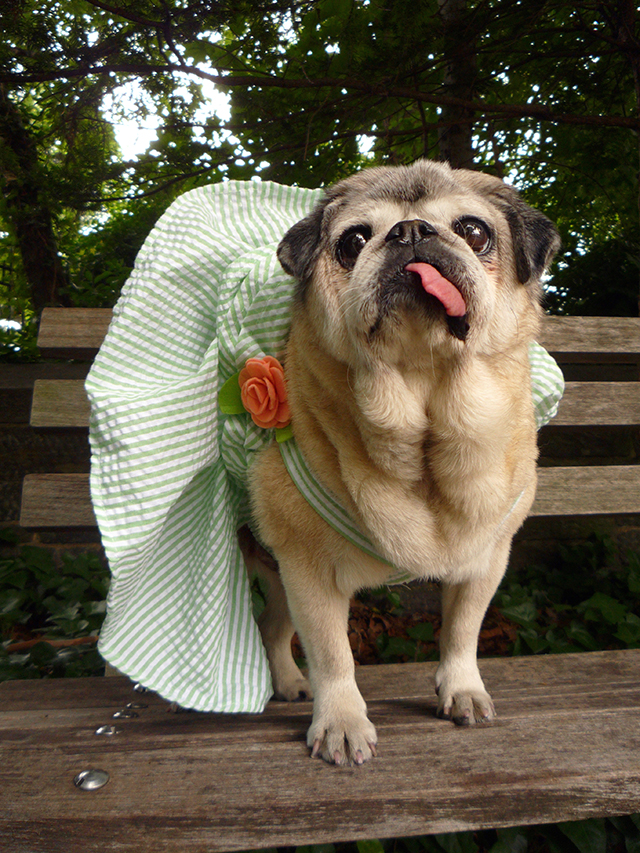 On a reflective note, I cannot believe that Tommy and I have had this little gremlin in our lives for the last 8 years and I could never imagine life without her. Mamma Biscuit is so much a part of who Tommy and I are, not only as people, but as New Yorkers. She's an incredibly special pooch who captures the hearts of the young and the old and can bring even the most masculine of men to their knees from her unbearable cuteness.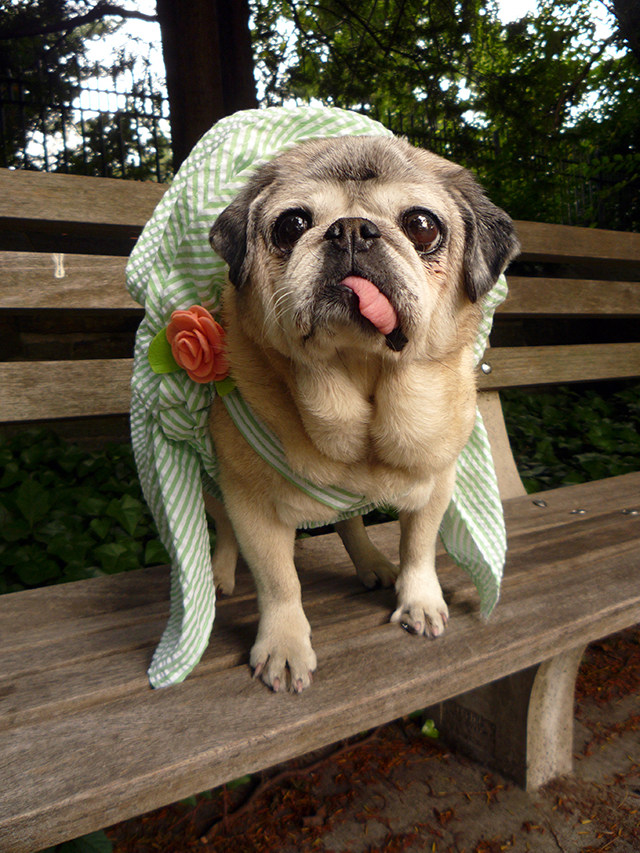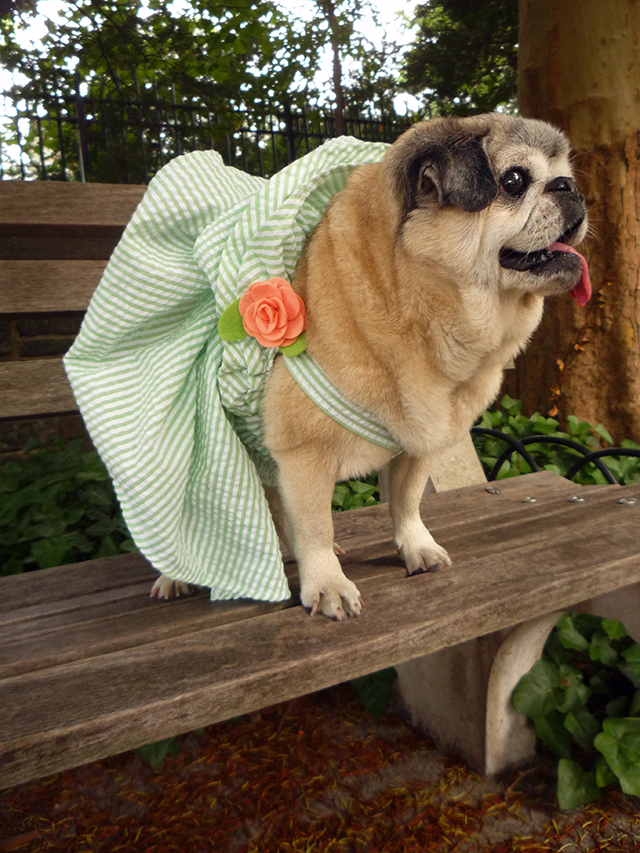 After taking these portraits of Mamma Biscuit wearing her fabulous frock in the park, Tommy decided to surprise her with a wild berry doughnut from Dun-Well Doughnuts, a vegan doughnut bakery in Brooklyn. My mom, dad, brother and Tommy sang Happy Birthday to our hungry Biscuit lady who looked on with bulging eyes at the sugary concoction and bowl of honeydew melon, waiting to be devoured after our song was through.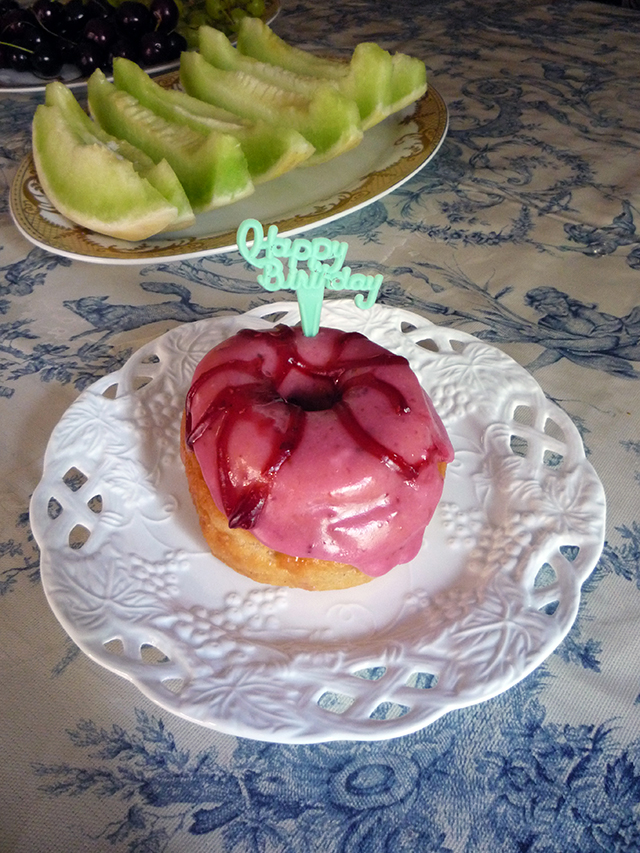 So here's to Mamma Biscuit and her 15th birthday. The actual day is July 11th, the day we picked her up from Curly Tail Pug Rescue 8 years ago. We decided to celebrate and post something a week early so you all can enjoy the festivities of Mamma's 15th birthday. Make sure you all go out and do something special to mark the day your favorite toothless pug on the Internet found true family love, and the day this very creature rescued us!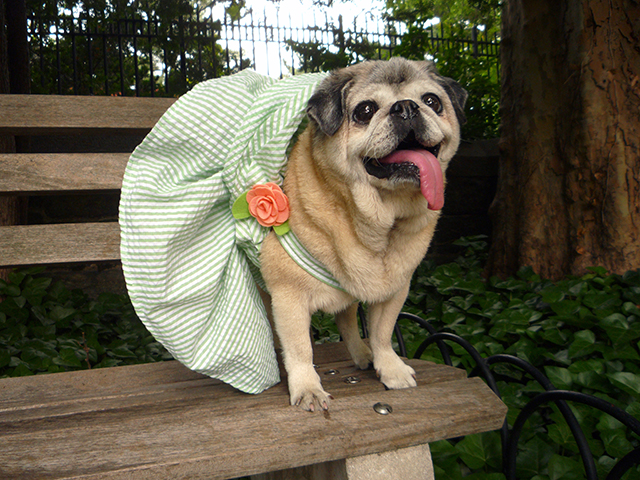 Happy Birthday Mamma Biscuit!
You're only fifteen
But you're my teenage queen
You're the prettiest, loveliest girl Ive ever seen
Enjoy