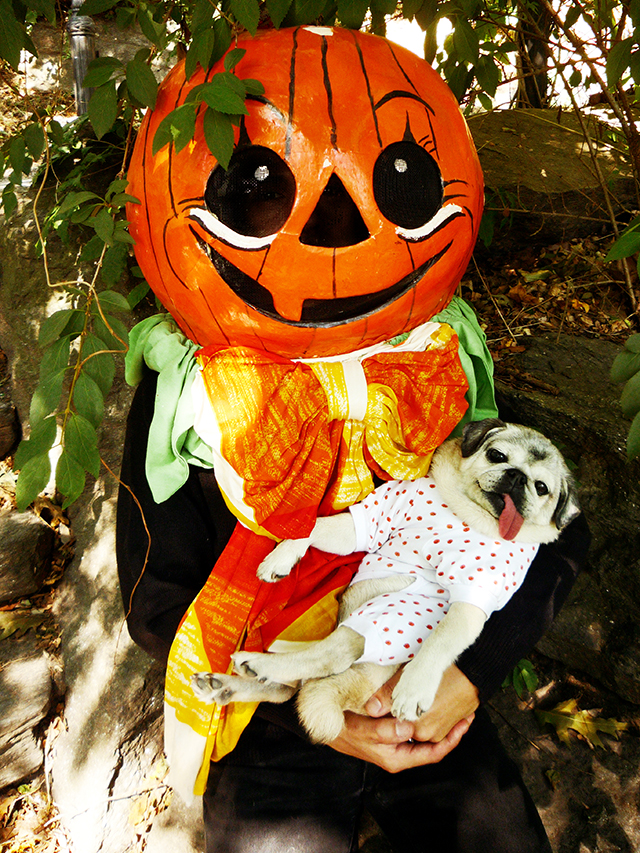 There is something really special about Autumn in New York and it has little to do with cool weather and cable knit sweaters and everything to do with Mamma Biscuit and her impending Halloween costume. I cannot wait to show you all what we have come up with for her this year because to merely say it's EPIC is really just a gross understatement. It's beyond EPIC and unfortunately, y'all will have to wait another three weeks before we unveil it here. In the meantime, to usher in our most favorite and spookiest season of all, we bring to you the Great Pumpkin and Mamma Biscuit!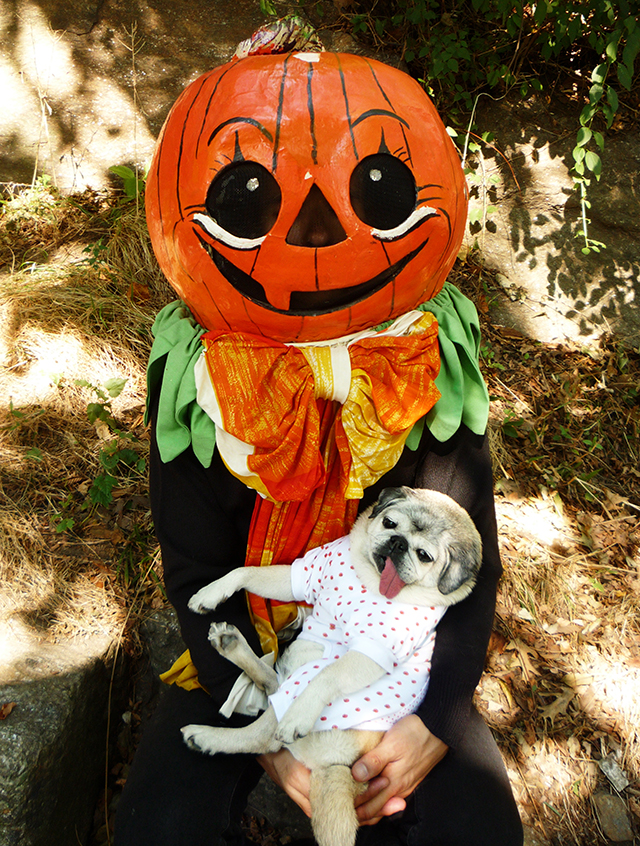 I know, I know, you're wondering how the hell did this happen! It's so crazy that Mamma Biscuit has been wasting all of these years planting her cute butt in the pumpkin patch at the apple orchards up in New Paltz waiting for the Great Pumpkin to appear the way Linus does every year . . . and of course, every year, he never shows up. Who would have thought that a nice brisk walk through Fort Tryon Park on a perfect Autumn day would bring these two together?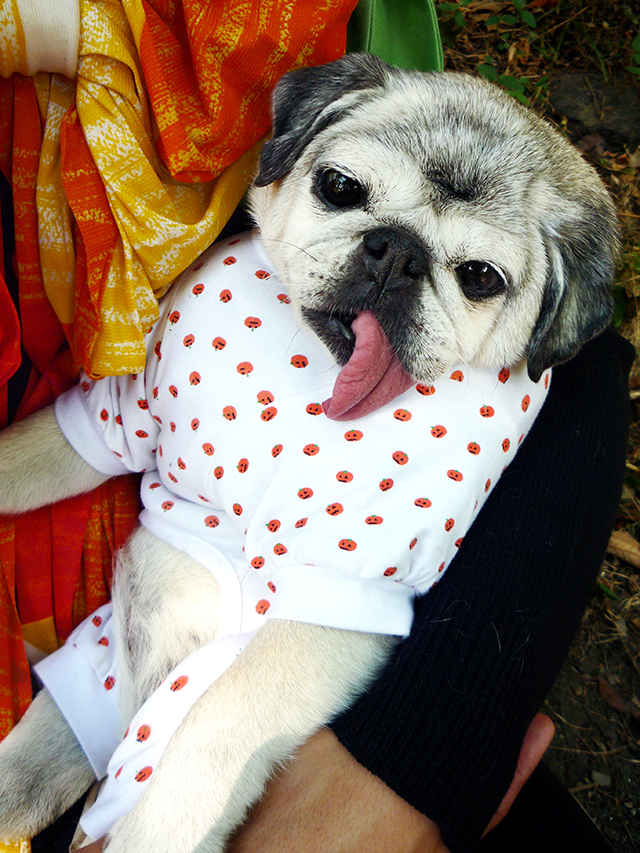 Here's how it all went down. Mamma Biscuit woke up that morning with a pep in her step and a glimmer in her marble eyes and I knew something special was about to happen the moment she pranced out of the apartment door. At first I thought it was the sheer comfort of her pumpkin pajamas that gave her this extra boost of confidence but when she started tugging on her leash, literally walking me straight into the woods, I knew something was up. The moment we cleared the brush alongside a park lamp post, there he was, the famed Great Pumpkin in all of his glory, waiting patiently for our little gremlin to arrive. It was a Halloween miracle really and all I could think of was how poor Linus and Sally was missing it all. I unclasped Mamma's leash and off she ran right into the Great Pumpkin's lap soaking in all of his magical Halloween powers. It was as if I was charging a battery because Mamma Biscuit eyes were twirling as her Halloween tank was being filled. The Great Pumpkin gave her a few words of Halloween encouragement, wrote down a witch spell to make her daddies give her loads of peanut butter treats against our will and then he disappeared, right from under her.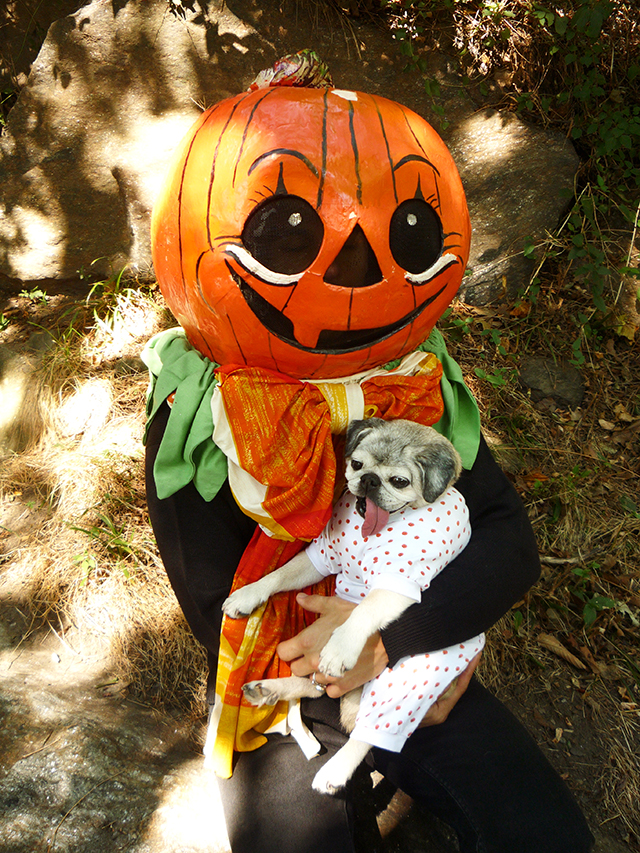 Poof, he was gone and Mamma Biscuit was titling her little pug head from left to right wondering if it was all real. Thank goodness I was there to witness the whole thing with my camera!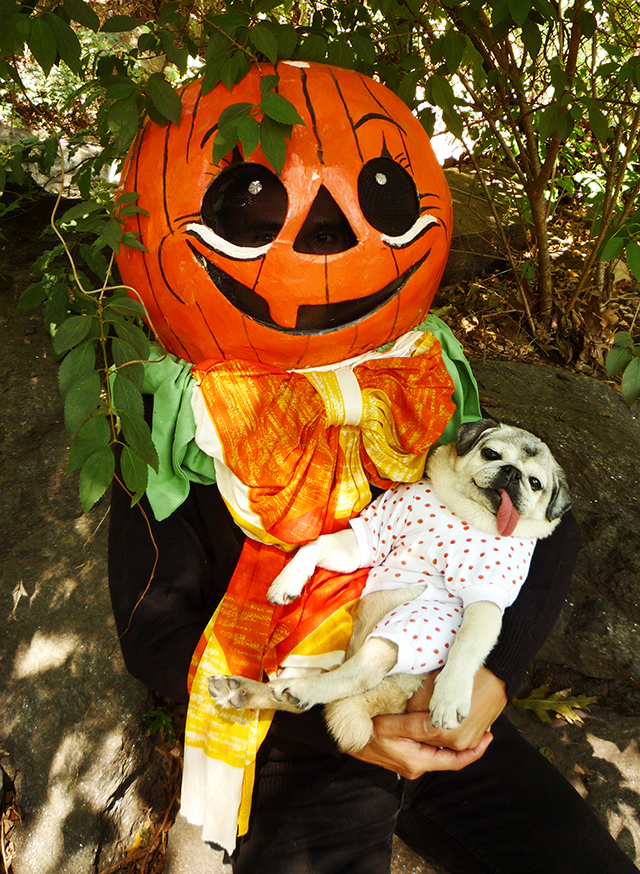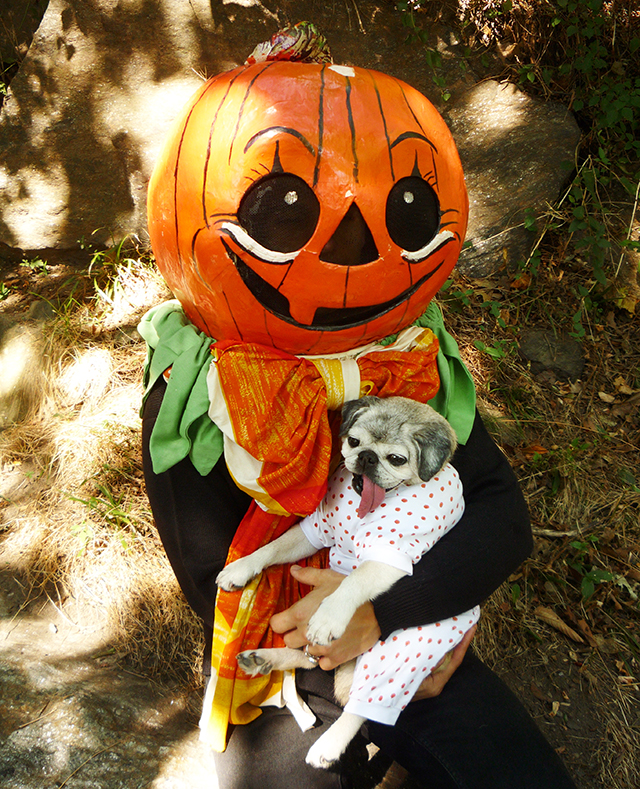 So there you have it folks, Mamma Biscuit and the Great Pumpkin are officially ushering in the Halloween season. Star your engines and may the best costume WIN!
Enjoy