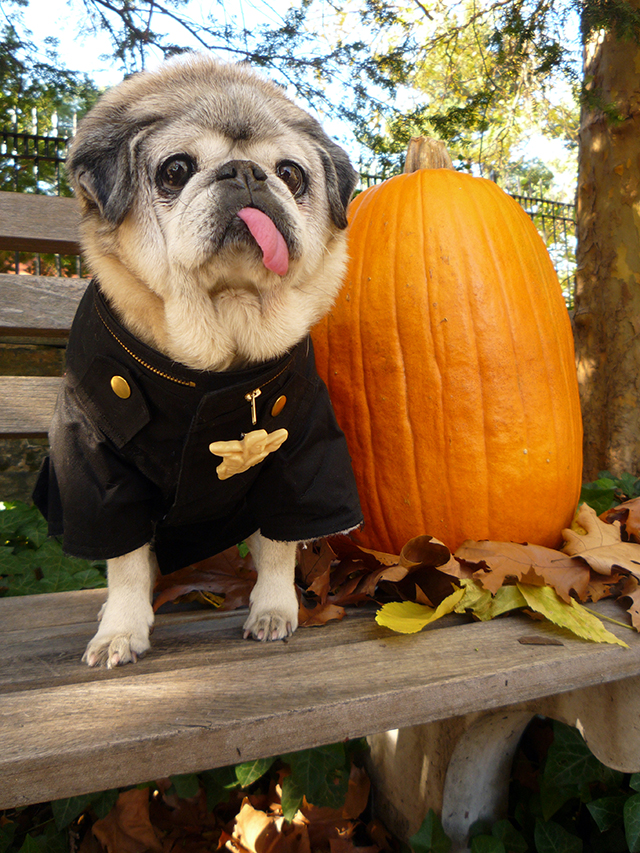 Whenever I hear people complain about how the Christmas season infringes on the Thanksgiving holiday, I only half sympathize with them. Yes, Thanksgiving is one of those holidays that seems to get shafted every year and in theory, this day of binge eating should be given proper attention that both Halloween and Christmas get but let's face it, there just isn't enough damn time to get everything done. If I don't start decking the halls of the Pug Palace almost immediately after I have dismantled Halloween, then I simply cannot flip a switch and have Christmas just appear on Black Friday. See, that's what I have been doing for the last three weeks, hanging over 1,000 vintage ornaments, and that doesn't include Mamma's exquisite Christmas tree, which I'm only half way through decorating it. I've got more ornaments to hang and more boxes and boxes seem to appear whenever I turn around. So you see, I have no time to think of cornucopia displays, turkeys (although in our house, that would be a tofurkey for Tommy) and harvest themed decor that may or may not involve pilgrims and Native Americans made to look like they had a peaceful encounter when we first arrived onto this continent! In Mamma's household, we go from jack-o-lanterns to Santa Claus seamlessly and I'm not ashamed to admit that.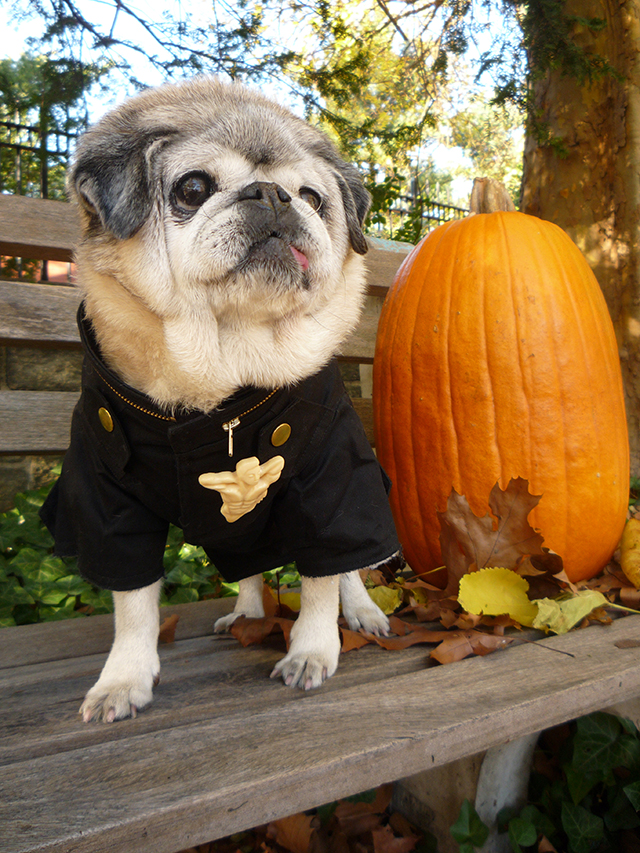 With that said, I do make sure every year to carve out some time to take some Thanksgiving portraits of our little gremlin to acknowledge all of the wonderful things we have and to give thanks. It's also a great way to document the pumpkin we pick up every year from the apple orchards as a prop before handing it over to my mother so she can make her amazing pumpkin frittellas, a traditional southern Italian recipe.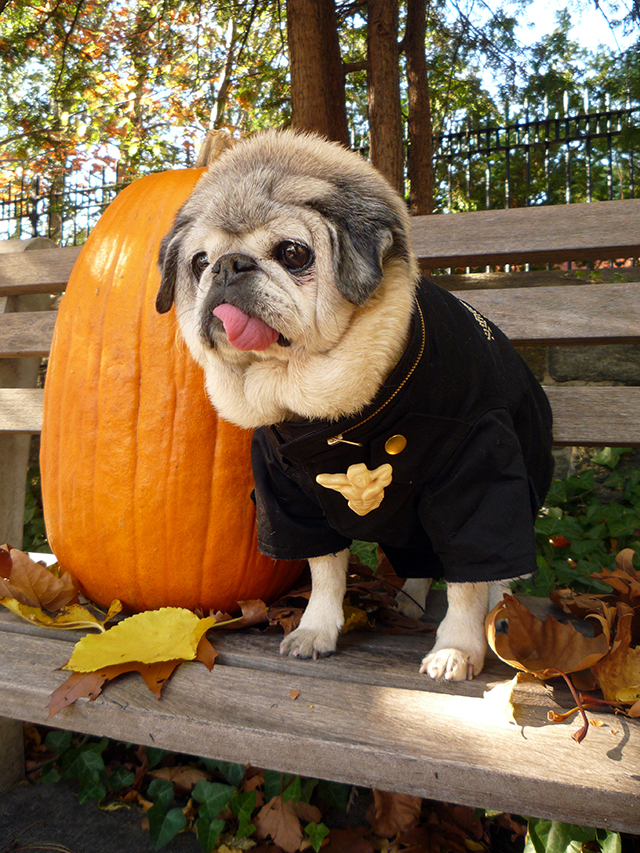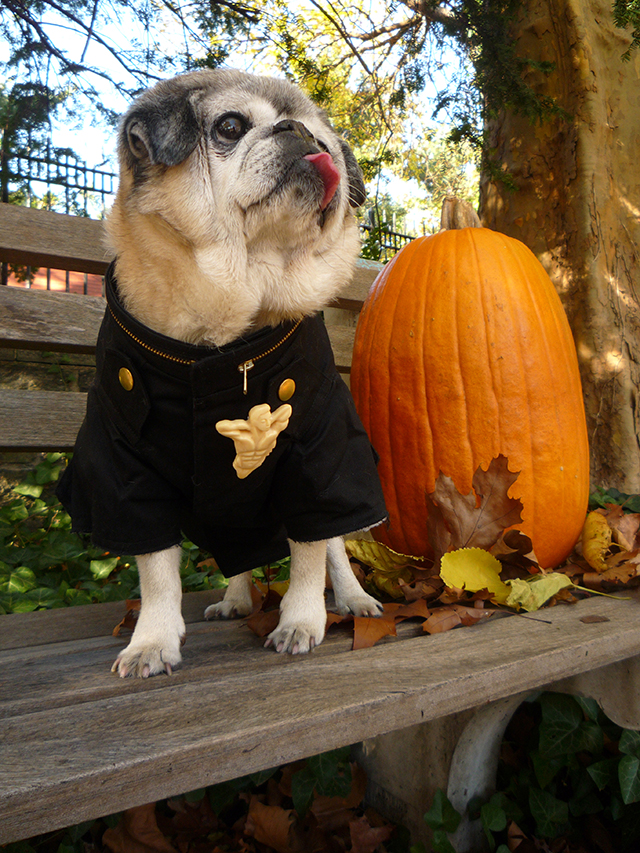 What to wear, what to wear . . . I love that I can just simply open up Mamma's closet and find some new sweater or jacket to throw on her for a quick photoshoot. This black cotton jacket with biker-style zipper details is the perfect Autumn jacket for our little gremlin. We paired it with one of our vintage bake light brooches of a man's physique . . . because Mamma can really appreciate the muscularity of a man!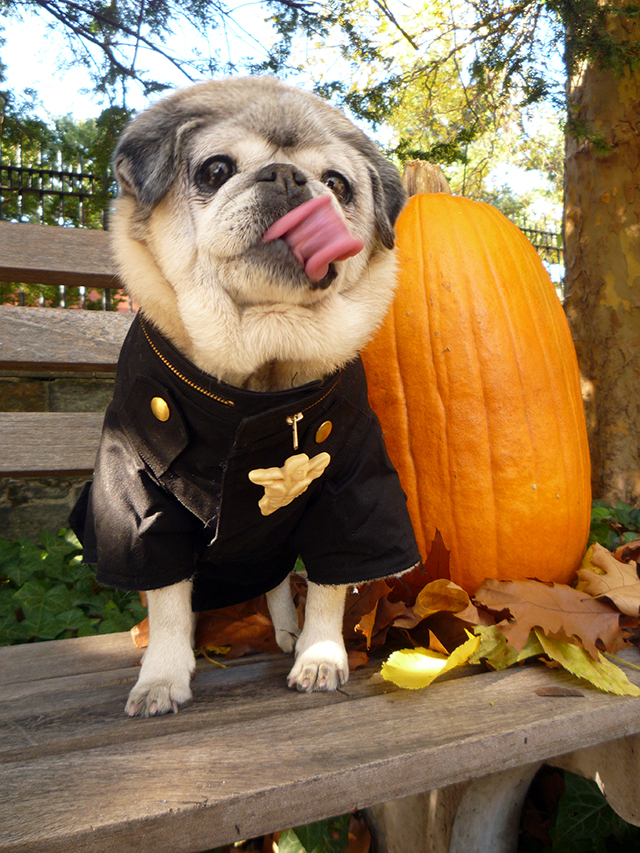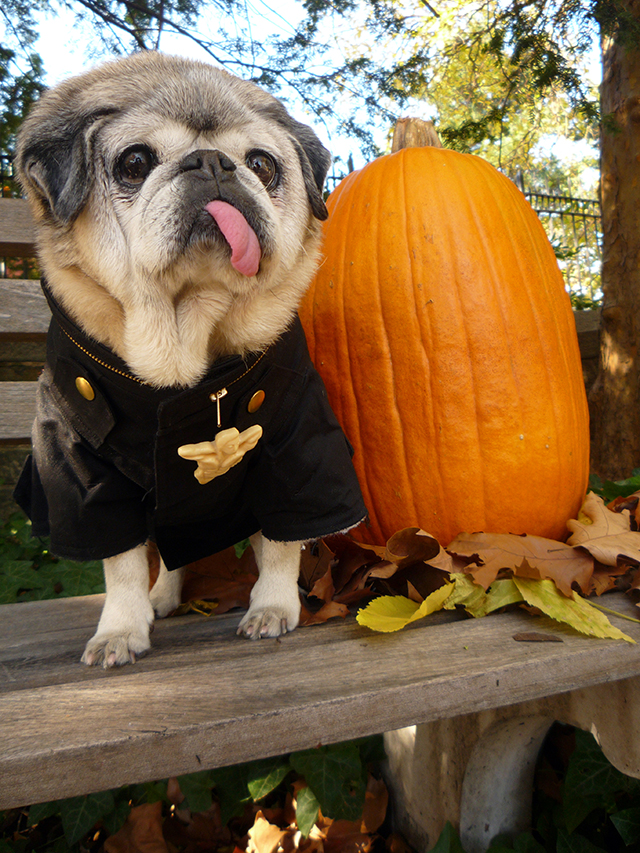 Of course, after five minutes of being on set, Mamma Biscuit begins to yawn. She gets bored very easily.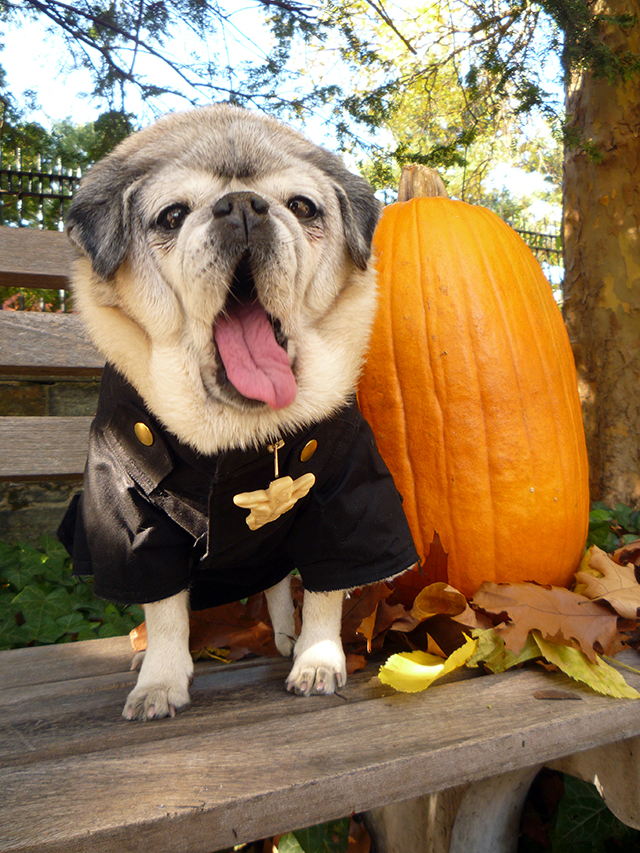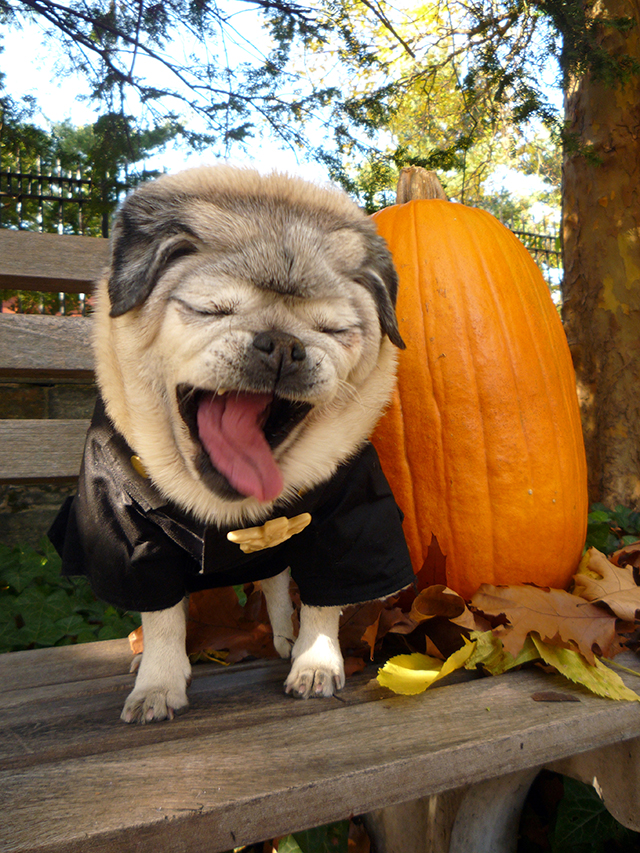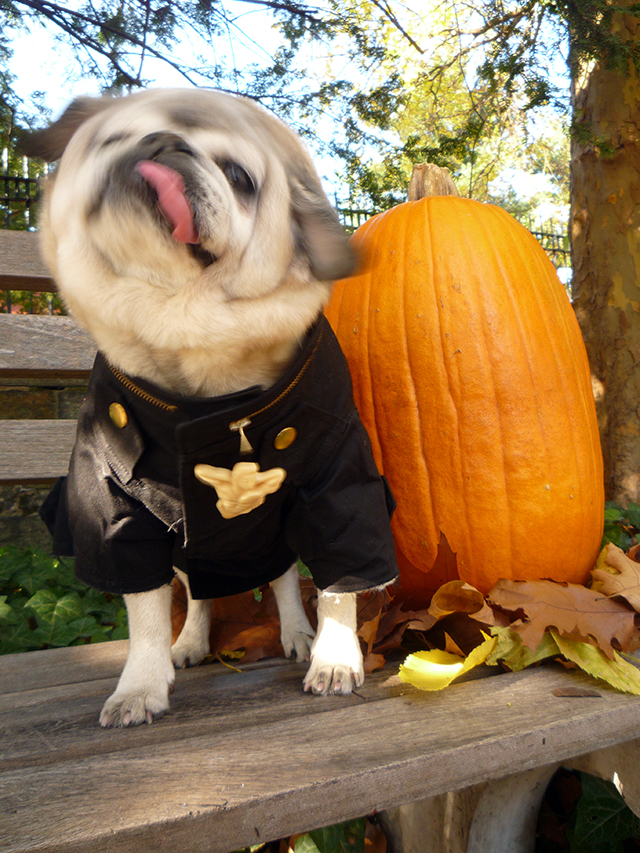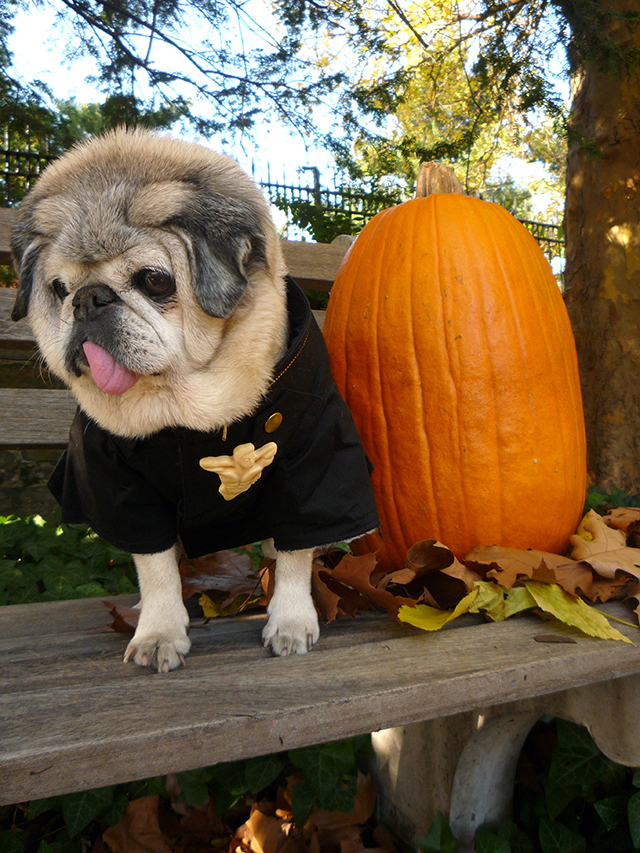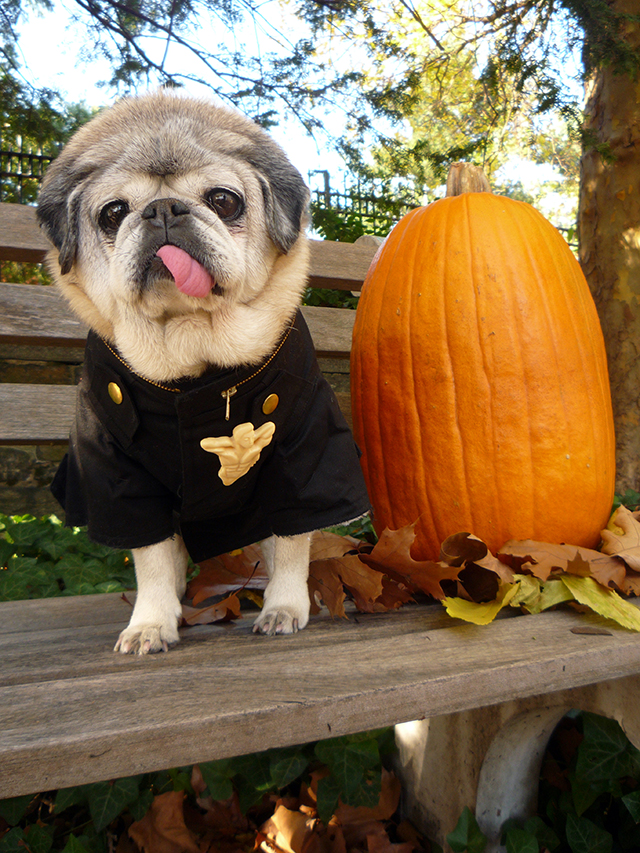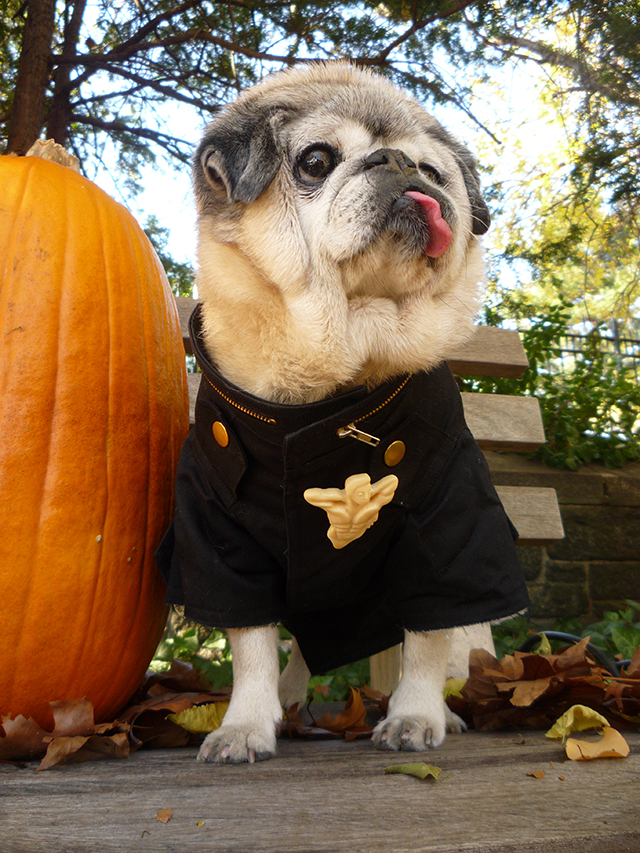 So, Mamma Biscuit and family would like to take this opportunity to wish you all a very happy Thanksgiving. Make sure you pace yourself at the dinner table and stay clear of talking about politics, unless of course, you've got Adele's new album to keep the peace!
Enjoy