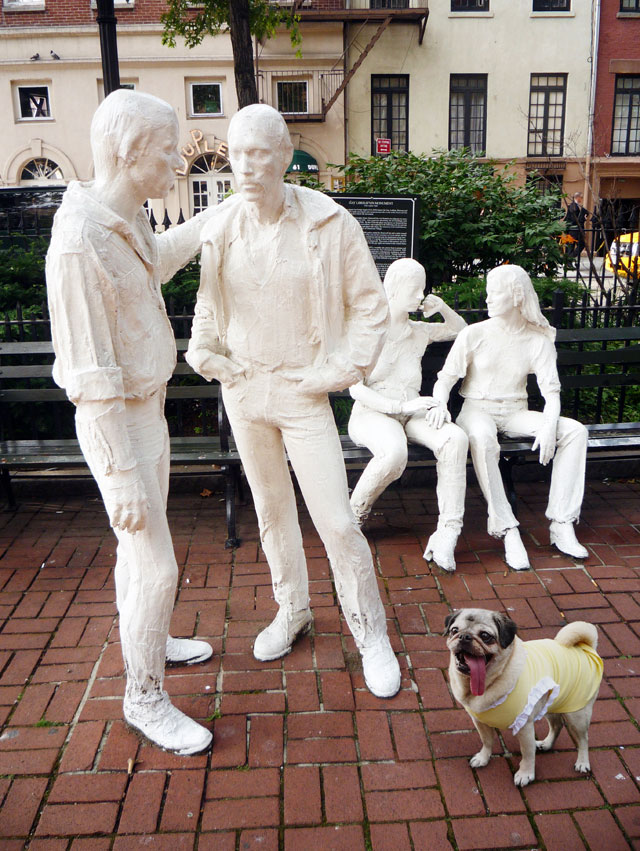 Mamma Biscuit and family want to officially kick off our Gay Pride weekend celebrations with a visit to Stonewall Inn and the lovely Christopher Park located directly across the street. Yeah, I know, you all are thinking that Gay Pride is all about showing off our bare chests and bulging muscles (a result of the Adonis Complex that we all suffer from, me included) or for some, shuffling off into the hot sweaty summer afternoon in a pair of ill-fitted heels and a wig (and to a certain degree, that's exactly what Gay Pride is about) but before we get to the eye candy and the fun festivities, a historical look back into the struggles that our community has endured is in order to fully appreciate the fabulousness that is the New York City Gay Pride Parade!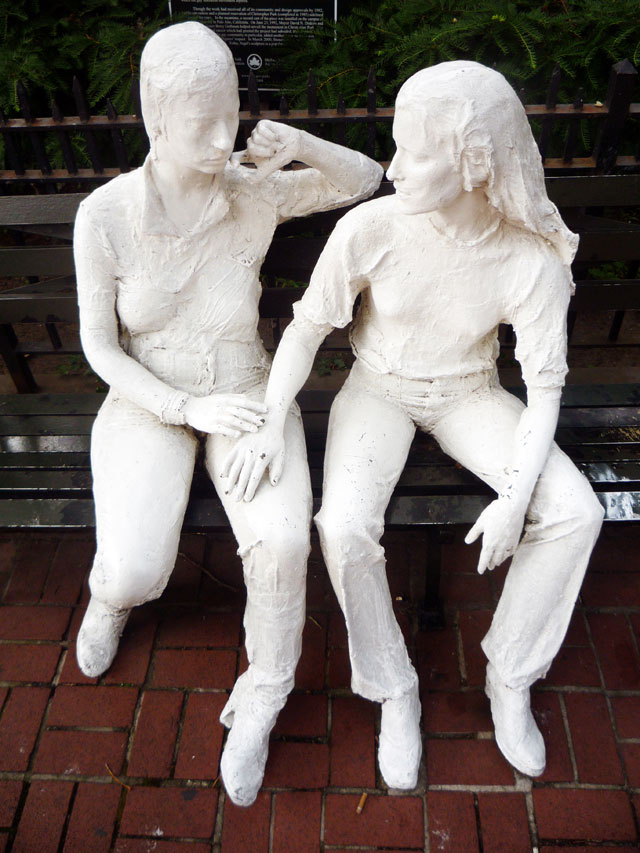 In the early hours of June 28th, 1969, police raided the Stonewall Inn Bar in the Greenwich Village neighborhood of New York City. This raid ignited a series of spontaneous, violent demonstrations against the authorities. When word of this raid and the overall resistance to it spread, tensions between New York City police and gay residents of Greenwich Village erupted into more protests the next evening, and again several nights later. I mean really, what were those dumb cops thinking when they decided to raid a gay bar filled with drunk drag queens?! Anyway, within weeks, Village residents quickly organized into activist groups to concentrate efforts on establishing places for gays and lesbians to be open about their sexual orientation without fear of being arrested. Simply put, they wanted to make a firm statement to authority and to the society at large that the LGBT community wasn't going to take their unjust discrimination any longer!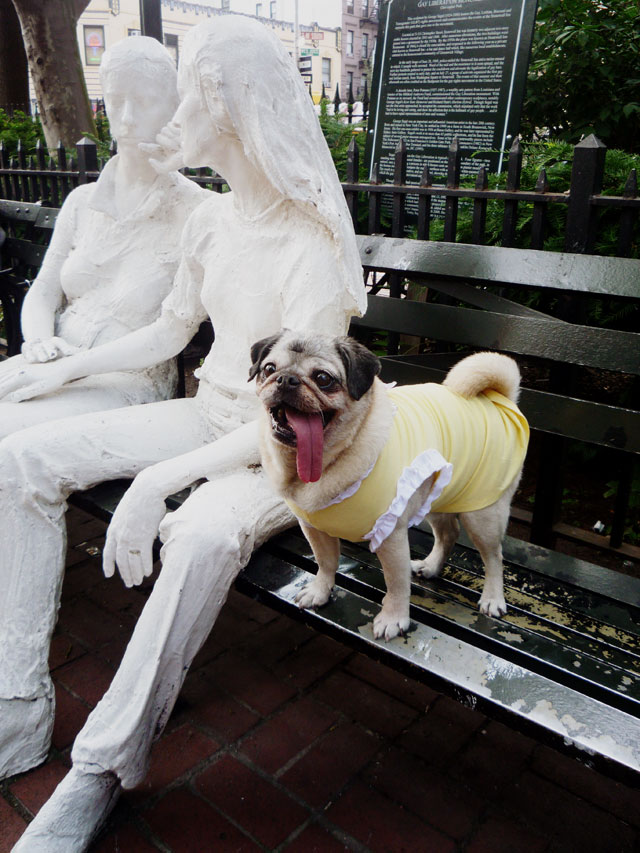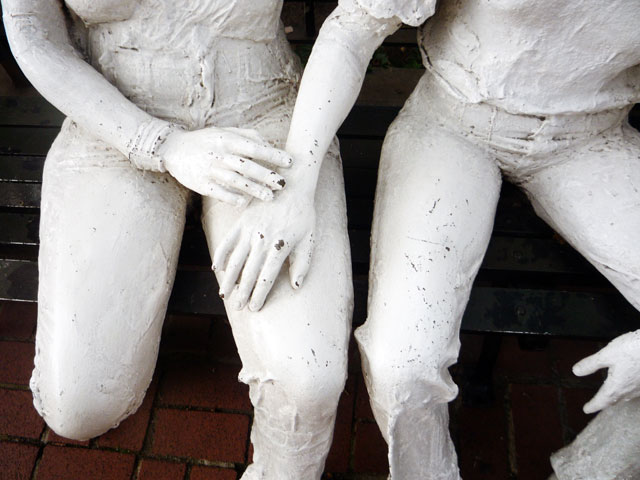 I feel like in our current culture, we throw the word hero around very loosely to describe random acts of kindness but I have to be honest, the fact that these brave men and women challenged such a homophobic police squad in an effort to demand the rights to simply exist and gather within a gay establishment without being physically assaulted, harassed and incarcerated by them is the courage and resiliency that drives our community and is the pure definition of what heroes really are!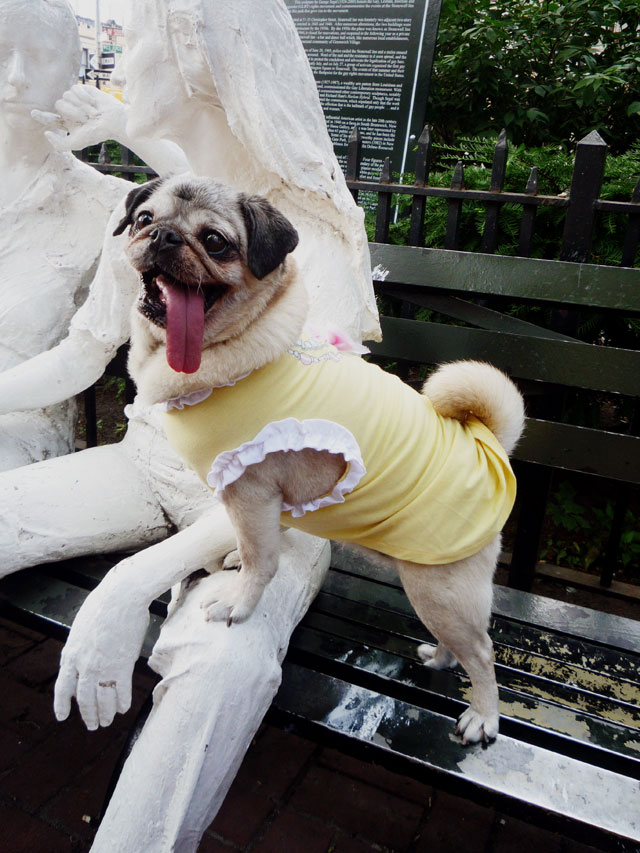 Mamma Biscuit definitely needed to be schooled on our LGBT history—not only because it's important for her to know just how lucky her two daddies are in 2012 but because she herself has developed into a bit of a gay icon as well! So off we went with our little gremlin to visit the Gay Liberation monument commissioned by Peter Putnam (1927-1987) located in Christopher Park directly across the street from the Stonewall Inn—where the LGBT rights movement started that very night 43 years ago. So there we were, trying to snap a bunch of photos of Mamma Biscuit as she used the leg of a lesbian made of painted bronze that was cast from plaster as a springboard for obtaining a soft-chew treat that Tommy dangled before her eyes. Mamma sure knows how to drum up a crowd of onlookers—albeit most were homeless and a bit cracky but you get my point.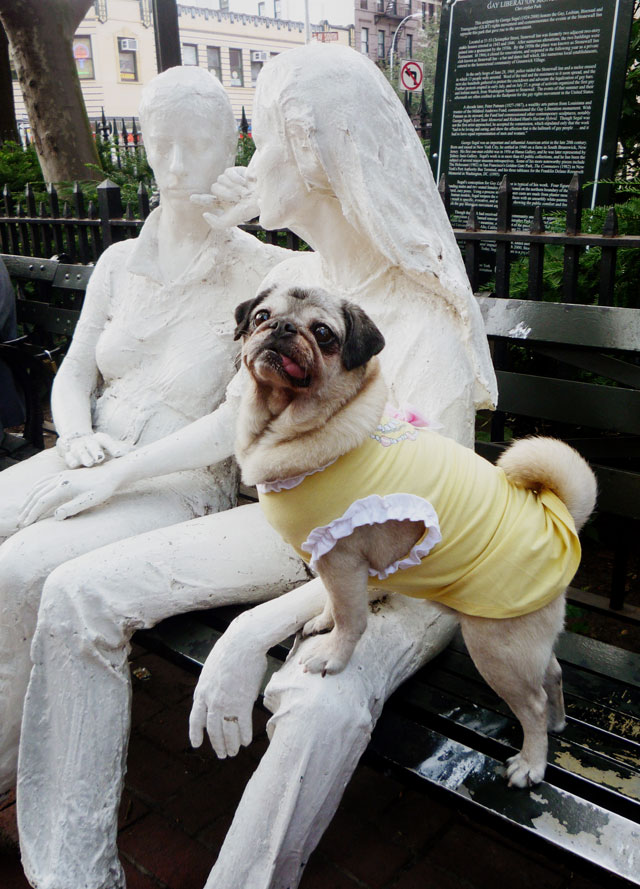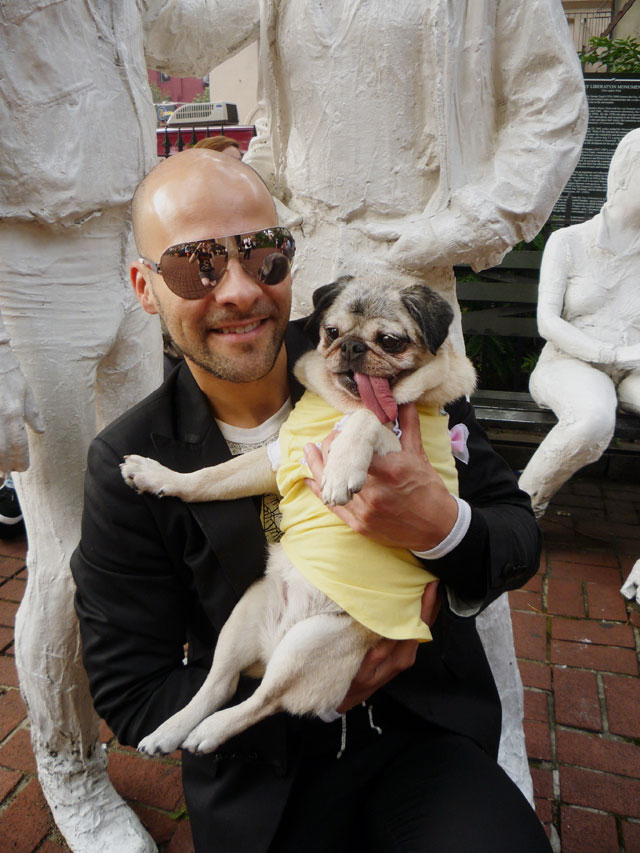 I'm almost positive that artist George Segal would have approved of Mamma Biscuit jumping up and down and all around his monument since the work itself is a depiction of two couples (gay and lesbian) engaging in a loving, caring and affectionate way—the very hallmark of LGBT people! There is nothing more caring and more affectionate than our little Biscuit Lady so draping her stout and furry body all over the Gay Liberation Monument practically enhanced the public piece of art in my opinion!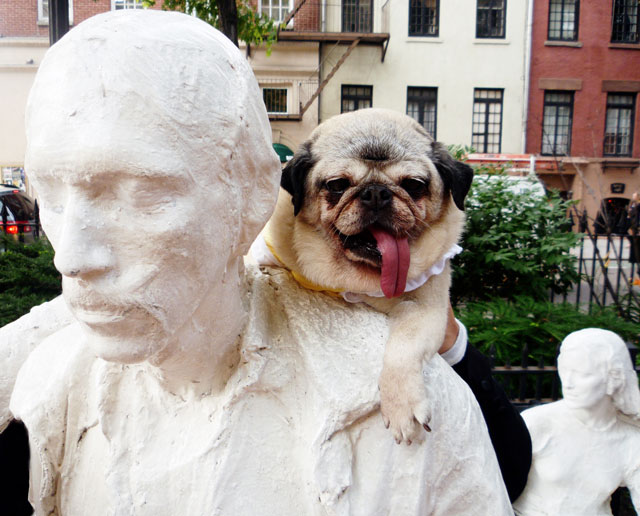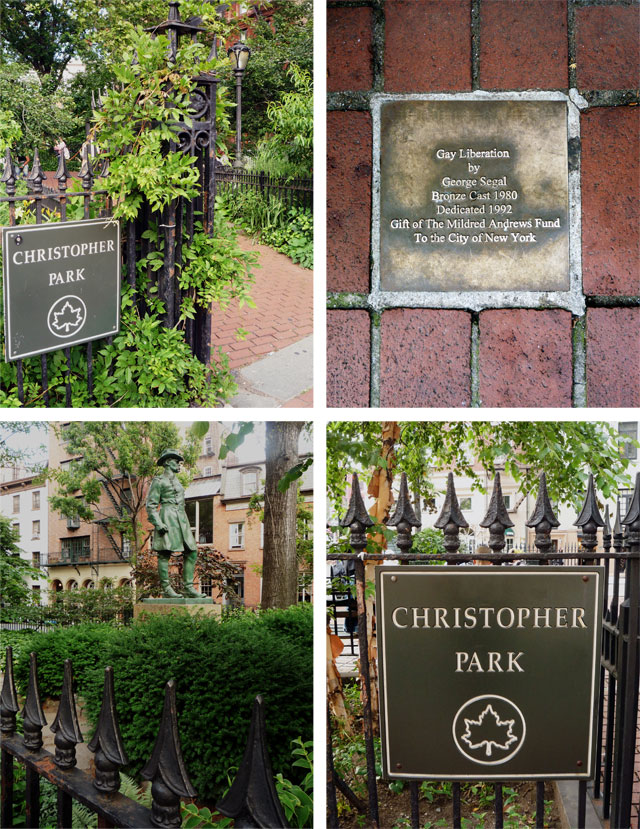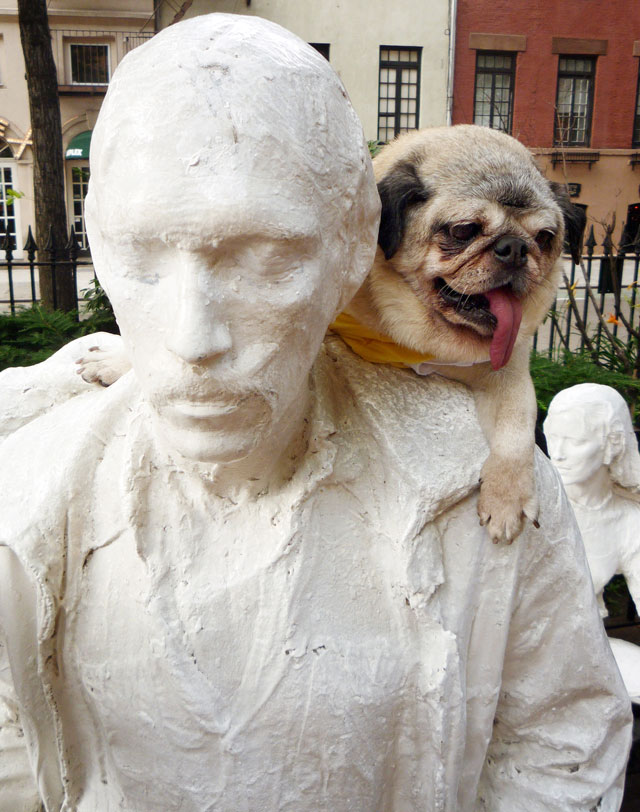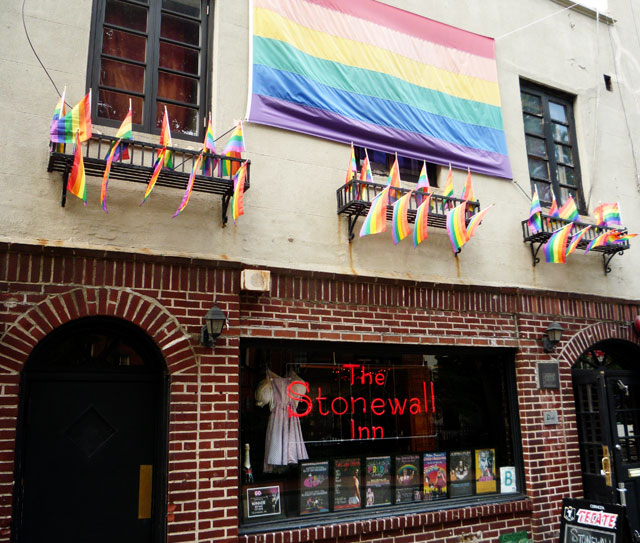 From Christopher Park, we walked along Christopher Street where we stopped in front of a bakery to take a few portraits of Mamma Biscuit. Actually, the bitch stopped us abruptly from our walk because she smelt the amazing aroma of baked goods wafting out from the open front door of the bakery. Plopping Mamma Biscuit on that bench to snap a couple of photos was an obvious opportunity I just couldn't pass up!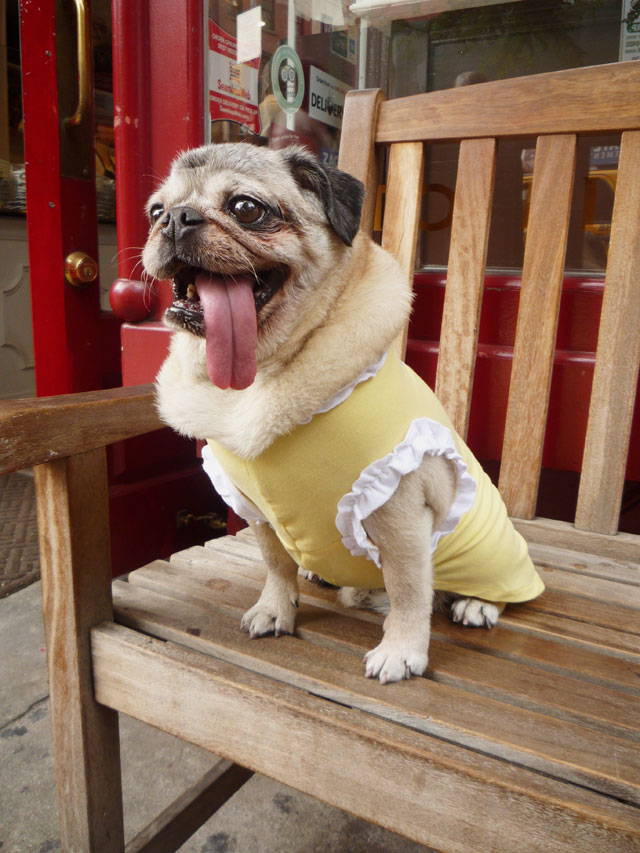 Mamma drew a huge crowd along this busy corner with her floppy tongue and unbearable cuteness and at one point, she had so many admirers that she could have been the grand marshal of Christopher Street. As I was taking photos of her, there were several other tourists and locals taking the same photos with their own cameras!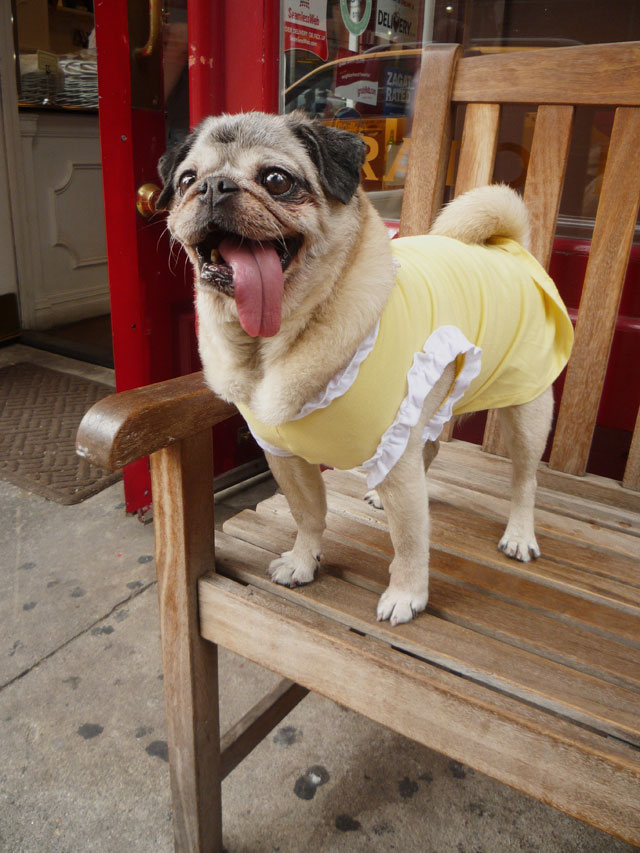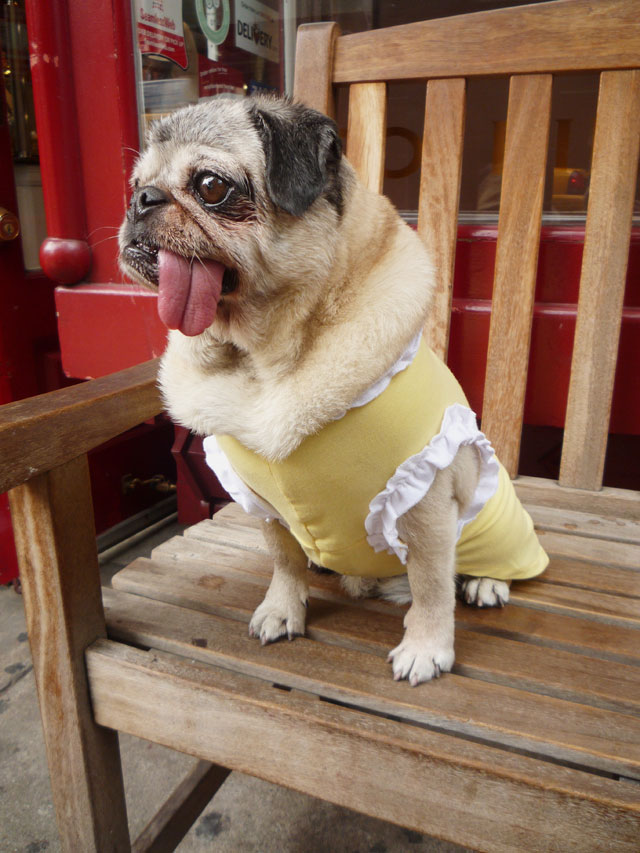 From Christopher Street, we took a right onto Bleeker Street and stumbled upon what seemed like the perfect ending to this Gay Pride history tour with Mamma Biscuit—a Karl Lagerfeld pop up shop! This store was exactly what Mamma Biscuit and I needed before heading west bound to get a bite to eat at Blossom Du Jour. Nothing says Gay Pride more than a stuffed doll of Karl Legerfeld amongst a store filled with over priced clothing depicting Karl's face. The only thing missing from that doll was a bunch of push pins because knowing how sulfuric Karl's forked-tongue and mouth can be, why wouldn't he have made his likeness into a voodoo doll?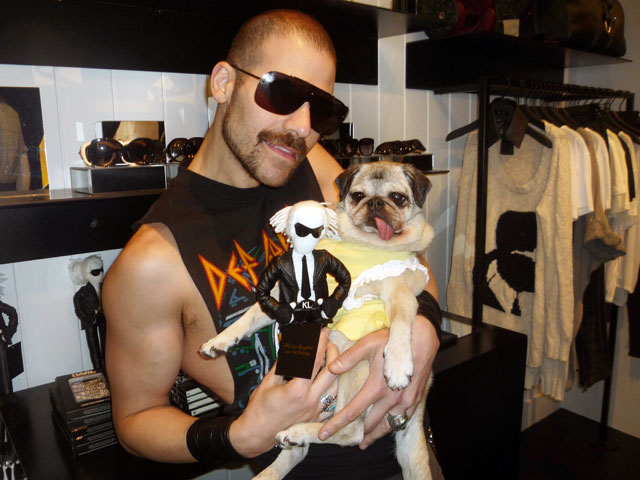 So this Sunday, before heading out to the Gay Pride Parade here in New York City, take a moment to reflect on just how lucky we really are. Although we have a long way to go in breaking down negative perceptions and stereotypes of who we are as people, as Americans, we sure have the luxury to simply exist, couple, congregate and most importantly publicly speak out on the political issues that affect us the most. Think about those courageous people back in 1969 who finally stood up to authority and demanded to be treated like a human being. Thank them for chipping away at homophobia in this country while risking their very own lives. Most importantly, think about all LGBT people from around the world who are suffering right now as if it were 1969—as I wrote last year for gay pride, when one suffers abroad simply for being gay, we all suffer. As for Mamma Biscuit, she knows a thing or two about the lack of freedom considering she was incarcerated in a puppy mill for the first 8 years of her life. For Gay Pride 2012, Mamma Biscuit is sending her pug hugs and kisses to every LGBT person on this planet!

Oh, one last thing, take a look at the enclosed trailer for Stonewall Uprising to get an idea of how horrifying it must have been as a gay man or lesbian woman living in 1969 in this country—this is how the LGBT Rights Movement all unfolded and there is no stopping us!
Happy Pride Everyone!