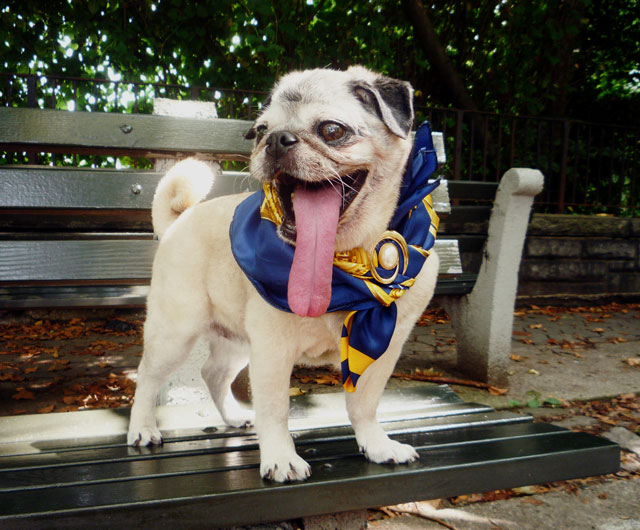 A girl can never have too much Chanel in her wardrobe when living here in New York City—and you know Karl Lagerfeld is in his studio right about now with a diet coke in one hand, a line of cocaine and a mirror in the other while looking at a pile of houndstooth fabric and repeating that very same sentiment in his head as he begins to toil away on his next collection! In my case, that's the exact thought that was running through my head when I found myself rummaging through a pile of vintage scarves in a consignment shop and came across this silk beauty. Now everyone that knows me well knows that I could care less if this scarf is an original left over from a closet sale straight out of Coco Chanel's apartment in Paris or one of the many fakes flanked alongside every shop on Canal Street! The point here is that a double-C logo, gold gilded illustrations of chains and royal blue silk all priced at a buck and a quarter is a find in my book no matter what side of the economic bracket you belong to! How could I not get this for Mamma Biscuit? Especially since she already has a Givenchy scarf in her wardrobe! I still remember the dead pan look on the cashiers face when I brought it up to the counter to purchase it. 'YEAH, that's right bitch' I thought to myself as I plunked down my pocket change. It takes a gay man with a discerning eye like myself to pull a miracle out of a dusty box of old, dull and nameless scarves! What's even better is that it was still wrapped up in the original packaging and had never been worn before—what a score! Now that dead pan look on the cashiers face turned into regret and envy very quickly when I told her that the scarf was intended for our chic and stylish pug: Mamma Biscuit—and then I turned on my heel and chuckled to myself as I walked out of the consignment shop! Now if that experience doesn't define the term highway robbery then I have no idea what would!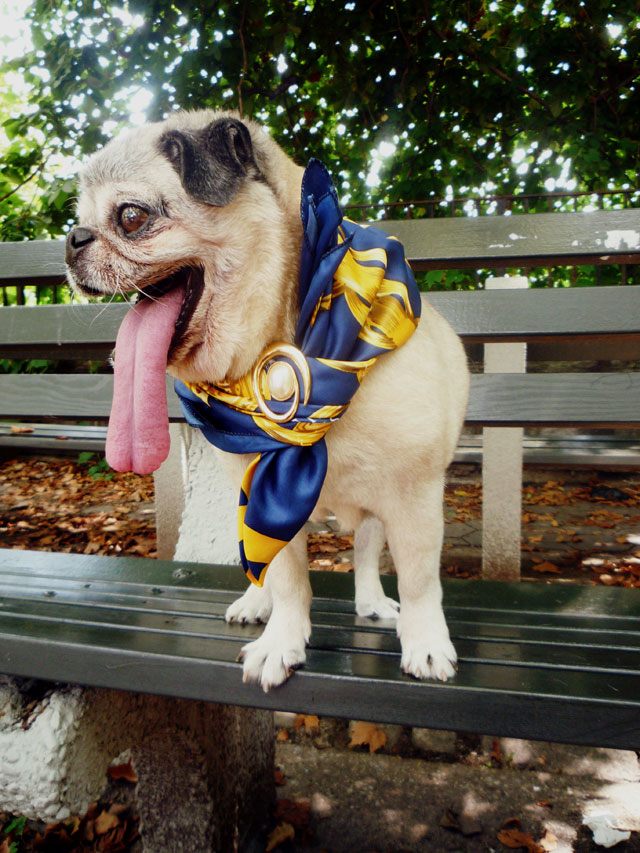 At any rate, here are a few snapshots of our Biscuit Lady decked out in her new Chanel scarf/handkerchief. I fastened that ever-so-fashionable knot with a pearl and gold brooch that Tommy and I picked up from an apartment sale in our neighborhood this past Spring for twenty-five cents. I then tilted the entire knot with the brooch to the side of Mamma's adorable face to make her look more Parisian!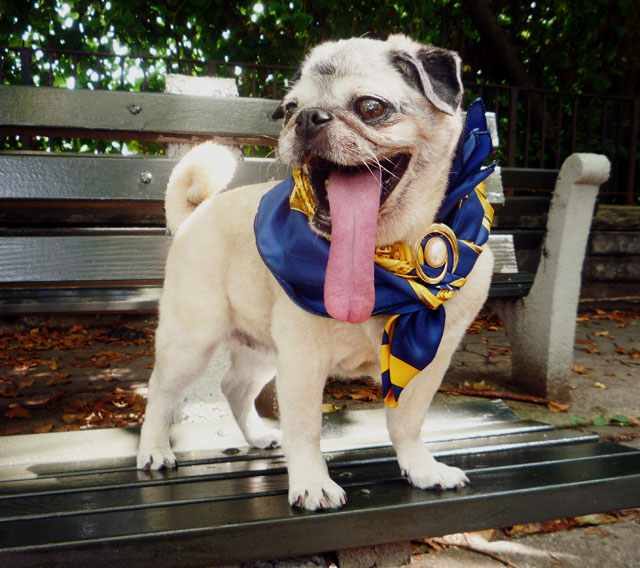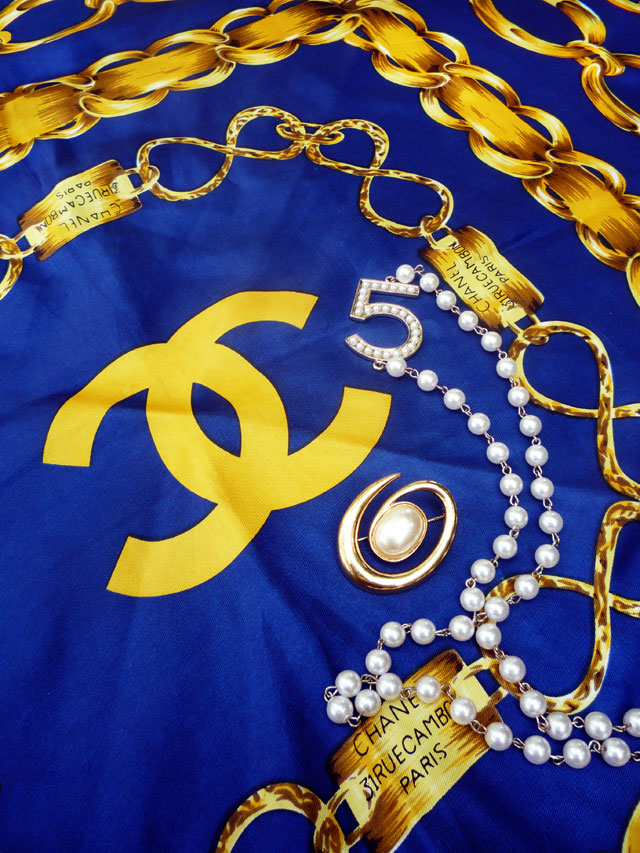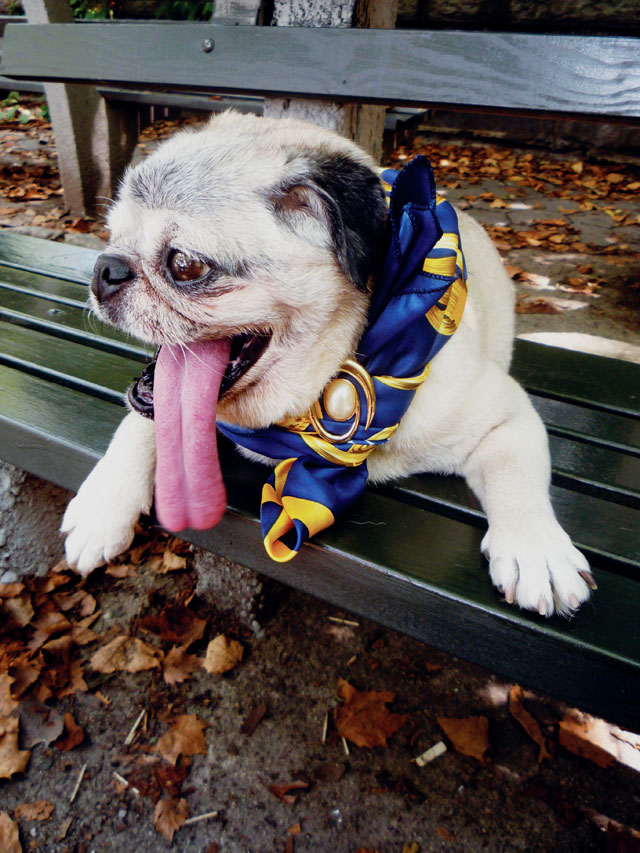 I sure know how to whip up an expensive-looking ensemble for mere pennies and I have to admit, I'm really enjoying how fantastic Mamma Biscuit's fawn coat looks paired with royal blue silk and gold accents, don't you?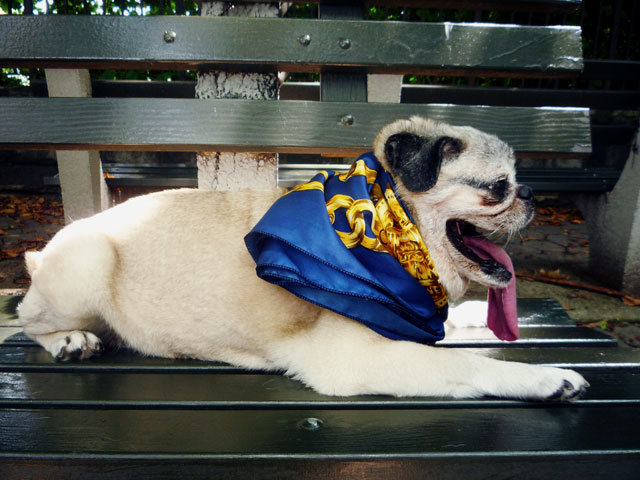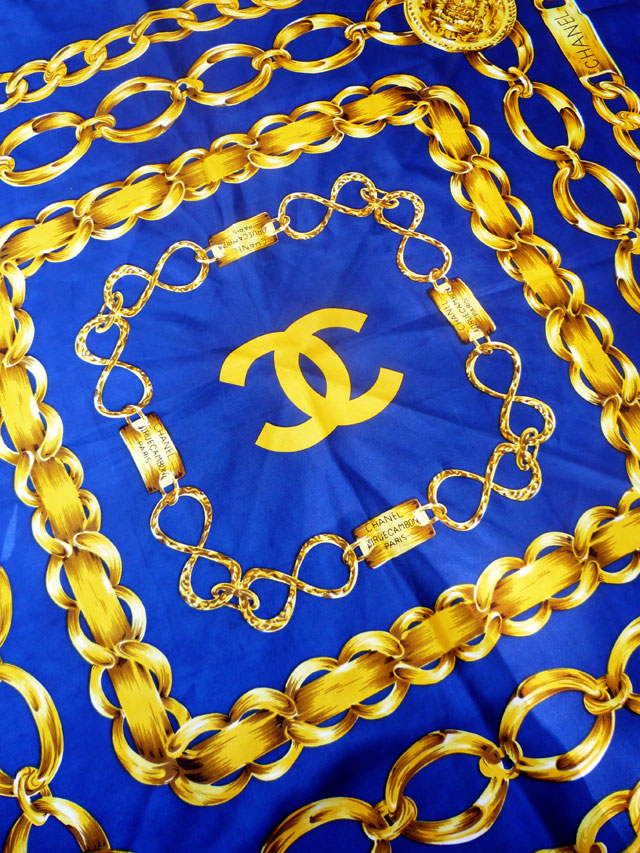 I don't think that Mamma had the slightest idea that one day she would be dragging her long and wet tongue across couture silk and posing for the camera when she was being tortured in that terrible puppy mill we rescued her from. Take note people (and dogs), dreams do really come true!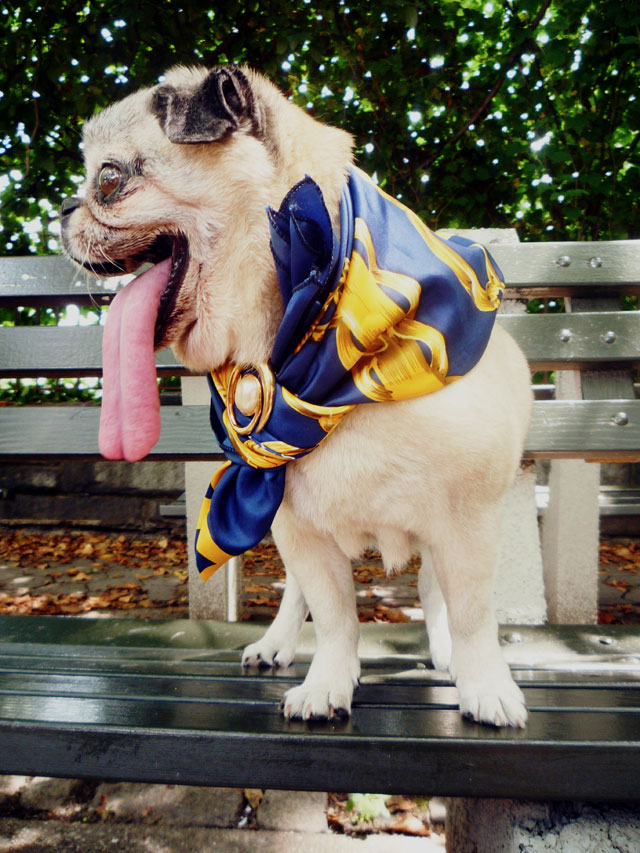 Now you might be wondering where Mamma is heading off to looking so fabulous in her Chanel scarf and well, she's got a busy day ahead of her! She'll be taking a stroll down Madison Avenue for some window shopping, then lunch with the Real Housewives of New York City at the Russian Tea Room followed by a quick visit to the MET before heading out for drinks to celebrate Madonna's birthday at some swanky bar downtown!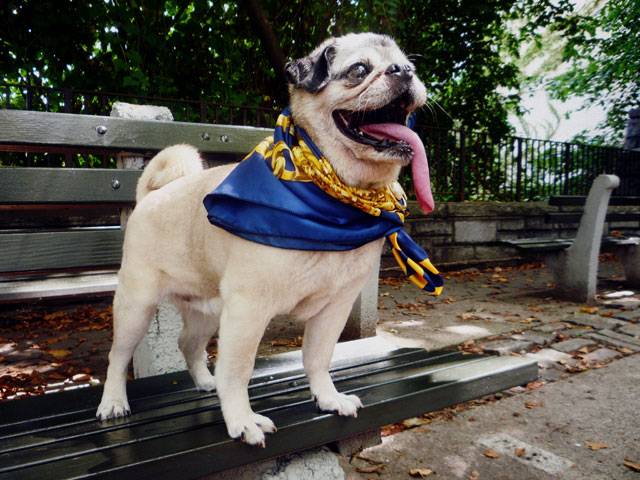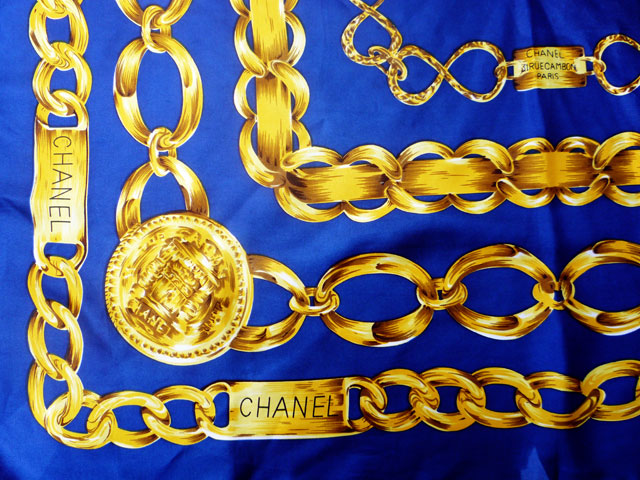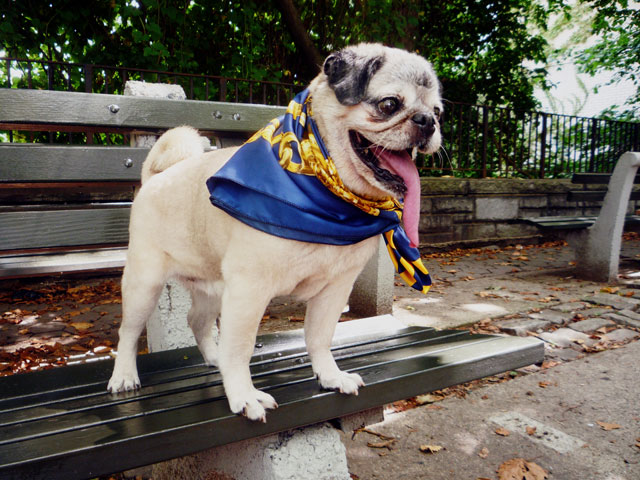 Yes people, today is the Queen of Pop's birthday and last years post can better illustrate our total love, devotion and appreciation for her and her fantastic career.
In the meanwhile, settle into this amazing backdrop video for Madonna's Justify My Love that is featured on her current MDNA Tour! Tommy and I will be going to see this bitch in all of her glory this September and honestly, we are counting down the days! Take note people, this is what 54 looks like! As for that miserable fuck Elton John, it's pretty obvious that he hates Madonna because she is the woman he has always wanted to be in life but that he simply cannot be. What Madonna grosses with every record-breaking tour she embarks on, Elton hasn't made in his entire career or could even imagine making! So to Elton we say, keep putting your fat foot in your mouth attached to that head of yours that resembles a hard-boiled egg when you throw ridiculous insults in Madonna's direction—it's really the only relevance you have!
Madonna performing an impeccable set for Vogue at the Olympia in Paris—this bitch is nothing short of FIERCE!
Let's also relive the Truth or Dare trailer—that famous scene where Madonna is in the Chanel store and answers the phone: "Chanelta on line 1" snap!
Madonna, like Chanel and Mamma Biscuit = Timeless!
Happy Birthday to the Crypt-Keeper of Pop!
Enjoy