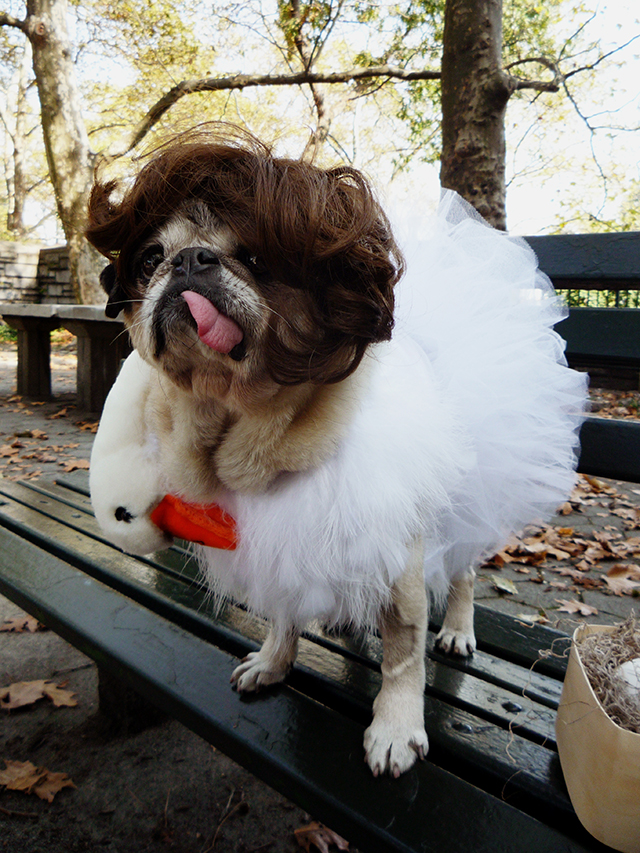 If you happen to hear indiscernible sounds of low grunts, snorts, and quiet whistles that are typical of the Mute Swan combined with Scandinavian melodies set to experimental-electronica music—all coming from the Pug Palace up in Washington Heights, DO NOT CALL 311! Have no fear people, it's just Mamma Biscuit morphing into the Icelandic, Avant-garde beauty known as Björk! Now I've said many times before that Mamma Biscuit has a selective group of icons in her Pantheon of inspiration (see Anna Wintour and Madonna) and it would be incredibly remiss of us not to showcase and honor our love for Björk from that very list—an artist who has been such a huge fashion influence to us and the modern fashion world we currently live in! Come to think of it, Mamma's pig-like-snorting sounds could very well be the background audio to a typical Björk song. I think we should rush her into the studio at some point to record a demo to send to her—hey, you never know!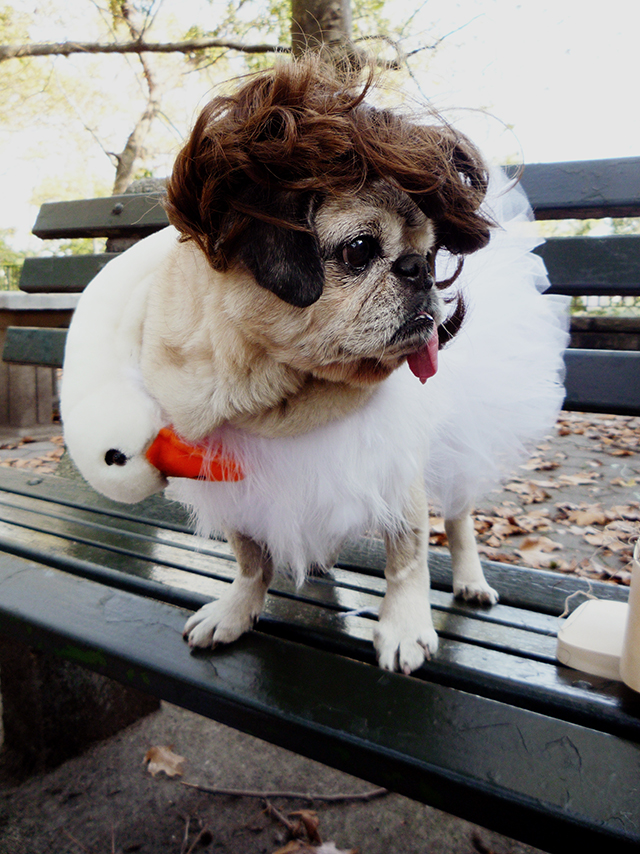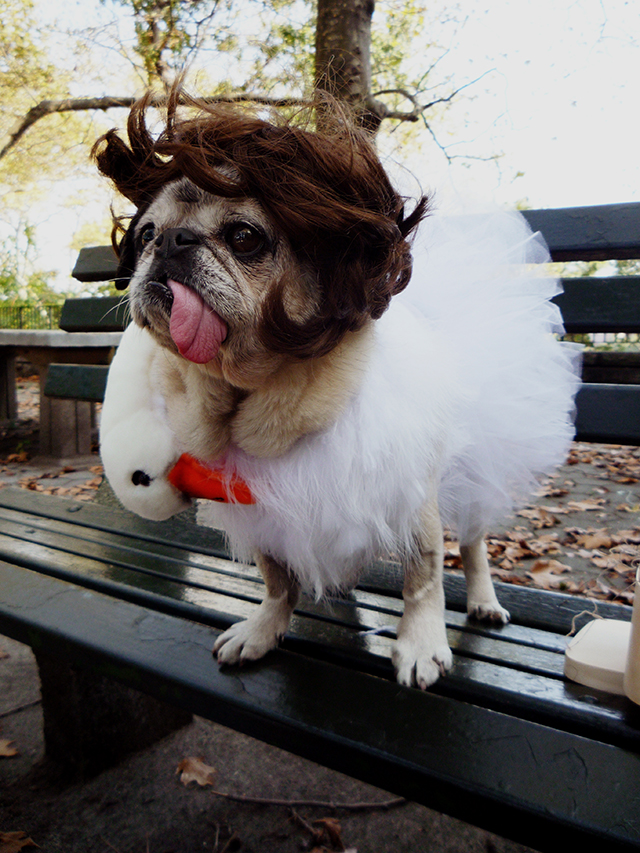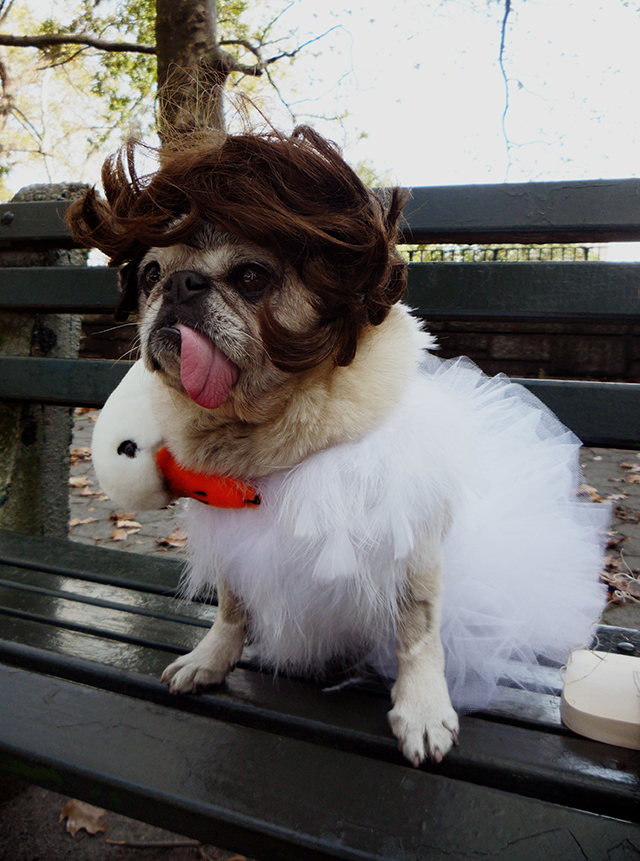 Now before we continue on with Mamma Biscuit's costume, let's take a walk down memory lane for moment, shall we? Picture it, March 25th, 2001 (Jesus, I sound like Sophia Petrillo from the Golden Girls) anyway, Björk is on the red carpet of the 73rd Academy Awards wearing a white swan dress by Macedonian designer Marjan Pejoski. Remember that red carpet moment? The entire look came complete with a performance where she simulated laying an egg right in front of everybody. Now unfortunately, the dress was widely criticized and seen as outrageous and outlandish. It was talked about in the fashion and entertainment world for many weeks after the awards show and became that year's fashion faux pas!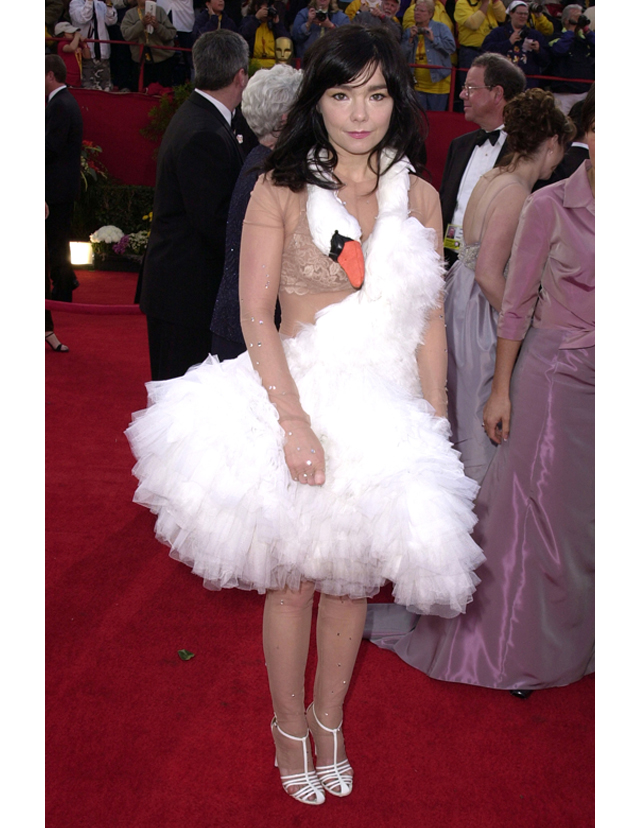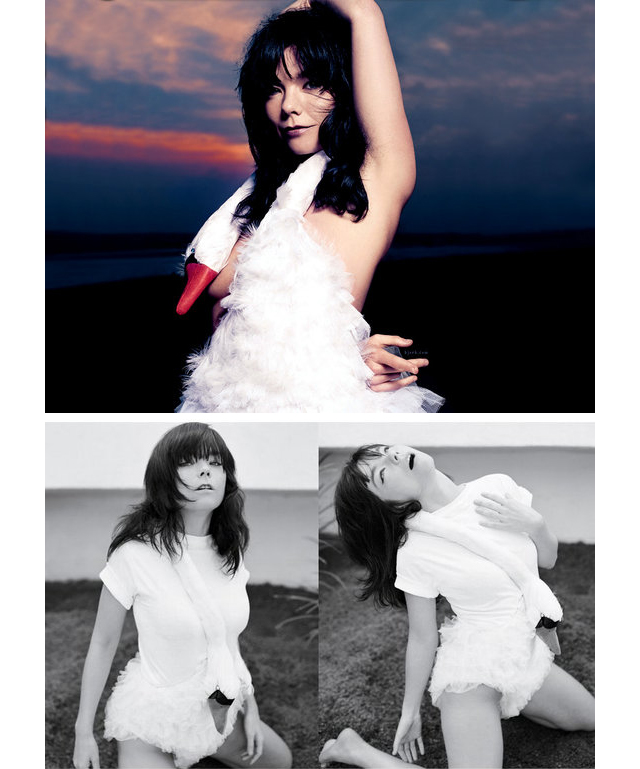 Jay Carr of the Boston Globe wrote, "Björk's wraparound swan frock . . . made her look like a refugee from the more dog-eared precincts of provincial ballet." Steven Cojocaru called the dress "probably one of the dumbest things I've ever seen". Please, like Cojo has a leg to stand on, the man looks like a cross between Steven Tyler and a Lesbian suffering from a bad case of Botulism! Joan Rivers (she's the equivalent of God to me so whatever she says, I can roll with) remarked "Later I saw her in the ladies room spreading papers on the floor . . . This girl should be put into an asylum." I nearly choked from laughter on that last quote. I love Wikipedia because that's where I pulled all of these damn quotes from in case you were wondering! Anyway, the dress wasn't hated by all. In fact, it was praised by some for its originality. The New York Observer's verdict was "total overall j'adore" and Melissa Etheridge was also reported to have praised the dress. In response to the media hype, Björk said, "It's just a dress. I don't really know why I'm obsessed with swans but as I said, everything about my new album (Vespertine, 2001) is about winter and they're a white, sort of winter bird. Obviously very romantic, being monogamous. It's one of those things that maybe I'm too much in the middle of to describe. When you're obsessed with something, you can explain it five years later, but in the moment, you don't know exactly why. Right now, swans seem to sort of stand for a lot of things." Isn't it amazing that eleven years ago, this type of garment was wildly considered as a sign of lunacy and a total fashion faux pas to wear meanwhile Lady Gaga currently gets praise and adoration for taking the same concepts and ideas from people like Björk, Grace Jones, David Bowie and Madonna?!
Now what better way is there to fuel Mamma's foray into the Avant-garde than this fashion moment? I loved Björk back then for wearing this dress and I love her even more today—and so does Mamma Biscuit! Eleven years later and we here at the Biscuit Household still appreciate the true originality of this dress and we are still obsessed with it, if not more—and that's why Mamma has decided to reinterpret the swan dress (canine style) for all of you this Halloween season!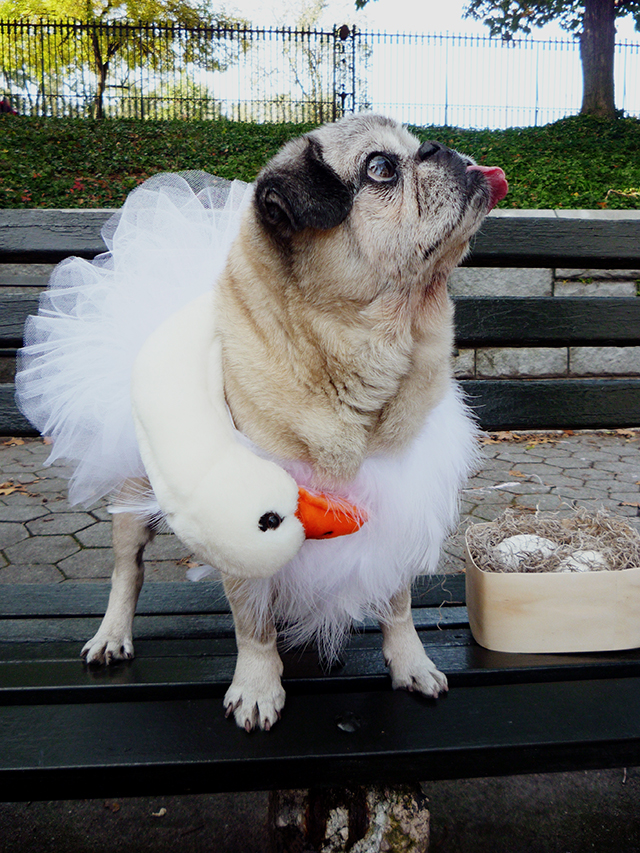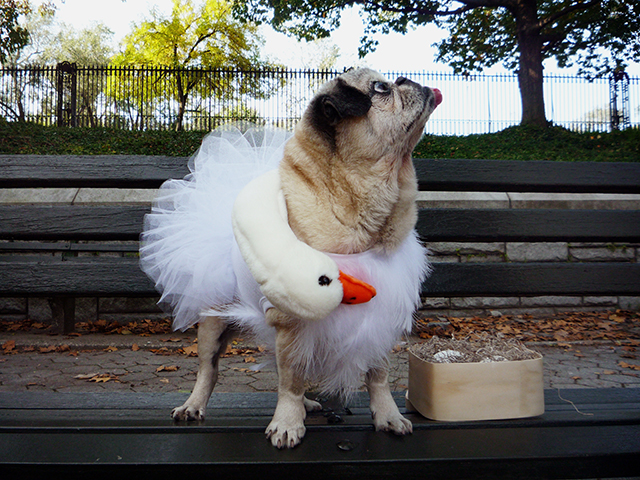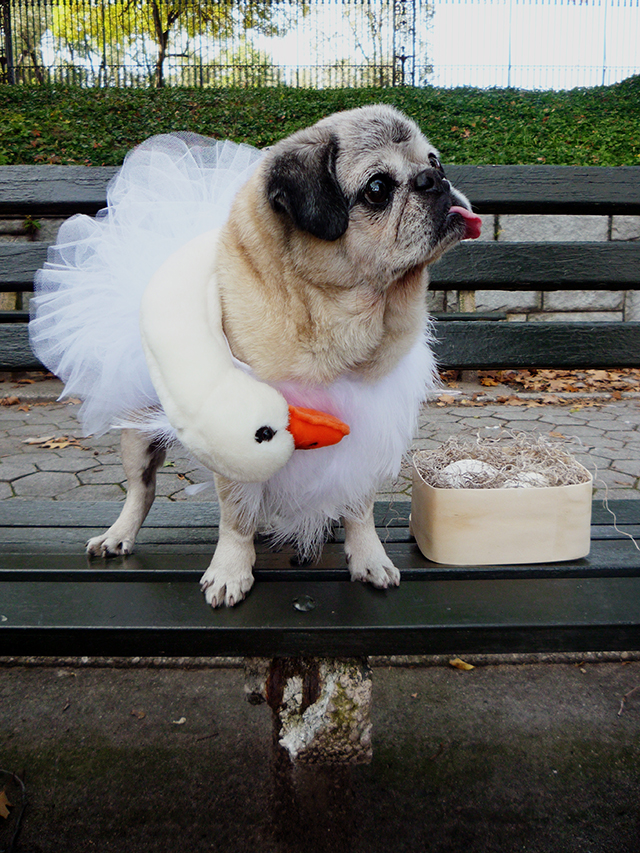 Now Björk may have had Marjan Pejoski design and craft together her swan dress but Mamma Biscuit has . . . well . . . me. All I can say is, don't underestimate a gay man with a hot glue gun, a bag of white feathers, tulle, a stuffed swan toy and a dream! Actually, this costume started off last year when I found myself roaming around an antique center in Boston (what else is new) and came across a pair of real ostrich eggs. Then, I found a doll wig at the Hell's Kitchen Flea market shortly after my return from Boston and thought, the universe is trying to tell me something here—and so the idea began to form in my head of Mamma Biscuit as Björk in the infamous swan dress!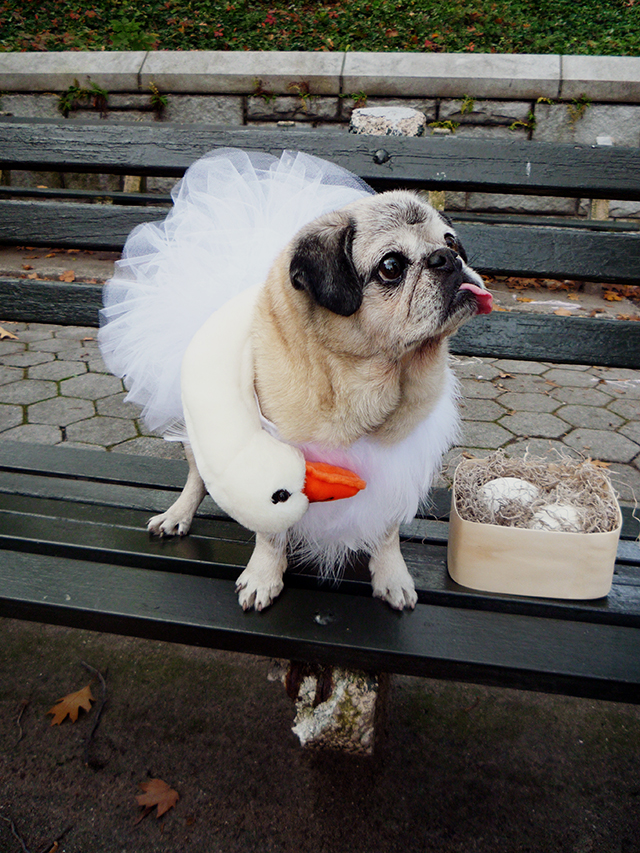 Speaking of wigs, Mamma sure knows how to work a brunette curl better than any pooch I've ever encountered and since she already has a dainty, delicate and pristine disposition, she can carry this swan ensemble with extreme grace and elegance!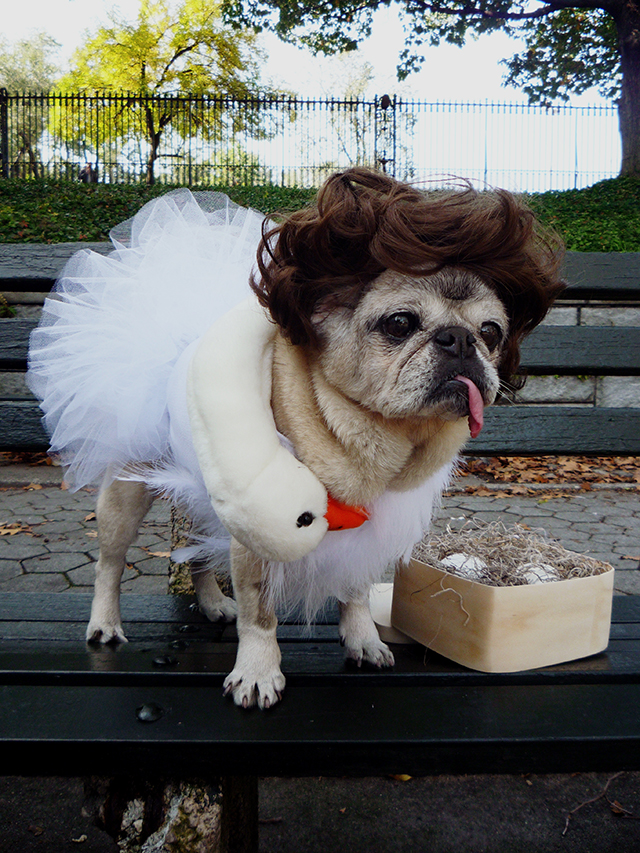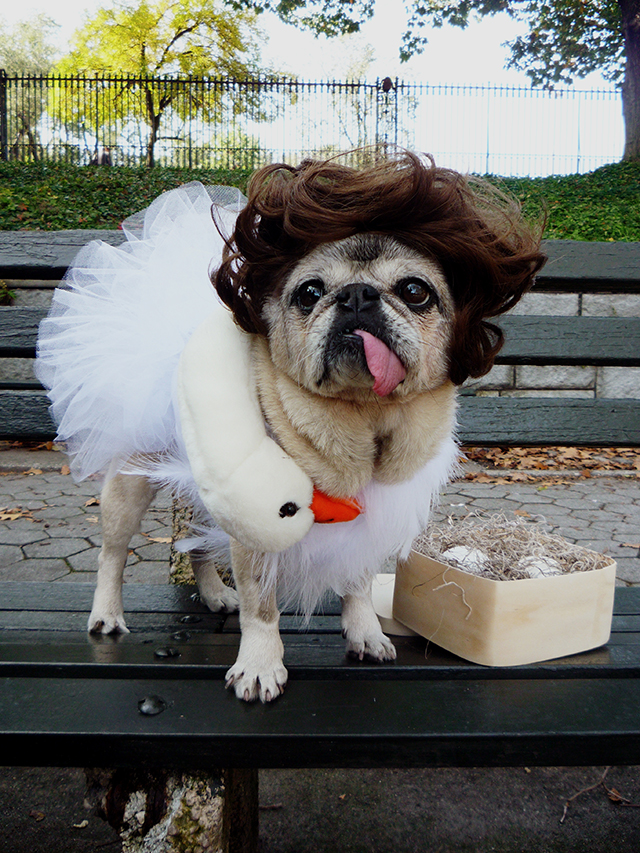 This year we have decided to take Mamma Biscuit and her costume to the big leagues by entering her into The 22nd Annual Tompkins Square Park Halloween Dog Parade. The event took place last week on Saturday, October 20th and boy did we make a big splash! For those of you don't know, this event here in the East Village of New York City is the largest Halloween costume contest for dogs in this country—more than 500 dogs show up and show off in their finest costumes. Here's how it works: there are 3 groups of dogs that get reviewed and judged between noon and 3pm. Within each group, the panel of judges vote for a top 10 list of dogs resulting in 3 number 1 slots that get a final review at the end of the contest for Best in Show winner! You all will be happy and proud to know that our little Biscuit Lady placed number 8 in the first group and won a prize of a free day at a doggy spa and a gift certificate to The Bean.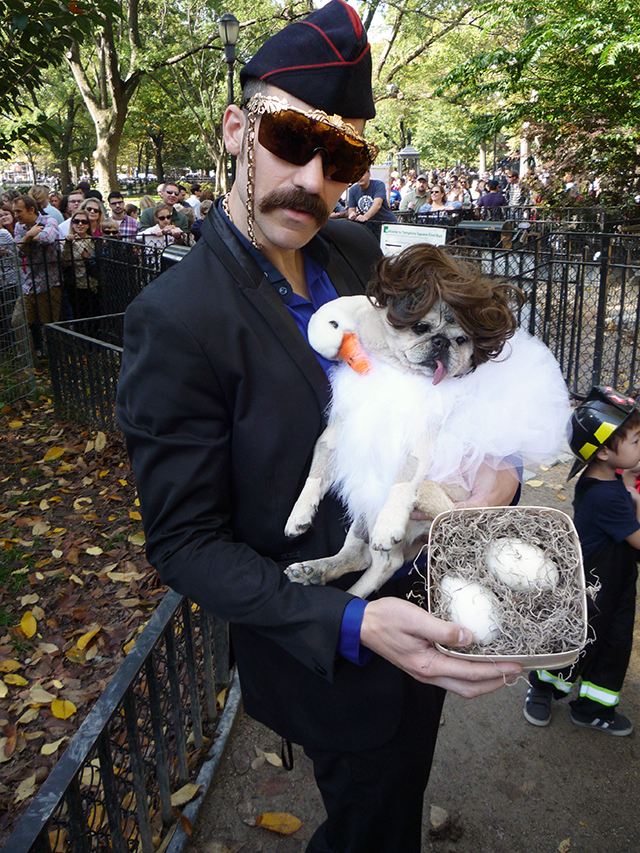 We were so honored to even be recognized in the top 10 list considering we were chosen out of 200 dogs and some of the best costumes (including the one that won Best in Show) were all part of that first batch! If that wasn't fabulous enough, Randall, the man who narrated the now infamous Honey Badger video was one of the judges—and he absolutely adored Mamma Biscuit and our choice to make her Björk for Halloween!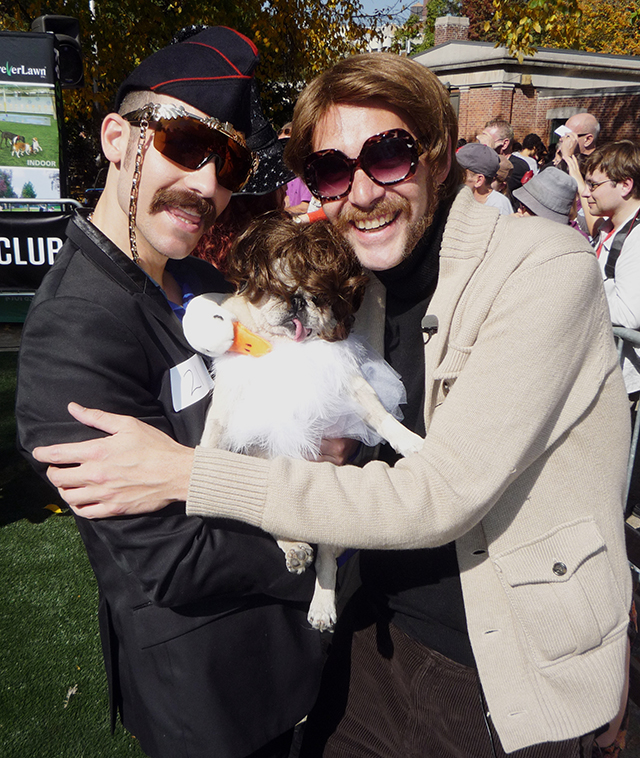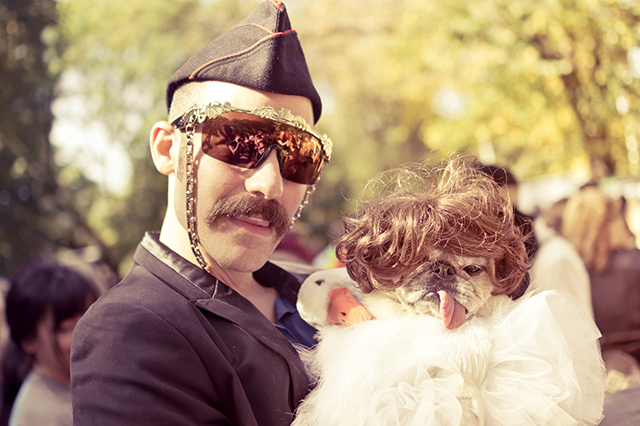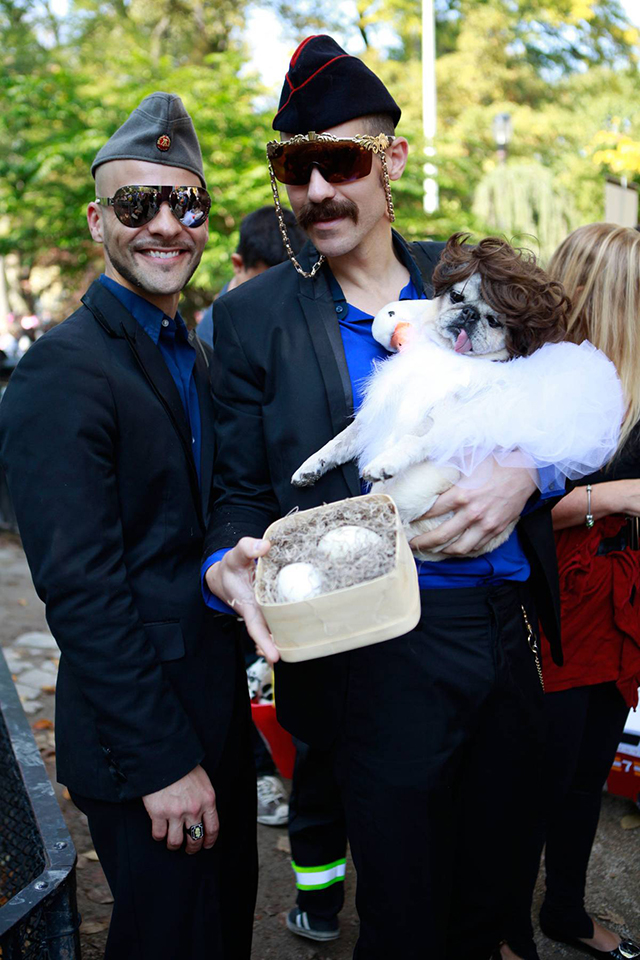 But wait, it gets better. We finally ran into the elderly pug named Gracie whom we've heard so much of for many years now. Gracie was dressed up as Evita and while she was being lugged into the parade by her dads, she created a huge scene with her outlandish costume! Now you all thought we were insane with Mamma Biscuit's Halloween costume but take a look at Gracie giving her best Eva Perone on a makeshift balcony made of cardboard. When I went up to introduce myself to Gracie's dads and to get a closer look at her, I noticed that she was half asleep, snoring at the podium—clearly disinterested in the people of Argentina let alone the parade of dog owners and spectators taking photos of her in the park!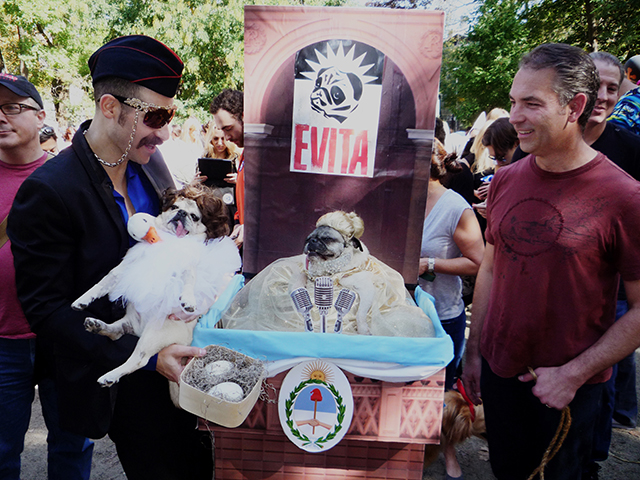 Just look at Mamma Biscuit glancing over at Gracie the pug—the both of them thinking to each other, "why in the hell are our dads doing this to us? I'm so over this whole costume thing!" Gracie's dad was simply amazed at how chill Mamma Biscuit was and he actually suggested that we could possibly hook up and have our girls collaborate on a costume together—hey, you never know! I think the entire canine world would be tossed upside down if these two old broads got together for a Halloween costume!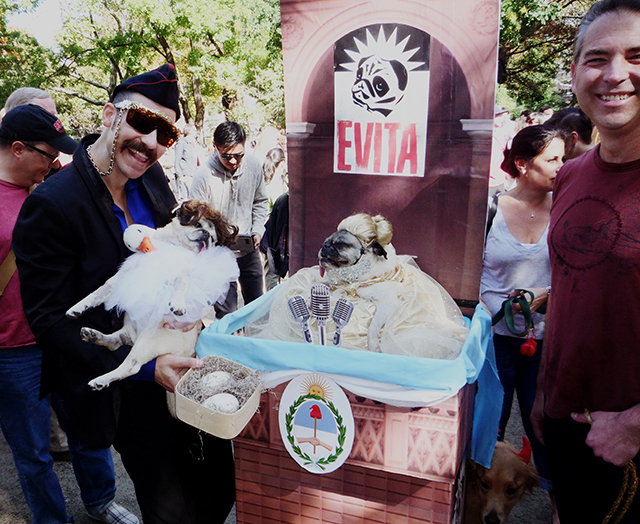 You can also see more photos of Mamma Biscuit at this event along with all the other great doggy costumes by clicking on the links listed below:
New York Magazine, The Guardian (UK), The Washington Post and NY Through the Lens.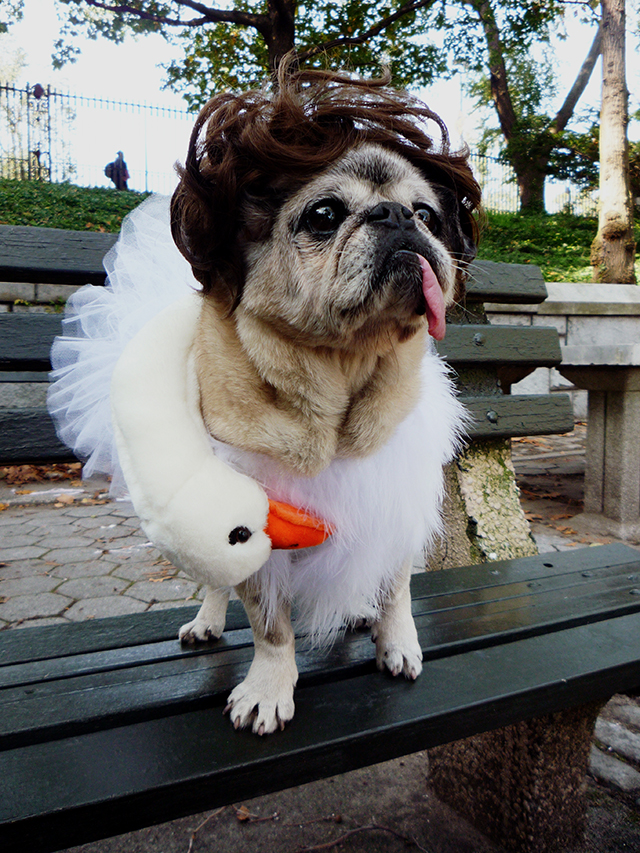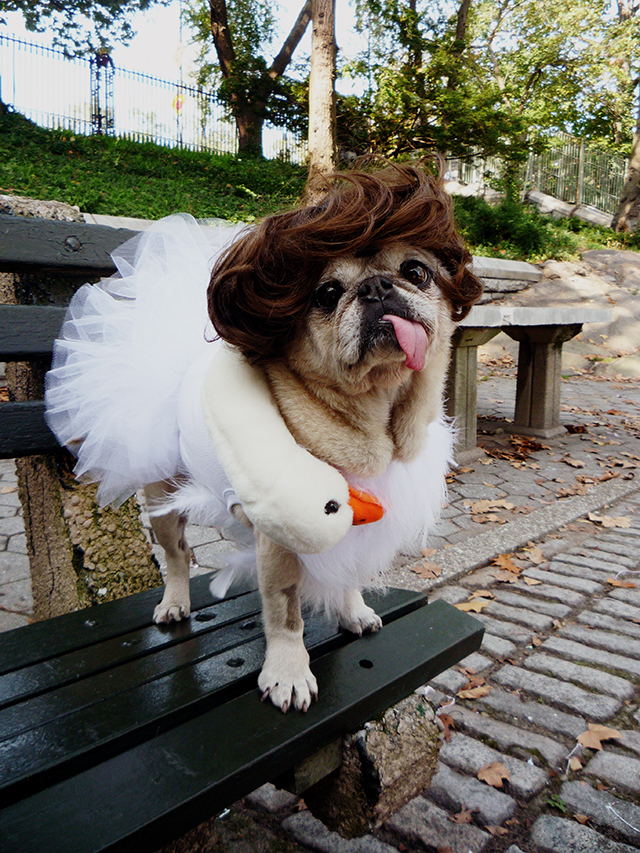 So that's it folks, Mamma's official Halloween costume for 2012! With Lady Gaga leading the pack of pop stars "weirding out" their looks in the name of pop (f)art and a fickle, youth-obsessed mainstream audience that lacks a reference point, Mamma Biscuit has no worries that this Halloween costume will land her on any worst dressed list out there as it did poor Björk eleven years ago!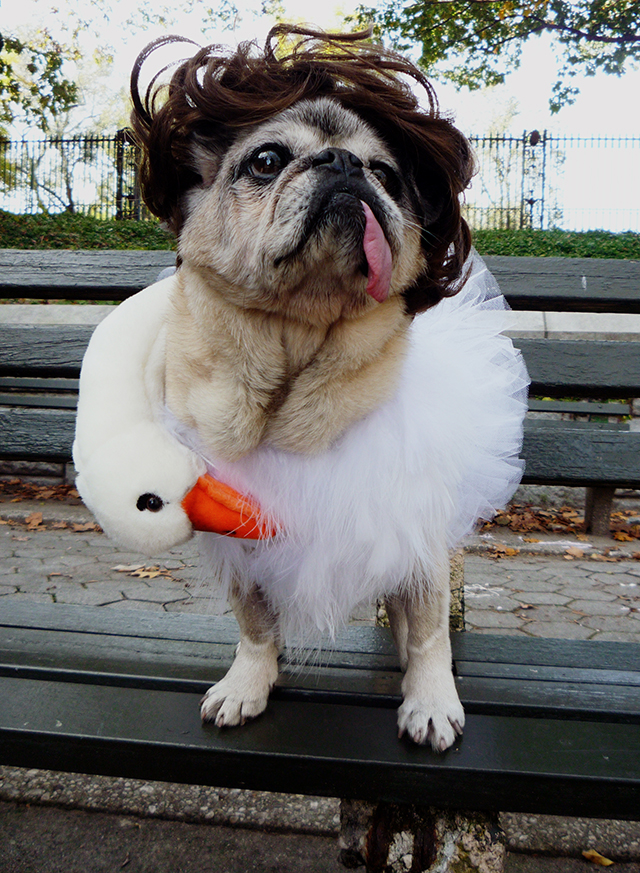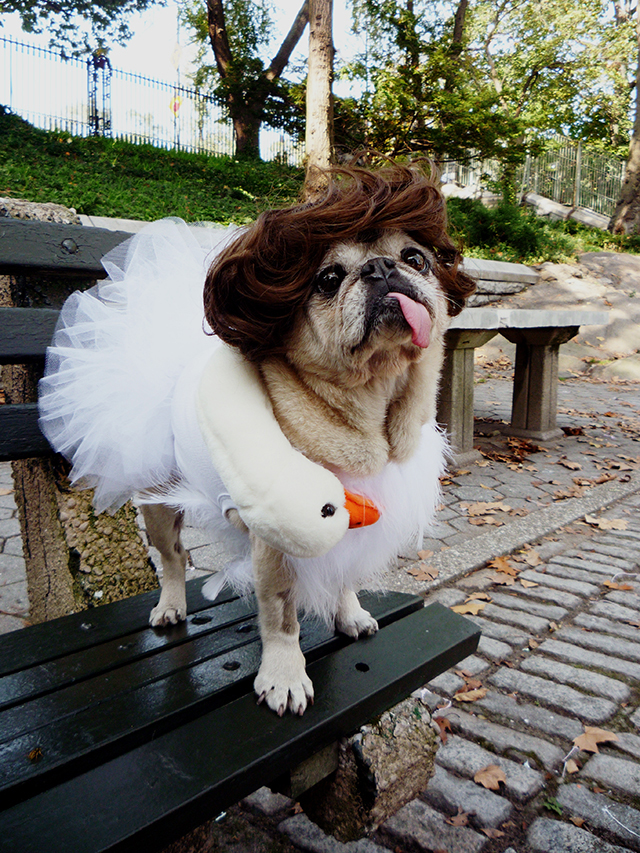 In fact, Mamma has been putting on Avant-garde performances the moment she stepped foot into our home four years ago! The way our bitch can hack up unwanted debris that she sucks up like a vacuum cleaner during any one of her walks outdoors can be an artistic performance worthy of any Avant-garde musical act! Just make sure you don't cross Mamma Biscuit the wrong way at any given airport, she may not have any teeth but she can pretty much hold her own when bothered by a pesky journalist—or worse, an obsessed fan!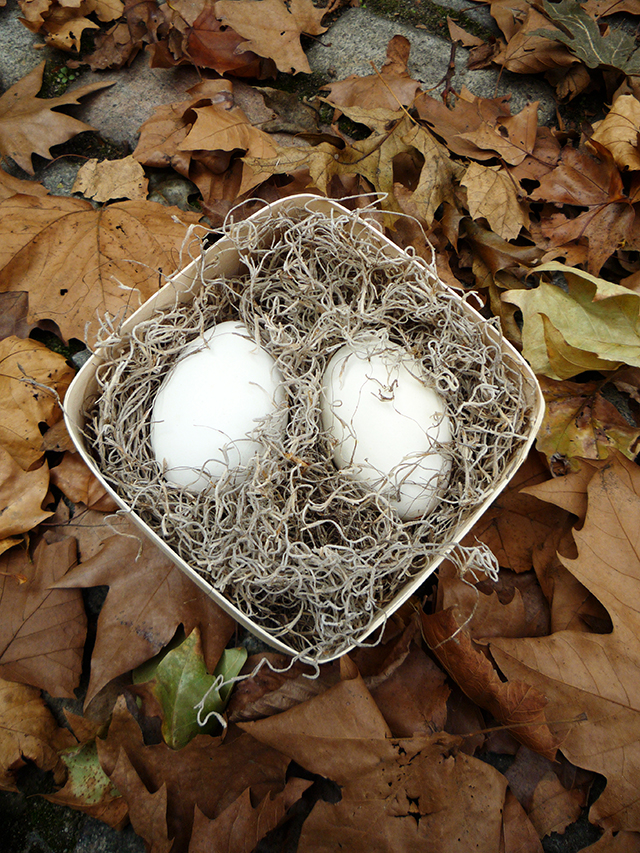 Enjoy
Happy Halloween!

NEWS ALERT: Mamma Biscuit has been picked up by Iceland media outlet mbl.is! To see the review, click here.
It just tickles me silly that everyone in Iceland is now obsessed with Mamma Biscuit!