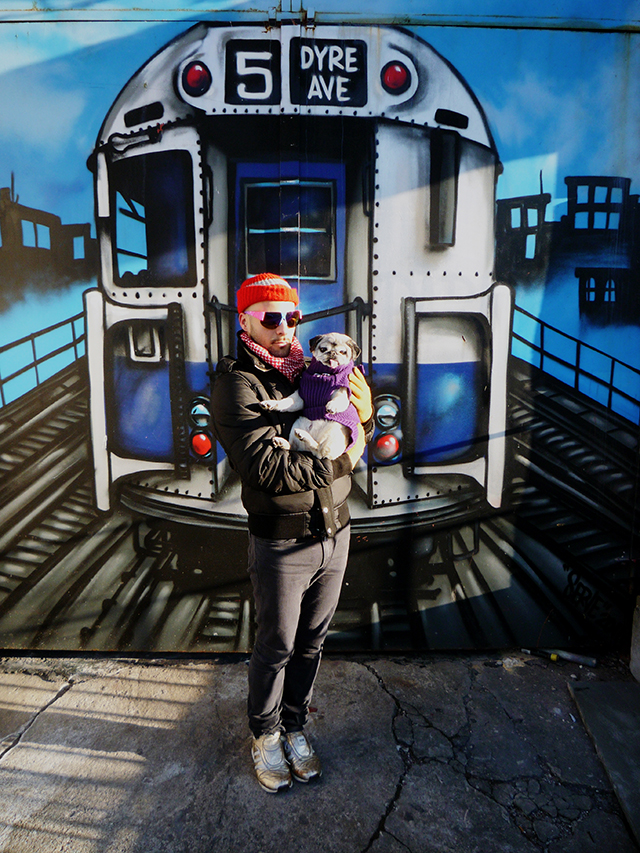 The Holidays of 2012 have finally come to an end and we here at the Biscuit household are thoroughly exhausted! It took us about two weeks to dismantle Mamma Biscuit's Christmas Land at the Pug Palace and I must say that I feel incredibly accomplished at how organized and efficient I was with the whole process. Packing nearly 500 ornaments in tissue paper can be a daunting task (and that's not even touching that damn Christmas village, which in my opinion, takes a village to put up and to take down) but I plowed through and reclaimed the Pug Palace as the clean and spacious apartment it was before the Holiday season. Mamma Biscuit is totes enjoying all of that extra leg room post Holiday—especially when she sets off aimlessly walking around the apartment scouring the floors for anything edible! Anyway, to reward ourselves for all of the hard work we put in this year, we decided to pack up the Biscuit Lady and head out onto a Bx12 bus to hit the good old Arthur Avenue neighborhood in the boogie-down Bronx. It's been a while since I've personally visited, however, Tommy was constantly in and out of Arthur Avenue this entire Holiday season picking up almond paste for baking and fresh bread from the many bakeries lining both Arthur Avenue and East 187th Street. Whenever I make my way back to this Italian enclave up north, my mind is immediately flooded with memories of being a little boy and laying across the back seat of my father's gigantic Lincoln Continental (furnished with maroon velvet pillows) with my father driving and my mother in the passenger seat as we headed toward Arthur Avenue for fresh bread, olive oil, meats and fish—all while listening to Italian pop music on the 8-track player in the car. When My parents first emigrated to this country from Calabria, Italy, they moved directly into this area of the Bronx (Decatur Avenue to be exact) and they lived there long enough to have my sister and my brother before moving to the suburbs of Westchester County, where I was born. Now they may have left the Bronx to live with the wealthy up north but that did not stop them from returning weekly to shop for food and other Italian-made products—and so began my experiences tagging along with them as a child. Our visit would always turn into an eating fest as we made pit stops at the many pizzerias, cafés, bakeries and food markets along the way—and our visit last weekend was in no way different from when I was a child. So come along with us as Mamma Biscuit makes her way back to the old neighborhood. With a name like Mamma Biscuit, you know she can practically pass as the next Godfather with an offer you couldn't possibly refuse. I mean, her epic tongue alone is the new pinky ring in my opinion!
Our first stop along the way was at the Vincent Ciccarone Playground at the beginning of Arthur Avenue. Mamma Biscuit posed for a few portraits in the park as the children played on the swing set behind us.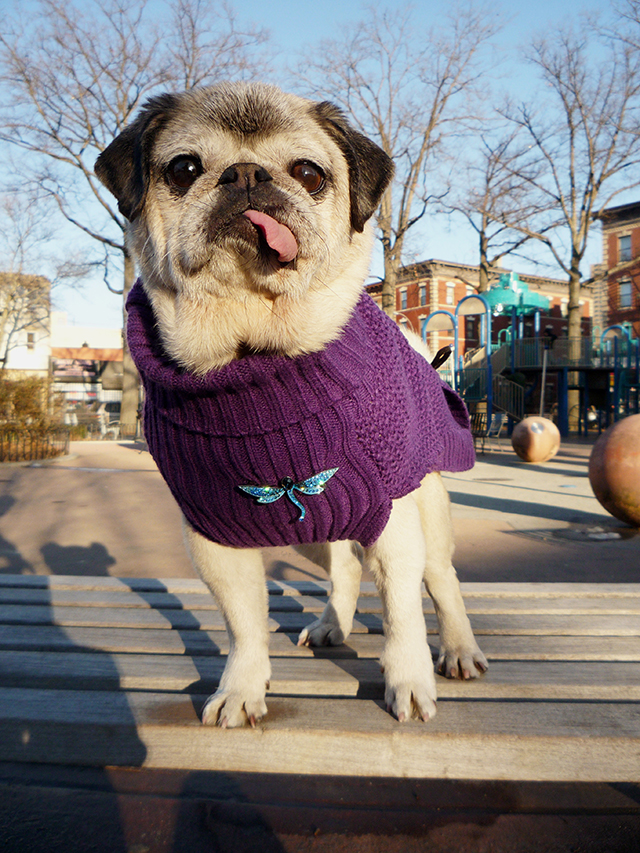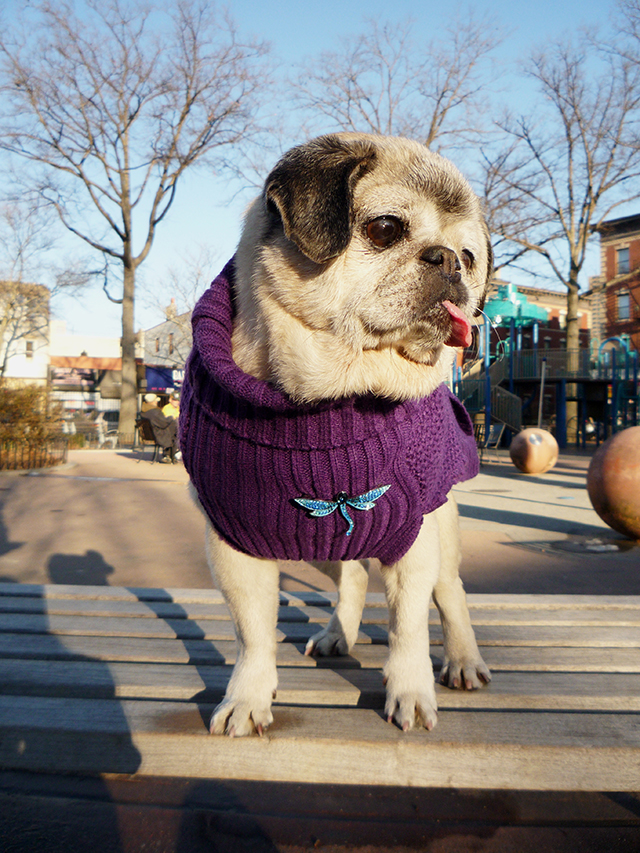 Our little gremlin looked so sweet in her royal purple turtleneck knit with bow and button accents—a new sweater given to her as a Holiday gift from yours truly! Gem colors suit her best and Mamma's signature color is royal purple. Pairing that color with this vibrant blue dragon fly crystal brooch that our friend Tova gave us last year was the perfect detail for an outfit made for strutting through the old Italian neighborhood!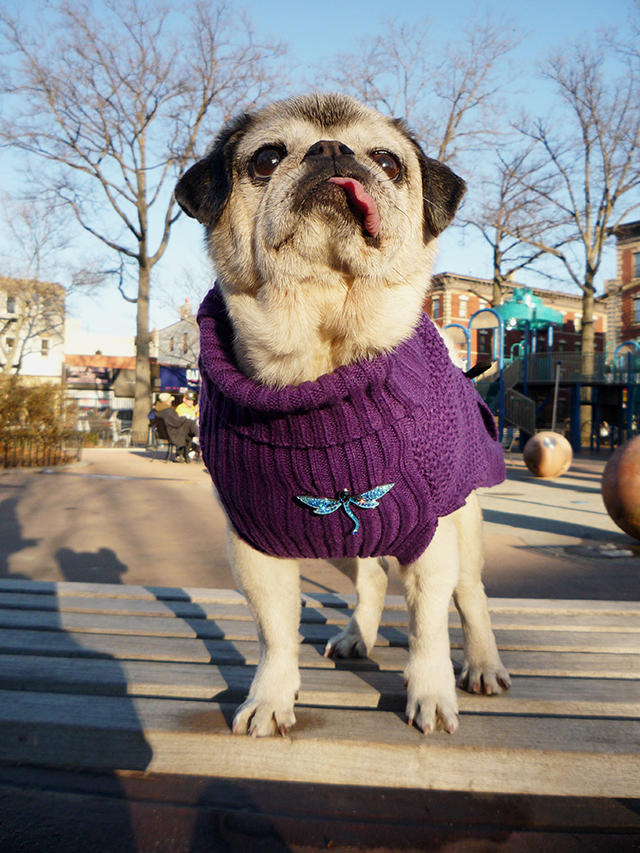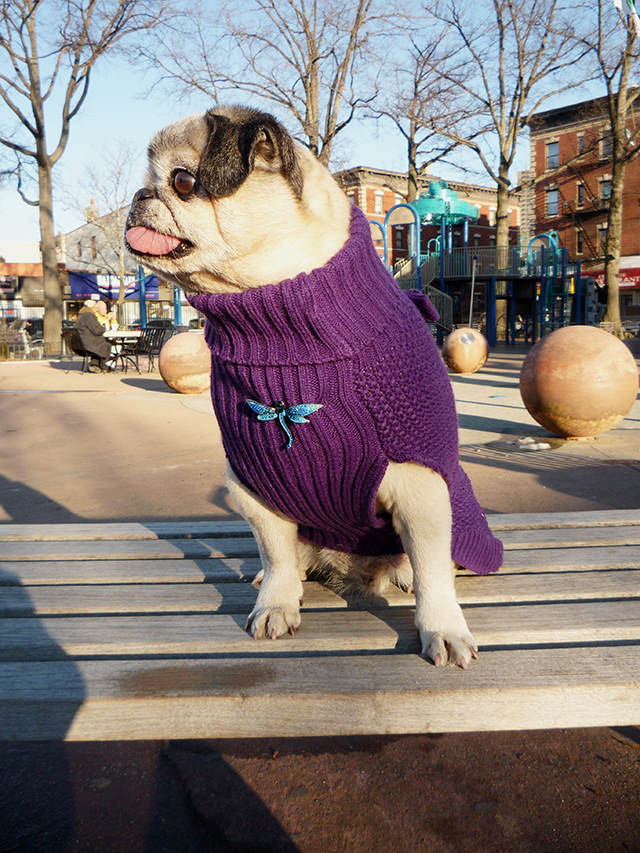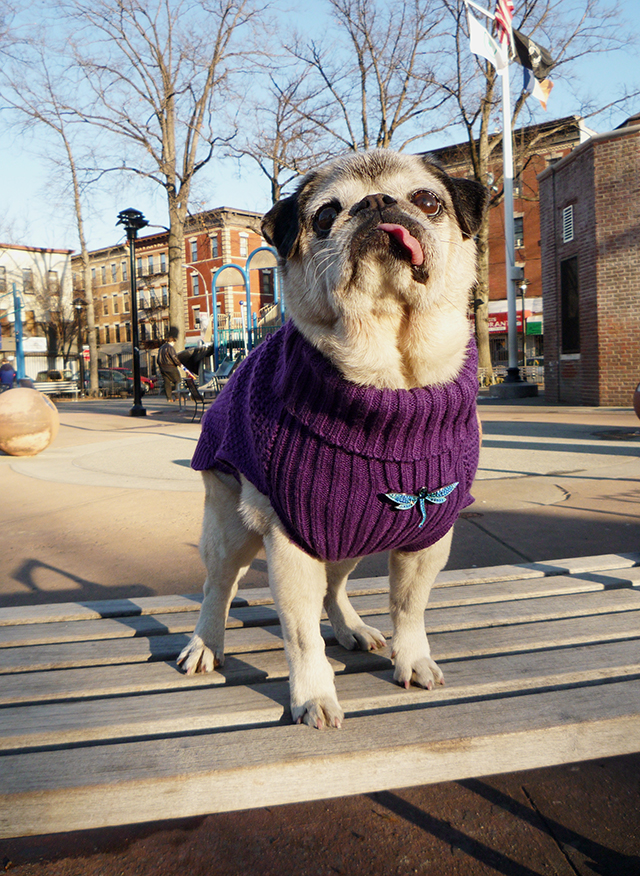 I could just hear Madonna's Who's That Girl? playing in the minds of every passerby that took notice of the Biscuit Lady as she pranced on down the block lookin' this fabulous! Our girl can make a simple errand like heading into the markets to squeeze a zucchini look this fierce and fabulous!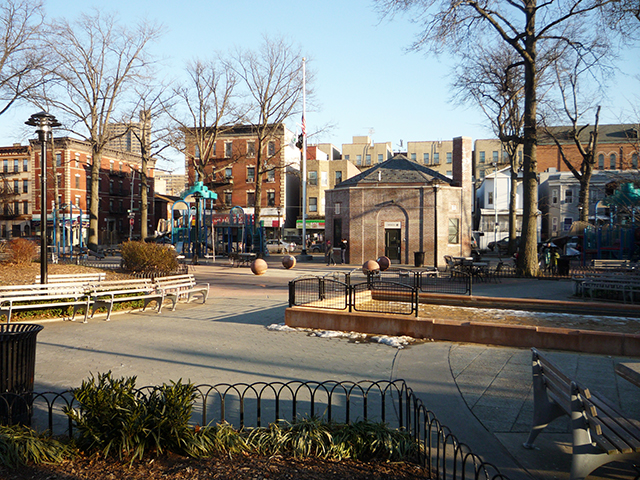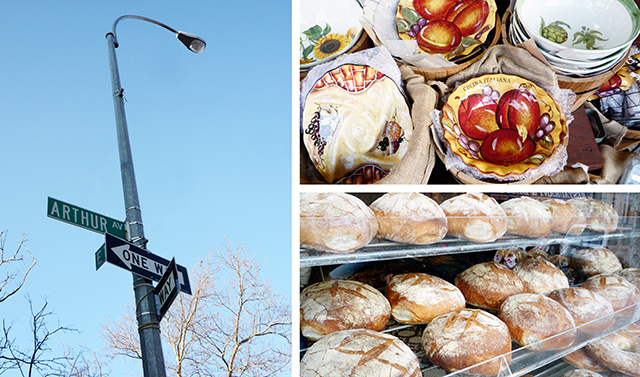 After sneaking Mamma Biscuit into a pizzeria for a quick slice of pizza (I had a traditional Sicilian slice and Tommy had a totally vegan Sicilian slice without any cheese) we made our way to the famous Teitel Brothers corner store to peruse all of the amazing imported goods such as canned tomato sauce, olive oil, pasta, vegetables and Panetone.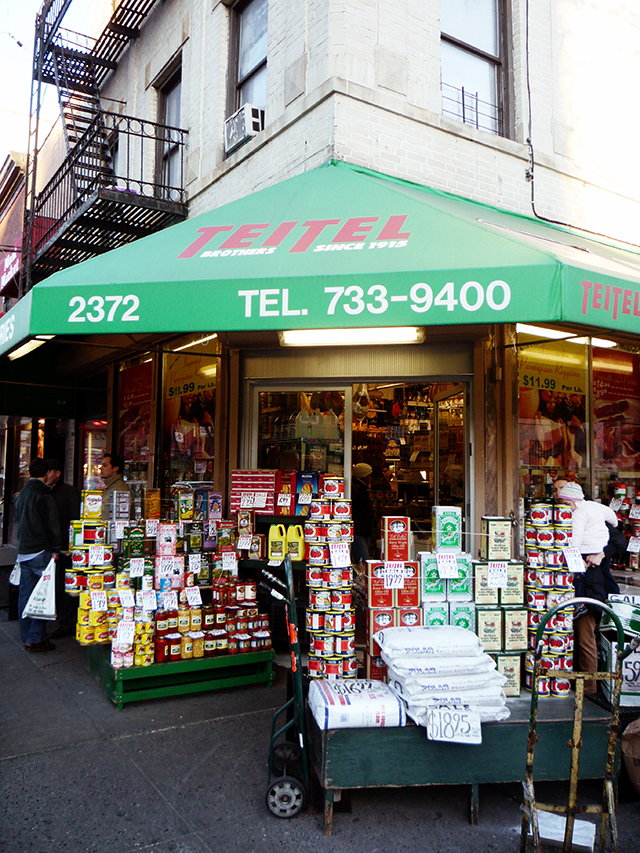 It's a tradition since 1915 that this establishment put on display these imported goods right at the foot of the front door—literally making every pedestrian stop to shop!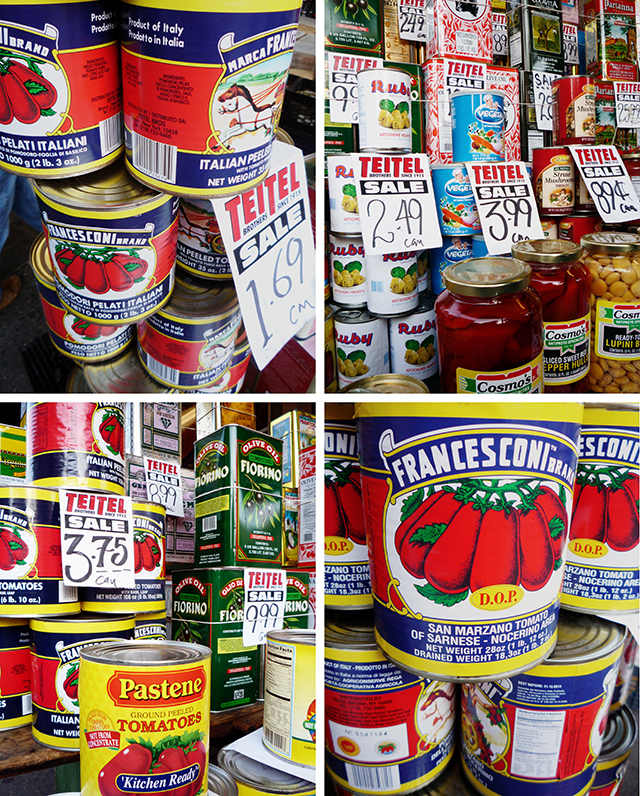 We have a house fully stocked with enough Italian carbs so we didn't purchase anything but we did stop in front of the family mural alongside the wall of the store to take a few comical photos of Tommy gesticulating like some kind of goombah while holding Mamma Biscuit in his arms! There must be a dead wise man somewhere turning in his grave at the thought of us mocking this absurd Italian-American culture—but it was all done in good jest!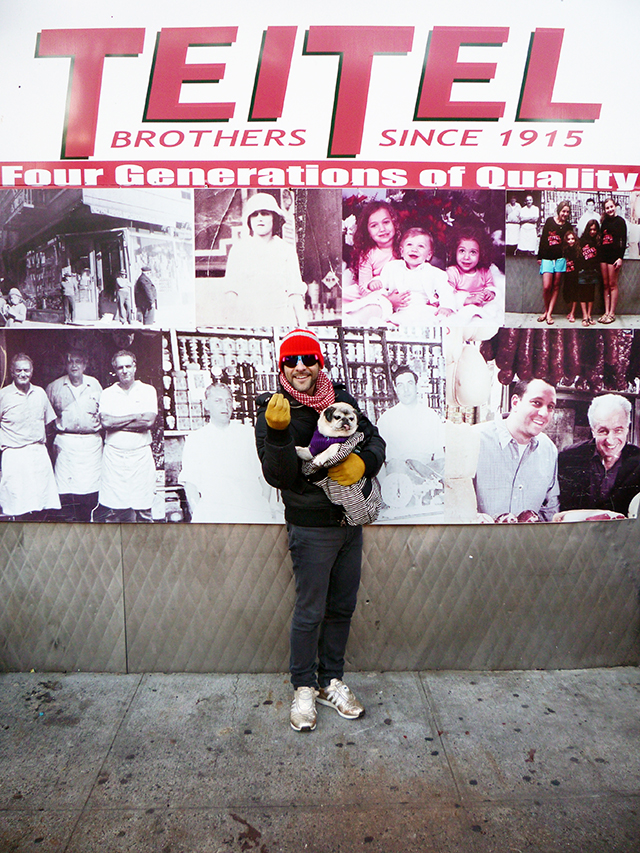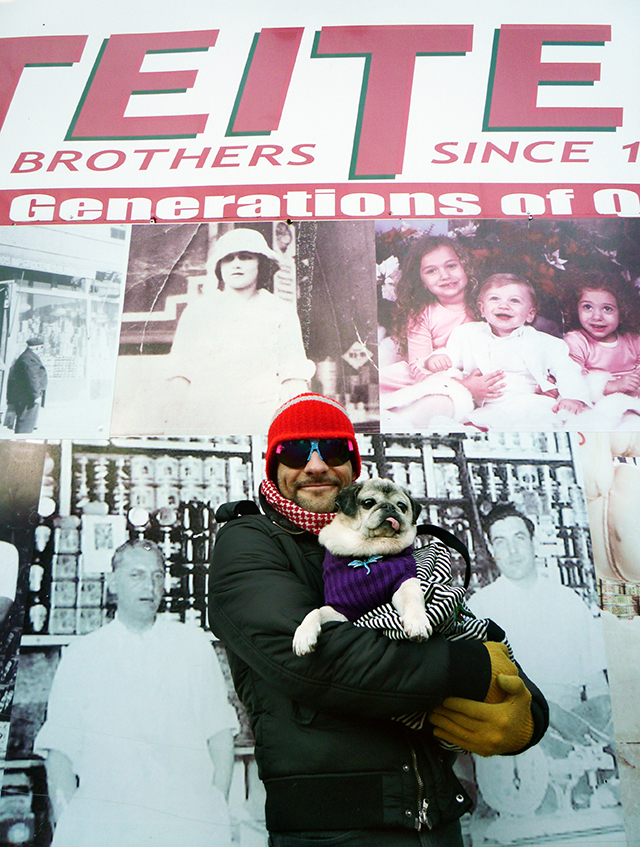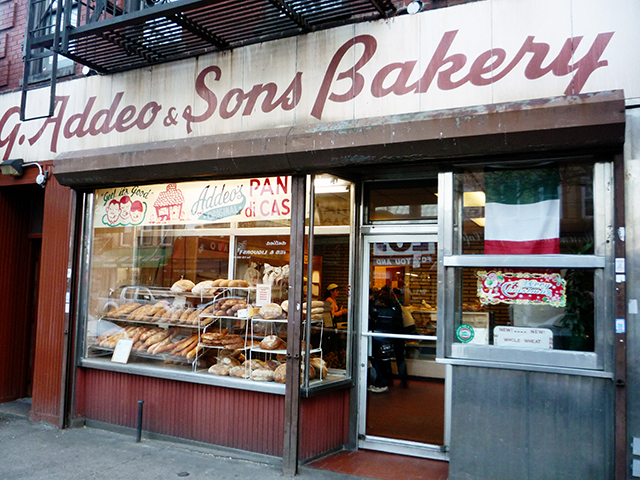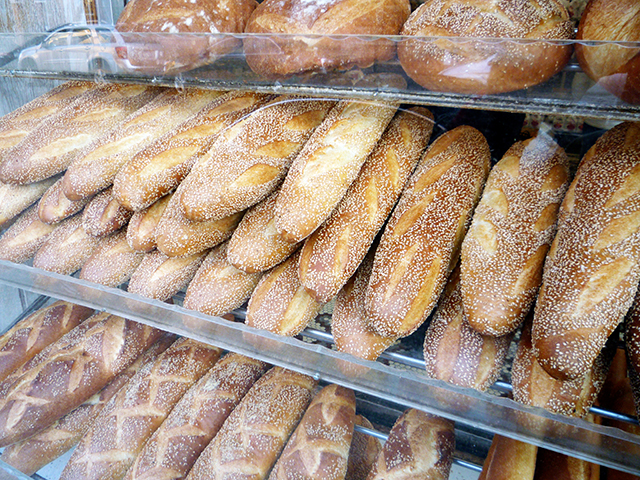 Aggravated because you can't find a parking spot on Arthur Avenue? Maybe Jesus can make one open up for you. Alongside the entrance wall to the paid public parking lot off Arthur Avenue sits this crazy mural of Jesus alongside a rest-in-heaven portrait of some guy named Anton D. Nikci over the Polska eagle emblem. At least I think that eagle emblem is from the Polish flag but either way, it's so fucking New York I can't handle it!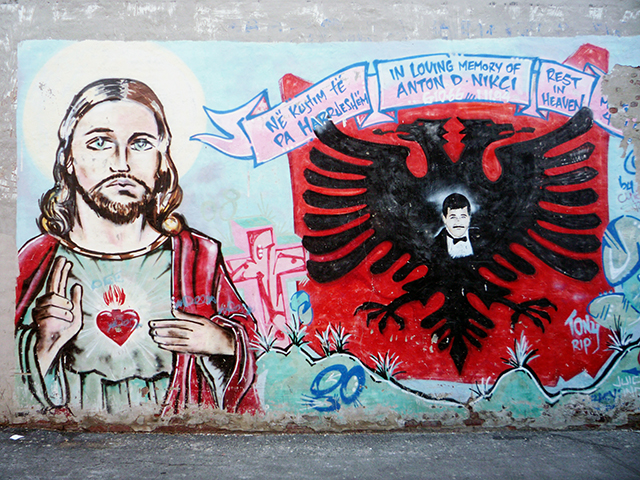 The rough rendering of Jesus looking on, bored, as Mamma Biscuit and I posed for a quick photo before entering a bakery for a hot chocolate and some baking ingredients for Mr. Sweet Semosh is what the Bronx is all about baby!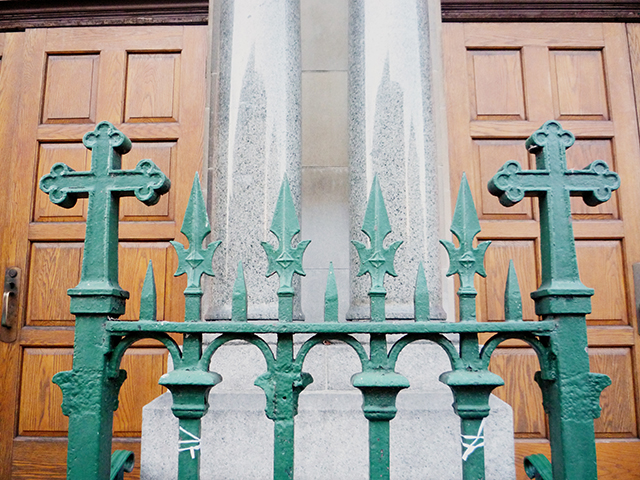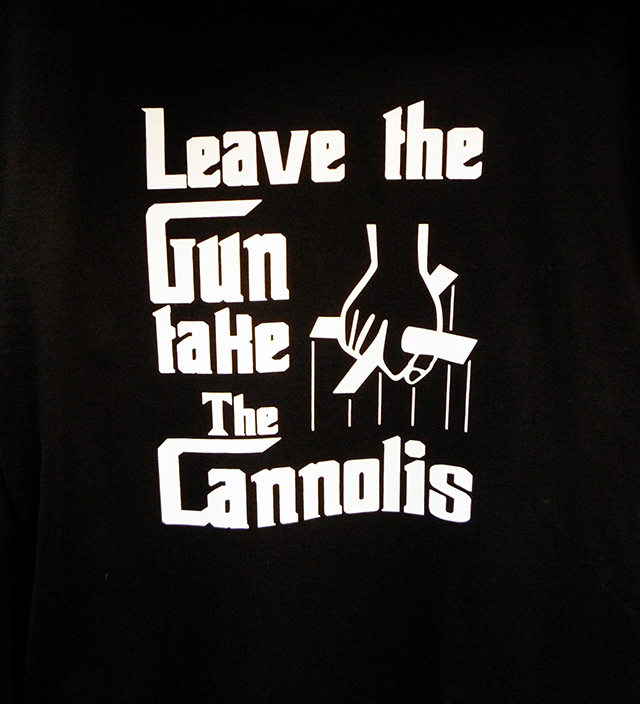 After a fun-filled visit to Arthur Avenue, we hopped back on the express bus, leaving the boogie down Bronx and made our way down to the Green Flee Market on the Upper West Side for a quick look-see.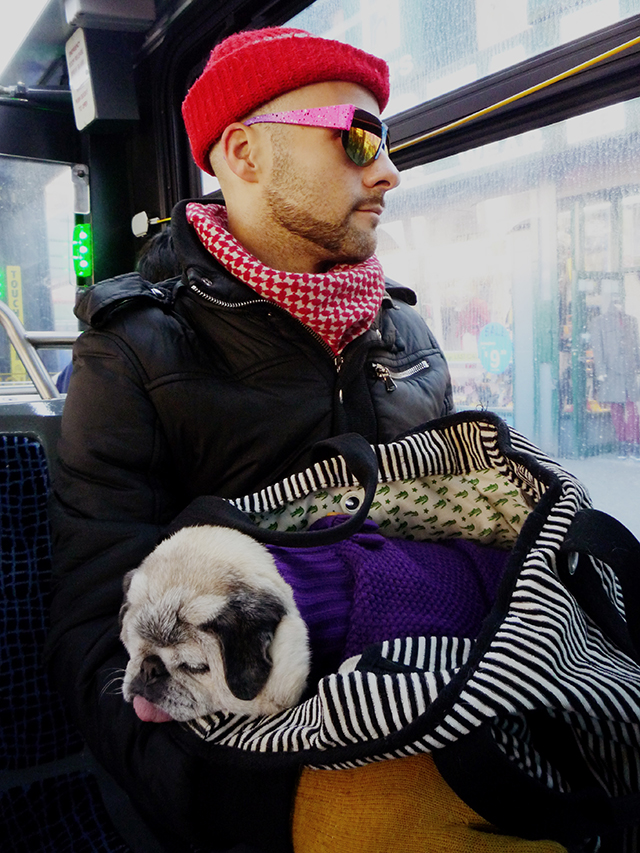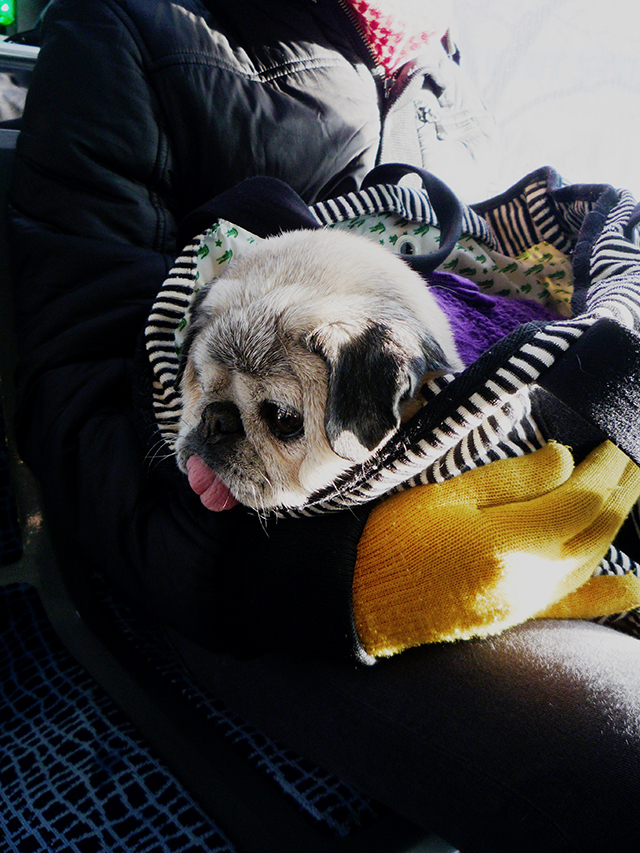 As you can see, Mamma took a quick nap in her carry on bag during the commute and in general, she loves being carried around this big bad city in her Lacosté travel bag—which serves as a mobile sleeping bag for her!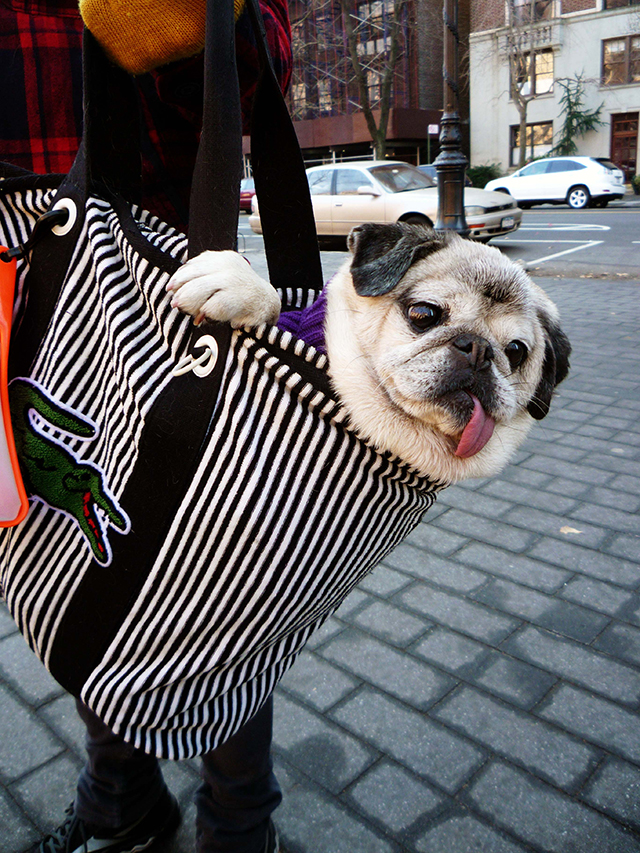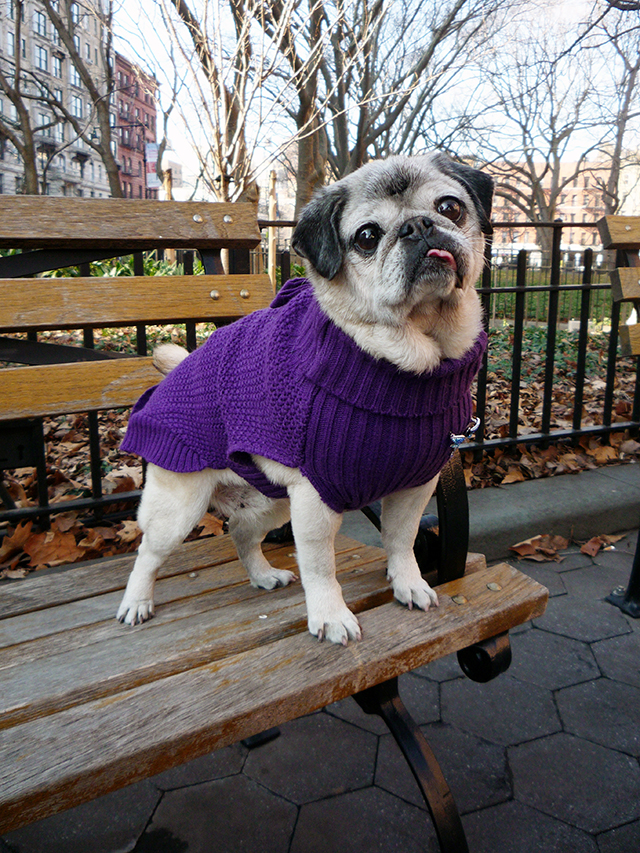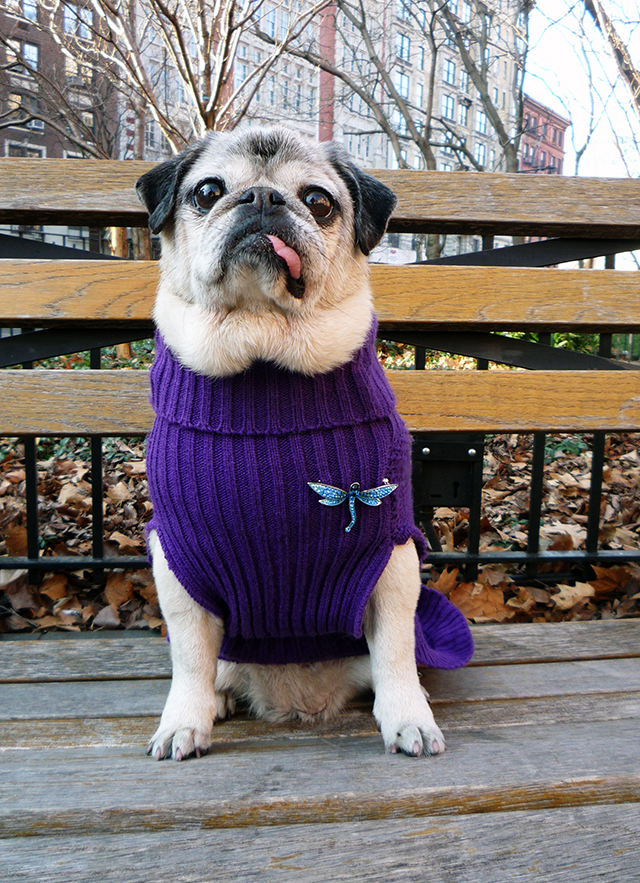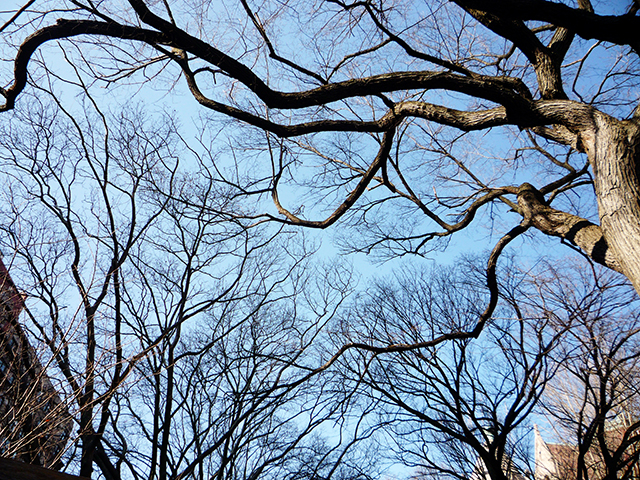 At the flee market, we met a Russian woman who was selling a whole bunch of really bad costume jewelry. As I eyed the table of goods, I stumbled upon a pair of Chanel clip on earrings that were so horribly painted and executed that I just knew immediately that Mamma Biscuit had to have them. They barely stayed onto Mamma's incredibly soft, cashmere-like ears but luckily, they remained from falling within just enough time for us to capture her wearing them in a photograph.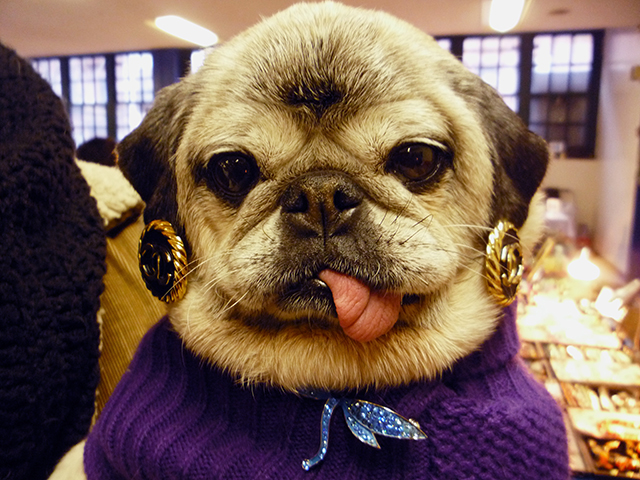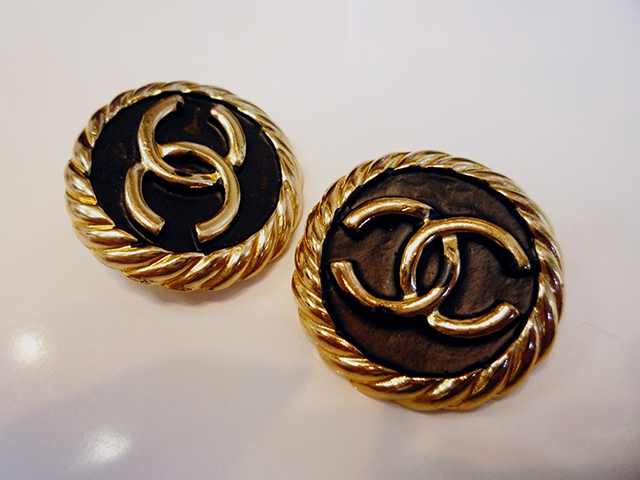 The Russian woman was so amused (as was everyone else around us) that she gave the earrings to me for a couple of bucks, and of course, I bought them! After all, Mamma Biscuit could never have too much Chanel in her wardrobe—even poorly executed knockoffs like these damn earrings!
And then we came across this . . . .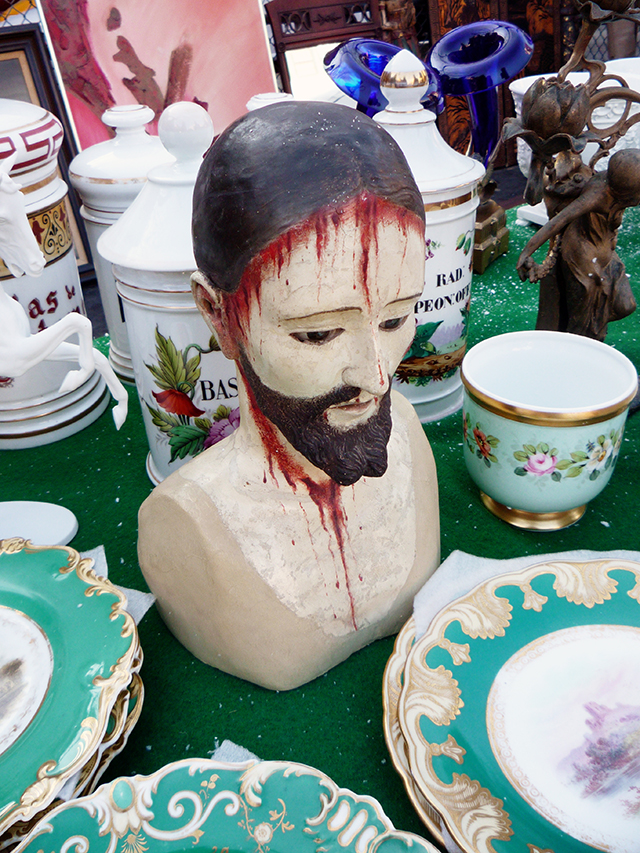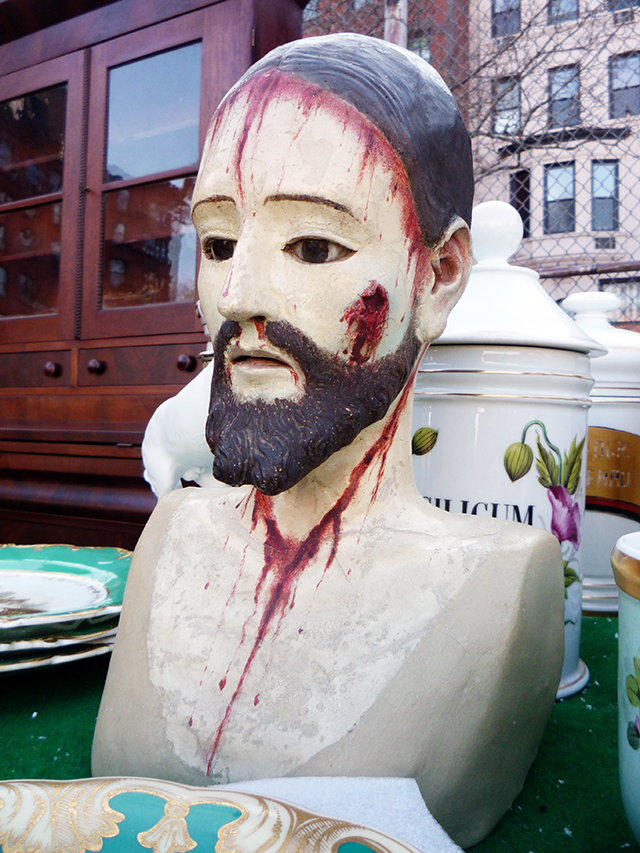 I'm not even going to try and understand why anyone in their right mind would want this in their home—or why the seller was trying to convince me that 900 bucks was a steal for this bloody, 18th Century Spanish art made from wood!
We ended our day getting yummy vegan sandwiches from Blossom Du Jour at their Lincoln Center location. I love the fact that we can eat in this food establishment without having to hide Mamma Biscuit!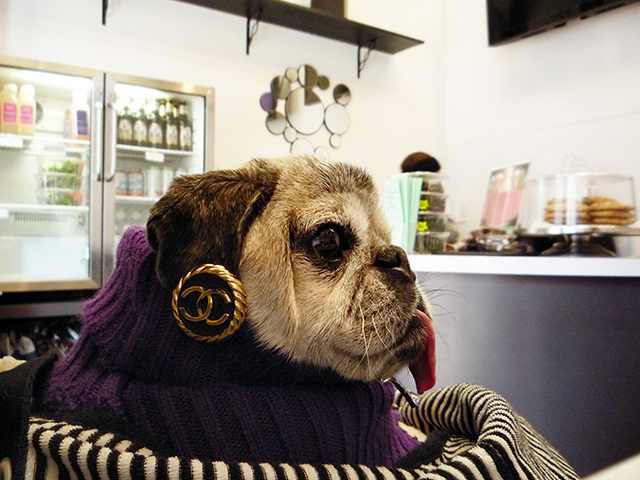 Our relaxed family outing was a much needed change from the exhaustive Holidays that just passed—and Mamma Biscuit is looking forward to a Winter filled with days such as these!
Enjoy