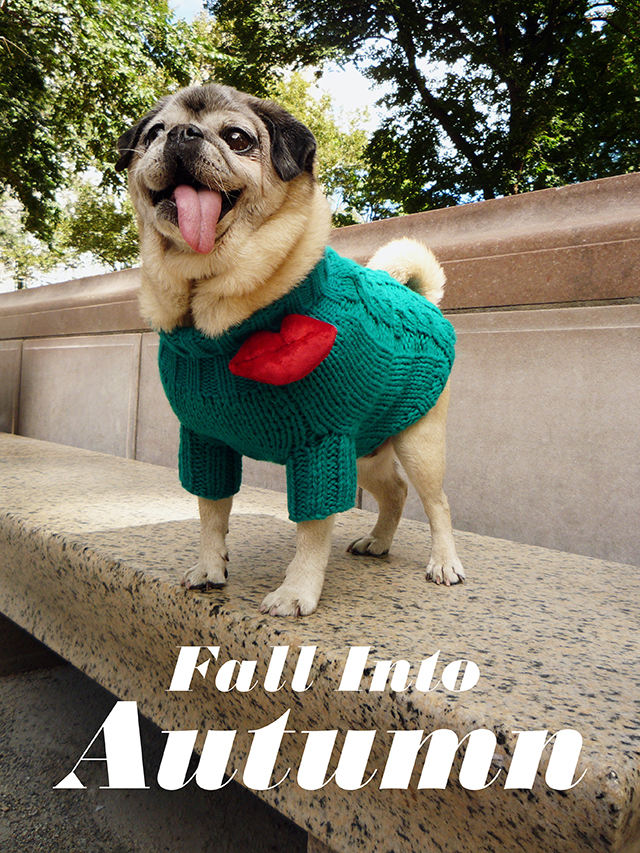 My favorite time of year has finally arrived people. Summer is O-V-E-R! Thank goodness, bring on the cooler weather right now. School is back in session and the streets and subways of NYC are filled with kids of all ages showing off their new kicks, jeans and cropped tops. The 90s are back with a vengeance and one does not have to look any further than the public school systems to know it's true. It has been like swimming in a sea of flannel shirts, Doc Marten boots, black denim and accents of all sorts of gold jewelry during my commute on the subway every morning this week. These kids don't give a crap that it has hit 90-degrees each day this week, they're gonna wear their new school clothes, temperature permitting or not! The mere sight of these outfits makes me feel like I'm an extra on Rihanna's We Found Love music video—and being the perpetual 21 year old that I am who occasionally scours the women's department at Forever 21 and who has suffered through high school in the early 90s, I seem to fit right in.
You know what I love about September? I love that I feel compelled to go out and buy a whole new wardrobe even though I haven't seen the inside of a classroom in over a decade. What can I say, I still want to look cool enough to sit in the back of the bus with the other delinquents who are busy toiling away at slashing the leather bus seats with their switchblades. You know what I love even more than my penchant for acting dumb, young and full of cum? It's the chance to get Mamma Biscuit back into her high fashion wardrobe and outdoors prancing all around NYC. Someone has to show all the other canines residing on the island of Manhattan how it's really done and that someone is Mamma Biscuit! I'd like to think that I refer to the September Issue of Vogue magazine to stay abreast on what's going on in fashion but the truth is, Mamma Biscuit is the one who follows that bible more than I do. After all, she was Anna Wintour for Dogue magazine many years ago for Halloween and she knows how important Fall fashion really is. With that said, I have compiled a batch of iconic Fall fashion looks from Mamma Biscuit's archives to get you all gassed up for the new season. Whether you're a kid who needs to follow the pack in school when it comes to the right pair of jeans and sneakers, a label whore who blows their entire rent money at a Vivienne Westood sample sale, a fashion editor seated at every front row of every fashion show at Lincoln Center or a big city pooch looking to reinvent herself before hitting the local dog run, this post is for YOU! I would consider myself lucky If I turned out to be half as fashionable as Mamma Biscuit is when I get to be her age. So come along and take a stroll down the runway with your favorite toothless pug on the internet. You may find some inspiration to spruce up your Fall wardrobe or better yet, your life!
Herringbone suit jackets in earth tones are all the rage this Fall. Just add a silk scarf and you've got one smart look that's ready for a business meeting or lunch with a good friend at Le Cirque!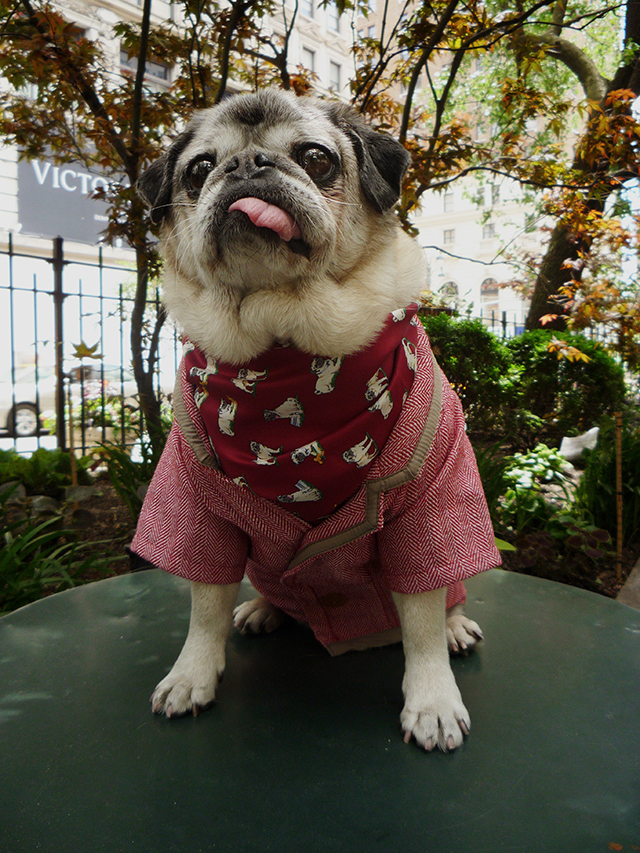 Faux fur is all the rage—especially accompanied by a Fraggle Rock/Cookie Monster silhouette. Think club kids in the 90s. Mamma Biscuit here has made this trend age appropriate by adding a fabulous brooch that was hand-selected from the Nan Kempner archives.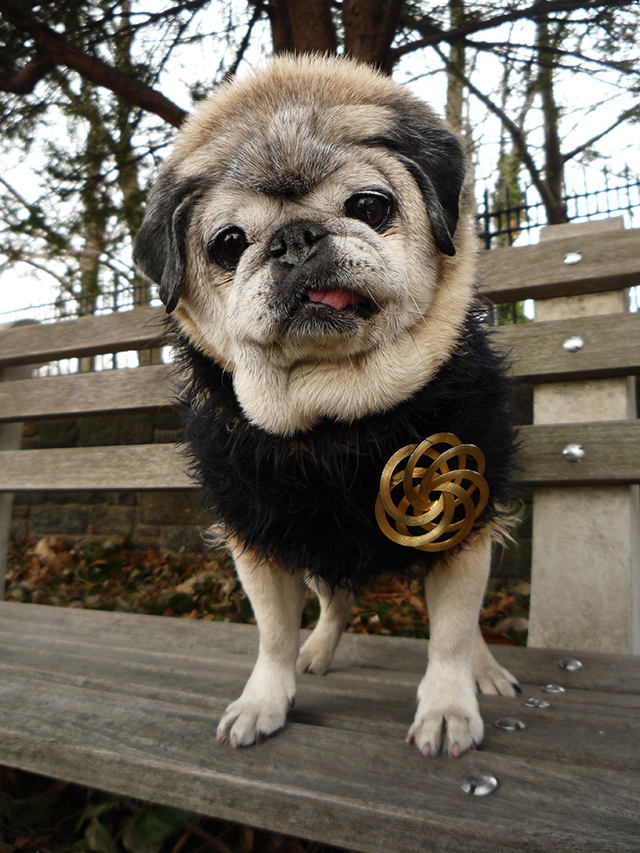 Who said pale colors are for Spring only? Quite the opposite actually and Mamma Biscuit sure was ahead of the curve when she sported this pale pink waist coat paired with a dramatic feather and lace brooch. Tim Gunn would be so proud of our fashionable pooch!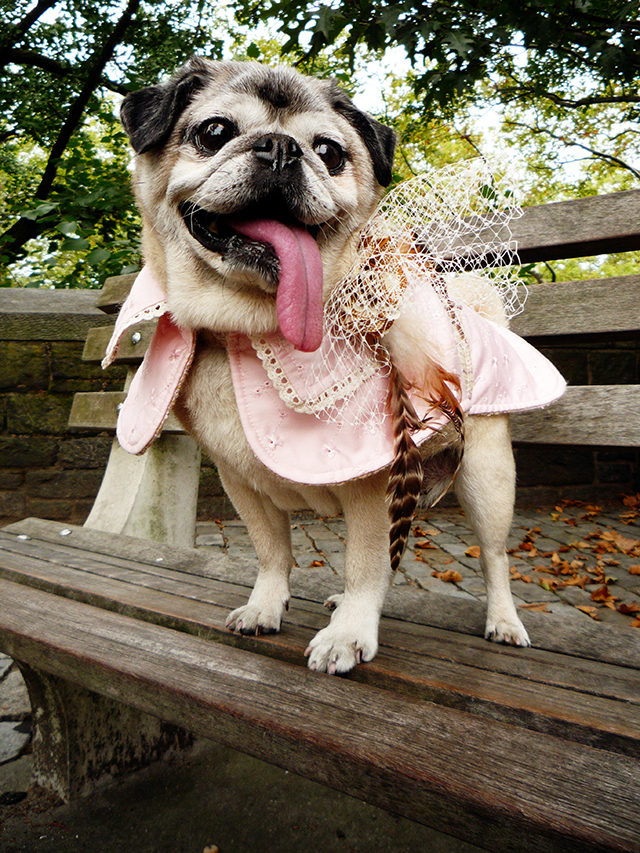 Indian Summer has set you back? Throw on a chocolate brown giraffe print dress with blue piping. Breezy enough for a late afternoon walk through the park!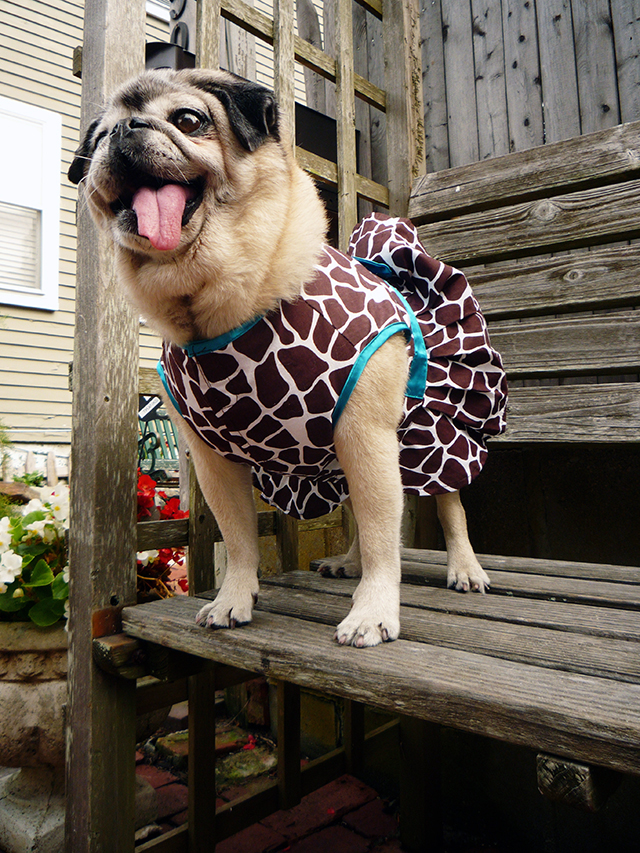 Pretty in pink is pretty all year long. Earth tones are so literal, why not stand out in pink with a pearl brooch?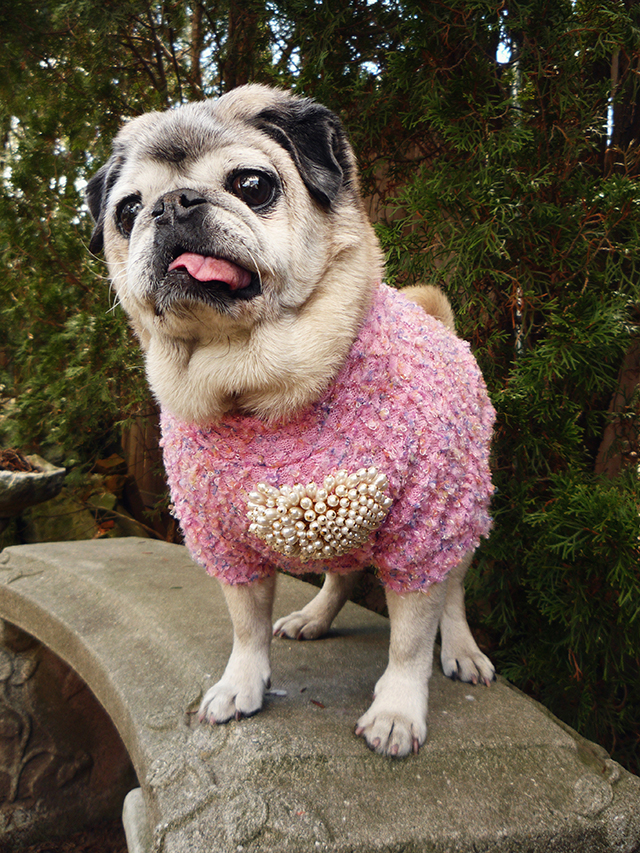 Ghetto fabulous fits perfectly into Fall attire. A homegirl is complete with her faux fur trimmed hoody coat for those chilly days paired with a descriptive name plate to warn others to back off!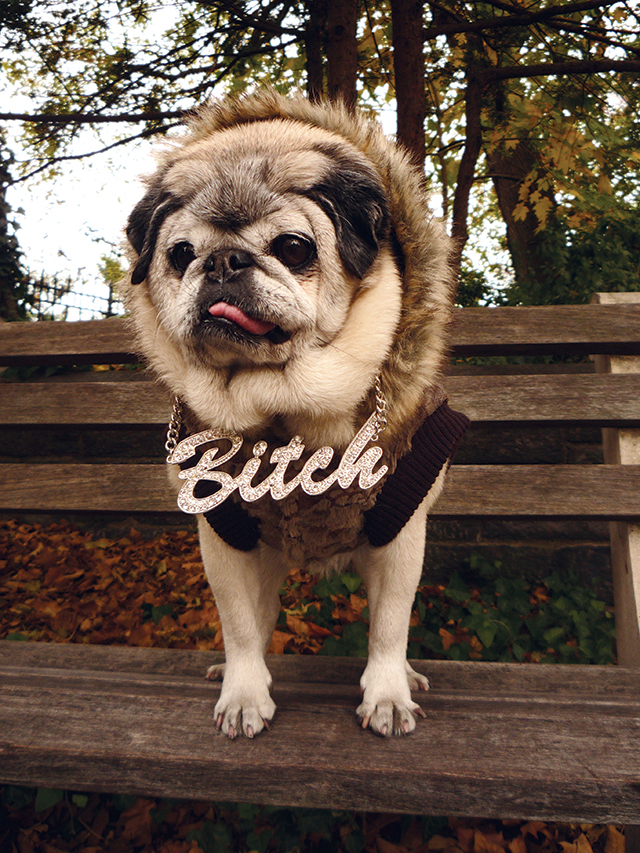 Chinatown chic is all the rage this Fall. Faux fur lined for a cozy fit while walking through the fish markets on Canal Street from September on!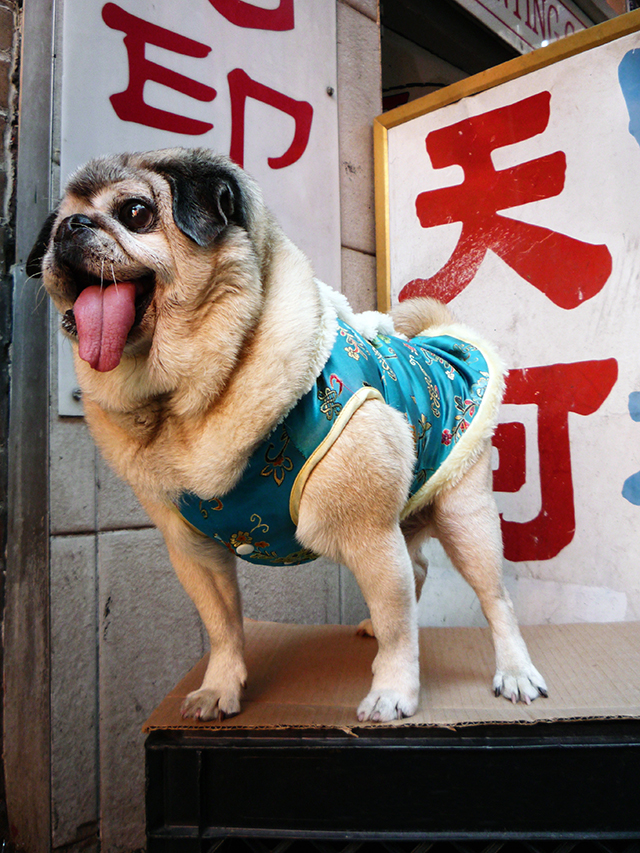 Money can't buy you class and elegance is learned! Let Mamma show you what money can really buy and teach you a thing or two about wearing a faux fur dress coat this Fall!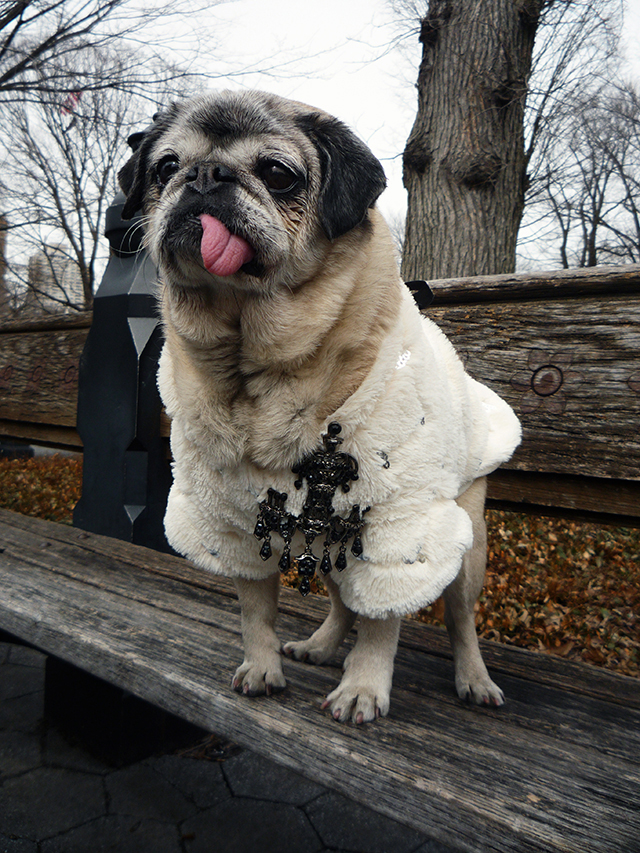 Sweater dresses are a Fall staple and the bolder the color, the more you'll stand out among the herd!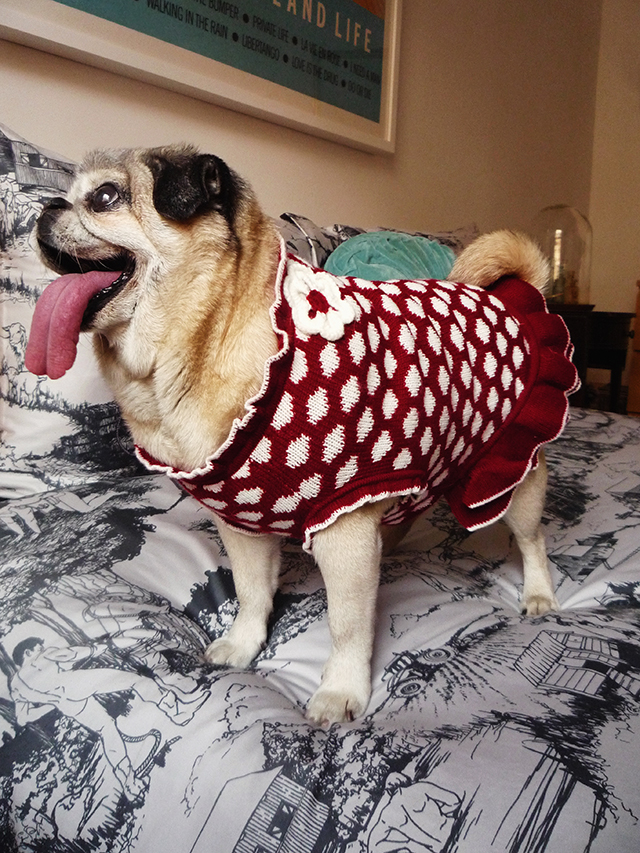 Chanel bouclé in chocolate brown is where it's at this Fall. This look, like Mamma Biscuit is as sweet as a truffle!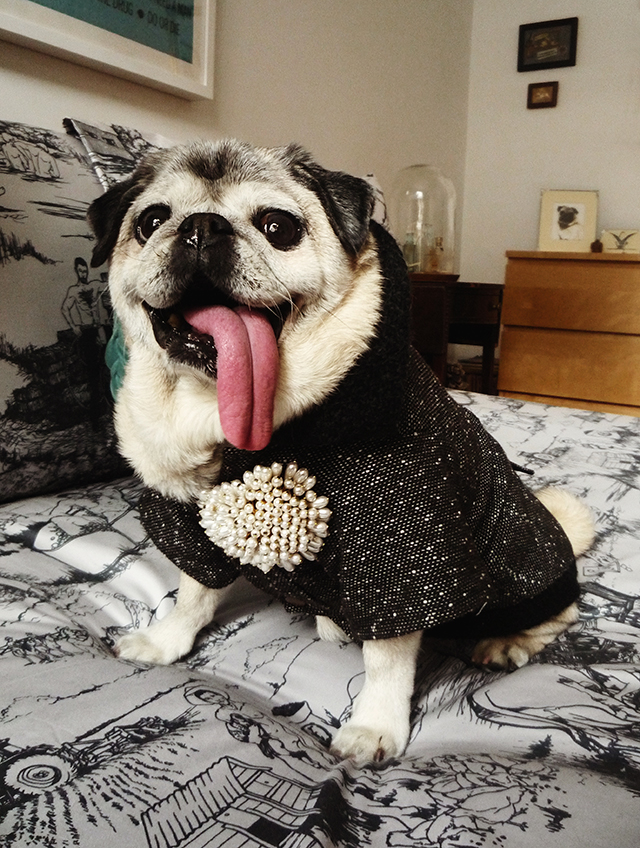 So there you have it folks. On a sad note, Mamma Biscuit and family would like to take this opportunity to dedicate this post to the brilliant and hilarious Joan Rivers who has passed away yesterday. Joan Rivers was a huge inspiration to me personally. She was a woman who was not afraid to laugh at herself and was completely unapologetic about being politically incorrect! From her daytime talk show in the 90s covering some of the most important gay topics that have shaped our pop culture such as Paris is Burning and club kids of The Limelight to her Red Carpet critiques at every award show known to man to her stand-up comedy acts all the way through to Fashion Police on E! and Joan & Melissa Knows Best on We TV, Joan remained a woman on top of her game and totally uninhibited in her content. She was brassy, she was in your face and she was willing to throw Anne Frank under the bus for making too much noise in the attic! Joan was the hilarious Jewish mother I never had and trust me, I would kill to have a mother who isn't afraid to talk about how far her vagina has dropped from old age! Anyone who has ever been offended by Joan's comedy act is a humorless pud in my book. I will miss Joan's raspy voice or her quick, biting remarks about Hollywood's elite on Fashion Police but most of all, I will miss her hilarious spirit! Here's to Joan Rivers who is probably lounging on the lanai in the sky while berating God for wearing a white robe after Labor Day!
Enjoy