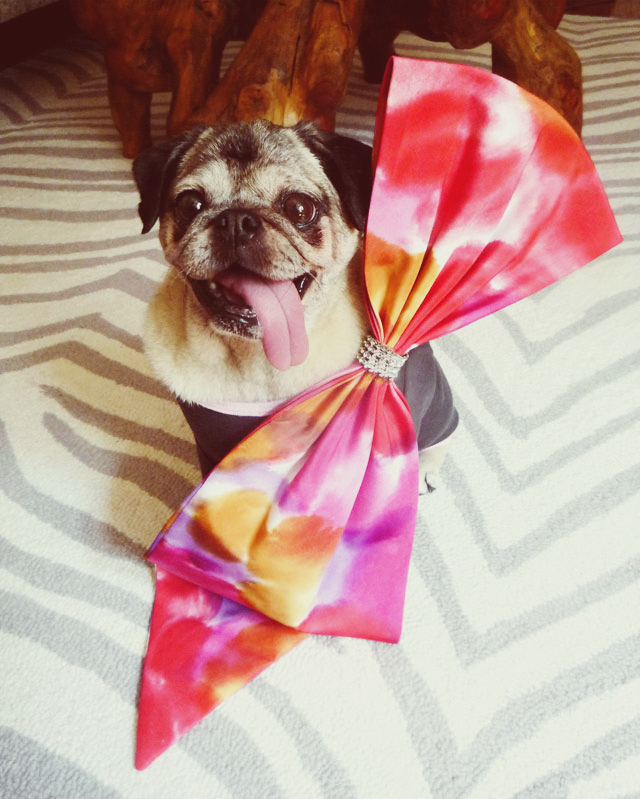 Move out of the way Charlize Theron and get lost Nicole Kidman because Mamma Biscuit is the fresh new face (albeit, a rather smooshed-in face) of the House of Dior. Our little puggie possesses the style, grace and attitude that makes her the true fashion Icon that she is today—and Dior has taken notice!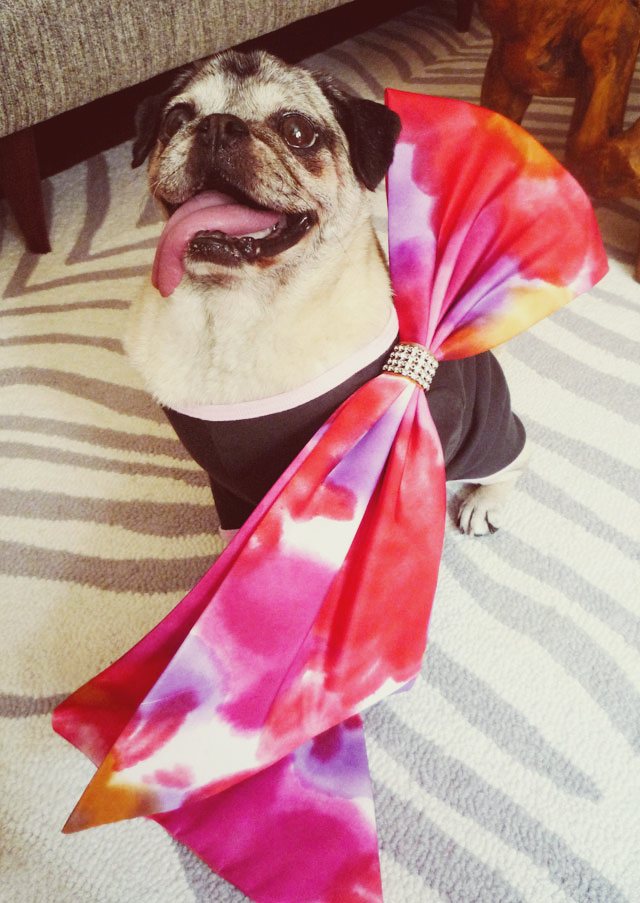 It has been a tumultuous year for Dior but now that they have gotten rid of that awful anti-Semite, John Galliano as head designer, Mamma Biscuit can finally agree to support the couture lifestyle they stand for and model their incredible clothing. At this point, Mamma's fashion endeavors and incoming requests from designers are practically stretched to the limit. Between Marc Jacobs, Valentino and keeping up with the enormous responsibilities of being editor-in-chief of Dogue magazine (all while enjoying at least 23 hours of sleep every day) Mamma is left with very few slots to fill in her schedule—not until Dior came knocking on her door. Mamma responded with a wagging tail and a flapping tongue and agreed to be their new face! This sort of work ethic has kept our Lady of Biscuits in demand and on top of her game!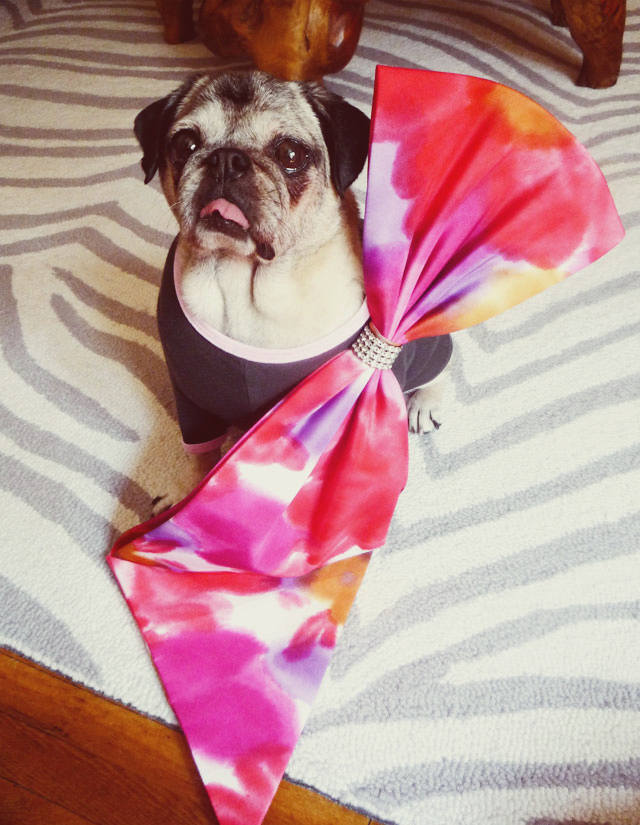 Nothing screams couture more than a pug wearing a giant structured bow made of water-colored satin and accented with a diamond clasp attached to a charcoal gray onesie with baby-pink piping. This Dior frock is beautifully modern yet classic and would definitely leave Rachel Zoe scrambling on the red carpet to redo any of her A-list clients. Our bitch is practically beaming in this red carpet number but take note paparazzi—she does not pose for any photographs or answer any interviewers' questions without getting a soft-chew treat and a kiss on her forehead!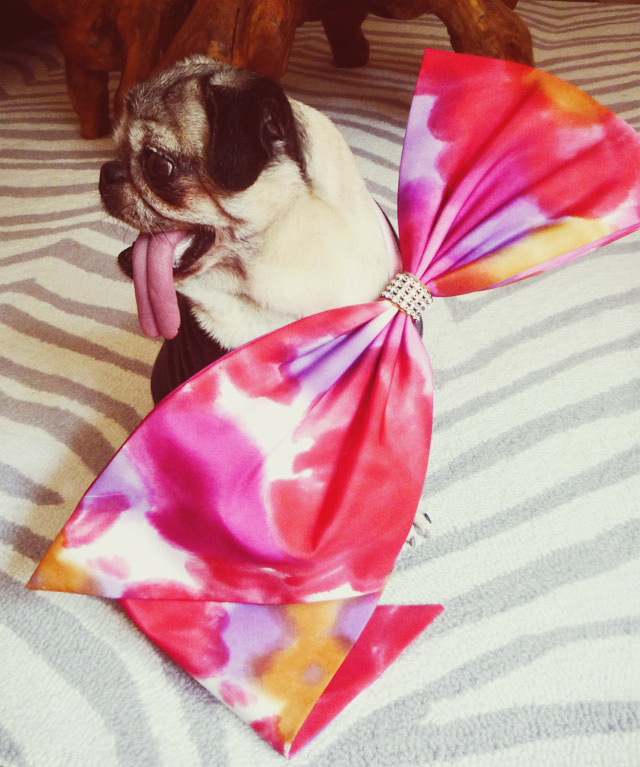 Here are a few dramatic outtakes of Mamma's Dior photoshoot. Nothing tickles me more than to watch Mamma wreck havoc on a set as she runs off into the kitchen while dragging and stepping on a delicate satin bow with her paws just because she heard the sound of a pot hitting the burner on our stove top or reacting to the scent of an open refrigerator door! Nothing gets passed our little bitch and her discerning nose, nothing I tell you!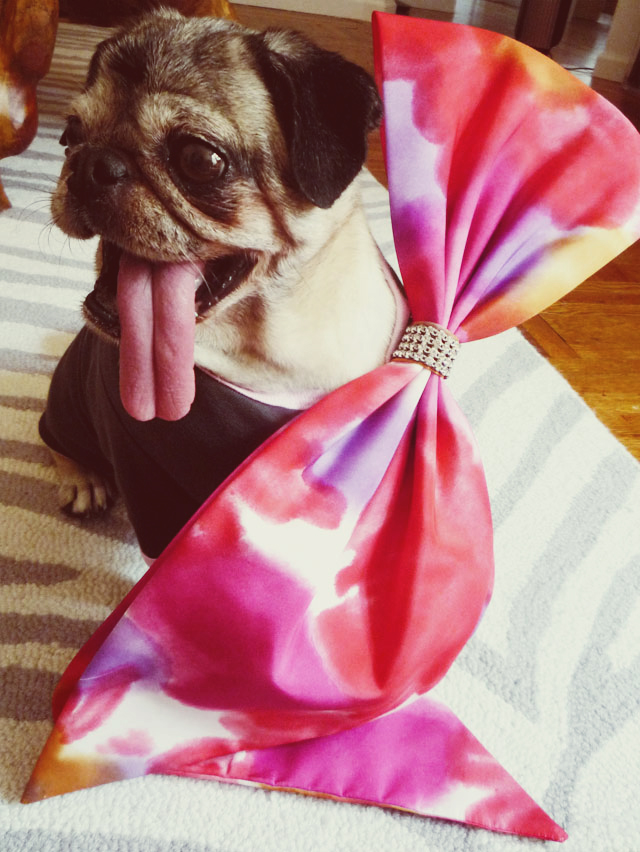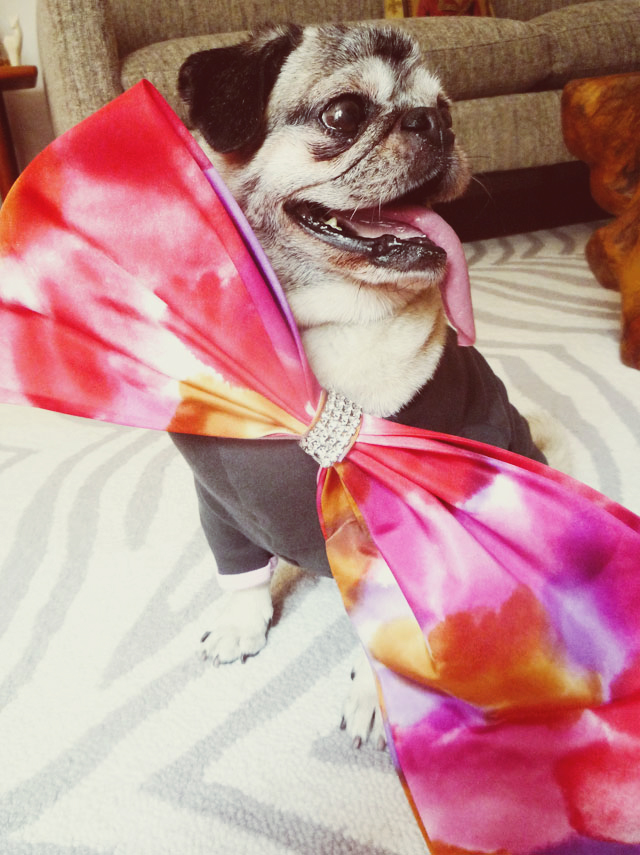 Enjoy