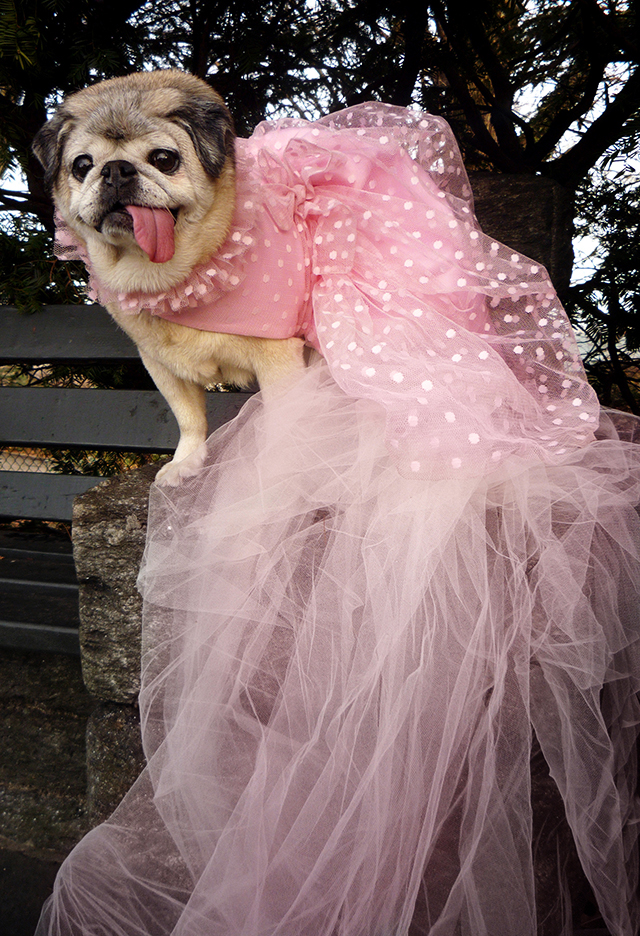 Hey guys, it's Mamma Biscuit and family and we're back from a long break from blogging. So sorry for staying away for so long but we took a much needed rest from the digital world to get through the holidays and to welcome in the new year. So for starters, Happy New Year! I know, it's quite odd saying that in the middle of February but I guess the phrase, "better late than never" seems serviceable with our greeting. What a fabulous year 2015 was and we hope to make 2016 even better as we continue to share Mamma Biscuit's twilight years with you all who love her as much as we do. So much has been happening since our last post. We've been super busy cleaning and decluttering the Pug Palace to make it more spacious for our little gremlin who demands a spotless home the way she demands a soft-chew peanut butter treat. We've even gone through her extensive wardrobe and have shed many garments that no longer fit our pooch. She's been growing a bit in her waistline lately and honestly, at 15 years old, she can be as big as she wants to be—she's earned it baby!
Now close to three weeks ago, New York City endured a record-breaking blizzard that seemed to disappear as quickly as it arrived. The snow was so intense and the winds were so blustery that even the idea of taking Mamma Biscuit outdoors for a photoshoot seemed almost dangerous. I was still disappointed that I could not document Mamma and her wagging tongue in 30 inches of snowfall but this fabulous pink dress you see here that our little spumoni face is wearing was an even bigger trade-off than photographing her in the park. Let me explain. Like the typical New Yorkers that Tommy and I are, we never went food shopping to prepare for such a storm. You can't blame us though, we have a bodega in the lobby of our building and a mini mart directly across the street that stay open 24-hours a day. Even an earthquake followed by a tsunami wouldn't make these owners close their establishments down so 30 inches of snow to a household that does not drink milk nor need bread to feel "safe" is a piece of cake—that would be vegan cake for Tommy. With that said, Mamma Biscuit's food supply seemed to be low and since the snow was so intense and they weren't making any deliveries either, off I went to the local pet store to stock up. I walked into the establishment and there were customers everywhere, grabbing as many cans of food they could possibly hold in their hands, clearing out the shelves as if the world was coming to an end! Everyone was in a frenzy except for me because all I could focus on was the fact that the pet store finally brought back their clothing merchandise and my eyes zoned in on this pink fabric folded up and slightly hidden under a pile of cable knit sweaters. I ran over to the shelf, literally pushing a woman and her kitty litter out of my way to lunge for the fabric. When I unfurled the dress, I suddenly realized that this was the exact dress I had seen several years ago that I never bought for Mamma Biscuit. For some reason, I was on the fence about it back then, probably because it was around 40 bucks and it lacked a bodice but now, it was 15 bucks and I was so excited that the garment made it's way back to me that all I could do was march up to the register and pay for it. As I walked out of the pet store, proud and feeling accomplished with Mamma Biscuit's new fabulous frock, I suddenly realized, having walked two blocks away from the store, that I never purchased Mamma's food. Clearly, I have my priorities in order, especially during an emergency snow storm! Fashion first, food later!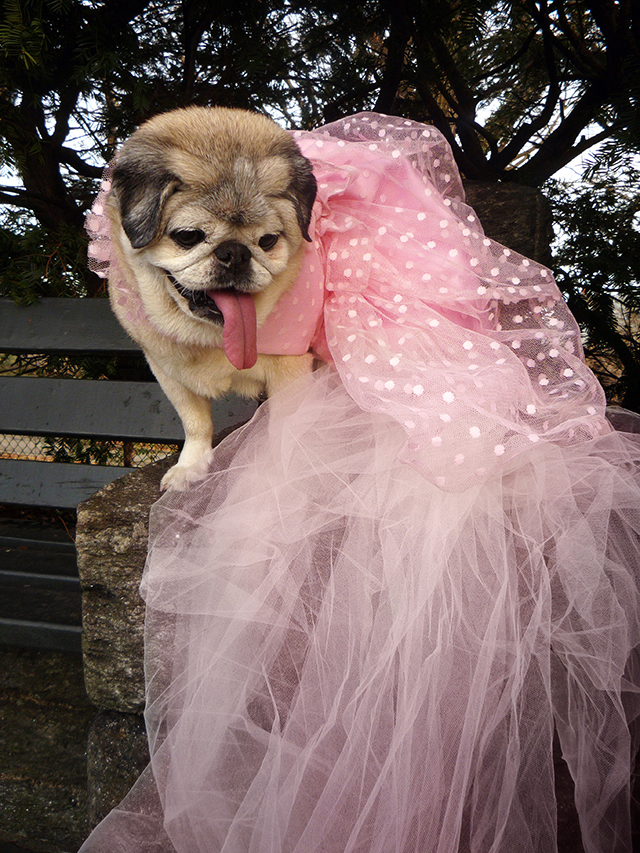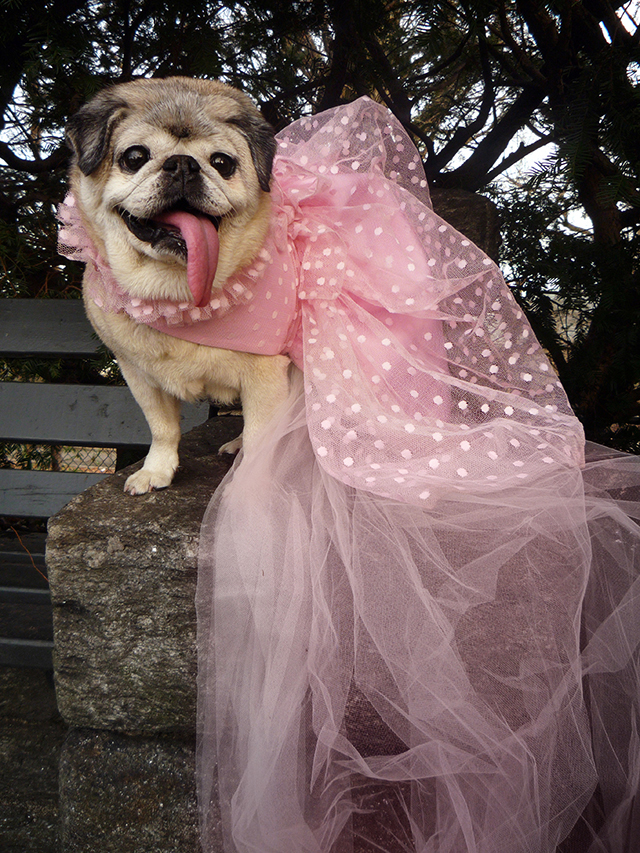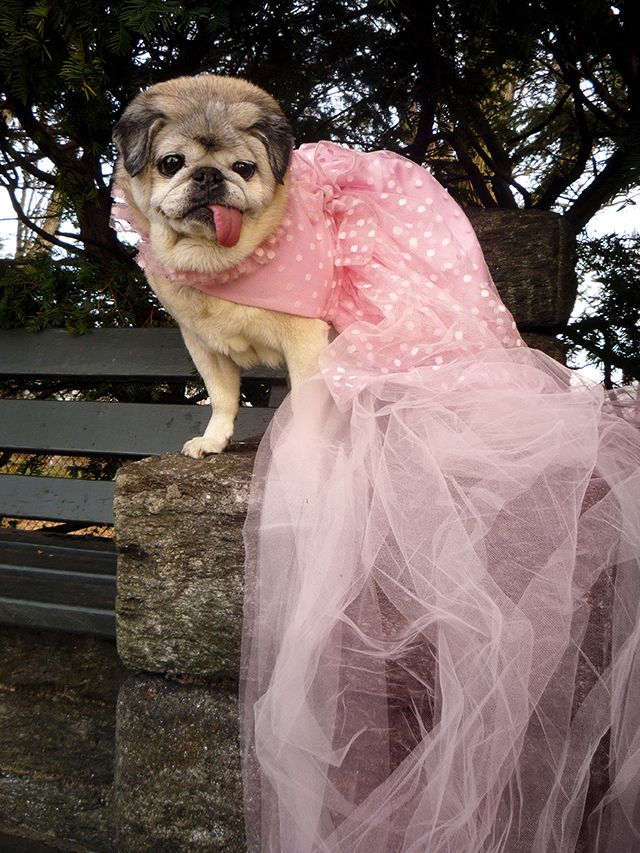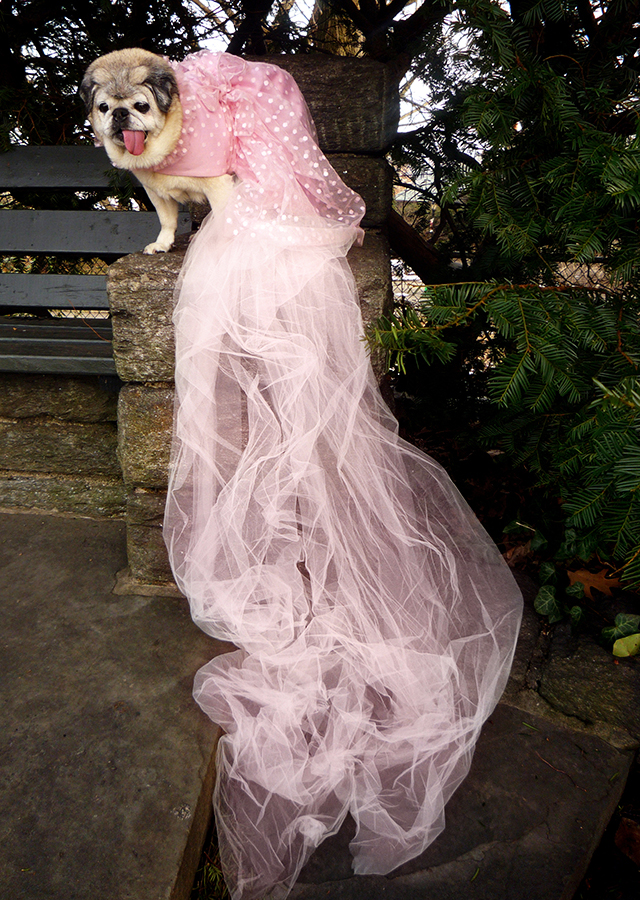 At any rate, Tommy and I plan to have a very low-key Valentine's Day with Mamma Biscuit and over the weekend, the temperatures were super warm and we decided to bring our little gremlin out to Fort Tryon Park to photograph her in her pink dress. I had that iconic scene of Molly Ringwald as Andie in Pretty In Pink making her Prom Dress rolling in my head when I put this fabulous frock on Mamma's back. Still uneasy about the fullness of her bustle, I decided to whip out some pink tulle fabric I had in the closet (yes, I have such a fabric laying around the house because I'm a gay man and you never know when you're gonna need such a thing) and added it to Mamma's dress for more drama! What a stir she caused as passer-byes looked on at Mamma working her 10foot train of pink tulle. Many people would shout out, "where's her groom?" as they passed on by and it took everything in me not to turn around and scream, "how presumptuous of you. She's a lesbian and she's waiting for her bride to arrive."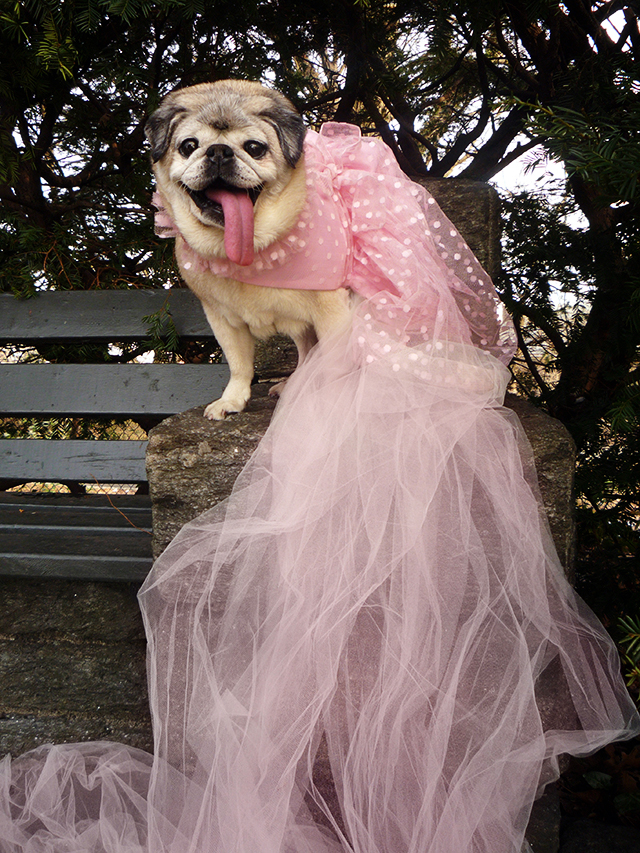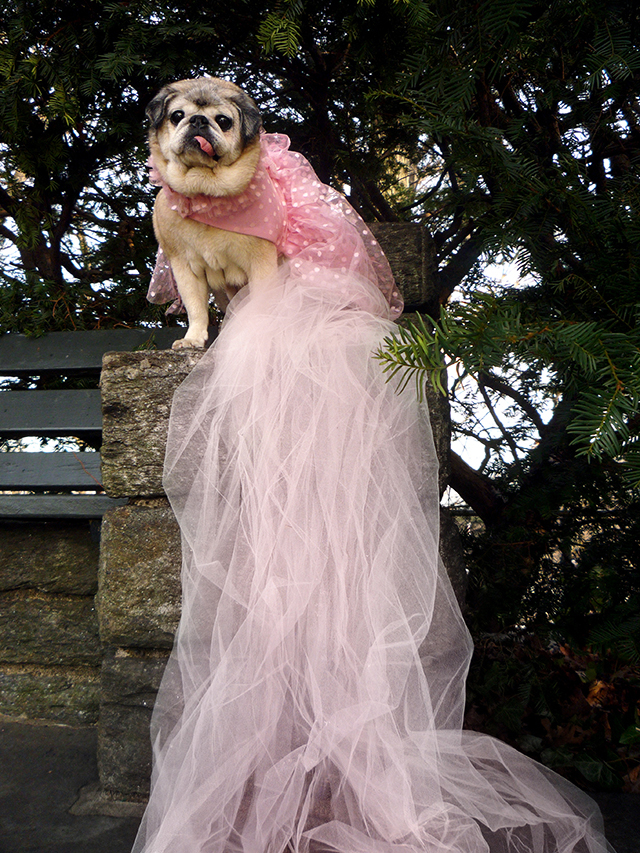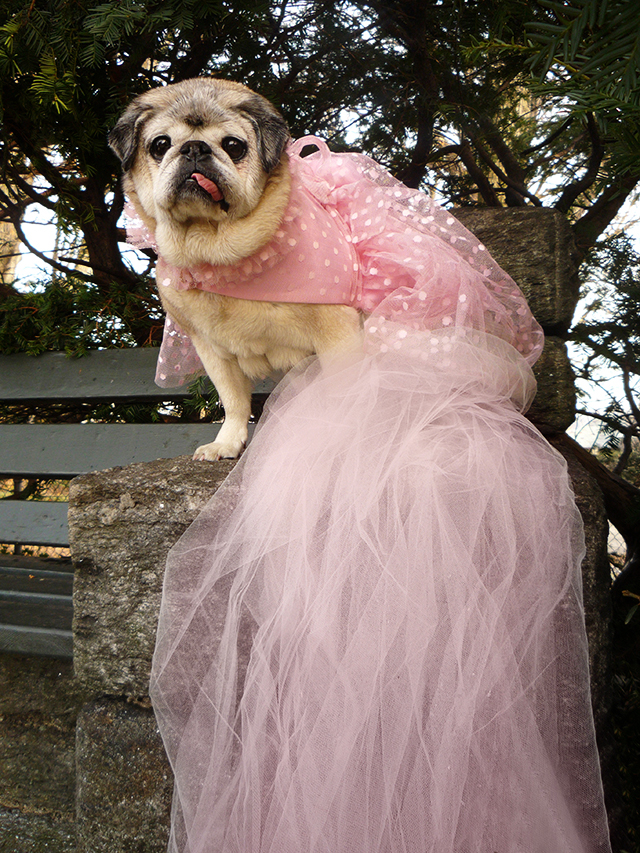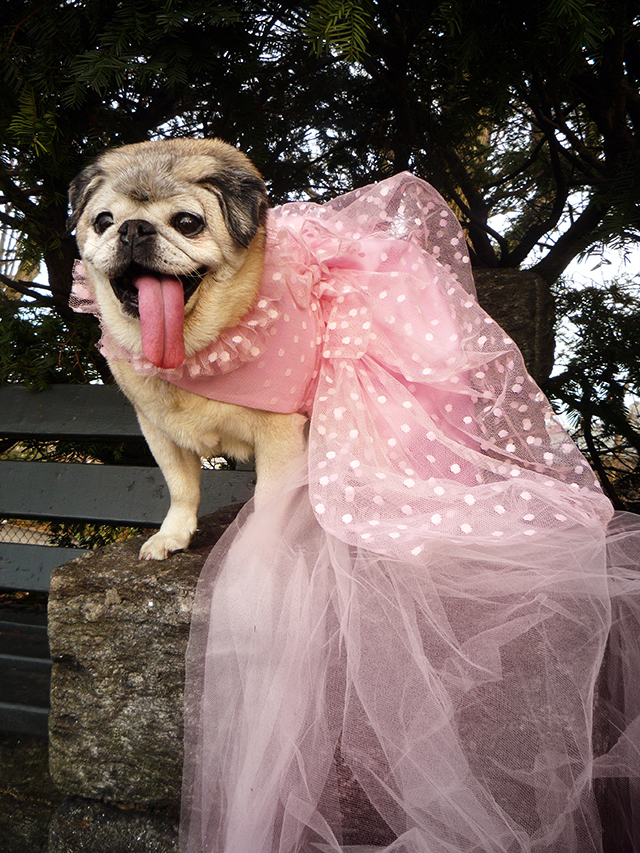 So that's it folks, Mamma Biscuit is Pretty in Pink wishing you all a very dramatic Happy Valentine's Day!
Enjoy