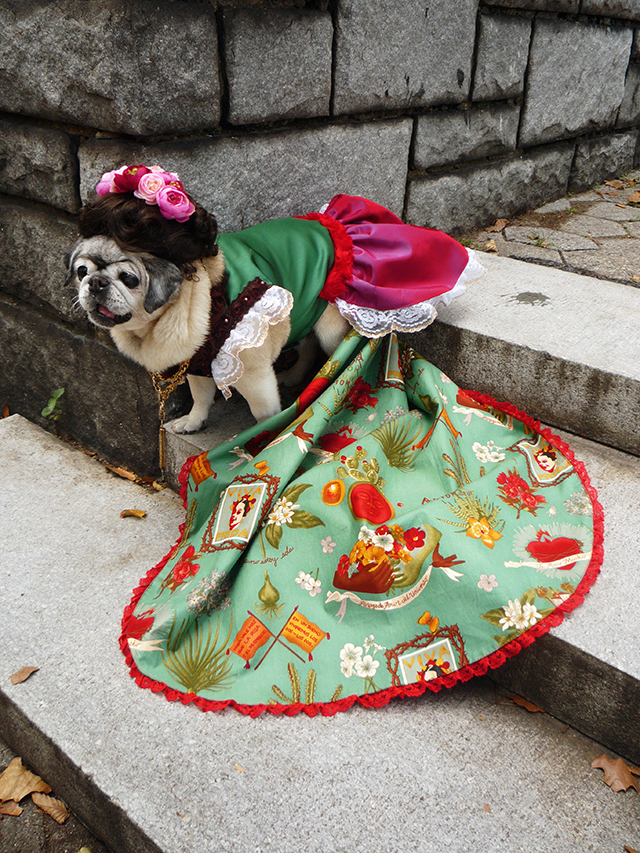 The significance of a self-portrait in 2015 has radically diminished in our inundated digital world where everyone has access to mobile photography and a selfie stick. We're all living in a culture that encourages an impulsive need to document oneself in the most mundane ways possible, adding more data into the proverbial landfill in the sky. Despite all of that noise, if there is one thing I can think of that really defines the mythology of Mamma Biscuit, it's definitely the portrait. I would say self-portrait but Mamma Biscuit is neither a photographer or a painter (no matter how creatively I imagine her) but she sure is a canine muse and the moment she steps foot in front of the camera, her eyes and her whole being becomes incredibly expressive. She lights up like a giant star and what she leaves behind are vignettes (archives really) of pure beauty for us to share with the world that will live on and on for generations to come.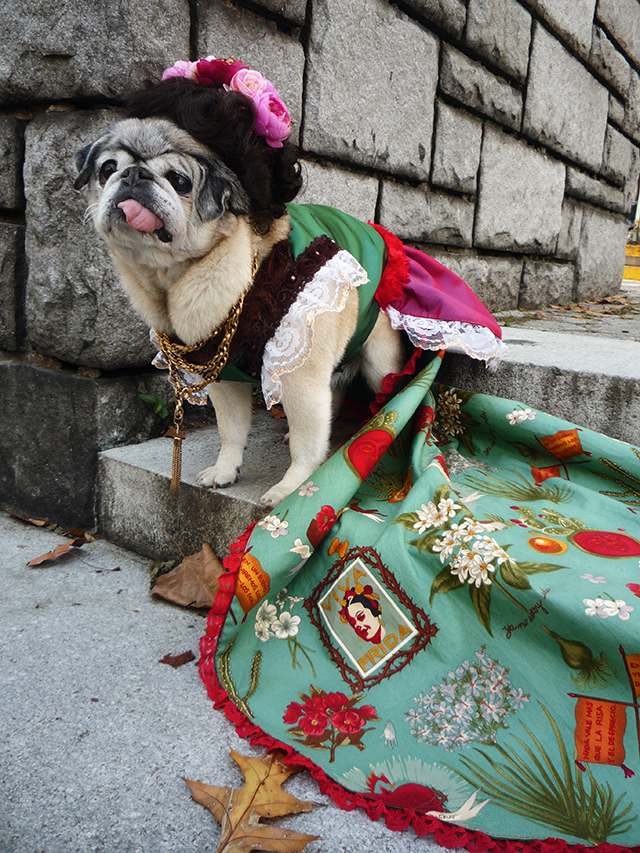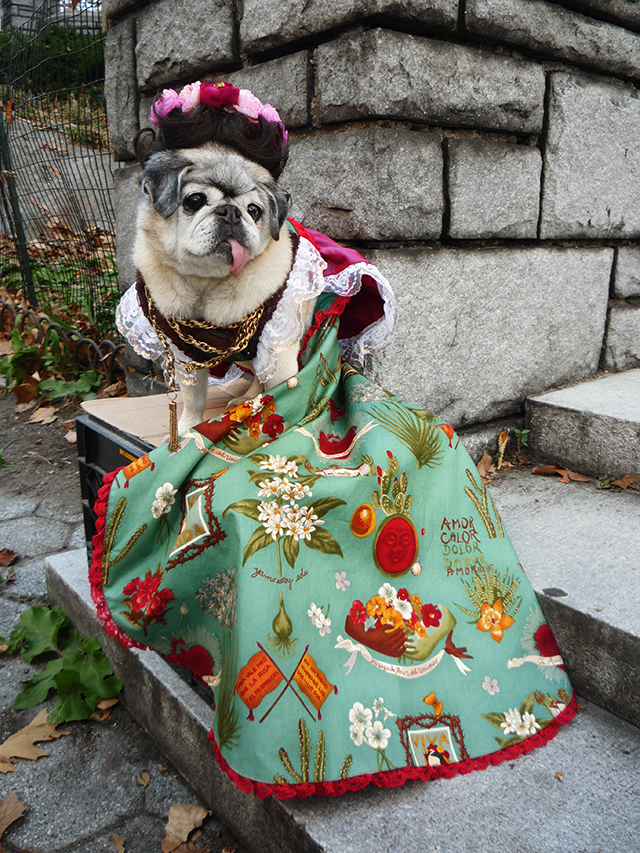 Frida Kahlo de Rivera is also one of those rare beauties who has inspired the world with her self portraits that are emblematic of national and indigenous tradition and also by feminists for their uncompromising depiction of the female experience. You see, it's such an easy fit for Mamma Biscuit to channel Frida this year for Halloween because she too has gifted the world with thousands of portraits of herself that are all really uncompromising depictions of the canine experience! By default, both Frida and Mamma depict reality rather than a dream although on the surface, one would think either one is surreal. Now if that's not a mouthful of pretentious bullshit, I don't what is. The point is, Mamma Biscuit, like Frida Kahlo, embodies a unique presence that combines art, fashion, style, creativity and one hell of a unibrow!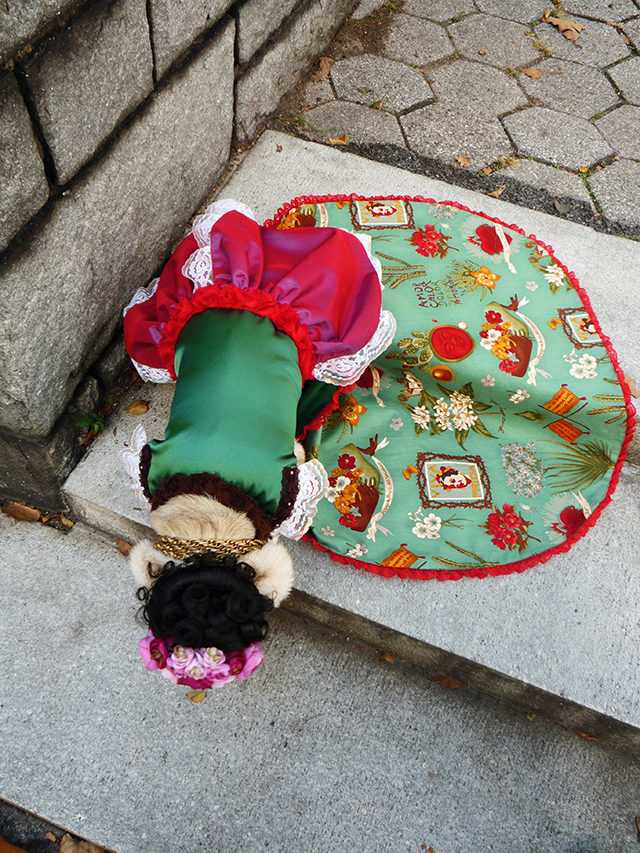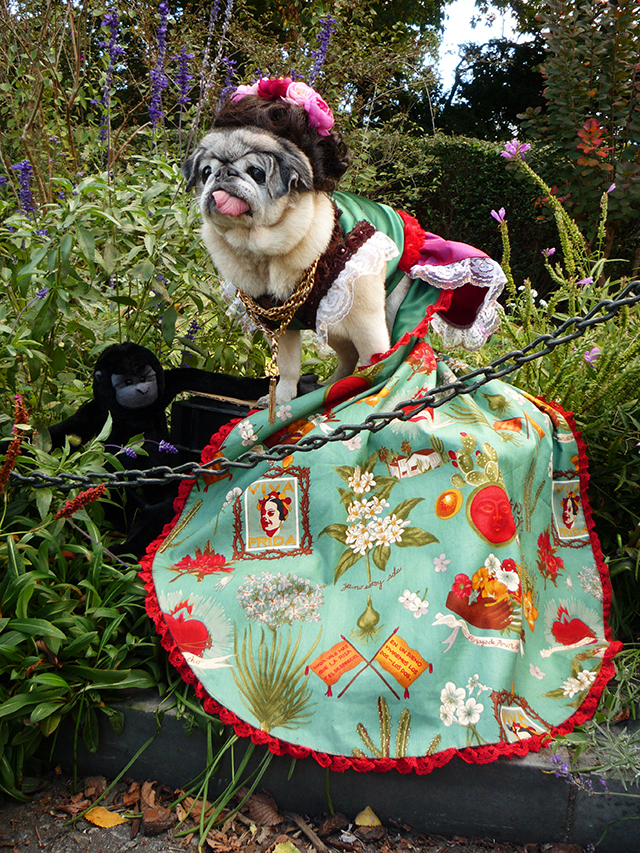 Frida Kahlo's life began and ended in Mexico City, in her home known as the Blue House. In 1922, Kahlo was enrolled in the Escuela Nacional Preparatoria, one of Mexico's premier schools, where she was one of only thirty-five girls looking to study medicine. On September 17, 1925, Kahlo was riding in a bus that collided with a trolley car. She suffered serious injuries as a result of the accident that left her in a great deal of pain as well as compromising her reproductive capacity. Kahlo was only 18 years old at the time. Mamma Biscuit can relate. She is a testament to coming out of miserable circumstances such as the puppy mill system only to become something so great and significant, and that's exactly what Kahlo did, she changed her path. After her accident, Kahlo abandoned the study of medicine and began to paint, to occupy herself during her three-month immobilization. Self-portraits were a dominant motif then. Kahlo once said, "I paint myself because I am so often alone and because I am the subject I know best." Her mother had a special easel made so she could paint in bed, and her father lent her his box of oil paints and some brushes. That alone makes me feel like an inadequate parent for not installing Mamma's doughnut bed right next to her food bowl. Artists need convenience and comfort, and food, lots of food!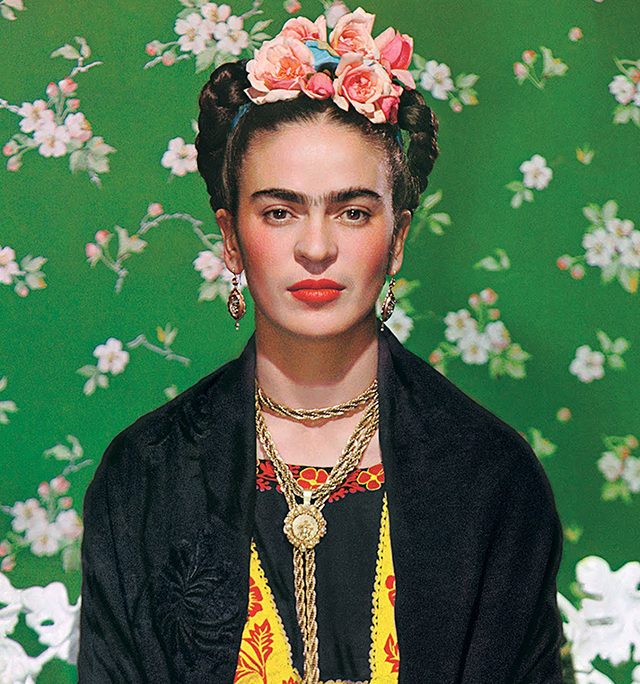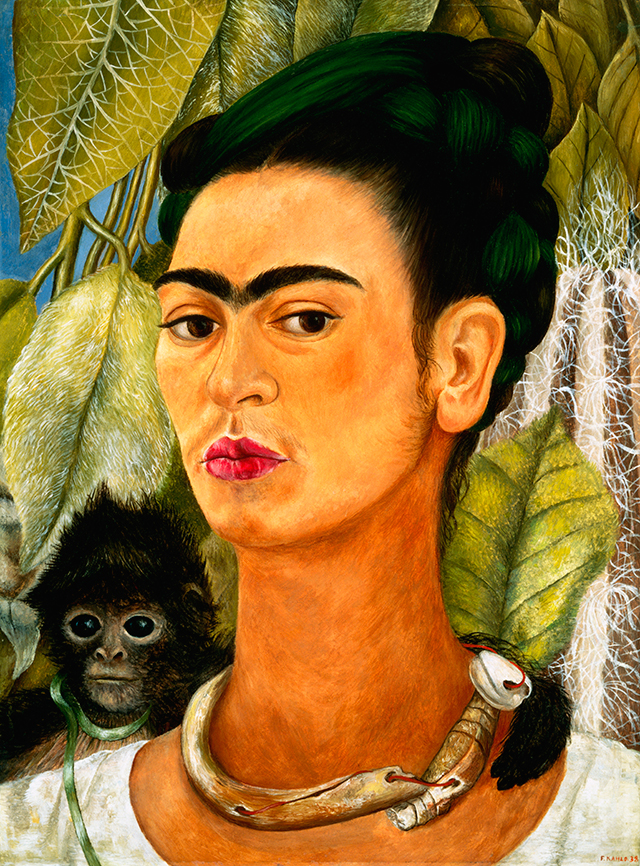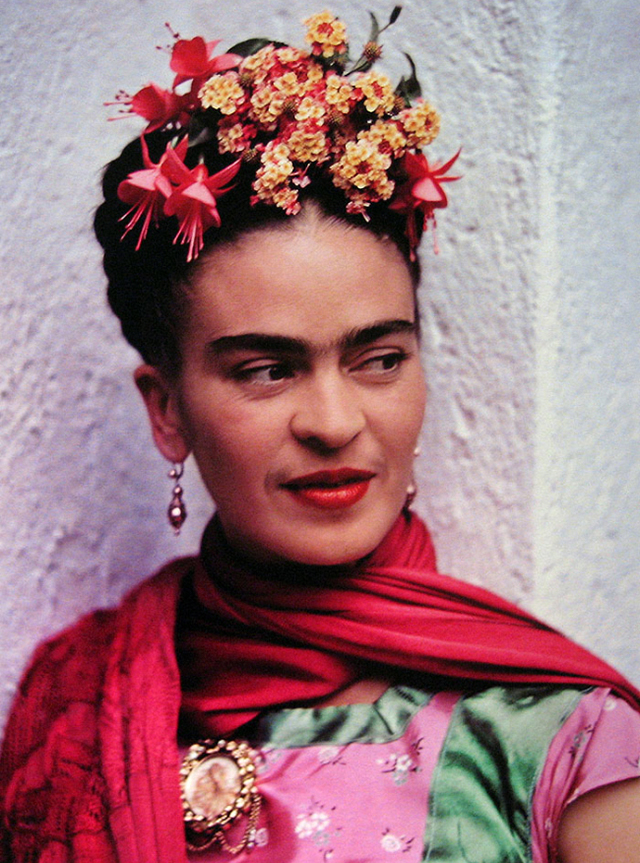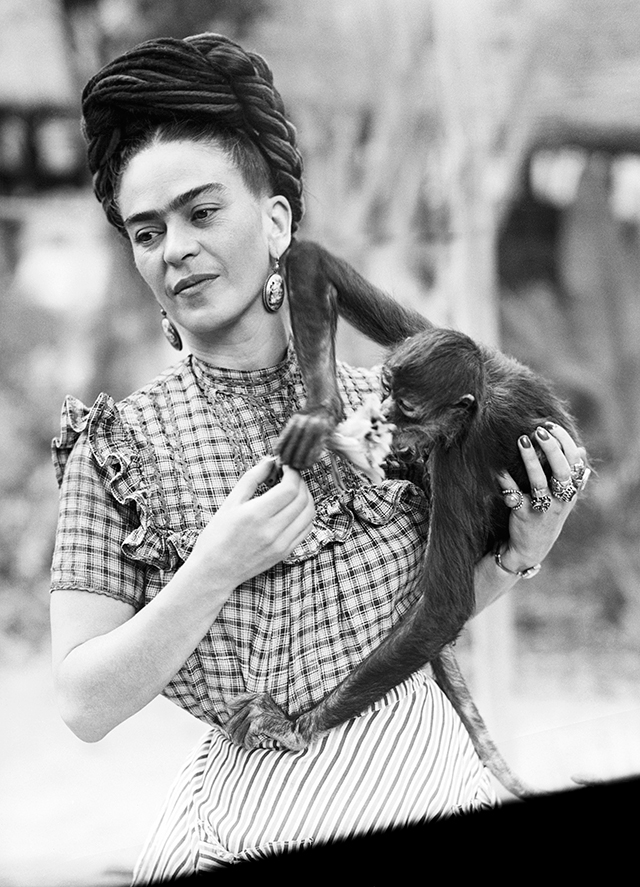 Frida Kahlo created at least 140 paintings, along with dozens of drawings and studies. Of her paintings, 55 are self-portraits which often incorporate symbolic portrayals of physical and psychological wounds. Think body parts and detailed organs as external elements in any given composition. She insisted, "I never painted dreams. I painted my own reality." Kahlo was also influenced by indigenous Mexican culture, which is apparent in her use of bright colors, dramatic symbolism and primitive style. She frequently included the monkey, which in Mexican mythology is a symbol of lust, and Kahlo portrayed it as tender and protective symbols. Since Mamma Biscuit actually looks more like a monkey rather than a dog, I too see her as tender and protective. Diego Rivera had a great influence on Kahlo's painting style. Kahlo had always admired Rivera and his work. She first approached him in the Ministry of Public Education, where he had been working on a mural in 1927.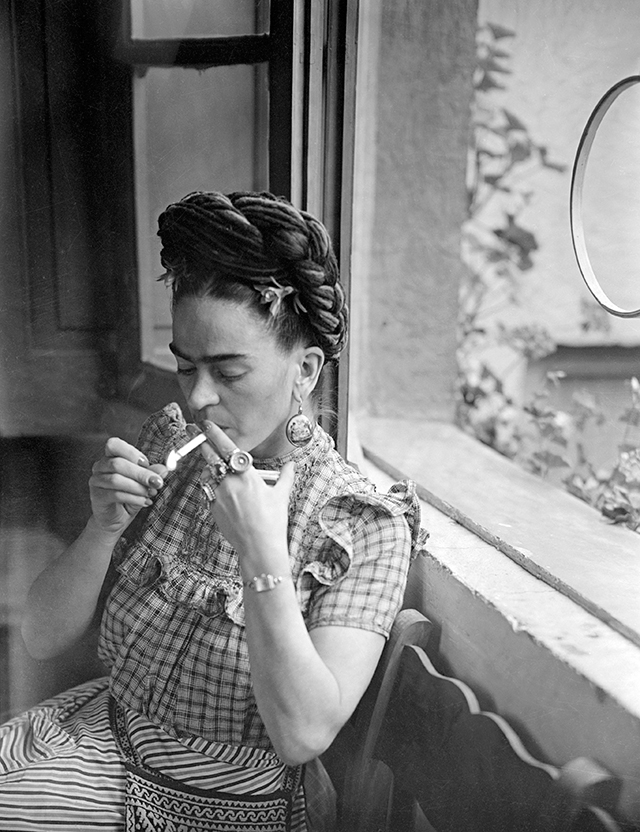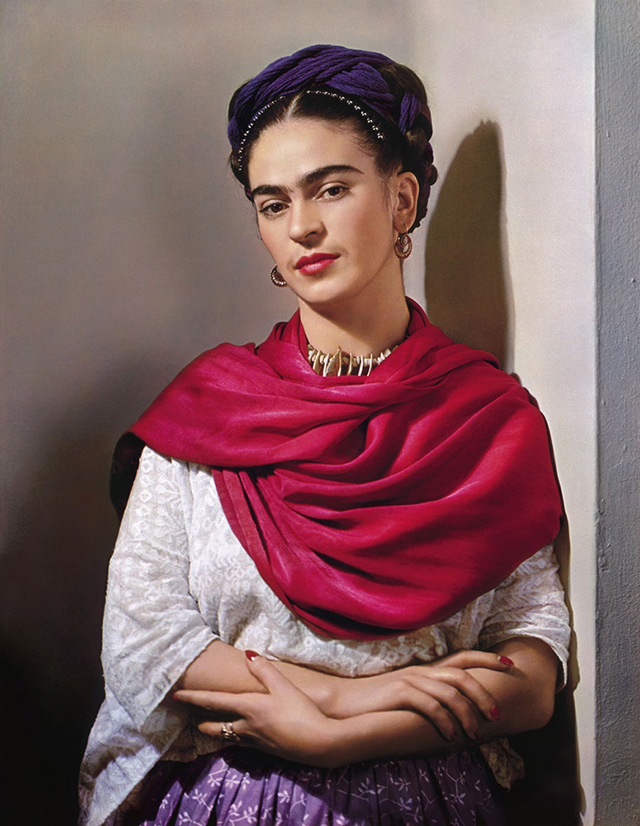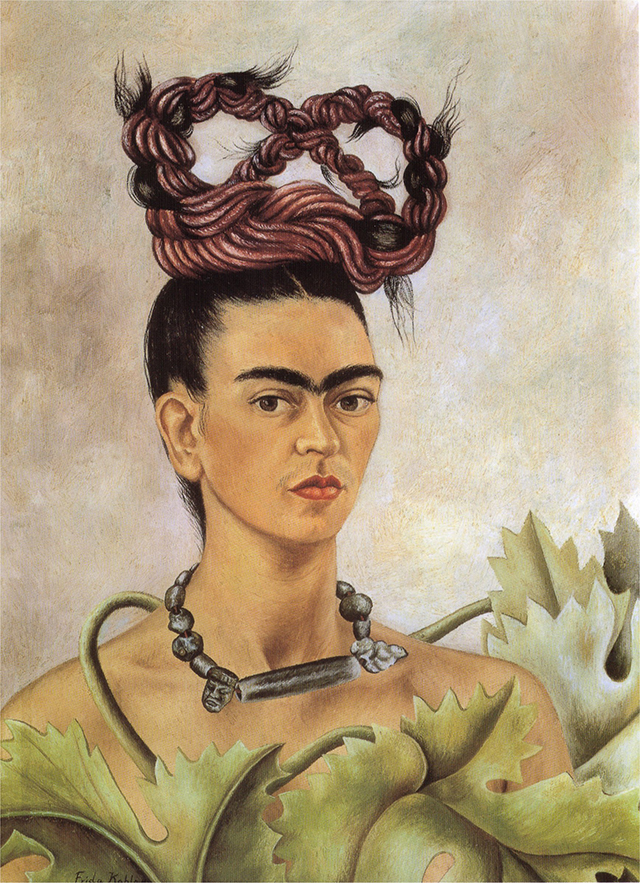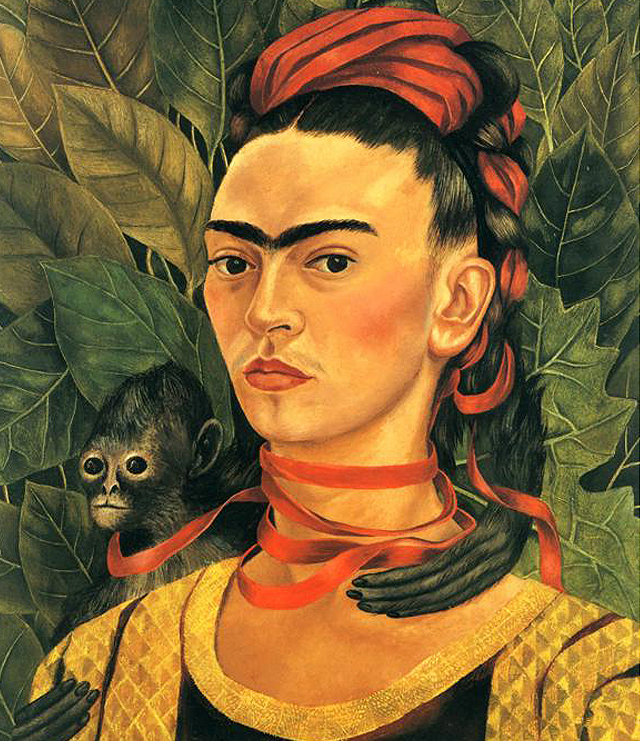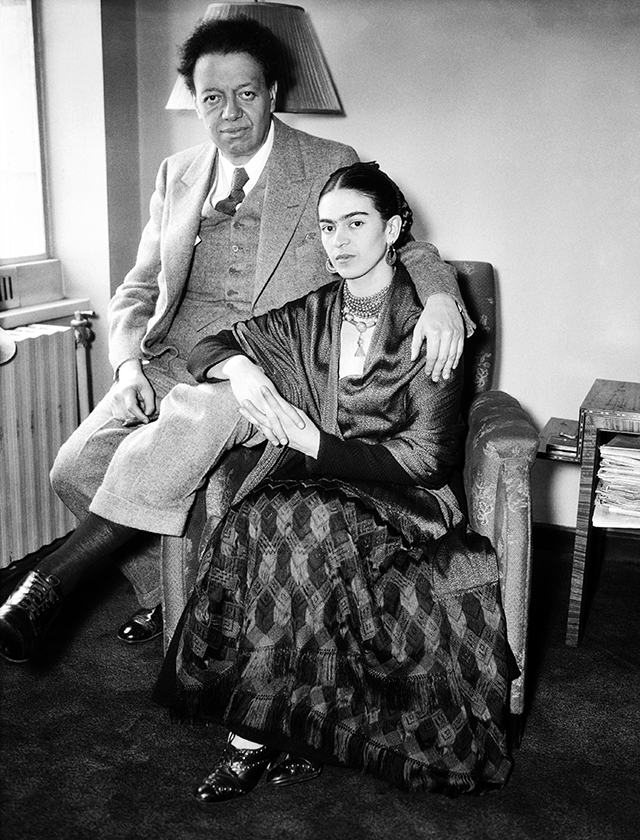 Their marriage was troubled from the start. Firstly, Frida was bisexual and had affairs with both men and women, including Isamu Noguchi and Josephine Baker. Rivera knew of this and tolerated her relationships with women, but her relationships with men made him jealous—quel surprise. For her part, Kahlo was furious when she learned that Rivera had an affair with her younger sister, Cristina. I mean really, if you're gonna have an affair, create an Ashley Madison account and do it the right way, don't hunt down your wife's sister! The couple divorced in November 1939, but remarried in December 1940. Their second marriage was as troubled as the first. Their living quarters were often separate, although sometimes adjacent.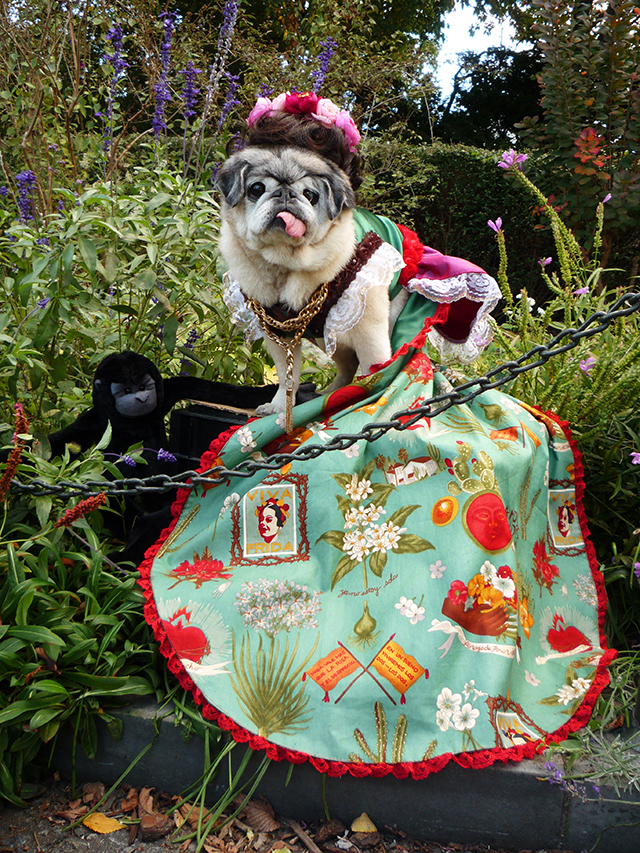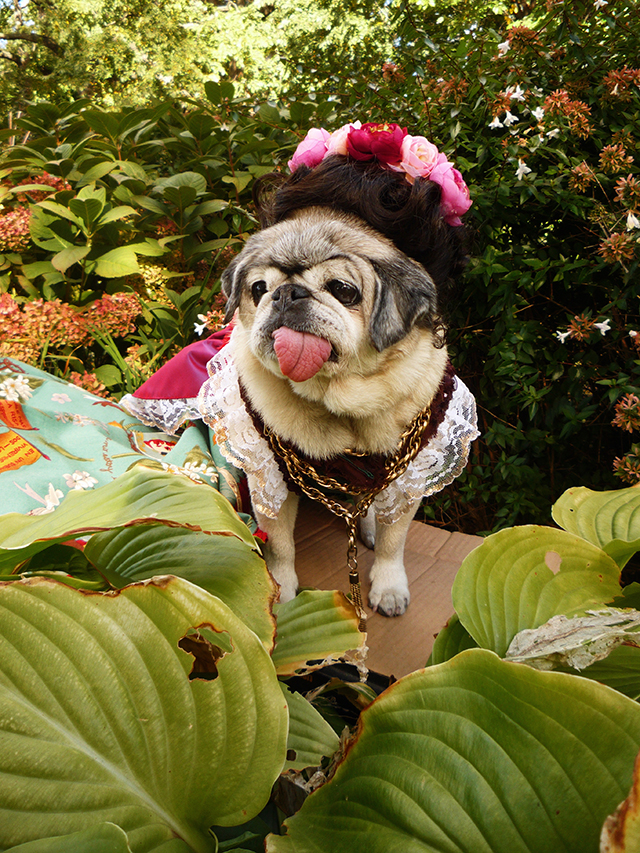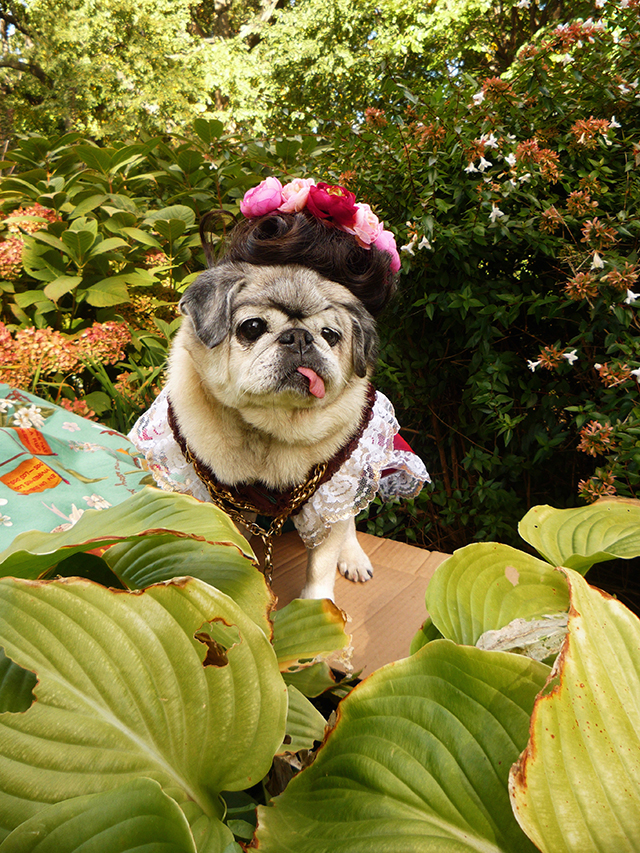 Speaking of their living quarters, in late August, Tommy and I went to see the Frida Kahlo Art, Garden, Life exhibit at the New York Botanical Gardens and it was just simply magical. Firstly, I would like to say that I tried my very hardest to set up a photoshoot of Mamma Biscuit at the garden exhibit wearing her costume. I contacted everyone there and although they were absolutely entertained by the idea of our pug dressed up as Frida Kahlo, they just couldn't allow any dogs on the premise. Despite that missed opportunity (or the expensive admission price, 25 bucks per ticket), we still went to check out the exhibit which ends on November 1st. The exhibition is the first to examine Frida Kahlo's keen appreciation for the beauty and variety of the natural world, as evidenced by her home and garden as well as the complex use of plant imagery in her artwork.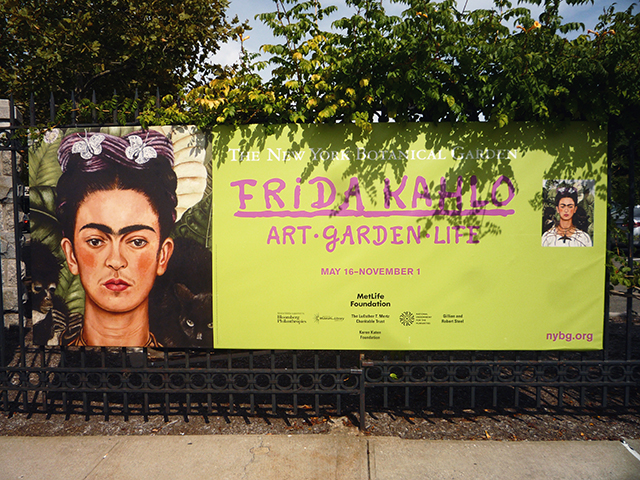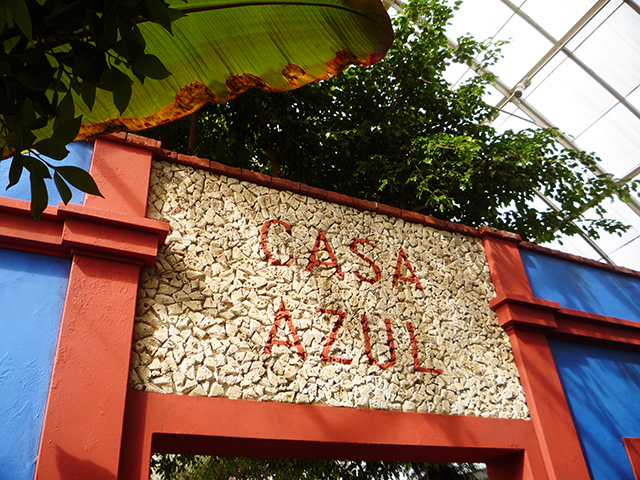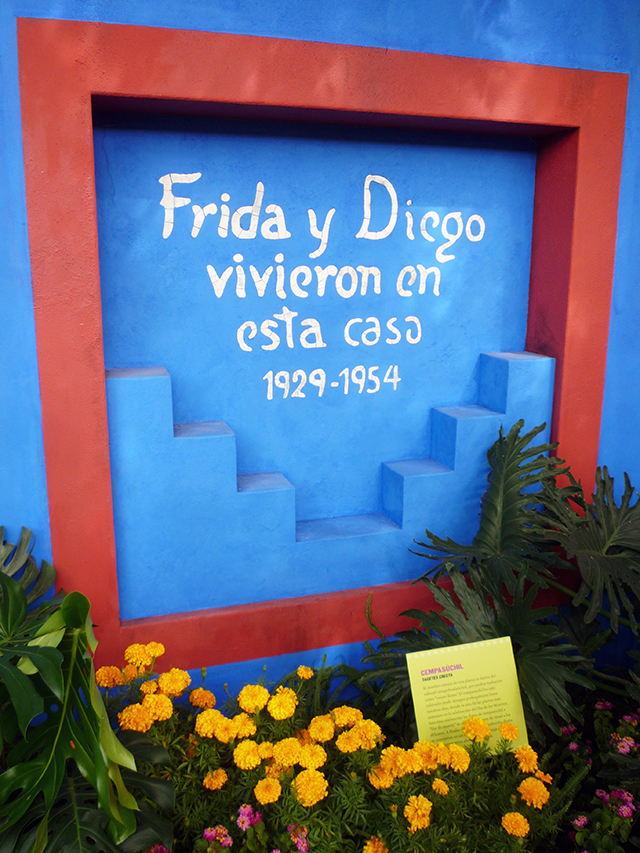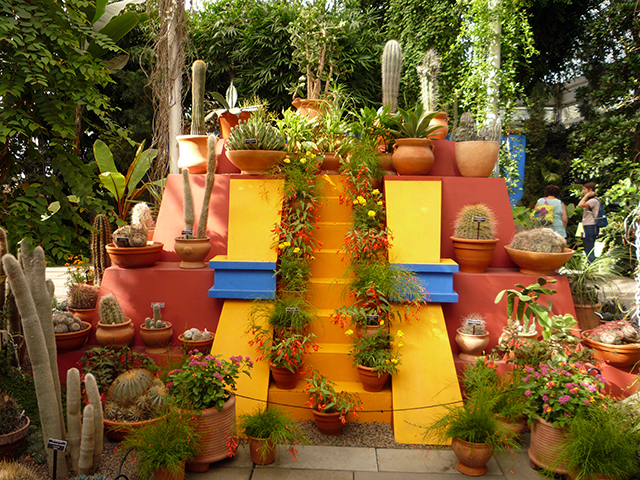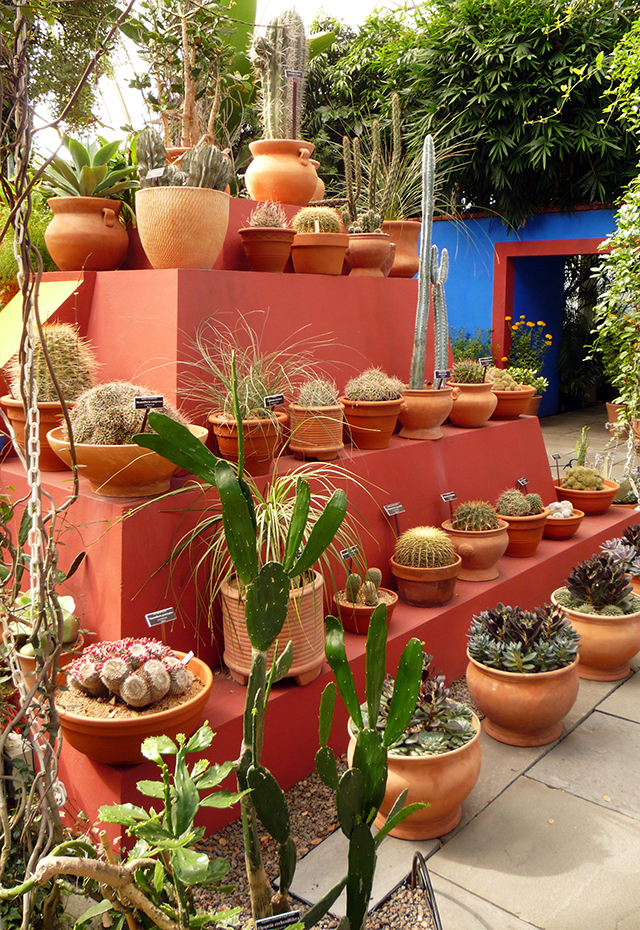 It features a rare display of more than a dozen original Kahlo paintings and works on paper as well as the iconic artist's famed garden and studio at the Casa Azul, her lifelong home in Mexico City. Check out some of these fantastic photos we took walking through this re-imagined Casa Azul. As I walked throughout the space, all I could do was imagine Mamma Biscuit, dragging the train of her exquisite Mexican dress and running, face-first into one of the hundred cacti lining the famed pyramid structure, which is the centerpiece of the whole display.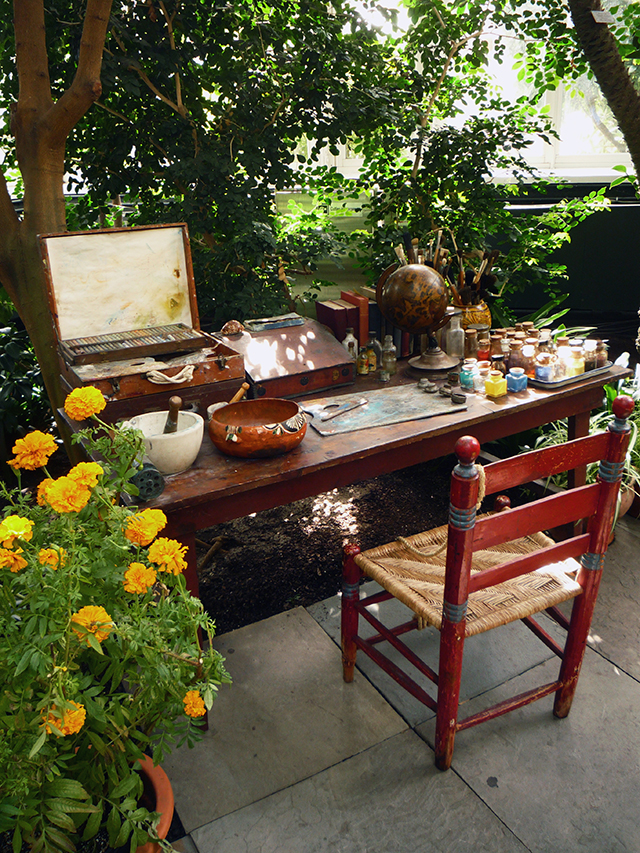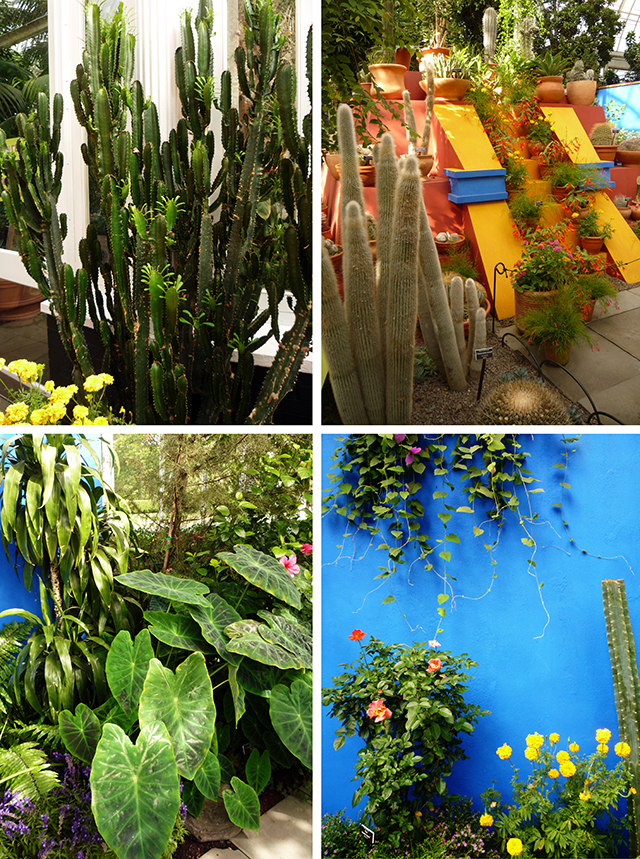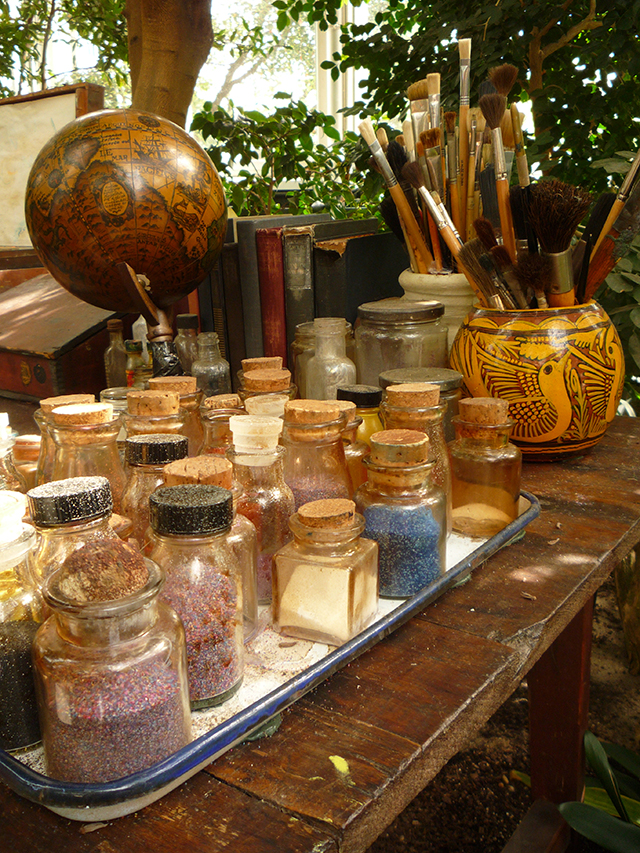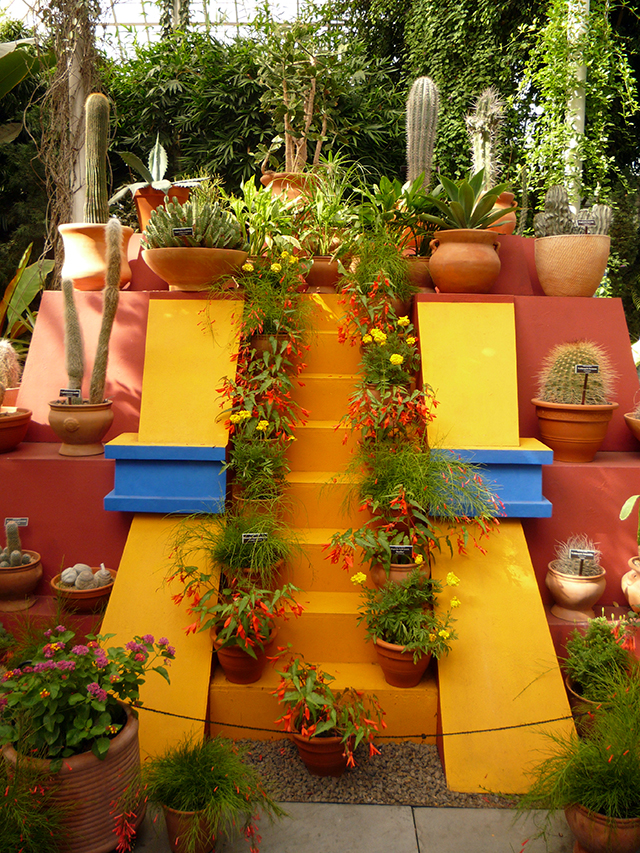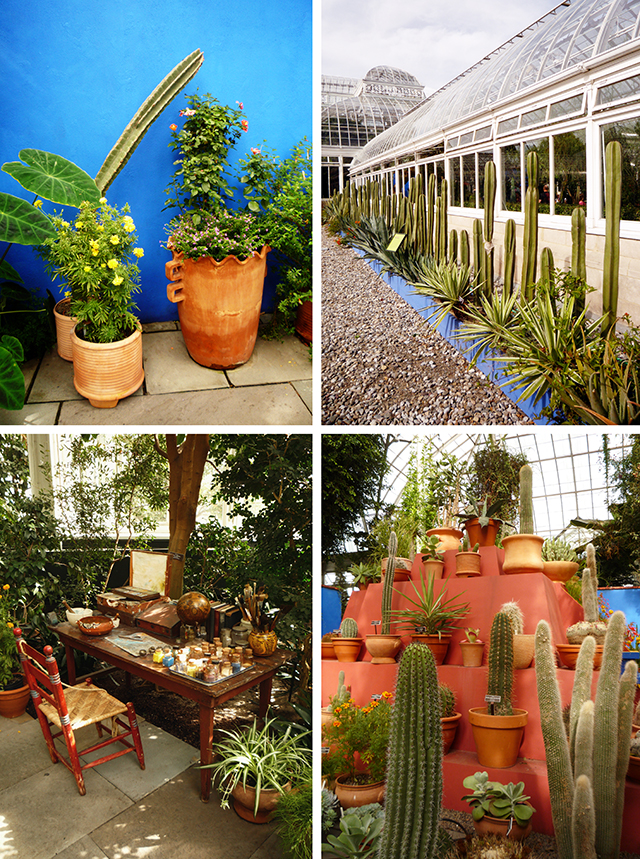 Now let's talk about this amazing gown Mamma Biscuit has on. Created with yards and yards of a special Frida Kahlo fabric from The Alexander Henry Fabrics Collection, this garment is one hell-of-a-show-stopper! I fell in love with this fabric the moment I saw it online and knew that it would make the perfect 3-foot train to Mamma's exquisite ensemble. Pulling colors from nature as well as Mexican heritage, we came up with this rich, sumptuous look that only Mamma Biscuit could pull off. We topped it all off with an up-swept wig and crown of florals that would make Lana Del Rey seem practically derivative along with a gold rope chain with tassel charm to finish her off with fine detail.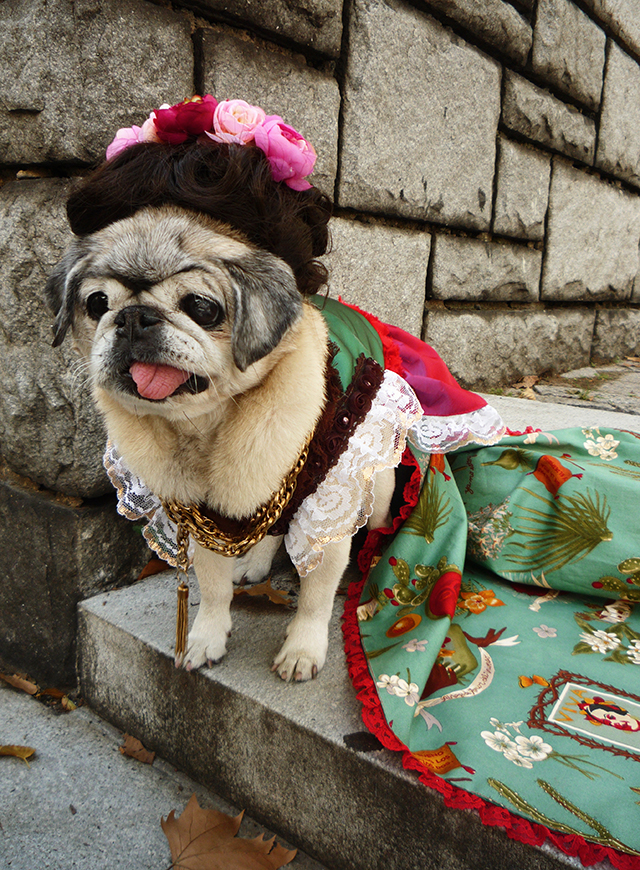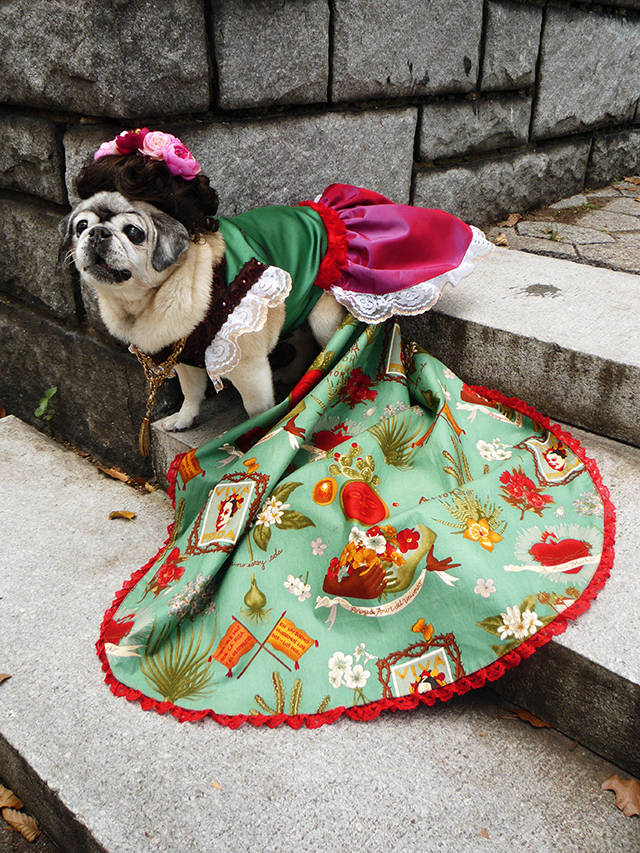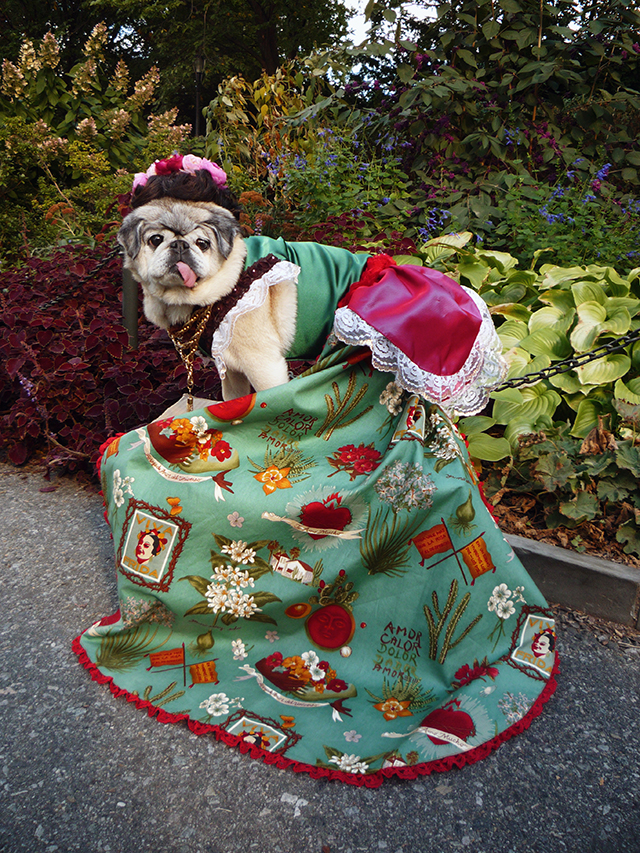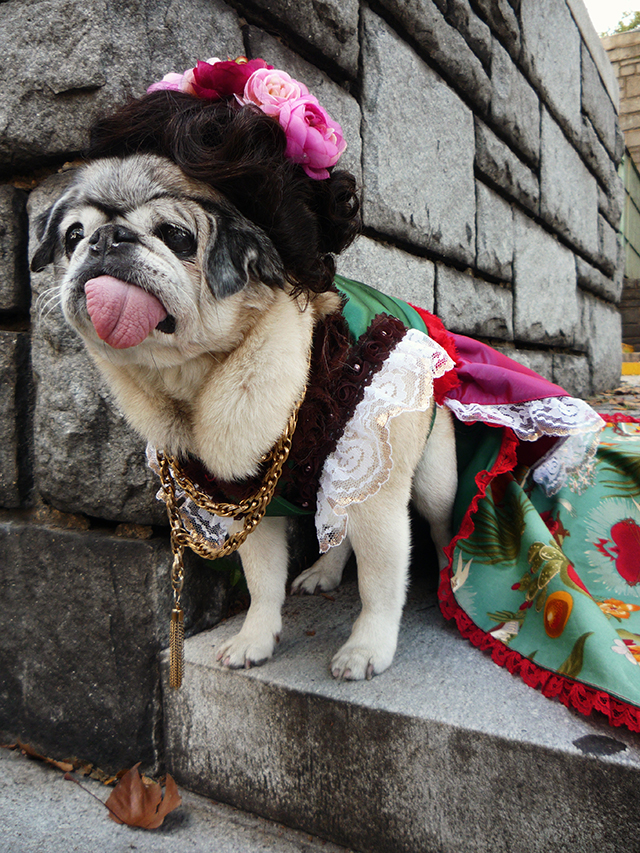 Of course, our photoshoot would not be complete without some portraits of Mamma Biscuit in her own garden out in Fort Tryon Park, standing proudly alongside her pet monkey. Oh the crowds we drew around us as I put my camera on burst to capture this epic moment. Mamma sure knows how to do Halloween with effortless style and grace.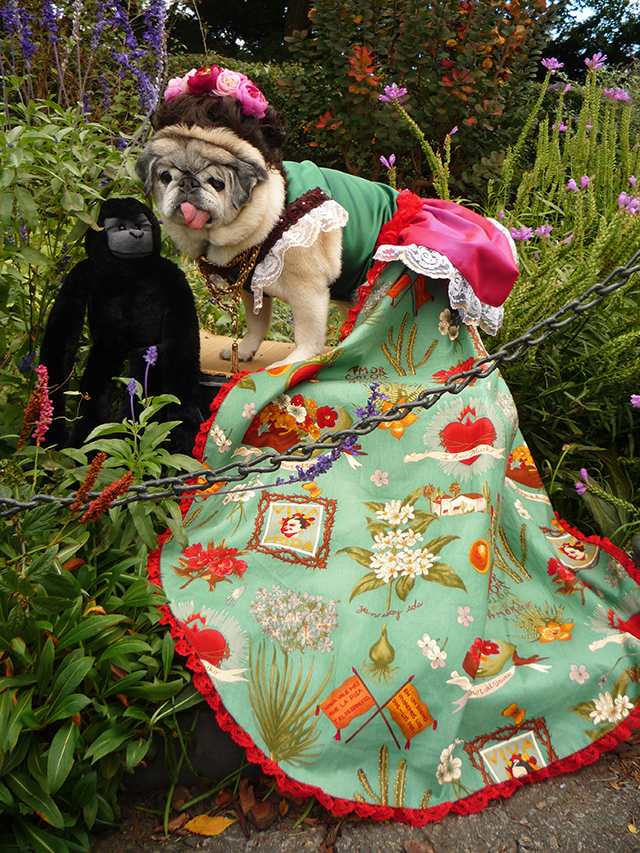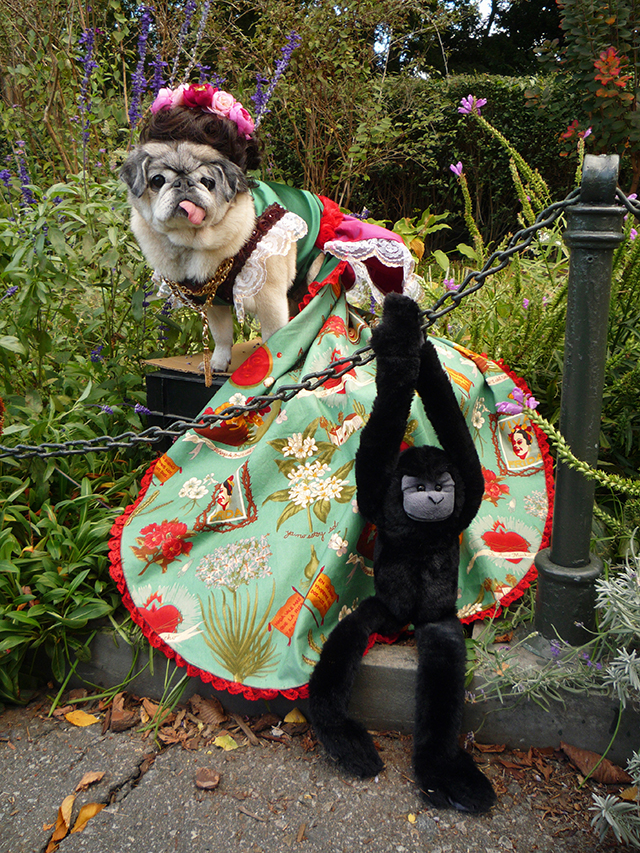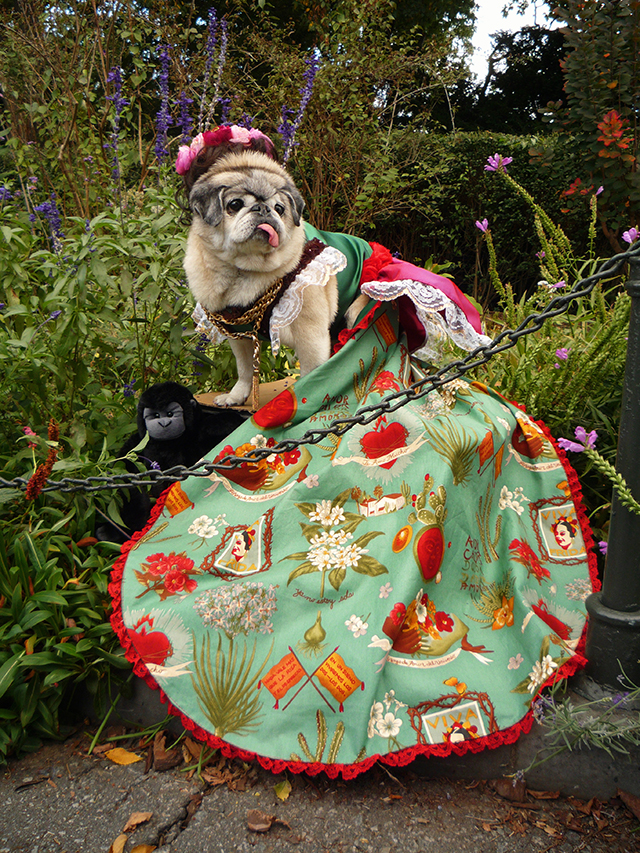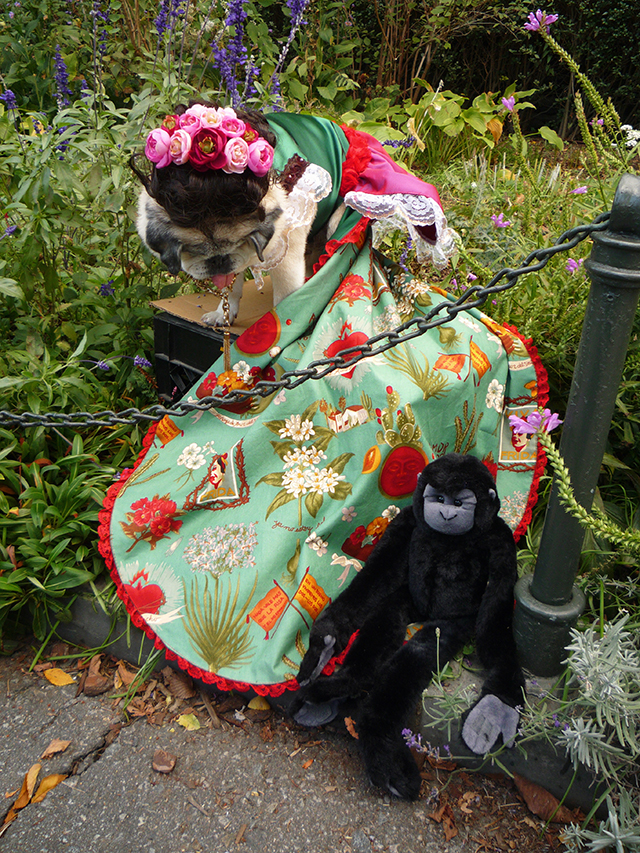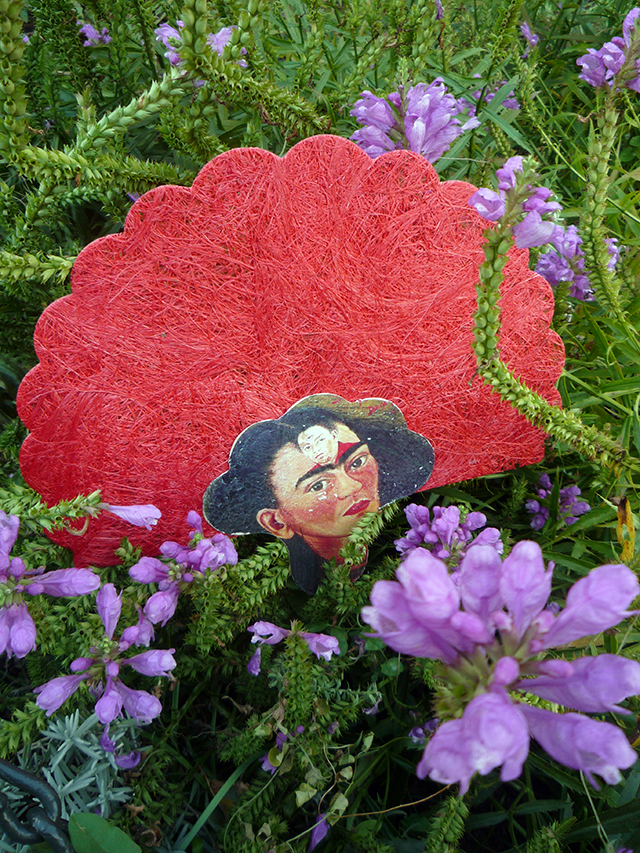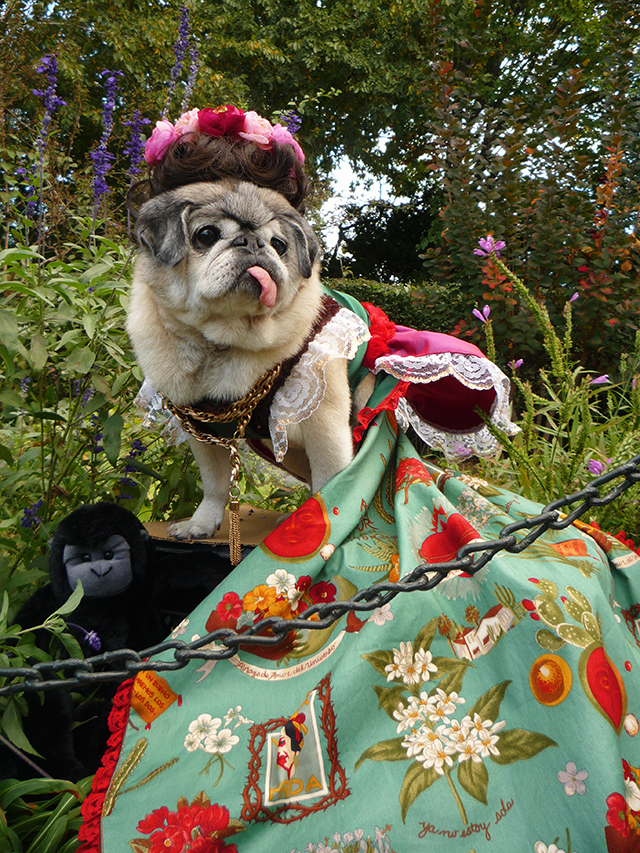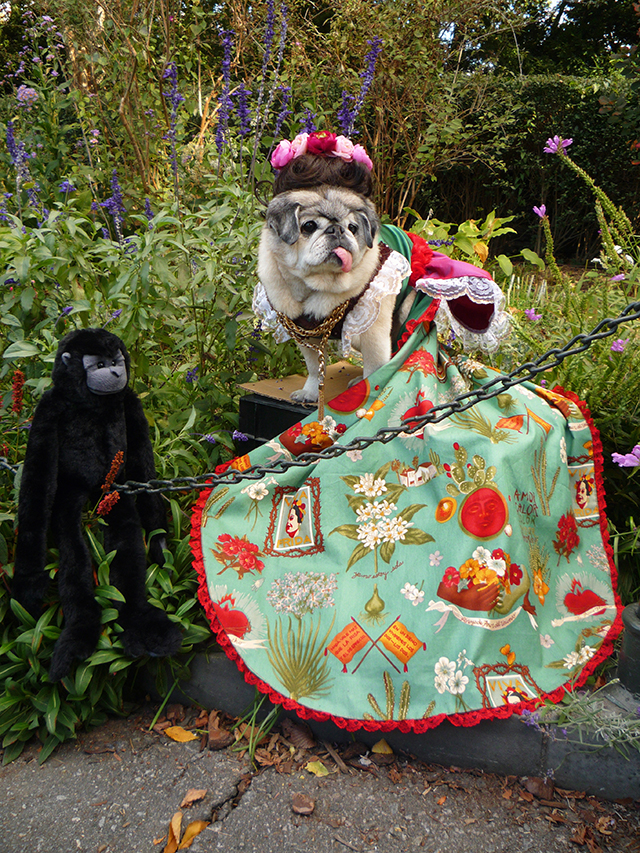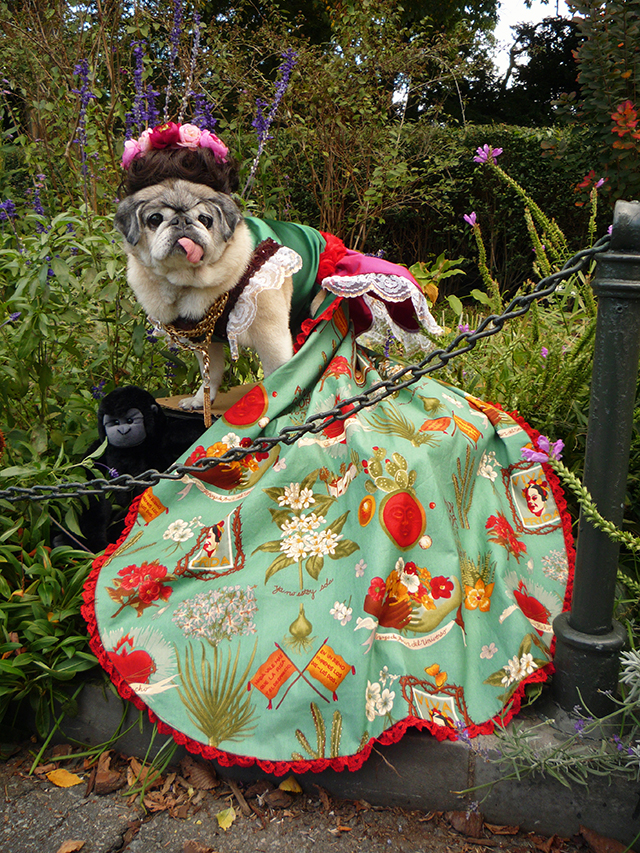 Frida Kahlo is a true, authentic artist and icon to Mamma Biscuit and family and it was a pleasure to reinterpret her for the 25th Annual Tompkins Square Park Halloween Dog Parade. The event took place over the weekend on Saturday, October 24th in Tompkins Square Park in the East Village and Mamma Biscuit, once again, delivered an epic costume for the elite dog crowd of New York City to chew on.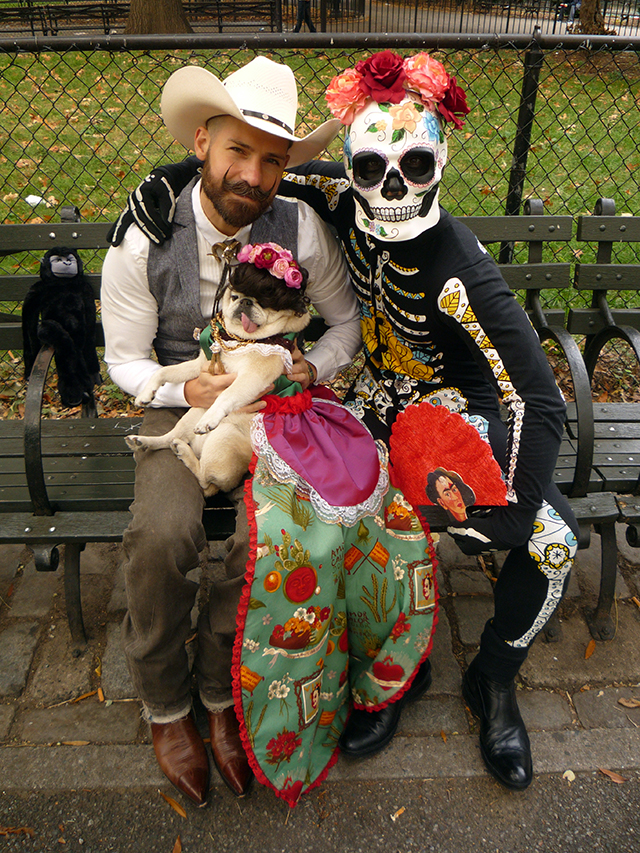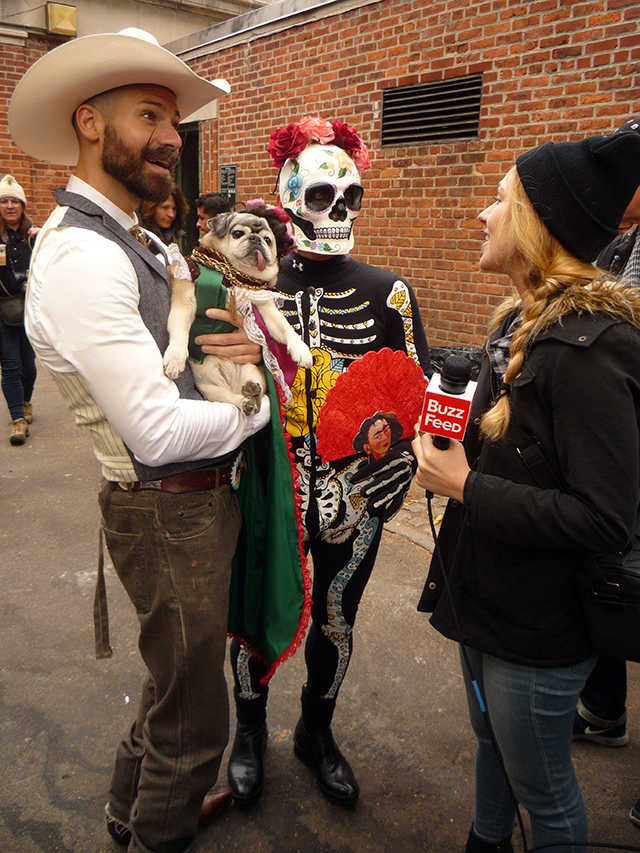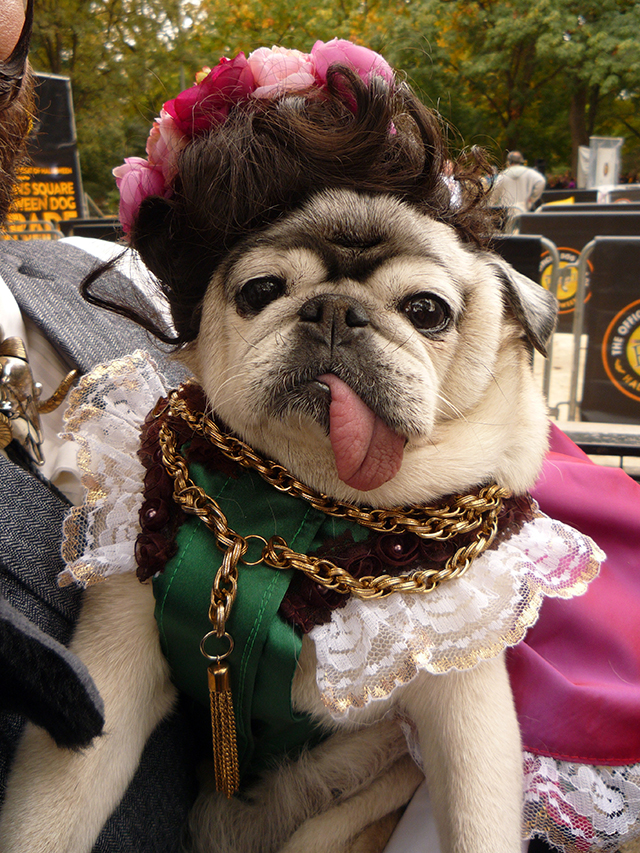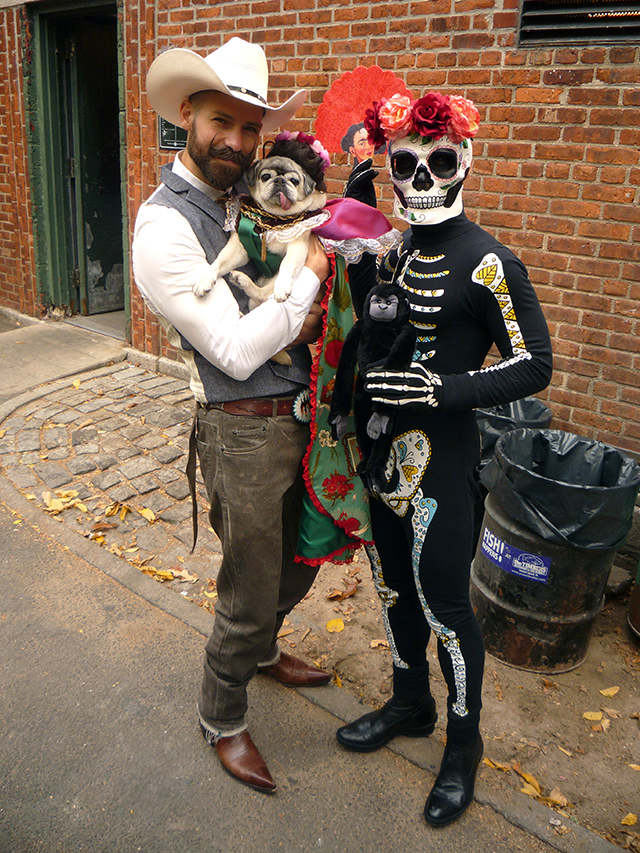 For starters, I cannot believe how crowded the parade was this year. I swear, there must have been close to 20,000 spectators in the park and close to 500 contestants because the sheer volume of people outside the fenced-in dog run and the sheer volume of dogs inside was borderline frightening. Of course, Mamma Biscuit and family arrived super early so that we could suit her up and get her prepared to receive the onslaught of media and fans awaiting her arrival, and boy did we get all of their attention. Everyone from Buzzfeed, The Village Voice, AM New York, USA Today, Newsday, The Guardian UK and the list goes on. Everyone wanted a piece of our Mexican beauty and Mamma was happy to give it to the fans, naturally.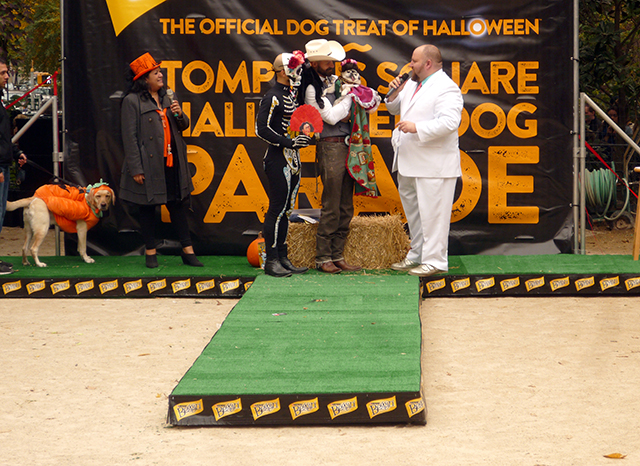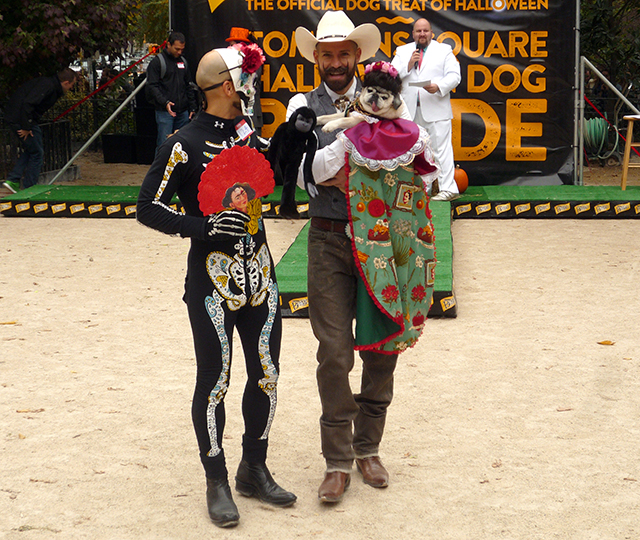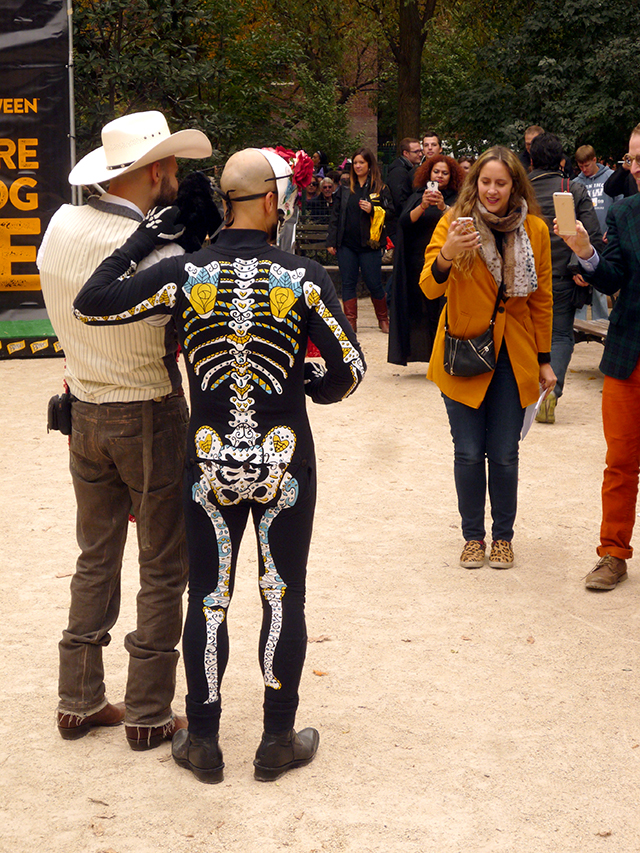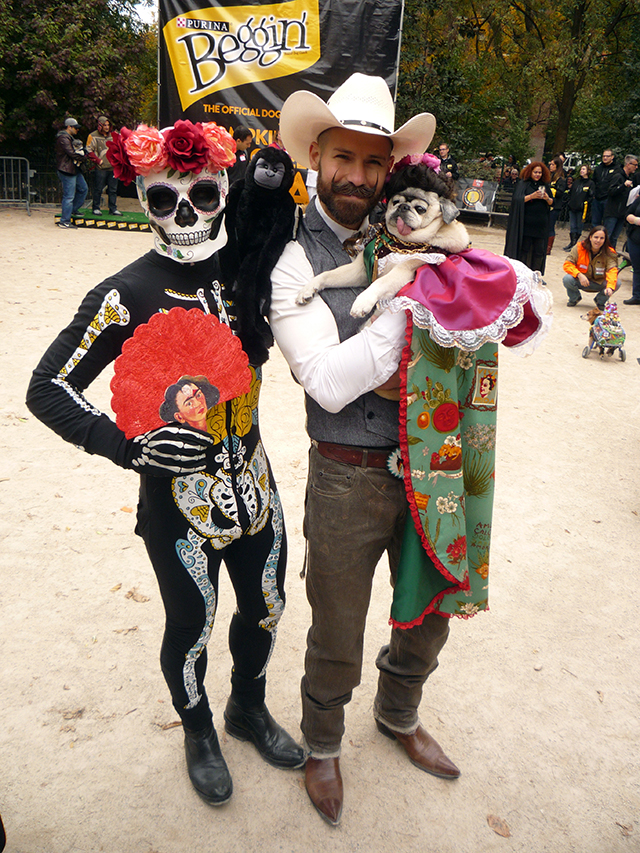 I must say though, there were several "what the fuck" moments while waiting on-line to walk the runway. One woman came screaming over to us saying, "OMG, Mae West, what a great costume." I'm like, "MAE WEST ? ? ? REALLY ? ? ?" LOL Our friend Vadim (who was on camera duty for us) overheard another woman on the phone say, "listen, I gotta go, there are these two guys holding a pug that are dressed up as The Wizard of OZ." THE WIZARD OF OZ ? ? ? REALLY ? ? ? I can understand someone possibly mistaking Mamma Biscuit for, I don't know, let's say, Carmen Miranda but NOT Mae West or anything Wizard of Oz related. You all will be happy to know that an hour into the parade, an Asian woman and her 8-year old son came over to me, and the young child said, "OMG, I love Frida Kahlo" YES, you read that right, an 8-year old knew who Frida Kahlo was meanwhile there were a few adults in the audience who had no idea who Frida Kahlo was in context to art history let alone Mamma Biscuit's Halloween costume. Well, you know me, it's all about the meaningful icons for Mamma Biscuit when it comes to her Halloween costume because I'm not going to roll out some watered-down Disney shit (all on a float where the dog becomes secondary to props and all the other bells and whistles used as distractions) for the judges—that's just not our style.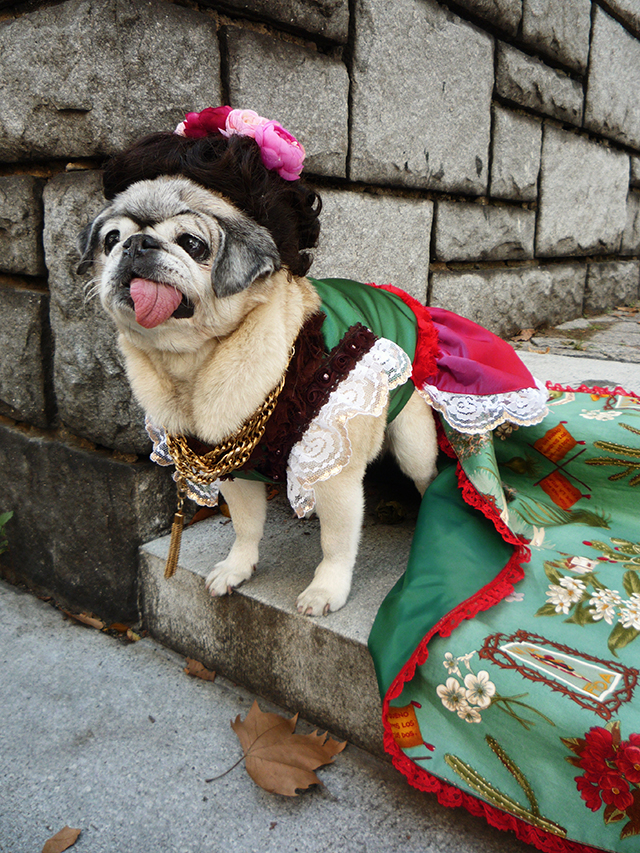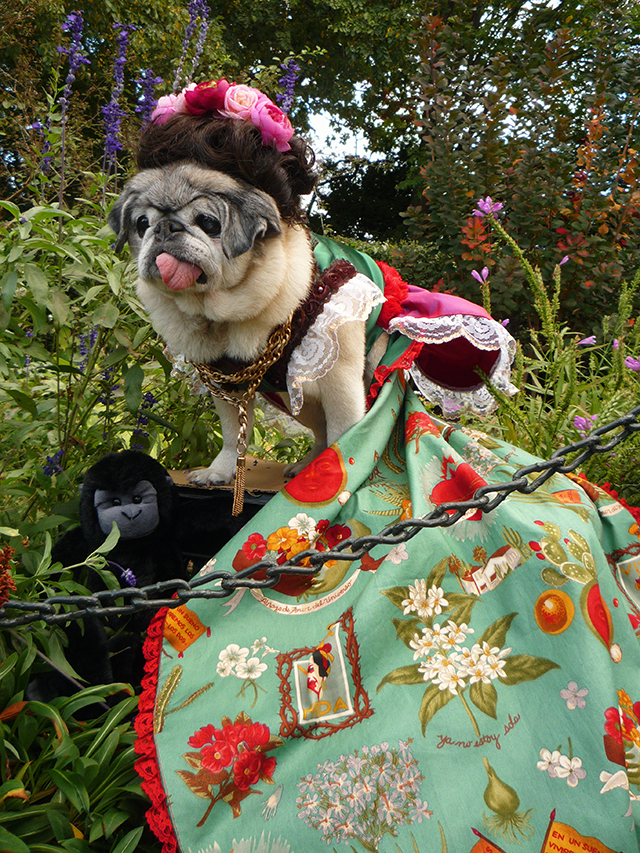 The host of the parade actually hosted two years back when Mamma Biscuit dressed as Vivienne Westwood and when we walked up on stage, he totally remembered Mamma Biscuit and said that because of her, he went out and bought a pug for himself. Now we love inspiring others to acquire a pet, especially a pug but the last thing I wanted to hear was that Mamma's adorable presence inspired anyone to go out and "buy" a dog. Our mission has been and always will be to encourage adoption, no matter what the circumstances are. It's unfortunate that it wasn't the case in this particular situation, but I digress. Most importantly, Mamma placed 8th from the top 10 out of the first 200 dogs shown—not bad for a pug who nods off during the middle of the day!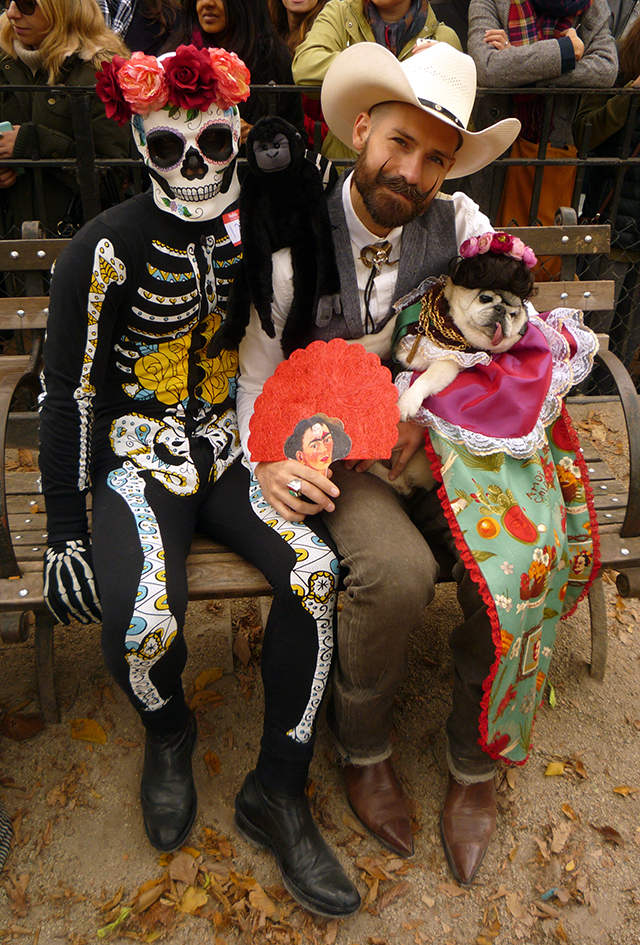 As for Tommy and I, he was dressed as a Day of the Dead sugar skull, complete with floral crown and I was dressed as Diego Rivera post gastric bypass surgery. Hey, I may reference our costumes meticulously but I was not about to put on a fat suit for historical accuracy. At any rate, to put it simply, Mamma Biscuit slayed it at the parade and it literally took us close to 45 minutes to actually walk out of the park having to pose every five steps for thousands of spectators wanting to take a photo. Being the consummate professional Mamma Biscuit is, she obliged and everyone went home happy and satisfied!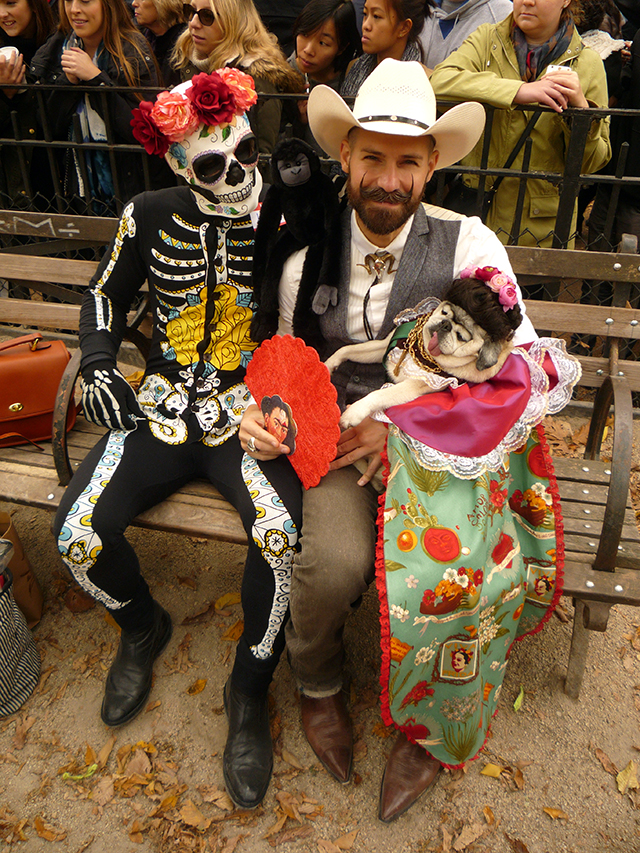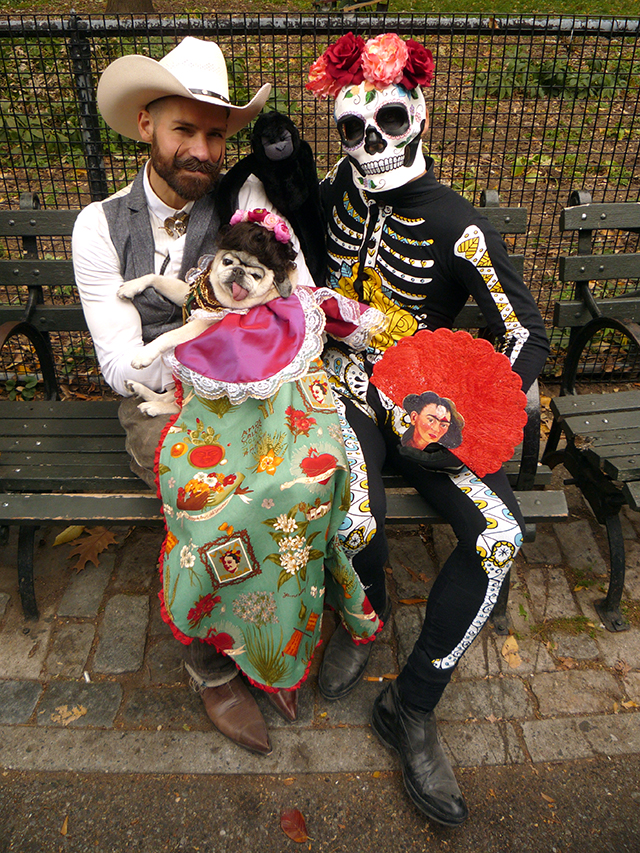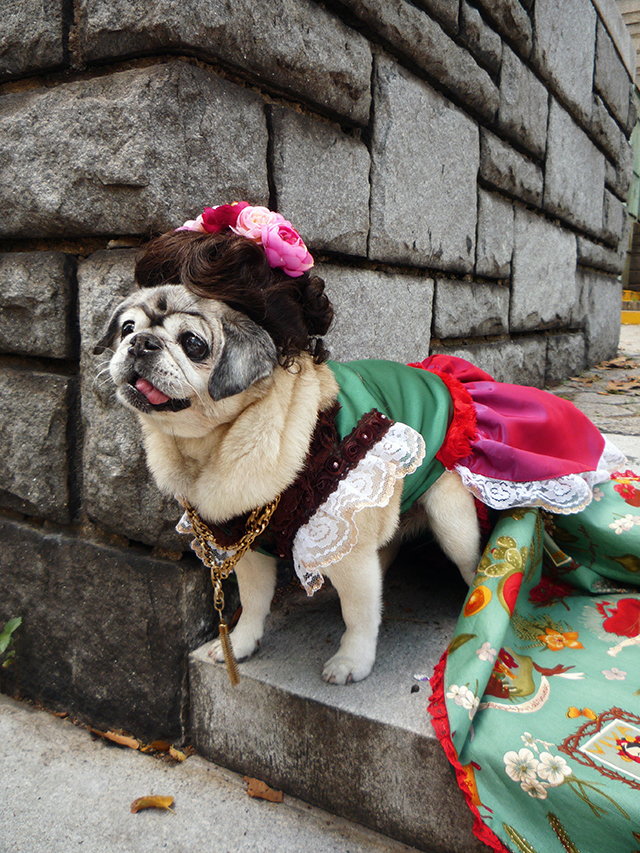 So that's it folks, Mamma Biscuit's official Halloween costume for 2015: FRIDA KAHLO!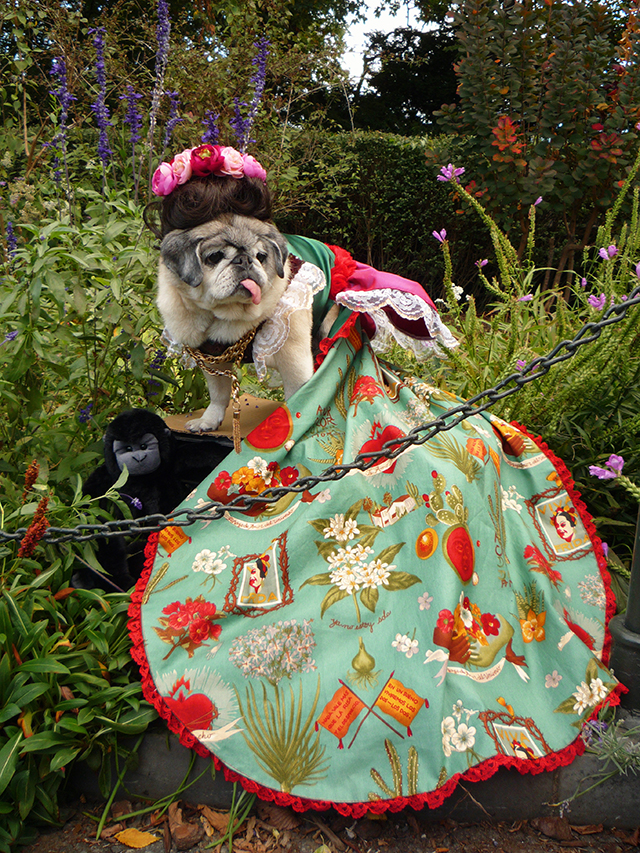 Enjoy and Happy Halloween!