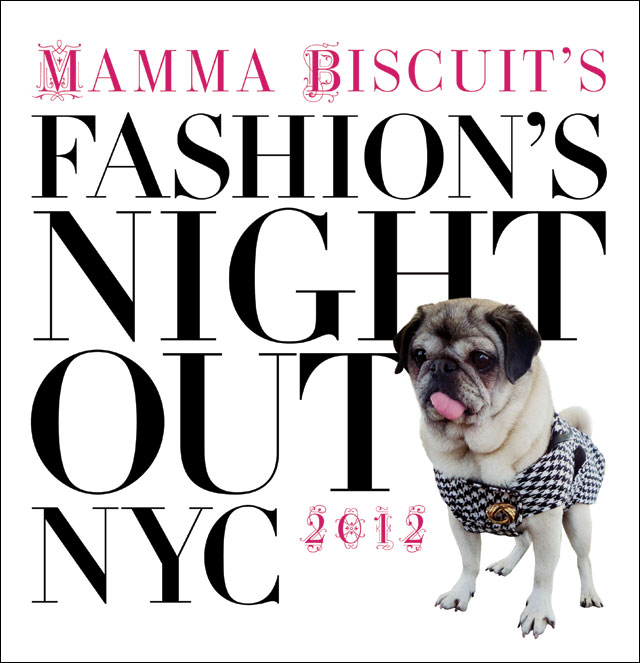 Say goodbye to unbearably humid weather, extremely high temperatures and unsightly mosquito bites—Summer has finally come to an end! That's right bitches, it's time to banish your flip-flops, beach shorts and bug spray because the cooler Autumn months are upon us. With cooler temperatures on the way, Mamma Biscuit can finally take longer walks throughout this city than her usual five minute pee and poo walks—and we can finally have fun with fashion and our wardrobes at large! Now I know some of you will miss Summer and may not share in our excitement that it has ended but you have to admit, it's kind of hard to put on something fabulous or generally feel comfortable wearing anything during the Summer months when the simple act of walking out of your apartment on any given day feels like stepping into a swampy, Bikram Yoga class! Now to further our excitement regarding fashion and wardrobes, Fashion Week has also finally arrived here in NYC and to kick off the Fall 2012 fashion shows, New York City will be hosting it's 4th annual Fashion's Night Out—TONIGHT! That's right girls, boys and dogs, tonight, New Yorkers are offered a rare occasion where they can meet their favorite fashion designers at more than 700 stores throughout the city and get great discounts on fabulous clothes—all while sipping on champagne and feeling sexy and glamorous! Fashion's Night Out is a global initiative, sponsored by Vogue and the CFDA. It began in 2009 in New York City as a means to encourage consumers to shop and support the fashion industry during the tough economic climate. The event has now expanded to more than 20 countries worldwide and will occur over the span of eight days to maximize traffic in the retail world of fashion! Now the Biscuits are all about shopping and designer clothes—although we prefer vintage garments over newly produced clothes (except for Vivienne Westwood) but that hasn't stopped us from heading downtown to Patricia Field on this very night to play with the fashionable glitteratti and downtown drag circuit! It's also very common to run into Anna Wintour from Vogue magazine on the sidewalk at any point during the night as she makes her way from boutique to boutique throughout New York City to show her support and give face-time to the legions of Vogue readers.
Now before we get into the bulk of Mamma Biscuit's fashion post, there's something I need to get off my chest regarding the September issue of Vogue—the bible of American fashion! If you have not seen Lady Gaga on the current cover of the September Issue by now then you must be living in a hut, buried under a hill of beans in Calcutta! If you have, then you'll probably agree with everything I'm about to say so come along and let's talk about the magazine cover before we get started with the rest of this post, shall we?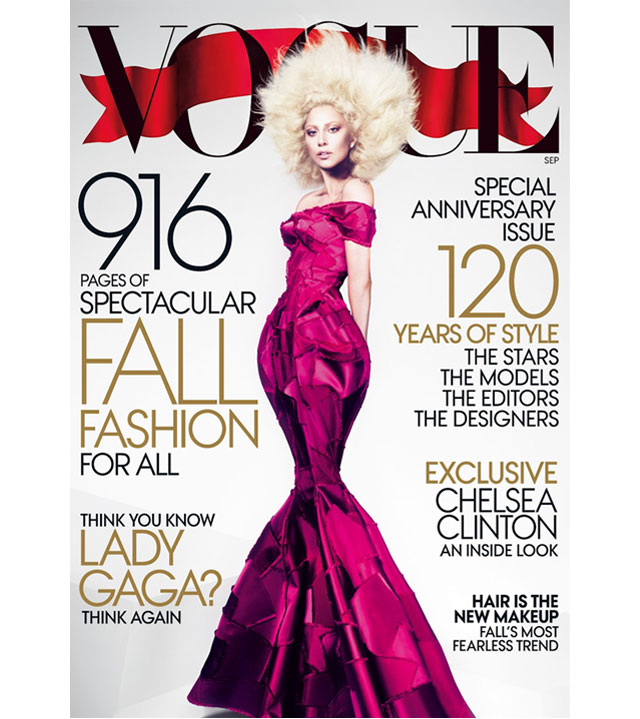 Now what in Fraggle-Rock-hell is going on with this tragic magazine cover? It's as if Anna Wintour, Grace Coddington and Andre Leon Talley all called out sick the day this cover was approved because quite honestly, I'm having a lot of trouble digesting the overall visual here. In late August, this cover was leaked out onto the internet and the first thought that came to my mind the moment I laid eyes on it was Rupaul: America's First Drag Superstar. Now I've come to expect Lady Photocopy to regurgitate Madonna, Grace Jones and Bjork in everything she does but this was truly a surprise! Don't get me wrong, I'm living for this wild, stuffed-animal wig but I've seen Rupaul rock this same wig and dress many times before during the runway segment of his show—Rupaul's Drag Race, a Logo channel original! It also came as no surprise that several hours later of the original cover leaking on the internet, Rupaul himself tweeted a revised magazine cover that was created by him and his team to reclaim "herself" and quite honestly, I prefer her version better! I guess I'm not the only one who feels the same way because there is a Faceboook page entitled Rupaul For the Cover of Vogue with almost 4,000 people who clicked like in support of this! I think America is ready for a drag queen to grace the cover of Vogue, don't you? Haven't seen Rupaul's revised cover either? (shame on you) Here it is.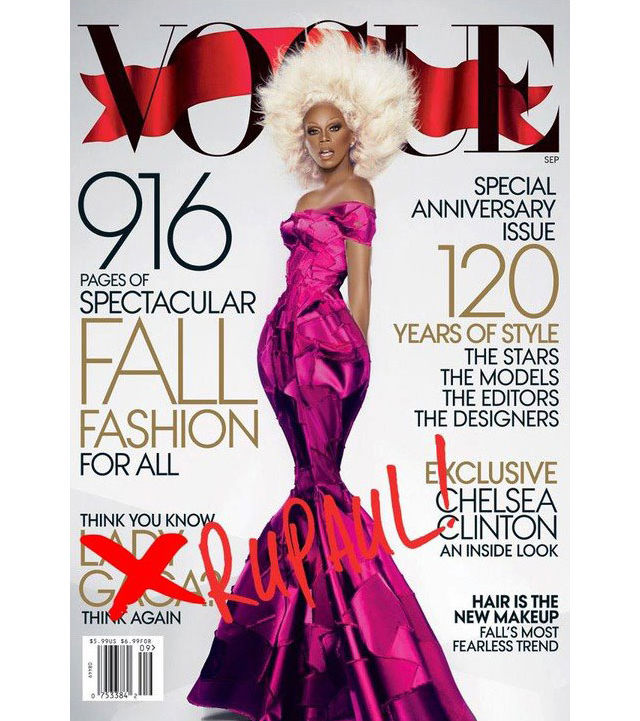 Now if only Mamma Biscuit had a twitter account, she would have sent this out in response to the both of them!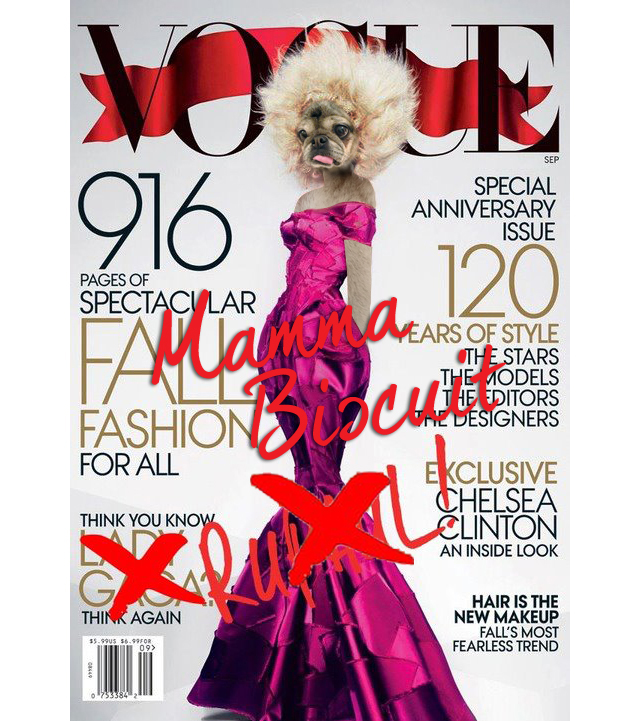 How dare they both appropriate the hair of a dog? Mamma is reclaiming that wild mane for all 4-legged creatures worldwide! On second look at this photoshop travesty, Mamma's Vogue cover is looking as creepy as the heroin-chic Disney characters unveiled for Barney's new "Electric Holiday" seasonal campaign! Click here to see that anorexic mess!
At any rate, I don't want you all to think that I hate this magazine cover entirely—I totally approve of Lady Gaga from the neck up but from the neck down, it's a whole other story! Firstly, this September Issue commemorates Vogue's 120th Anniversary and the cover itself pays homage to the cover of the very first issue of Vogue, published on December 17, 1892. That cover was printed on the flip side of the actual magazine cover and I've scanned it and posted it below for all of you to see.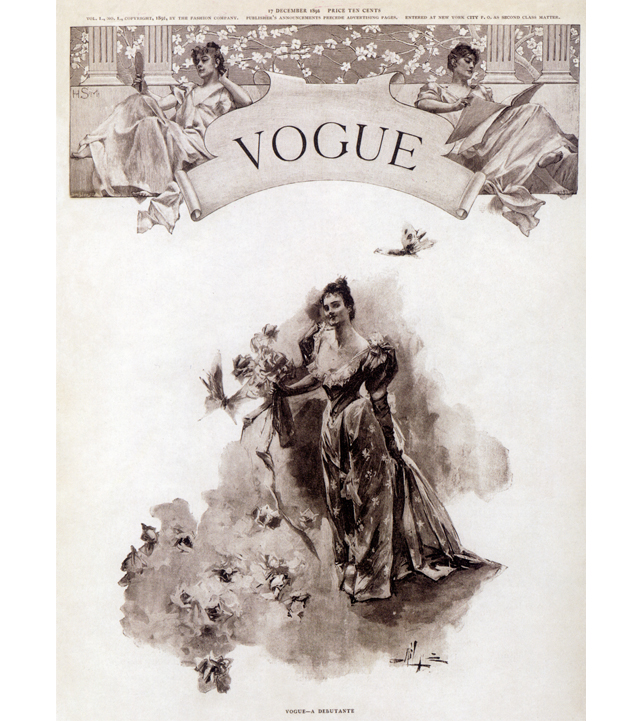 Now after knowing the back story regarding the art direction, I'm more puzzled than before because I can't seem to figure out the "homage" aspect of Lady Gaga's cover other than that hideous red banner beneath the Vogue type—which by the way looks more appropriate for a box of Ronzoni pasta rather than for the cover of the most influential fashion magazine in the world. Anyway, I was shocked to find out that the gown Lady Gaga is wearing was designed by Marc Jacobs. I normally love everything Marc designs but unfortunately, I find this particular dress to be quite ugly and a bit of a snore. I also don't really find this Jessica Rabbit silhouette either appealing or modern but I guess they were going for an exaggerated body form to create something avant gard looking. I guess I can roll with that idea but the bigger problem for me is the proportions of her body in relation to the cover and the typography. It's as if she's a tiny ceramic knickknack sitting on a shelf and all I want to do is flick her off with the snap of my finger. See, back in 1892, a magazine cover didn't need any type at all to accompany the primary visuals. No headlines, no cover article titles, no advertisements, no logos and the type was generally set really small and elegantly however, in our modern world of magazine covers, the standard, type-heavy template here makes Gaga's presence look wimpy! In short, this cover resembles a fan-made supplement to Vogue rather than the magazine itself—and that's just sad considering her first Vogue cover was fantastic! Remember that? If not, click here.
OK, now that Mamma Biscuit and I have expressed our opinions regarding the September issue of Vogue, let's move onto Fashion's Night Out. In honor of the events taking place tonight and the fashion shows throughout the week, we here at the Biscuit household have compiled 20 of Mamma Biscuit's most fashionable moments since she came into our lives. Now I know what y'all are thinking, 20 fashion moments are lot for a list but honestly, I have no idea how to edit nor do I care—and since Mamma Biscuit is the most stylish and fashionable pug that has ever graced the streets of NYC, How could I not list that many? There were just too many fashion moments in Mamma Biscuit's life in the past 3 years that I simply could not pass up. So come along with us down memory lane and get inspired—if this list doesn't get you to drop by Saks 5th Avenue to purchase a pair of $900 Jimmy Choo heels and a Diane Von Furstenberg wrap dress, then nothing will!
Mamma Biscuit's List of 20 Most Fashionable Moments in New York City
1. How could we not start off our list with Mamma Biscuit as Anna Wintour for Dogue Magazine on Halloween, 2010? Not only did Mamma take home the prize for Best Homemade Costume at the Sir William's Dog Run Halloween Dog Contest, she won Best in Show. To read the original post, click here.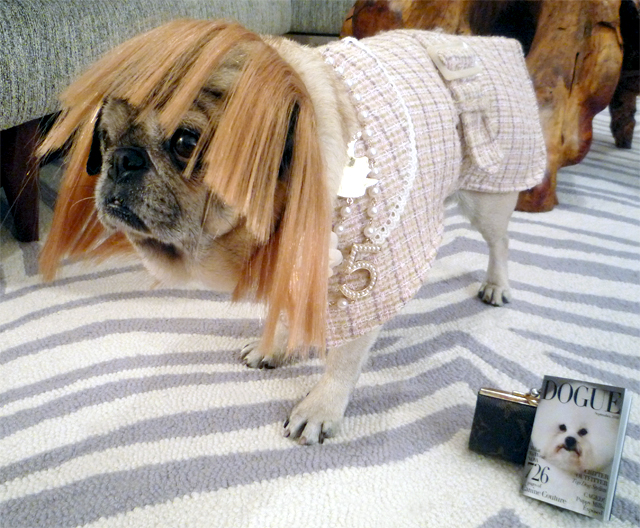 2. Mamma Biscuit practically defines New York City style. The number 2 slot goes to her Empire state of mind. To read the original post, click here.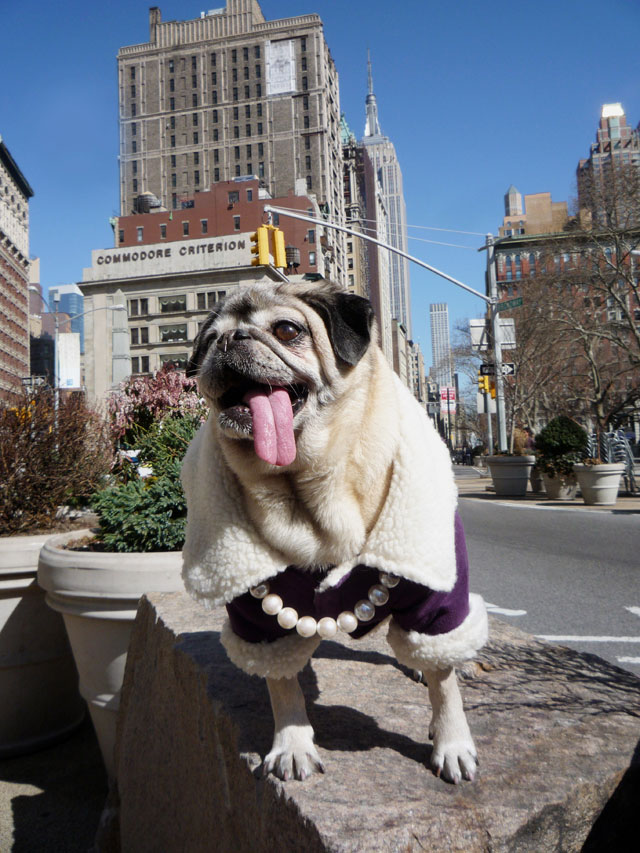 3. Mamma sure knows how to flex her French canine couture. Here she is in J'adore Dior—the number 3 slot! To read the original post, click here.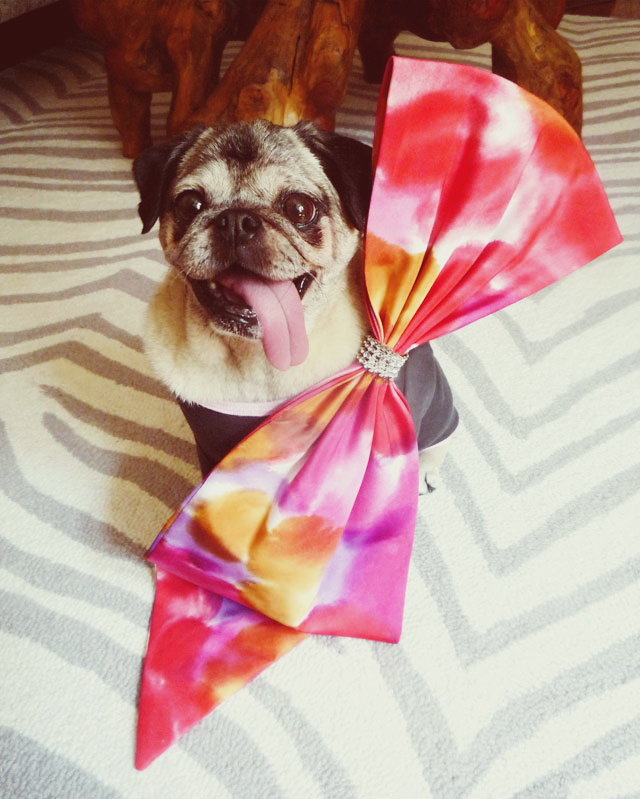 4. Martha Stewart sure loves Mamma Biscuit, and Mamma Biscuit loves her. The 4th slot goes to this incredible houndstooth moment in Fort Tryon Park. To read the original post, click here.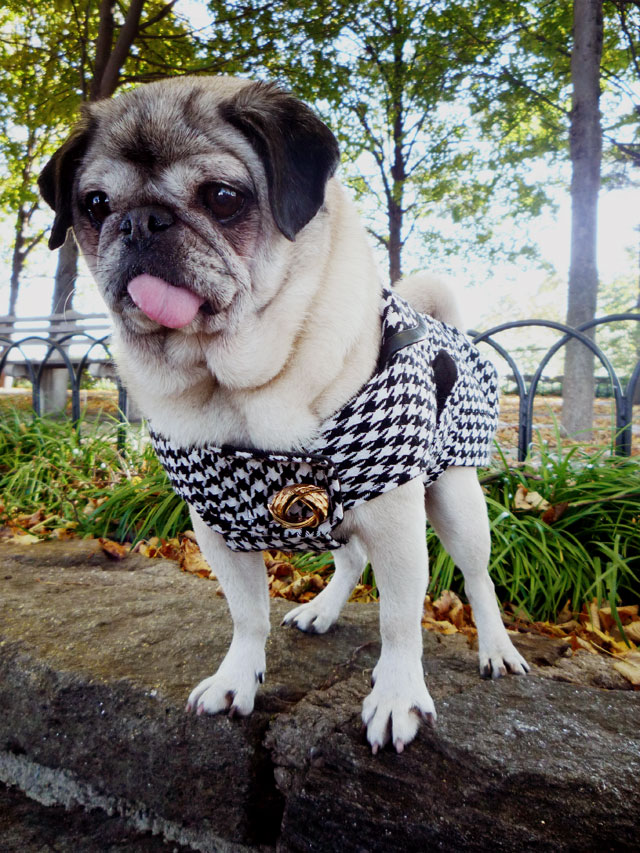 5. Luara Ashley would be so proud! The 5th slot goes to Mamma in this easy breezy Summer birthday dress. To read the original post, click here.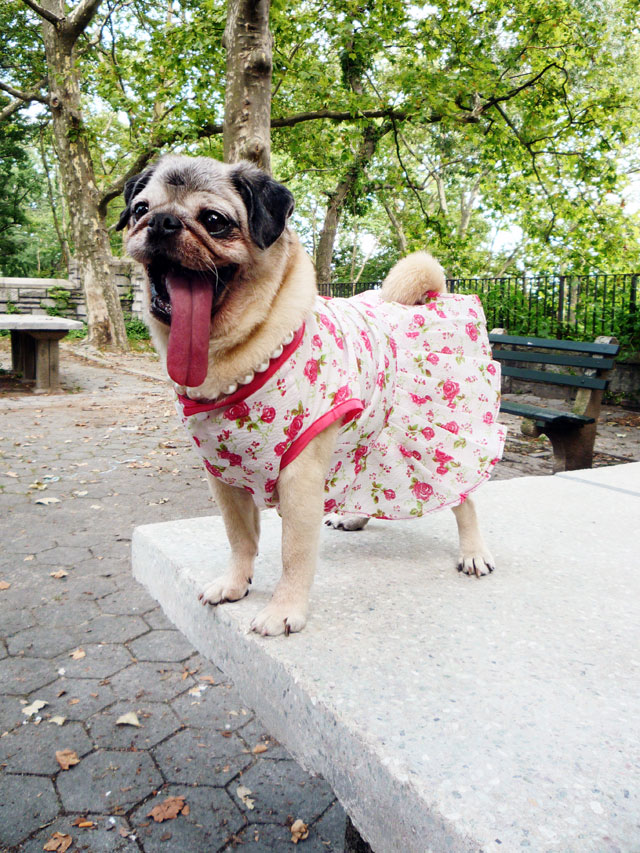 6. The 6th slot goes to Mamma's impeccable advanced style. To read the original post, click here.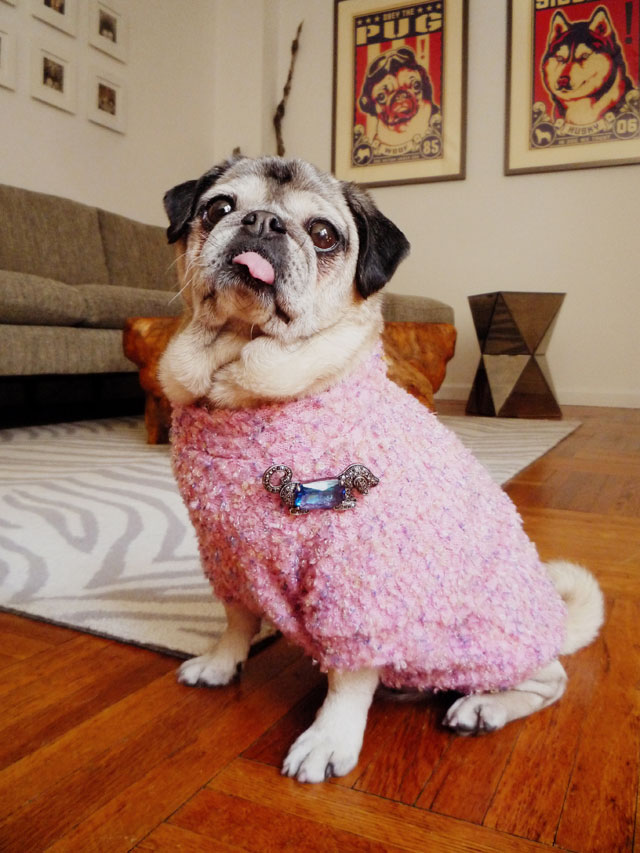 7. Cyndi Lauper (one of Mamma's many style Icons) said it best, "Girls Just Wanna Have Fun". The 7th slot goes to Mamma and her amazing hat collection! To read the original post, click here.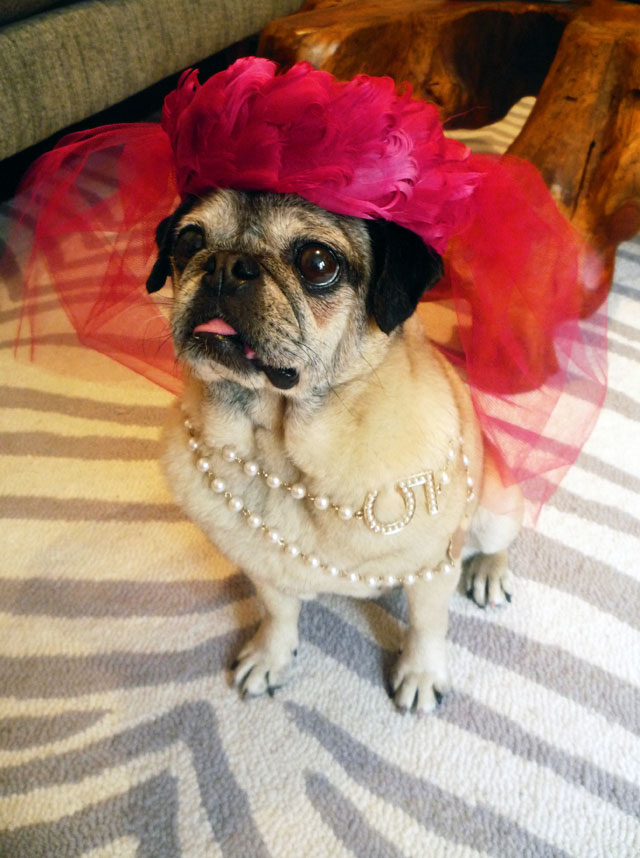 8. C'mon girls, do you believe in love? Because Mamma Biscuit's got something to say about it, and it goes, something like this. The 8th slot goes to Mamma's epic rendition of Madonna (#1 queen of our pantheon) as Blonde Ambition, or in Mamma's case, Fawn Ambition! Halloween costume, 2011. To read the original post, click here.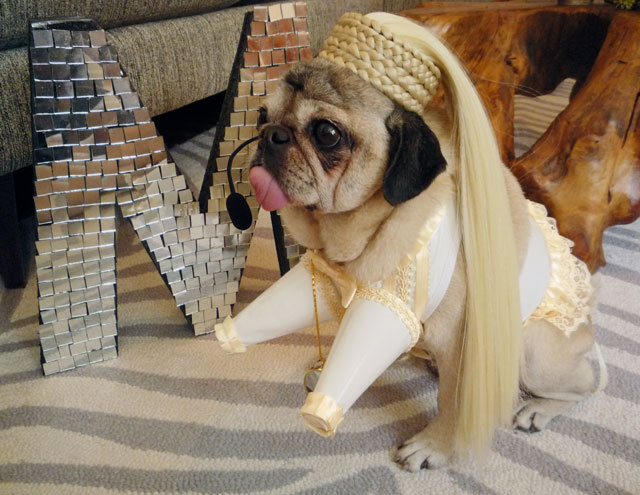 9. It's all about Jeremy Scott for Adidas and Mamma's thug-pug-hub-cap-urban-city look. The 9th slot goes to Mamma giving ghetto-chic. To read the original post, click here.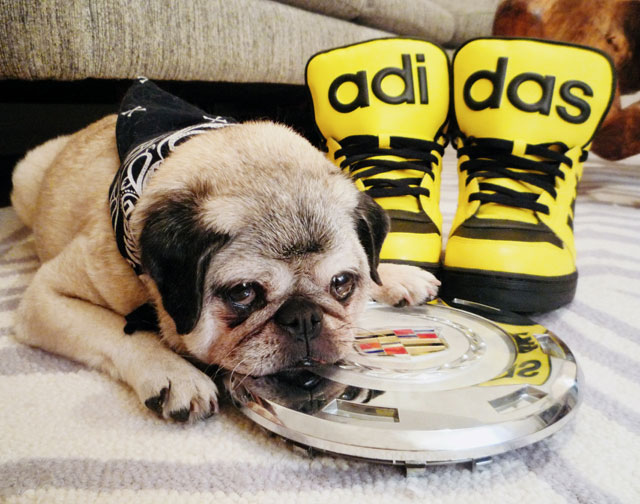 10. Mamma as Factory Girl takes the 10th slot with her Andy Warhol chic cobalt blue coat. To read the original post,
click here.
11. Canine Couture takes Mamma's 11th slot for fashion moment! To read the original post, click here.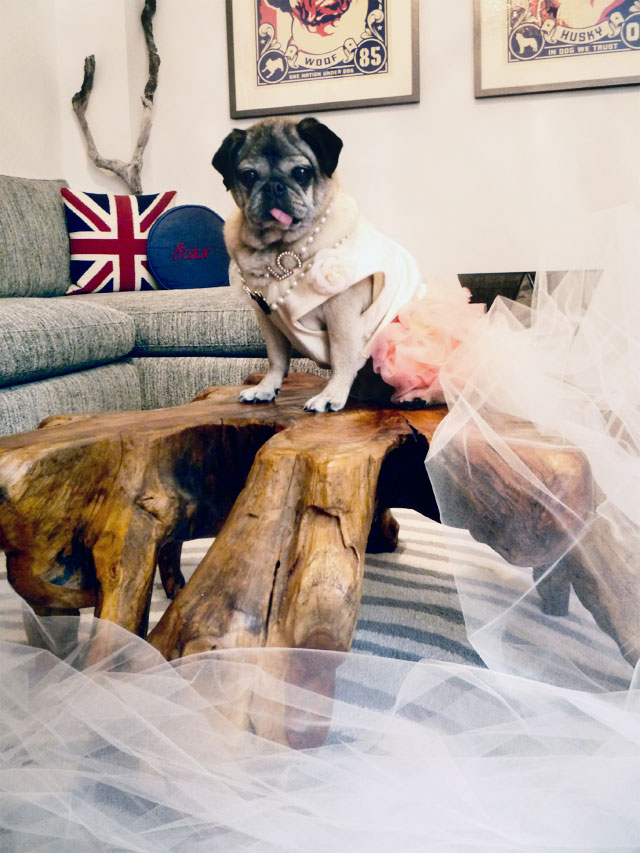 12. Despite what Lady Gaga claims at the beginning of her Marry the Night music video regarding the color mint becoming big in fashion, Mamma begs to differ. The 12th slot goes to Mamma's lavender dreams. To read the original post, click here.
13. Speaking of Lady Gaga, the 13th slot goes to Mamma's Paws-Up-Born-This-Way moment. To read the original post, click here.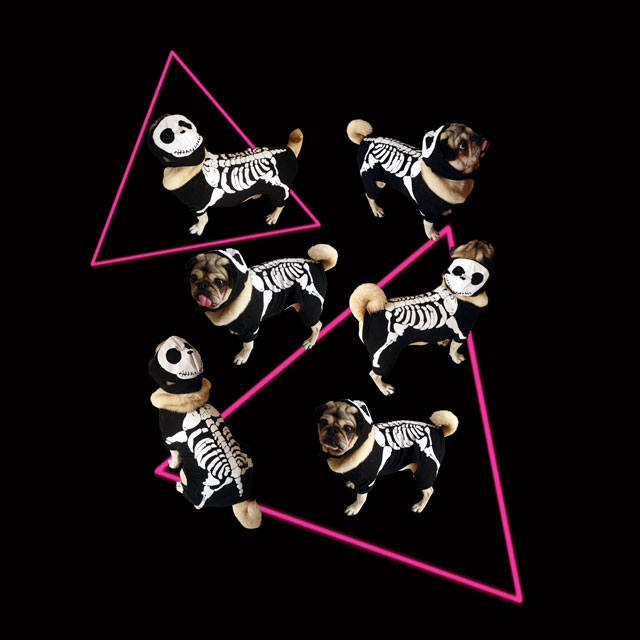 14. The 14th slot goes to Mamma Biscuit and her chic sherpa jacket moment. She's warm yet very stylish! To read the original post, click here.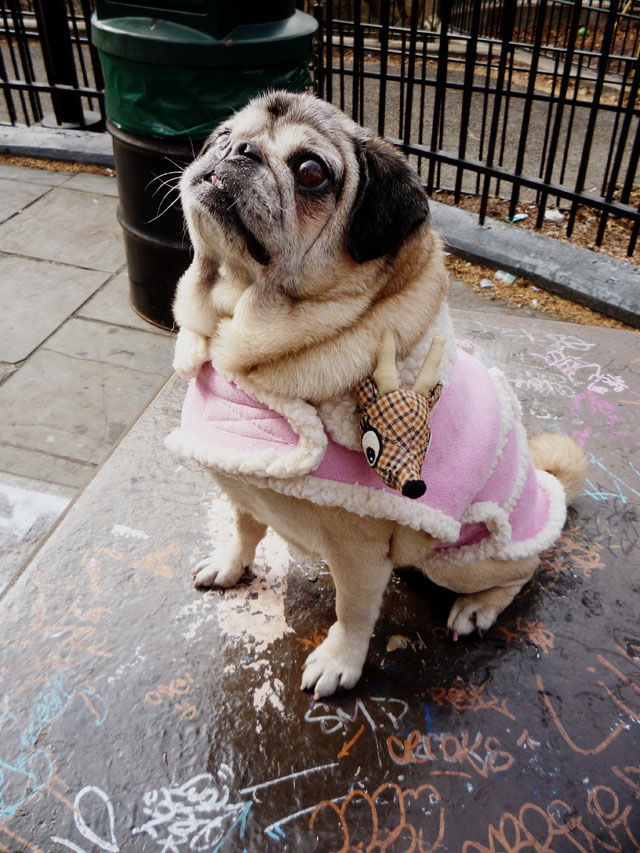 15. Mamma's undying love and appreciation for Madonna never goes out of style. The 15th slot goes to Mamma and her Fawn Ambition—and where she gets it! To read the original post, click here.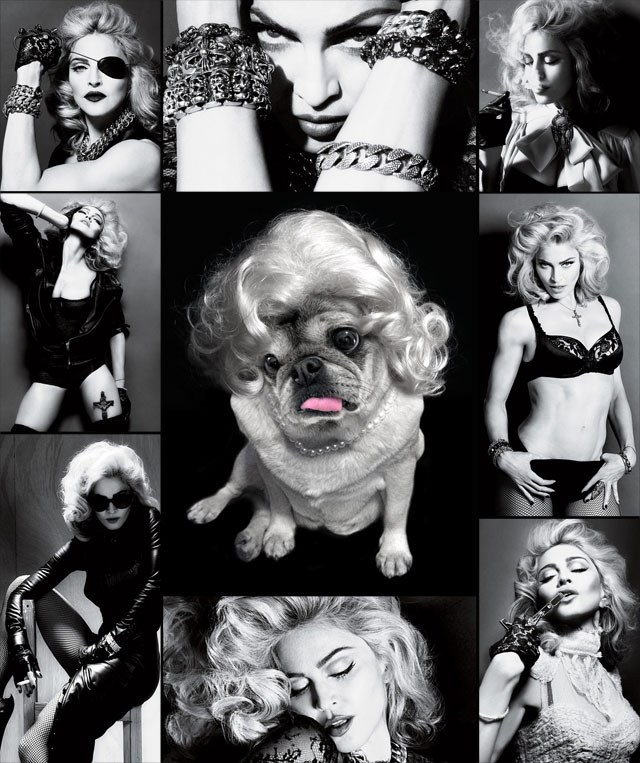 16. Jennifer Lopez ain't the only 'round away girl from the block. The 16th slot goes to our homegirl Mamma Biscuit from Washington Heights! To read the original post, click here.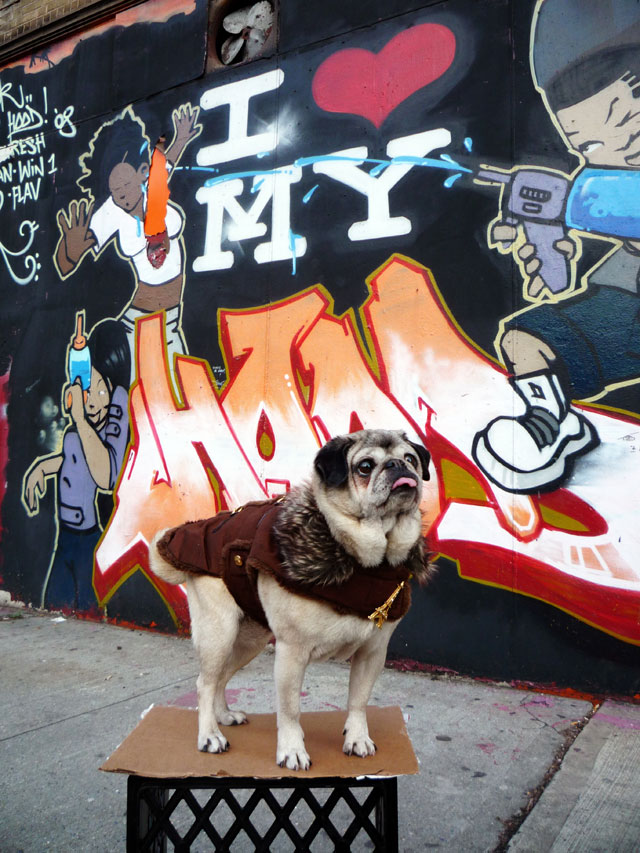 17. The 17th slot goes to Mamma Biscuit going Gaga over Lady Gaga's Christmas Workshop at Barney's. Not only did we think she looked fabulous in the iconic hair bow but so did Bill Cunningham from the New York Times. He photographed us both outside viewing the windows and put us in the Sunday style section! To read the original post, click here.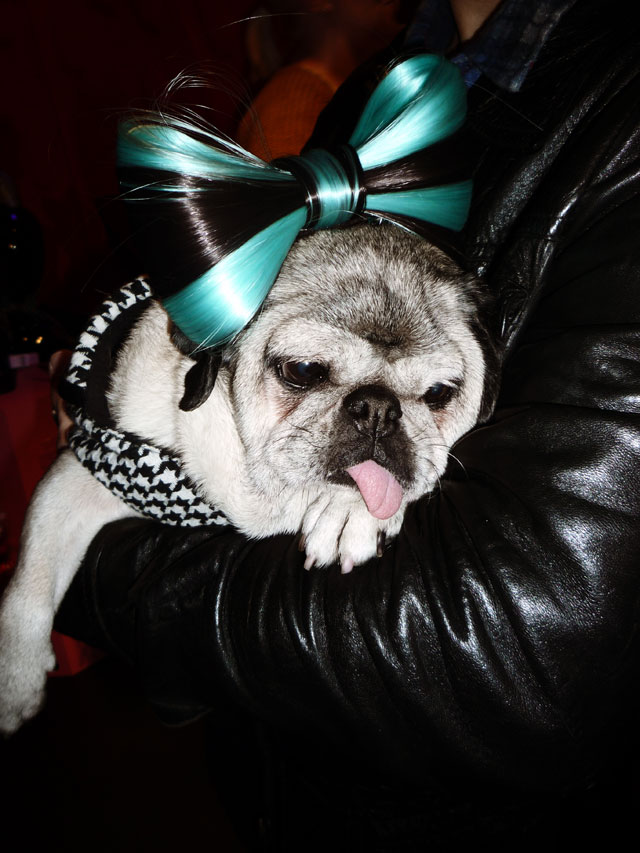 18. Juicy Couture never looked this Couture. The 18th slot goes to Mamma Biscuit in her pale peach colored motorcycle jacket by Juicy Couture. To read the original post, click here.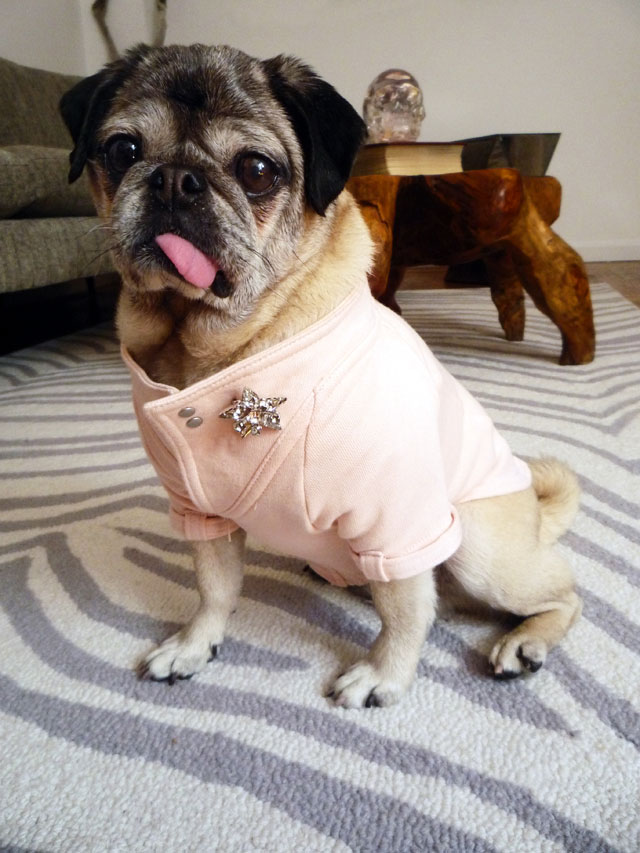 19. The 19th slot goes to Mamma Biscuit and her fabulous Givenchy moment. Only Mamma can bring vintage French couture to uptown, NYC. To read the original post, click here.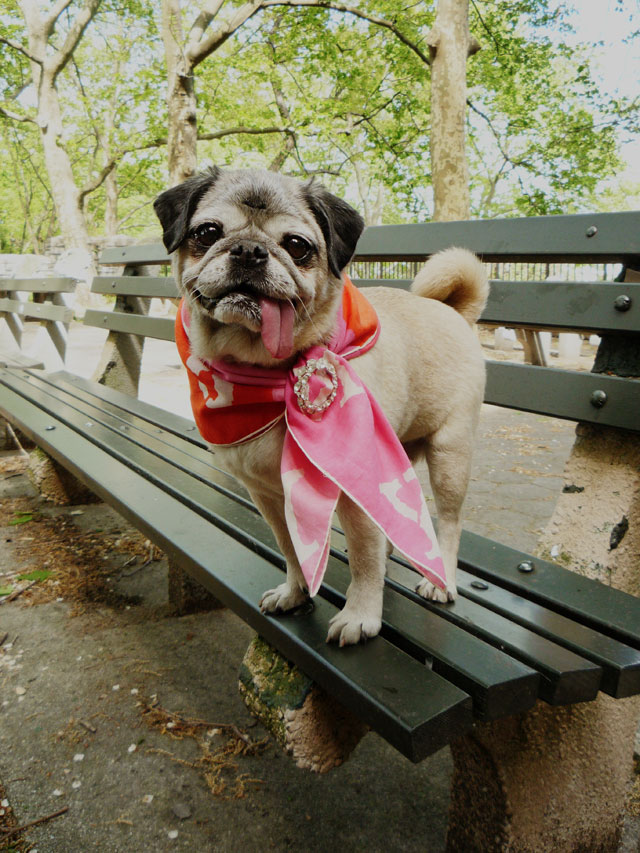 20. Last but not least, the 20th slot goes to Mamma Biscuit for Marc Jacobs. Watch out Sofia Coppola, Marc Jacobs has a new "it" girl for his ad campaign and she's as cute as a button! To read the original post, click here.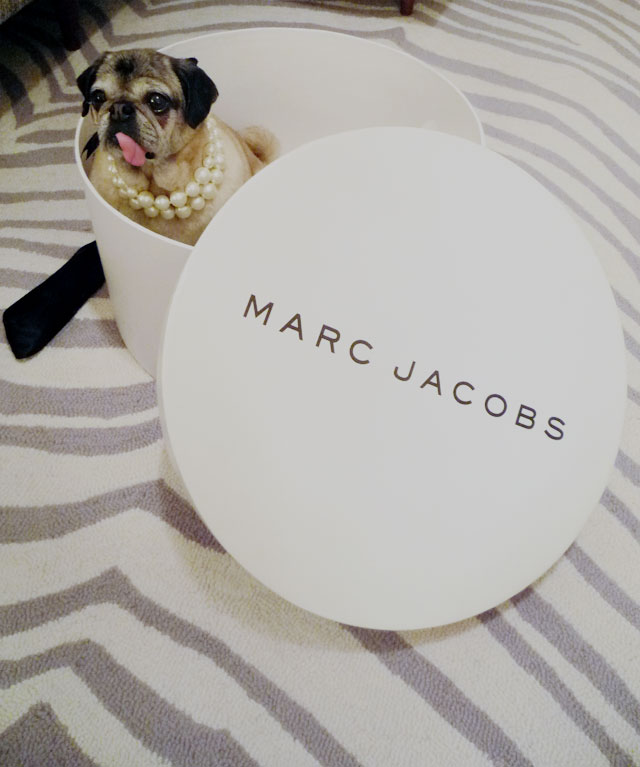 So that's it folks, the extensive list of Mamma Biscuit's 20 most fashionable moments since she's hit the lottery and moved to New York Fuckin' City! If you want to see more fashion-related Mamma Biscuit moments to put you into the mood for Fashion's Night Out, just simply click the "Fashion" category on the side bar and peruse the many other posts that did not make the cut for this list! If there is one sentiment we can leave you all with during Fashion week, it's that we demand you have fun with your clothes. Humor and great style go hand-in-hand!
Enjoy and Happy Fashion Week!